Have you noticed that we have started using stickers almost more often than emojis? Social networks and messengers contain a huge number of graphic images for all tastes, but sometimes even they are not enough. And the best way out of this situation is to make your own ones!
First, with the help of DIY stickers, you can imply much more and convey more emotions and states. Secondly, they express your creativity and emphasize your personality as well as reflect your interests and hobbies.
You may also like: 11 Best Apps Like Bitmoji for Android & iOS
A well-chosen sticker can cheer any chat, loosen things up and set up a dialogue in a positive way. We have compiled a list of the best free apps for Android and iOS for you to be able to easily and in the shortest possible time to make your own stickers.
1. Stickify: Stickers for WhatsApp
This app offers the user the option to download stickers for WhatsApp. To do this, you just need to view its main menu and the various categories by which it sorts all the content.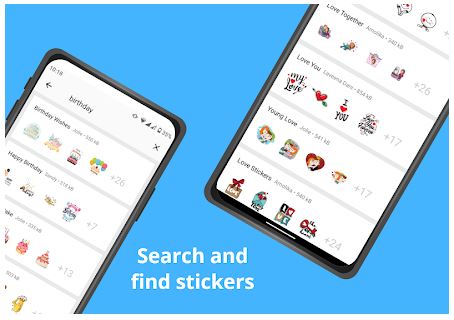 Everything is categorized conveniently for finding the right ones, there is also a section "Popular stickers", where all the best is collected. 95% of the range is available for free, and for the rest, you need to buy a premium (and not for the most popular). Open any of the desired packages and click on any sticker to add it to WhatsApp, and find it in the stickers section.
And if you don't like the ones suggested, you can show your creativity with its editor by making stickers based on images from your gallery: photos from your camera, memes downloaded from Twitter or Facebook, pictures that were sent to you. Here you can find all the tools you need to create your own stickers in less than a minute and share them with your contacts.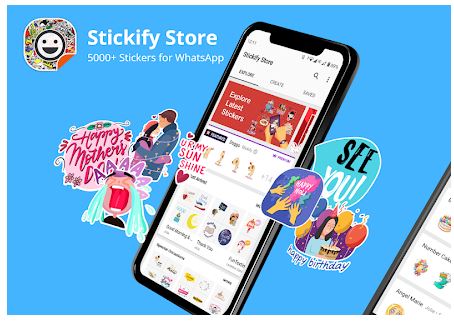 It has more than 5,000 different stickers, and their number is growing with each update, so if you want to enrich your WhatsApp conversations and give them more expression, download this app right now.
But what we liked the most was its sticker creation tool, which, unlike other editors, includes a page search in case you don't want to use photos from your gallery, and furthermore, doesn't require at least three stickers per pack to add them to WhatsApp.
It's basically a sticker store that hosts thousands of funny images. The advantage of Stickify is that it allows you to add stickers to WhatsApp with just one click. Still, as the majority of free applications, it contains lots of annoying ads. Another nice thing about Stickify is that the app has a great interface and great collections of stickers to use on WhatsApp.

You may also like: 11 Best Mouth Talking Apps for PC, Android, iOS
2. Sticker Maker for WhatsApp
If you are looking for an easy-to-use sticker app for your Android smartphone, then Sticker Maker may be the best choice for you.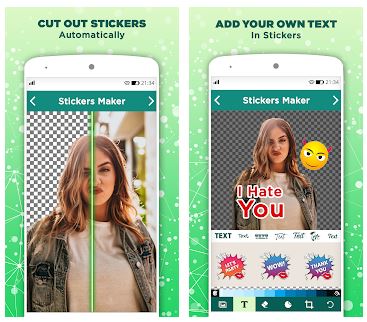 The great thing about Sticker Maker is that it allows users to create custom stickers of their choice. In addition, Sticker Maker also allows you to import these stickers to use them in various instant messaging platforms or social networks.
Sticker Maker for WhatsApp is a free program and, as the name implies, works with a popular messenger, where there is no built – in system for creating stickers. To export the finished set, you need to create at least three images. Objects are cut manually (any shape) or added as a familiar circle, triangle, or square.
The program is shareware (there are in-app purchases). Initially, there is a limit for all users: you can create no more than 10 sets of 30 stickers each. If the limit is filled, you will have to stop using something and delete it to create new items. The function of adding effects and adjusting the size of images is not provided. Only supported on Android phones.

3. Wemoji – WhatsApp Sticker Maker
As you probably remember, the appearance of stickers in WhatsApp was a magical moment. Or maybe not, but since then, we've started to look even sillier in the instant messaging app.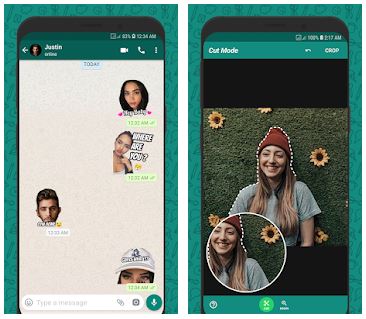 But since you might get bored with all the stickers you can find on WhatsApp, you can download an app like Wemoji, which lets you create your own stickers based on your own images. It has an impressive rate on Google Play.
We are talking about an application with a clear design that allows us to create our own designs very easily. This is one of the best and most modern sticker maker apps that you can use on Android.
Compared to any other WhatsApp sticker maker, Wemoji provides you with more options. You can easily crop photos, add texts to pictures, etc. You just have to take your images and crop them manually to create the appropriate sticker, as well as be able to add text and make simple edits.
In general, it offers us almost the same as any other sticker creation tool, although perhaps it stands out for the detailed guide it offers us when we first access the app, which makes the whole process easier to complete, and its two very different menus that separate the creation area from the gallery of already created stickers.
Otherwise, the ability to create stickers with our photos and access to a variety of pre-installed add-ons, many of which we can only unlock for an hour (paying, of course, removes this restriction).
Get your own sticker sets by designing them yourself, and share them with other users or with your contacts. Still, you should remember that the minimum operating system required is Android 5.0.

4. Elite Emoji
Emoticons are the salt of chats. To express yourself in writing without them would be much colder and more difficult. Emoji Guide, a studio specializing in emoticons, offers you this app where you will find hundreds of emoticons and stickers to enhance the conversations.
If you are tired of typical emoticons, Elite Emoji offers exactly what you need. Through its many sections, you will find many emoticons and stickers that we can share in different apps.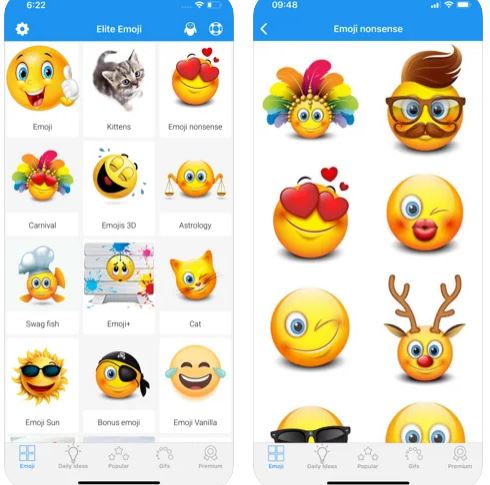 Once you find an image you like, you can send it directly to one of our contacts or add additional details, such as a text or quote. If you click on the icon with the plus sign (+), you can choose between several categories of recipients.
Before sending, you can edit the text, put it in a comic bubble, translate it into several languages, and even listen to the audio. In addition, you can choose whether you want to send it as a photo or with an image on one side and text on the other. Well, the possibilities are almost limitless.
There are even categories of emoticons and stickers for every taste: cats, funny, jokes, birthdays, love, animals, sports… If you want to send a nice item to a friend or family member, this app provides you with all the tools you need. The interface and sorting of sections may seem complicated, but this platform is very useful to give someone a pleasant moment.

5. Sticker.ly
A more advanced solution from professional developers that is available on both Android and iOS. With its help, more than 2 million stickers have already been created, and the number of users is only increasing. You can use any image file as the source image.
At the same time, a convenient system for exporting the set to WhatsApp, Telegram and Viber is provided. More than 100 million users have already tried this app!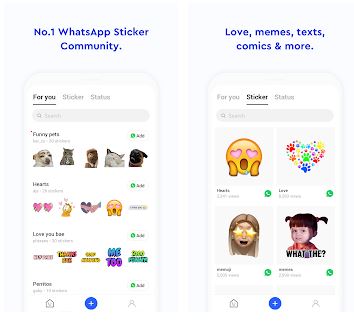 If you're into comics and superheroes, and you have "over worldly" friends who will appreciate Batman's facepalm as an answer, this app can't be missing from your mobile phone. In it you can find stickers with the image of Captain America, the Joker, Thanos, the Avengers, Deadpool and various characters from DC comics.
You can not only create your own objects, but also share them in the next tab, as well as download and use the work of other users. What we like most about this app – it is available both for "I"-products and for Android.
It weighs 37 Mb, which is quite moderate for the app with this range of functions.


6. New Stickers For WhatsApp – WAStickerapps Animated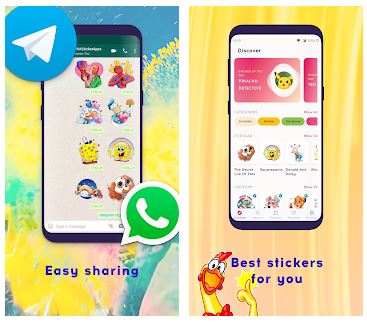 Just think about it, what would your mother do without emojis and stickers on WhatsApp? We really don't know, but you'll definitely be able to open your instant messaging apps without too much stress. Well, it only happens in one of those parallel universes whose quantum physics is still speculating on its existence.
In our universe, where you can read this review, you can use apps like Popular Stickers. It offers you hundreds and hundreds of emojis, emoticons and stickers to be used in WhatsApp, Facebook Messenger and other instant messaging and chat apps. To add them, you only need to download and install the APK on Android and start exploring the gallery.
You can purchase the most selected and exclusive emoticons and stickers for your smartphone to decorate your conversations and instant messaging with animated images!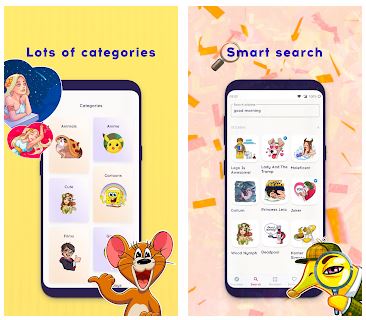 There are more than twenty categories to choose from: friendly faces, romantic messages, funny stickers. Once you've opened the app, just browse through the different categories. It offers you a simple system for finding the content you are looking for in the app. You just need to click + in the set that you want to add, watch a small commercial and start using them.
You can add all the content with a single tap and share it with the appropriate app. It is compatible with instant messaging and chat apps, as well as SMS and email. Before the downloading, you should consider this app has adds and paid content.

You may also like: 9 Best Character Creator Apps for iOS & Android
The last but not the least app in our list is StickersApp from Yamacoding available in Google Play. It is focused not just on creating stickers, but on developing full-fledged memes. Some people say that memes are the best thing the Internet has given us, and they're probably right. For this reason, this sticker pack is very important.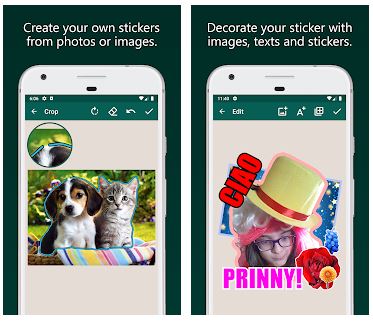 This is truly the one of the most concise applications for creating customized stickers. No extra functions, only basic things: text and image itself. The text can be entered in a variety of configurations. The same created images can be added to different collections, i.e. sticker packs.
The created material can be shared with friends or simply saved to a file from which they can be installed in the future. There are many small features that make the process easier. For example, you can cancel the last action, move part of the image, draw the outline yourself, and so on.
To some, this application may seem limited in functionality, but the set of working tools is not inferior to the leaders of our rating
Suitable for a wide variety of messengers and social networks. Just press "share" and send it to necessary chat. The weight is only 5 Mb, that is a real advantage. This app is not so popular yet, but it we think it would be highly appreciated in the near future.

8. LINE Creators Studio
This is a really unique app where you can not only create your own sets of stickers but also sell them online. LINE includes all the tools so you could make any types of stickers for any messenger – oncluding What's App.
When you first launch the app you need to create your account. After that you will get an access to all the features. Overall, it works like a general picture editor with the element that it makes stickers not just pictures.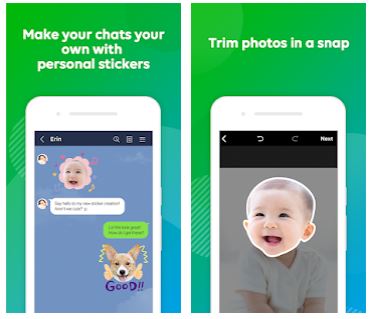 What is more, LINE app includes a lot of filters that can help to add a personal touch to each sticker you make. After you are done with creating the set you can"submit" them to the app so they will be checked and published for sale.
The only issue you may face with LINE and the reason why we put it so low on the list is that users often face problems with the registration process in here. It's not guaranteed that you'll be able to make your account at all.


9. Sticker Maker Studio
This is basically an analogue of a previous app, but with an exception that here you can only create stickers for What's App.
As soon as you download and install the app you can strt creating your stickers. It is really an advantage of the Sticker Maker Studio app that it doesn't require any profile or anything.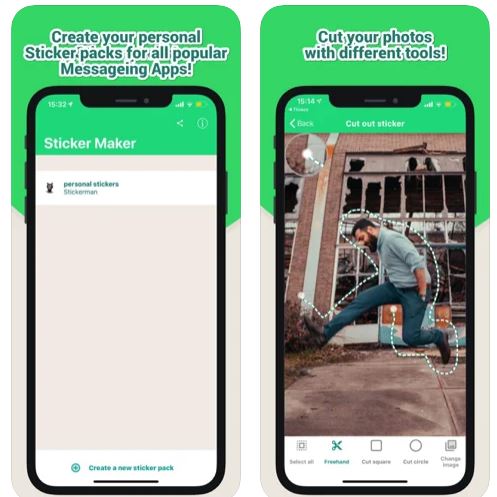 Just tap on "create a new gallery of stickers", give it a name and highlight the author, then tap on "create a sticker" and then you can choose whether you want to import an image from the gallery, internet or just insert plain text.
Then you will be redirected to the editor. Create any sticker you want. By the way, we found a major drawback in the editor – you cannot zoom imported stickers here and change their size. Thus, creating stickers just from your keyboard emojis can be quite problematic.
After you are done, you just click on "save sticker" and it will be saved in the set. In order to publish your set in What's App you must have at least 3 stickers.


10. Animated Sticker Maker WAStickerApps
Now we want to tell you about an app that makes animated stickers for Whats App. When you launch the app you need to choose whether you want to upload an image from your phone's gallery or take a picture in a moment.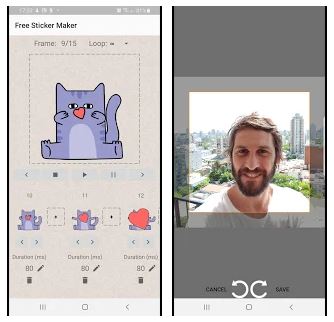 And you will immediately notice that this sticker makes is extremely similar to the previous one – with the exception that here you make animated stickers. If you want to create an animated one, you just upload a GIF or a short video to the app and then make a sticker out of it.
The saving of such a sticker will take some time so don't close the app during this process. However, in order to export the sticker set to your Whats App, you need to have at least 3 of them in it. After you're done you click on "add to whats app" and everything will be done automatically.
Apart from it, in the app you will find lots of photo editing features for creating regular fun stickers. We definitely reccomend Animated Sticker Maker because it offers that many features – the only drawback is the app has lots of ads.

You may also like: 11 Best Android Apps for Couples
11. Sticker Studio – WhatsApp Sticker Maker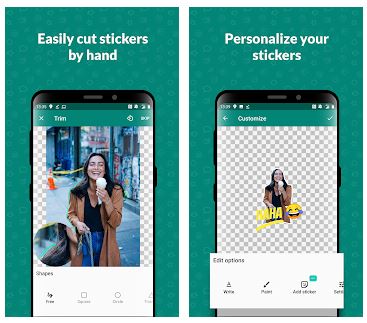 And lastly we want to offer you one more cool sticker maker app. Basically, it is really similar to the previous apps, and it allows you to create any kind of stickers in seconds.
The interface of an app is basiclaly the same, it is simple and easy to use. Here you can add text and drawings to your pictures, zoom stickers (which is an advantage compared to two previous apps) and then export them to Whats App.
Before you create a new sticker you need to create a new set and then create at least 3 sricker to export the set to Whats App.