Many people often think about the height or width of visible objects. It is impossible to measure the parameters every time, because for this you will have to carry measuring instruments with you. There is always a way out.
EasyMeasure – Camera Distance Tape Measure & Ruler is an amazing and handy app designed to measure parameters through your phone.
Measure the distance between different objects on the map using these apps.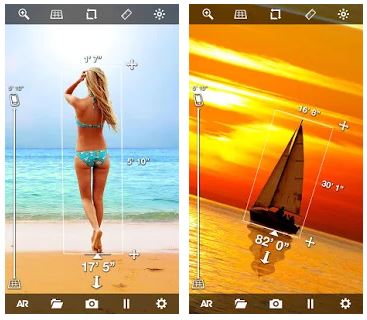 After installing EasyMeasure, the user enters the control panel. The application displays a camera and thanks to it you can measure the parameters of the object you have chosen. Everything is simple and without registration.
When you first start your exploration you will see the camera. Move the lens to the desired measurement object, set focus and EasyMeasure will show you the length, width and height EasyMeasure includes many additional sections and useful measurement functions.
You can adjust the brightness, change the scale and use the 3D reality function. The user can calibrate the camera for better and more accurate results. In addition, you can take a photo in real time and share it with your friends on social networks.
The night measurement function is especially pleasing. To perform measurements at night, turn on the flashlight for a simple display and get instant parameters.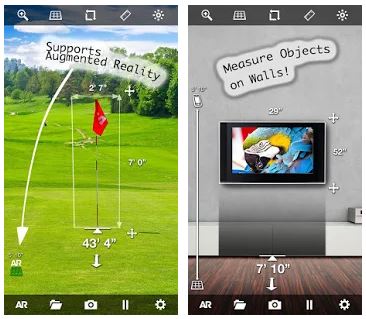 EasyMeasure app has built-in tech support. Fast and high-quality service will allow users to find the best solutions and solve all the problems that have arisen. The application interface made in a classic discreet design without unnecessary interfering functions. All that the user needs to use is in the upper and lower control panels.
By clicking on the first icon in the top control panel, the user can easily zoom in on the object he is measuring and set a convenient scale. The "Settings" button will allow you to set the desired measurement size.
You can take a photo using the camera icon in the middle of the bottom panel. Anyone can start using the EasyMeasure application without additional knowledge and skills.
Light control panel, simple and compact design will allow each user to understand the features of use. In general, the application designed for convenient and efficient use.
You can also animate your still photos if you want. The apps for that can be found here.
EasyMeasure is a unique app of its kind that will turn your phone into a real handy ruler. The application will allow you to measure the distances and individual parameters of any selected object. Everything is done for quick and pleasant use, which will undoubtedly delight all users of the application.