As Margaret Mead once put it, in order to understand personality it is important to study character formation. This somehow applies to our topic here… Actually, more like me blatantly applying it.
It is not just about a sense of identity within the web surface. Sometimes it is an ideal behind a character, sometimes it is a little story. Creation process itself is a beneficial activity, which improves our emotional behavior and thinking.
You may also like: Top 10 PC Software to Create Your Own Character
Either way, being able nowadays to create your own unique character through several taps on your phone is so fascinating! And, with each year, such apps are becoming more and more sophisticated.
In this article, we introduce to you 9 best character creator apps for iOS & Android.
1. Pose Maker Pro – 3D Art Poser App
Сharacter making can go way beyond appearance, and this app shows you can express yourself in various ways, even via making a scene.
Pose Maker Pro lets you create a character with a wide range of parameters for facial, bodily, and outfit features. Easily create any type possible, from cartoonish goblins to handsome guys to high-spirited anime girls. Manga-style characters have various head-to-body ratios and essential closing.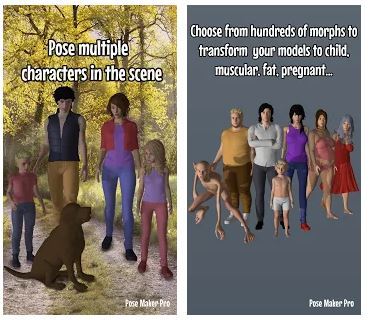 Additionally, you can customize facial expressions and postures, in which your perfect (or not so) creation will stand, and add different types of props, like an electric guitar, or a sword.
Yet something's missing…maybe it's your favorite pet. Posable cat, dog and horse models are also available for PRO users.
To throw in more epics or romance, or whatever your desired atmosphere is, add any background image from the app's broad selection, or import your own. If having one person posing is not sufficient, add a few other that you need. This app is perfect for storyboarding, and a wide range for character development.
PRO version costs only £2.99, which unlocks every additional feature. And according to reviews, it is absolutely worth the price.
One tiny but notable feature is the ability to choose between traditional slider controls or rotation widgets in customizing section. This shows how versatile the approach to creativity in Pose Maker Pro is.
Key features:
the wide range of custom parameters
various props to add
posable animals
variety of background images
save your scenes as PNG images (only for PRO version users)


You may also like: 11 Best Apps Like Bitmoji for Android & iOS
2. Mojipop
This caricature app by Eureka Studios is quite fascinating. It will make your everyday chats more expressive and hilarious. A couple of taps will give you access to variety of caricatures and animations which use your face. Whenever you show your creation to friends, they will probably ask how did you do it.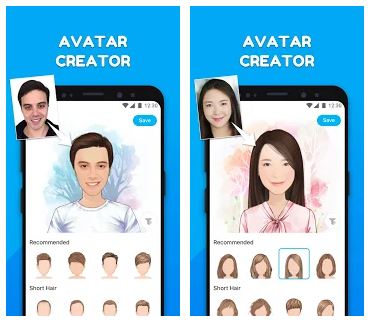 First, you need to take a selfie. After that, choose any cartoon or animated stickers out of a very wide selection (literally thousands of them), and send stickers that look just like you to friends and wait for their reaction. There is no doubt they will be amazed.
In order to choose and send stickers fast, don't forget to mark them as your favorites, and select Mojipop keyboard in system settings.
New sets of stickers are added every week, so you will never be bored with current stickers, and always will have new ideas for your personalized set of stickers. Even though there are options available only for premium users, free version of Mojipop has more than enough of them.
Make yourself a collection of stickers for every situation. Do not worry about upload issues – stickers are easily integrated into your keyboard and can be added in WhatsApp too! Sharing them is very quick. Don't bother yourself with hopping to other apps or saving everything to gallery.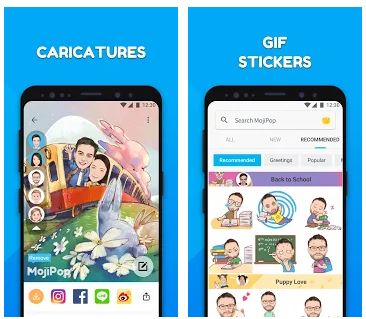 Mojipop has a premium version with additional features, which costs $ 5.99 per month, though the free version has a lot of them, and a regular team of productive creators makes new ones. Developers resolve any emerging issues within the app in a timely manner, according to reviews on Play Market.
Keep in mind that animated stickers by Mojipop can be published only on platforms that support GIF files.
Allow your stickers to speak for you!
Key features:
wide range of animated and cartoon stickers
improved facial recognition algorithms
easy integration into keyboard and apps
access in the camera app


3. Avatar Maker: Dogs
One of the previous apps has dogs, along with other animals, only as a complementary cast to your creations. Avatar Maker: Dogs, however, puts them into the main scene.
Although almost every real dog can already be cute, why missing an opportunity to make an ideal men's best friend on your smartphone?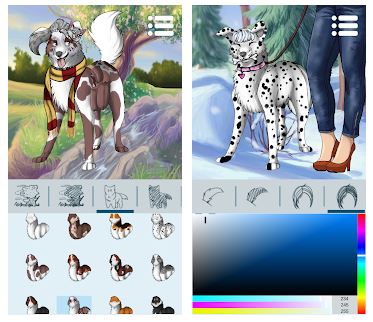 Start with setting up the dog's body without having to draw anything, from tail to ears. Choose any breed: Shiba-Inu, Doberman, husky, Dalmatian, or maybe a wolf. A huge amount of personalization features allows you to compose every slightest detail in your pet's look. There are already thousands variations for you to pick.
If you want to make a fantasy creature, many related additions are there as well, like wings, capes, etc. Do not forget about the background to set up the perfect shot for your dog. One slight disadvantage is that your dog can stay only in one pose.
The wholesomeness of Avatar Maker: Dog app is clearly represented by its high reviews and over million downloads. Also get this: you need to watch ONE ad in order to unlock all of the exclusive content.
Again. Only one ad.
Isn't that great?
Key features:
plenty of space for personalization
massive range of breeds
very short ads
create interesting comics and stories about dogs
download avatars in your gallery

4. Pinscreen: Instant 3D Avatars
3D Character apps are widely popular among iPhone users, and Pinscreen, although it has mixed reviews on AppStore, is relevant, as it generates decent avatars of fine quality, among many similar apps.
This app can make your character a few moments after you upload your selfie. Once the creation process is complete, you can go ahead and adjust anything, from hair color to outfit type which has a big range of options.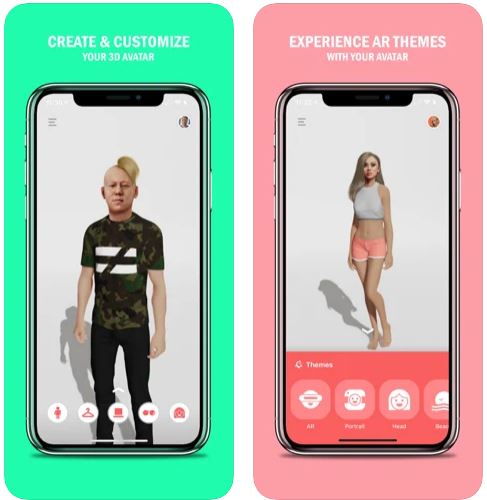 Instead of uploading your photo, you can always try to make a character with photo of any famous person, from Cardi B to Kim Jong Un. Your created character can do various facial expressions, 3D animations through AR or 3D portrait.
Another impressive feature of Pinscreen is the ability to immerse yourself. Open your camera and see how the character you made reflects your moves or faces on camera.
Frequent users of Pinscreen happily point out how the app improves with updates, how realistic it is, and how immersive scenes are popular among the kids.
Key features:
the fast character creation process
immersive technology
many types of clothing, hairstyles, etc.
characters can do animations

5. Avatar Maker: Anime Boys
Now let's delve into the 2D world more.
Popularity of Japanese animation doesn't seem to decrease even in the slightest. Idealism is common among anime artists, hence all these chiseled facial structures, pompous postures, and huge eyes. This next app gives you freedom to create the ideal anime guy.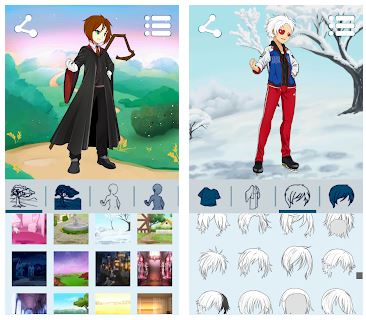 Anime Boys app, which has 1 million downloads and 4 rating, allows you to continue this trend in a process of creating the perfect guy for your manga story, or maybe for YouTube or Twitch channel as an avatar.
The wardrobe for your sempai is huge, with various types of clothes: gothic, military, medieval, casual, school, and so on.
Make your character express shyness, or heroic determination, or childish happiness, or embarrassment. A multitude of hairstyles, color eye lenses, and props helps you to emphasize every aspect of a guy's personality. Add a proper background to this, and you got a perfect character in a perfect place.
Use the finished character as your piece of art, or on social media as your profile picture. This app literally boasts of a beautiful anime style and atmosphere. Expand your imagination, create casts of characters, explore stories. Every otaku should give this app a try.
Key features:
wide array of eye color lenses and hairstyles
variety of clothes
different facial expressions for any emotion
amazing manga/anime graphics

You may also like: 11 Best Gender Swap Apps for Android & iOS
6. Anime Avatar Maker
In keeping with the theme of anime, this one is more gender-wise, so those of you who wondered why there's an anime app where you can make only boys, exhale with relief.
For fans of kawaii anime girl characters, Anime Avatar Maker is a perfect option.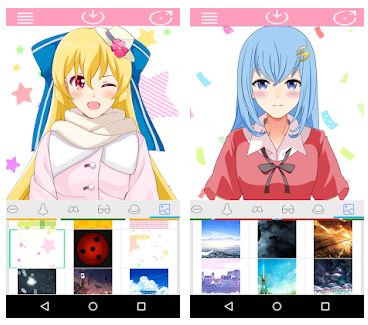 Like all previous apps, this one is no exception when it comes to a rich collection of customizable features and props. Design your female character, beginning with hair, skin, eyes, facial expressions, pick up whichever clothes you think will look perfect, then background which suits your character more.
Make up can be customized with every tiny detail considered, in order to underline your character's personality.
A wide array of options for each bit of visual appearance gives plenty of space for your imagination. Awesome anime graphics capture the atmosphere perfectly. Whether it's a witch, a queen, or a high-school girl, Anime Avatar Maker helps you to consider every aspect of your character and make it absolutely glorious.
All anime fans will enjoy this amazing (and by the way, absolutely free) app!
Key features:
Types of eyes and eyebrows common for anime characters
Make various facial expressions
Myriad of dress-up variations
Many types of accessories
Beautiful manga-style atmosphere
Plenty of backgrounds to underline your style

7. MyIdol – 3D Avatar Creator
MyIdol is not just a good 3D character app. It is the only 3D avatar-making app that reached App Store's first position in over 50 countries!
Popular media resources like Kotaku and Tech Crunch have positive reviews, it has a 4,5 rating, and is used by many celebrities, such as Lykke Li, Sam Smith, Ellen DeGenerous, etc.
As usual – take a selfie and upload it. Then, after your 3D character is made, start with adjusting various parameters such as eye color, skin tone, haircut, etc. You can make many different types of appearance from what is available, so every character is a kind of intriguing experiment. Literally, any type of persona, even the weirdest, is possible to accomplish in this app.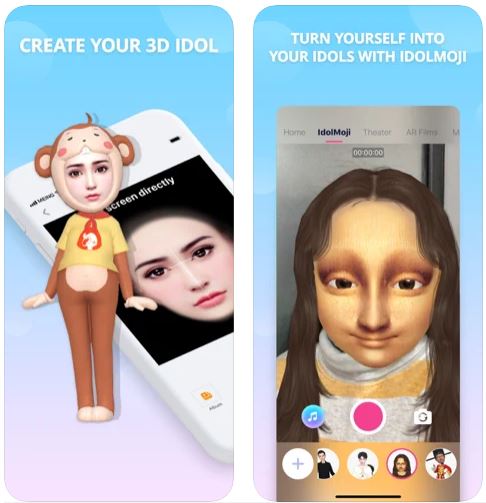 A great range of accessories and clothes lets you calibrate your character's style. And have lots of fun with creating animations, emojis and sharing them with your friends.
App's newest update has a new "IdolMoji" feature for iPhone X and above owners. It is immersive technology, which allows to use your characters in real life.
Through using iPhone's advanced facial expression capture technology, the avatar comes to life and reflects your expressions and moves. MyIdol has a 4,5 rating on App Store and very positive reviews, therefore it still remains one of the most popular 3D character apps for iPhone users.
Key features:
create a unique character by uploading a selfie
customize your skin, eyes, hair
apply different types of clothes
make profile avatars

8. My WebToon Character – K-Pop IDOL Avatar Maker
This is a highly rated character-making app from Korean producers Hellotoon, Inc. Over million downloads, lots of good commentaries – the quality of this one is undisputed.
Create the cutest characters with tons of clothing and haircut options. Make fantasy heroes, or your favorite k-pop idols (which is the main theme of this app).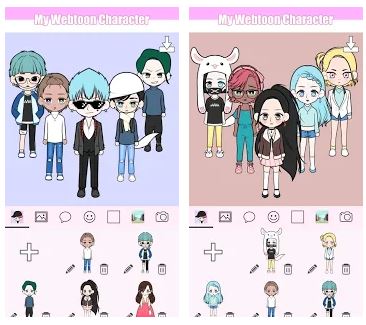 Likewise, you can add captions to make it look like comics, so then your characters can have some sort of storyline, whether it is a romance between the two, or your idols exchanging silly jokes.
Creators keep adding new types of clothes from time to time, which is widely respected among fans. The simplicity of the interface makes it not only creative but also a relaxing process. The app is completely free, and, although ads are here as well, they are not annoying, which is acknowledged in many positive reviews from users.
To sum up, a wholesome appearance, a wide array of options, and a slight hint of k-pop glittery make this top-rated app on Play Market exceptional!
Key features:
dozens of accessories
new clothes and haircuts added by creators
customizable text captions for a comic-like atmosphere
many k-pop related details fans will like
moderate presence of ads

You may also like: Top 10 Gender Swap Software for PC
9. Bitmoji
I decided to stick this one as last because it is one of the most relevant and recognized apps among smartphone users. And there are plenty of reasons why!
First of all, the app's story goes back to 2014, when emojis acquired notable popularity, and Canadian company Bitstrips, realizing what potential lies here, creates Bitmoji.
Second, two years later Snap Inc., a company that owns Snapchat, buys Bitstrips and from that point, Bitmoji began to exist as a separate division.
And at last, the variety of apps which Bitmoji can be used is big – along with Snapchat, iMessage, GBoard, Facebook, and many other apps.
The process of creating a character is quite usual. Choose skin color, hair color, style of hair, eyes color, eyebrows, facial structure, and so forth.
Next is to create stickers with your character. Use different looks, postures, facial expressions to add various effects and captions. When your sticker is ready, pick the right time to send it to a chat and dilute it with fun.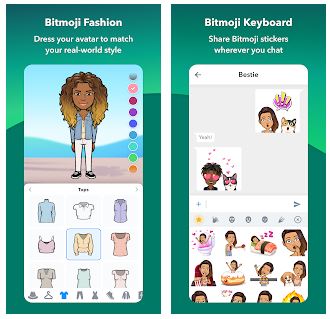 After that, proceed to make as many stickers as you want! Make the whole keyboard with stickers on every occasion.
4,5 rating on Play Market and over 100 million downloads make Bitmoji remaining as one of the most prominent character creator apps.
Key features:
a large set of customizable bits
effects and captions for your stickers
can be used on many apps
for Snapchat users, Friendmoji is also available – for you and your friend