Let us not tell you one more time that love is the best feeling in the world because, if you're in a happy relationship, you know it yourself. And, unfortunately, love is not only everlasting happiness but also hard work most of the time.
You may also like: 11 Best Love Story Games for Android & iOS
You have to find compromise and always make your romance evolve. And how about using additional tools to improve your love life? For example, special apps for couples? It might sound like a weird idea, but there are some fine choices that can add something truly incredible to your relationship.
1. Couple Game: Relationship Quiz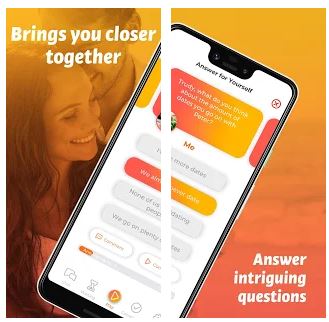 The app is not just a couple game, it is a relationship quiz. Check if you know your soul mate well enough! The game app will help you learn a lot more information about your other half and have profound conversations together.
Learn more about your lover's desires, interests, family relationships, behaviors, and much more. You both will gain a lot and pick what you both have in common to strengthen your relationship.
Entering the app, you will see dozens of quizzes on various topics you can choose from: spare time, beauty, relationships, vacation, movies, music, and so on. Give answers to all the questions while your other half is doing the same.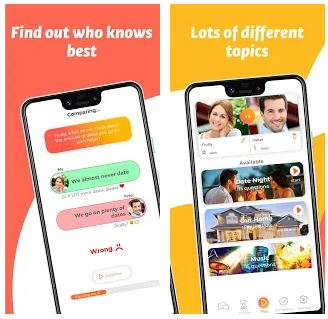 When complete, try to guess each other's replies and have a little fun with it. You will be surprised how great your lover may know some of your aspects. The one with the biggest number of right guesses wins. Your answers will be kept automatically, so you can refer to them later when choosing a gift for your love or remembering a special occasion.
The application's interface is very intuitive, minimalistic, and colorful. So it is a real pleasure to play together.
On Google Play, the app has a 4.2-star mark and was downloaded more than eight thousand times! The users note it is exciting to play even if being married with kids, and the importance of answering the quiz with a partner at the same time. However, some have technical problems with logging in after purchasing the full version. So keep an eye on that!

You may also like: 11 Best Secret Dating Apps That Look Like Games
2. Kindu
Kindu is an absolute must-have for a couple whether you just start seeing each other or have been together for a while. It just starts to be popular, so be one of the first ones to try it out!
If you have struggles opening up, proposing something fresh, the app will spice romantic relationships and let you be more comfortable with your boo. Kindu is a safe space to put everything out there.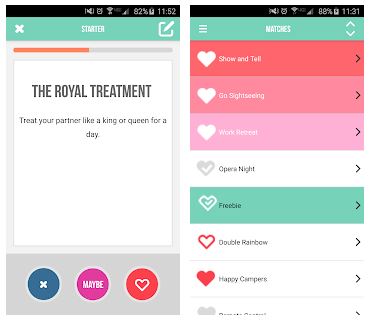 The app works really simply. Sign up and find a bunch of romantic ideas to diverse your relationship. Choose from more than a thousand ideas (only sixty two are available daily for free), let your partner mark them as "maybe" / "definitely" / "no" to find something that you both like.
The interface of the application is made in gentle colors and is easy to operate. The special feature here is "Show and Tell" which helps you flirt with your other half and even exchange intimate pics.
It has a 3-star rating and is used by almost two thousand people yet. Clients are amazed by the variety of suggestions from mild to wild. However, some users complain about the slow operation. If you are willing to wait, you will get the best benefit of it. The Kindu works pretty much as a family doctor. So why not try it?

3. Between
It is worth saying that Between is one of the most popular (with more than half a million downloads!) and the highest-rated (with a 4.6 star) apps out there. This software allows you to communicate with your significant other in absolute privacy.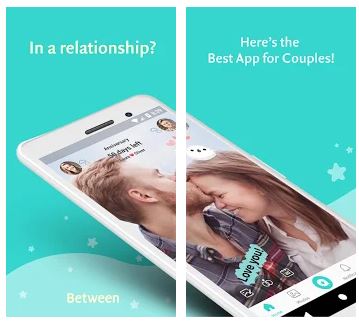 Now, you do not have to worry about your family or friends finding out your secret conversations, photo albums, and much more. Every bit of information in Between is encrypted and protected with a password. Basically, it is a social network for those in relationships.
Share texts, photos, voicemails, calendar notes, memos just with one click. The uploaded material is automatically saved in time accordance and is open for comments. The built-in calendar has a countdown tool for you to never forget about the next date.
The interface is user-friendly and really enjoyable. Customize the app and make it flawless with a personal style: set wallpapers, pic adorable stickers, choose from a variety of color themes, and much more.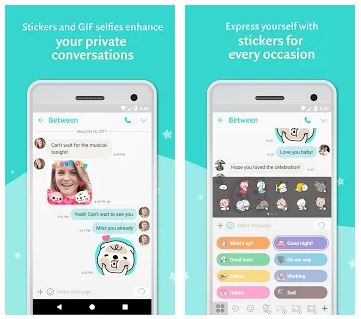 Most users truly appreciate the experience with Between saying it helps them track their schedules, undoubtedly privacy, and notes feature.
Some of them wish for a smoother user experience and more new features. The application is available for free for the biggest part of it. There is a Between Plus option with access to love letters, no-limit audios, and videos, and is free of ads.

4. Desire
This is a great app to spice and enhance your relationship. Create personal tasks like shopping or making dinner for your lover, dare your partner, and accept dares in return to earn points for completing them.
The app is made in eye-catchy love colors and has lots of topic-related icons. There are different categories to pick up from: outdoor, roleplay and fantasy, love sensations, kitchen, dress code, risk of being seen, and much more!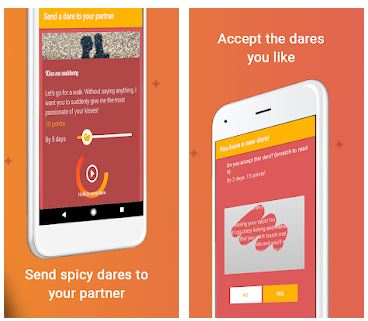 Inside the categories, you can find tens of dares that are updated weekly, so you two will never get bored! Completing the dares gives your points. Do not lose refusing to do it! For your personal tasks, set points yourself. Earning points will unlock a higher level with even hotter dares.
What makes the Desire even more desirable is the Quickies feature. Shake your phone and receive short memos that you can send to your boo. Besides, by keeping the app logged in, you can get save the most memorable events of your love history.
At the moment, about seventeen users have played the app and it already has a strong 4.3-star rating. The most common problems people get are message feature failing after the last update, camera use, freezing ads in the free version, and probably too sexual content. On the other hand, most clients find it adventurous and down-to-earth at the same time.

5. Naughty Games for Couples
This app is a true erotic game based on the "truth or dare" principle. It will help you strengthen your relationship and diverse your evenings.
The games start far from sex. It will give you warm-up ideas, initial caress, and enjoyment. Play truth or action and the hottest one – dice. There are four levels in the software with more than a thousand dares. At the first soft one, know your other half better playing truth or dare.
After, the degree will raise: Hot requests and questions become sexier and more intimate guaranteeing you an enjoyable night. There are even Hard and Extreme stages after that. But the superlative one is the dice with each side of a cube referring to various erotic activities.
What makes this app stand out is its unique design and hot emojis everywhere that set you in the right mood straight away. The free version of the application allows you to play the Soft level only. If you want to unlock the rest of it, consider paying for the full variant.
The app's users gave it a 4.5-star rating and downloaded it almost forty thousand times! Seems that the only major thing to complain about is the app's limited free version and refund issues. However, most of the audience is highly satisfied with the software.

6. Rave
This app slightly differs from the other ones from this article. Rave is one of the best software to watch movies as a couple even in a long-distance partnership!
No matter how far you are from your significant other, you still can spend cozy time together watching your favorite videos. With this application, you can see YouTube, Netflix, Vimeo, Reddit, and many more, as well as listen to music. Along with that, you can chat with your soul mate in real-time and discuss it all together!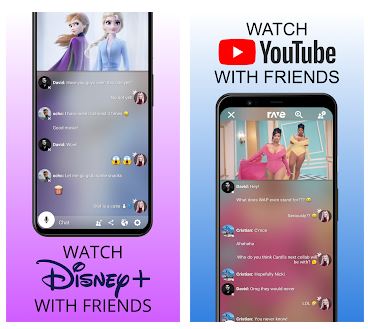 Besides, you have an option to upload videos to Google Drive or Dropbox and create personalized mashups with RaveDJ. Do not worry about the quality of the music: connect the app to your favorite speakers and enjoy it to the fullest!
The app has a colorful interface with clearly stored items so you can easily navigate through your movie or music lists. Rave is rated 4.4 and was downloaded almost 250 thousand times.
Apparently, the lasts update was not successful, as many users complain that the app is loading extremely slowly which ends up in endless relaunches and frustration.
Another inconvenience is using the subs: whenever you put the subs in another language, the audio of a movie changes as well. Hopefully, the developer will fix the current issues. Nevertheless, millennials are pretty happy with the app.

You may also like: 11 Best Apps to Catch a Cheater (PC, Android, iOS)
7. iPassion
Do you think you know everything about your soul mate? Make your connection even deeper with the help of this application. Many say it's the best adult game on the market.
Basically, it is a trivia game but with the help of provided questions, learn about your lover's needs, sexual preferences, desires, turn-ones, and dislikes. A great way to start an intimate talk.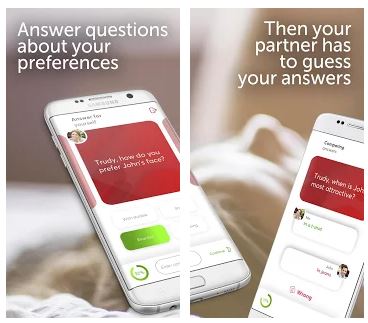 To start, give two answers about your personal preferences. In return, your partner will have to guess your answers. Hopefully, he will get them all correct, as for every right answer you will earn one point. There are multiple-choice questions in the app as well. The person with the highest number of points wins and is entitled to select a prize.
The iPassion app has a minimalist interface with a nice color palette. There are about twenty thousand people using the software that they rate with a 4.1 star.
Recently, the biggest issue is with a pin-code that users struggle to set up. Some complaint about questions getting boring or way too dirty with the time and they want more diversity of them. Many others thank the software not only for spicing up their marriages but also for making their romances more meaningful.

8. Relish
This app is fairly new to the market and promotes itself as a relationship coach. Quite intriguing, right? It is best suitable for couples who have been together for a while rather than fresh relationships.
With its help, you could strengthen your connection, work through conflicts, and upgrade your partnership to the very next level. If lately, you are having problems with your other half, it is definitely worth downloading.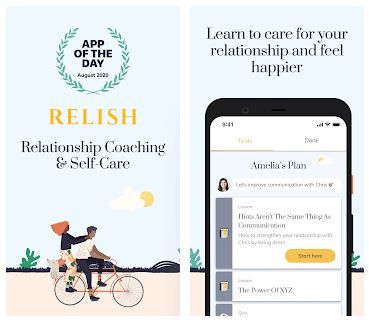 The application is tailored to your relationship dynamics. In the beginning, you will have to answer a few questions about yourself and your loved one. Invite them to join the app as well. If you are an achiever, you will enjoy the progress meter.
Try it with a seven-day trial period, and if you find it suitable and beneficial, consider getting a monthly or yearly subscription of the $15 and $80 cost respectively. There is even a date generator that brings you up cool ideas for a quality time with your soul mate.
Though they are not the best ones hopefully it will inspire you to lighten up with your own ideas. What is more, there is a chat feature for those who want to connect with other users of the app for advice.
The app is well designed and is done in soft colors with a great eye for details. The best part is that in the Premium version, a relationship coach will be assigned to your account that will contact you on a weekly basis.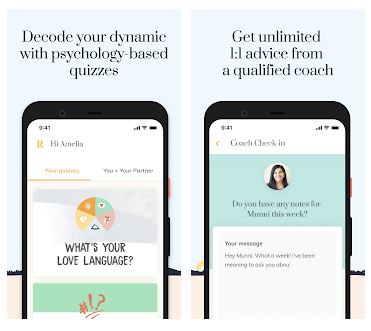 You will be provided some tasks to complete as a couple, which will help you build a truly intimate connection. Besides, you will get personalized recommendations according to your present needs.
Relish has been downloaded only 141 times at the moment of writing this article and already has a 4.2-star review. Users are happy with the app for being unique and rich in features, especially considering how much it would cost to visit a couple's counselor.
However, some find it quite boring (for this, we would recommend having fun with other interactive software in this article) and unhelpful (this would fully depend on how serious you are with your answers and intention). Nevertheless, Relish can be a great chance to save and improve relationships.

9. The Couple (Days in Love)
This is quite simple but definitely cute software for couples. If one of you both always forgets your special dates, consider downloading it.
It might seem to be developed for teenagers but why not celebrate love to the fullest? Input a date when your started seeing each other or another memorable occasion, and the app will calculate how many years, months, or day you have been together.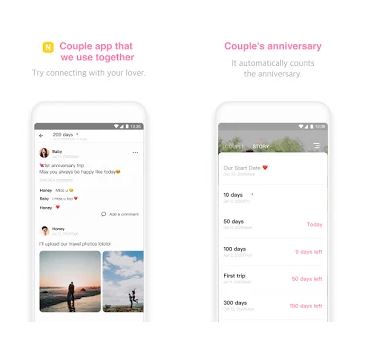 For each anniversary, get an automatic reminder. And the coolest feature is notes: write down and save a story of the day to never forget it.
The Couple even looks to be designed for the ones in love. A light interface and sweet pink-ish colors dominate. And with that, the app has more than twenty one thousand downloads and a 4.6-star rating.
Most users are completely satisfied with The Couple, and the app's team is very responsive to the suggestions and helps fix the bugs. The developer says they are developing an exciting feature to read your partner's love stories. Download the app and stay tuned!

10. LoveNudge
LoveNudge is developed using The Five Love Languages concept and is basically a personal relationship assistant. It is aimed to help adopt habits and attitudes to express feelings to your lover according to their love language, i.e. what they think is the most important and how they want to receive love.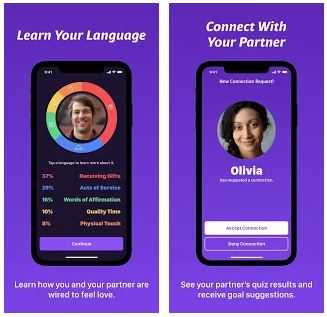 Take a fun quiz and identify the love language of yourself first, and tell your boo to do the same. There is a great feature that will allow connecting your accounts by entering emails of your accounts. Through completing the exercises, defining objectives, you both will find out what to do to for meeting your own needs, plus account for your lover's ones.
The interface of the software is violet with black which really makes it stand out. It is more than user-friendly and absolutely intuitive to use. LoveNudge has been downloaded more than eight thousand times and yet has a 3.9 rating.
The biggest problem is, apparently, for Android users who are unable to complete the registration process or get stuck at the tutorial step. Hopefully, the app's team will solve these issues soon. Still, we totally recommend you to try it out and develop a steadily developing healthy relationship.

You may also like: 11 Best Games Like Movie Star Planet
11. Honeydue
Financial problems often end up in couple's disagreements. Receiving help from the app, this discussion can become easier. Honeydue assists you with your bills, budget, card balances. There is a variety of categories, including custom ones, to mark your spendings. It will remind you both to pay the rent or electricity bill.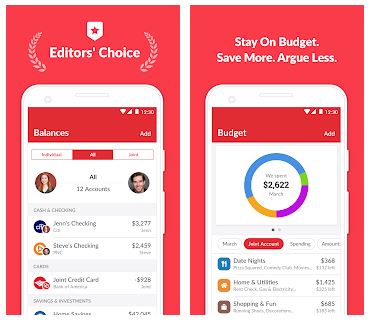 No need to worry about the safety of the personal information. You are still in control over the money, and you can set what exact moments are shared with your other half. Moreover, the app has bank-level security (including the code and TouchID, and multi-factor verification). Besides, it supports most banks of the USA.
With many tools, the app's interface is easy to use with very clear features. It is rated with a 4.2 star and has more than fifteen hundred users.
The main issue is that some clients encounter bugs with setting up the cards or using the app on tablets. There is a Join Banking tool that enables a shared balance for a couple. The Honeydue is absolutely free to use with an option to donate to the developers up to $9 monthly.