Making a digital greeting card with a mouth-talking video is always a great idea. It is simple but extremely funny at the same time. Apart from cards, mouth-talking vids are especially popular in the era of TikTok.
You may also like: 8 Best Apps to Animate Still Photos on Android & iOS
You probably think that in order to create a video like that you need to invest a lot of time into the editing and have special editorial skills. However, we will try to reconvince you with the list of apps that you can find down below. Those will help you to create any cool mouth-talking video in a minute!
1. Face Changer Video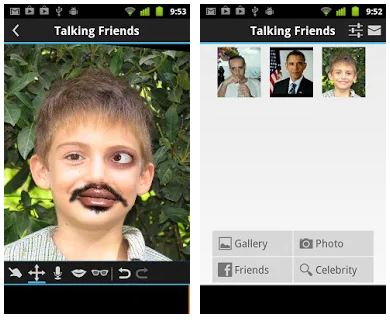 The first app on our rating list is Face Changer Video. So, let's get a glimpse at it. The app is very popular and does not take a lot of storage space. Plus, it is quite easy to use. All you have to do – just add a picture, record your speech, and adjust sounds.
By the way, you can use animations, add texts, edit pictures, and other features. Moreover, the app enables you to use additional face and body parts. As for the app interface, it is very straightforward, however, some users can find it a little bit primitive.
In comparison with the majority of mouth-talking apps, Face Changer Video allows you to adjust not only the mouth but other facial features as well. This is certainly a great bonus there! In general, we liked this app. So, we hope it will fully suit you.


You may also like: 11 Best Apps Like Bitmoji for Android & iOS
2. SpeakPic – Deepfake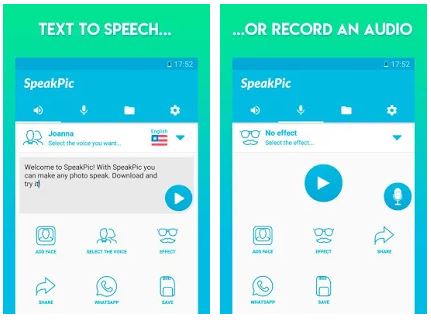 SpeakPic is certainly the best way to bring life to your pictures. The app works on an AI basis. Just insert any text you want, and your picture will start to speak.
By the way, SpeakPic comes with a great variety of voices and sound effects. Additionally, the app supports many languages, so you can choose an appropriate one. Moving on, this tool features an intuitive design that guarantees a clear interface.
All in all, SpeakPic is a magnificent app that will not leave anyone indifferent. We have not found any negative feedback from users about this app. But the only minus there – it has ads.


3. My Talking Pet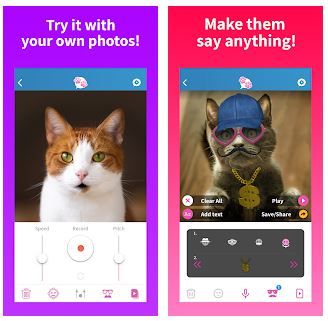 If you have pets, you should definitely download My Talking Pet. This tool is very lightweight, that is why the installation process will not take much time. In this app, you will find a great variety of animations, sounds, filters, and so much more.
Besides, the app enables you to add to the pictures various accessories – f.ex. hats, glasses, and others. The best part about this app – you can customize the face mimics on the pictures. There will be special spots, which you can move as you wish.
Another useful feature there, after recording the speech, you can also adjust its volume level, tone, etc. As in similar apps, you can instantly share the received results with your beloved ones via social nets. To conclude, we can sure say that My Talking Pet will guarantee you a great time!


4. Talking Animals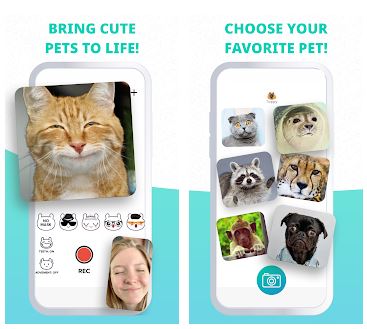 Talking Animals is basically an analog of the previous app. This is also a must-have app if you want to enjoy time with your pets. After adding the voice, you can simply customize the volume level.
Another excellent feature there – it supports videos. So, you can also apply a great variety of amazing effects, masks, and filters. What is more, Talking Animals comes with a minimalistic design, that's why the app is very easy to navigate.
However, we have to mention that many users complain that the premium version is too expensive. So, in case, you are going to have fun with friends, this app will certainly help you!

5. iFunFace – Talking Photos, eCards, and Funny Videos
The next tool we are going to review is iFunFace. This is a very popular app that guarantees you an excellent mood for the whole day. So, let's get a glimpse at it. We have to admit that the app installs quite fast and operates very well. But how should we use it?
So, first of all, you have to take a picture or select from the existing ones. Then, you have to mark the face and mouth. In the last stage, record your voice and add a sound filter. If you want, you can quickly share the results with your friends or relatives.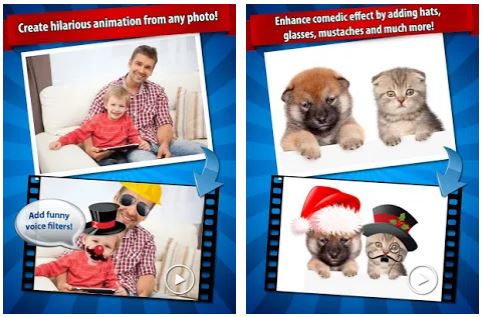 Moreover, the app allows you to add various stickers – for example, headgears, mustaches, and so on. Plus, you can even swap heads on the photos and change their size. Guaranteed fun time-spending!
Overall, iFunFace is suitable for everyone. The major disadvantage there it contains ads. Besides, many users complain that this app hangs from time to time.


You may also like: 11 Best Microphone Apps for Android & iOS
6. Photos Alive – Jellify
The next funny tool in our article is Jellify. The app runs steadily without any lags or bugs. Plus, it quickly recognizes faces. So, how can we use it?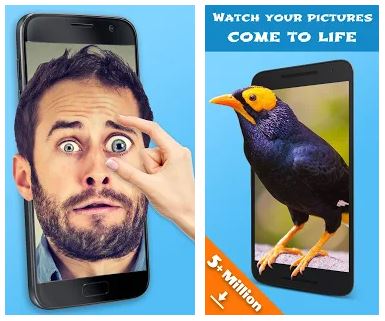 First of all, you need to download the picture. After that, you should pick the parts that will move. And the last stage – shake the device to start motion. Besides, you can set up some parameters or instantly share the results with your friends.
Another interesting thing there – the app allows you to create and send GIFs. We have to admit that we have not found any negative comments from the users. But there is a small disadvantage in this app – irritating ads.

7. Funny Movie Maker – FMM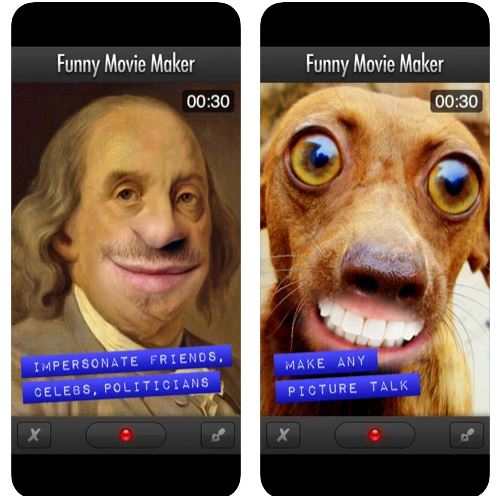 No doubt, you have heard about Funny Movie Maker. This is a very popular app that deserves to be mentioned in our article. Funny Movie Maker allows you to create entertaining videos where you can add sounds and change the face mimics.
The app allows you to pick any picture you want – pets, celebrities, toys, or you can use your picture. So, when you select the picture, all you need to do – cut the mouth and add speech.
By the way, you can use various animations, music, or sound effects. The app also lets you customize face features the way you want. However, there is the only disadvantage there – it's available only for IOS.

8. Talking Photos – Voiced Emojis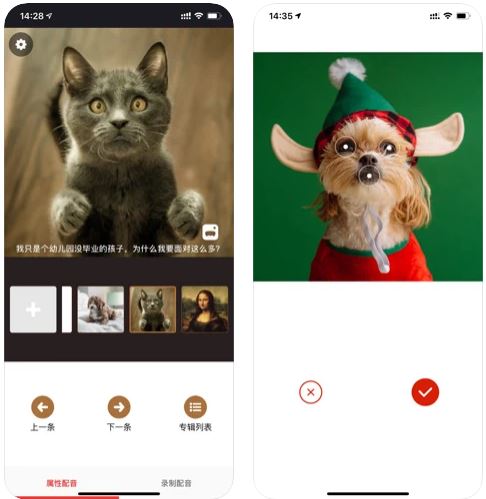 Talking Photos is our next interesting app that is able to add a great variety of emotions to your pictures. The app operates very well and installs in a couple of seconds. Besides, the app is very simple, so you will not face any issues while using this app.
As for distinctive features there, in this app, you can add various stickers, animations, and special effects. As in the previous apps, you can customize facial features for better results.
However, some users highlight that sometimes this app freezes. Nevertheless, we have to mention that the developer constantly updates the app version. Talking Photos is full of useful features, so we believe you will not regret!

9. Anyface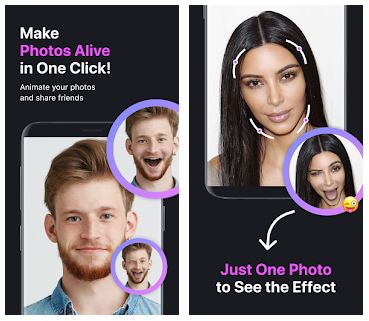 The next must-have tool that we would like to recommend to you is Anyface. Due to this tool, you can easily record your voice on the pictures. There is nothing complicated in this app. All you need to do – just download the picture, record the sounds, and animate the pictures according to your wishes.
The great advantage there- in this app, you will find a great number of wonderful effects, animations, and filters. Moreover, you can add various accessories to your pictures – f.ex. glasses, hats, and others.
Anyface boasts a modern design that guarantees convenient navigation. However many users complain that sometimes this app does not work well and hangs a little bit.
To sum up, Anyface is truly worth downloading. But we have found some drawbacks there – ads and in-app purchases.

10. Talkr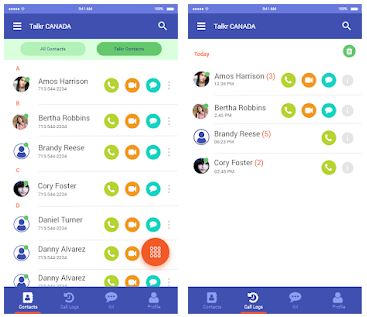 Talkr is full of stunning functions. This is a reliable and stable app that does not hang or crash. Click on the +button to download the image and then record your voice. By the way, you can add various facial expressions, animations, and sound effects.
Moving on, Talkr boasts a minimalistic design that makes its interface very user-friendly. So, you will quickly find out how to use this app. Additionally, you can create audio scenes or turn text into speeches.
Summarizing all the points, Talkr is a perfect app. We have not found any drawback there, except the fact that it is available only for IOS.


You may also like: 8 Best Lip Sync Software for PC, Android, iOS
11. Animated Face Changer
And now we would like to provide you with our last tool – Animated Face Changer. The app allows your pictures not just to speak but to sing and laugh as well. This app does not hang and installs quite fast.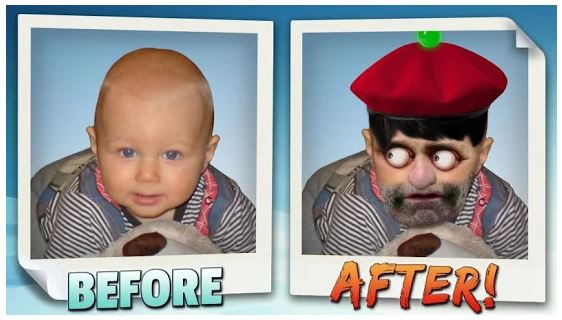 Animated Face Changer enables you to carry out various tasks. For example, you can adjust face size, record a voice, add texts, use animations, and so much more.
However, some users mention that sometimes the app can be difficult to navigate. But in case of any technical issues, the app has responsive tech support. In general, we liked this app, but unfortunately, it contains tons of ads.