Do you want to try a user-friendly application that will allow you to transfer all your contacts between Android, iPhone, or PC? If your answer is "yes", we have to bring your attention to the magnificent tool – Contact Transfer.
The app is full of useful features and now let's find out the most interesting ones. First of all, we would like to mention that Contact Transfer is extremely lightweight – it weighs just 9,34 MB. Therefore, you will install it in a few seconds!
In order to provide the proper work of this app, you need also to install it on your Windows 10.
So, due to this application, you can easily copy contacts from your Android to any other device – another smartphone or to your PC. You can transfer contacts from Android to Android, iPhone to iPhone, or even between your iOS and Android devices.
Another interesting feature – the app enables users to export contacts from the mobile phone to Windows Contacts or save them as vCards. By the way, you can manage your mobile phone contacts right from your computer. So, you can create, edit, or delete contacts.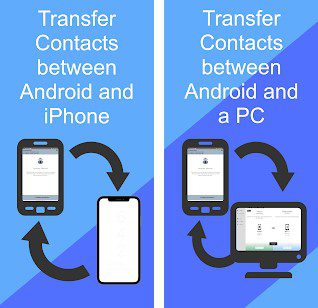 As for the app's interface, it is very straightforward. So, there is no need to have any professional skills to find out how to use this tool.
Moreover, the developer offers a wide range of tutorials on the official website. Besides, in case of any misunderstandings, you can contact customer support at any time. The technical assistants will answer all your questions.
Contact Transfer comes with a free trial which means that you can copy the first five contacts for free. However, you can also purchase the premium version that contains an unlimited number of contact transfers. Plus, the price is very accessible!
The majority of users are fully satisfied with this application, as we have not found any negative comments from them. Contact Transfer is both Windows and Android apps. If copying contacts between iPhones or from iPhone to PC, only the Windows app is required.
Summarizing all the points mentioned above, Contact Transfer is a must-have tool for all kinds of users. The app works fast and efficiently, so we can surely say – you will not regret!