Today we are beginning to forget about the paper in all areas of activity, thanks to the tremendous possibilities of smartphones. The music industry is no exception.
Now you don't need to buy notebooks, make notes by hand and imagine them playing in your head. Special services won't just allow you to store your sheet music electronically, you can even listen to it, which greatly simplifies the process of creating music.
To master all these benefits, use these best sheet music writing apps in 2023 for Android, iOS, PC.
If you want to create music on your own, then try these best apps like Garageband.
MuseScore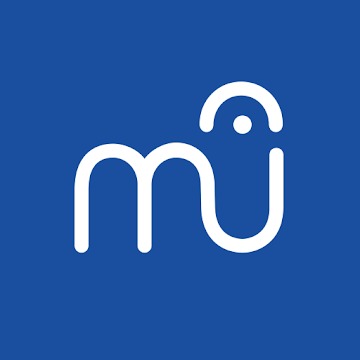 The MuseScore app is designed to help you learn musical scores on your own.
The utility provides access to a collection of sheet music of popular songs and classical compositions. You can authorize the app with your Google or Facebook account or via e-mail.
The first time you launch the utility, you can customize the display of sheet music according to your individual needs. You can select your musical instrument. A selection of notes for vocal parts is provided.
The utility includes a selection of your favorite genre: electronics, classical, country, pop, rock, jazz, blues, folk, and more. The level of education is taken into account when setting up the instructional program. Self-learning song notes are available to beginners, professionals, and virtuosos.
The utility has a collection that contains more than one million notes. It includes music from movies, anime, classics, games, and pop. You can find a score for an ensemble or an individual instrument.
The app allows you to add notes to Favorites and save them to your smartphone. It is possible to create collections of your own scores.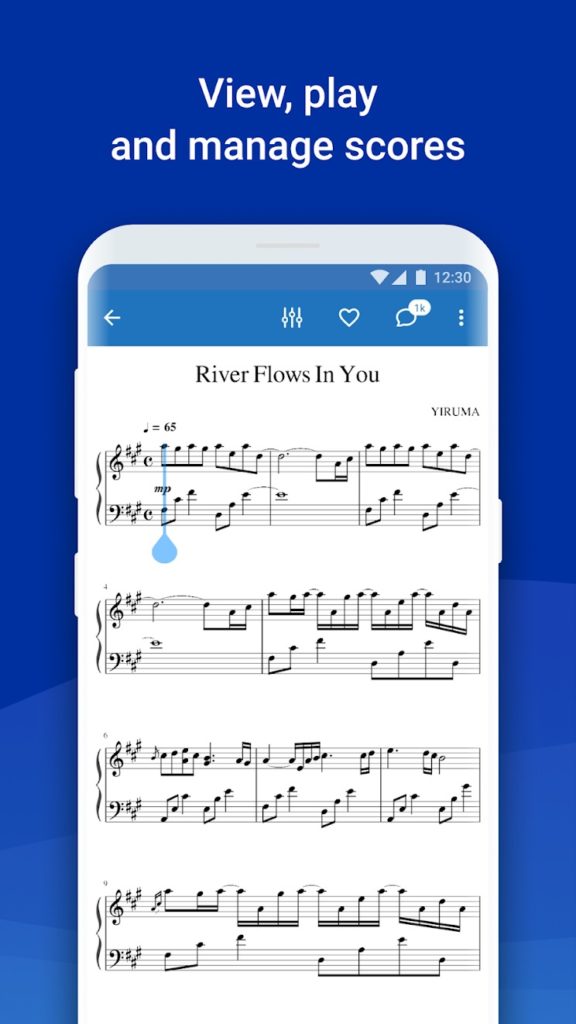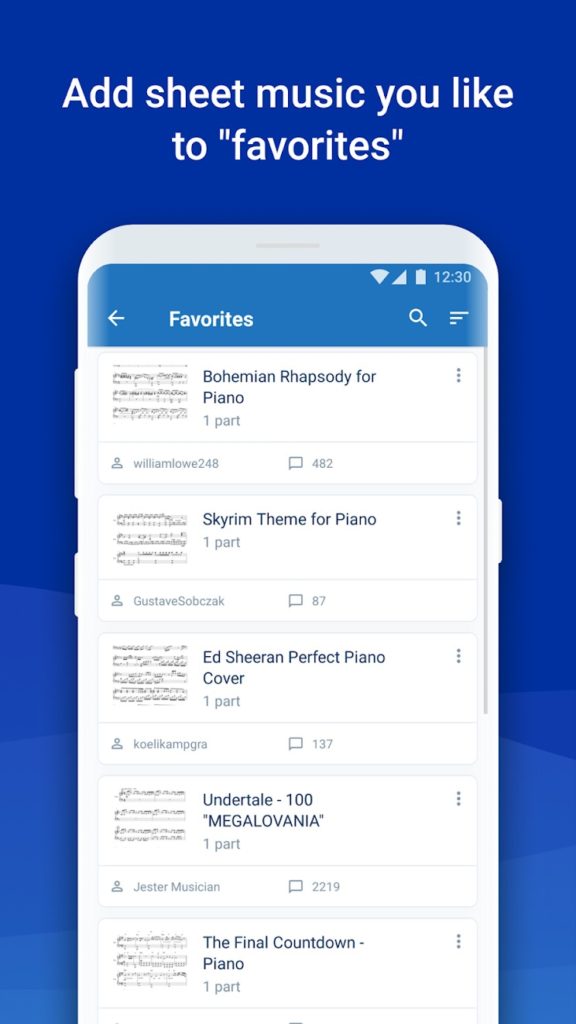 Your music tracks in the utility can be played through the built-in audio player. All scores are accompanied by data about the rating, the number of readings, and comments.



You may also like: 9 Best Multitrack Recording Apps for Android & iOS
Musicnotes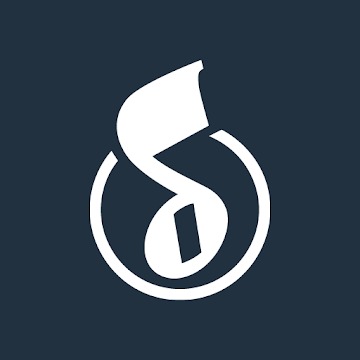 Musicnotes is a program with the ability to record gorgeous music with your voice.
Tweak the app to your liking by changing some details in the settings. Listen to other people's songs and take notes.
The app will store everything you record. Don't worry, nothing is shared outside of Musicnotes Sheet. What's more, create your own sheet music and then sing songs from it.
You can print out the sheet music for convenience. Create your own hits in any genre of music. A great reason to record a beautiful song with your friends if you are at some celebration. Be upbeat and cheerful. Delight those around you with your beautiful performance.
When you have accumulated a song, you can create a separate album with them. By the way, it is a fascinating design of all the keys.
The app is made in bright colors. Lots of different tools for great music. Synchronize all your songs so you don't lose them unexpectedly.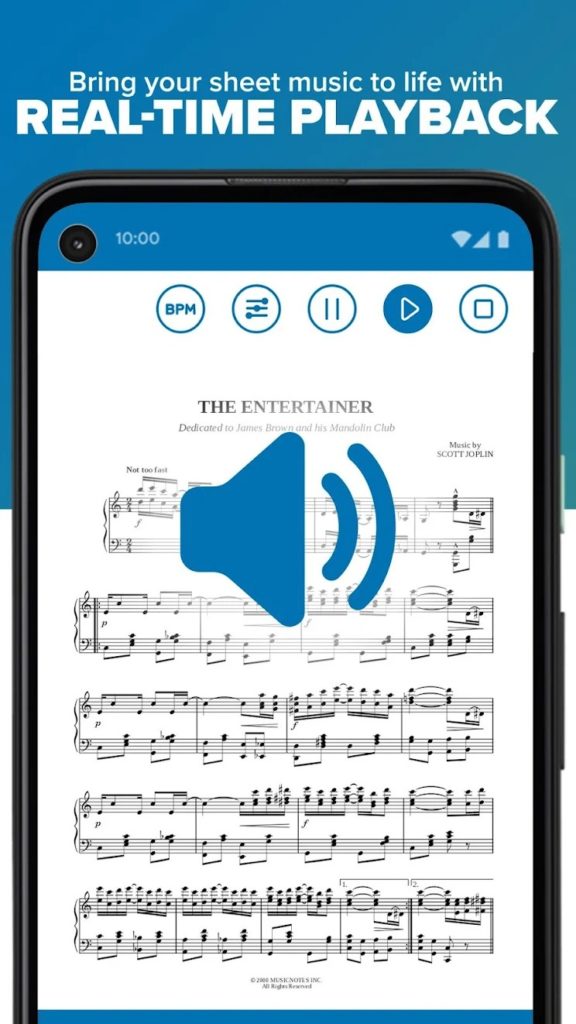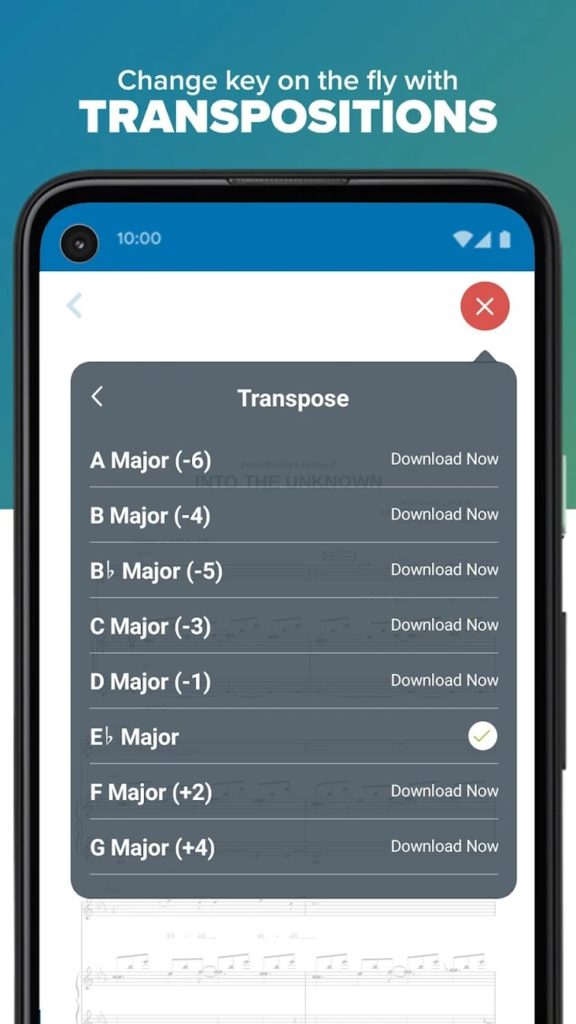 It's worth saying that you can flip the notes without the help of hands, it can be easily configured in a special section of the menu. You need to create an account to fully use the app.



nkoda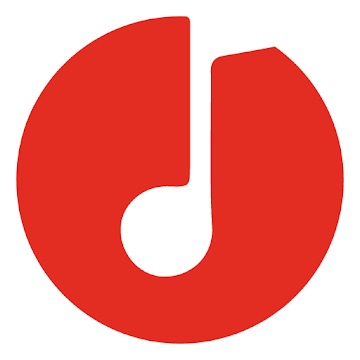 nkoda is an app with sheet music in electronic format.
Do you like everything related to music? Then you should definitely try nkoda. The app is suitable for professional musicians as well as music students.
Why is the program so popular? Here you will find many tools for ease of use. You will be able to use the app in airplane mode. Discover the world of music at last! This way, you can make music your hobby.
Advise your friends to start learning. Music has a beneficial effect on a person. You can have fun dancing to it, you can calm down or even get angry. What's more, watch other people read notes and learn something new from them.
The nkoda program develops a taste for music. Finally, understand the reading of all those notes you didn't understand before. Practice and after a while, you'll be good at it.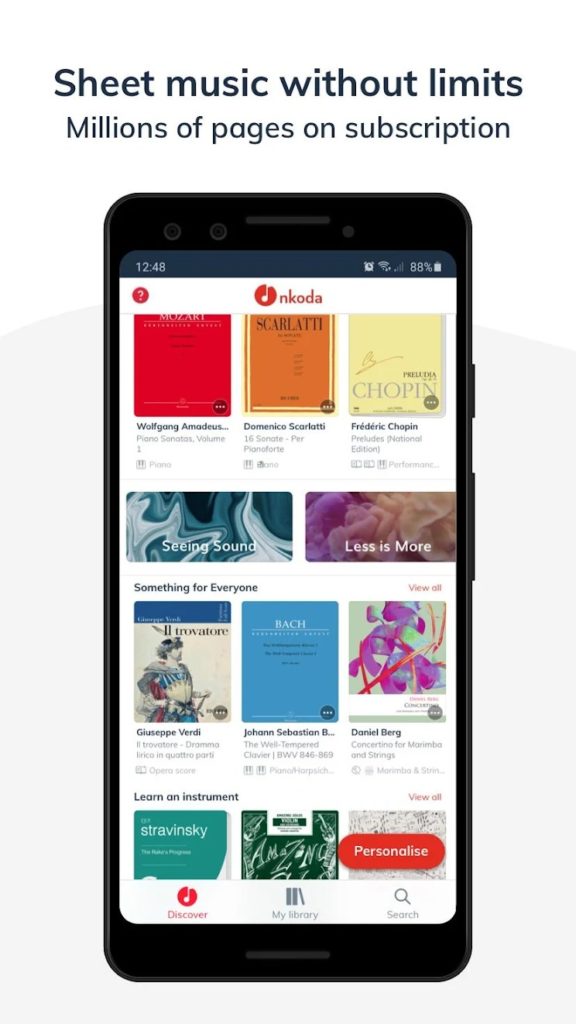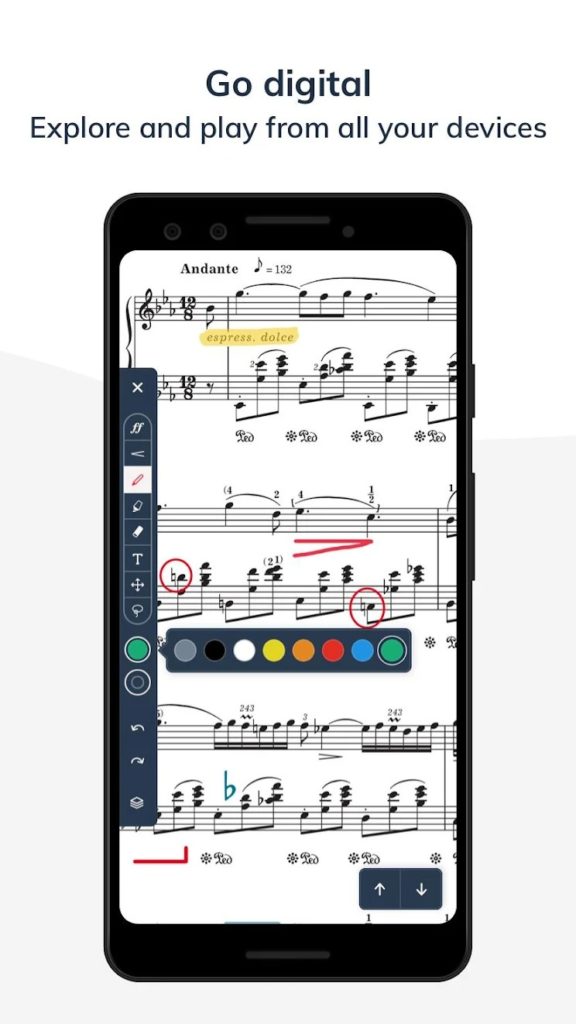 Users are happy with such an invention, as learning is at its best. If you have any questions, contact the experts through the support team section.



Tomplay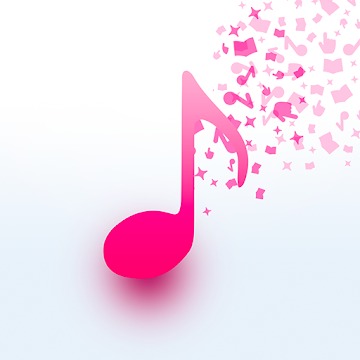 Tomplay is an app with a wide variety of music and musical instruments. If you love music and want to learn everything about it, then it's worth installing.
You will be able to train yourself to play the piano. Here you will learn how to properly place your hands on the keys when you play. Choose different music here and try to play it in your repertoire.
You'll find both classical and rock music as well as other genres. What's more, there is sheet music for all instruments. Try and pump up your knowledge of music.
Here you can find like-minded people. Play the drums with your band. There are different modes of playing. Set it up however you like and practice more often. Watch solo orchestras and take note of what they're doing.
Tweak the tempo of the tracks to suit you as you go along. Listen to the recordings and note what works and what doesn't.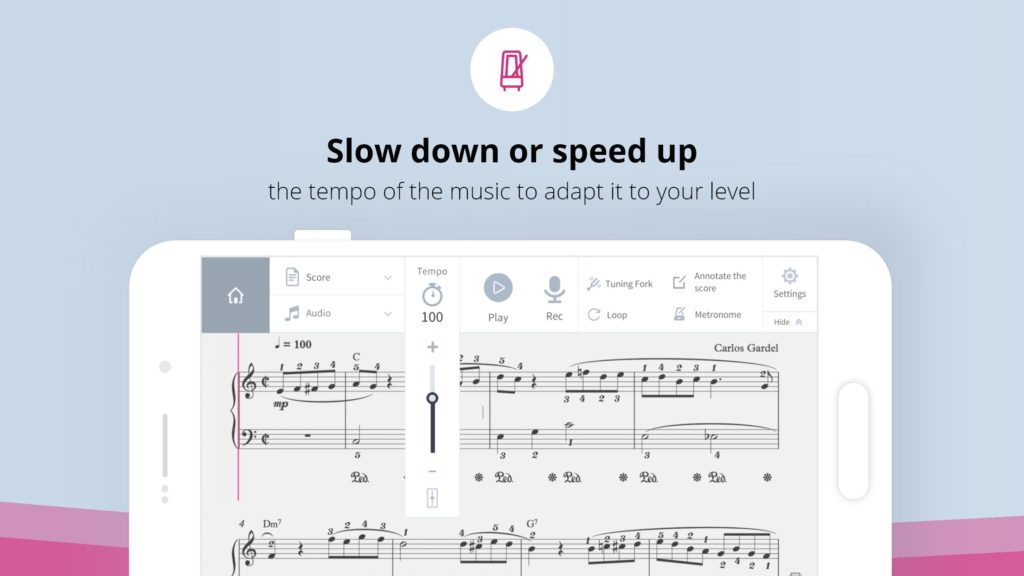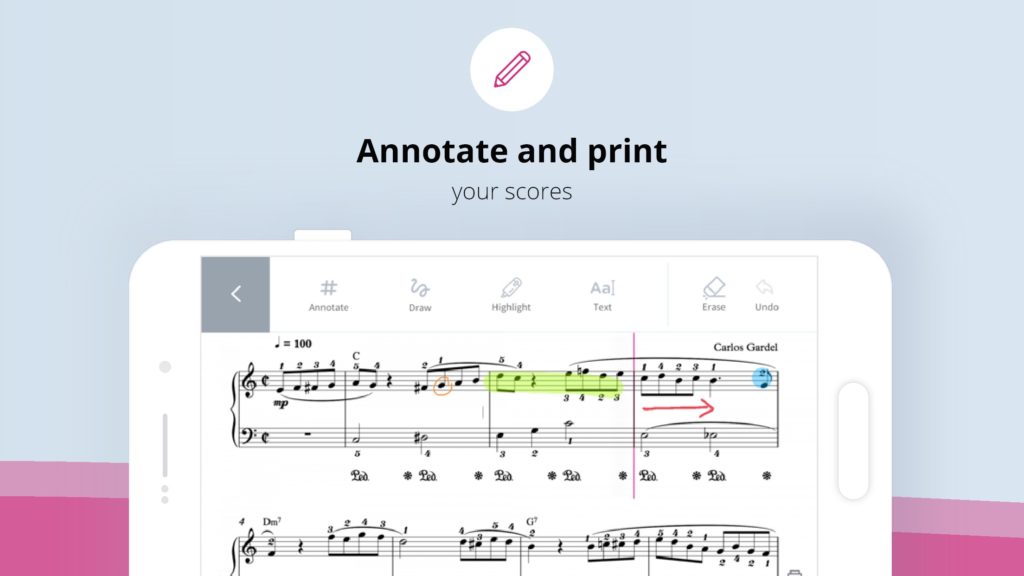 You'll get better at it each time. Not only make up your own songs but also perform well-known lyrics. Invite your friends and let them all get a taste for music and maybe even become famous performers!



Piano2Notes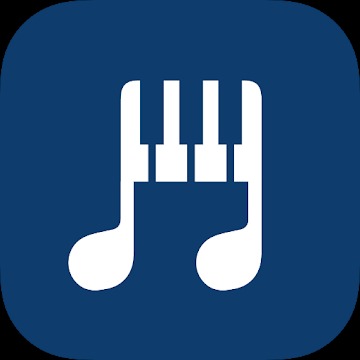 Piano2Notes is a program that will record piano sounds through sheet music. You will be able to keep all the notes in one app. This is really convenient.
There is a smart system built into the program that immediately recognizes the sounds of the instrument. Then, it starts recording notes. When the music is over, the system saves everything into files.
You should not record many musical instruments at the same time, the notes will get mixed up and nothing good will come of it. Piano2Notes analyzes the tone and timbre of the sound.
It is worth noting that the app requires a network connection. Besides, the program simplifies everything and you do not need anything other than to configure all the data of the app.
Make the program for music comfortable. Moreover, if you still have questions, feel free to send them to your email. This novelty is already liked by many users.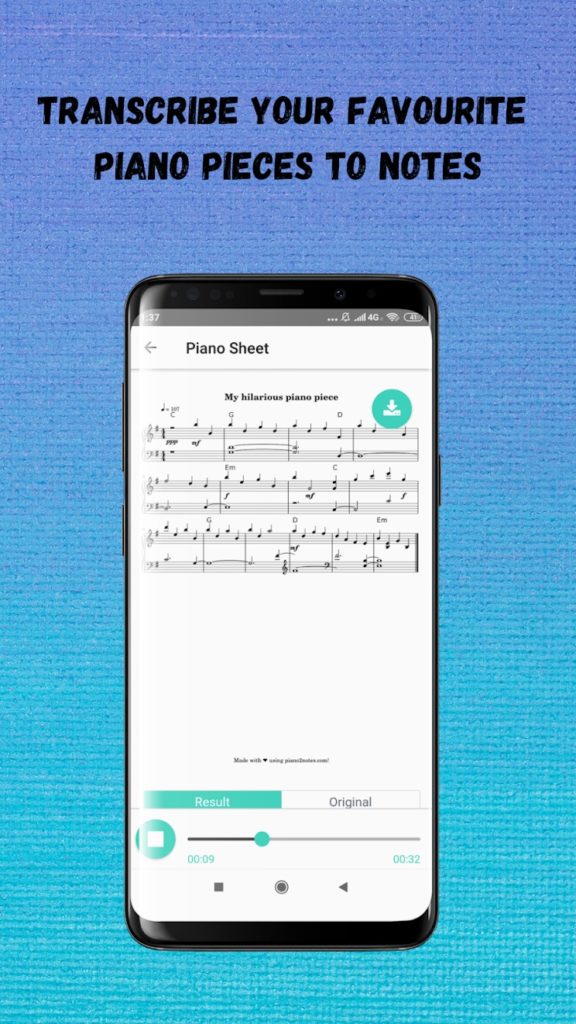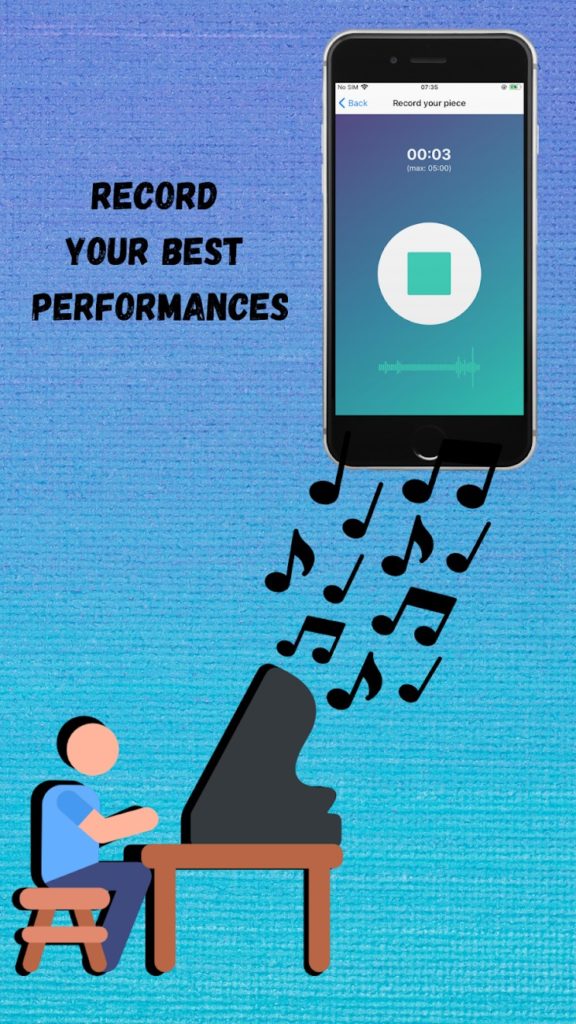 The features are plentiful and everything works properly. Besides, the app often gets high-quality updates.



Score Creator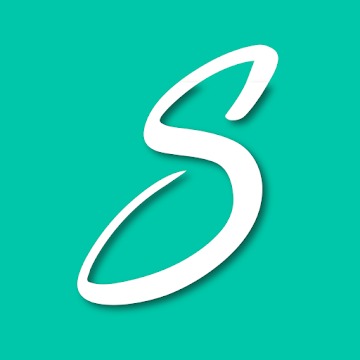 Score Creator is a music composition app. If you are a fan of certain tracks or compositions and just want to learn music, then the program is definitely for you.
It is worth noting that the program is famous for great control and just as good sound recording. Make comfortable music for yourself, choose a timbre, the sound itself.
Here you can also learn the notes, how to sing correctly. Become a real expert in this field. Also, play music alone or with your friends. Compose whatever comes to your mind.
Try writing lyrics for future songs and then translate the paperwork into an entire song. Change the tone of your creation. Of course, you can leave notes of your own in the app so the bright thoughts don't disappear from your head.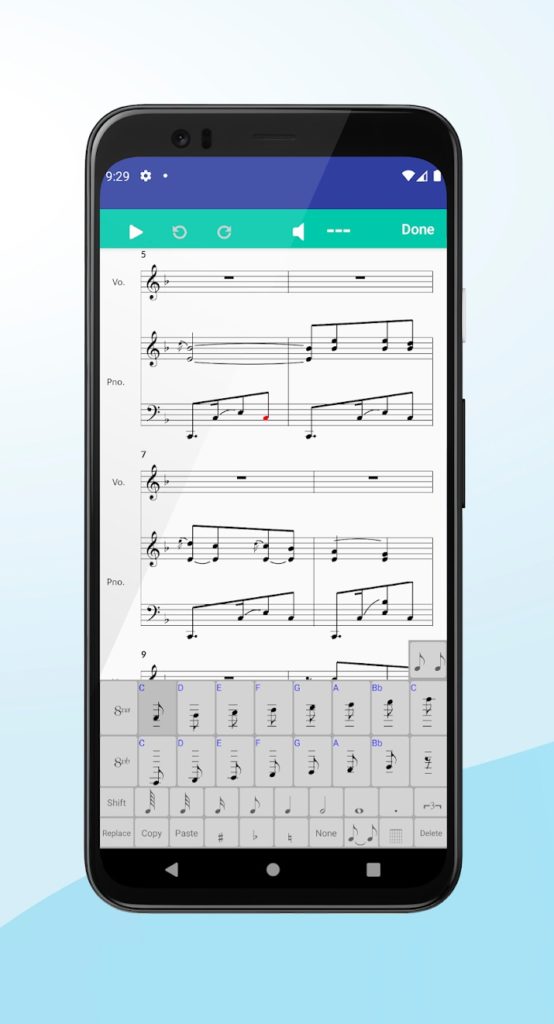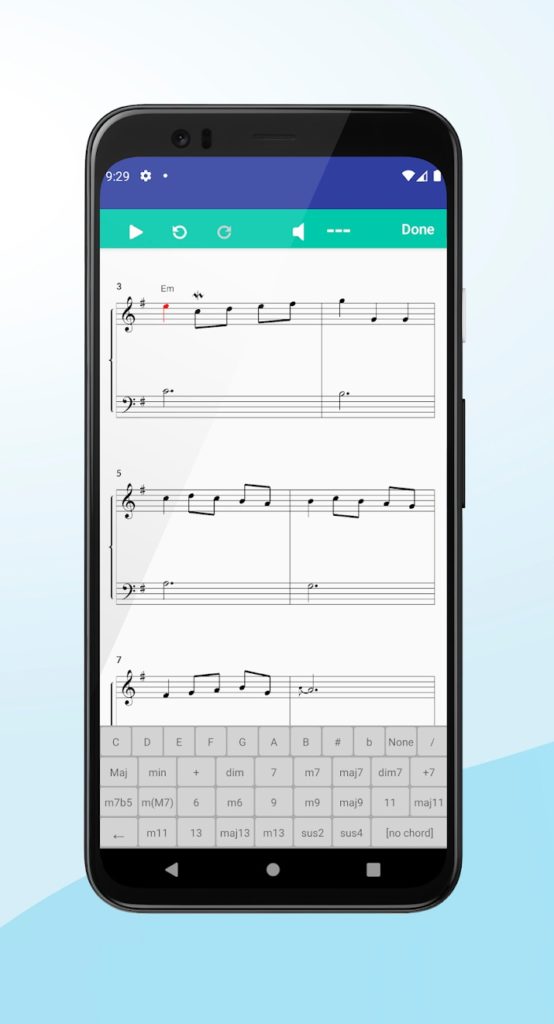 Score Creator gets frequent updates, keep an eye on it and let you have the best version of the program with a great arsenal of features.


You may also like: 11 Free Apps Like Tempo To Edit Music Videos On Android & iOS
Notation Pad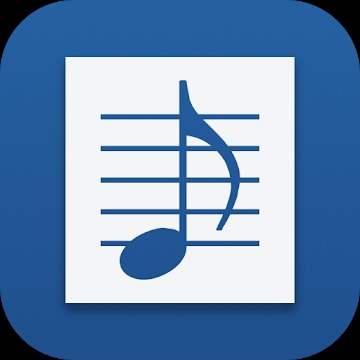 Notation Pad is a program with which you can create gorgeous songs of your own creation to any tune.
The app is created for professionals in this field. Also, if you are burning with the desire to learn how to write music, then quickly install this program.
Write your own songs and let your imagination run wild. Edit what you record and improve it. Create interesting songs that your listeners will love. When you're done creating, you can share the track on social networks. Perhaps you will become popular!
By the way, the sound in the app is clear and conveys all the colors of the sound of your voice. If you made a mistake in the song or something you didn't like in your performance, you can smooth it out.
Export everything to files. Choose your favorite instruments and play songs on guitar, flute, harmonica, and other instruments.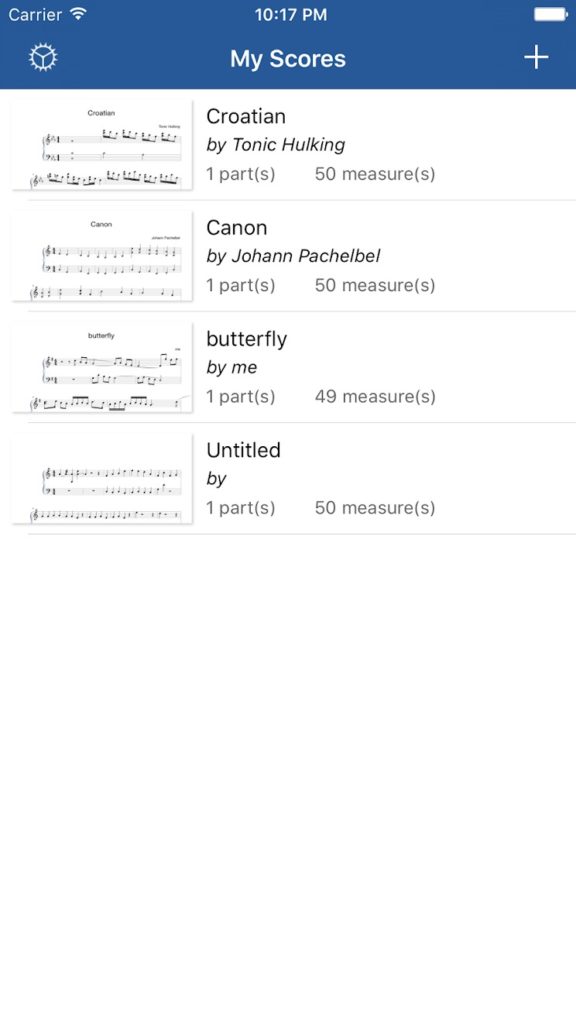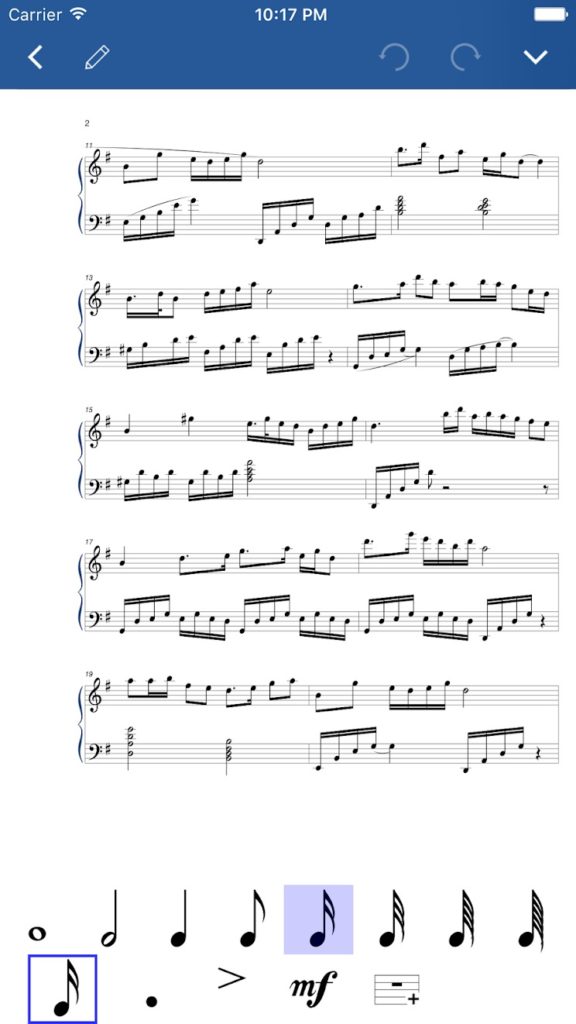 All in all, Notation Pad has something for everyone. Let this program become your favorite in the field of music. Learn and you're sure to succeed!


A-Score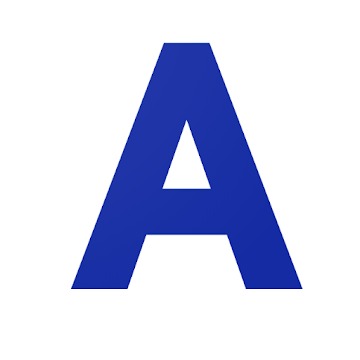 A-Score is an app with which you can easily record your musical creations.
If you are a fan of different kinds of songs, then download A-Score and you will definitely not be left indifferent.
The program has a lot of awesome features. Download all files in PDF format so you won't lose anything. You will be able to change recorded tracks, change the sound, and much more.
Play the piano and learn every key. Learn how to play the piano properly. Listen to what different songs sound like. Learn different chords. Moreover, you should create your own page before using the app. Look at your friends' albums and listen to each other's music.
Moreover, you'll see all the notes, learn how to gesture, and try it out. Create your own music tracks and share the track on social media.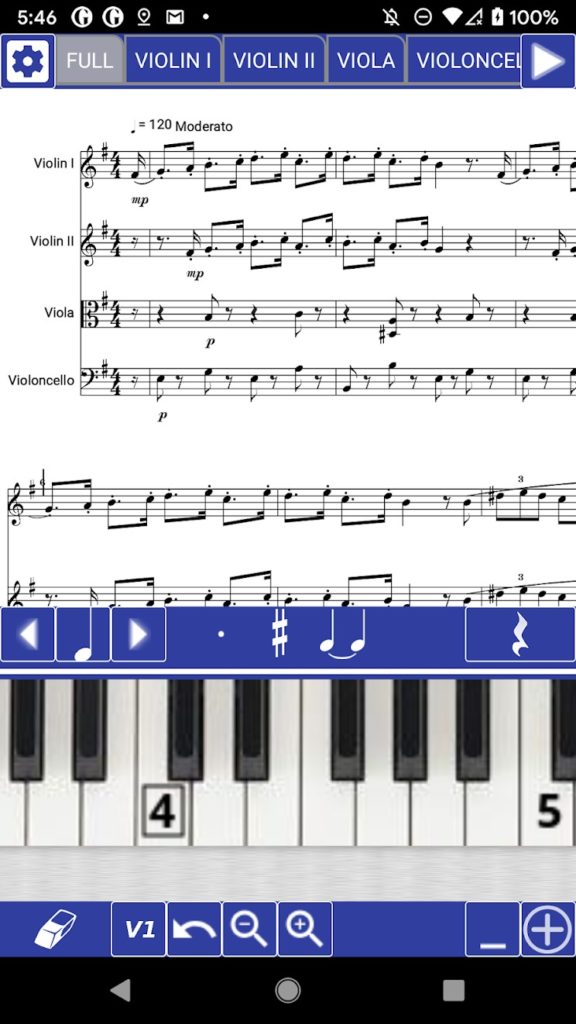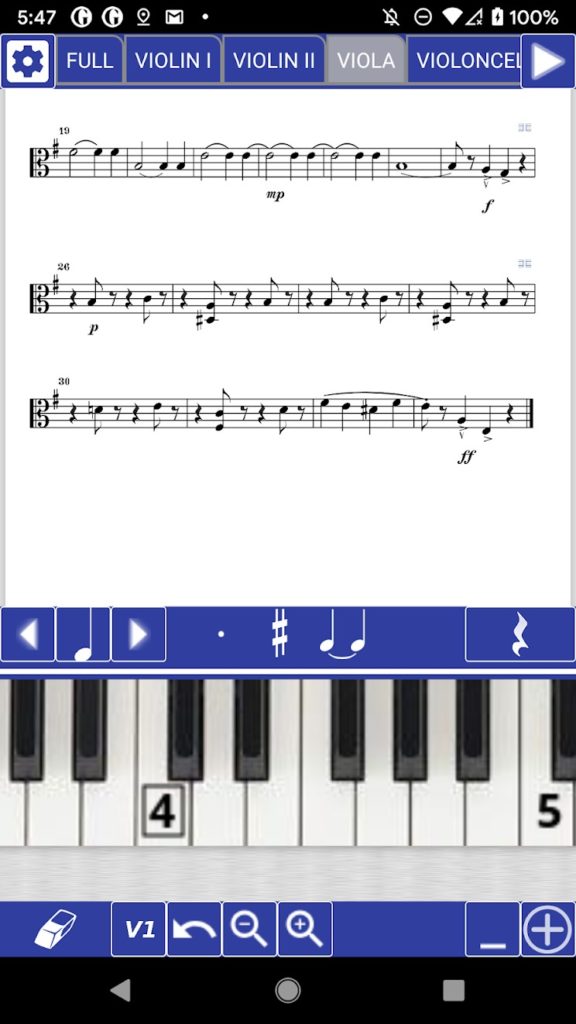 A-Score can improve your singing skills and knowledge of all musical secrets after prolonged use.

iWriteMusic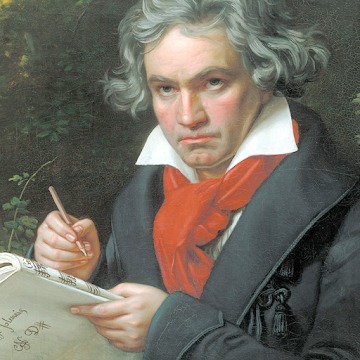 iWriteMusic is a program for musical talent. In this app, you can create your own sheet music recordings. Find different genres of music here and choose your own.
Everyone will find something they really like here! You can learn how to read notes correctly and sing from them.
Here you can create something interesting with your voice and then send a birthday or holiday greeting to a friend. Sing with an orchestra or alone. iWriteMusic is great for tutors who are teaching music to beginners.
The program has a simple interface that even beginners can easily figure out what's what. You'll be able to open different sections by step and read all the information you need to use it.
What's more, as you get familiar with the notes, you'll gradually understand the musical language. Then, you will be able to translate your songs into these symbols for further playback.
Sing at different tempos, experiment, and make takes if something suddenly doesn't quite work. Save everything to files and make a whole story with your music.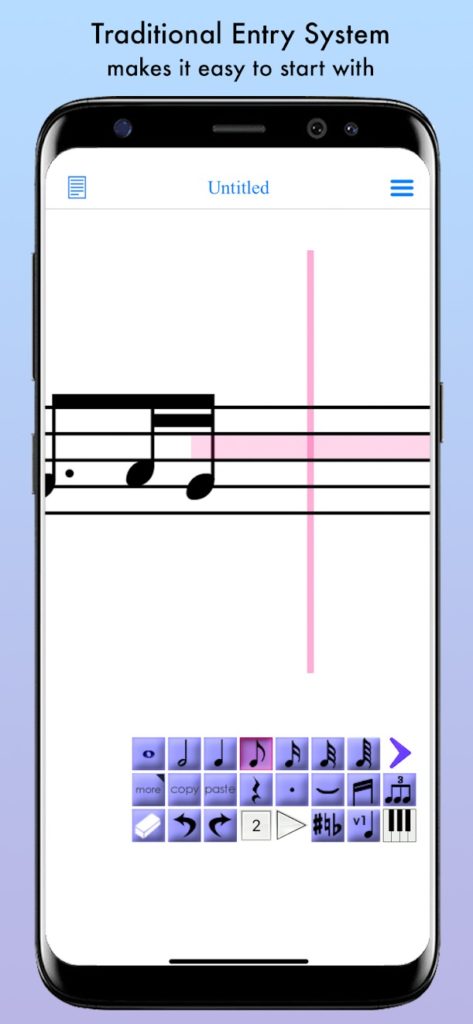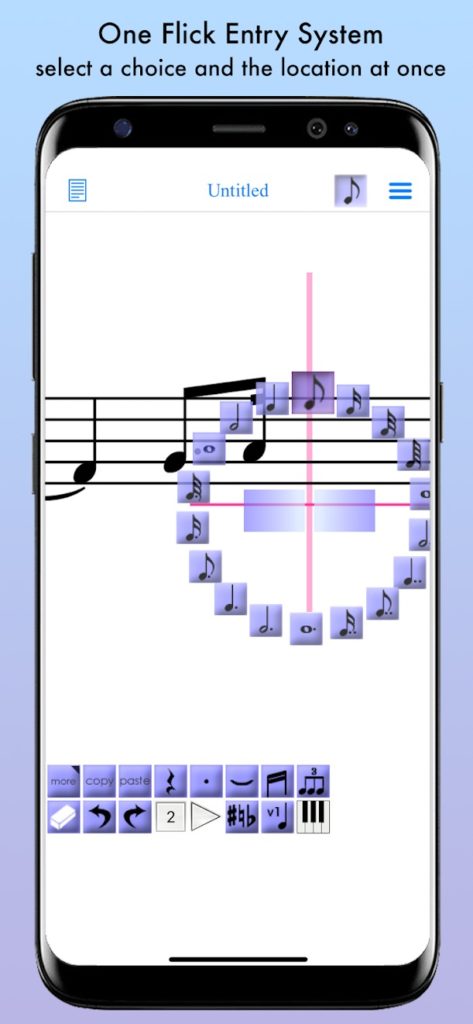 The program is also convenient because it has a small amount to download. A huge number of people use iWriteMusic and are absolutely delighted.


Maestro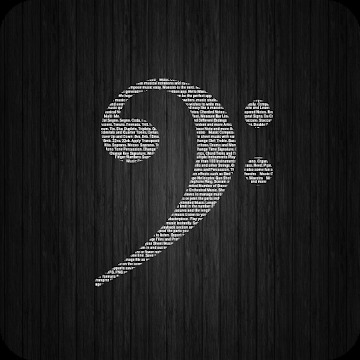 Maestro is a program in which you can record music. Not only can you sing in this app, but you can also learn how to write music.
Listen to the high notes and learn character writing in music. Learn more about performing voices in music, like the Soprano, the Alto, and many others.
Moreover, sing the way you once dreamed of singing. Start developing your talents in music. Play any instrument and hum. Create songs and perform them in this app.
Sing songs by your favorite artists in your own repertoire. Invite your friends over and record a whole quartet. Record yourself an unlimited number of times.
What's more, create a whole album of your own songs and then send your masterpieces to your friends. You can also learn a lot about music, create your own sheet music files, and more.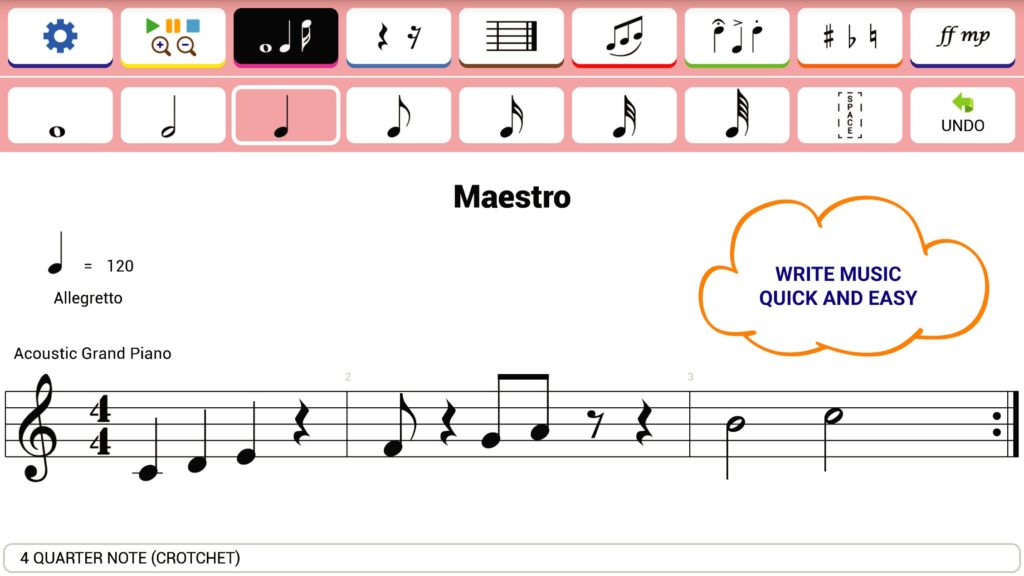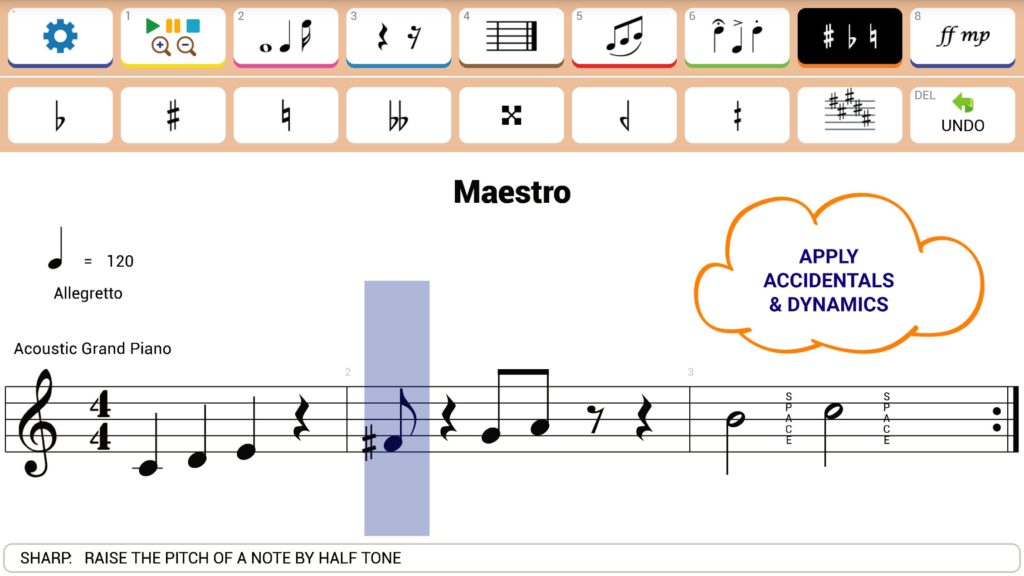 Post your tracks and see how others react to your creation. View other users' songs as well. Experience the magical atmosphere! Make it your hobby. Create everything you enter here. Leave your wishes in the program evaluations.

You may also like: 8 Best Lip Sync Software for PC, Android, iOS
Music Writer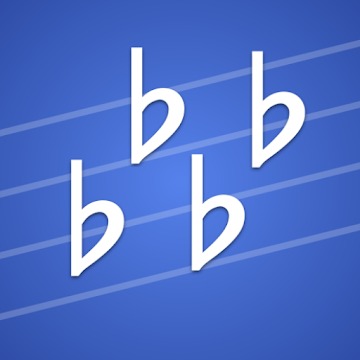 Music Writer is a program with which you can create your own memorable tracks.
Install the app on your mobile device and try the novelty! Come up with beautiful motifs and record everything in audio format.
If there's something you don't like about your performance, you can edit and trim it. Put extra sounds into your recording if you like. Change the sound of the notes, you can also turn the whole song upside down.
Furthermore, you can add subtitles to your song. Use different parts with sounds. If you're a beginner and you're not a professional at singing, there's nothing wrong with that. Try it as often as you can and then your songs will probably even be a hit!
Anything you don't like, you can change in the settings of the app. Tune in and sing from the heart. Save your performance in PDF, MWD, and other files.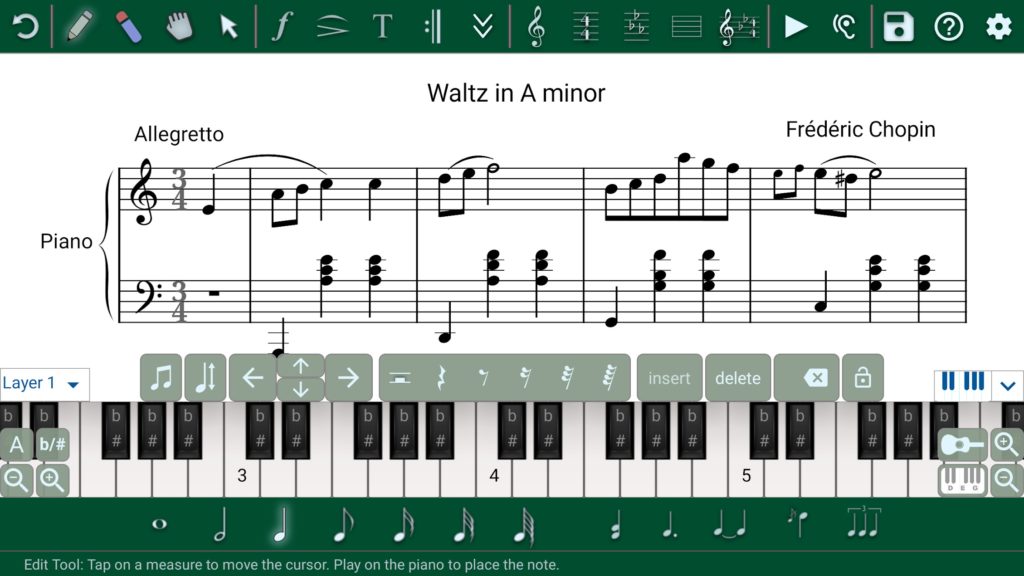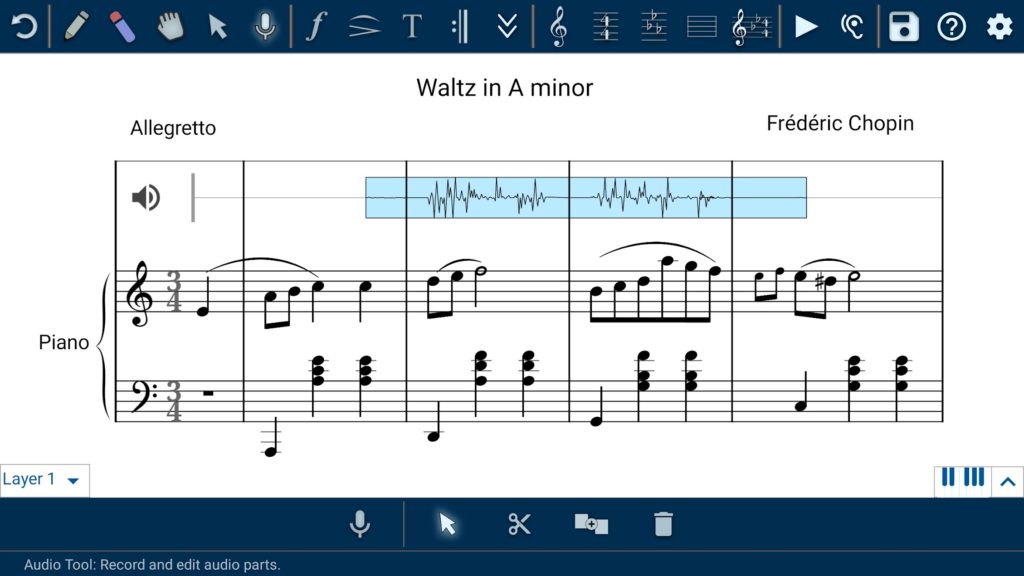 Also, don't forget to take advantage of your backups. In case you lose your phone, all your efforts will be saved in a safe place.