According to the statistics, more than 70% of people talk in their sleep from time to time. If sleep talking is a regular thing for you and you feel like you need to make recordings and analysis of it then you can use this list to explore the best software for those purposes.
You should also keep in mind that in most cases sleep talk doesn't mean anything – it's just the way your mind works and there are no signs of a serious disease or anything. The only misfortune is that it can bring discomfort to the people surrounding you in the moment of sleep.
You may also like: 11 Best Microphone Apps for Android & iOS
And though sleep talking can be genetically explained, in some cases it can be a consequence of a mental illness disease beginning. To prevent you from any harm, use this software to analyze your sleep talking.
1. SleepScore™
SleepScore is the ultimate app to monitor everything that deals with your sleep. This is an app that embraces the importance of sleep and helps you to keep a healthier lifestyle. We need to say that SleepScore is truly popular since it's recommended by a number of respectable media sources.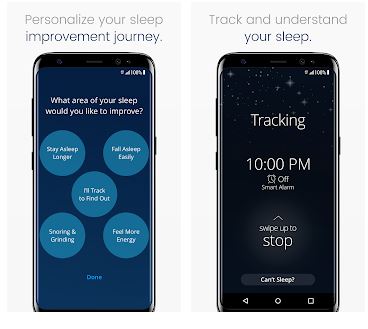 We also must say that this app does a serious job – and you can notice it from the very first minutes that you install it. You will need to create your account and then put in some data about yourself. In the first step, you'll need to highlight your sleeping goals, whether you want to fall asleep faster, have more energy, cut down snoring, or analyze your sleep talking.
Don't forget to turn the tracker on before you go to sleep and this is only thing you will need to do.
Plus, in the app, you will find a quick guide that will explain how to monitor the sleeping time more effectively. After that you will be able to explore your first sleep recording and see how many times you speak during your sleep, how loud is it, if you snore, and other factors.
After you record your sleep for a week, SleepScore will be able to compile the report with your sleep analysis and perhaps identify some issues you might have with your rest.
It is reccomended to keep the phone close to your head while you're sleeping.
Summary:
User-friendly interface
Ability to set sleeping goals
Attention to your biology
Completely free


You may also like: 11 Best Mouth Talking Apps for PC, Android, iOS
2. Sleep Monitor
The name of this app basically speaks for itself – here you will find everything that you need to record anything that happens to you during the night. The main difference between the previous app and this one is that Sleep Monitor has a more complicated interface and more features in general.
Another advantage of Sleep Monitor is that it doesn't require any account when you first open the app. The only thing – when you use it for the first time, it offers you to buy a premium subscription – it can be confusing and you might think the app is available after payment only.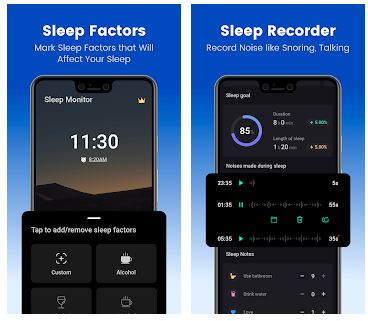 But that's not true, you will need to click on a tiny cross in the upper corner of the screen.
This app requires a more detailed approach before each recording of the sleep – you need to add the factors that influence your sleeping time – maybe you drunk coffee, alcohol, smoked, or you are in pain, upset, and so on.
You can also choose to play special sleep sounds which will improve the quality of your sleep.
There is a special section in the app where you can track all the recordings of your sleep and your sleep talking. The app will identify the moments where you talk or snore automatically and will highlight them on the record.
Overall, it is a great app to analyze and track your sleep talking. Despite the fact it can suggest you buy a premium subscription it doesn't have any ads.
Summary:
Lots of features
Allows to listen to the recordings of sleep
Some features are available only in the PRO version


3. Sleep Cycle alarm clock
This is one of the most popular apps for sleep tracking. Officially, this is a smart alarm system, but it also can analyze your sleep talking.
Sleep Cycle is extremely similar to the previous app. It works in a similar way, where you need to choose some factors before you go to sleep (smoking, physical activities, alcohol, etc.) and then click on the start so all your sleep is being recorded.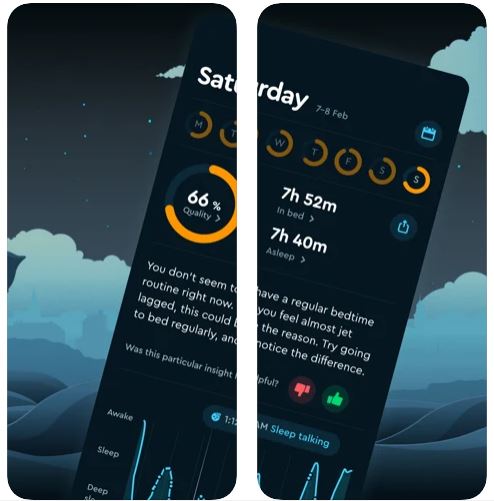 And if you're worried that such recordings are going to occupy all your phone's memory soon, then there is no need for that – the app really records and saves something if it's snoring or sleep talking. After each night, the recordings will be saved in a special section where you can re-listen to all of them.
Moreover, the app can help you to get healthier sleeping habits – fall asleep faster or have more power after sleeping.
The only feature that many users can find to be a drawback – the app is paid and there is only a 1-week free trial before you have to buy a yearly subscription. What is more, many users complain that sometimes it ends much earlier than it should.
Summary:
Compiles an analysis of statistics
Gentle alarm
Forms healthy sleep habits


4. Dream Talk Recorder
Finally, we have an app that was created for dream recordings specifically. For those who don't need all those extra features and are only interested in recording their sleep talking Dream Talk Recorder will be an excellent choice.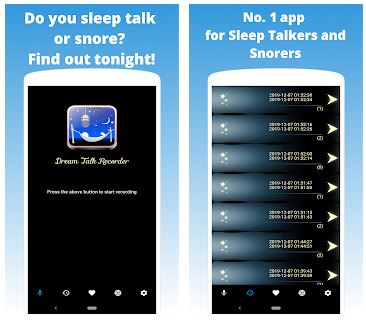 The app itself is extremely simple – unfortunately with lots of ads too. On the main page, you will be able to see the recorder itself. Just click on the button and leave the phone over the night – and you will receive the full story of your sleep talking.
Plus, Dream Talk Recorder shows the exact time when you were talking. It also includes the smart system of recording – thus it records only the moments when you're snoring talking or stop breathing. So your phone's memory isn't going to be overflowed by all the long recordings.
The reason why we placed this app comparatively low on our list is lots of users complaint about different bugs, crashes, and errors in the system.
Summary:
Lightweight
Records sleep cycles easily
Errors and ads are a common thing


5. Fitbit
Fitbit is a more general fitness and healthcare app, however, it also contains a fine sleep tracker which is also able to record your talking at night while you sleep.
Basically, Fitbit is software that can help you to carry a more healthy lifestyle and improve your sleep in many ways – by excluding unhealthy foods from your ratio and working out in the right way. This app will help you to track your physical activities during the day and workouts.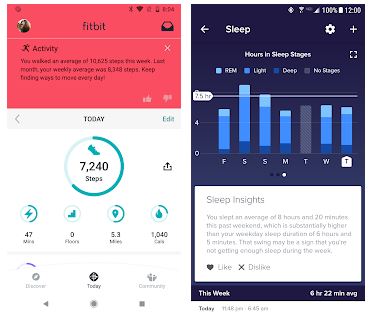 Now let's finally talk about the sleep section. You can set up the usual time that you go to sleep and then make recordings of each sleep cycle you have. The app will perpetuate all the moments where you were talking or snoring – you will be able to listen to those later.
After a week Fitbit will compile for you the statistics of your sleep, taking into consideration the time and quality of sleep. Therefore, you will be able to track your sleep talking and get the overall analysis.
Speaking about the interface of the app, some users might not like the fact that Fitbit just has lots of functions in general. So if you're not looking for a lifestyle workout tracker app, but you just need to record your sleep talking – downloading Fitbit makes no sense since it's also going to occupy much space of your phone's memory.
Another essential thing that you need to keep in mind is Fitbit is not free – the yearly subscription costs $59 – not that much, but be ready to pay. Plus, in order to track sleep here, you will have to buy a special Fitbit device. Though all the data that you'll receive will be pretty accurate.
Summary:
Records all the data accurately
Makes sleep analysis
Need to buy additional equipment
Data synchronization errors



You may also like: 9 Free Yawcam Alternatives
6. Pillow
Fun fact: there is an app on Google Play with the same name, but that's actually a different app.
To start with, Pillow is also quite known in the section of sleep tracking apps. It has gained quite a positive reputation and was acknowledged by such authoritative sources as New York Times, The Guardian, and so on.
Pillow is only compatible with iOS.
The first feature that pops into an eye in the first place is its incredibly good-looking interface. Opinions might differ, but we consider that such detailed work is the first sign that developers were caring about the users who are going to track their sleep.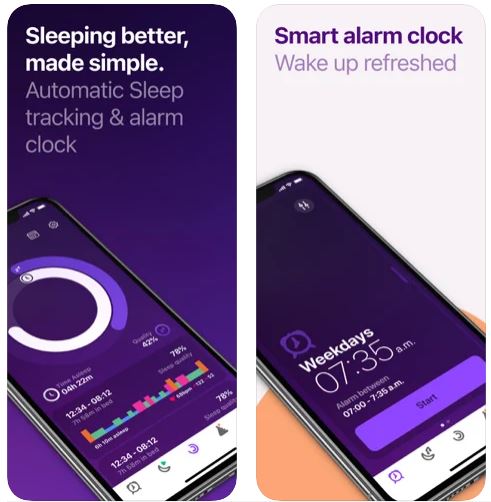 The app is incredibly convenient in usage and adjusts all the settings for you. When you first launch the app you create your account and put in your data. Then, you can click on the recording button each time you go to sleep.
After that, the app will record everything and will demonstrate various factors analysis that will show you the moments where you were deeply asleep or barely asleep, along with the snoring recordings and sleep talking recording.
By compiling your sleep taking and the deep phases of your sleeping cycle you will be able to make some conclusion.
Also, after each sleep you can rate the quality of it manually.
The app could be perfect, but the fact that it was developed for iOS only and the fact it requires Apple Watch for usage put Pillow in the 6th position on our list.
Summary:
Beautiful interface
Accuracy of data
Consistency
Requires Apple Watch

7. Sleep as Android
And just like we had a previous app developed only for iOS, here is where Android users are going to get their piece of cake.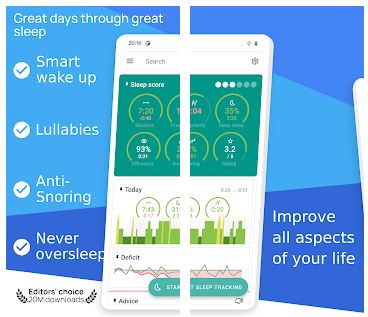 This is an ultimate sleep tracker that takes into consideration all the factors which are more or less related to your sleep: it includes special sleep lights, it tracks your sleeping cycles dividing them into categories, it provides the special sleeping sounds (bells, nature), sleep talking recordings and many more.
The cool thing about Sleep is Droid is that you can use this app both with the smartwatch or without them. Of course, with the usage of the additional devices, the measurements are going to be more precise, so if you're really looking forward to measuring your sleep thoroughly you should think about getting one.
When you first install the app will suggest you set up the alarm or start tracking your sleep immediately. You will notice that it has lots of features and you can choose which kind of asleep you are making: is it a night sleep or just a 30-minute nap.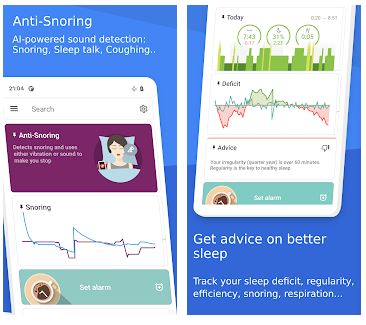 Anyway, you are able to make recording during any kind of sleep.
And there is also a section that you might no notice at the first glance, in the upper corner of the screen (Android classic) where you can dig for many additional features (recommended). There you will find the analysis of your sleep, sleep recordings, tips on better sleeping, and will be able to set the sleeping goals.
The interface design is not that great as in the case with the Pillow app but we wouldn't call it Plain Jane either.
The app is really great and available in the free and premium versions.
Sumary:
Lots of features
Details Analysis
Can work with or without additional equipment

8. Sleep Talk Recorder
Here we have quite a trivial, though, a popular app for Android to make the recordings of your sleep talking. If all the previous apps didn't match your expectations because you want to have something that will record only your sleep talk and will make a deeper analysis of it – this one is your choice.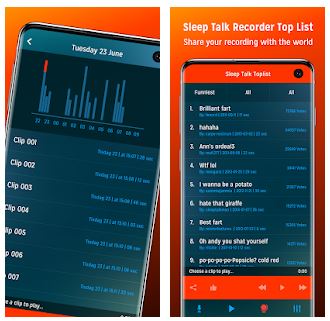 The developers brag about this app is being numbered one for the sleep talking recordings in a number of countries, however, you can read mostly unsatisfied feedback in the comments section.
We tried it out and saw that you can only record the first 2 hours of your sleeping for free. In order to be able to make the recordings of at least one night completely, you'll need to upgrade to the premium version. This is honestly not the best decision ever that the developers could make, since you can't even fully try it out before you pay.
However, if you get the full version of Sleep Talk Recorder, you will record each talk you make during the night. Plus, the price is not that dramatic.
Summary:
For sleep talking recordings only
Better buy the full version from the start
Plain interface


9. Sleep Diary
This app might be not that famous yet, but it actually works and deserves more attention. It allows you to track all your sleep cycles in detail and make recordings of all your sleeping time.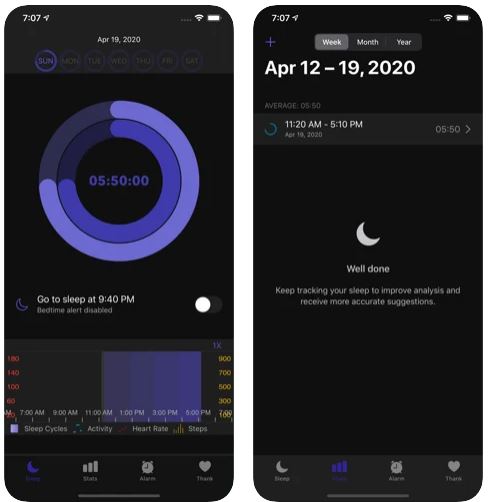 The distinctive feature here is that Sleep Diary tries to adjust to the sun time and create the optimal schedule for sleep tracking for you according to that.
And of course, you will be able to make the recording of your Sleep Talking as well and make the analysis of it. Well, being more precise, Sleep Diary doesn't make the separate analysis of the sleep talking, but it makes the overall analysis of your sleep that you can compare then with the overall analysis of the sleeping time.
The users' reviews say that some errors may occur from time to time but developers fix all the bugs quite fast.
Summary:
Nice overall sleep analysis
Doesn't require additional devices
Free

10. Dream Voices
The ultimate dream recorder for Android that will record all your sleep talk. The app is remarkable for its advanced interface design and the ability to classify various noises that may come at night. What is more, developers really put a thought in the design here so we couldn't notice this fact.
Another virtue of Dream Voices is it gives you the extended control over your sleep recordings compared to allmthe previous apps. Here you can: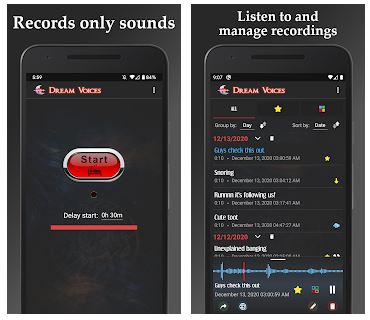 export all the recordings/import
divide them into categories according to your choice
adjust the volume of recordings
even share them via messengers
add some of them to favorites
One more curious feature of Dream Voices is it actually has a community of sleep talkers where other users can share their recordings with each other. If you feel like doing it – this is a perfect place for that. Though don't expect a crowd there because the app is rather unpopular – but all the feedback is mainly positive.
Summary:
Extended control over recordings
Possibility to export recordings
Sharing with other users
Paid app

You may also like: 11 Best Hidden Voice Recording Apps for Android & iOS
11. Sleep Tracker
If you have studied all the list but still haven't found a perfect app for analyzing your sleep talking, maybe this one will work for you. The only thing is it is available only to Android users.
Sleep Tracker is a standard app for analyzing your dreams – or, in other words, it is an alternative to the ultimate sleep apps, where you can not only record but also improve the quality of your sleep. Set up an alarm, turn on the soft light along with the calming music that you will find in Sleep Tracker – and see how all those factors will change the way you rest.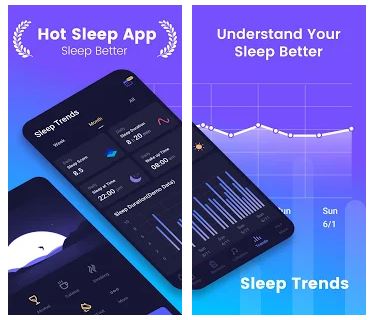 This is not very relevant to the topic, but in the app, you will also find several relaxing meditations, that will help you fall asleep faster.
Considering the sleep recordings – the app makes the full analysis of your might sleep and starts recording each time you snore or talk. At the end of the night, it will demonstrate how deep your sleep was. Don't forget to place the phone next to your head before you go to sleep.
One great advantage of this app is it doesn't have any negative feedback – and it's completely free!
Summary:
Full sleep analysis
Standard Android app
No bugs/crashes