It is very important to start thinking about the development of your child's mental abilities at an early age. In order to avoid a delay or lag in brain development in the future, parents should engage in various exercises with their child, play games with him that help develop memory, thinking, cognitive abilities, thinking and concentration.
Fortunately, there are many apps that can help you develop all of your child's brain functions. Below we will provide you with a list of the 11 best apps to improve memory for kids.
You may also like: 9 Best Memory Card Games for Adults Android and iOS
Some of them are essentially games that make raising mental abilities, in addition to being useful, also fun and exciting for your child. Here is a list of the best apps for developing your mental skills.
1. EpicMem Brain Training
A program designed to train episodic memory. According to its creator, a neuroscientist, poor memory significantly impairs our quality of life and our well-being. For example, they lost their keys, forgot about the meeting, left the iron on.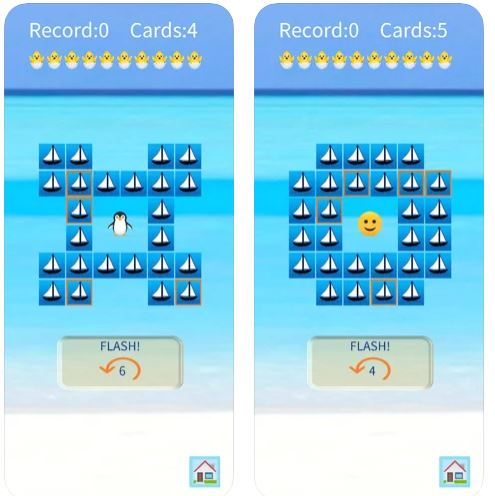 Episodic memory is responsible for this to a greater extent. So the EpicMem Brain Training app aims to improve this particular memory. One of the main advantages of this app is that it is suitable for training children of all ages. It has a fairly simple format and may appeal to those who like to play memory cards, solve puzzles and do it as a child.

You may also like: 11 Best Apps to Learn a Word a Day for PC, Android, iOS
2. ReadLax: Brain games
This application develops memory, reading speed, focus and concentration and peripheral vision. It has a user-friendly platform and many features, and expands your vocabulary.
High reading speed allows you to quickly recognize and assimilate phrases on the page at once, and not in separate words. Memory is a cognitive function with a disability that temporarily stores information. It is very important for sound reasoning and decision making and behavior.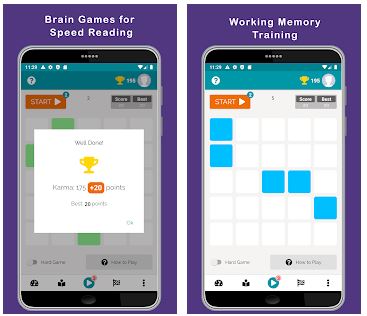 The Readlax app improves concentration, reduces stress, trains memory, increases empathy, expands vocabulary, and makes you or your child more capable of learning. Using this app, you can play brain games and take tests on reading speed and reading comprehension.
Tests are needed in order to find out the progress of a completed workout. After all, reading is a complex function of our brain, which constantly uses memory, deciphers the graphic image of a word, focuses, concentrates attention, and uses peripheral vision.
A very big plus of this application is that it is available in many languages: English, Russian, Ukrainian, Chinese, Japanese, Spanish, and Portuguese.


3. MentalUP Brain Games
The slogan of this application is kids love to play. Educational games and educational puzzles are fun and educational online.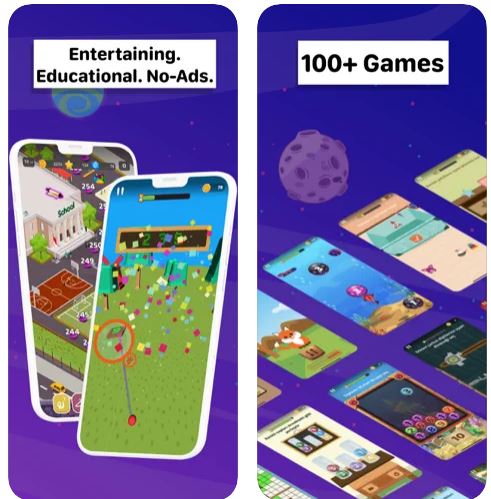 The application is designed in such a way that it would be interesting for children to play in it while developing their brains. Develop your child's intelligence and cognitive skills with ease using puzzles.
The app has educational games for young children, kindergartens and preschoolers. This application offers you scientific educational games. At the same time, they are presented in a very fun way, which makes it interesting for teaching children.
It is also important to note that the app was developed by scientists and academics who help develop the mental abilities of children through puzzle games. Also, this app is one of the best quality brain exercises in the world, has over 100 different brain training exercises that develop 5 basic brain abilities.
Also, this application has a number of advantages: improved attention, increased concentration on performing various tasks, improved memory and cognitive abilities, development of visual and linguistic skills and logic.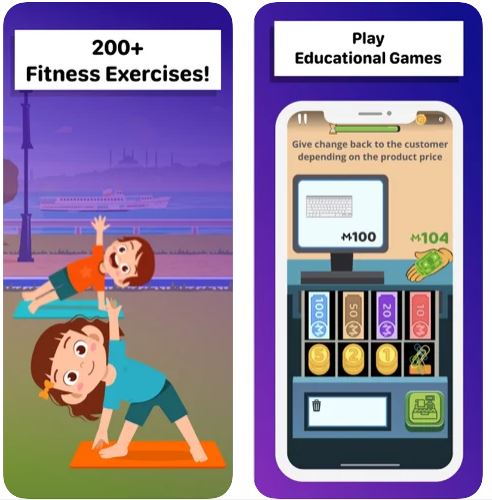 It also allows you to better understand arithmetic by completing various math problems. In the MentalUP application, you can choose the appropriate educational program for your child's age.
With the help of thinking games, brain training exercises, and logic tasks, the child can learn independently, increasing his level of intelligence and learning to solve math problems.
This application has already been chosen by more than 5 and a half million families and teachers, because there are educational games for children 2, 3, 4, 5, 6, 7, 8 years old and even adults. It has an educational program that is suitable for teaching elementary school grades. That is why the application is so popular.

4. Cute Sudoku Kids
This application makes famous puzzles accessible to children. Here the numbers are replaced with cute, drawn graphics for children. In this case children feel more confident. Looking at cute pictures, they are addicted to passing this math puzzle, and they solve these problems with great pleasure.
Children become more confident and solve all problems on their own. At the same time, the complexity of the tasks does not change in any way. Only the design changes. Sudoku Kids is designed for kids 4-10 years old who have access to an IOS device.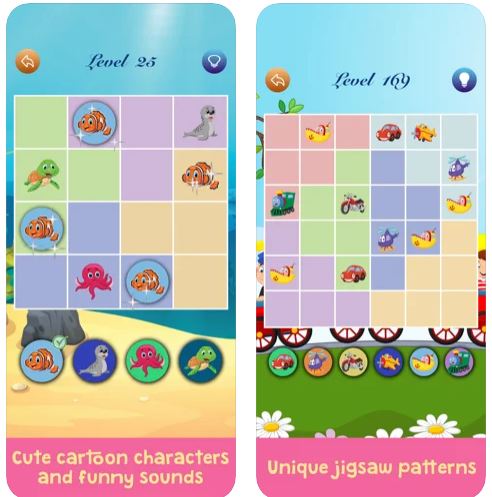 It uses a convenient, engaging presentation that encourages children to test their problem-solving abilities. Children will really like to solve the cute graphics of this application, they will go through the puzzles without crying, without screaming, because they will want to see what interesting drawing will await them next.
It is very easy to navigate in this application. It has a simple interface with cute graphics that will make it very easy for a child to get used to. The format used here is very similar to that of various games. The levels in this app use a format that is pretty familiar to kids.
They choose the level of difficulty they want, and each of the levels is accompanied by different graphics and soundtracks. After completing the task, Sudoku gets up to three stars. The number of stars received depends on the number of mistakes made.
Children can re-perform the task if they want to increase their star rating. This is how many playthroughs of different games are arranged. This was done in order to increase the interest in completing assignments in this application, respectively, training.
This app is free to download, but there will be a limited number of puzzles. You can try using the app, performing tasks to see if you want to buy it.

5. Zebrainy: kids learning games
This is an educational application for children aged 2-7 years, which contains different images, written different stories, many games. This application will teach your child to count, read and write, help develop intelligence and logic.
It is best suited for teaching young children the basics of mathematics and will help them learn the alphabet. It will also help develop memory, concentration, and creativity. The child will learn each new letter of the English alphabet with fun, as it comes with its own cartoon. This cartoon is focused on learning your letter.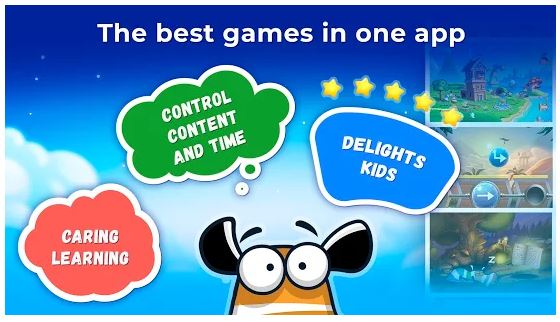 The app is supported by professional teachers, scientific advisors and even very talented artists. This app will best prepare your child for school. It will give the basics of mathematics, teach the alphabet, reading and counting.
However, unlike other applications for the development of a child's mental abilities, this application teaches drawing, allows you to recognize colors and shapes. Children grasp everything from birth – a scientific fact. That is why this application is aimed at children aged 1, 2, 3 years old. Also for preschool children 4, 5 years old.
The application is suitable even for first graders. In this game, the interface is drawn in the form of islands. On the first, you need to collect 5 gems, which are displayed at the top of the screen. To get them, the child needs to move the objects in such a way that they get an underwater shape.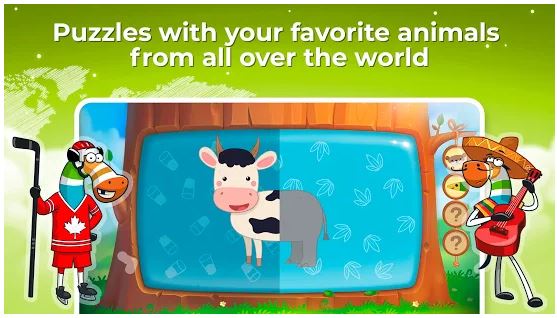 This game allows the child to recognize different shapes and develops fine motor skills. On the second island, the child needs to substitute the numbers on the cubes into the numerical symbols. There is also a helpful moving hand tip.
After the child has correctly placed all the numbers, the gem will gather in a heap. After passing each island, different stories are told to the user. They will interest him, and he will want to complete the task again.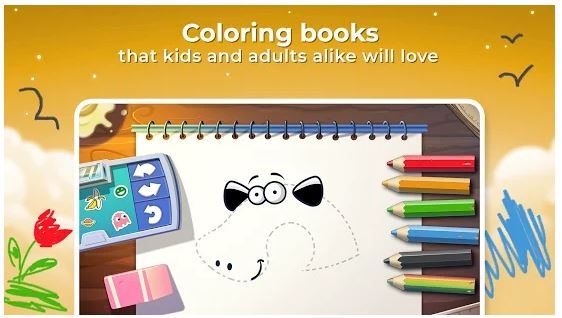 On the third island, the child needs to lower the magnetic anchor into the water to collect all the coins. But you will need to avoid the fish, hitting which you will lose. After collecting all the coins, you will receive a precious pink stone.
This kind of game is great for training children in timing and fine motor skills. This game has very good playability and interesting cartoons that will easily interest any child. Next, the child needs to collect a purple gem. To do this, you need to find a smiling jellyfish.
This game focuses on the development of emotional intelligence, which is necessary to recognize the emotions and facial expressions of the characters. The last, red gem can be obtained if you give the winged tabby cat to eat the number that she asks for.
To find out which number the cat wants to eat, you need to click on it. When all the gems are collected, the child will have the opportunity to open the chest, which will contain another fascinating cartoon. Our users really liked this application, because it has very interesting pictures, cartoons, a good soundtrack, and exciting game progress.


You may also like: 11 Best Anatomy Apps for Android & iOS
6. Brain Kids
Immediately upon entering the application, you are presented with a very convenient, beautiful interface with cute graphics that will immediately grab the child's attention. The application has three books to choose from, the catThe first chapter is free.
The rest of the chapters need to be added after in-app purchases. Three languages ​​can be selected in the application settings: English, Chinese, Thai.
There are several different game modes in the application, which become more difficult as you progress through the tasks. Brain Kids allows the child to develop a variety of skills, including memory, concentration, improve perception, cognitive abilities of the brain.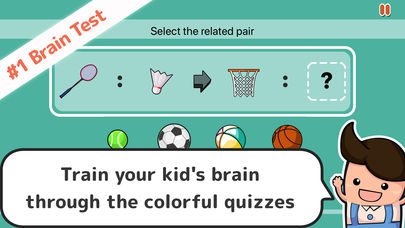 This is done by different modes, such as
Matching Game – here you need to match the same or similar applications or matching pairs; puzzles – here you need to solve different levels of puzzles, such as dominoes, food chains, connected pictures, find the differences between two pictures, and the like;
connection of points – here it is necessary to copy the image using the system of dragging points. Intuitively, this is quite simple, but it will help develop fine motor skills very well; math and calculation – this task contains the hardest, highest numbers or correct numbers;
logical thinking problems – in this game you have to fill in a sequence of pictures and numbers. Items that are in different locations and more. This application has a lot of positive reviews from its users.
Most of all it was appreciated for its high quality, good sound, and musical accompaniment, and high-quality interface. The application will provide the child with a valuable learning experience and a very simple, intuitive interface that will make him or her spend time in this application and develop in it.

7. Coco – Educational Games
A unique educational program to improve brain performance, games with training for memory, to increase concentration. This app is a great way to develop your child's brain while pampering them with fun tasks in the Coco app.
This application includes many different tasks for training the brain, such as puzzles, math problems that need to be solved using mental math, memory games. It is suitable for 5-10 years old children.
The app's developers say it is very important to preserve the mental health of children, which is why it offers educational breaks. Also, this application develops attention concentration skills.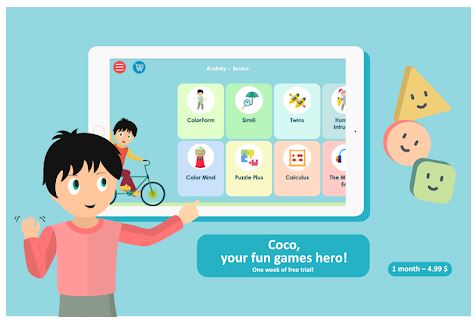 For this, the application offers mathematical educational games that may well improve the mental health of children, provide a better understanding and perception of the environment, improve the quality of memory, attention and, of course, replenish the child's vocabulary.
In addition, all the exercises are very fun to do, doing it anytime, anywhere, since the application works without Wi-Fi, except perhaps monthly updates that will bring new exciting and useful tasks. Spend time in the Coco app learning arithmetic.
The big plus is that it has a multiplayer mode. That is, the application screen is divided into two parts, one player can compete with the other. Challenge your brothers, sisters, parents.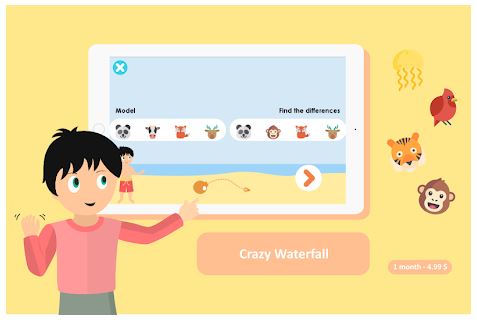 Coco has a lot of different game variations:
hunting for intruders in four applications (in English and French);
Colormind (memorizing color pictures, gradually the task becomes more difficult);
Bubblеlink (you need to connect letters or numbers in the correct order);
PuzzlePlus (go through the puzzle as quickly as possible, and a good anecdote about a picture or a picture will open for you);
Musical ear (find the sound you want, it can be animals, or instruments, for example); Bouncing ball (kick the ball as fast as you can); Gemini (find identical cards);
Syllabus (you need to find out the encrypted word by collecting it by syllables); Flying balls (find a certain number of balls) and many other games.


8. Kids Brain Games Digital Copel
The developers of this application say that in addition to knowing how to solve a problem, you need to be confident in order to understand how to deal with this problem, to come up with a strategy for its implementation.
This application encourages children to solve any problems, while developing their mental abilities, memory, thinking, concentration. And it does it in the form of fun, varied tasks and exercises for children.
As teachers say, it is normal to avoid a task or solve a problem. And the ability to cope with them is the ability of a developed brain.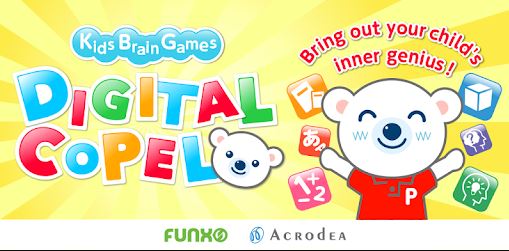 Based on this fact, the application helps children improve their brain function. There is a very wide variety of puzzles here. They target different ways of thinking and solving problems.
But Digital Copel's app is unique, that's why. Other applications for the development of brain intelligence cover the same system, that is, they have the same structure of questions that are constantly repeated. It's a lot of multiple choice tests, stuff like that. Play and complete multiple tasks a day.
The app is free to download, but you can purchase various subscription options to complete more missions. You should try the free version and this app will become a favorite for your kids.

9. Think! Think!
This application has a series of mini-games that improve your child's intellectual potential, ways of solving, understanding mistakes. Each game is limited in time and has different difficulty levels for different age groups. Three games are available per day, each of which is 10 minutes long.
The application will quickly lure you into completing the first tasks, because it has a very cheerful and bright interface in the main menu, with attractive music playing in it. It was created by experts in teaching children.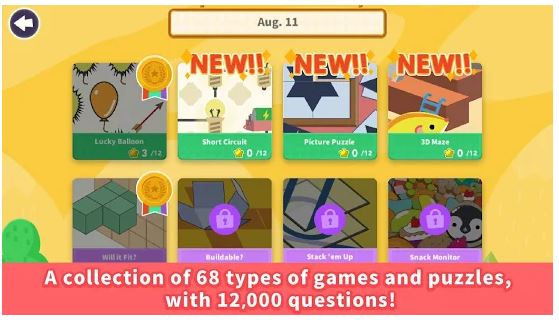 Passing these puzzles, he develops spatial thinking well enough, as well as non-standard thinking, which helps to cope with any difficulties.
The main advantages of this application:
more than 100 mini-games;
developed by professional designers;
child-friendly navigation, beautiful interface;
no ads or third-party links.


10. Sumaze! Primary
This application combines the process of completing math problems and an exciting game that develops mathematical abilities, foresight of your child. The game interface is simple and fun.
A very addicting puzzle game for children aged 4 – 7 years old, teaches your young mathematicians to count, to perform easy math problems.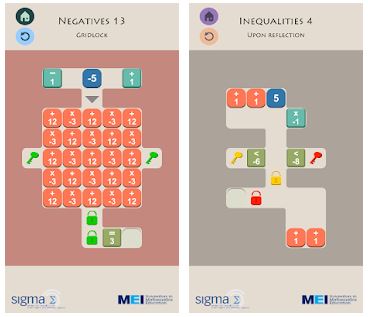 In this application, the best, among other applications, the process of combining the solution of mathematical problems and the passage of the game is implemented. It looks like a game but is designed as a multiple choice quiz. Here the connection between mathematics and play is very close. Such a design is very rare in such applications.
The game starts from the grid. You need to move the moving tile across the grid square by simply swiping your finger. Some squares have modifiers that change the value of the number. Others move the tile in such a way as to block its advance. This is done until the player collects the desired key.
Sumaze primary is suitable for use on screens of all sizes. This is a wonderful application for children, where they will spend time with benefit and great pleasure, developing themselves.


You may also like: 11 Best Anatomy Software for PC
11. Funexpected – Cool Math Games!
A very interesting and attractive application for improving and consolidating your child's mathematical skills, made in the form of mini-games, quite easy to learn. What makes this app different from others?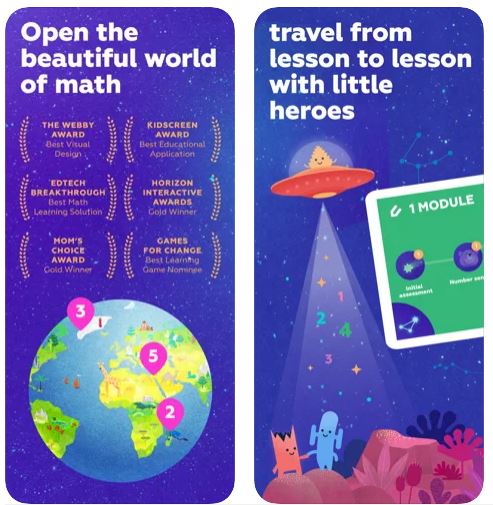 First of all, this is a detailed description and description of each action. In all mini-games, in addition to explaining the passage, it also describes what exactly this mini-game develops, and what it checks.
This application can be easily incorporated into the school curriculum. Although the sequence of the games may not match the school curriculum, it can easily be matched with the corresponding math topics. This makes it much easier for teachers to incorporate the use of this app into their lessons.
Each mini-game begins with the program explaining exactly how to complete the task, describing its passage. Sometimes a verbal prompt pops up. All in all, this is a great application that will help children practice and consolidate the knowledge gained in the lessons.