It's never a miss to have the anatomy knowledge. It doesn't matter if you're a student of a medical college, or just someone who wants to better understand human nature, the fact that you know how your body works can give you new insights into your health issues.
You may also like: 11 Best Anatomy Apps for Android & iOS
There is a cool software for PC for learning anatomy. It can be more or less complex, depending on your preferences. We tried to pick up the very best software which doesn't crash or have bugs in it – you can find it in the article down below.
1. Human Anatomy Atlas
This software is designed for both Mac and Windows users and is one of the most popular software pieces to learn human anatomy. Not only those interested in the topic but also students and specialists in the medical sphere use this application.
Thanks to this application, you can get a deeper understanding of our bodies and the processes inside of them. Learn the essential descriptive information, investigate the inner layout and functions of humans.
This software contains specific educational descriptions and works as a piece of scientific information to explore body functions or even produce experiences.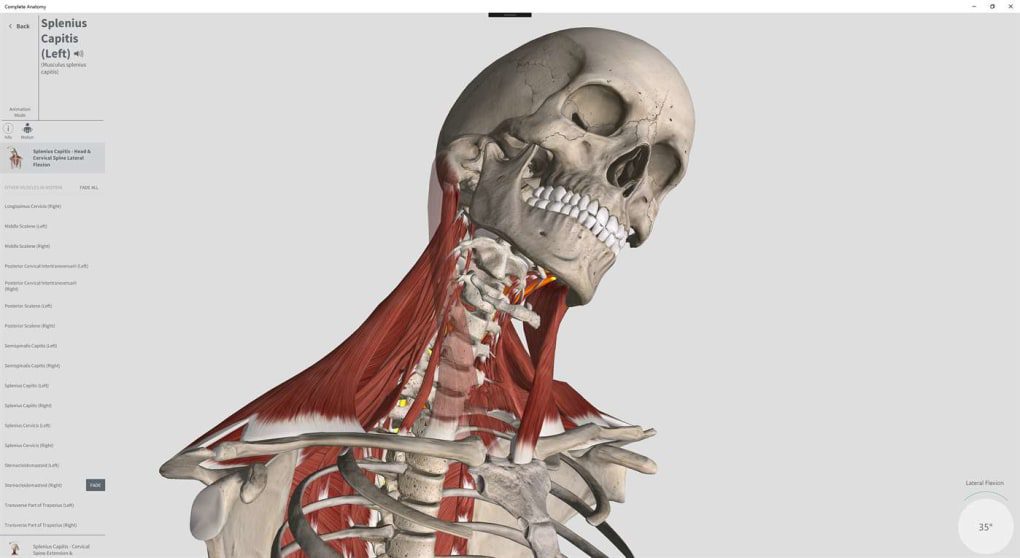 The software supports seven languages! Among them are Spanish, Japanese, Mandarin. The application is marketed like the most comprehensive map of the human body. It provides reproductions of both genders that you can divide, most muscle units, microanatomy simulations, animations.
Besides, it does not disturb you with advertisements, which seems like a great bonus for everyone who uses it. If you want to have simulations of pathologies or physiology processes, full 3D odontic models, consider buying the full version of it for twenty-five dollars.
The interface of this software is neat, it includes high-quality pictures, fully detailed graphics, plus animations. The black background makes it look very professional and reduces eye tension. Thus, you could potentially use it for longer periods of time to study harder without any damage to your vision.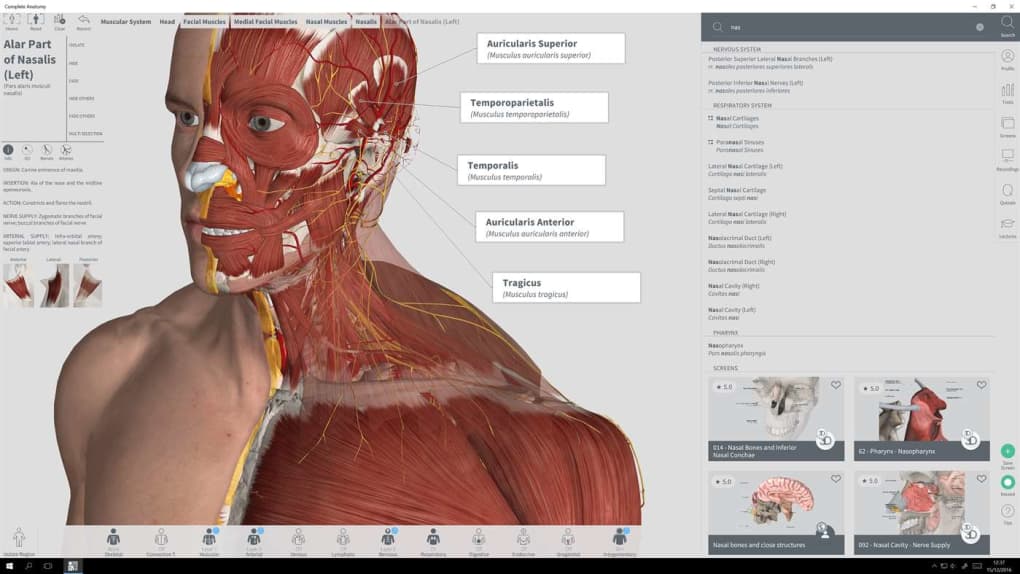 What should be mentioned is that the software received a few awards and gained a lot of respect among medical experts.
The application has got 4.8-stars on iTunes, and, therefore, the majority of its reviews is positive. Most users appreciate the detailed information and illustrations in the application. For many of them, the software helped prepare for and pass the exams during the whole period of the university.
What is more, the differential diagnosis tool is super helpful too. A few reviews say there is a problem with a drawing tool: the draw icon does not appear. And some users wish for more detailed descriptions and information on skull processes.

You may also like: 11 Best Games Like Lioden for PC, Android, iOS
2. 3D Bones And Organs (Anatomy) / 3D Anatomy Learning
This is absolutely free software from Education Mobile developers for both Windows and Mac Operating Systems. This application for PCs functions in four languages, including French, Spanish, German.
For everyone who is looking for a comprehensive application to study every single piece of the human body, this is it. Here, you can find all bones, organs, easily navigate anatomy parts. You can not only investigate all the human muscles but also go even deeper: take off each layer and see its anatomical structures.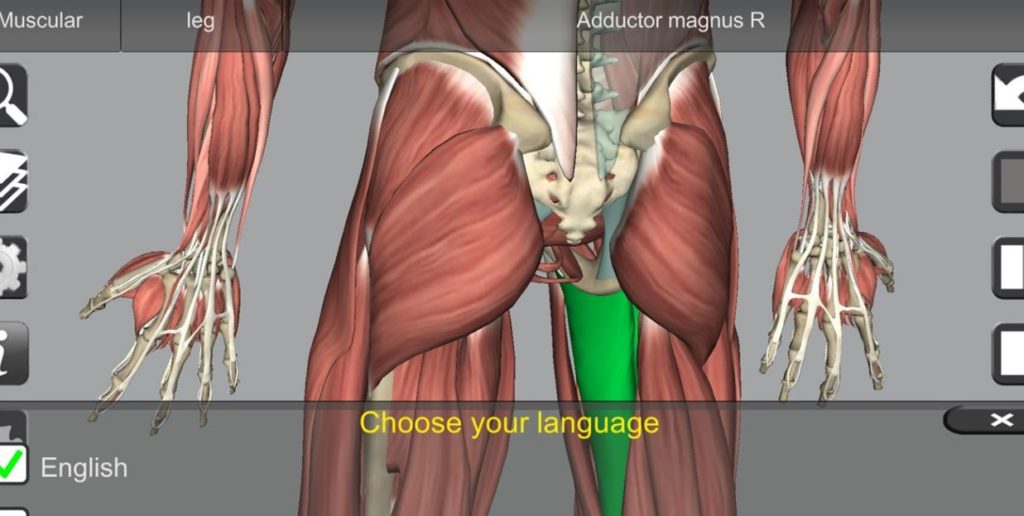 Turn on and turn off any systems in the body to see how each of them functions in particular. It is worth a mention that 3D Bones And Organs is perfect not only for medical students and professionals but for newbies as well. The app even has an audio pronunciation tool to help you learn the bones.
The interface of the software is quite minimalistic and contains all the necessary tools. Vivid colors make it easy to see all the details of all the body parts. With an interactive interface, you can adjust the 3D reproductions at your size preference with a couple of touches. Among them are:
Ear;
Respiratory system;
Ligaments;
The reproductive system of both genders;
Heart: Circulation system;
Urinary system;
Muscles;
Brain: Nervous system.
Another great tool of the 3D Anatomy Learning software is 3D quizzes. When studied the human body, take a quiz and check your gained knowledge. If you require more information, you can easily access it right in the app: Wiki and Gray's anatomy articles are at your service.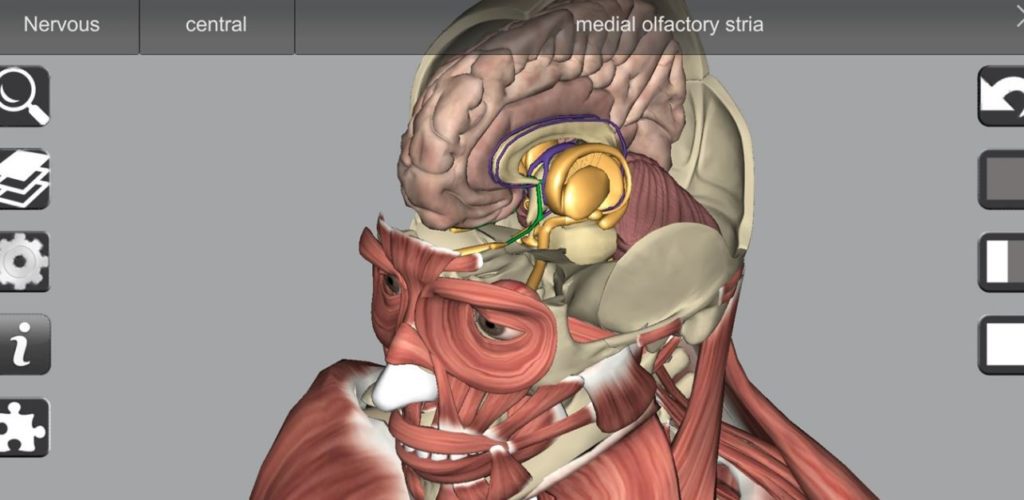 The anatomy software has a 4-star rating on iTunes and most of its users are very satisfied with the app, especially considering its $0 price. No disturbing ads, proficient content, handy rotation tool are its strengths.
However, some users with the software had more serious quizzes with more integrated information. Besides, muscles of the lower limbs are not in the content of the app for some reason. Nevertheless, as a free source of information, this anatomy software definitely deserves your attention!

3. Anatronica PRO
This is a great software to access a comprehensive database of anatomy information in several languages. It can be downloaded from the official site of the developer and is available for both Mac and Windows users.
Earlier, the software was absolutely free to use, however now, only a paid PRO version is available. Anatronica contains educational information about the human skeleton and muscles of the body – Wikipedia and Gray's Anatomy resources are available in the app.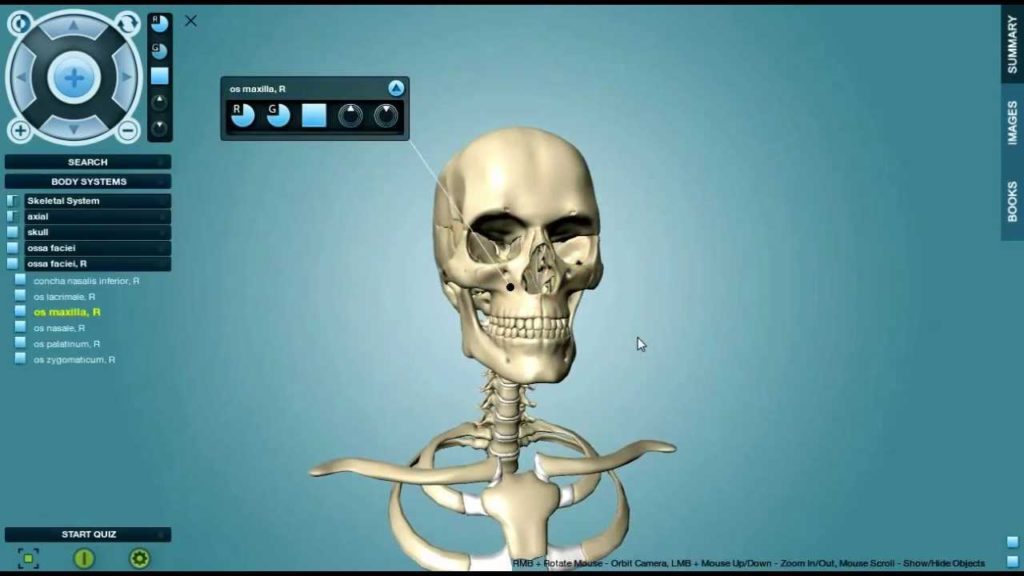 After going through all the knowledgebase, take a built-in quiz and check yourself. With the search bar, you can start typing a name of the organ or a bone, and quickly select the necessary one from the suggestion, and instantly start working with this particular body part.
What is more, you can raise or lower the number of organs surrounding the area or even make some organs transparent for easier learning.
The graphics of the software is a hundred percent detailed experience of 3D reproductions. 3D touch interface allows you to easily navigate through the human body systems, choose desired organs or parts, and study them in detail from a necessary angle. The workflow in the app is absolutely intuitive.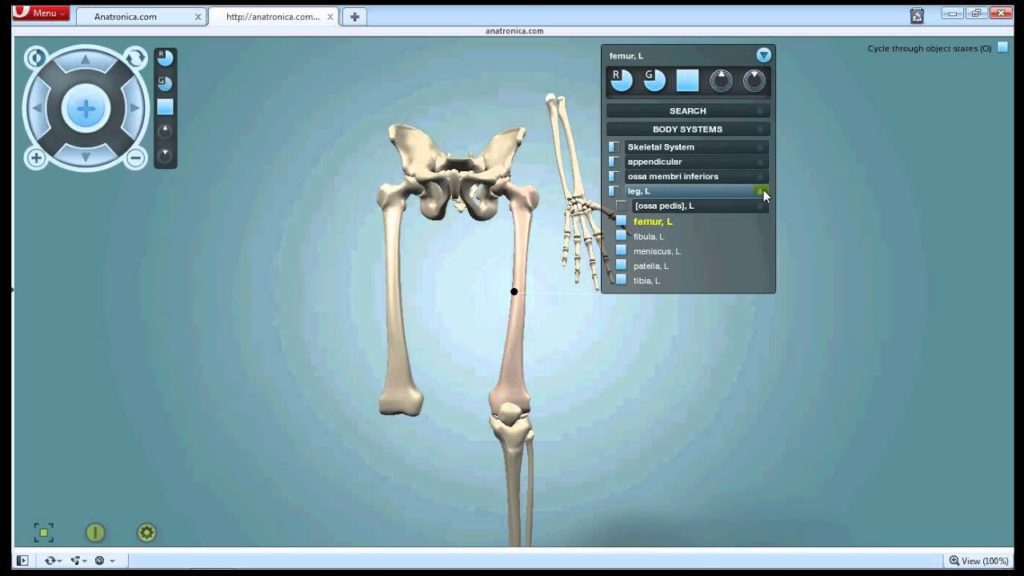 A great feature of Anatronica is its categorized medical sets and subgroups of organs, which will give you more structured and clear information about the anatomy. The systems that a user can find in the software are:
Respiratory;
Skeletal;
Nervous;
Cardiovascular;
Muscular;
Endocrine;
Reproductive;
Digestive;
Urinary.
Many clients of Anatronica are happy with the provided tools, information, and 3D models. They use it as a reference for studies or even at the workplace with patients. Some users of the software would like to have more control buttons.
Besides, on some gadgets, bodies cannot be viewed fully, the navigating is hard to control. Thus, sometimes application experience may be unsatisfying. However, it seems everything depends on the device or a browser.

4. ANATOMY 3D ATLAS
This PC software is an innovative way for learning everything about our bodies. It is designed specifically for medical specialists (students, doctors, trainers) and ones who would like to get more profound knowledge on top of the basis.
Not only this application holds a wide knowledge base but provides you with interactive tools to make the process easier and more fun. The Atlas covers all the muscles (that can be viewed layer by layer) and systems of a human body: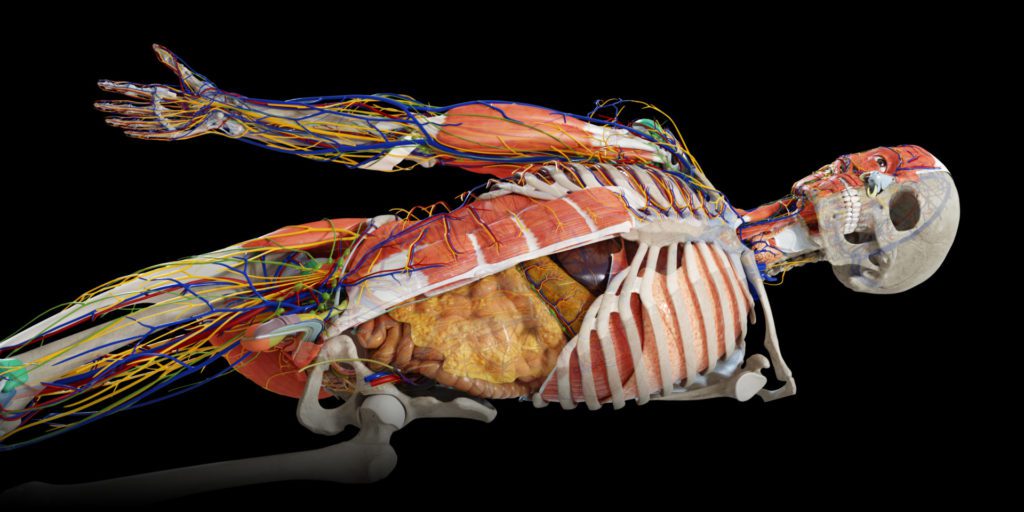 Cardiovascular;
Musculoskeletal;
Respiratory;
Nervous;
Endocrine;
Digestive;
Lymphatic;
Urogenital (of both genders);
Eye;
Ear.
Thanks to a user-friendly and intuitive interface, you can rotate view all the anatomical parts from any point of view. The graphics of the application is beyond satisfying. It contains 3D reproduction with a high-quality resolution for a deeper and more profound examination.
With special tools, you can make selected body parts transparent. Besides, the app has special terms in eleven different languages, including Korean, Japanese, and even Russian.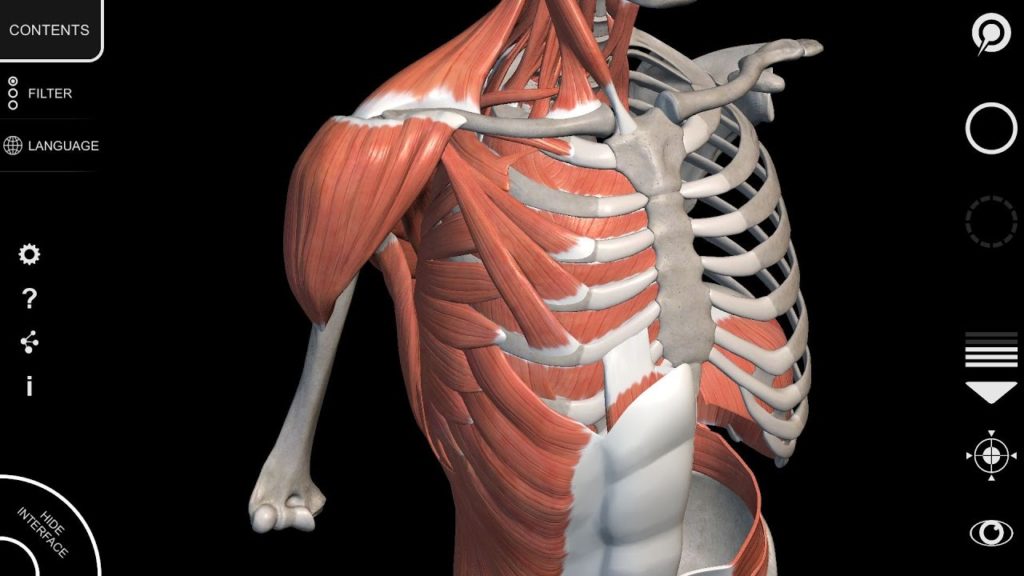 The ANATOMY 3D ATLAS is free to download. You can try the software, and decide whether you want to buy the whole version of it to get access to all the materials. A cool bonus of the Atlas is its video tutorial that demonstrates how to take advantage of every tool of the app. You can find it on the official site of the software.
On iTunes, the software has only a few reviews and a 2.7-star rating. It is nice to see that the developers actively answer the negative comments and try to resolve the problems.
Among the issues with this application are repeated charges for already purchased materials, and some users find it difficult to find the necessary tools and rescale the window. Here, the helpful support comes in handy. Apart from the technical problems, the software seems to be highly reliable and useful.

5. Visual Anatomy
This anatomy software is available for download from the official site for Mac or Windows OS personal computers. It includes 3D illustrations of a human skeleton, muscle structures, blood vessels, and organs.
Visual Anatomy is a perfect choice for ones who just start in the professional field or who are generally interested in human anatomy. Instead of complicated body maps and deeply specific information, the application will teach you all the essentials through interactive 3D models. You can hide layers, get more detailed images, etc. There is also an option to view all the pictures in 2D mode.
The systems that can be found in the Visual Anatomy software:
Muscular;
Skeletal;
Reproductive;
Circulatory (arteries, veins)
Urinary;
Ligaments.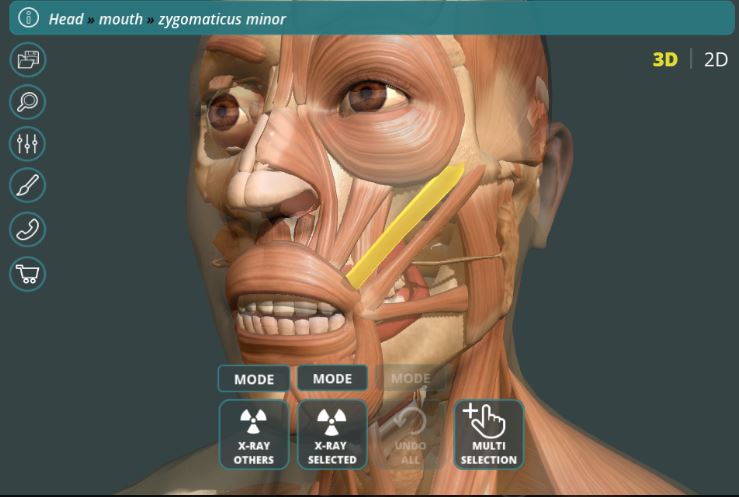 The interface of the software is intuitive and user-friendly. All the tools can be found at the bar on the left side and the bottom of the screen. In the desktop version of the app, users can view the content in a window-size or full-screen mode.
A free version of the software is available for everyone and contains ligaments and skeleton sections, while the rest of the systems are paid separately. There are three types of payment available to choose from: monthly, yearly, and lifetime (ten, sixty, and forty dollars respectively).
Please, note that a subscription is only valid for one type of device: if you purchased it for phones, it cannot be used for PCs, or if you bought the paid version for Windows, it cannot be used on a Windows smartphone.
A lot of users of the software are satisfied with its quality and price correlation. Rich content base, relatively low price, especially considering that you can buy just a one-month subscription to decide how happy you are with the app.
Students use it to prepare for school or university exams, some adults as a life-learning tool. Among negative reviews are the ones who wish for more interactive content (more view modes, pronunciation option, etc), while others complain about an excessive amount of information on, for example, little muscles.

You may also like: 9 Best Memory Card Games for Adults Android and iOS
6. Essential Anatomy 5
This software contains super detailed information on more than four thousand (doubled by both genders, it is eight thousand) structures of a human body. It is ranked one of the top applications of human anatomy in more than a hundred countries all over the world.
From the PC app, you can learn particular differences between male and female bodies and their systems in more detail. Switch between one and another with just a click. This software consists of eleven complete body systems:
Skeletal;
Muscular;
Venous;
Connective Tissue;
Nervous (with the brain);
Arterial (with the heart);
Respiratory;
Urogenital;
Lymphatic;
Digestive;
Skin.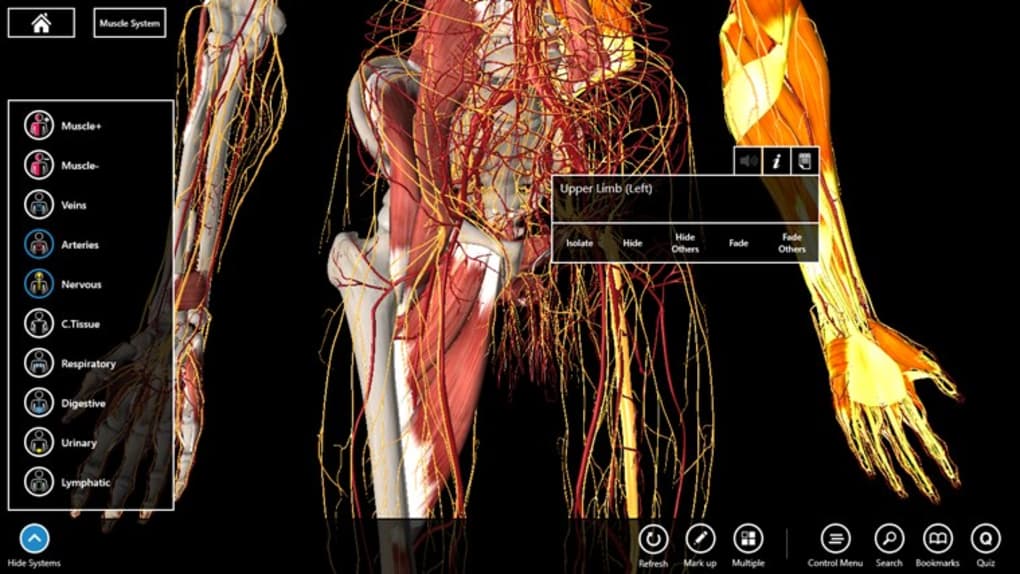 It provides corresponding pronunciation, Latin names, and full information on each anatomical part. The muscular system can be viewed in layers. To get a deeper understanding of the connection between close structures, compare them with a Multiple Selection tool.
For a better learning process or personal references, use pins that are applicable to all body structures. In the end, try the quiz option to check studied material in general or specifically about regional anatomy.
The interface of the application is intuitive and with great graphics. All the necessary tools are placed on both sides of the screen, and you can rotate the 3D models with your fingers or a mouse. With the in-app purchases, you can access extra surfaces, skeletal, and muscle information.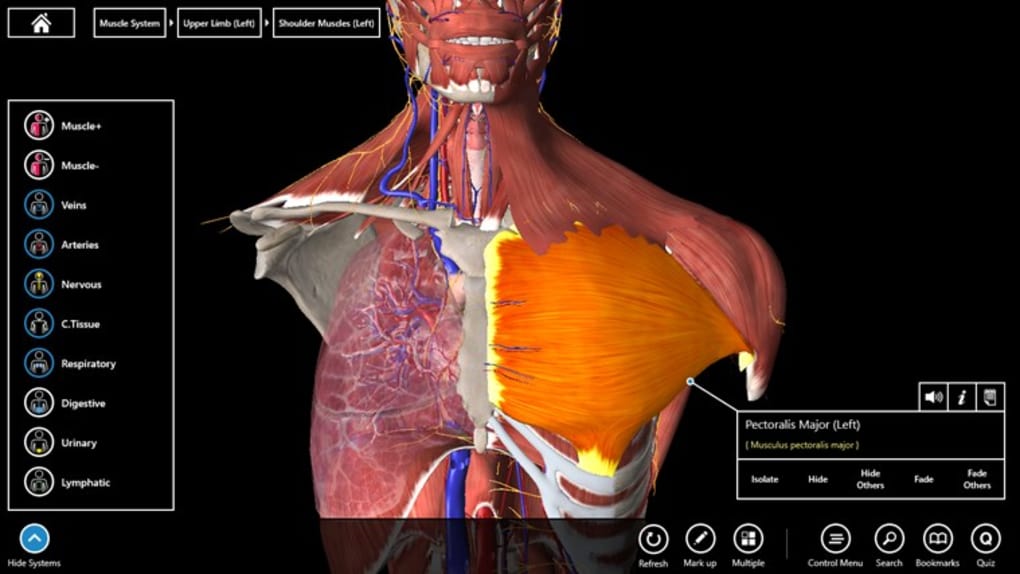 Most of the reviews of the software are positive. Users note comprehensive reliable information to prepare for university exams or as a professional reference at workplaces. Some users had a negative experience with a double payment error, which means the app cannot be used across the devices.
Among other issues are not working zoom, search, and home bars. It would be helpful to have an unhiding option for parts of the organism. It is nice to see developers responding to such comments and problems.

7. Discover Human Body 3D
This application includes interactive 3D illustrations of both female and male human organisms and professional references. With Augmented Reality mode, the learning process of definitions and Latin nomenclature becomes even easier and more fun.
Thanks to the support of nine languages (including Russian, French, and German), more people can get access to the comprehensive information of the software. The application covers five systems of humans:
Skeletal;
Blood;
Organs;
Nervous;
Muscular.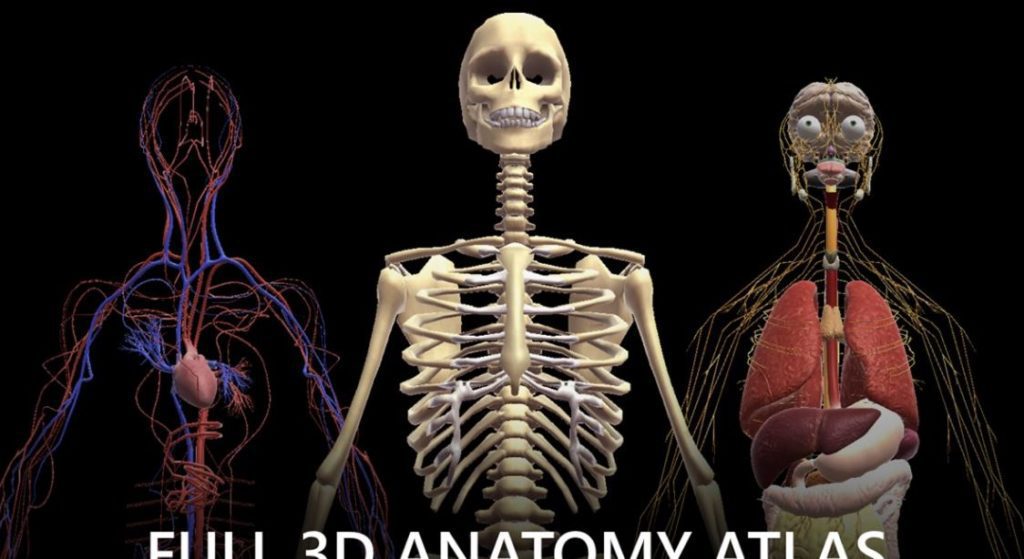 Discover Human Body 3D has two types of in-app purchases: full anatomy of a male body with two of the above-mentioned systems for five dollars. Alternatively, anatomy of both genders and all the stated systems for a double price of ten dollars.
What is more, Discover Human Body 3D has the explicit eye and heart 3D reproductions.
The interface of the software is intuitive and helps navigate the app with ease. Besides, you can operate the app interface-free. With a search bar, that can be controlled over voice, users can easily find a part of the body to pay extra attention to. Detailed descriptions provide links to even wider data.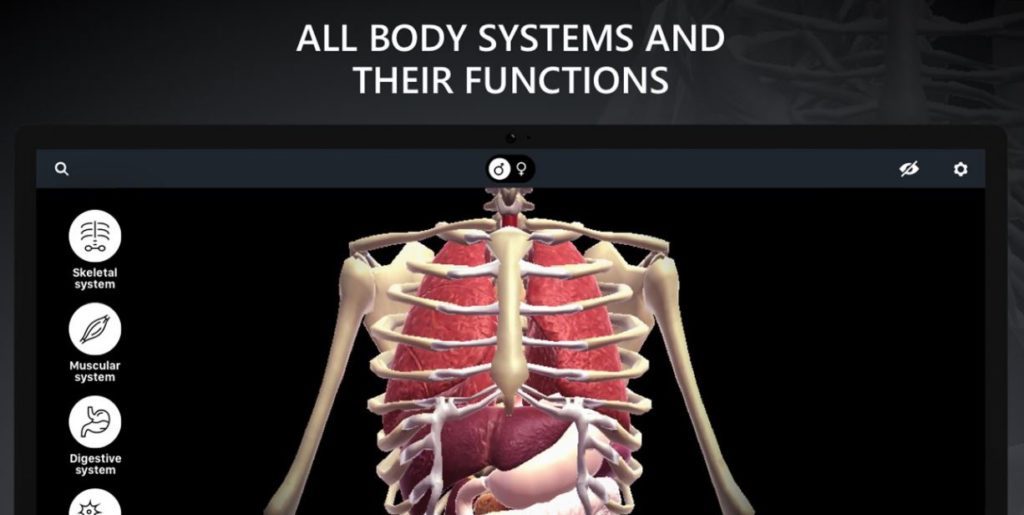 Yet, this application has only a few reviews on iTunes and has already gained a 3.6 star. Most of the low reviews are complaints about the advertisements in the app. It is worth a not that the software is free and ads are the only way for developers to keep the software available for everyone. For an ad-free experience, consider purchasing the app for ten dollars.
Positive comments concentrate on the detailed provided information. However, the graphics and pixelated illustrations urgently need the developer's attention.
The software was first released in 2016, and the company keeps track of the reviews of the app and handles negative feedback with prompt updates. The last one was in May this year.

8. Complete Anatomy 2021
This anatomy software was developed with the purpose to help you in studies and teaching. With innovative tools, physical models, and wide-ranging content, it is considered one of the most progressive and marketable anatomy platforms.
Complete Anatomy 2021 contains more than seventeen thousand interactive body construction, together with 3D organ models, muscle motion, microscopic reproduction.
The knowledge base of the application includes more than fifteen hundred professional educational videos from various medical fields (orthopedics, cardiology, dentistry, ophthalmology, fitness).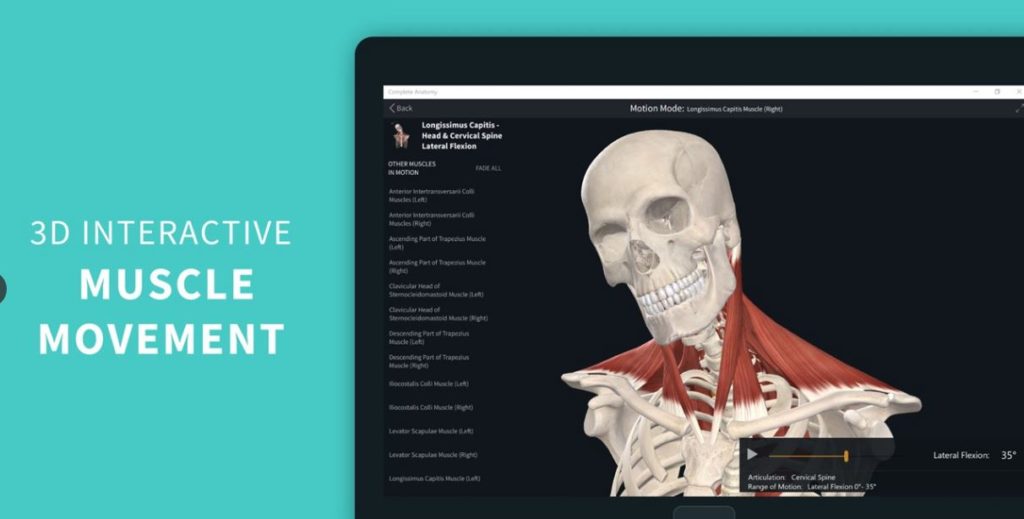 The software is easy to navigate, with an intuitive interface. Thanks to many useful tools, it is easy to examine even the tiniest parts of the human bodies.
All users get a chance to test the software during a three-day trial. Later, one annual subscription will work across all your devices, which is very beneficial, compared to other applications in the market. If you purchase the subscription before the free trial ends, the latter will be interrupted.
There are two prices of packages to choose from seventy-five and a hundred dollars. In addition to the cheaper student license, the more expensive one gives permission to use the software at hospitals, schools, or universities.
With more than five hundred ratings on iTunes, the app has a brilliant 4.5 stars! Students are happy to test their learning process with built-in quizzes with multiple-choice answers, and professional specialists enjoy educating their patients with the descriptive and graphic information provided in the app.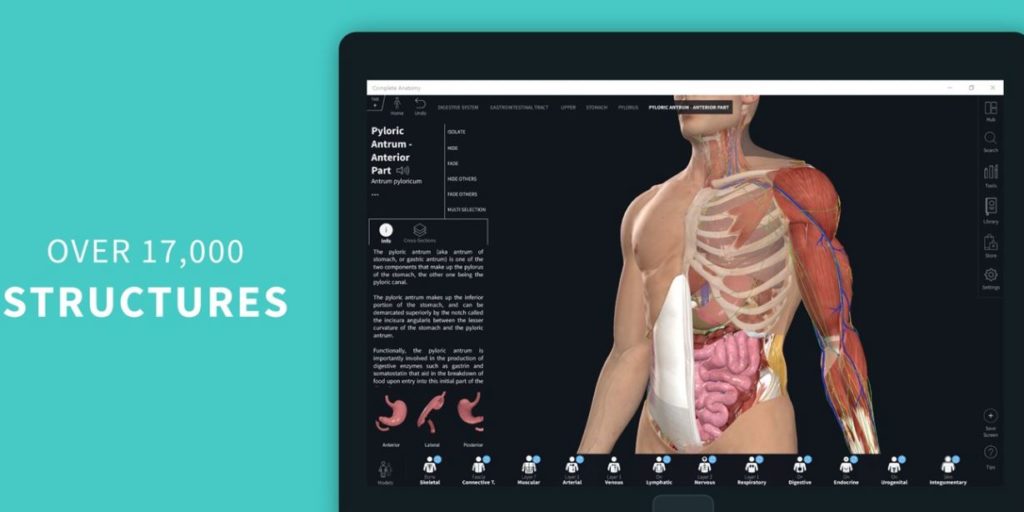 However, the full female body is still under construction and will come with a later update, according to the developer's comments to the reviews. Besides, there are cases when laptops and computers overheat when the software is running.
The app seems to be very power-consuming. Nevertheless, Complete Anatomy 2021 is one of the best anatomy software out there, indeed. And worth the price, if you are dedicated to your studies or career and need a handy and easily accessible interactive professional tool.

9. Daily Anatomy Flashcards
This is a slightly different anatomy software on the list. It is one of the top-rated applications available for Mac OS personal computers to memorize heaps of anatomy data.
It would be a perfect choice for those who are simply interested in the topic and have little or no knowledge of human anatomy, or for students of medical universities to make their studies less overwhelming.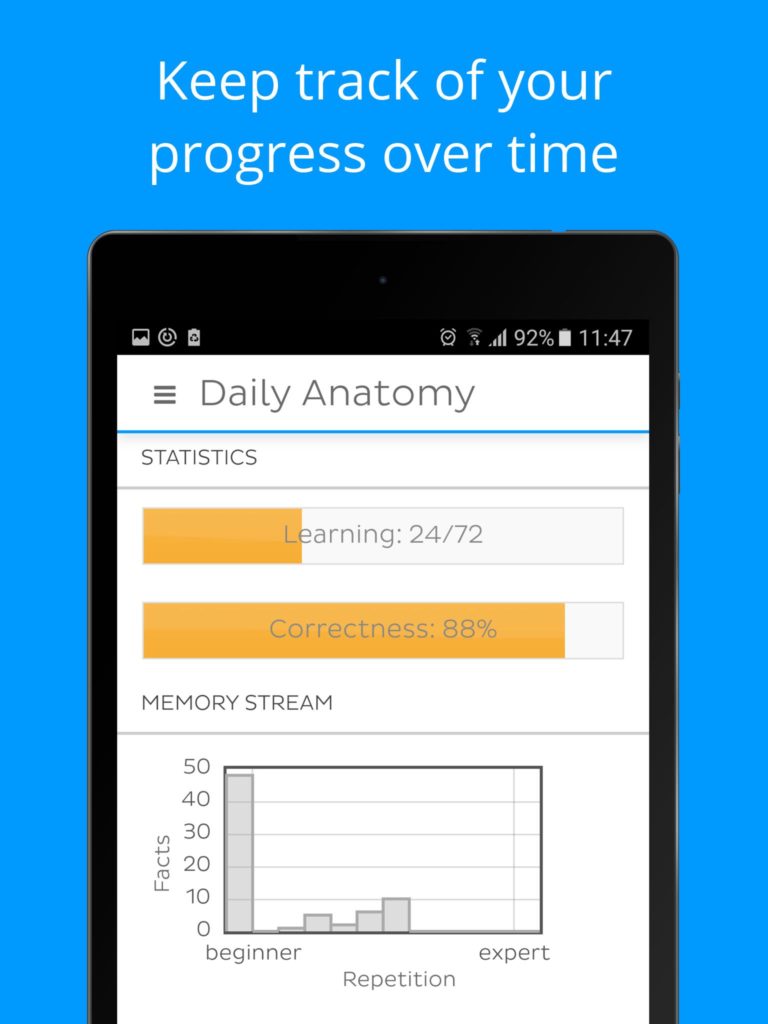 The app is designed to not only check the knowledge but to provide it. Introducing new information, asking users to solve problems, and use the gained knowledge to finish the task. This way, you not only learn at the moment but also build long-term memory.
The quizzes start at a basic level and become more challenging with time. The app covers the most important body structures:
Vessels;
Muscles;
Nerves;
Bones and their particular points.
All muscles are presented in two modes: neutral and functional. It helps you learn muscle functions on the go. Thanks to the spaced repetition method, all the knowledge you gain with the flashcards and the app, stays with you forever. The software is made this way to implement this method, especially for vocabulary and special terms. Besides, with the CRAM mode, users can now study without any breaks for long periods of time and with no interruptions.
The interface of the software is simple yet efficient. Illustrations, questions, and answers are located below each other, which makes the learning experience intuitive with no distractions.
The Flashcards software has a 4.7-star rating and many satisfied users. The main advantage of the app is that you can use it whenever you have time, and even two minutes of learning can pile on good progress.
Also, the app includes in quizzes questions of the material that you have learned and excludes the one that you have not studied yet. Some users are not fans of the spaced repetition method, as it does not allow them to come back and review the previous material earlier than a five-day window.

10. Anatomy learning
This is another learning software to help you study anatomy in several languages, including Polish, Chinese, Russian, and Japanese. Why not make the learning process easier and more enjoyable? With Anatomy learning it is more than possible.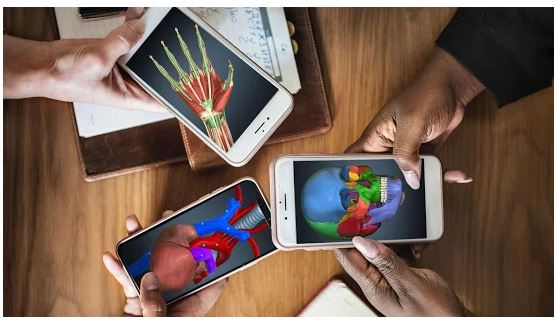 The software has an official website where you can download the app for a Windows or Mac OS personal computer. It includes more than six thousand 3D models of human organisms designed by medical experts. The software covers a wide range of information:
Muscles;
Bones;
Joints;
system;
Circulation system;
Ligaments;
Sense organs;
Urinary;
Digestive;
Respiratory;
Male and female reproductive systems;
Central and peripheral nervous system.
The app has a 3D-touch and user-friendly interface. All the tools are located on the left side of the screen, and at the bottom of the page, you can choose the section you want to review. You can easily flip images to any point of view, make them bigger or smaller, see structures in layers and remove them; include or exclude the above-mentioned systems.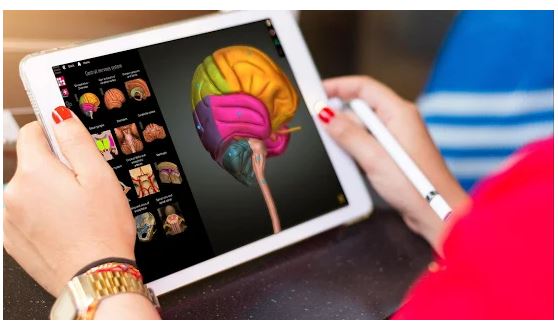 The application uses international terminology and provides you with a guided learning process. After studying, take a quiz and check your progress.
With a 4.8-star rating on iTunes, it is expected that most reviews and comments are positive. The software gained a lot of satisfied users, who highly recommend the app. A big advantage of the software is that it is absolutely free.
Students use it to study for exams and for quick reviews before the tests. As a bonus, users would like to have a search tool to help them get to the necessary material quicker.

You may also like: 9 Best Apps Like VectorVest for Android & iOS
11. 3D Organon Anatomy Enterprise
This software is an award-winning app to help you learn everything about the anatomy of humans. It is used not only by curious individuals, students, and specialists but also at universities and hospitals.
It provides you with 3D illustrations and animations of nerves, vessels, skeleton, muscles, and other eleven systems of bodies with more than ten thousand structures. Though, only the skeletal system is available in the free version.
The paid subscription gives you access to fun clinical quizzes, organ maps, thousands of microanatomy constructions, and much more. In the app, you can find a broad base of professional terms and definitions.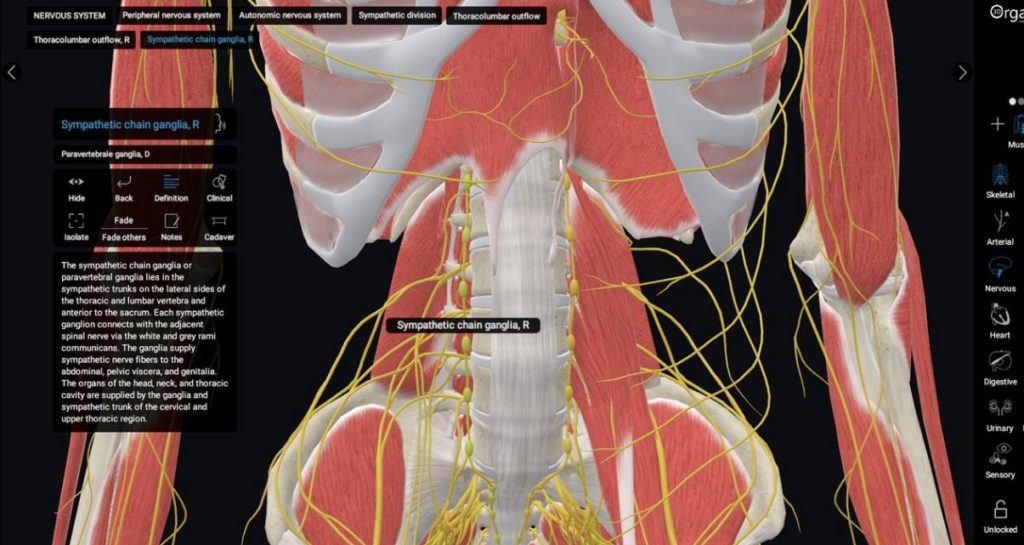 A great feature of the app is an anatomy trainer for several users, which makes it possible for students to take part in training classes at schools, colleges, or universities. With the help of voice and text messages, keep in touch with your groupmates, and interact with educators during the lessons.
A subscription is designed to be a cross-platform one for two hundred users, so you can use the software from any device. The search bar makes it quick to find the necessary information.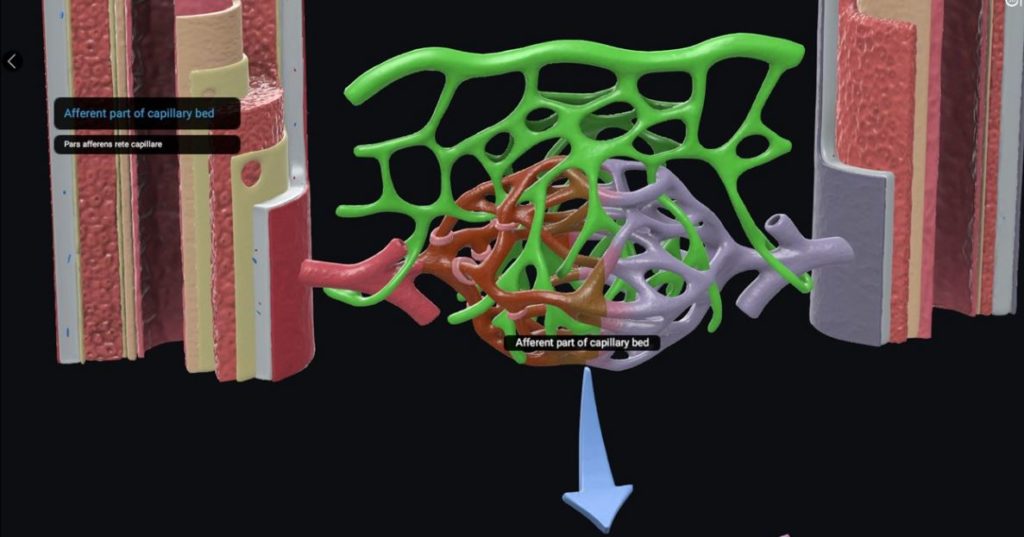 The software interface is a hundred percent intuitive and accurate. The application immediately responds to your actions that make the user experience smooth and satisfying. You can easily zoom in or out and rotate high-quality models and see even tiny details. The app is supported in fourteen languages and allows you to use it in two languages at your choice at the same time.
Another interesting feature of the software is the pain effect. It helps you realize and see the effect of pain in the body on each of its 3D parts.
Besides, you can select your favorite models and come back to them later quickly. What is more, you can benefit from the in-app video caption tool. The reviews of the software are mostly positive and the feedback is full of appreciation for the app.