Many people all over the globe use vocabulary memorization apps, and for good reason. Whether you are learning a language or you are a native speaker, learning a couple new words to sound smarter or studying for a test, these apps can help you.
But which one should you choose?
There are lots of apps offering very different features. Looking through all of them seems impossible. Do not worry though. We have already done the heavy lifting for you. Check out our list below. We are sure it has an app that is just right for you.
You may also like: 11 Best Memory Card Games for Kids (Android & iOS)
We are going to take a look at eleven apps and quickly go over key features, what makes the app special or different from the other ones, user reviews and designs.
1. Mnemonic Words
We start off our list with this handy little app. Mnemonic Words will help you learn one new English word every day. Over two hundred and fifty glossaries, covering all kinds of topics and various levels will satisfy any need and help you prepare for any situation.
Don't know where to start? Are you not sure about your vocabulary level? No worries! This app has a neat test built into it to help you gauge your level.

Ten interactive exercises will make the learning process fun and engaging. And don't you worry about forgetting to practice! Mnemonic Words will remind you exactly when it is time to study specific words.

With this app, you will not have to keep listening to the same old voice repeat the words every day. Mnemonic Words boasts serious dubbing quality and allows you to switch between American and British, as well as male and female voices.
If you have decided to expand your English vocabulary with your family, Mnemonic Words has got you covered! With a payed subscription you can add your family members to your plan. (up to four!)

The users are raving with positive reviews, enjoy!
Note: The app is available on devices with Android OS 4.1 and above, as well as on iPhone with iOS 10.0 or later.


You may also like: 9 Best Memory Card Games for Adults Android and iOS
2. Duolingo
Any comprehensive list of language apps will, without a doubt, include Duolingo. Definitely the most popular language-learning app with over three hundred million users around the globe.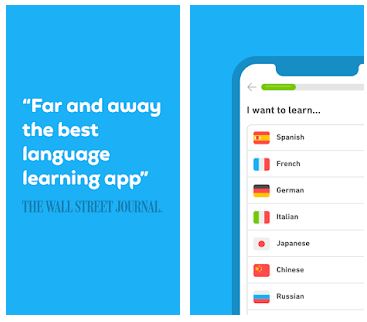 But what makes it so successful? As opposed to many apps on our list, Duolingo can (and should) be used to actually learn the language, not just boost up your vocabulary.
The choice of languages is simply mind-blowing! Basically any language you can think of, even including fictional languages.

This app breaks the language down into short lessons and practice sessions, letting you go at your own pace or compete with other learners through the weekly ranking system.
Duolingo is considered a rather effective way to learn a language by many people. On top of that, with all the quirky characters, stories, and game-like tasks it is remarkably fun!
Learn new words, compete for glory, become proficient in a new language, connect with other learners and make new friends, you can do it all with Duolingo!
Note: The app is available on Android devices and iPhone with iOS 12.0 or later. It can also be used through the website on most devices capable of running a browser.


3. ReWord
ReWord can help you improve your vocabulary in English, Spanish, French, German, Finnish, Italian, Korean, Polish, Turkish or Chinese. While the choice of languages might seem limited (only ten), if you are learning one of them, you should absolutely check this app out.
The hints appearing from the start and simple elegant design will ensure easy navigation and smooth learning. The ease of use is definitely the selling point of ReWord.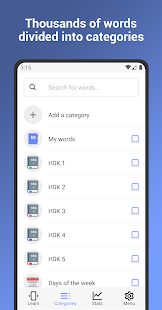 You will be free to choose from a wide variety of vocabulary categories. In addition, with the ability to add custom words and form them into categories, you can create your own personalized learning experience. All the words you add will be automatically translated. There are example sentences provided for each word.
With a neat and intuitive progress screen the app allows you to track your daily progress and see how many words you added to your vocabulary, practiced and learned or got wrong each day.
Offline mode opens up a variety of possibilities for dedicated learners on the go. No need to stop if you can't catch WiFi and don't feel like using your data.
User reviews are overwhelmingly positive, mostly noting how convenient the app is.
Note: The app is available on Android devices 4.4 and up, as well as on iPhone with iOS 10.3 or later.


4. Word of the Day – Daily English dictionary app
Word of the day by Biggiko, LLC is a bit different.
While most apps on this list are designed to help learners conquer a foreign language, this one was designed for native English speakers who are still willing to expand their vocabulary with particularly obscure and interesting words as a form of mental exercise, self-education, and fun.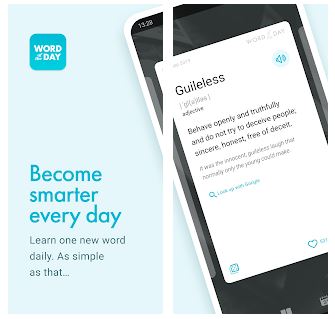 However, a quick look at the user reviews will tell you that the app is widely used by non-native English speakers with advanced levels as a way to progress even further.

Whatever your situation is, if you are looking for some advanced English language vocabulary, Word of the day by Biggiko, LLC is the app for you!

When you listen to the words you are memorizing, many similar apps will offer you to choose the voice. Very few, however, will be an able to match to the number of options that Word of the day by Biggiko, LLC provides.
Etymology and synonyms of the words you are learning are provided and will help you really cement those definitions in your memory while deepening your understanding of the language.
User reviews are full of praises for this app. People all over the world use it to take their English vocabulary to the next level.
Note: The app is available on Android devices 4.4 and up, as well as on iPhone with iOS 11.0 or later.

5. Word of the Day – Vocabulary Builder
This one jumps right at you with a bright and lively design! If you were worried about falling asleep while studying as monotonous, colorless dictionary-like app almost signs you a lullaby, worry no more!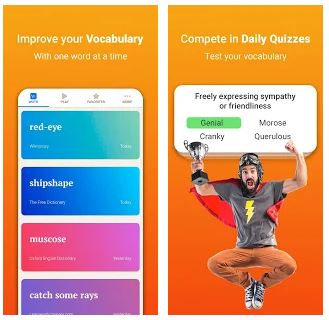 Word of the Day by Helium apps was designed for students preparing for tests, such as SAT, TOEFL and IELTS. Therefore, it lets you tackle some rather advanced vocabulary. We bet that even the native speakers wouldn't know many of these words. That being said, beginners will definitely benefit from using this app as it is made for learners of all levels.
Packed with features like word of the day, daily quiz and practice quiz, Word of the Day by Helium apps will not disappoint. You will get all the resources you need to achieve your vocabulary goals.
What about the pronunciation? Word of the Day by Helium apps will help you out with that as well!
User reviews are very positive and highlight various features of the app, recommending it to people willing to brush up on their English or expand their vocabulary.
Note: The app is available on Android devices 6.0 and up.



6. Vocabulary – Learn New Words
This app is simple and true to the definition of «Learn a word a day». It will send you several notifications per day with a different word each time, showing the definition, pronunciation and example sentences.
Because of the way the notifications are structured, there is no need to actually open the app to see the definition of the word. It is all in the notification. This allows you to learn new words by essentially just glancing at your phone a few times a day!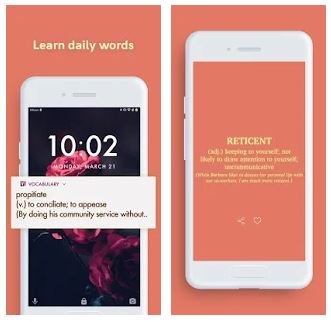 That is not all, of course. You can also browse the words by categories and review at your own pace. But besides that there is not much else to Vocabulary by Monkey Taps.
Thought the concept is simple in comparison to some apps on this list, it is remarkably well-executed. The app is intuitive, absolutely gorgeous and functions well. The words are interesting and the definitions are clear. If that is what you are looking for, look no further!
This app is used by native speakers, learners and even teachers as a vocabulary improvement tool.
User reviews suggest that people are loving it and many say that paying nineteen dollars a year for this app is totally worth it, so do not hesitate and check it out!
Note: The app is available on Android devices 5.0 and up, as well as on iPhone with iOS 12.0 or later.


You may also like: 9 Best Apps to Easily Turn Photos into Sketches on Android & iOS
7. Daily Dictionary
Just like most other apps on this list, Daily Dictionary provides daily notifications with a new word and its definition. After reading about the previous six apps, most of which can do that and so much more, it does not sound very impressive. So, why is Daily Dictionary even on this list? There are in fact a few key features that make it stand out.
Its creator – Benjamin Mayo is a well-known Apple enthusiast. He has been blogging about Apple products and developing software for Apple platforms for many years.

That is why it is no surprise that the best part of Daily Dictionary is how well it integrates with iOS.
For example, you can get your word of the day by telling Siri «word of the day». You can also get notifications from this app on your Apple watch.
In addition, the words suggested by the app are chosen by real people as opposed to letting an algorithm pick a word. This ensures that the words are actually interesting to learn and useful in a conversation.
Users find this piece of software absolutely delightful! Which is no surprise, considering the attention from the developer and all the features.
Note: The app is available on iPhone with iOS 12.0 or later.


8. Vocabulary Builder
Vocabulary Builder is mainly marketed as a tool to help you prepare for the GRE test. It does, however, contain quizzes on the SAT, and TOEFL vocabulary.
The lists of words were created by experienced professional tutors. The developer- Magoosh is in fact a test preparation company. That is why they take vocabulary very seriously.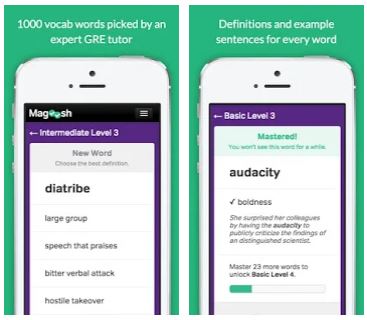 Nonetheless, the app can be used to improve your general vocabulary and many people use it for that.
While generally being similar to the standard design of similar apps, Vocabulary Builder looks very nice and does have a few special features.
First of all, the learning process does feel a little bit like a game. You need to beat levels to unlock more words. Definitely give this app a try if you struggle with the monotonous memorization of flash cards and word lists.
The review section is full of testimonies of students about this app helping their test scores go up. Considering the original intent of the app, it would be hard to find better praise.
Note: The app is available on Android devices 4.1 and up, as well as on iPhone with iOS 9.0 or later.


9. Word of the Day: Learn Daily English, Lexicon Quiz
Word of the Day by JpCrow combines the standard features of similar apps with a few extras to add a little fun to your learning process.
As far as standard features go, you can set a push notification with your word of the day, review your progress on a day-by-day basis and see which words you have already learned.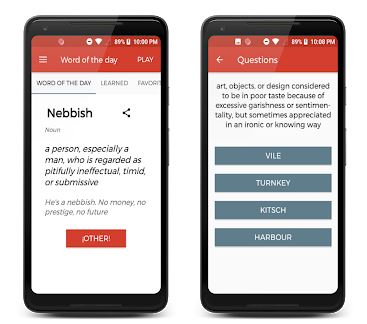 In addition to your standard features, Word of the Day by JpCrow has 3 games that can help you really drill the vocabulary into your memory. These games are:
Questions (multiple choice questions based on the definition of the word)
Hangman (standard hangman, but with a definition of the word as a hint)
Order the letters (you are given scrambled letters and the definition of the word)
The design is intuitive and colorful. Very pleasant to look at and easy to use.
Reviews of this app are a bit of a mixed bag. The users did have a few issues, but the developer seems to respond to every review and fix issues as hey are reported, which is absolutely amazing!
Note: The app is available on Android devices 5.0 and up.

10. Daily Word – Word Of The Day
Word of the day by Twisted Society AB has fairly standard features for an app of this type. You can get daily push notifications with the word of the day, definitions include synonyms and examples. The app allows you to go back and check out the words that you have already learned, so you can go over them one more time.
This application can be used by native speakers looking to expand their vocabulary or prepare for a test. At the same time, with the variety of words provided, Word of the day by Twisted Society AB can be used by language learners for vocabulary training.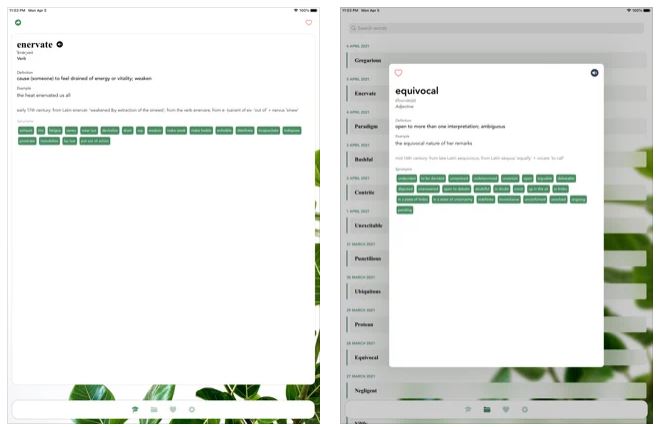 Being able to create your own vocabulary lists is a sweet feature that can help you prepare for a test.
The design is slick and modern. Soft colors create a relaxing feeling. Not having many features, the app is fairly easy to use.
Some of the user reviews seem to be negative. A few people mention that the definitions of the words are rather short, but most seem to agree that the app is easy to use and looks really nice.
Note: The app is available on iPhone with iOS 13.6 or later.

You may also like: 7 Best Math Word Problem Solver Apps for Android & iOS
11. Word Store: save, practice and learn vocabulary
Word Store by Matholution is absolutely PACKED with features. We will try to highlight the best ones below, but there are honestly way to many to list here.
This is, without a doubt, one of the best (if not the best) apps to prepare for the GRE test. You get the ability to make custom word lists, back them up to external sources (like Google Drive or your phone) or send them to a friend. You can create your own custom-made flash cards to practice for any test.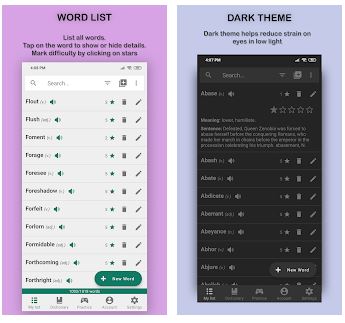 Do not forget the floating dictionary feature. Essentially it means that the app can run in the background and help you translate materials you are reading on your phone through other apps. Pretty cool, huh?
As far as design goes, despite being stuffed with features, the app looks rather nice and doesn't take very long to figure out. As an added bonus there is an option for dark-mode theme.
Naturally, with an app like this, the user reviews are overwhelmingly positive, but people do mention a few technical hiccups.
Note: The app is available on Android devices 5.0 and up.