Fake Flight Tickets are in great demand and most often photoshop is used to create them. Yet, today there are already a large number of special services that can help you do it quickly and without difficulties. Also, take a look at our list of the best free photo scanning software.
So, now you can say goodbye to Photoshop. All you need is the internet and a few minutes. Here we have reviewed the best fake flight ticket generator websites. Remember, that these tickets are not valid.
KeyFight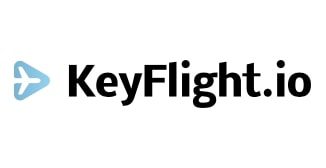 The KeyFight service has a modern interface. Here is a beautiful and concise design, which will attract the attention of any user.
Immediately in front of you will be a window where you need to fill in all the necessary data. They are standard, as in any other similar service. Then you will also get a list of available flights and choose the best one.
Click a special button to generate a ticket. However, to download it you need to pay the pro-version, which costs 4.90 USD. You can pay with cryptocurrency or PayPal service.
You can also buy a verified version of the ticket here, which you can check on the website of the airline. Here you can also send a ticket by mail and download it in one of the available formats: PNG, JPG, or PDF.
After receiving the ticket, you will be able to receive news of this service. To do this, when you enter the information, check the appropriate box.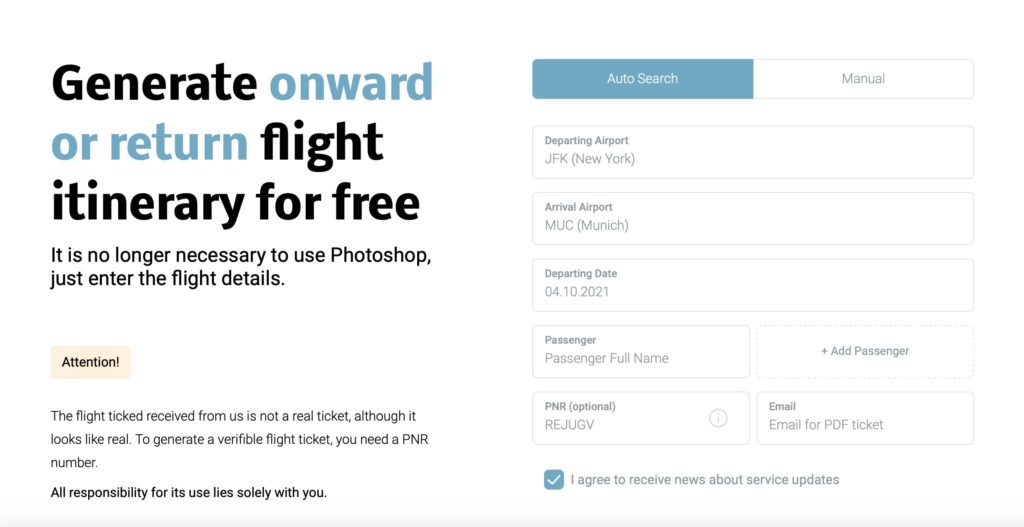 Remember, the ticket is stored on the site for about two hours and then will be out of stock.

You may also like: 11 Best Virtual Keyboard Apps for Windows, Android, iOS
Fake Flight Tickets

Fake Flight Tickets service has pros over its counterparts for creating fake tickets. The style of the site here is very nice and all the functionality is displayed on the main page.
All the data required to create a ticket is standard. The difference is that here you can select "One-way" or "Round trip". Then you choose a flight and get a ticket.
To download it, you need to pay $5. You can do this using bitcoin or the service PayPal. Near the payment window, you will see an example of a ticket to make sure you entered the data correctly. You will also see that the generated document really looks like a real one.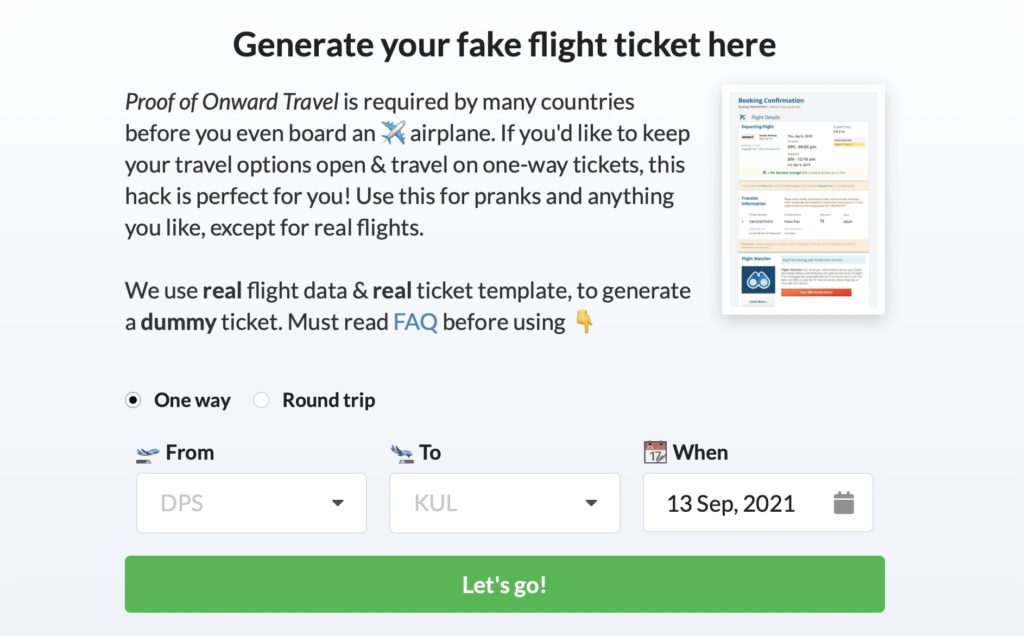 This service has its own referral program. You can invite 3 friends, which will give you the opportunity to get a free ticket. You can share the invitation link on social networks or your blog, as well as on Instagram and YouTube.

Dummy Ticket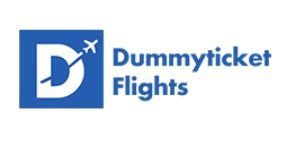 Dummy Ticket service, like its previous counterpart, is a paid service for creating fake flight tickets.
On the main page, you will see fields for entering the information needed. As you type, the website offers prompts and generates available airports and carriers. Here you will also see reviews from real users.
After filling in all the required fields, the bot will offer you options for available tickets. Here you enter the remaining data and press the download now button.
It is worth noting that this service gives a guarantee on the services provided. So, within 24 hours you can get your money back if you do not like something or there are any problems. To get a ticket, you will need to make a payment using PayPal.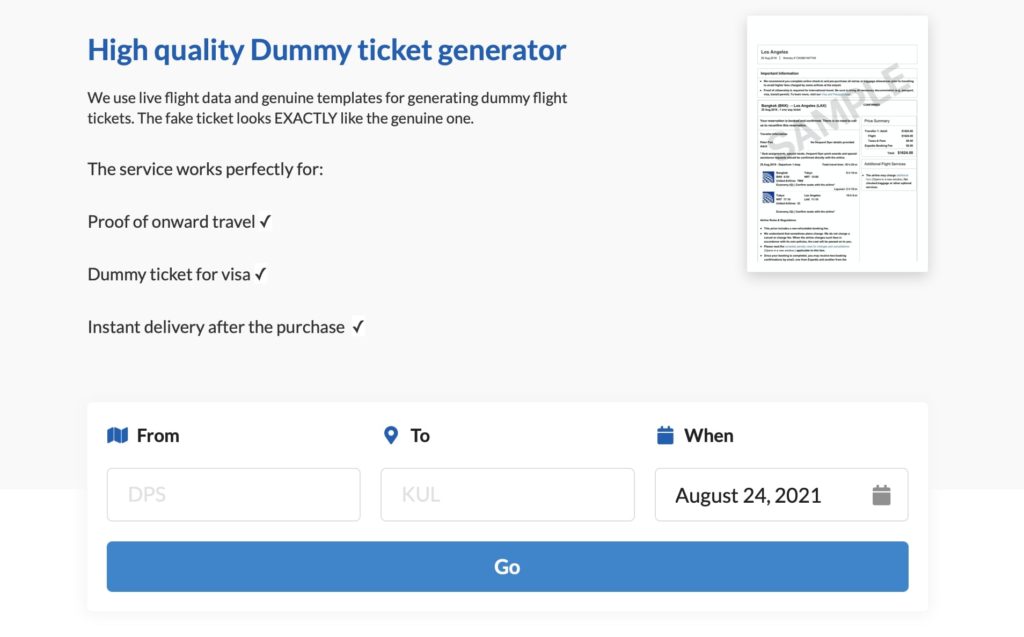 Compared to other services, the payment options here are limited, but this drawback is made up for by the guarantee provided.

Onward Flights

Onward Flights is a fairly easy-to-use service. The sequence of necessary actions here is standard for such providers.
On the main page, enter all the data and click Let's fly. Select one option from the list of suggestions. Then the website will redirect you to the payment page.
The cost here is not high; on average one ticket costs $10. Payment is available via cryptocurrency. For example, bitcoin, Litecoin, Dai, and others.
Also on the main page you can read tips or view popular flight requests.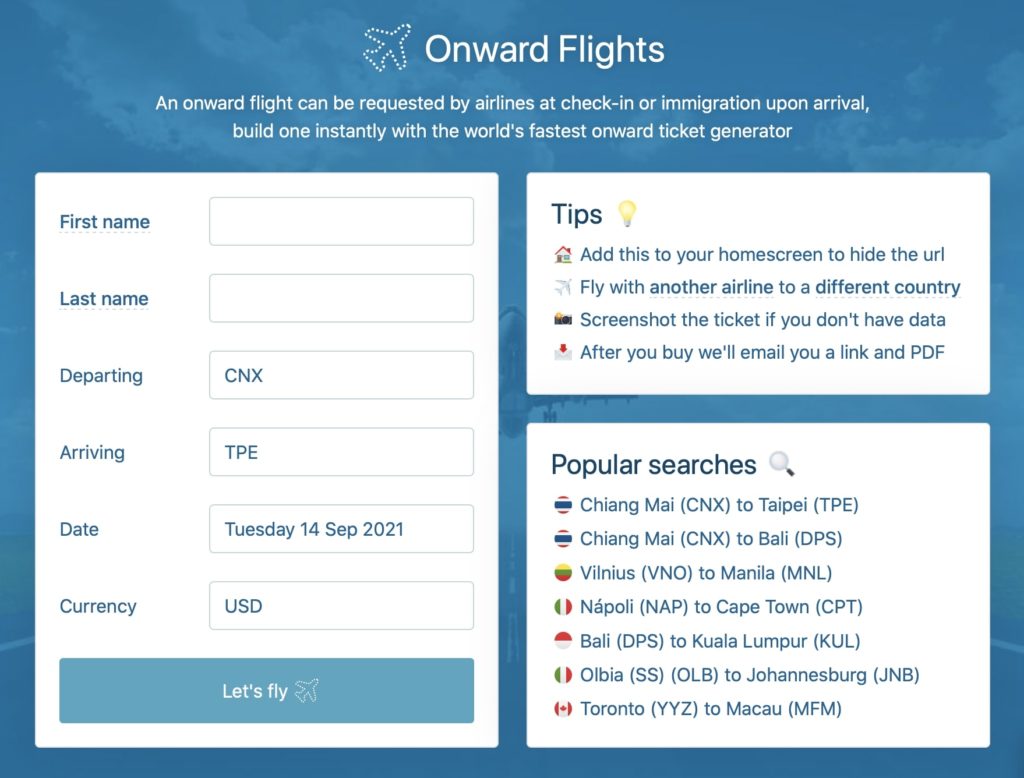 With this service, you can also create fake airline tickets for your friends. Just enter their information, flight details, and email address. Your friend will unexpectedly receive an e-ticket and won't even be able to realize that he's being pranked right now.

Trixo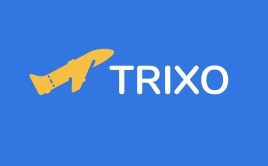 The last but not the least service in our review is Trixo. The creation of a ticket takes place on the main page.
As you enter, the website will offer you available options. You can enter not only the name of the airport but also the city to which you would like to fly.
The service itself will offer you the airports available in that city. So using this page is very easy. Then select the appropriate airline ticket, enter the remaining data and go to the payment page.
Trixo also provides a money-back guarantee for 24 hours. Payment can be made using the service PayPal.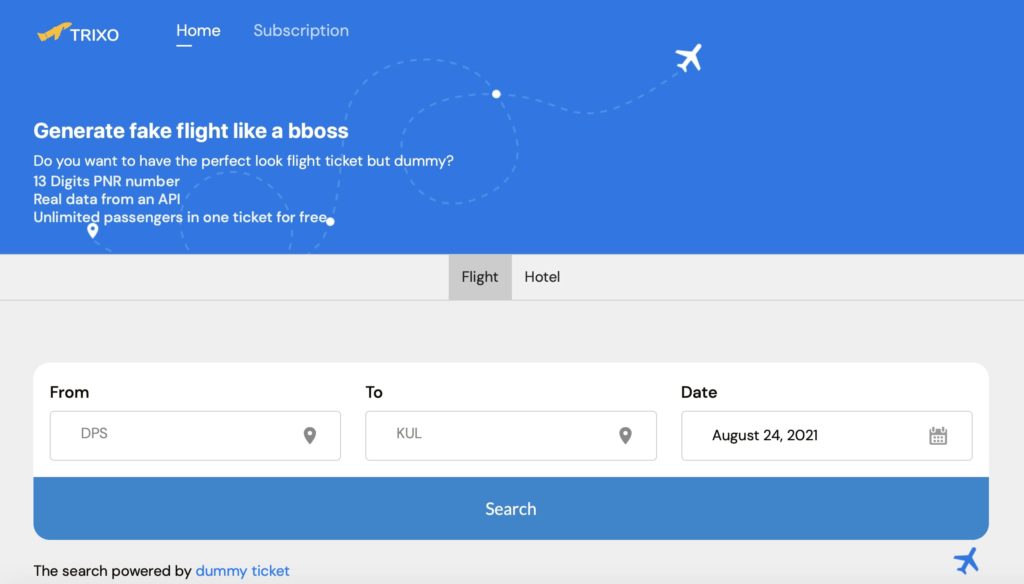 This service has a large number of positive reviews, some of which you can view directly on the site. This page also has a section with frequently asked questions, where you can find your own solution to any problem you may have.

You may also like: 9 Best Library Management Software for Windows 10
DummyTicket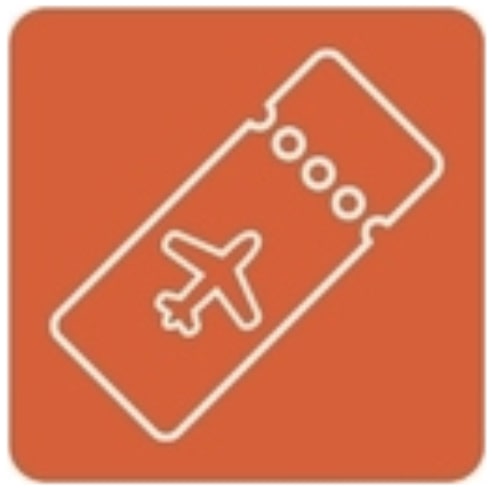 A useful Internet portal for travel enthusiasts. At DummyTicket you will be able to create a fake ticket yourself. This option is indispensable for all those who prefer air transport.
Here you can quickly and efficiently create a ticket for any flight. The fake document has no differences from the real one.
You can even check it on the official websites of the companies. It contains all the necessary documents of a real online ticket, including an individual PNR code.
Save the site for personal use or share it with friends who often use airplanes for travel. What are the purposes of this portal? You can use it to fictitiously book a flight and submit a report to the embassy. This is necessary for obtaining a visa.
You can also submit a return ticket to confirm the end of your trip. These documents are in demand at work and at the tax office.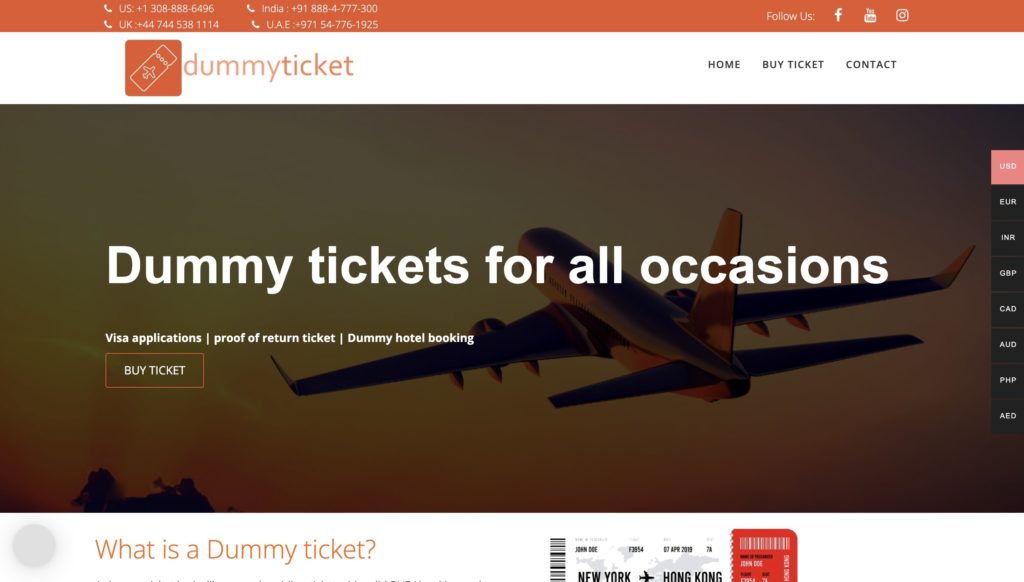 The price of the simplest fictitious ticket is $19. If you have a hotel reservation, the price starts at $25 per person.

Lost On The Route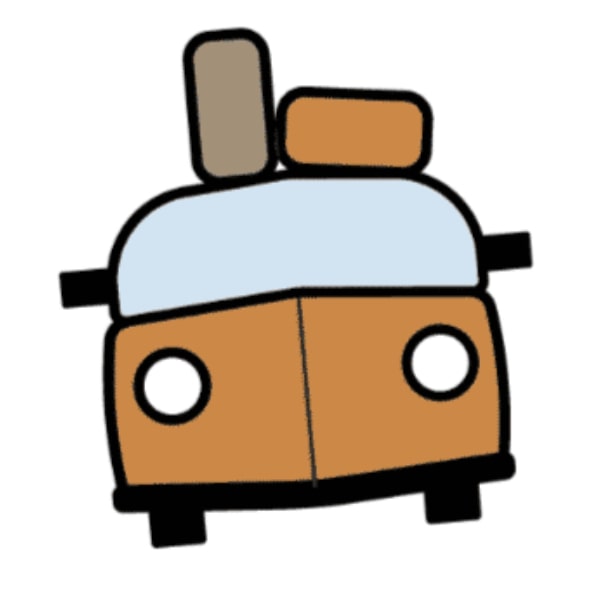 Now it's even easier to make jokes about your friends and coworkers. At Lost On The Route you will find templates for real boarding passes.
By filling in the required fields, you can dispose of the fictitious airline ticket as you see fit. Brag about your trip to Bali to envious colleagues, and play tricks on your parents or close friends.
Check the reaction of your significant other to such an unusual gift as romantic air travel.
Using this site is easy enough. After downloading the template to your computer or phone, you need to make adjustments by opening Microsoft PowerPoint. To get started, you need to select one document out of 4. They all look realistic, so choose the one you like best in appearance.
Enter your data in the fields you want by clicking on the line. Choose text, and change headings and countries.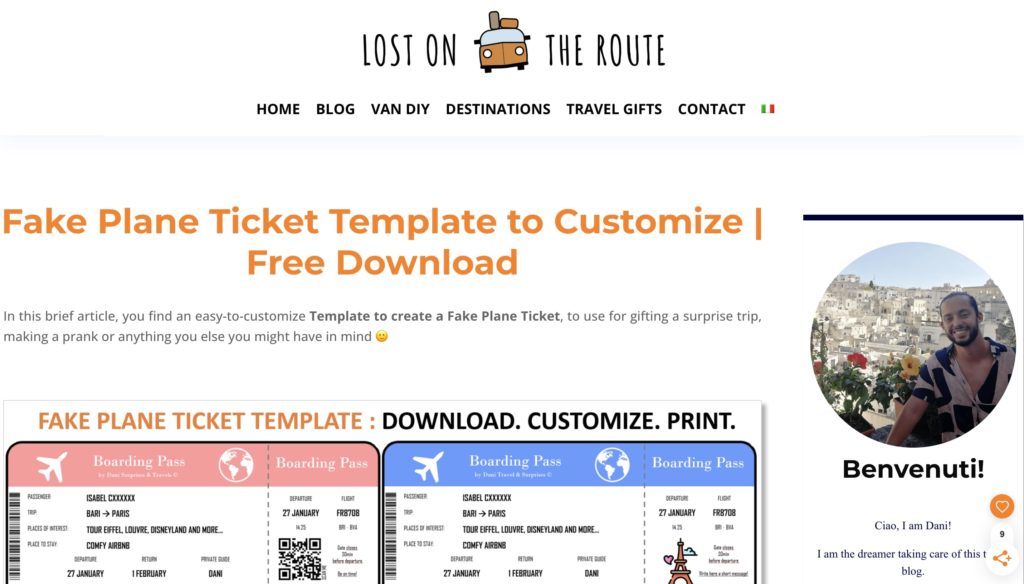 You can even decorate your finished ticket with a real QR code that hides an original riddle or declaration of love. Just print out your ticket and show it boldly to the recipient.

Onward Flight Ticket

Do you like unusual practical jokes? Want to surprise your friends with a real ticket to Bali? Or just make memories of a great vacation? Then use the real airline ticket templates at Onward Flight Ticket.
Here you will find blanks that you can use to get a fictitious ticket that looks like a valid document. It will take you a few minutes to become the owner of any number of airline tickets.
If someone decides to check the authenticity of the ticket, it will not be a problem. The appearance fully corresponds to the real boarding pass. The lines contain complete information about the date and number of the flight, departure, and arrival time.
You can enter any data that fits your idea. Save a complete ticket as a PDF file, print it out, or send it by e-mail. In no time at all, you'll have a ticket for every flight in your pocket.

You may also like: 11 Best Dynamic Wallpaper Apps for Windows 10
pdfFiller
Multifunctional editor of any PDF format files. At pdfFiller you can edit a fake flight ticket of any size and content.
This online platform optimizes work with documents, thereby empowering users. It is suitable for working on any electronic device including phones and tablets.
Now you can manage your files with a single click. Create new documents, make adjustments, and delete unnecessary files.
Convert documents from PDF format to a more convenient format without using other tools. Change the look of your document by darkening, highlighting, and adding high-quality images.
This platform will be a great tool for an entire staff. Send individual documents or entire folders instantly and securely. Now all the information you need for your work is in one place.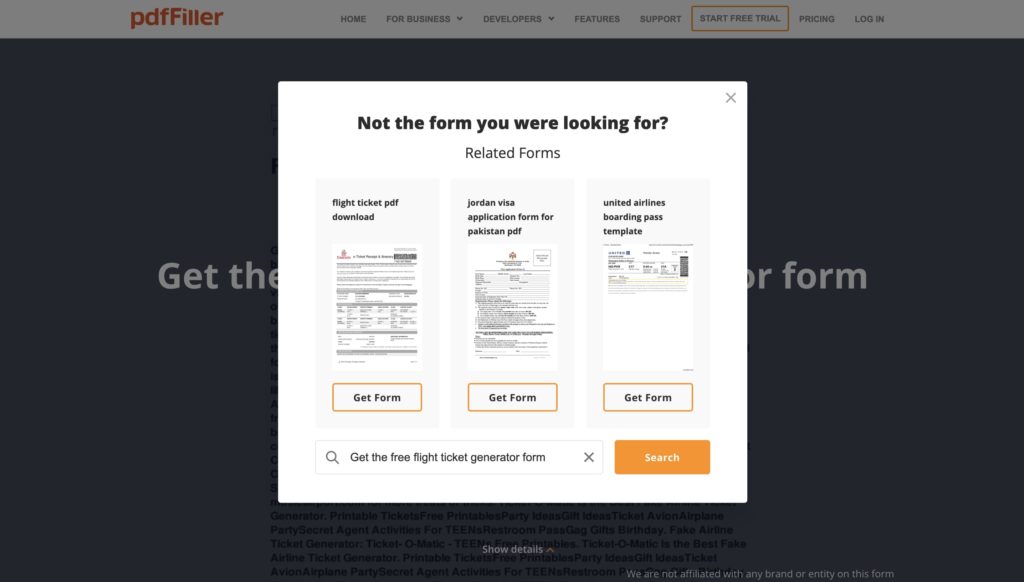 For the convenience of corporate clients, it is possible to perform an electronic signature, which greatly simplifies document flow.