We all need to train our cognitive skills from time to time. Training our memory is actually really crucial – it is more important than you can imagine, especially for adults – thus you prevent Alzheimer's syndrome development.
However, the problem that people often face is the apps for training memory, that they find, are made for kids and are simply too easy for adults. There is actually a lot of memory training card apps, and picking the best ones can be a challenge.
You may also like: 11 Best Memory Card Games for Kids (Android & iOS)
We know how busy you are and how you appreciate your time and that's why we picked up the 9 best memory card games for adults – you will see how challenging and captivating they are!
1. Brain Test Tricky Puzzles
A new game for iOS users, designed to develop logic and memory. It is suitable for both adults and children. The game consists of tricky puzzles, strange tasks to test your ingenuity. If you want to combine benefits with relaxation, you just need to install this program and put yourself to the test.
The main features of this developmental program are the presence of tricky puzzles that are outwardly displaced but carry quite logical and developmental solutions. You can easily find out your IQ level, play exciting word games, solve Sudoku, and other various problems.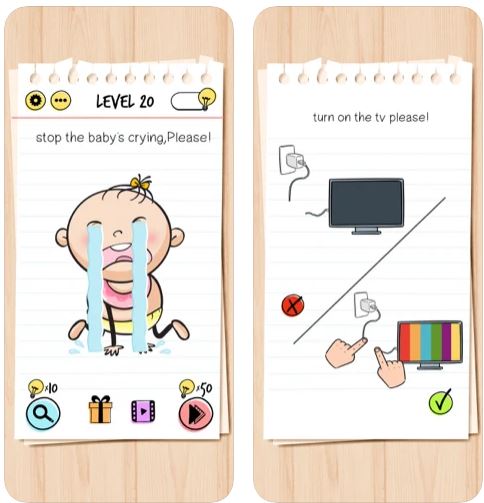 If you spend time with friends, this program will help you have a fun meeting and find out which of your friends is the smartest, and who needs to devote more time to developing memory, logic, and thinking.
The simple gameplay and cartoony design of the program will allow your children to have a good time. Together with the children, you can unite the process of playing and learning, which will positively affect your relationship and understanding that the child is developing correctly, his memory, logic, attention is directed in the right direction, and has no problems.
Downloading the application is free, does not require a permanent internet connection, and allows you to play even offline. The game is not available on devices with Android. It is compatible with iPhone iPad and iPod touch mac and requires iOS 10 or later and macOS 11 or later with a Mac with the Apple M1 chip.


You may also like: 11 Best Apps to Learn a Word a Day for PC, Android, iOS
2. Memory Cards Match
Best Android app to improve our memory. All you need to do is to find the same or matching cards. These actions are very helpful in improving concentration and attention. All pictures are quite catchy.
You can play in a story mode for daily memory training, and if you wish, there is a short and quick game mode with different difficulty levels.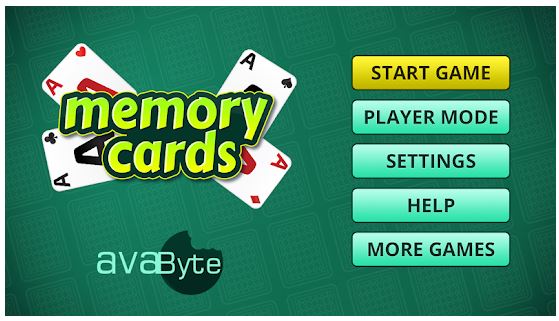 You can also customize the application as you like, choose cards and slots that have different themes. For example, you can search for images of animals, games, cartoons, cars, plants, and much more, so the app is an intelligent application for improving memory.
Modes are always changing, so the user needs to constantly adapt to new conditions and rules. You will have to complete tasks for a while. This greatly complicates the gameplay. All levels are graded. If you do everything perfectly, you will get three stars. The user has the opportunity to select only one mode so that the rules do not change.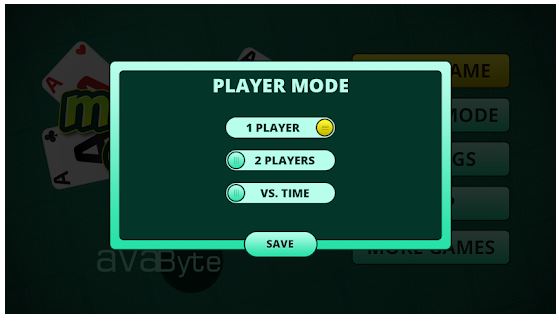 After downloading the app, you get notifications about your daily brain exercise. More than 500,000 Android users installed this app.
The app doesn't take up much space on devices, only 19 Mb, and it has beautiful music that makes the game process more fun. Required Android version 4.4 and higher

3. Brain Test 2 Tricky Stories
After you have passed all the levels of the first part of the "Brain Test Tricky Puzzles" game, which conquered the world and turned the world of mobile games for the development of the brain, logic and attention, the developers pleased us with a new version of this game.
The second part adds even more exciting riddles, funny tests for attentiveness, and the ability to quickly memorize numbers, letters, objects, and their names.
To improve and consolidate the result on the development of your brain and memory, new riddles are now united by one story, new characters have been added that play an important role as associative markers for better memory and brain training.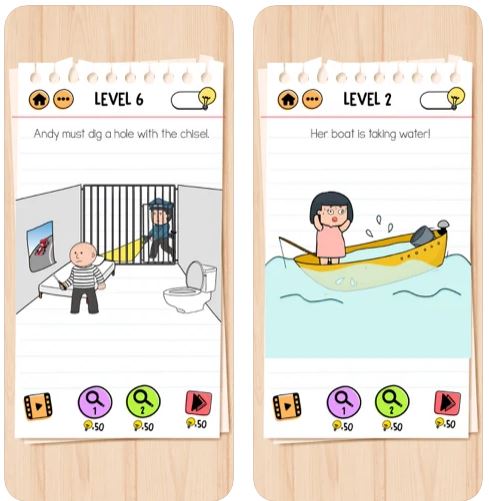 To remember all memory cards, to solve all the puzzles and tasks, you will have to sweat a lot, friends, your children and relatives can come to your aid, the game has a multiplayer mode. Endless modes and unusual solutions will keep your brain from getting bored.
As in the first part of the game, the interior design is made in a cartoon design, which will captivate even the smallest children, and the ability to play without an Internet connection will allow you to spend time playing the game even on an offline plane.
This program is a great trainer for your brain, pills for your memory and mindfulness. Everyone who loves memory card word games, IQ tests, various tasks, mini-games, everyone will love this fun program with a very deep meaning.
The game is not available on devices with Android. Compatible with iPhone iPad and iPod touch mac and requires iOS 10 or later and macOS 11 or later with a Mac with the Apple M1 chip.


4. Easy Game Logic game
To train thinking and memory, you need to install this program. Thousands of levels, all kinds of memory cards, pictures will involve you for a long time in the process of restoring your lost ability to remember and reason logically.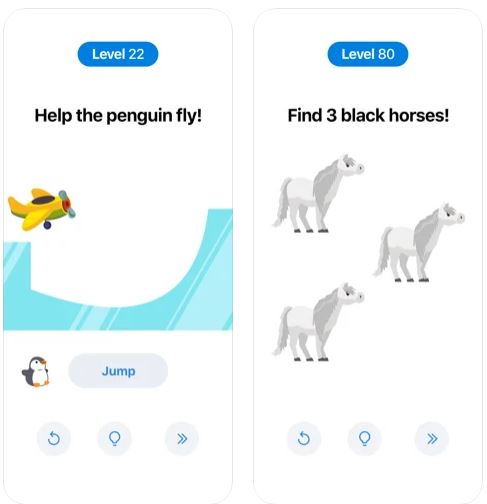 The world-famous tests of erudition, memory, and attentiveness have all been used to create each level of this program. To complete all the tasks you will need to think outside the box. You have to train your brain.
The most unexpected decisions delight you, lift your spirits, and have a positive effect on brain processes in your cerebral cortex.
If you want to develop creative thinking, logic, memory, and imagination, you need to master your common sense and start learning to pay attention to detail. The decision in the usual way will lead you to a dead end. Some of the tasks in this brain trainer program are not as easy as they seem at first glance.
Find out the level of your intelligence, as well as the level of intelligence of your friends. Unique rewards for completing tasks will delight you with their diversity. And for those who, in despair, are not able to find a way out there is a system of prompts.
The application has a cartoon design that will allow you to train thinking and memory but gives you a lot of good information to train your children.


You may also like: 11 Best Anatomy Apps for Android & iOS
5. Mind games
The unique app is designed especially for the development of your brain, your memory and your erudition. Very laconic and simple design, detailing will allow you to concentrate on automatic processes and stimulate the brain centers during the game.
The app consists of a huge number of memory cards and images, mini-games, mini-puzzles, from well-known games. All games are a set of high-quality colored items that catch and train your attention in very high quality.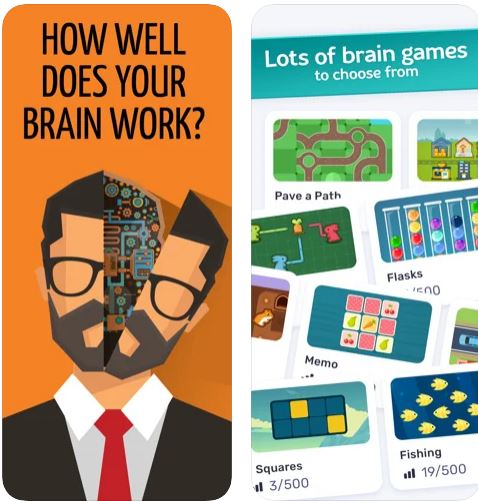 In each memory card or puzzle, you have to solve a specific problem, complete the level at speed or with a limited number of moves.
All playthroughs are displayed on the leaderboard. it will help you speed up your mental training and gain additional satisfaction from your leadership skills. Such mini-games as Road Repair, Balls, Memory, Memorize Squares, Fishing and others, will help you relax and easily occupy your brain with more interesting tasks than a monotonous daily routine.
The app is made in a cartoon design, this allows you to involve your children in the educational or developmental process.
The developers recommend this application for people who work with large amounts of information, which require a high concentration of attention and memory, as well as anyone who wants to improve their memory and imagination.
What is more, during the game you can establish the real age of your brain. If you want to test what your brain is capable of, this is the app for you.
The application is сompatible with iPhone iPad and iPod touch mac and requires iOS 10 or later and macOS 11 or later with a Mac with the Apple M1 chip.

6. Konfigurator Card Game
With few easy game modes of this game, you will improve your mental ability to remember in just a few days. The timed game mode will train the speed of the memory reaction.
Special movement mode allows you to develop logic, limiting your moves, trains concentration and caution. This mode is very suitable for people with weak memory.
As in all games where the player needs to find a pair of cards, we have to turn over the cards and look for the same pictures. If the inverted pictures are not the same, then the cards are turned over and you need to look elsewhere.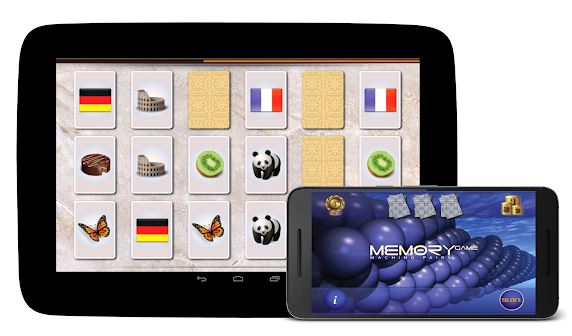 Here we are simply offered a theme to choose from and we start looking for identical pictures on the cards, but in the minimum number of moves. The points earned will be recorded in the table of records when certain diligence is achieved. Everything is as it should be.
The main distinguishing feature of the game is its hexagonal shape and the location of our cards. And this is good since such an arrangement of maps develops spatial memory very well because there is no way to memorize maps in rows and columns.
And it's just very nice to see such an interesting feature among the games of this genre that of course, sets it apart from other toys. Another feature of the game is the second game mode – challenge. We are given lives and it is necessary to open cards until they run out.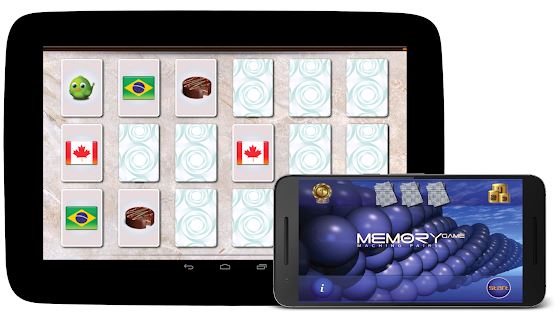 To have a great time and not get bored, the Infinity mode will help. Play as much as you want because you are not limited in movement and time. Multiplayer allows you to play with friends. Just enter all the names of friends and pass the phone in a circle.
For better memorization, the application has a colorful design of pictures. Additionally, you can choose a picture theme from toys, holidays, flags, plants, money, and much more.
For gamblers, there is a competitive board of winners and top players. A very nice bonus – the ability to play without access to the Internet allowed fans of this game to download it more than 500 thousand times.

7. Brain Gym Puzzle Games
This application was created for all people who like "to think outside the box" and enjoy it. Now you can improve your memory. You can improve your logic mathematics measure the mental abilities of your brain in the process of an exciting game.
Free brain training is now available anywhere in the world they are all in this application. According to the developers, this application was created and generated in collaboration with neuroscientists.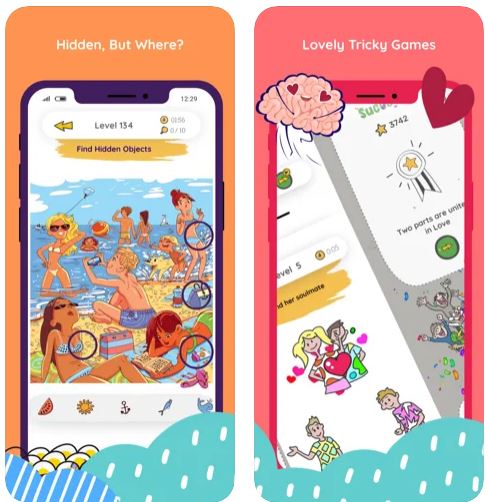 At first, you will easily cope with the task at hand, and then the complexity increases. This will train your memory. Here, actions are carried out at the expense of tapes on the cards available on the screen.
There is also an interesting task where you need to remember the ingredients and add them together. Actions are implemented by simply dragging and dropping ingredients from the bottom panel directly onto the table.
Sound and music effects are also well-chosen. The next task is to memorize the obstacles and find the right path from the rabbit to the carrot. The developers tried to make all the puzzles interesting and bright. Next, you need to remember the color sequence and repeat it.
These memory cards, images, tasks, and games have been tested and are based on existing sources and psychological tasks. The application consists of games designed to train the brain for all its cognitive skills. Any user can independently test the brain's abilities and improve them.
The time has come when you can independently turn science into pleasure and benefit for the shaft personally and your whole family and friends. The result implies improvement in your memory, attention, speed of thinking, perception, and logical thinking.
This app contains the perfect balance between challenging puzzles and hidden objects.

8. Super Brain – Funny Puzzle
An app to improve thinking, imagination, memory, and good habits by demonstrating positive examples. A good application for mobile devices, the essence of which is revealed in the title. The presented project allows you to train your mental abilities. Can be used on tablets and smartphones.
From the first minutes, with different colorful memory cards, the application teaches you how to think outside the box, make strange but logical decisions. At first glance, the app breaks your usual way of thinking, but at the same time, you get an unforgettable new experience.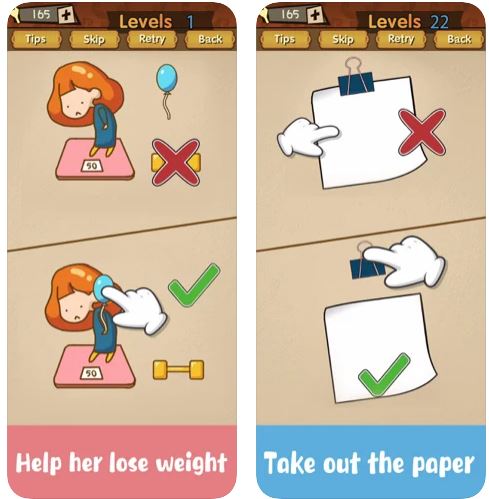 Every fan of games such as memory cards, Sudoku, 2048, any other mini-games and quizzes will get a lot of fun while playing and can additionally upgrade their mental abilities.
Here, users of different age groups will be able to train their quick search skills, improve their memory, and learn to better remember faces. Train regularly with this program and you will be able to improve concentration, mathematical ability.
Balancing the hemispheres plays an important role. Management in each task is different, everything is intuitive. You need a smartphone or tablet to play as well as a high level of intelligence, so you can try playing with friends or with children.
The process of finding the largest number, the largest object, identifying real and fake objects, all helps to tune in to positive emotions and easily discharge your brain from the press of daily monotonous tasks.
Allow your brain to use your intellectual abilities to develop and improve memory and imagination, without which it is impossible to think adequately and quickly solve important problems.
The high rating of the application and the number of positive ratings only confirm all of the above. Check what your mind, imagination, creativity, thinking, imagination, logs, erudition, and memory are capable of.

You may also like: 9 Best Archery Games for Android
9. AlcamaSoft Memory cards game
An inventive infotainment environment dedicated to the development of erudition, improving memory and increasing concentration: the developers formed the entire teaching method on the basis of logical puzzles, allowing them to reach new heights in an unpretentious form, using mobile technology for android as the main tool of progress.
Try this app to take your memory to the next level. It will also help to improve the memorization of information very quickly. The developers are constantly adding new difficulty levels. More than 50 levels are available now.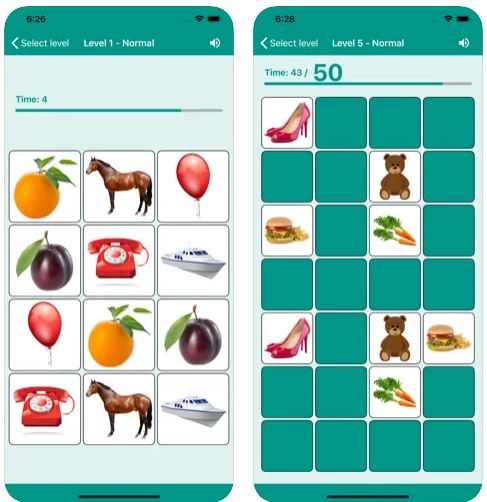 The design is standard – on the screen, it is easy to find a quick access panel with buttons and statistics, several sections with articles and menus, where developers allow you to practice or study the growth of skills in recent years.
You can independently choose cards, choose themes, and also select a game mode of the game.
For example, in endless game mode, you can test your memory without a time limit. At a level with normal difficulty, the application will set the time to complete the task. On the hard level, in addition to time restrictions, you will be restricted in your movements.
On the last difficulty level, all cards once will be shown and hidden. You have to remember and guess all. This level will help improve your memory in just a few weeks.
New levels in this app: searching for matches with three cards, a mirror mode – a powerful exercise for improving memory, attention, and concentration. This application is one of the most popular because it has more than 10 Million installs – the most popular brain simulator.