Our smartphones are complex devices. It is easy for adults to figure out how to use devices correctly. How can we teach our children how to handle them well? The camera of the phone is its main component.
Many people buy and upgrade their smartphones for a better camera. It is necessary to teach children how to take a photo correctly. Children love games, so you can combine the learning process with the game process.
We have compiled a list of the best kids' camera apps for you. They will help your children not only brighten up their leisure time but also learn how to control the camera. All the apps on our list are secure, so you can completely trust them.
You may also like: Animate Me: Kids App Review
Kids Drawing with AR Camera
The first app on our list is a great drawing guide for kids. They will be able to learn how to draw elementary shapes as well as animals. The app has a huge palette of colors, both watercolor and oil paints.
More than 72 colors are waiting for you. Moreover, you can choose the background of your picture. This will help develop your child's imagination. What's more, you can bring your drawings to life.
Your child will be able to see through the camera how his or her drawing came to life. Point the camera at any object in the real world and you will be able to notice this drawing.
Plus, bring the drawing to life by adding motions and animations. This app is great for babies and preschoolers alike. It takes about 18MB.
You can make in-game purchases by expanding the instrumental for drawing. All purchases are protected so your child will not be able to accidentally spend money.



You may also like: Galaxy Kids: English Learning for Kids App Review
ARLOOPA: Scan & Discover AR
The next app on our list has unique 3D models. You can place your child in virtual reality and develop his or her imagination. How does this app work? Open the app and click on the camera.
Then you select several 3D models that are displayed on the screen of your smartphone. These 3D models adapt to the environment making the video come alive. The app has a huge selection of 3D models.
If your child loves astronautics, you can choose the model of an astronaut or some planet. If your child loves animals, try adding wild animals and dinosaurs.
Plus, if your child loves fantasy, you can capture fantastic creatures such as trolls, elves, gnomes. and many others on video. Another thing that makes the app cool is that you can upload your 3D models.
How to enable 3D models online tec-9 their app The has an average rating of 4.7 out of 5 stars based on over 200 reviews. It has no ads so nothing will distract your child.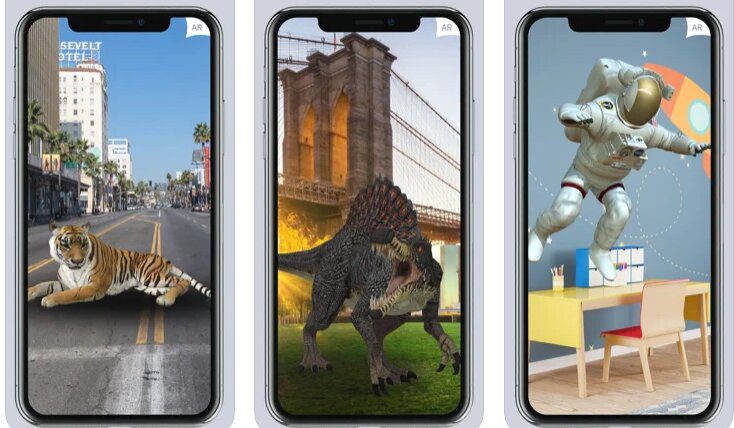 Princess Camera for Princess
It's a great smartphone simulator with princesses. Tell your kids that this app will take them to a wonderful castle. They will be able to take part in balls and other royal rites. Аind hidden secrets as well as the world of your dreams.
This game is great for girls who love princesses. The goal of the game is to find the Elf and decorate the castle. The app uses the smartphone's camera. Select the background and take photos.
Your kids need to decorate their photos by adding funny ears, glasses, and even a crown. All photos will be placed in the picture gallery of the castle. Your children can feel like a princess. The app will allow them to learn while playing.
The only drawback of the app is that it uses the front camera. There is no way you can switch your smartphone's rear camera. Download this app and let your child join over 500,000 princesses around the world. Take princess photos as often as you like.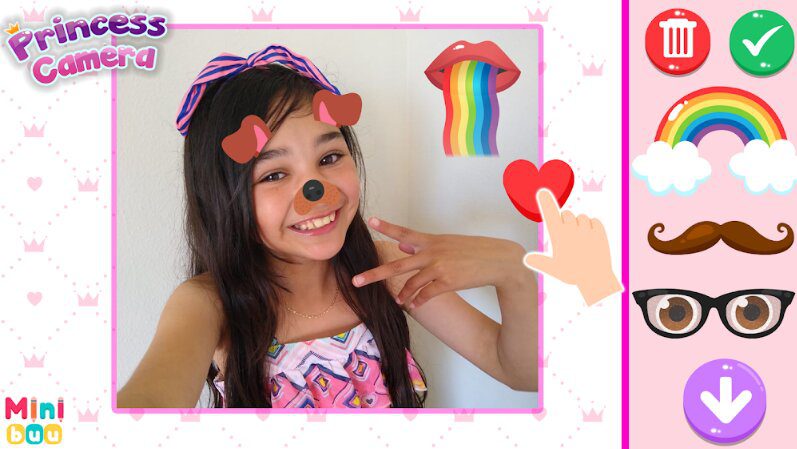 You may also like: 9 Best Pirates Games for Kids (Android & iOS)
Meemu – Kids Camera
This cute app creates constant laughter in your home. Your children will be able to have fun and get only positive emotions. How does this app work? You need to open the app and start shooting.
The latest face recognition technology will allow your children to control animated animals. As for graphics, they are at the highest level. You will love cute animals made in 2D design.
Your child will be able to control the little animals because the app counts the emotions from the face. You can teach children emotional intelligence. They will understand joy, sadness, anger, and other emotions.
The other thing that makes this app great is the decorations. You can add decor to your little animals as well as accessories. Make giraffe a cat and panda a Viking. This game can be played endlessly.
The app takes up about 100 MB and is designed specifically for children aged 0 to 5 years.


Princess Camera
If your kid wants to be a cool girl then download this app. It will teach your child the basics of photo editing. This app is specially designed for girls who love makeup and dress up. Open the camera app and take a photo for further processing.
Children will be able to improve the colors of the photo. The app has a huge selection of different brands of frames, stickers, and decorations. Moreover, you can qualitatively replace the background.
Open the filling tool and choose from hundreds of beautiful backgrounds. What's more? Use a pencil or a pen to draw anything on your photos. Your child can completely change their appearance by altering the eye and hair color and adding eyelashes and makeup.
More than 700 decoration items are waiting for you. The app has a small drawback – this is a decrease in the quality of the photo after saving.
In a recent update, the developers added the display of the app icon in the Apple Watch. It needs to be said that the app is paid. It costs $1.99.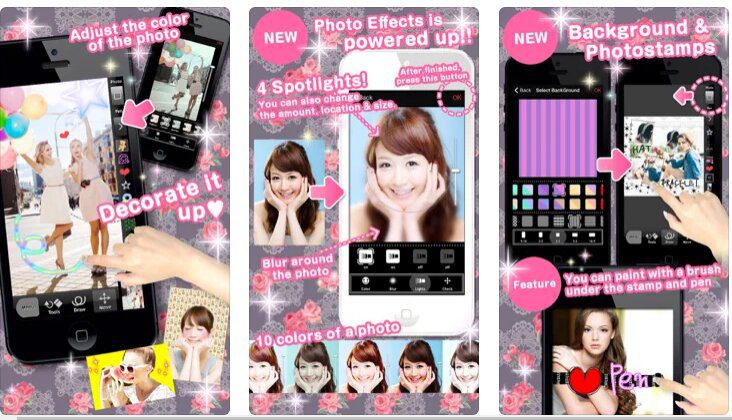 3D Emoji Face Camera – Filter For Tik Tok Emoji
Emoji Face Camera is a great way to have fun. It's up to your child to create an Emoji avatar. Open the camera through apps and take a photo. It will automatically detect the face and let you select the emoji.
Moreover, you can personalize the avatar. The app has tens of hundreds of templates for creating an avatar. You can choose the color of the eyes, the color of the hair, the length and size of the nose and ears, and the shape of the lips.
Another thing that makes the app unique is the accessories. Add a burqa or a crown. Choose a hairstyle. The app has a whole collection of different hairstyles. Teach your child to use this app as a standard photo editor.
You can resize the photo and adjust the color correction. The app has an average rating of 4.2 stars on the market based on 8000 reviews. it has been installed by over 500,000 people. And finally, it takes only 20 MB.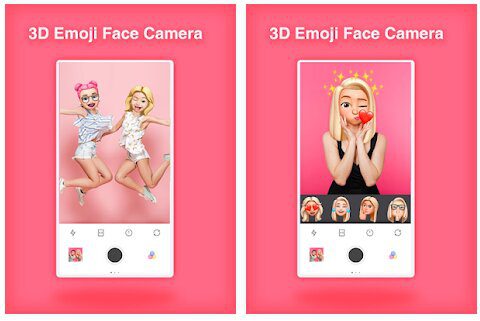 You may also like: 10 Best Online Farming Games for Kids (Android & iOS)
Facemoji: 3D Emoji Avatar App
This app has a huge fan community. Over 5 million people have already tried creating their facemoji. Upload your photo the app will automatically create an avatar. Moreover, you can personalize the avatar to make it look like you as much as possible.
The app has a large number of accessory options for changing your appearance. Plus, it's a huge social network with the ability to add friends. Follow interesting people and learn new things every day.
Complete special tasks and get points. You can spend points to upgrade your avatar. Furthermore, the app has a map that will allow you to see what your friends are doing.
Developers periodically update the app to add themed decorations and accessories. The only downside of the app is that you can't unfriend people. As for navigation, it's intuitive. Each tab has its visualization icon.

Leo AR ◉ Augmented Reality Camera App for Fun
What do you know about augmented reality? AR camera app adds additional items and objects in a 3D format to the screen. You need a few steps to create augmented reality.
Firstly, point your smartphone camera at the object you want to record. Secondly, click on the screen to add 3D models. Thirdly, choose the right musical accompaniment. Record a video and share it on social networks.
The app is great for kids who love creativity. They can create cool tiktoks as well as funny videos. A collection of over 1000 realistic 3D models is waiting for you. Moreover, you can create a 3D model or redesign them.
The app will allow your children to fully express themselves and show who they are. Another thing that makes the app cool is the editor. You can use the app like an editor.
It has dozens of useful editing tools. If you need inspiration, watch the videos of other authors. The app has a news feed that displays new videos based on recommendations.
It has huge growth potential. Developers fix bugs and lags and add improvements. Moreover, the app has a few ads that do not distract you from using it.

AR Wild
The world is full of mysteries and secrets, isn't it? This app will help your child learn more about nature. It has modern virtual reality technology. Open the app and turn on the camera. Select the animals and plants you want to see on the screen of your smartphone.
Plus, most animals are real size. Your child will be amazed at how realistic the 3D animal models are. You will be able to learn together the nature around you, as well as the names of animals and plants.
The app has over 60 animals. What's more? Take a photo and record a video. If you want to surprise your child, ask him or her to stand somewhere in the room. Point the camera at your child and add animals.
Record a video and show your baby that there are wild animals around him or her. It needs to be said that the app takes up a lot of space – around 420 MB.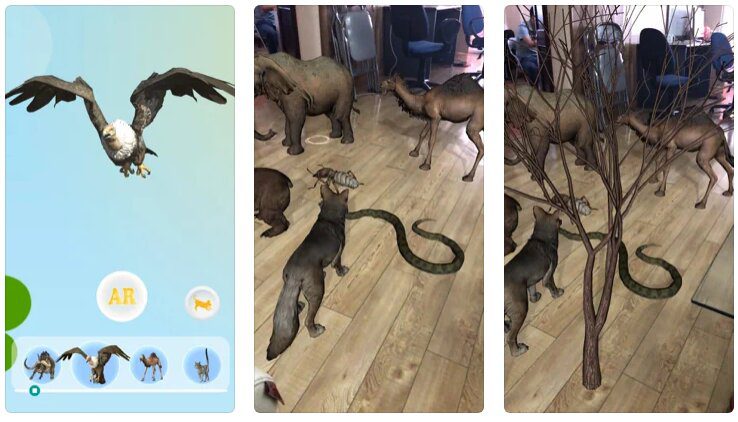 You may also like: 11 Best Memory Card Games for Kids (Android & iOS)