EagleFiler is a light and convenient program, the essence of which is to help you organize your files and mail.
In the modern rhythm of life, in the abundance of information and documents, it is of particular importance not to drown in all this. A forgotten but needed file or letter can easily be lost on your computer. It's not pleasant, is it?
You can also check out the best apps to transfer your files from one device to another one.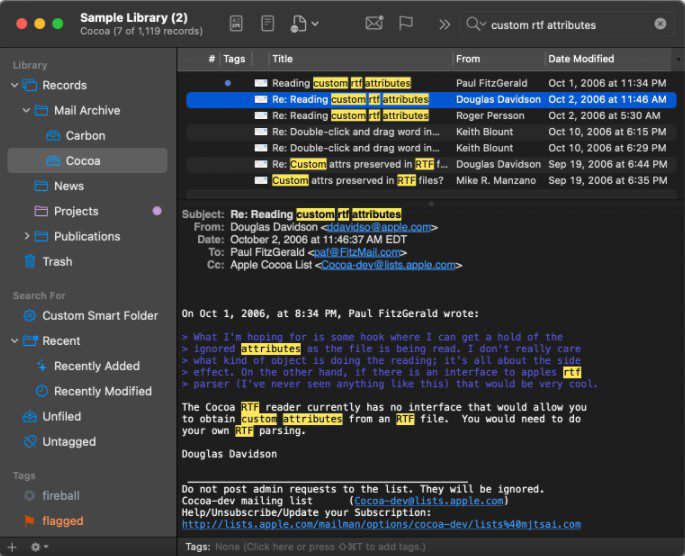 In order not to break your head and not spend precious time searching every time, you should pay attention to EagleFiler.
EagleFiler works with so-called libraries. "Library" in another way is a folder in the Finder. You can create as many libraries as you need. Now it's up to your discipline to replenish these folders with the appropriate data.
EagleFiler is a standard file manager, but with much broader search and annotation capabilities. You can add comments and notes, tags to files, and there is also the ability to encrypt the library.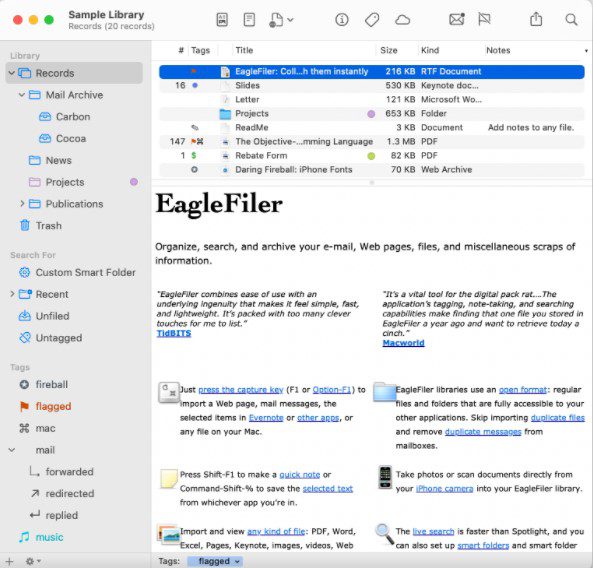 The interface of the program is quite simple – at the top is a list of files in the library (so-called records). Below is information about the currently selected file and its contents. The sidebar on the left lists all your entries.
EagleFiler can import files of any type, as well as create, view, and edit documents using built-in tools or third-party programs such as Instapaper, Fujitsu ScanSnap, Dropbox, Finder Tags, Growl, Skim, OCR, MailTags, PDFpen, OpenMeta, iPhone, and iPad. The functionality of the program is very wide and not everyone uses all the tools built into it, but EagleFiler is much more convenient than Finder, and if it does not become the main one for you, it will still serve as a good addition.
More file transfer apps from iPhone to PC can be found here.
EagleFiler is great for keeping order on your Mac. Thanks to a wide range of built-in tools, it will be easy to clean up your documents and there will be no problems with lost files.