Vroom, vroom! Feeling the need for speed and craving some heart-pumping F1 action? Well, put your helmet on and buckle up because you're in for a treat!
We've got the ultimate lowdown on the top apps to watch Formula 1 live streams. These apps let you stream live sports and enjoy the rush of seeing those sleek, powerful machines sail down the road at breathtaking speeds.
No more missing out on the intense battles between Hamilton and Verstappen or the remarkable drives from rising stars like Lando Norris. With just a few taps, you can be right in the middle of the exhilarating action, wherever you may be. Let's get into it!
Motorsport.com
It's a one-stop shop to satisfy your need for speed. The app has a sleek design and tons of tools which makes it a must-have in every enthusiast's pit crew.
Now, what makes it stand out from the rest? Picture this: an auto-magical edition selection based on your language and location prefs! No matter where you are in the world, you'll be fueled with the most relevant info. The push notifications setup comes with a 'Spoiler' option, so you can stay in pole position with the latest news without spoiling the race for yourself.
Zooming toward the slider syst – it's like a turboboost for easy access to your fave series content. With just one slide, you'll be in the fast lane to news, vids, or the race hub, your shortcut to racing heaven! The pics and vids cover everything from epic events to nail-biting sessions.
The vids have original productions packed with interviews, specials, and thrilling animations. With all the series in one place or selectable individually, you'll be on the edge of your seat. You can also find all the hot details about upcoming, past, and current events.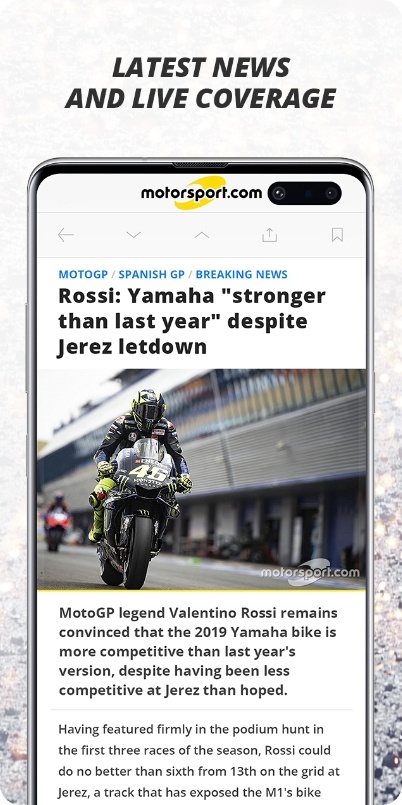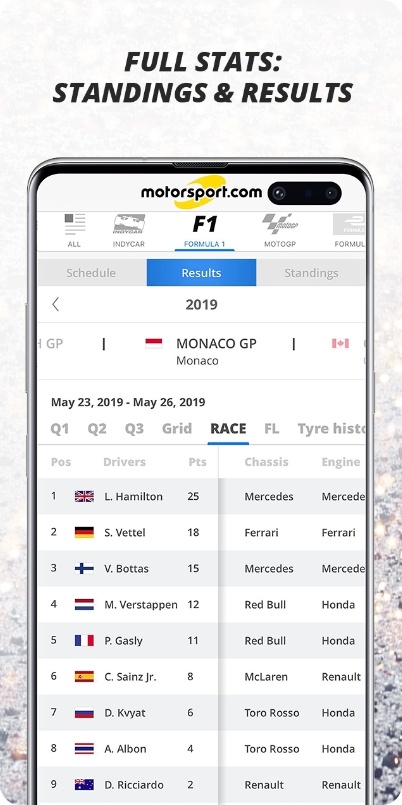 You may also like: 5 Best Last Minute Sports Tickets Apps
Motorvision TV
Tired of endlessly scrolling the web for top-notch motorsport content? This app can help: it's the ultimate app for LIVE streaming high-speed action.
Brace yourselves for over a thousand mind-blowing videos featuring your favorite cars and bikes. And hold on tight, because the LIVE streaming is an absolute game-changer! No sweat, no hassle – just pure, uninterrupted motorsport madness.
Personalized recs tailored to your viewing history? Oh, yes! The app takes the viewing exp to the next level by growing with your interests. It's like having your own team of experts, catering to your motorsport cravings.
Here's the best part: no account is needed for basic content! Plus, access from any device, anywhere, anytime! Save your fave vids for offline enjoyment, and you're good to go. And let's talk about the cherry on top, the streaming quality. The app leaves its competitors in the dust with HD vids curated by the finest minds in the field.
To sum it up, it is the ideal app for anyone who is looking for high-quality, uninterrupted access to world-class motorsport events. And there's no excuse for you to miss out on any more action.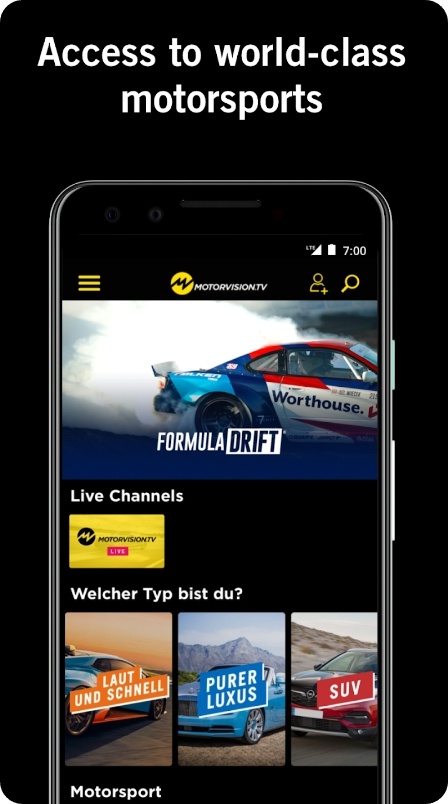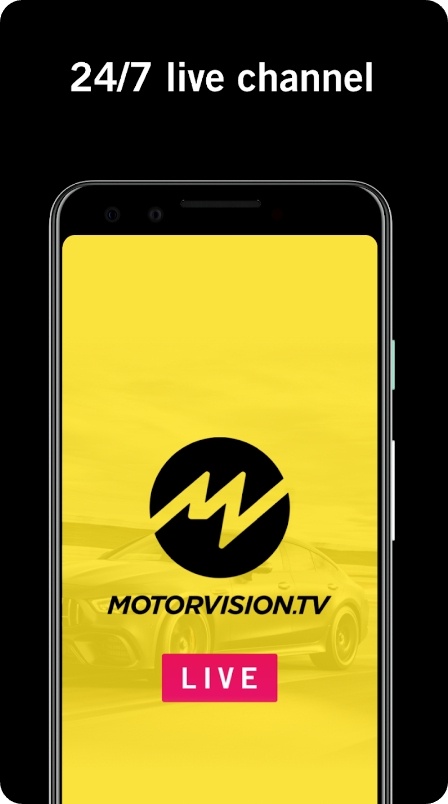 Formula 1
Are you a die-hard Formula 1 fan? Stop whatever you're doing and get this app right now! Trust us, you won't regret it.
This app is the ultimate tool for any F1 race weekend. From the latest news and analysis to in-depth breakdowns from expert analysts, you'll have all you need to stay ahead of the game. And if you're an F1 TV sub, hold on tight because you're in for a wild ride.
Not only will you have access to live data for every session, but you'll also get full tyre info, sector times, and pitstop data. Plus, the driver tracking maps and audio commentary make you feel like you're right in the middle of the action.
But that's not all. The app also covers a free leaderboard with gap times and lap-by-lap live blog updates, so you won't miss a beat. And let's not forget about the best team radio and race control alerts. The app is witty, engaging, and sure to be your go-to source for all things F1.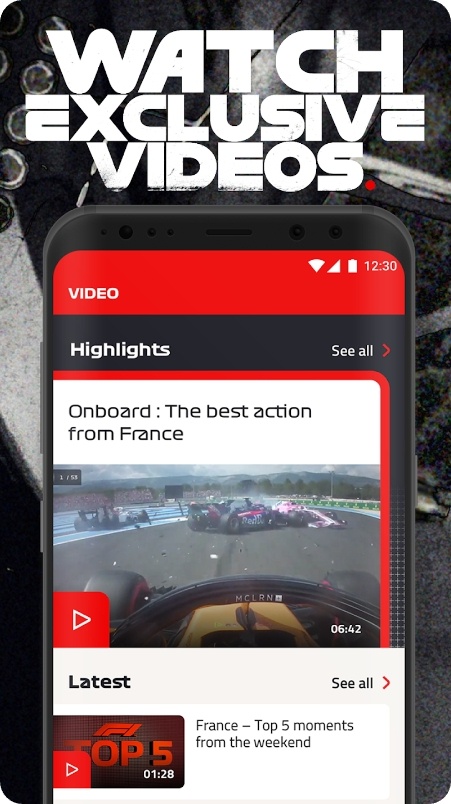 F1 TV
Attention all Formula 1 fans – get ready to buckle up for an electrifying racing exp with this app! It is like having a backstage pass to all the F1 track sessions: from practice to qualifying and the main race, it's got it all!
And guess what? No annoying ads, just pure racing goodness! The F1 TV app speaks the language of speed with a selection of 6 languages to cater to F1 fans worldwide. No need to juggle between cams and radios, it's got you covered with tailor-made views of your fave drivers and teams. Plus, get ready for jaw-dropping replays and highlights whenever you want!
But wait, there's more! Brace yourself for expert commentary and analysis that takes your viewing exp to the next lvl. And it's not just about F1, we've got you covered with F2, F3, Porsche Supercup, and W series – all under one roof!
Missing out on races? Fear not! The app has an archive of over 2K hours of historic races at your fingertips. And that's not all, unleash your inner motorsport guru with exclusive timing data, maps, and analysis. It's pure racing nirvana, really.



WTF1
This app is a one-stop shop for all things F1. This bad boy has everything a motorsport fan could ask for news, vids, podcasts, quizzes, and even driver ratings. Can we get a "heck yeah!"? Cause this app actually deserves it!
And we're not just talking basic coverage here. Oh no, this app is packed with award-winning content like The Internet's Best Reaction and F101 vids. Plus, for all you Drive to Survive fanatics out there, the app has everything you need to get your fix.
But let's talk about the team behind the app for a minute. These guys (and gal) eat, sleep, and breathe motorsport. They're like the pit crew of F1 content, constantly working to deliver the highest quality coverage to their fans. Seriously, if they were a driver, they'd be Lewis Hamilton. Minus the millions, of course.
And don't even get us started on the app's design. It's sleek, it's stylish, and it's user-friendly as heck. This thing makes navigating news and updates feel like a walk in the park. A high-speed, adrenaline-fueled walk in the park, that is. And the ads? Totally bearable, you won't even notice them.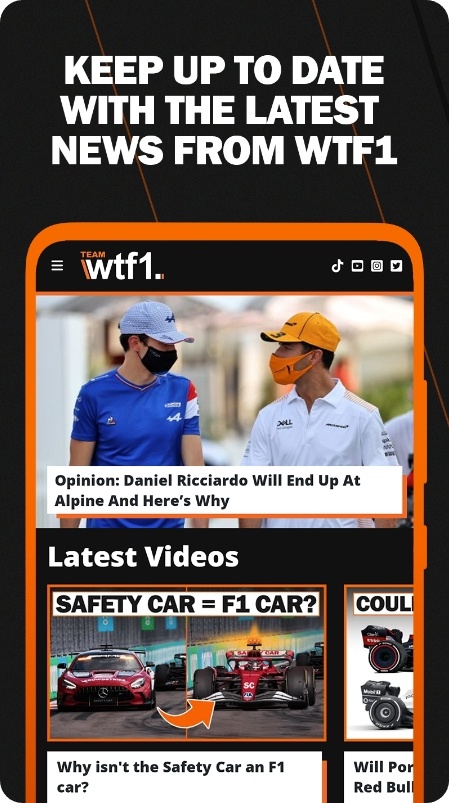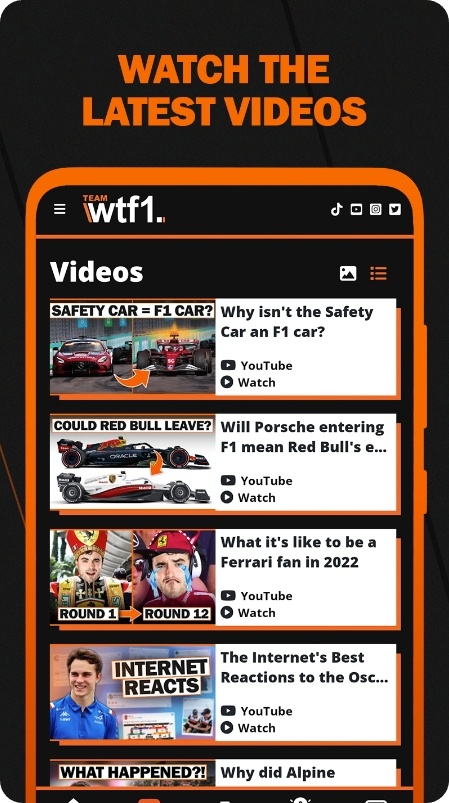 Check also: 9 Best Sports Video Analyzer Software
The Race
If you're a petrolhead, then there's no way you're going to want to miss out on this app. It's packed full of breaking news, reviews, and insights from the world of motorsport.
And not just F1, we're talking about everything from the World Endurance Championship to Formula E. But what really sets it apart is the quality content that's available for you to dive into. Their team of seasoned journalists have over half a century of experience between them and are at every race, bringing you the most accurate and in-depth info possible.
But it's not all serious news and analysis, the app also knows how to have fun. There are fantastic F1 vids, links to all the podcasts, and even quizzes to test your motorsport knowledge.
And if you really want to feel like you're in the thick of the action, then the Live updating takes you right into the heart of the paddocks. But don't just take our word for it – get the app yourself and prepare to be blown away by the level of detail, insight, and entertainment.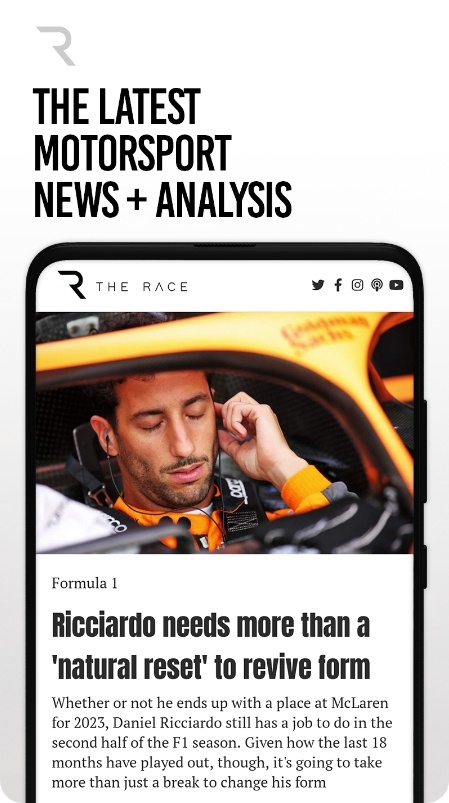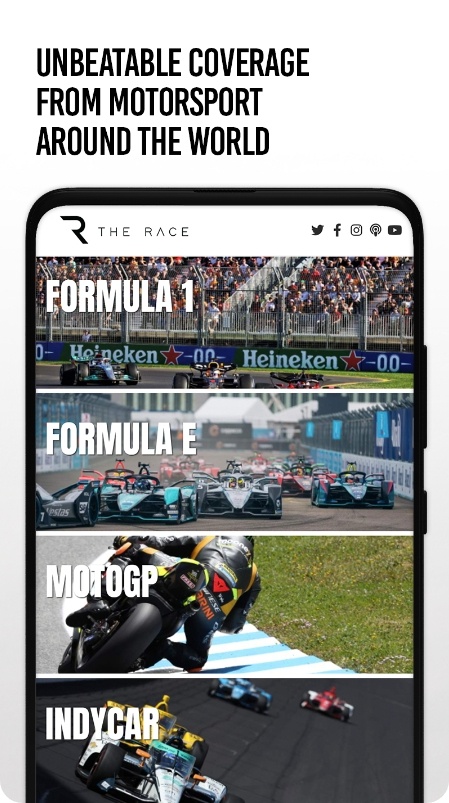 Watch Formula Moto Streams
If you're a die-hard racing fan that been searching high and low for a single app that can keep you up to date with all F1 and other races, give this app a try. Get ready to shift into high gear with it.
First things first, let's talk about the main tools you're getting here. The top part? It's free, and you don't even need to enter your credit card info or sign up. That's right, ladies and gentlemen, free live-streaming of all your fave races without any annoying barriers to entry.
The vid and sound quality are great: crystal clear, with an adaptive HQ vid that streams seamlessly without any buffering. You won't miss a single minute of the action. From the preseason matches to the regular season races and the all-important finals, you can watch them all on this app.
Chrome-cast is covered, so you won't have any problem linking the app on your mobile device to your big-screen TV. And let's not forget about the real-time alerts that will keep you updated throughout the season. You'll never be out of the loop, even when you're not watching the races.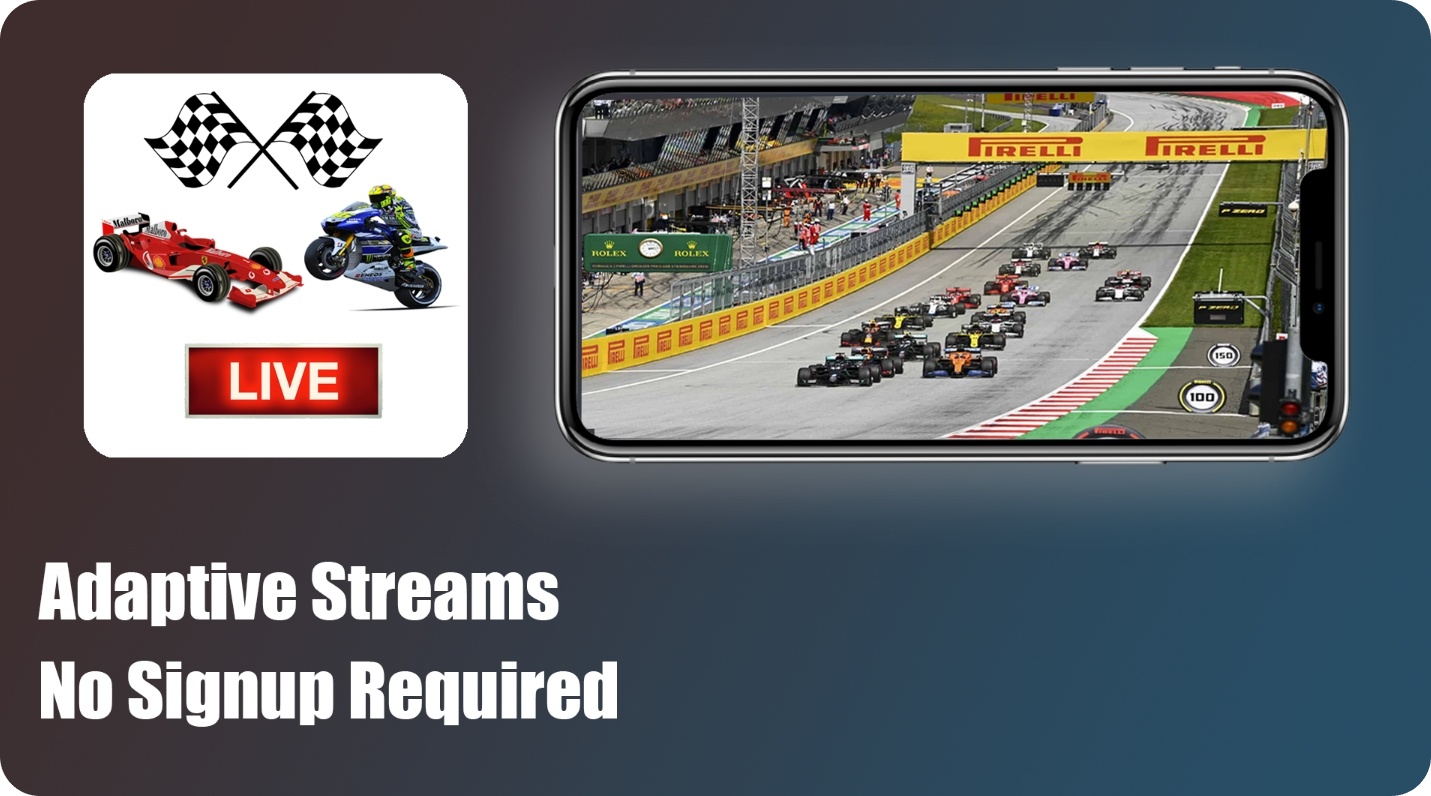 Motorsport.tv
Let us introduce you to an app that will become every petrolhead's new best friend. This app is an absolute winner in our book, featuring a whopping 14L+ hours of on-demand vids and 1,2K+ live events per year.
With this one in your pocket, you can literally watch racing content anytime and anywhere – 24 hours a day, 7 days a week. The variety of racing series covered is seriously impressive, with 125 series in total, so there's smth for everyone. And if that's not enough for you, there's also a historical and classic video archives section to explore.
One of our fave aspects of the one is the moment mode, which includes timeline markers and live tags, allowing viewers to quickly find the best moments of a race. This is a treat for anyone who wants to get straight to the juicy bits without wading through hours of footage.
The content delivery network is lightning which contributes to an incredibly seamless viewing exp. And for those who don't want to watch on a small screen, the AirPlay tool lets you stream content to any television monitor.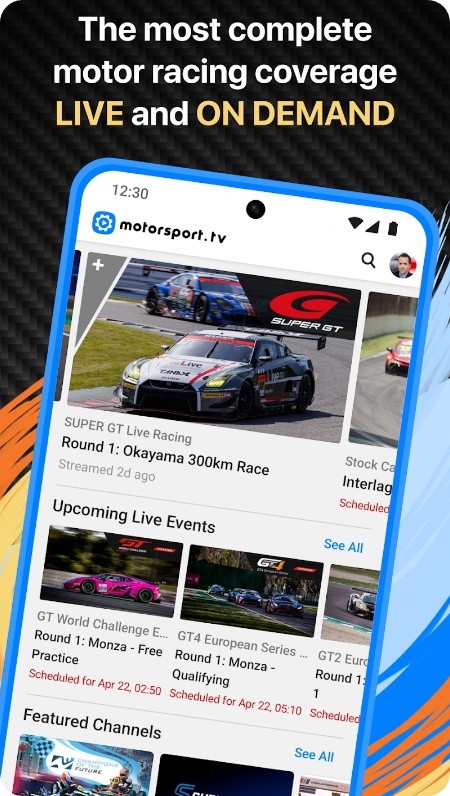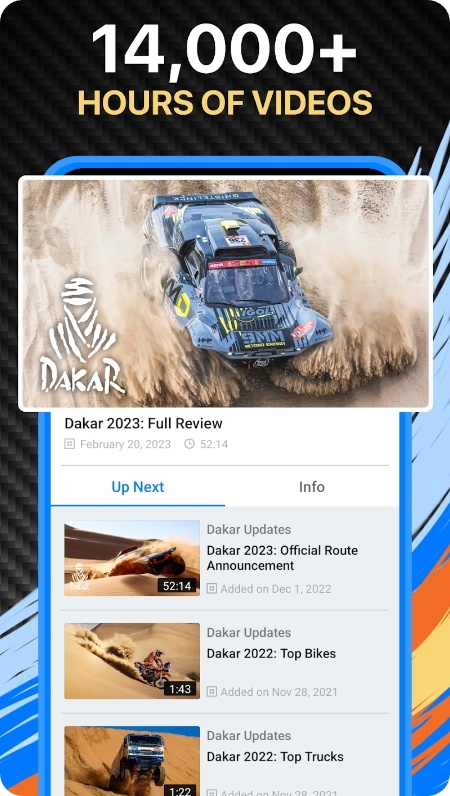 ESPN
This app is a one-stop shop for all of your sports news and updates. From football to baseball to your fave motorsports, everything you need to stay in the know is right at your fingertips.
The app's homepage gives you quick access to the latest scores for your fave teams, so you can always keep up with the action. And if you really want to dive deep, clicking on a game will give you loads of stats, summaries, and even vids, so you can relive the glory all over again.
One of the top tools is the ability to set up alerts for your fave teams. Whether you're a diehard fanatic or just a casual observer, you'll never miss an important update with this app in your corner.
Of course, no review of the app would be complete without mentioning the dreaded ads. Yes, there are quite a few of them, and they can be a bit intrusive at times. But honestly, it's a small price to pay for access to such a wealth of sports content.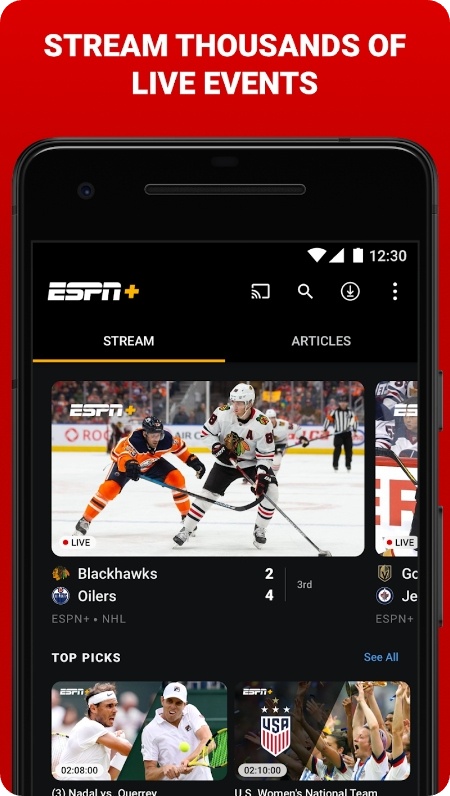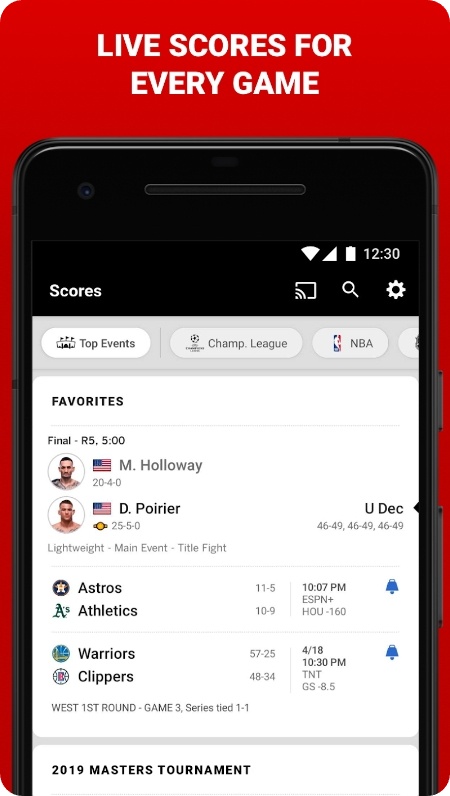 You may also check: 11 Best Sports Alerts Apps
LIVE Car Racing on TV
Lastly, we have an app that is a treat for all the fans of high-speed car races. The app has got you all covered with detailed info on the top racing events across Central European countries (including the UK).
Whether you're into F1, World Touring Car Cup, or even eSports Sim Racing, this app has something for every type of racing enthusiast. Never miss a live broadcast again with the app's up-to-date calendar, showing all the latest confirmed events and even last-minute broadcasts of other race series.
The app also gives helpful details on each race and its corresponding broadcast, including confirmed broadcast sources, times, and even streams for remote viewing. To make things even easier, the app lets you select the types of races you're interested in, personalizing your exp.
Try it out and join the thousands of racing fans already using the app. With its comprehensive coverage, simple UI, and live updates, you'll never miss a crucial race or broadcast again.