It seems like everybody goes to the gym nowadays. Well… not everybody. But if you're a person who goes only to the digital gym and read this article, then you're in the right place! Have you ever played gym simulator games? They're so funny that even the people who aren't interested would love it.
You may also like: 9 Best Sports Video Analyzer Software for PC, Android, iOS
In the article down below you can explore the funniest gym simulators. Each game has its unique style and animation. Depending on what you're looking for, you can choose the game that appeals most to you.
1. Idle Fitness Gym Tycoon
The first place goes to the game simulator of the gym called "Idle fitness Gym Tycoon". Your task in this game is to attract as many visitors as possible in order to earn more money and make a regular gym the best in the world. You can improve the entrances to the gym, build new ones.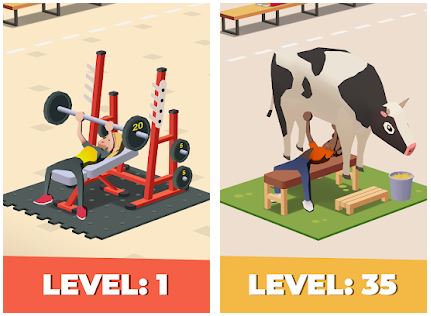 You can also improve the equipment and change their number to earn more money. You can also buy and open new rooms with new equipment: bicycles, punching bags, rowing, cross-fit and so on. By the way, in all this, you will be assisted by a gym manager.
You will be able to hire trainers, upgrade them. We forgot to say that over time you will be able to renovate the premises as they become obsolete and old. On the street in front of the gym, it will be necessary to improve the bicycle parking the way most people come there on bicycles.
All in all, the game is incredibly interesting. The graphics are amazing. The idea is a bomb. We advise you to download this game!


You may also like: 11 Best Fake Muscle Apps for Android & iOS
2. Fit the Fat 2
The second place was taken by the game "Fit the fat 2". The idea of the game: the main character loves to eat, but wants to lose weight. To do this, you are here too: you will help him do it by training him.
You can make him jump rope, run on a treadmill, swing his arms and box, but you need to monitor his health: you need to sleep, eat well. For this, a special scale was made in the game: food and energy. You can also track how much he weighed, how much he lost, how much he weighs now.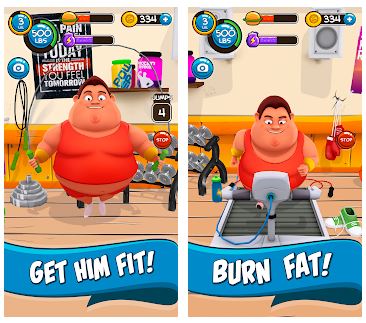 You can choose the food that he will eat if some food is not at home, then your task is to buy it in a special section in the game where it is sold. Going in for sports, he receives coins that he can spend in the store. By the way, a lot of different costumes have been made for the main character.
Almost all of them are very funny and funny. In "Fit the fat 2" Google Fit is also added, that is, when you do physical activity in real life, the character from the game also loses weight. In general, the game is interesting and of high quality.
The graphics are great here. The music is good too. The idea is good and its implementation too. I advise you to play this game, make the character lose weight.

3. Fit the Fat
In third place is a gym simulator game called "Fit the fat". This simulator, the very first among the line of games "Fit the fat", but at the same time almost does not lag behind its older simulators. The game was released on March 4, 2020.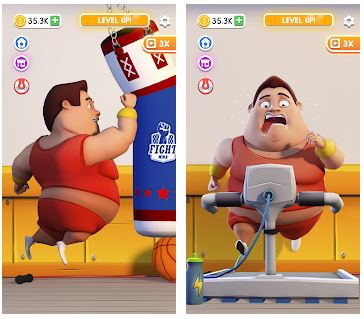 The game was originally given a gym, in which there is still nothing (and even visitors). But by improving it, you can attract a lot of customers.
True, there are only 3 options for improvement:
profit
speed
the number of simulators.
Of course, almost like any other game, "Fit the fat" has bonuses and very good ones. In this simulator, you can open different characters, of which there are a lot of them in the game. All that is required of you is just to poke at the screen so that visitors accelerate and you get your coins faster.
In the game "Fit the fat" you can open a second gym, but it will be much more difficult to improve it since all the improvements there are much more expensive than in the first gym. By the way, the simulators in the first and second gym are different, that is, they are for different muscle groups.
Soon the creators of "Fit the Fat" will make a stadium and it's very cool! I forgot to say that in every gym you can put a drink machine, which is very profitable. In general, we really liked the game/ The music in the game is rich, bright, funny, sporty. We also want to note the jingle of coins, which is also very pleasant.
The graphics in the game are not bad. The controls are very simple. Of the minuses, we can say that there are a lot of ads in "Fit the fat". We advise you to play this gym simulator, I'm sure you will love this game!
4. Workout Master
The fourth gym simulator game in the top was "Workout Master". The game was released on August 5, 2020 by the developer EZGAMES. Some part of the game is about waiting games. The essence of the game is that you need to make the character for whom you play pumped up.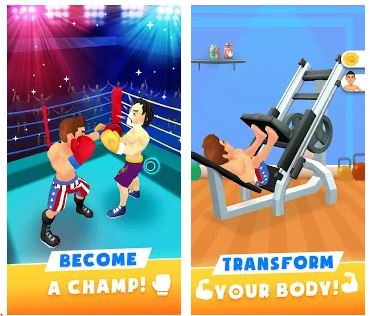 This must be done in order to further participate in battles and win them. The game has a lot of different simulators that, while playing, will gradually open up.
The "Workout Master" gym simulator can even help you in real life: when a character performs an exercise, the parts of the body that are swinging at the moment blush, so you can learn, find out which muscles swing in different exercises.
By improving various qualities in a certain exercise, you can get more money and your qualities needed in battle will also improve. You should also improve your gym to attract even more clients.
When your character wins the league in battles, he will leave and another client of the gym will appear in his place, who also needs the help of a coach, and he also needs to increase his muscle volume and win the league in battles in which he will fight.
About battles. The fighting is intense and well-executed. Opponents come across better and better, and it becomes more and more difficult to win. The animation money and emoticons that are present in the game are cool! In general, the game is good, the graphics are not the best, but the idea is great.

5. Idle Antique Gym Tycoon
In fifth place is a gym simulator game called "Idle Antique Gym Tycoon". In this game, your task is to return the odyssey home, but for this, you need to make money. You can earn them by improving simulators.
By the way about them: the simulators in this simulator are very unusual, starting with running and ending with archery. They can be improved to earn more coins, as I said earlier. The terrain in the game's large, which means there are many things that you can use, so it becomes even more interesting to play.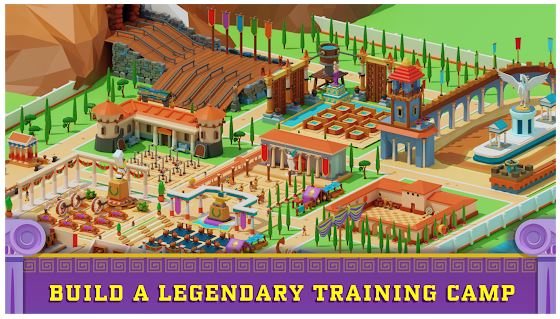 Playing "Idle Antique Gym Tycoon" creates a pleasant feeling that you are in ancient Greece. The story of the game is based on the myths of the Odyssey. Just like other games, this simulator could not do without rewards and bonuses, which is very nice.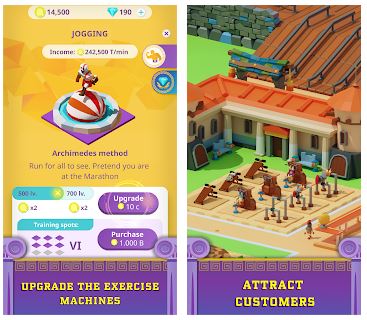 In the game you play, just the same for the Odyssey. At first, you are given a rather small village, but if you start to improve it, then, in the end, it will turn into a huge city, with the same huge cycle of money and fun.
After you develop well, you can send warriors to battles and competitions. But in order to train, you need to pump the heroes as often as possible, and for this, there are specially gymnasiums where you can pump the hero's agility, strength, endurance, speed, and accuracy. Also, you can travel around cities.
All in all, the game is very interesting and addicting. The management is good here. Of the minuses, we can note that at first, the game seemed a little incomprehensible to me, but then we still managed to figure it out. The graphics in the game are not bad.

You may also like: 9 Best Interval Timer Apps for Android & iOS
6. Gym Workout
In sixth place is a gym simulator called "Gym Workout". This simulator is slightly different from those that were previously. All actions take place on the beach, near which there's just a gym, or you can call it a sports ground with exercise equipment.
To get to this site, you need to pump the levels of the protagonist. In the game, you can do various exercises: push-ups, pull-ups, and ending with a ride on a skateboard. But that's not all: the main character, that is, you, can go and dance.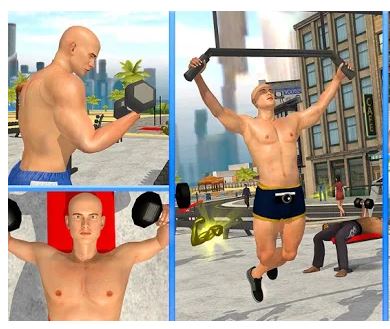 Also, over time, the protagonist will be able to buy himself T-shirts, pants, sneakers, and even caps. In addition to clothing, the main character can go to the Juice Bar and recuperate there.
This simulator is made not in 2D, but in 3D, which is exactly what distinguishes "Gym Workout" from other games presented in the list. Make an ordinary skinny teenager, a real pumped-up man – this is the essence of this game.
On the minuses: in this game, we find 2 main minuses, namely the graphics, which are very bad here, and the control, because it is not quite finalized. In general, the "Gym Workout" simulator is not bad, and we would advise you to try it.

7. Fitness Gym
In seventh place is the game "Fitness Gym". This is a gym simulator, where we need to control a person, moving around the hall. We need our character to become as pumped up as possible, for this, there are many different exercises for different muscle groups.
Also in the game, you can drink various energetics in order to gain the required weight faster. In addition to buying delicious drinks, you can also buy clothes. But that is not all: in "Fitness Gym" you can change the appearance of the character: beard and hair color and shape.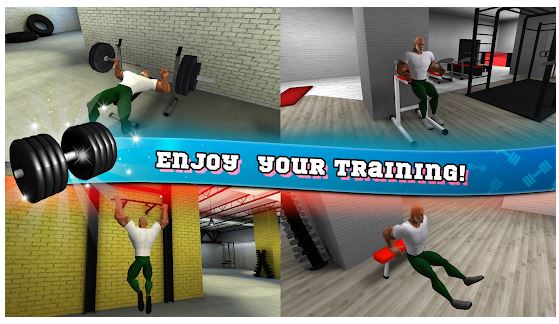 In addition, if you want, you can choose which of the gyms to train, but for this, you need to open new levels. How could we forget, you can also buy gloves of different colors. If you are completely tired of the image of your character, make him a zombie!
If you suddenly get tired of training in the gym, you can try your hand at battles, where there are as many as 3 modes: "Story Mode", "Fast battle with the computer" and "Wi-Fi battle with a friend".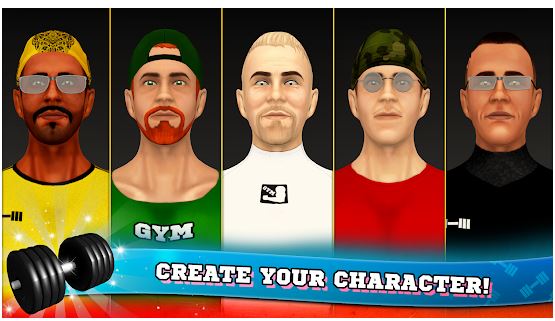 In general, this game seemed to be quite amusing and exciting. Frankly, having entered this game for the first time, we were not quite impressed, but after a while, we realized that this simulator is really good.
Of course, there are also disadvantages and games, for example, graphics, which, in my opinion, did not seem to be the best of the other gym simulators in this rating. On the plus side, we can note that you play this game in the first person and the actions taking place inside the events become even more realistic.

8. Muscle Checker 2
In eighth place is a gym simulator called "Muscle Clicker 2". This game is not very difficult to control, because in order to earn money there you just need to click with your fingers as quickly as possible, and you can earn so much. The task is to make a real pumped-up man out of a thin boy.
In the simulator, you can choose a wide variety of hairstyles and their colors, you can also choose a shirt that you wear to the gym. You can also choose shorts and wear it.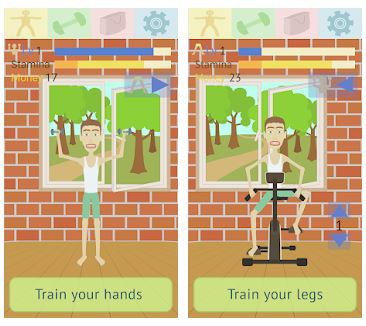 In addition to all this, when you have earned enough money, you can buy other simulators: a 264-kilogram kettlebell, a 128-kilogram kettlebell, and so on. You can also buy dumbbells of completely different weights. You can buy all this in a special store.
By the way, you can also buy various potions there and bicycles of different colors too. All purchased items will be stored in your inventory. You can also choose different locations where your character will be engaged: be it at least a beach, even a moon. You can compete in pull-ups and squats.
The competition is very intense and fun. Of course, the task is to win, but how will you win the competition if you don't use the simulator. Overall, the game is quite easy, but nonetheless very addicting, at times fun. we would also like to mention the music in this simulator, which is quite nice.

You may also like: 9 Best Tennis Streaming Apps for Android & iOS
9. My Gym
The ninth place is occupied by the game "My Gym". The idea behind this game is good, but there are also disadvantages: for example, a little awkward control. We cannot but note that this simulator has great music that accompanies us during the game all the time.
It is quite difficult to develop in this game and this also refers to the disadvantages of this training simulator. We also want to note that in this game you can buy new simulators, as well as decorate your gym. In addition, you will have access to a counter where you can sell juice.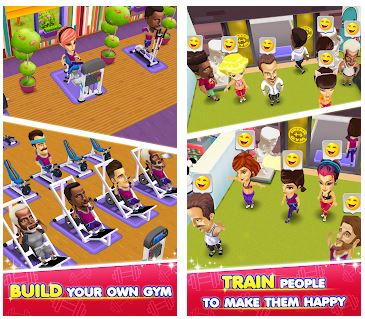 By making the gym more and more you will be able to turn it into a modern premium-class sports club. In the game, you can open gyms: tennis halls, martial arts halls, as well as a martial arts hall. Back to the decor: in-game you can buy different colors for the wallpaper, as well as for the floor.
Of course, as in any other game, for completing tasks they give bonuses, which is very good. A Sports Agency will become available to you, where you can find good contracts for your flights. The graphics in the simulator would not say that something incredible, but the fact that it is at a good average level is a fact.
In general, the game is pretty good, but due to its drawbacks, it is not perceived very well. Therefore, it is located in ninth place.