Not everyone has managed to prepare their body for the summer, but everyone wants photos with a beautiful torso and a steel press, this is normal, especially for this we found 11 apps to give you fake abs.
There is a lot of apps on the market for body editing on the photo, however, not all of them are effective (you probably tried it on your own).
You may also like: 9 Best Gym Simulator Games for PC, Android, iOS
However, we have taken into account all the above. Just check out the article down below and figure out what works best for you.
1. Six Pack Photo Editor Real
This application will help you to model the press that you have long dreamed of. It is ideal for processing summer photos.
This app will change the shape of your body in the photo to make you look much more attractive. Six-pack abs photo editor allows you to edit your appearance in the simplest and most natural way.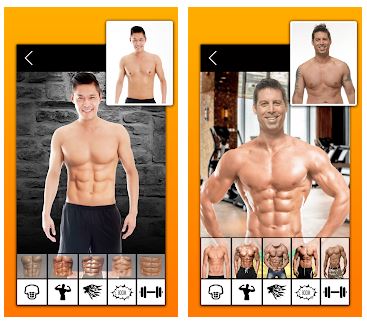 Its features will help you create 6 different types of abs to add a little bodybuilding to your image. This photo editor is very simple, with just a tap of your finger you can add a wide range of photo filter effects to a pic.
There are also six packages that will allow you to safely crop the image as required to remove unnecessary parts. There are also undo and redo options available to help you best correct your changes at any given time.
The application interface is quite pleasant and does not cause disgust.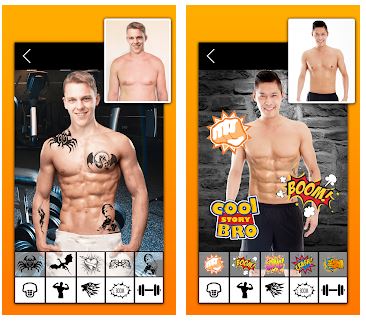 What is more, the app allows you to work offline. This is quite useful because there is not always an Internet connection at hand.
Pros:
Beautiful interface
Simplicity
Cons:

You may also like: 9 Best Interval Timer Apps for Android & iOS
2. Body Builder: Photo Suit
Body Builder: Photo Suite-this app is perfect for people who do not want to spend time in the gym, but want to have a photo with a cool figure and muscles. It is very easy to use, so you don't face any difficulties.
To get started, just take a photo or paste the finished one from the gallery. The app has an auto-erase area, the editor can also restore and undo the deleted photo, can zoom in and out the body shape, you can change the face.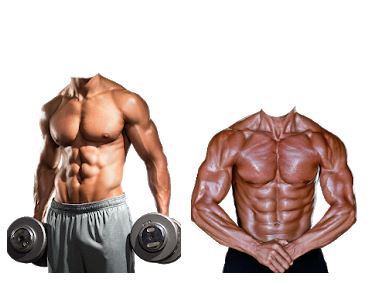 You can also choose different skin tones suitable for any race. Also, the app includes six-packs of slim bodies, eight packs of high muscle bodies, and so on. If you want, you can add different accessories, such as sunglasses, tattoos, different stickers.
The app has a pretty nice interface, and if you want, you can choose the color of the background. If you don't want any wallpapers, you can put simple ones or choose from your gallery.
Reviews of the app are positive, many users are happy and ready to recommend it to other people. Thanks to the active work of the developer, new updates, bugs, and various problems are erased.
Pros:
Convenience
Many functions
Beautiful interface

3. Retouch Men: Abs & Body Editor
Another app which is quite nice for editing your pics.
You can add various group of muscles, starting from abs ending with your arms. What is more, you can add mustache, sunglasses and so on. You can also try out various men's accessories.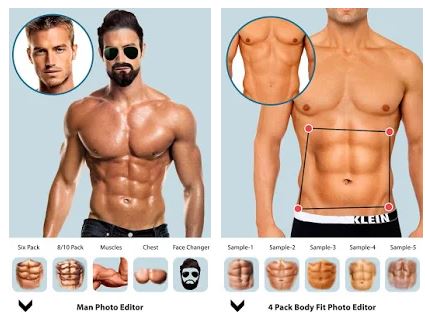 Here you will find the abundance of different styles for any type. And the most important plus is that the app is absolutely free.
The app has a typical photo-editing app interface, the colors are chosen favorably, so everything looks quite put-together.
The app has good reviews, almost all users recommend it for use and praise it for its wide selection of different accessories. It can be used by both adults and children.
Pros:
Simplicity
Many functions
Many of decorations
Cons:

4. Macho
This app is ideal for making a real macho man because it is not for nothing that it is called so. The app has everything you need to edit your pic.
In the app, you can find functions to make six-packs of abs, men's hairstyle, mustache, and many other cool editing features. If you have a lean body or vice versa you are quite full, then this application is perfect for you, because you can make yourself just unrealistically crazy abs.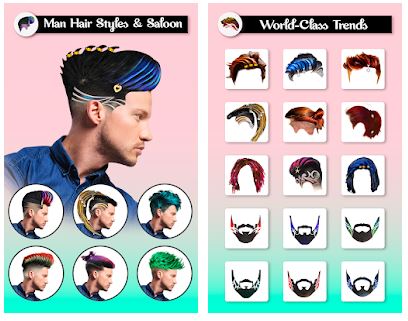 One of th most prominent features of this app is that you can change the sytle of hair – in case you need it.
The application has a rather bright interface, which can be highlighted as a serious disadvantage because sometimes your eyes get tired of a long staring. But you can change the background to the one you choose so that the initial wallpaper can be left behind.
The app has mainly positive reviews, so you can use it without being annoyed.
Pros:
Simplicity
Abundance of hair styles
Cons:
Very bright initial background
Extra functions


5. Body Editor – Body Shape Editor, Slim Face & Body
Body Editor is the perfect photo editor for girls, here you can do anything with your body to look stunning. In the application, you can add breast volume, make your waist and face oval thinner, improve the shape of your hips, increase your height and adjust your figure.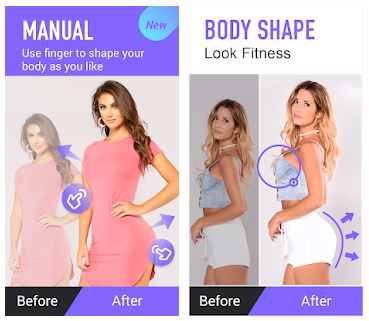 In addition, you can add abs to your body and define other muscles. Overall, the app has a lot of editing features both for the face and for the body.
The interface design is rather simple, compared to other apps. Everyone here likes the extensive number of features which ar quite rare for the free apps.
Pros:
Simplicity
Many functions
Ease of use

You may also like: 11 Best Memory Card Games for Kids (Android & iOS)
6. Man Abs Editor: Men Six pack, Eight pack man style
Another editor for adding abs, this time for men.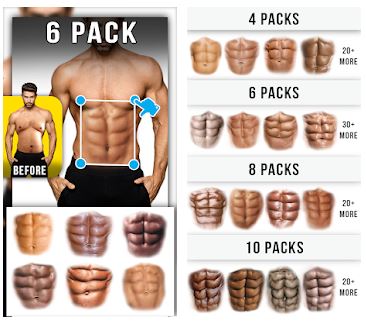 This app is perfect to change the proportions of your body, you can also change your abs, chest, biceps, hairstyles, mustache, earrings, glasses, and tattoos. Plus, you can change the hairstyle and size of your hair.
In addition to all this, you can use abs image stickers to rotate, resize and move your body, create fantastic images with different camera effects, and add text to the pictures.
This app can work in the offline mode.
To be completely honest, the interface design is not the best overall.
The reviews of the app are quite good, practically every user recommends it for use.
Pros:
Ease of use
Beautiful interface
Lots of features

7. Body Editor – Body App
Body Editor Body app is the perfect editor for both female and male body, even a child can use it. Unlike other apps of this type, this is a unisex app. This application will provide you with the improvement of the waistline, elongated legs, enhanced curves, and many more.
There is also a muscle editor, there are 6 and 8 cubes, realistic-looking chest muscles and biceps, skin tone. If you want to add something unusual to your body, then you are provided with a package of tattoos.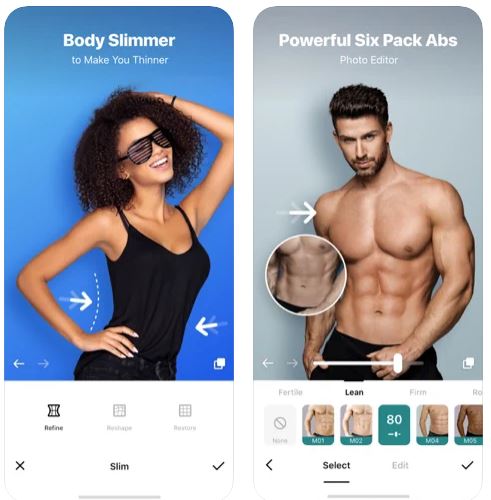 And to make your image more vivid and pronounced, you can apply filters, because the app provides many artistic effects and advanced photo editing capabilities.
The interface here is quite simple and pleasant, everything looks quite stylish.
No serious issues with the app are detected. All girls and boys are delighted with this app, with a huge number of different features and a good performance of it itself without ads and errors.
Pros:
Ease of use
Large selection
Low prices

8. Manly
Here we have a pretty powerful photo editor for men.
The app will provide you with a powerful muscle editor so you will be able to choose from a collection of more than 100 ready-made muscle designs. There is a transformation of the body, change it as you want. You can change the height and width of the legs.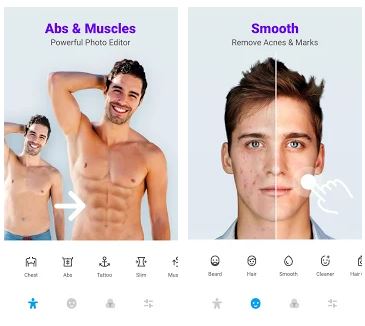 Also in addition to the muscles, it includes more than 100 tattoos. You can change the style and color of your hair, you can completely remove all pimples from your face and body, you can change the body tone.
Maybe it's unnesessary, but you can also add various jewerly. Lots of filters that will add great artistic moments to your photos.
The reviews here are rather mixed. You can usethis app dpending on what you're looking for. It has active technical support, so with each update, all errors and shortcomings are corrected.
Pros:
Easy to use
Many functions
Nice interface


9. Summer Body – Body and Muscle Photo Editor
This app is a fairly simple and no less interesting photo editor. The app opens up a vast world of editing, where you can create the perfect body you've been dreaming about for a long time.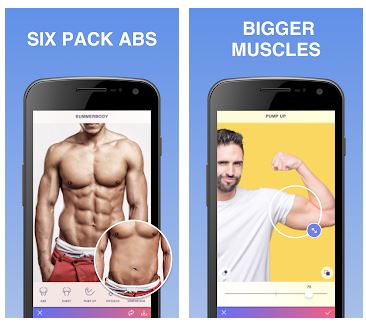 In addition to editing, there is professional photo processing and instant publication of photos in any social network. You can also choose a suitable filter to make your photo look much better and more beautiful.
The summer body is designed not only for men but also for women. The app even serves as a separate feature for each gender that you can fully utilize.
The interface itself is really simple, you can choose different shades for the themes, however, it doesn't fix the whole picture.
Pros:
Easy to use
Beautiful and pleasant interface
Many functions


10. Bodybuilding Photo Editor
If you once dreamed of becoming a bodybuilder, then this application, although in the photo, will be able to realize it. It is perfect for transforming your body on pics.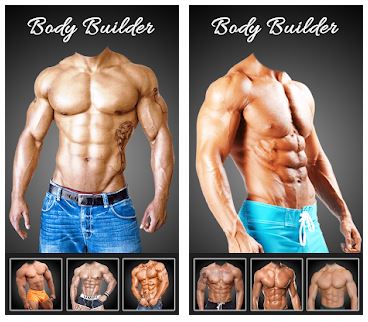 The app provides you with many features to transform your body. It will be able to make a perfect body, add cool abs, and so on. What is more, the app allows you to add various accessories to the picture.
The interface is quite nice, the colors are well-chosen. The only thing, it's way too simple and plain.
You could use this app in case you're looking for a lightweight editor, however, the app crashes sometimes and doesn't save edited pics.
Pros:
Easy to use
Many functions
Cons:
Saving of pics isn't allowed

You may also like: 9 Best Apps to Remove Glare from Photos on Android & iOS
11. Man Muscle Editor, Biceps, Six Pack changer
The last but not least we have a quite cute body editor which is also able to add abs to your pictures. The app provides you with a wide variety of different features to suit your taste.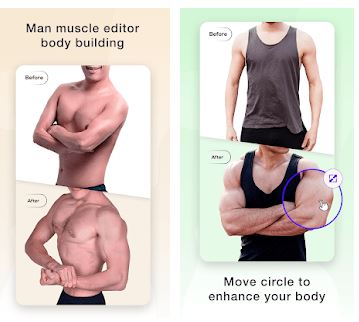 It supports all screen resolutions of mobile and tablet devices. You can also switch to realistic and smooth photo editing features.
However, you should keep in mind thatthis app can be way too simple and sometimes the editing might look unprofessionally. You can only use this if you need to insert some minor editing.
Reviews of the app are quite good, many users speak well of it. It has an active technical support team and a small development team, so all bugs and flaws are fixed with each update.
Pros:
Easy to use
Many functions
Active technical support