If you started to transform your apartment, then you need measuring tools. The cost of purchasing measuring instruments can reach several hundred dollars. Why should you overpay when you can download an app that will allow you to measure anything.
Further, you need to be a professional to measure difficult angles to properly install door frames, skirting boards, or parquet. We have selected 7 of the best goniometer apps for you.
Some apps from our list are paid and some require a one-time payment. A goniometer is a measuring tool of the highest accuracy. You can measure angles of any complexity to avoid mistakes during the cut.
Plus, some apps on our list are feature-rich. This means that they can perform several measuring functions at once in addition to the goniometer.
You may also like: EasyMeasure App Review
Angle Meter 360
This simple app will allow you to measure angles wherever they are. You can upload a photo from the gallery and take the necessary measurements. Moreover, you can work in real-time.
Open the camera in the app and aim at the desired object. The app can measure even seconds of the angle. Another thing that makes an app awesome is the ability to measure multiple angles at once.
Draw the lines to measure angles. Moreover, you can overlay photos on top of each other. It will allow you to compare measurements. Choose a specific color for an angle so you don't get confused. For example, you can simultaneously measure the corners of a tabletop and a window sill.
Thus, the color of the corners becomes different. The app has a new generation of technology that allows you to measure moving objects in real-time. Ads will occasionally pop up while the app is running.
If you want to get rid of ads you need to buy the paid version.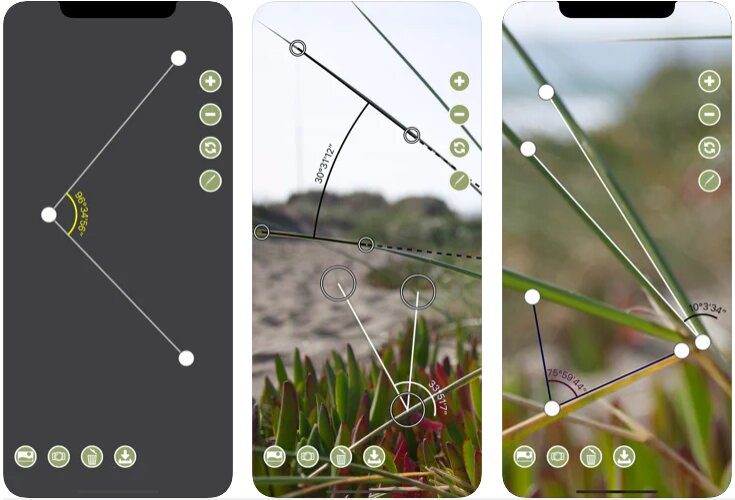 You may also like: Geometry Solver ² App Review
Angulus: Measure angles on images/videos
Measuring angles is necessary not only during construction. We can also use a goniometer to measure our physical data as well as our bodies. This app is important in medicine. It will show you all available angles on the photo.
You can send measurements by email. The accuracy of the app is up to 0.1 degrees. You can save the measured angle image to the app. What's more, you can measure angles in the video. The app can stop the video at the right moment to measure everything you need.
If you are worried about your health then try to measure your body data. The app will allow you to measure the curvature of your posture, your flexibility as well as your bending ability. The design of the app is simple and intuitive.
Change the color of lines and angles. The app has several color options. Some users are facing the problem. They can't record video. If you experience such a problem, then you need to write to technical support and they will try to solve all the errors.
The app has been installed over 100,000.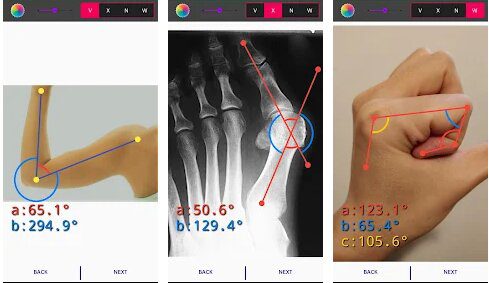 Goniometer Plus
This app works a little differently than the others on our list. At the same time, it is accurate and has an error of 0.1 degrees. All you have to do is touch your smartphone to the surface of the wall to be measured.
In the next step, you need to move your smartphone across the surface to the following one then move to a new wall to form a corner. You will be able to view the required measurement data on the screen.
Moreover, you can rotate the phone as you want to create any angle. This app is great for builders. Forget about heavy measuring tools. Everything you need will be on your phone.
The other thing that makes the app great is its personalization. You can change the design of the app to make it more comfortable for you to work. Save a photo of the measurement so you don't lose your data. The app has an average rating of 4 out of 5 stars in the Apple Store.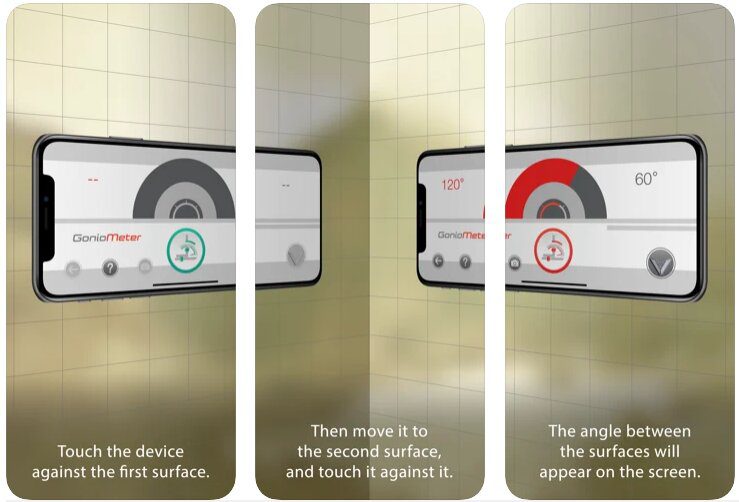 You may also like: 11 Best Measure Distance Software for PC, Android, iOS
PhysioMaster: Goniometer
If you are a professional athlete then this app is a must-have on your smartphone. Forget about physical therapists. All necessary measurements can be made with this app. It will help you simplify your daily activities and get to know your body much better.
What's more, if you are a doctor then this app will save you time. You will be able to see more patients, most of the work will be done by the app. You will also receive a hint to explain the diagnosis. What else can this app do?
Firstly, you will be able to measure the posture. Upload the photo to the app or do a real-time one. The app can automatically detect posture. If errors occur, you can manually do the correction.
Secondly, you can measure the angles of your movements. This is a comprehensive analysis of your physical abilities. The app will show you a graph with all the necessary data. Moreover, you will be able to perform a couple of tests that will allow you to find out your weaknesses.
Take the 6-minute or the 10-meter walk test to determine your gait data. What's more, you can upload a photo of any surface and measure multiple angles on it at once. Download this app and you will get a multifunctional goniometer to measure anything.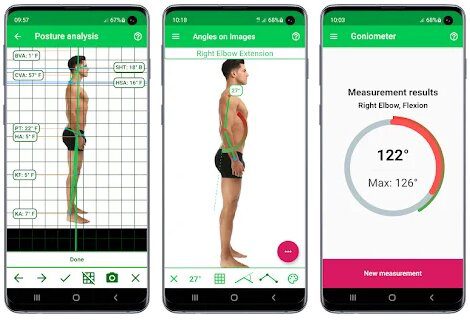 DrGoniometer
We want to note that this app is paid. It costs about $12. This is an excellent goniometer suitable for builders and orthopedists. If you are a doctor, you can measure various deviations in posture, feet, and other limbs.
Save pictures of the measurements and attach them to the patient's file. Moreover, you can take measurements in real-time. Open the app's camera and aim at the desired object or the patient's body part.
The app will automatically detect the angle or you can do it manually. This app has been tested by several medical companies. It has been confirmed that the app is accurate and may allow an error of 0.1 degrees.
Plus, you can take measurements on multiple patients at once. Download this app and be able to simplify your work. Feel like a pro because you can be more efficient. Sync the app with your computer and save the data in the cloud. You won't lose it.
And finally, the app takes up only 10 MB. It has an age limit of 17+. Try this app and you will be able to measure any angle on any surface.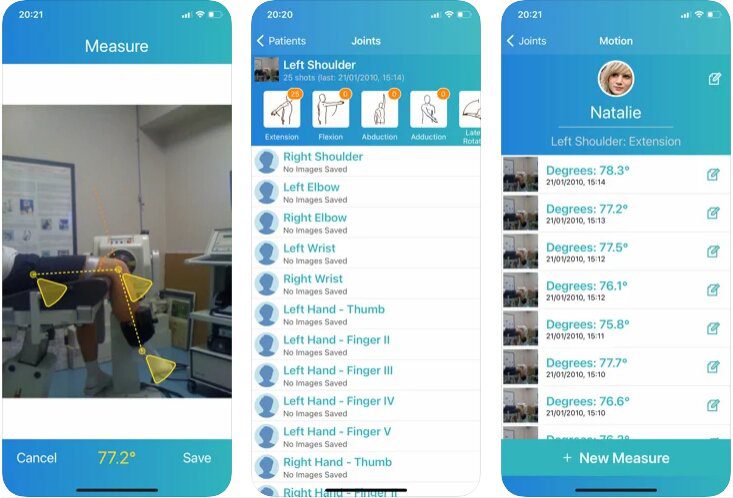 Angle Meter
Measuring construction angles has always been an important part of any building. You need to measure the angle several times to make sure the measurement is correct. If you measure the angle by hand then you need special tools.
Sometimes, you can have several different measuring tools. Forget about outdated tools and download this app. Measure any angle on any surface within seconds. All you need is your smartphone and a surface.
The app has a dial goniometer that will allow you to measure 360°. Moreover, open tables to display the necessary data. Let's talk more about the goniometer. The easiest way to measure angle is to upload a photo of the desired object and draw lines.
The app will automatically measure the data and display it on the screen. What's more, the app has a ruler. You can point your smartphone's camera at an object and measure its length. Get to know the length of an object in a photo.
Another tool that makes the app cool is the compass. You will be able to measure the azimuth and not get lost during the hiking. Download this app and get a multi-functional measuring toolbox.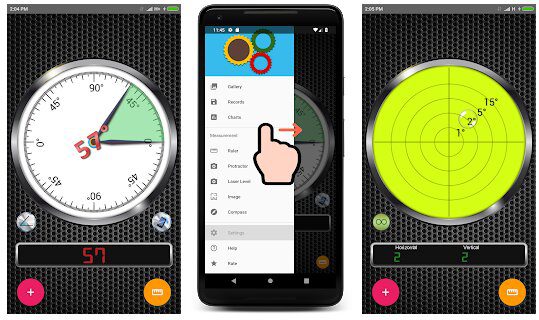 Tool Box: goniometer & ruler
If you want to start a construction project, you need measuring tools. Do not rush to the hardware store after them. Download this app and get a toolbox for any purpose. What tools does it have?
First, it is a goniometer. You can measure any angle. The goniometer works just like the others on our list. We won't go into detail. The next tool is Bubble Level. You can measure the level of vertically or horizontally surface. It will also help you to measure the angle.
Use a plumb bob to get the correct vertical position. A real plumb line consists of a thread and a weight. This tool is very fragile and breaks quickly. Thanks to this app, you will always have a Plumb bob at your fingertips.
Download this app and find out what other tools are waiting for you. It has an average rating of 3.8 out of 5 stars on the market. It weighs about 78 MB. Try it and make any repair a pleasant job for you.

You may also like: Video Rotator Software Review