Tired of endlessly scrolling through socials only to find yourself without enough data to snack on all the entertaining vids you've found? Yeah, that's a sad part of it.
Luckily, we've scouted the top video downloader apps for Android to set you free of those issues. These apps let you save clips at lightning speed, so you can forget about delays and cellular drops.
Most apps let you save from TikTok and other socials, too. These are gems for road trips, long flights, or simply when you're stuck in a Wi-Fi zone that just won't let you stream anything. Let's get into it!
Video Downloader
This app is here to end all your vid saving issues. First off, let's talk functions. This app is an all-in-one package with everything you may need.
It has a built-in browser that lets you load any websites under the sun. It automatically detects vids and audio, making downloading an absolute breeze. And speaking of it, this app covers all formats, from MP3 to PDF, and everything in between.
Hereby, you get to easily pause, resume, and remove the files as needed, so you're always in control. But what really sets this app apart is its speed. It is lightning-fast, and the app lets you save several files at once, so you can maximize your productivity. And with HD and large file support, you can rest assured that you're getting the best quality every time.
And for those who value privacy, you'll get to save the files in a password-protected folder. How cool is that? But it's not just about the tools, the ease of use is unparalleled. Everything gets done for you, you just need to make a few taps.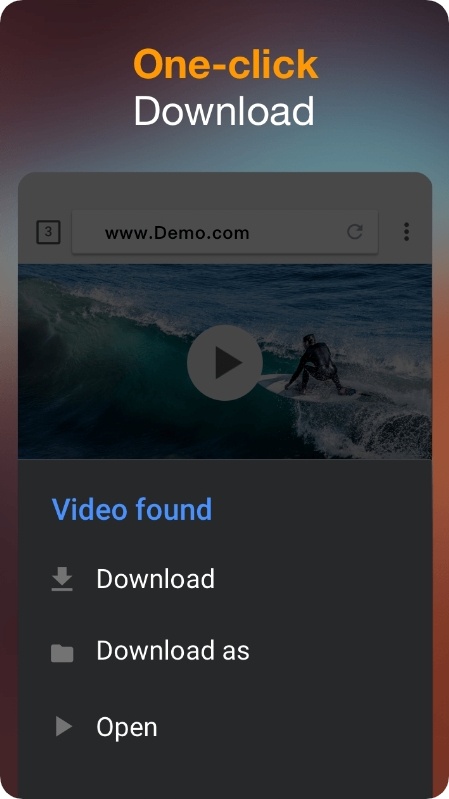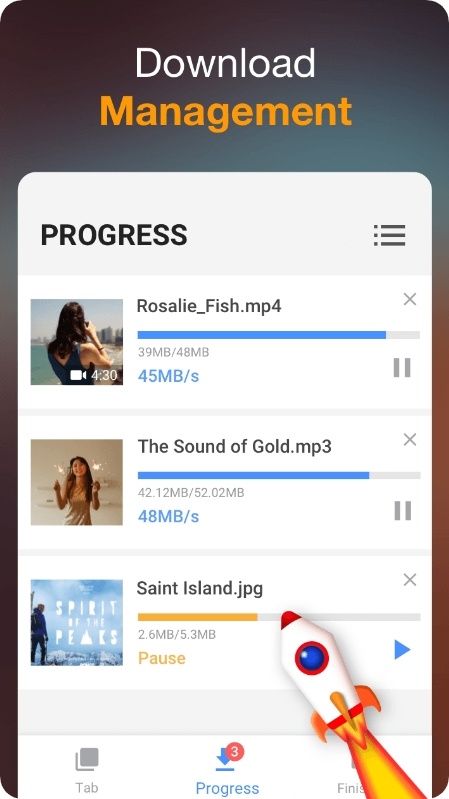 You may also like: 12 Best Instagram Story Saver Apps
HD Video Downloader
Tired of being limited to watching vids only when you have a web connection? Say goodbye to buffering and hello to this handy tool! It lets you freely browse multiple socials and sites and save everything you may need.
Yes, you've read it right, this one works with all your fave apps like IG, TT, YT, and more. Saving clips has never been so easy! It takes one click, and the app takes care of the rest. It supports all types of vids, files, and pics.
Don't let large files or slow speeds stand in your way. The app has a powerful manager that covers all kinds of bg downloads, batch ones, and more. Plus, you can pause, resume, and remove downloads at any time.
The app is incredibly friendly and easy to use. It even has a built-in player that lets you watch clips offline. It is ideal for anyone who loves watching vids on the go. It's entirely free, too, and there are no hidden fees to annoy you here. The ads are there, but they are fully bearable.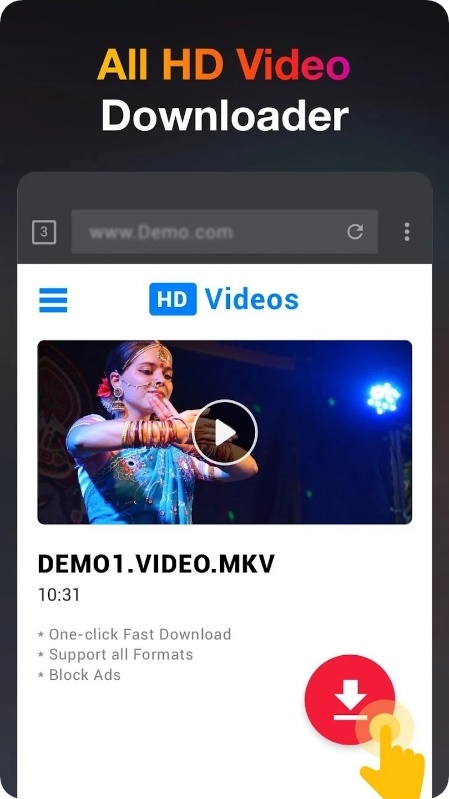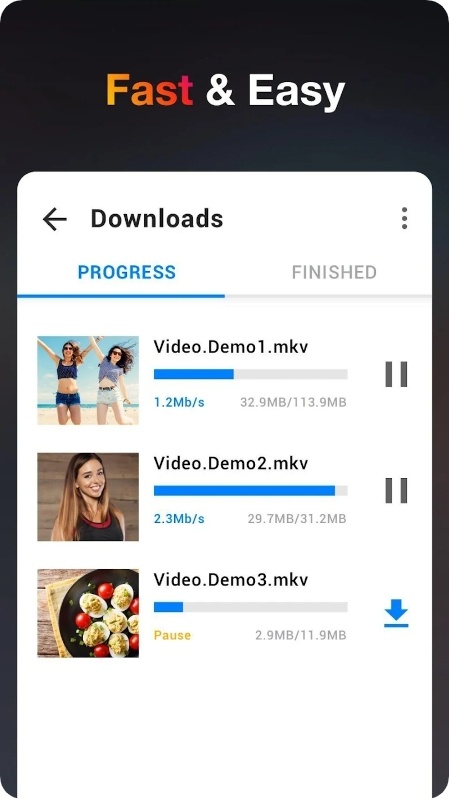 All Video Downloader
Have you ever stumbled upon a breathtakingly amazing clip you just had to get? This app will help with that. It has a built-in browser that lets you get vid from any source. From websites to apps, you can get those clips from anywhere.
It takes one click to get done, and you'll shut have to wait for the app to proceed fully. The whole process is usually pretty fast, but it depends on the size. Not only that, but the app's full-on manager lets you pause, resume, and even remove files if needed.
That's not all, folks! You can get the vids via Wi-Fi or cellular, making sure that you don't miss out on any of the action. You can actually disable the ability to save without Wi-Fi if you're worried about your cellular plans being affected.
Plus, you can get large files and batches simultaneously, too. It may not seem like a big deal, but it will shorten the time you spend on saving and will make you more effective. And if you wanna make it a step further, feel free to add a PIN to the folder where you save those files. It will turn into a full-on vault guarded against prying eyes.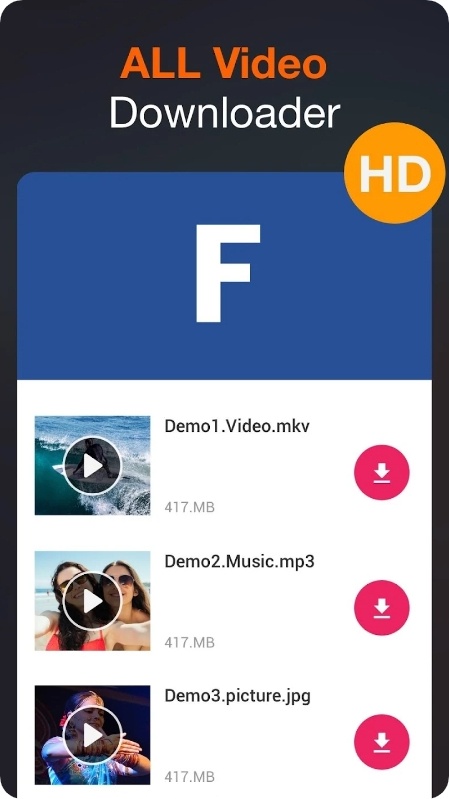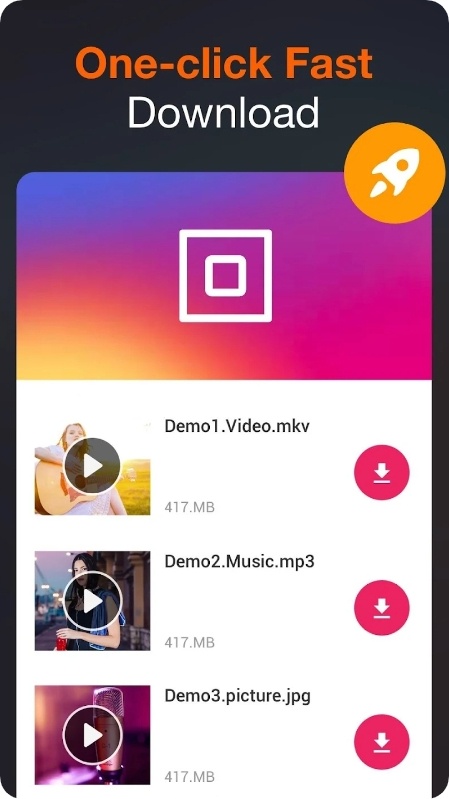 Downloader
Fed up with all those slow and clunky downloaders? Give this one a try, then. It's a treasure trove of functions, and the UI is so simple even your granny could figure it out. And if you frequently save clips from the web, you'll be blown away by this app's power and ease.
One of the best aspects of this one is a built-in browser. It lets you scan the web and play any clips without leaving the pap. It's so convenient to be able to find a clip, detect it, and save it with just one click. The ultrafast speed is no joke, either, it's lightning-fast!
And speaking of savings, the powerful assistant you get here is a godsend. You'll get to save batches, which is a lifesaver, especially if the field is large. And if your Wi-Fi drops, the app can resume failed savings without missing a beat.
Plus, you can pause, delete, and share my files with ease. It's like this app was tailor-made for your needs! But it's not just about the technical aspects, this app is also visually pleasing. That's important to note, cause it's not cluttered with extra tools you won't use.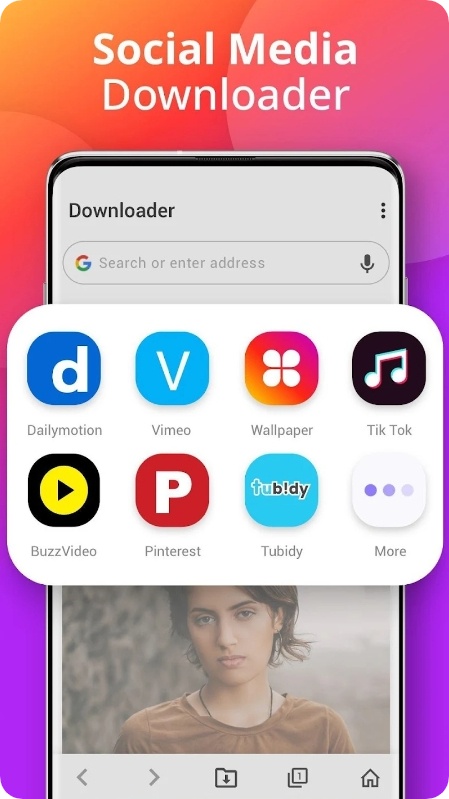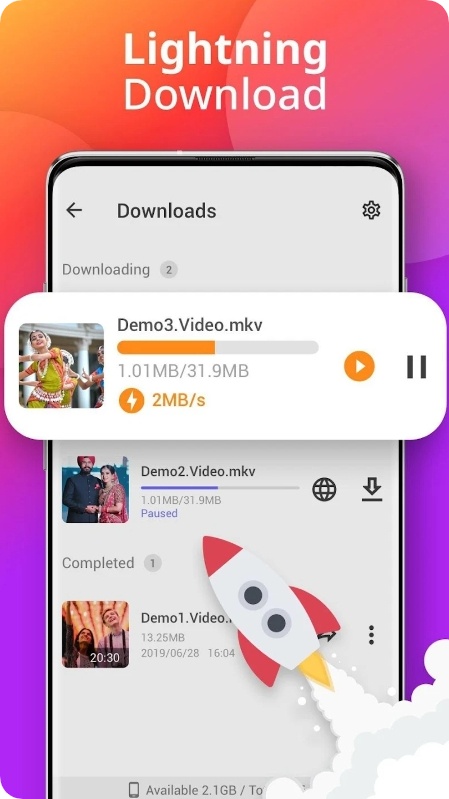 Video Downloader
If you're one of those who saves clips from practically every site you come across, don't get past this app. It easily detects and saves files from every source imaginable, making it simple to play them offline without suffering any lag or buffering issues.
Aside from the primary tools mentioned above, it has a private browser with incognito mode and a PIN guard. And let's not forget about the full-on AdBlocker that uses your own filter lists, making the browsing exp ad-free and uninterrupted.
The app accelerates savings several times over for faster and more efficient speeds. And if you're a power user who requires multiple SD card support, the app lets you do that too.
One of the coolest aspects of this one is its ability to convert vid to audio. Yes, you heard that right! You can now listen to your fave clips on the go, without wasting data. The app is also incredibly easy to use. Just enter the URL, pick the quality, and you're good to go. The saving switch appears once the clip starts playing, so keep that in mind.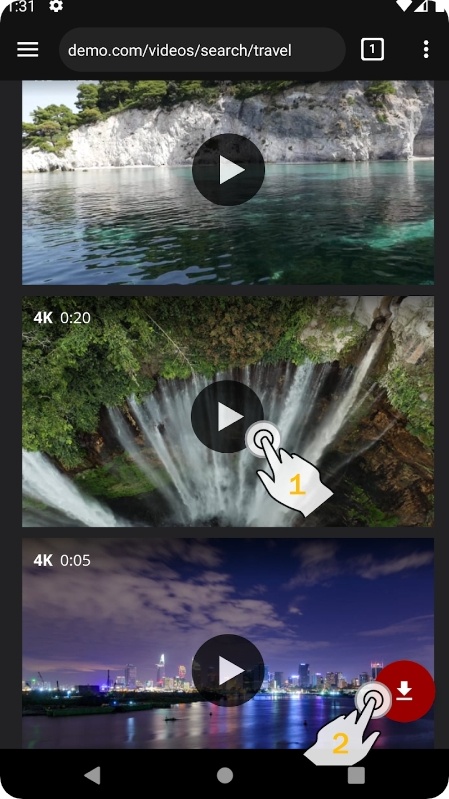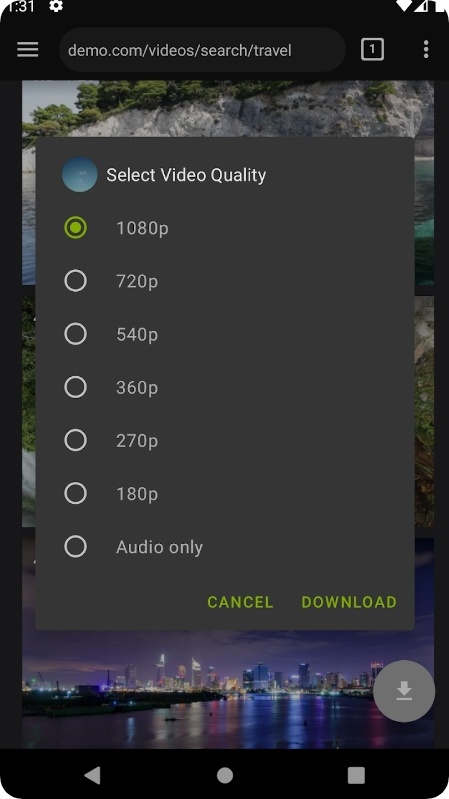 Check also: 4 Best Video Cache Apps
Video Downloader & Video Saver
This app is not just your run-of-the-mill downloader, it's so much more. First off, can we talk about the speed of this thing? It's lightning fast! You'll get to save numerous clips in just a few moments without any glitches or lagging.
And don't even get us started on the multi-threading tool that accelerates the speed by several times. Say goodbye to those endless hours of waiting for your clip to get saved. Not only can you gather numerous files simultaneously, but you can also do it in the bg. Thus, you can go about your day while your clips are proceeding, no need to stay glued to your screen.
One of the coolest aspects of this one is that it lets you pick a resolution. You can save space by getting a small size without compromising on quality. Of course, you can go all out and enjoy the high-definition mode. The choice is yours, my friend.
And let's not forget about the built-in browser. It makes managing your files a breeze. You can pause, share, and delete them all from one app.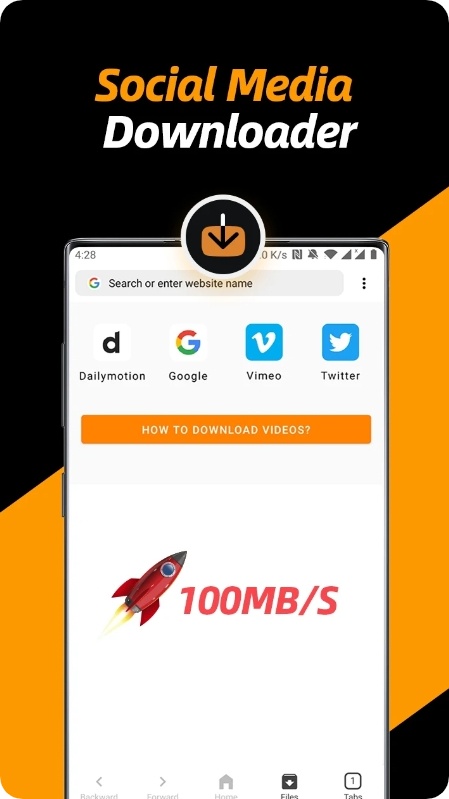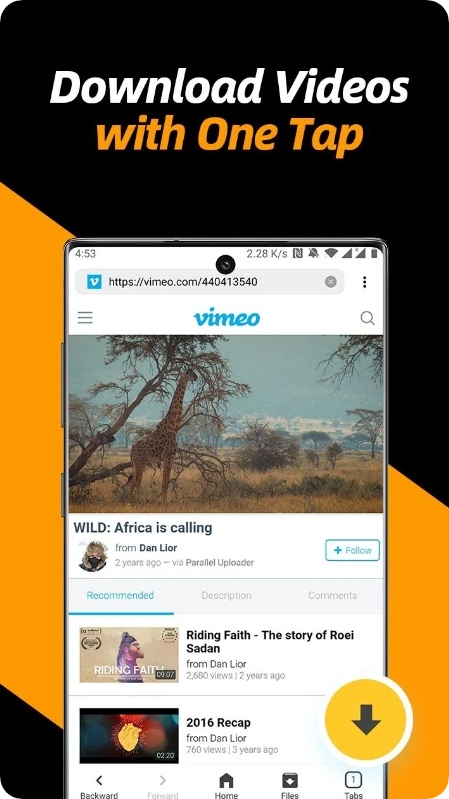 Video Downloader
This app puts an end to all the constant buffering and poor quality of online streaming. It's a gem for those who like to watch clips and get annoyed by cellular drops, delays, and all that.
One of the key functions of this one is the ability to save clips from any site under the sun. What's more? You can even pick the resolution to save space or get HD clips with that crystal-clear quality. And speaking of space, you can get numerous files at the same time, saving you even more time and hassle.
Another impressive fact is that saving happens in the bg, so you don't have to worry about staying in the app while it's going. You can continue to browse other apps or even turn off your phone.
But that's not all, folks! The app also comes with its own browser, letting you easily find clips without leaving it. And if you're worried about privacy, fear not! There's a private folder where you can hide all your files.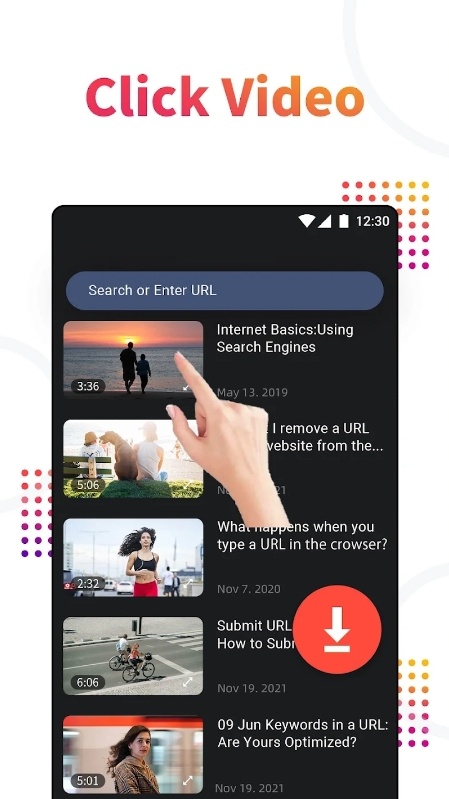 Video & Music Downloader
Here's a reliable tool to cover all your saving needs. Firstly, it boasts of being the fastest saver in the market. It has multi-threading saving and acceleration, so you can save all your desired files from the Internet in a jiffy. And fear not, the app is stable and safe to use.
Plus, it lets you pick between the resolutions, saving space while still ensuring you enjoy your clips in high definition. You can also get batches and even do saving in the bg while doing other tasks on your phone.
The built-in browser and file assistant make it convenient to manage and access your savings. You can pause, resume, and remove files with ease. You can also rename and share them at any time needed. There's even a private folder that lets you safeguard all your files.
The app delivers streamlined exp with all the files in one place. It takes care of your privacy in general, ensuring the data is kept safe. It's free, and the ads won't bother you too much.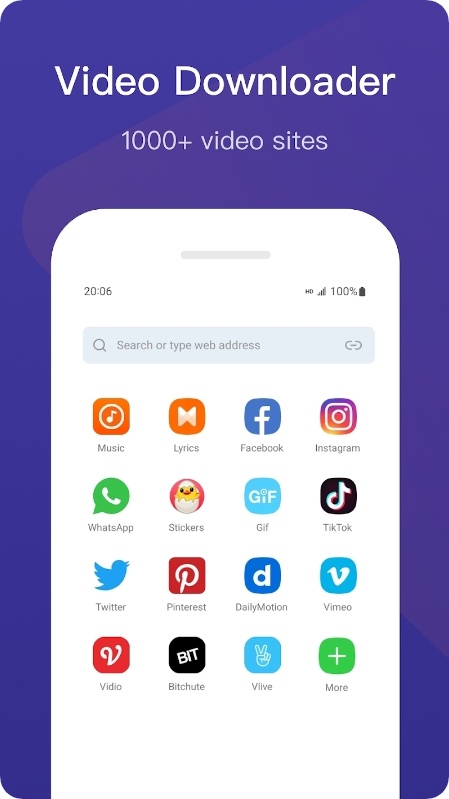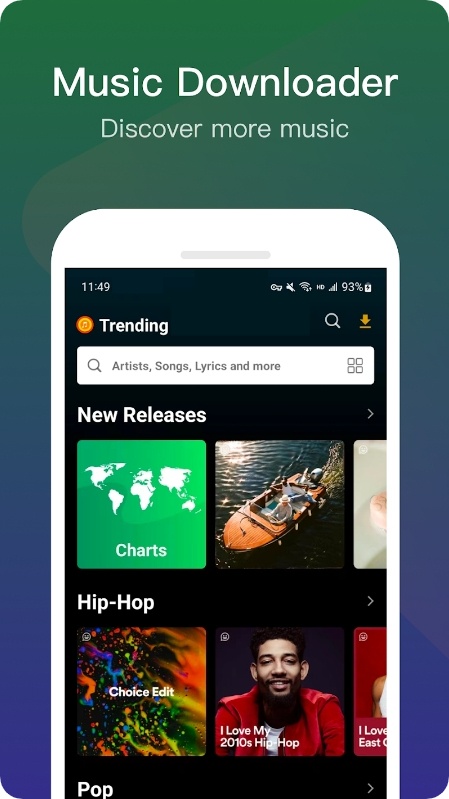 Video Downloader
If your cellular data tends to drop or run slower than needed, this app will help a lot. It is a lifesaver for video buffs who want to enjoy high-quality clips free of charge.
You'll get to save any clips without spending a dime. Yes, you heard that right, it's free! No more need to waste data on streaming online because this app lets you get anything without charges. Isn't that just great? Hereby, you get to pick a quality up to 4K if needed.
The app doesn't limit you to only one saving at a time. Batch saving is just as quick and it saves so much time and effort. It's the kind of tool you didn't know you needed before you try it.
Plus, the app makes it easy to pause and resume the files. So, you don't have to be glued to your phone while saving a large one. You can pause and resume at any time. You can organize the files by folders for easy navigation too. All the clips you can find within the app are verified, so no worries about copyright issues.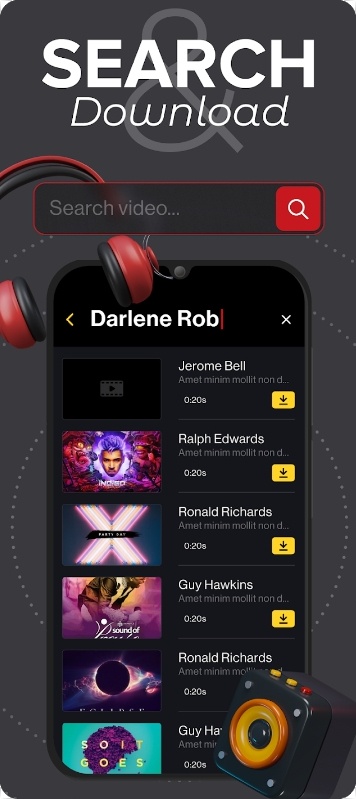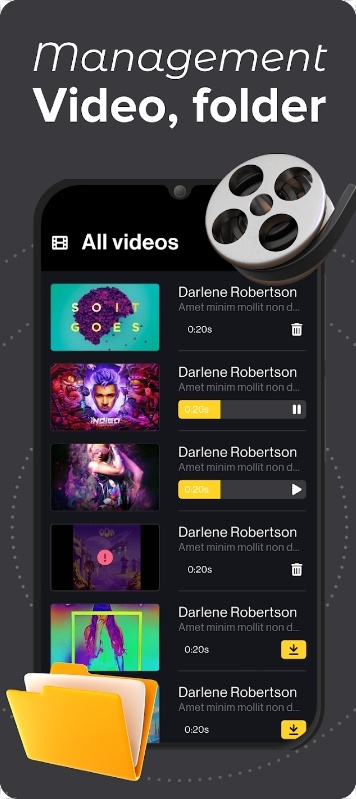 You may also check: 11 Best Apps to Create Vintage Videos
Music Player&Video Downloader
To wrap up, we have an app that covers over 100 websites for you to save clips. With this one on hand, you'll get to grab your favorite clips and jam out to the songs offline anytime.
But that's not even the best part! The app is able to match lyrics with offline songs, so you'll never have to google them again. You can also use it to set individual ringtones and alarms.
Plus, it covers all kinds of formats, so I can access pretty much anything you like. And the batch saving will save you a load of time and effort, especially because it doesn't affect the speed that much.
And the sound quality? Incredible. The built-in equalizer enhances all the tunes, whether you are in the mood for bass-heavy beats or smth with a cool reverb effect. And it plays all audio formats, so no need to worry about compatibility issues. Handling a lib is a breeze as you get to scan and share songs easily.