Picsart is a cool photo editing app. It is widely used by many bloggers and photographers. Moreover, the toolkit of the app will allow you to create photos of any format and design.
Are there any alternatives to this app? It weighs a lot and is not suitable for some users. We've put together a list of 9 of the best Picsart alternatives for you.
They also cope with photo processing of any complexity. In addition, they weigh several times less!
You may also like: VIMORY: Slideshow Video Maker & Photo Editor App Review
VSCO: Photo & Video Editor with Effects & Filters
It is an app that has filters as the main feature. This is a huge collection of filters for processing any photo. Dark, black and white, bright? You can find any filter.
Of course, the app also handles photos truly well. It has a standard set of editing tools. More than 200 filters are waiting for you. You can also create your own filter set. Use them to make your Instagram profile stylish and local.
Another thing that makes this app outstanding is video processing. Not every photo editor is capable of this. Moreover, color correction will help improve your photos. Adjust the color sliders to customize the best shades.
For an even wider range of features, buy the full version of the app. Frankly speaking, free features will be enough for you. According to the developers, this app will make any of your photos look perfect.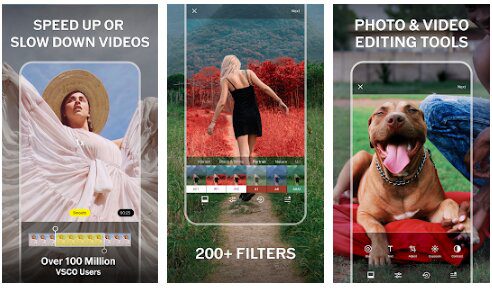 You may also like: Yasisoft Image Editor Software Review
Easysnap – Photo Editor & Selfie Camera Filters
If you need a cool photo editor try this app. It aims specifically at processing selfies. This app is considered the best in 8 countries. Moreover, the developers offer 8 main reasons to download it.
We are going to describe some of these reasons. The first is the ability to create 3D photos. Bright animation and unexpected special effects will help you attract more followers to your social media accounts.
The next reason is the ability to retouch your selfie photos. Plus, you can hide any imperfections thanks to this app. What's more, you can embellish yourself and exaggerate your beauty.
Also one of the reasons to try it – is make-up. If you don't have makeup ready, the app will become your lifesaver. Use ready-made makeup for any mood and occasion.
Another reason is the cool double-finding feature. upload your photo the app will find all the lookalike people. Here are a few more functions: change eye color, hair color, and background.
This app is free, but it also has a full version that will add even more cool photo editing tools.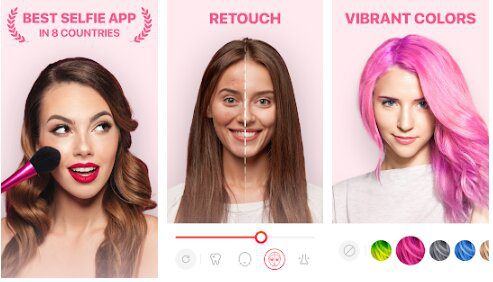 PicLab – Photo Editor
It's great to have an app that has all the features of a great photo editor. It allows you to be creative and make cool photos.
The app has a typography feature. This means that it has a lot of unusual fonts and the ability to edit them as well. Add shadows, change color and resize your text. Plus, the app has a large collection of stickers.
What's more, you can add your stickers to create personalized brochures, flyers, and ads. How can it be without filters? The app has a decent library of filters that can be adjusted.
You no longer have to adjust color correction because you will have a set of ready-made filters. Add funny masks to your photos to make them brighter and more vivid.
The artist will like the next function. Draw with different tools – pencils, sprays, and crayons. Another feature of this app is collages. You can put all your favorite moments and emotions together in one photo.
Like all apps of this type, it has a premium version. So you can purchase it to get more features and get rid of ads. Many users are complaining about the impossibility of changing the text.
On the other hand, this app has a limit on the number of files to edit. If you have any problems, contact technical support and all problems will be resolved.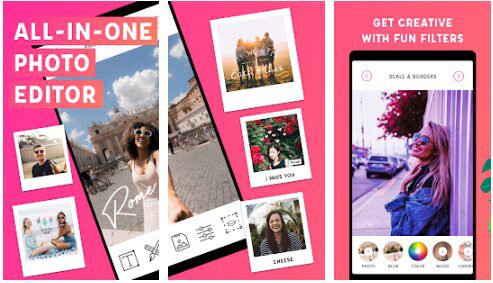 You may also like: Win PDF Editor Software Review
Instasize: Photo Editor + Picture Collage Maker
The app on our list is a great alternative. You can edit photos, charge, and improve their quality and attractiveness. Work with color correction and the size. The app has templates for TikTok, Instagram, and other social networks.
The main advantage of the app is the photo border. More than 100 cool photo and video borders are waiting for you. Moreover, this app is also capable of processing video. Another thing that makes this app cool is the ability to change the format.
You can create any photo size in excellent HD resolution. Create a collage live by combining up to 20 photos together. If you want to get new features and a library of filters, then buy the premium version.
We assure you that the capabilities of the app will be sufficient without the premium version. And finally, the most important condition. The developers will provide you with a free seven-day trial. Then you will need to purchase the premium version or uninstall the app.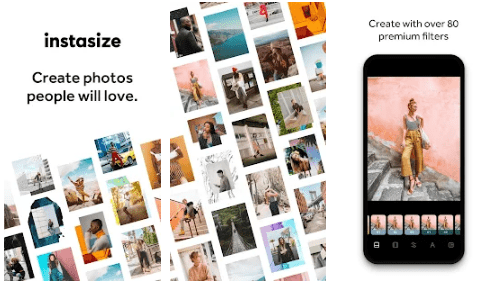 Photo Editor for Perfect Pictures
All you need for good photo editing is a cool photo editor. A one-touch selfie editor will help you quickly and efficiently process any photo. You can edit the face, background, color correction, and add filters.
Moreover, the retouching of the face looks very realistic. Move the sliders to adjust the effects of your face. You can use blur retouch to accentuate your eyes or lips. Therewith, background processing is the main feature of this app.
It automatically detects the background and can blur it. Adjust the blur as well as its direction. Moreover, you can replace the background. The app will automatically detect the background and suggest you the perfect replacement.
If you have bags under your eyes, then this will no longer be your problem. The app realistically removes bags under the eyes and makes you look healthier. In addition, the app has a huge tool for changing colors.
By the way, you can purchase the full version. it costs $30 a year. Unfortunately, some people get an error after paying. Technical support will help you with this problem.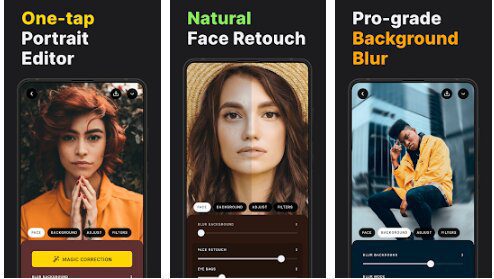 Facetune2 — Selfie Photo Editor by Lightricks
If you run your blog on Instagram then the following app is what you need. This is one of the best retouching apps on the Market. It will help you completely change your face.
Resize nose, eyes, eyebrows, lips, cheekbones, chin, and forehead. You can also make your skin look smoother and more attractive. What's more, add makeup and change the color of your hair.
Over a thousand makeup designs are waiting for you to use. You can choose makeup for any occasion. All the makeup in the app has been designed by professional makeup artists.
If you don't have time, you can let the app automatically improve your appearance. Frankly speaking, this app will be your lifesaver. If you have a small pimple, you can remove it with just one touch.
Use filters to create a unique style. Add highlights and special effects. Along with that, the app is very popular so it has been downloaded over 50 million times.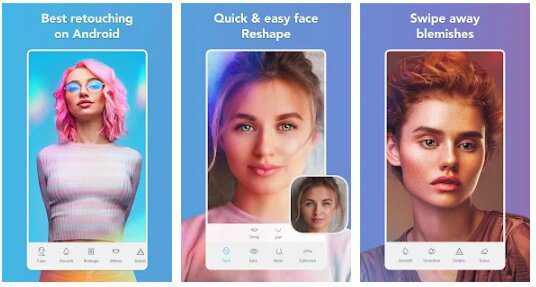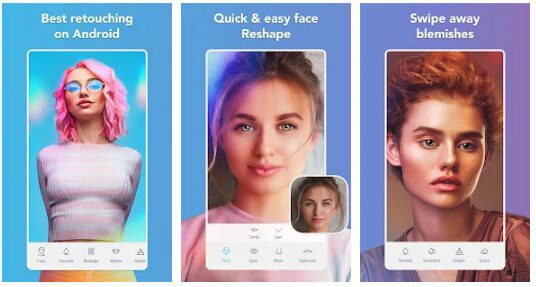 You may also like: 11 Best Apps Like Flipagram for Android & iOS
Pixlr – Free Photo Editor
This app will let you find your creativity. It's free and easy to use. You don't need to create any accounts to use the app. Moreover, you can use different combination of filters, effects, and layers.
The layers system will allow you to quickly and efficiently process any photo. It must also be said that you can create poster collages with customized photos. Use the auto-fix technology for the app to automatically correct all inaccuracies.
You can also add sticker frames and other images to make your photo look cooler. This is not pro app, but it has huge functionality for the editing. The app has been downloaded over 50 million times.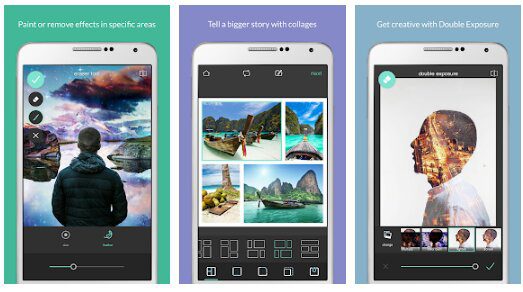 Adobe Photoshop Express:Photo Editor Collage Maker
We think that this app is familiar to everyone. It is similar to a program for computers. You will be able to create professional Photoshop photography here.
The navigation of the app is very simple. Moreover, it automatically corrects all flaws. You can remove noise and smooth out any irregularities. Use blur to make your face look beautiful.
As the name suggests, this app is express. That is, you don't need hours of work. Any photo processing will take you no more than 5 minutes. The app has smart technologies that automatically photoshop your photos.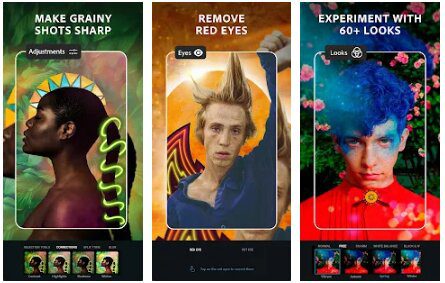 Snapseed
The professional design of this app will make the processing of any photo as pleasant as possible. More than 29 processing tools are waiting for you. You can create your own filters and use them for your photos.
Draw on images using brushes, markers, and pens. Let's take a look at color grading. Adjusting the brightness of the image will allow you to convey all the sun glare. Moreover, you can add shadows or highlights.
Adjust the white balance to make the color appear realistic. If you like color grading then play with lines. It must be said that if you made a mistake, you can cancel your action.
See the before and after results to find the difference. Save the photo directly to your gallery or share it to your social networks right from the app. In addition, use portrait mode to make your face perfect.
This app is known to every other professional photographer. It has been downloaded over 100 million times.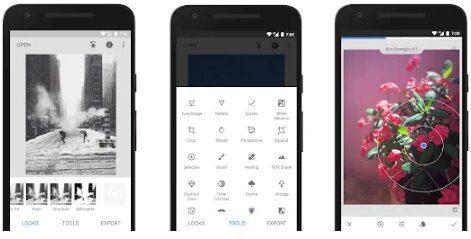 You may also like: 11 Best Interactive Story Games for Android & iOS