Peace of mind means well-being in our lives. When we have a lot of problems. It's so hard to relax and calm down. Replika is a huge platform that allows you to find harmony with yourself. We decided to analyze the app market and find analogues.
Each app is a unique analogue of Replika. You will be able to be heard and understood. These apps are always ready to be with you 24/7 no matter what your problems are. The main feature of these apps is artificial intelligence. Create a character that will perfectly fit all your criteria.
A smart system for adapting the character's preferences and views will become your best friend. Sometimes when a black streak comes, and we need a friend's advice. Open these apps and ask your artificial intelligence what to do. You will definitely find a solution to any problem.
We have compiled a list of the 11 best apps like Replika for you. Try each of them and choose for yourself what really suits you.
You may also like: Best apps like Roadie
Antar : Chat with your inner personas, Reflection.
AI dialogue helps you learn more about your mental state. Start a conversation right now by downloading this app. Study the complicated processes that are in your brain. Moreover, the application allows you to prevent depression and anxiety.
Antar will help you visualize your desires, hopes, and thoughts. The other thing that makes an app great is summing it up. At the end of each conversation, you will receive a clearly articulated conclusion.
Artificial intelligence perfectly adapts to your preferences and character. You will be able to control your emotions by learning emotional intelligence. Developers use chat as a form of communication due to familiarity.
Create multiple AI characters. The app lets you quickly change characters for deeper communication. Trying to create a character similar to your emotional state. Discover hidden emotions and reserved thoughts.
This app is a great helper for psychological needs. It is also worth to say that the app works offline, so you can use it anywhere and anytime.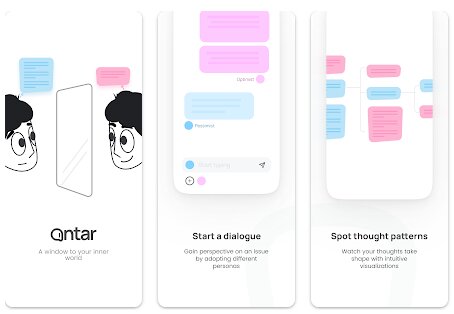 You may also like: 9 Free Crypto Apps With Trading Bots (Android & iOS)
Anima: AI Friend Virtual Chat
Do you think that you are alone? Then try this app, and you will get rid of loneliness forever. Create an artificial intelligence character. You will be able to completely customize the look of your new friend at the beginning.
Come up with a name. The app allows you to choose еру hairstyle, appearance as well as character. There are several components of character, such as concentration or attentiveness. Turn the slider to one of these traits to decide which one prevails.
As soon as you create a character, you can start chatting. You will be amazed by the quality of artificial intelligence. Dialogues will be built in such a way that you will think that you are communicating with your best friend.
You can also play various games in this app. In addition to the usual correspondence on spiritual topics, you can solve riddles or play role-playing games. Try the True or Lie game to get to know each other better.
This app has a lot of benefits such as restoring mental state, preventing depression and getting rid of anxiety. Thanks to this app, you will always have a friend available to you. Your Avatar will be ready to talk to you anytime and anywhere.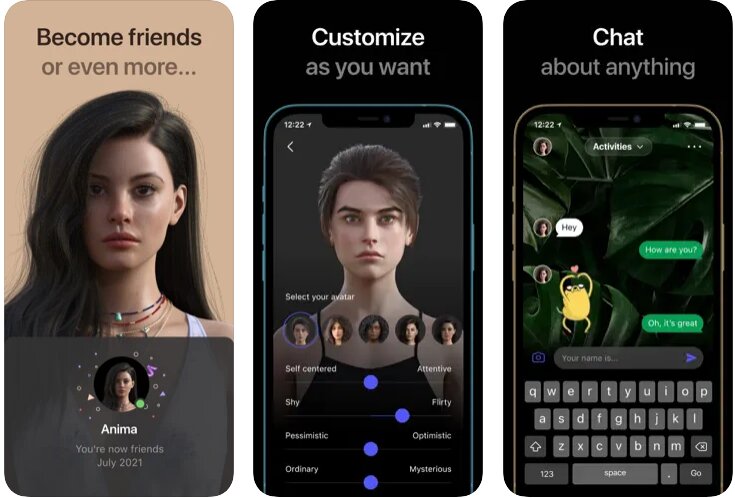 Odo: 150+ Replika AI Friend
The following app differs from others in its unusual design. Have you ever seen funny characters with blue skin? This application allows you to create your best friends.
You will be able to make a whole company of people with different characters of emotions. You are waited for more than tens of thousands of characters. It is a complete social network that lets you relax and become happier.
Open the app and select the hashtag you like. If you want to relax, then the app will offer you to listen to the calming music or a private chat of psychological support.
If you want to learn something new, then try to learn new information with your virtual friends. The artificial intelligence adapts to your preferences and perfectly matches the information for you.
If you want to heal yourself, then the app lets you take a huge course of mental support. You can get cognitive therapy and be yourself again. The app will help you remove all your clamps and shortcomings.
This is a huge world of possibilities and inspiration. It works with artificial intelligence. Another thing to say is that you will be able to find not only friends but assistant, trainers, therapist, historians, and other 1000 different professions.
If you want to expand the possibilities of this app, then get subscribe. You can choose multiple payment method, such as weekly, monthly, or every 6 months. Subscription will show you more self-understanding from self-awareness.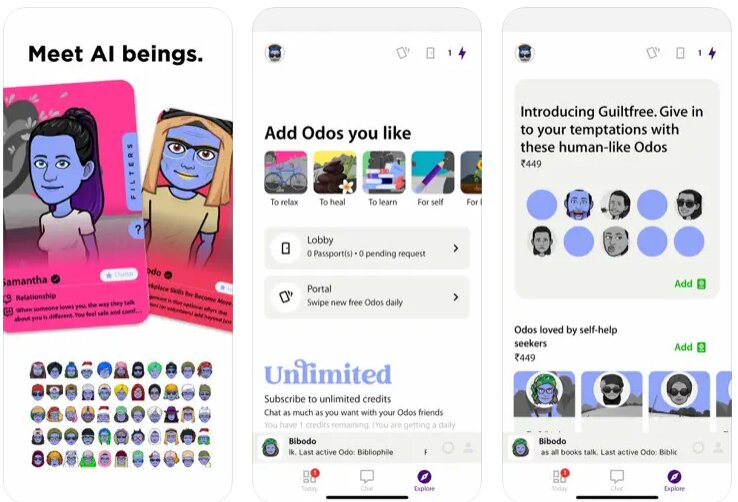 Worrydolls
Are you worried about something? Then try this app, and it will definitely help you get rid of your anxiety. This is artificial intelligence that is designed specifically for people with anxiety.
Being anxious is very unhealthy in our world. When we have such a state, our world collapses, we have procrastination, and depression. Tell the dolls what you think. You will be understood and accepted in this vast world.
The app will relieve you of anxiety, and you will become a happy person. What's more, this app has no ads. Nothing will distract you from harmony with yourself.
Don't be afraid to be honest. All information in the app is securely protected by 3 levels of security. Everything that you write to the dolls is in private chats that will never be hacked. This app has an interesting system of psychological support.
You communicate with dolls that you create yourself. These dolls have their own name. Use the app as a journal. And you can get rid of stress and all unforeseen situations.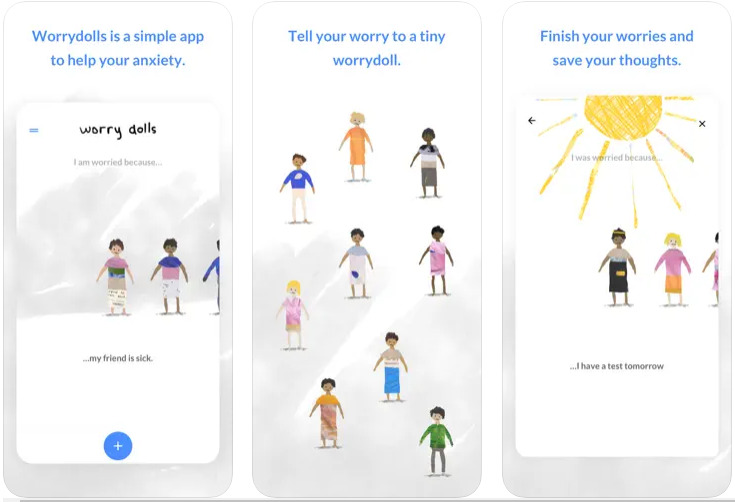 You may also like: 11 Best Virtual Keyboard Apps for Windows, Android, iOS
Rocky: Mindset and Life Coach
Sometimes we need life coaches, don't we? This app will put you in a positive mood. You will be able to get rid of all negative thoughts by setting the goal to be happy. The app trains many personal qualities that help in our difficult world.
For example, you will be able to be more attentive to your environment. The app teaches you how to properly arrange your social circle. You can become successful. The app has an artificial intelligence chat.
In this chat, you can share your problems and ask for advice. Artificial intelligence automatically adjusts to your character and worldview. Moreover, you can read a huge amount of information about peace of mind and how to be happy.
The information is presented in several versions such as text books, video files and audiobooks. Set a goal and the app will track your progress. It's like a game. Gain experience for completing various guides or trainings.
Choose the program in which you want to develop and start your improvement. The app has more than a dozen useful programs for personal development. It is also worth to say that the app is anonymous, so the information is securely protected.
Every day you will receive new interesting articles that will inspire you. It has an average rating of 4.0 out of 5 stars. Try it and join the thousands of people who are worried about their mental health.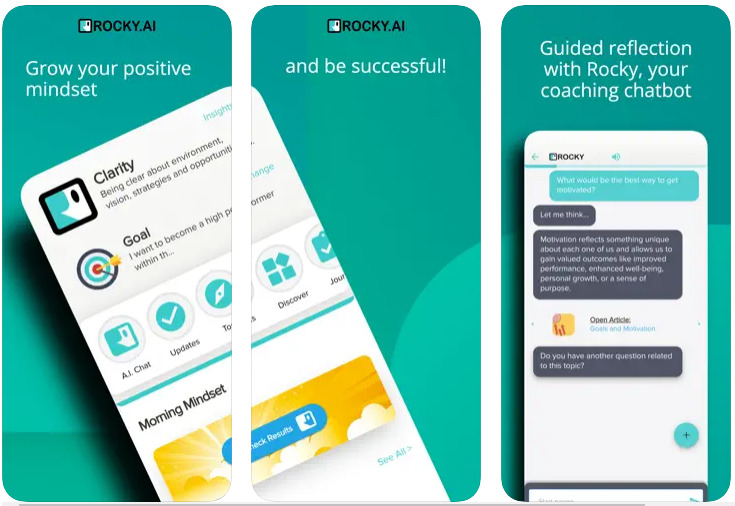 SimSimi
A smile creates wonders. This app allows you to keep up and stay positive. This is a wonderful chat with artificial intelligence that will always cheer you up. If you are bored or in a bad mood, then write a few words to the chat.
You will receive immediate support. At the beginning of using the app, you will need to create your own character. Pixel graphics and simplified design won't irritate your eyes. Some parts of the wardrobe or appearance are paid.
The app has a game currency – coins. You can spend coins to improve your character. Moreover, choose the nature of your character as well as age, gender, and religion. Enjoy conversations with artificial intelligence because all dialogues are adjusted to your preferences.
No matter what time it is, you can always write a message. Another thing that makes the app cool is the interface change. Choose a night or day theme. The app supports more than 80 languages.
It is fully secure. A lot of users worry about using the camera. The developers claim that the app does not have access to the camera of your device.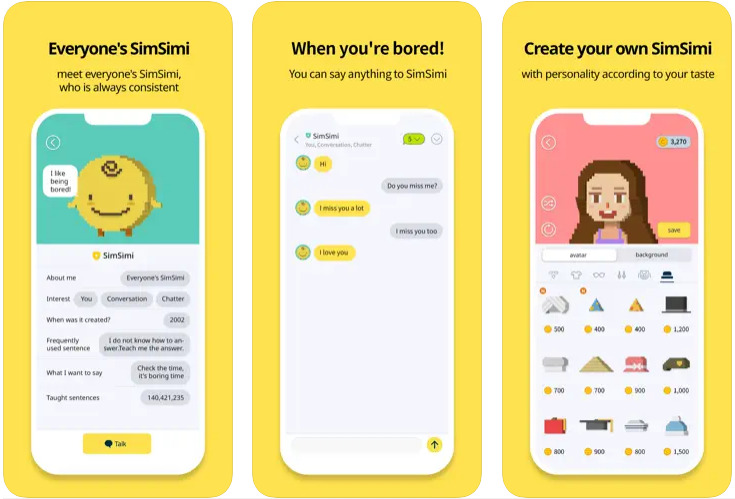 TextingStory – Chat Story Maker
If you are a creative person and love to write books, then try this writing format. This is an interactive chat. This app can be used in filming. It perfectly conveys the realism of the chats. Write a dialogue in the app and create a video.
Share this video with your friends and wait for their reaction. You can come up with various funny situations or tell your secrets. What's more, the app supports pictures and videos. It will make your chats even more realistic.
If you have a group chat, you can switch between people in it. You just need to select the profile of the person you want to send a message to. The app has an average rating of 4.7 stars out of 5 based on over 40,000 reviews.
It is loved by many for its simplicity and functionality. Download it and create your own interactive story.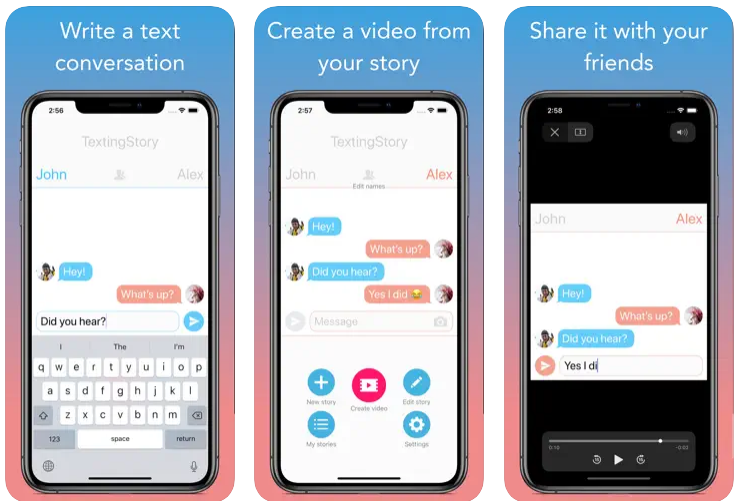 You may also like: 9 Best Christian Chat Apps for Android & iOS
Talk to Myself
Self-talk is able to reveal many secrets and mysteries of our inner mind. All the secrets you've kept for so long can be revealed. Plus, some people keep secrets like a burden. How should we help us?
Just share your experiences with this app. This is an online chat based on artificial intelligence that will talk to you at any moment. You will be given various ideas and inspirational quotes. Firstly, you need to register in the app. You can use Google to quickly register.
Text in a chat. Add various quotes and notes and use them as your personal diary. No one will know about what you write about. This will be your private place. Be frank and real.
The dialogues can be personalized. You can change the bubble color, background color and the font. Add your own hashtags to quickly locate your entries. The app has been installed over 100,000 times.


Swell
The pleasant design of this app will help you calm down and find harmony in your mind. Dark theme and stylish interface will make you feel more important. You can chat on any topic. The app has artificial intelligence that quickly adapts to any topic of dialogue.
Moreover, you can use voice messages as a way. The app allows you to record voice messages up to 5 minutes. If you want to get extra bonuses, then you can invite your friends. This app is a social network where you can find new friends.
Share your emotions and impressions on your feedback feed. Try a global audio community where people share their opinions. The app has a following system. The more people follow you, the more people can see your thoughts. Use the app like a blog.


Huddol – A coach for life
Have you ever had moments in your life when you definitely needed a mentor? This app has dozens of professional mentors that will inspire you to give useful advice. Choose any program and get access to useful information.
Many mentors are artificial intelligence, so their programs will adapt to your preferences. Target your goal and become a master of changes. You can create habits that will completely change your life. Use the journal to discover wisdom.
Each day, you will be given small tasks to get closer to your soul. What's more, the app has huge chat rooms to discuss various issues. It will make you feel needed and respected. 1000 daily mental health podcasts are coming out in this app.
You can overcome negative thoughts, build strong character, and say goodbye to anxiety and depression.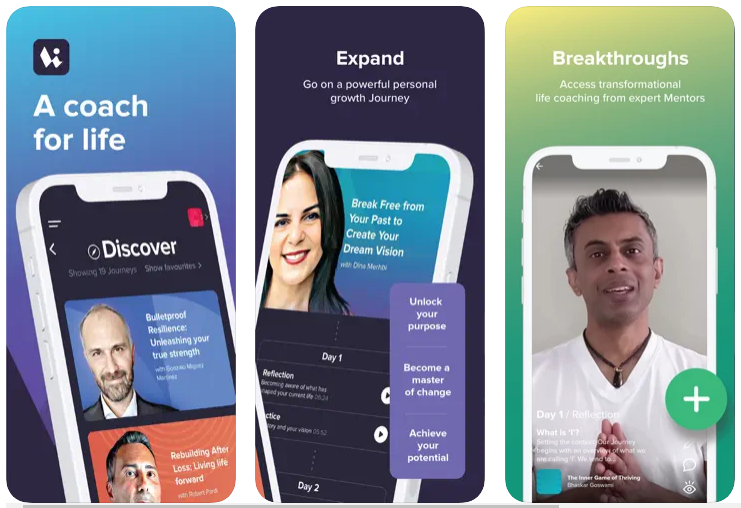 TalkCampus
This app is specially designed for students. Many students struggle with exam anxiety or nervous breakdowns. It is very common for students to wake up in the morning and fall asleep during their classes.
At this moment, they need the psychological help that the app provides. You can express whatever you feel. Customize your profile to fully express yourself. You can upload your photo, write a quote, and create your nickname.
The app uses interest filters to show what you're really interested in. Check the boxes for the topics you are interested in such as LGBT, health, hope, animals, mental health. You can post under your name, or be anonymous. It all depends on you.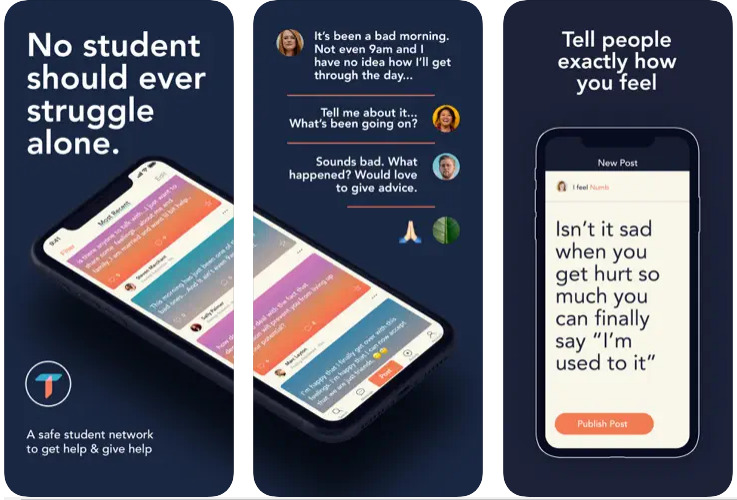 You may also like: 15 Free Local Chatting Apps for Android & iOS