If you have long wondered "how can you edit a PDF file" then Win PDF Editor software is ready to help you edit the contents of PDF files. To work, download the utility and install it on your computer. No registration is required.
The first page of Win PDF Editor will prompt you to select the PDF file you want to edit. Users will love the convenient arrangement of icons and functions that can easily find on the top control panel. The software is supported by most computers, which are especially good.
And in case you are editing a document, but you don't have a physical keyboard, you might get a virtual keyboard – just check out these apps.
In Win PDF Editor, the interface is divided into 3 parts. The first part is the main control panel. The upper control panel contains all the most necessary functions such as "Open PDF" "Save PDF" "Add Text" "Add Image" and so on.

Win PDF Editor's left section will allow you to select the desired page and start working with it. In the center, there is a working control panel where the text is highlighted. Win PDF Editor has its own technical support that will help you solve the problems encountered and find alternative options for you.
Technical support specialists respond in a short time of the day. The restrained and pleasant interface design is made in pleasant shades, which will allow you to focus on editing PDF files, there are no distracting elements here.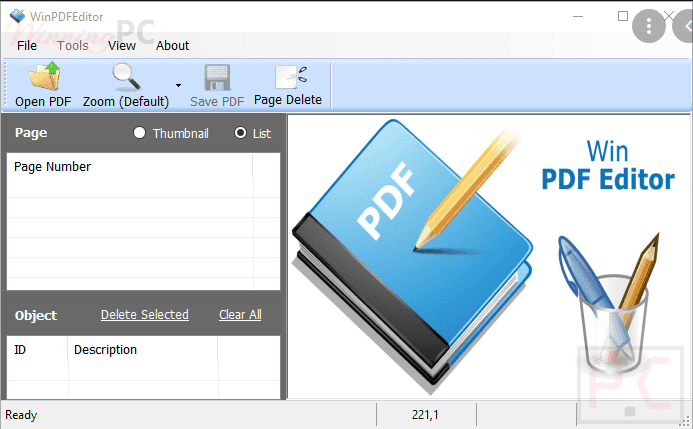 By clicking on the "Open PDF" button, the software will prompt you to select the file you want to edit.
The "Add Image" function will add the photos and pictures to your file. "Select" will allow you to select the required amount of text for further work.
Even a novice user can understand how Win PDF Editor works. Win PDF Editor designed intuitive and simple.
You don't need any additional knowledge to get started. Overall, Win PDF Editor is a unique program that allows you to edit various file formats such as JPG, PNG, GIF, BMP, and TIF.
Create more PDF files by converting JPG images to PDF.
The program allows you to add quickly an image to a PDF file and select the desired size. Win PDF Editor offers a rotate function, so you can easily rotate the page 90, 180, or 270 degrees. Consider it the best file editing software!