Messengers today are the main means of communication. Any issues, whether personal or business, are solved in WhatsApp, Signal, Telegram, and other messengers.
Sometimes you need to get all the people together and this can only be done online, but not all services provide such an opportunity. Here we have reviewed for you the best group messaging apps, each of which has its own advantages.
Furthermore, we recommend these best apps like CallMultiplier for Android & iOS for those whose business is built on the calls systems.
WeChat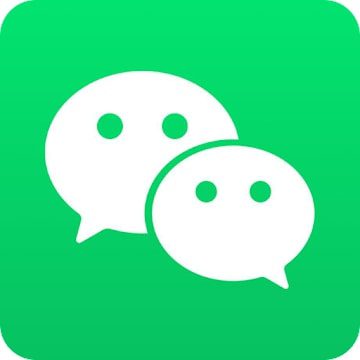 WeChat is a feature-rich messenger from Chinese developer Tencent. It is available for installation on all popular operating systems.
With WeChat, it is possible to exchange instant messages, as well as to exchange video files, music, photos, and text documents.
In the arsenal of the application, there is a large set of stickers, from which you can collect your own collection.
With the application, you can also make video calls, make free calls between users of the application and leave voice messages.
The program allows you to create group chats. This is convenient for business correspondence or for personal communication with friends.
In WeChat, you can easily create official accounts, which is very convenient for many organizations. The app helps them promote their activities, find new customers and collect feedback from regular visitors.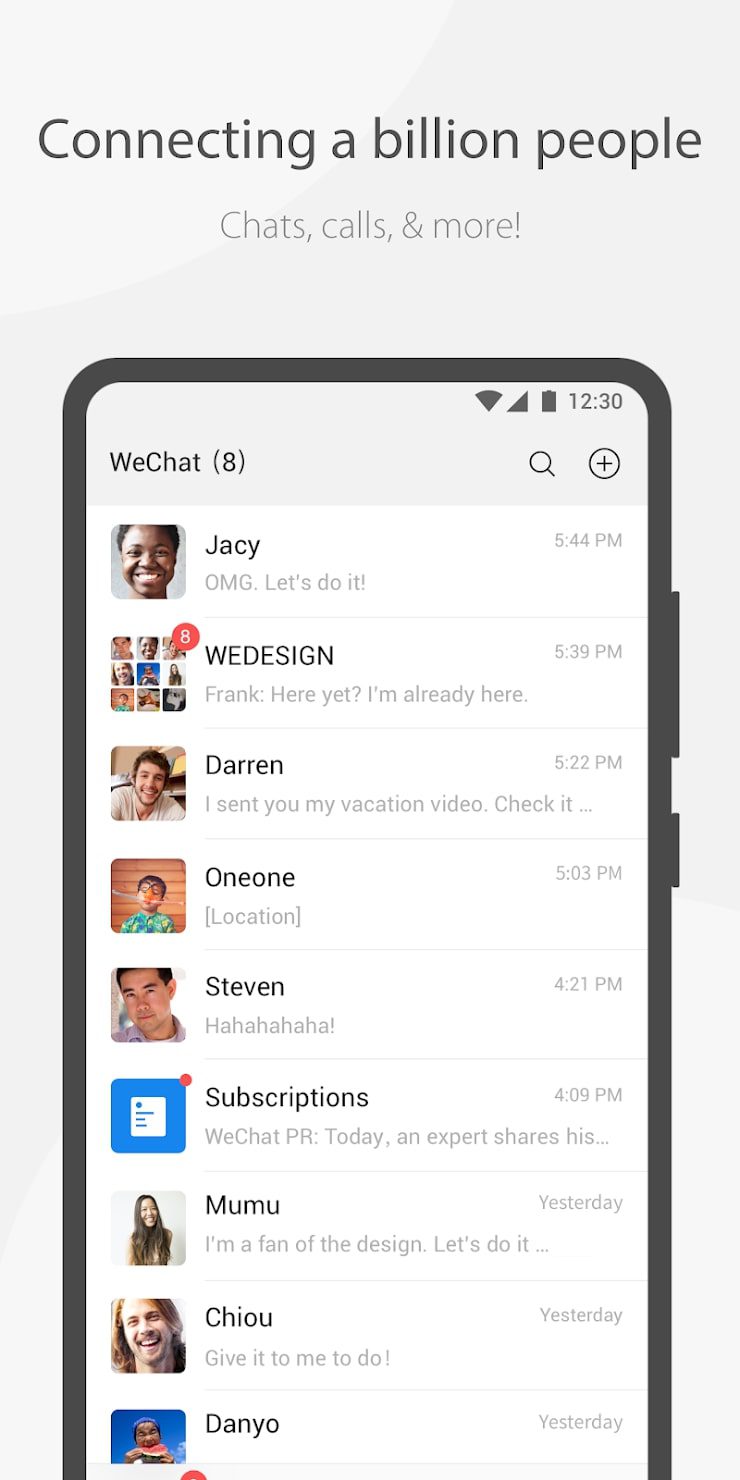 It also offers very original ways to get to know each other. For example, the app shows all of the people closest to your location with whom you can start a conversation.
You can also write any message that will be sent to a random user. If he is interested in you, you may find a new interlocutor.
Another interesting feature is the use of messenger as a social network. First, you need to register with your phone number. Then you can add your friends to contacts, and then view their news feed, leave and receive likes and comments.
It is possible to search contacts not only by the phone number but by the ID – the analog of the login, which is given at registration.
The second variant of search is a QR-code on the account, which can be created in the application and shared in other social networks. After your friends use it, the app will add them to your contacts.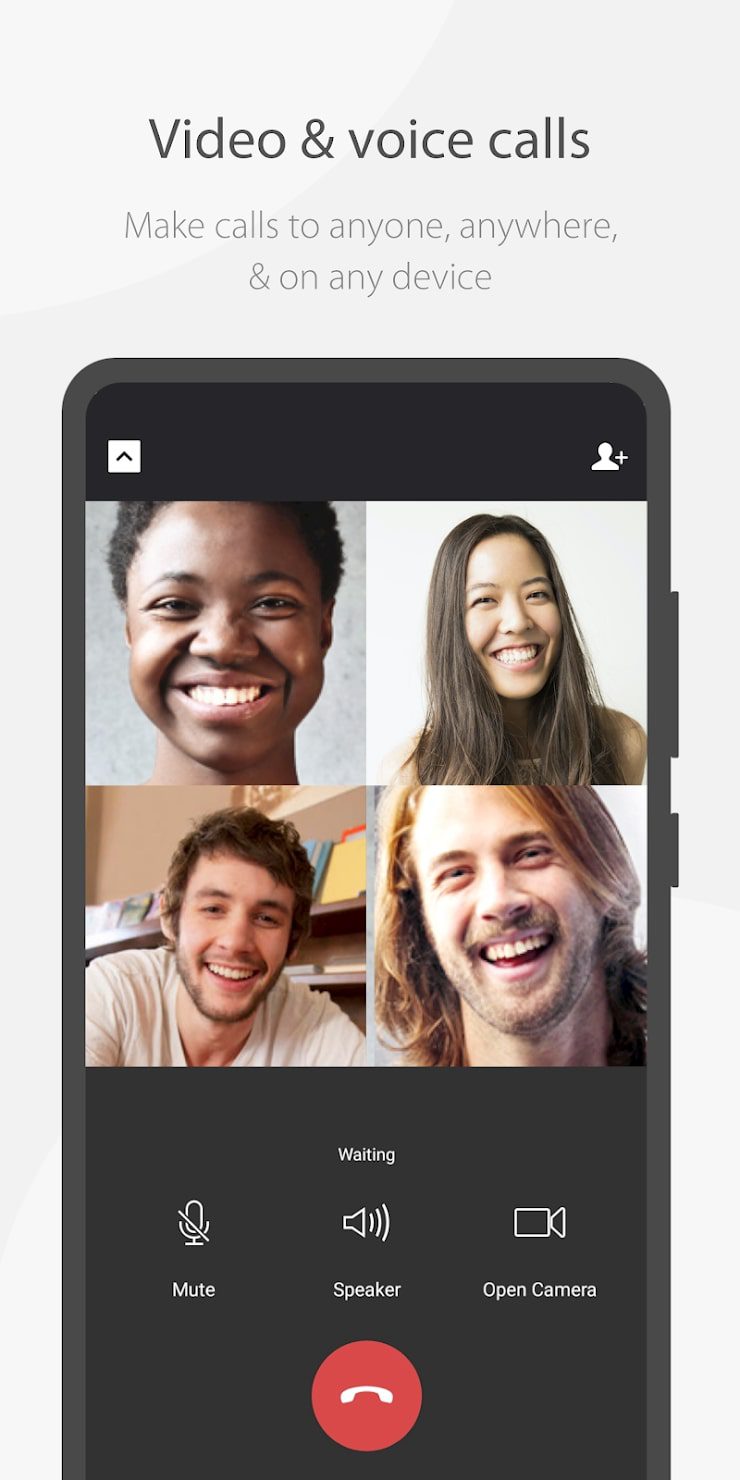 Wechat is a handy app that allows you to communicate in any way you can. The interface of the program is simple and intuitive.


You may also like: 7 Best Message Theme Apps for Android & iOS
GroupMe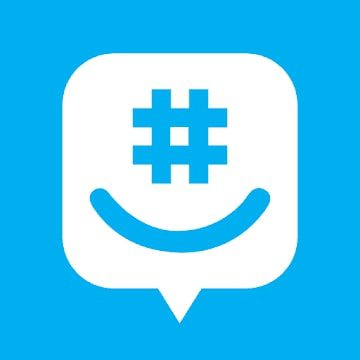 The GroupMe app is available all over the world. It works in the browser and on cell phones.
You download the program, register, and can create conferences, search for already created groups, and chat with people.
The cross-platform nature and the ability to use chat from your browser make the app more mainstream and frequently used.
This app is able to store a certain number of messages in the cloud and synchronize history when a new device is connected.
That is, you do not need to keep your phone or tablet turned on all the time to be able to read all the messages of the chat. They will be downloaded automatically when you connect to the network.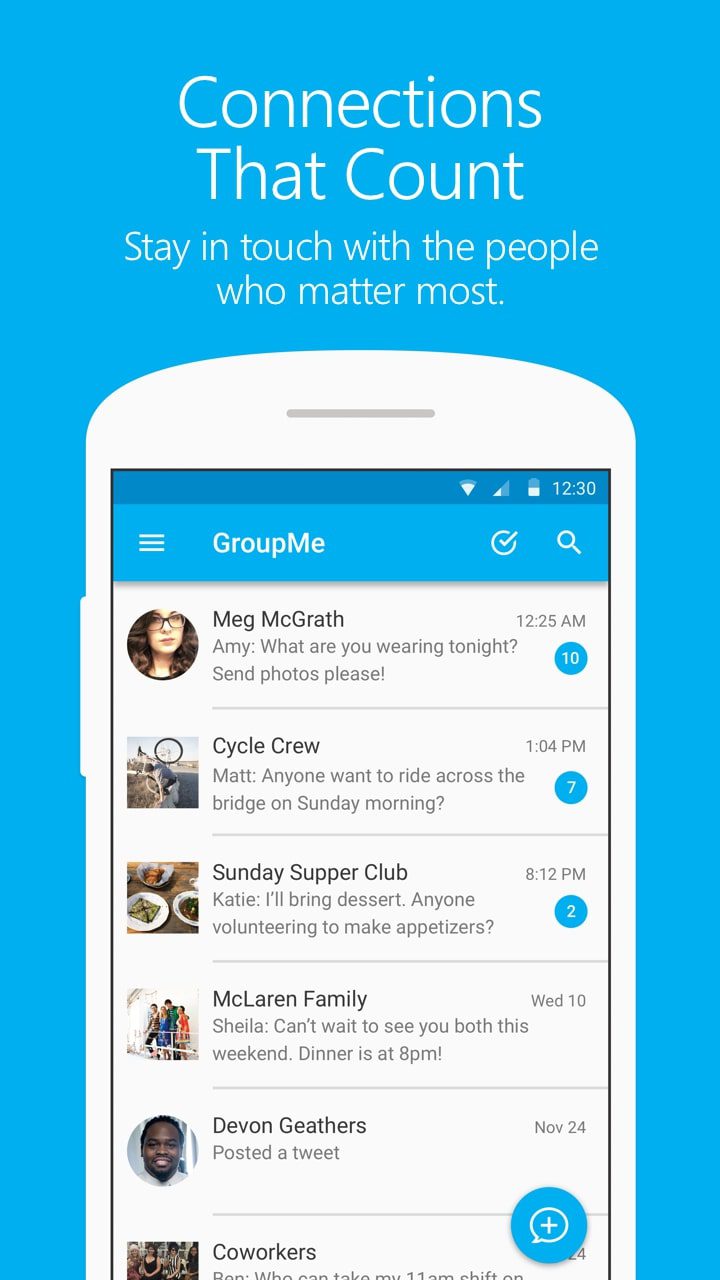 The application not only has a bunch of technical advantages. There are also some design features that are also very happy for active users. The program is very easy to use and brings a lot of fun and opportunities for chatting in groups.


Textra SMS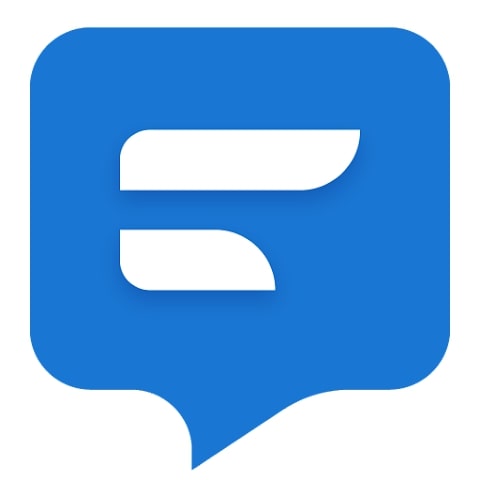 This app will modernize and improve the process of communicating with friends and family via messages. It allows you to create different background and interface themes, including dark ones.
You will also be able to quickly send photos that were taken in real-time. There are group messages that can be shared by all users among themselves.
Block and add unwanted users to a blacklist. Videos and photos will be compressed into the format you need to send them. The content will not lose its quality.
Through the app, you can also share links, files, documents, and other materials. Customize the theme and appearance of the interface, the sound of notifications, the color of text blocks, and much more.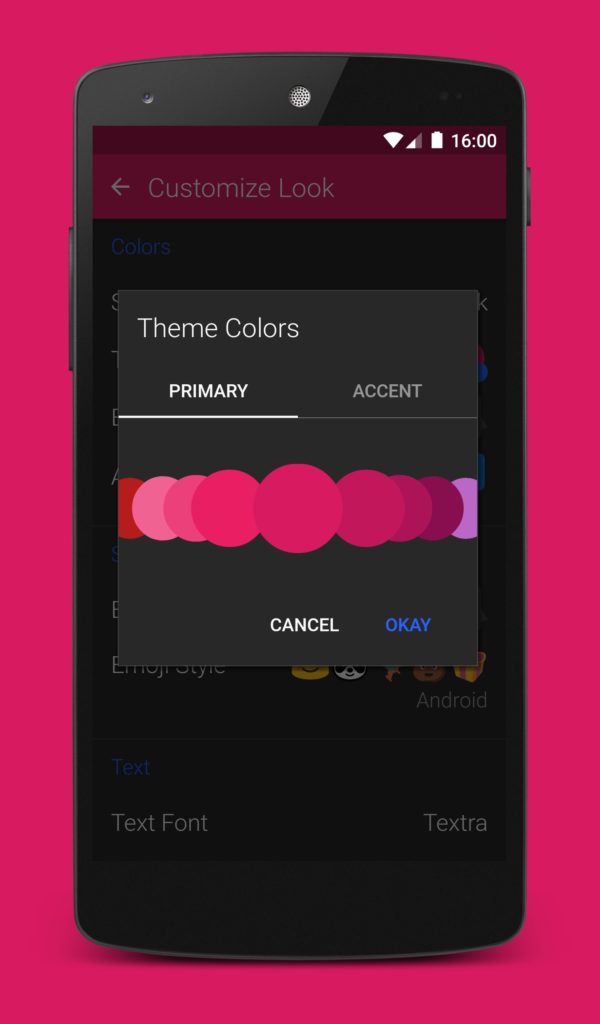 Absolutely all the features will be free and available to you. So you can use the program for your own purposes without limiting yourself to anything.

Messenger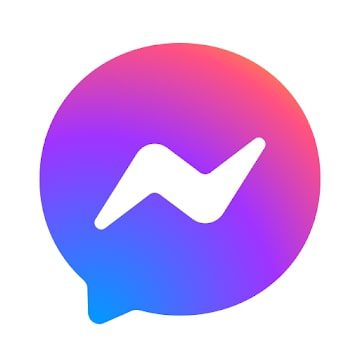 Facebook Messenger is a very convenient and popular messenger from a well-known social network. You will be able to register via Facebook or using your phone number.
As soon as you finish the registration process, the Facebook Messenger menu will open in front of you. Here everything is very simple: your chats, calls, groups, contacts, and settings.
Chat is a regular list with thumbnails of your contacts and the date of your last communication.
When you call a contact, you can put them on speakerphone, turn video transmission on or off. When you receive a call, you have the options to reply with a Facebook Messenger message and a call reminder after 30 minutes, 1 hour, and 8 hours.
The groups' tab is where you'll find your chats with three or more users. Then there is the contacts tab, which synchronizes your Facebook friends with the messenger. And here you will find not only those people who use Facebook Messenger but also those whom you can invite to chat.
The messenger settings will allow you to change the way you receive photos and media files as well as the way you organize your contacts.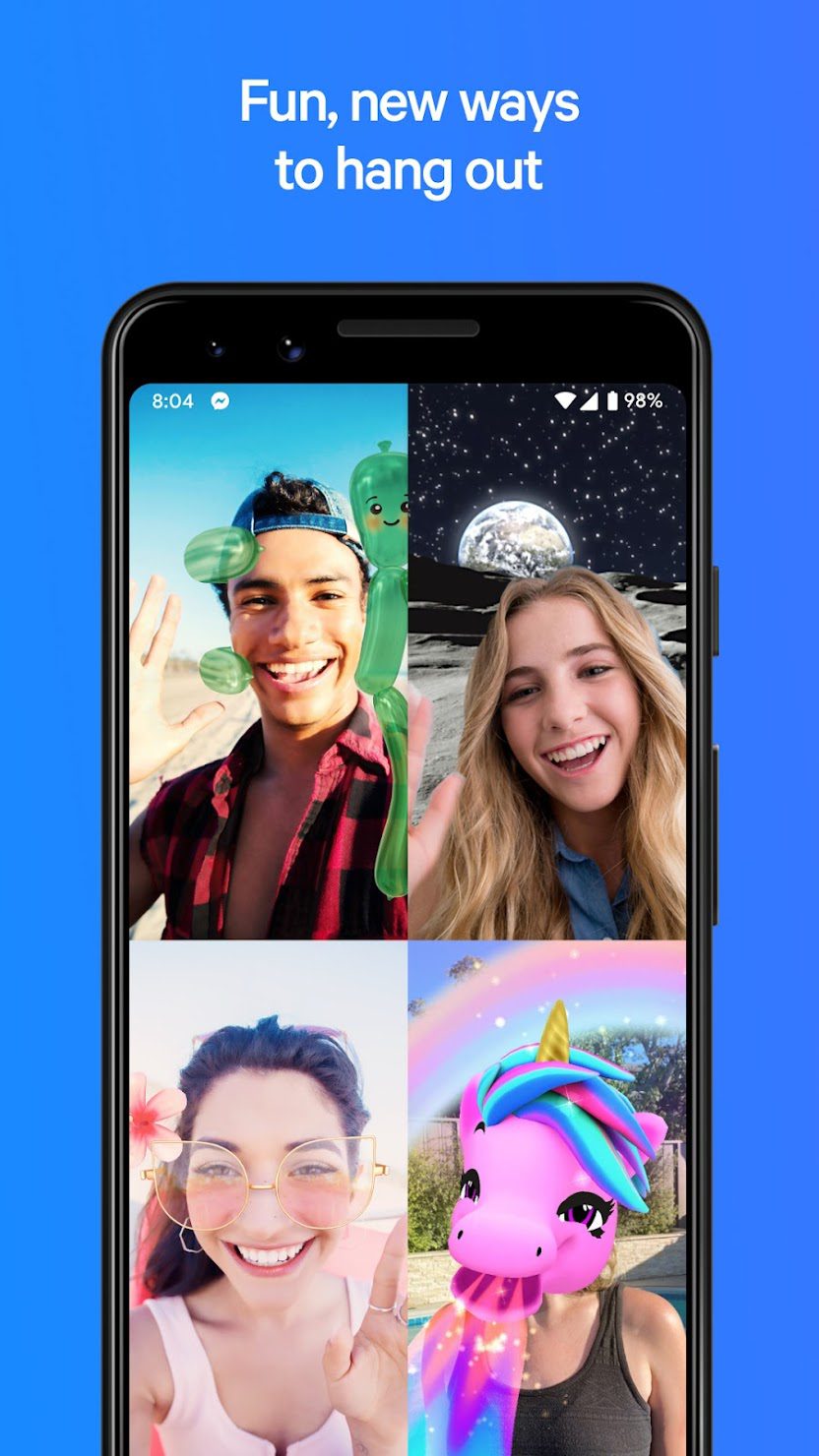 GIF for Messenger is a powerful collection of ready-to-use animations on a wide variety of topics. Each gif is tagged to have tags assigned to it, so it will be easy for you to find exactly what you need at a given moment.


WhatsApp Messenger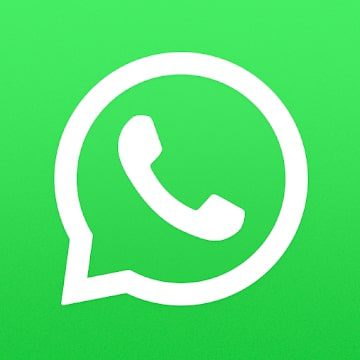 WhatsApp messenger is great not only for normal communication but also for creating groups.
WhatsApp creates an account based on your phone number, scans your phone book, and adds registered users to your contact list.
Tap on a contact to open a chat window with that contact. Next to the avatar is the time the contact was last online.
In the upper right corner are the "attachment" and "emoticons" buttons. You can insert a picture, video, voice recording, contact card, and your location into your chat.
When you send a message, a checkmark appears next to it, indicating that delivery is complete. When the recipient reads it, a second checkmark appears next to the message.
The "WhatsApp Call" feature allows you to call your friends using the app for free. It is enough to have an Internet connection.
Also in this app, you can set the visibility of personal data: profile photo, status, and last visit. If you want this information to nobody, then go to the menu "Settings" – "Account" – "Privacy" and select the item "Nobody".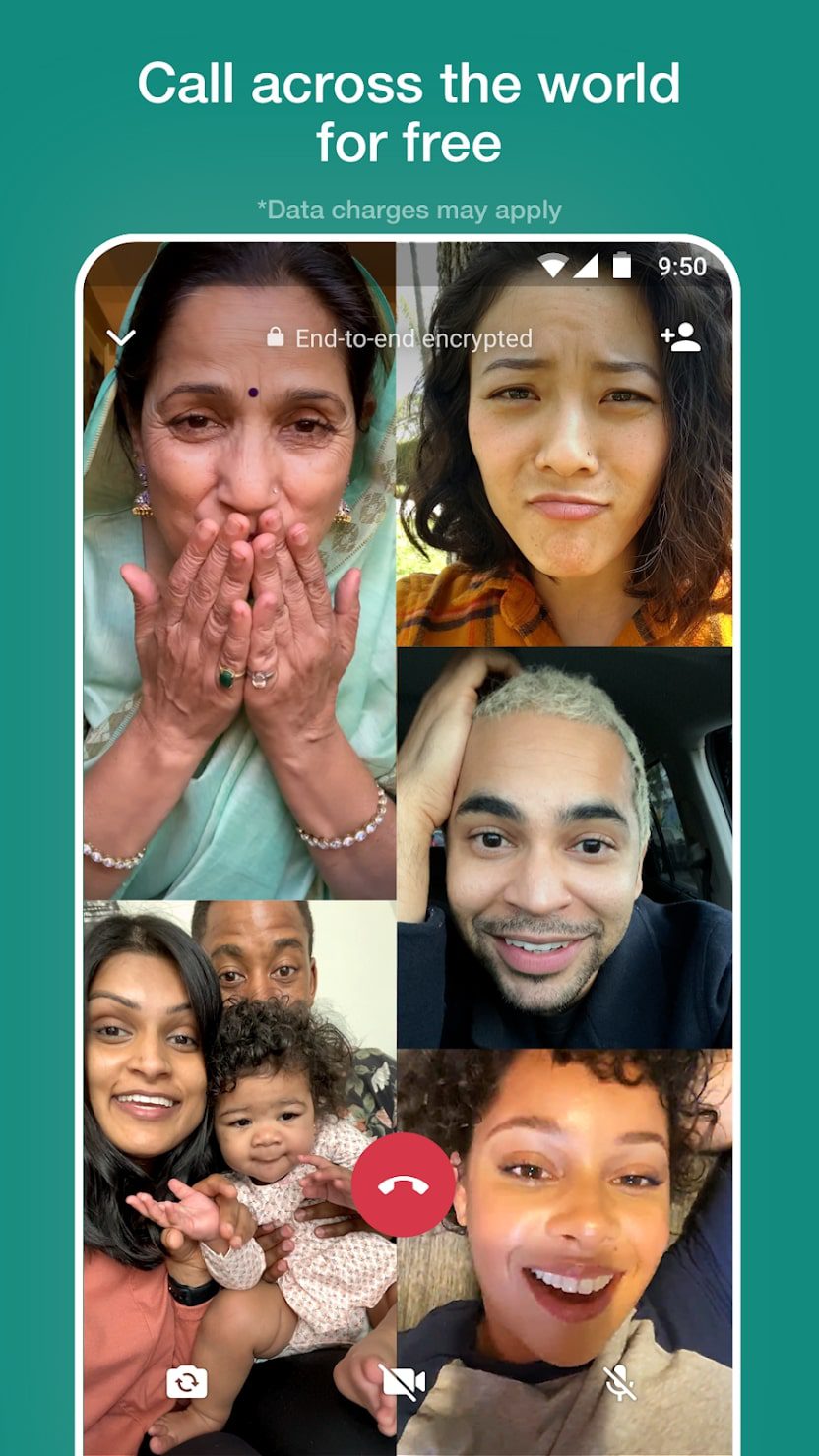 The convenience of using the program directly depends on the number of friends and acquaintances also using WhatsApp. It is worth noting that WhatsApp does not need to be specifically run to "be online". If a message comes in, it is automatically delivered to you.


You may also like: 11 Best Free Sticker Maker Apps in 2021 (Android and iOS)
Gem4me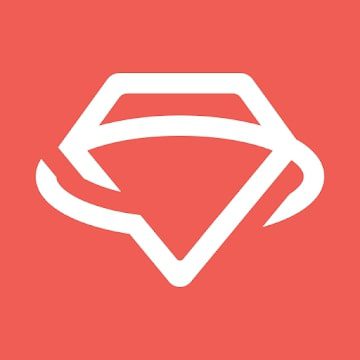 Gem4me is a messenger that adapts to all user needs, from personal to business communication and commerce.
In Gem4me chats, you can correspond, edit and delete messages, exchange files, make audio and video calls.
The group chat option is useful because sometimes you need to chat with more than one person. If you want to include others, you can create a group chat and give it a name.
Attach a picture to it and give other details. For example, what this group chat is about and whether you want it to be public. You can also add tags if you like.
Besides, in group chats, you can start a managed conference. Each participant must get permission from the administrator to turn on the microphone or screen display.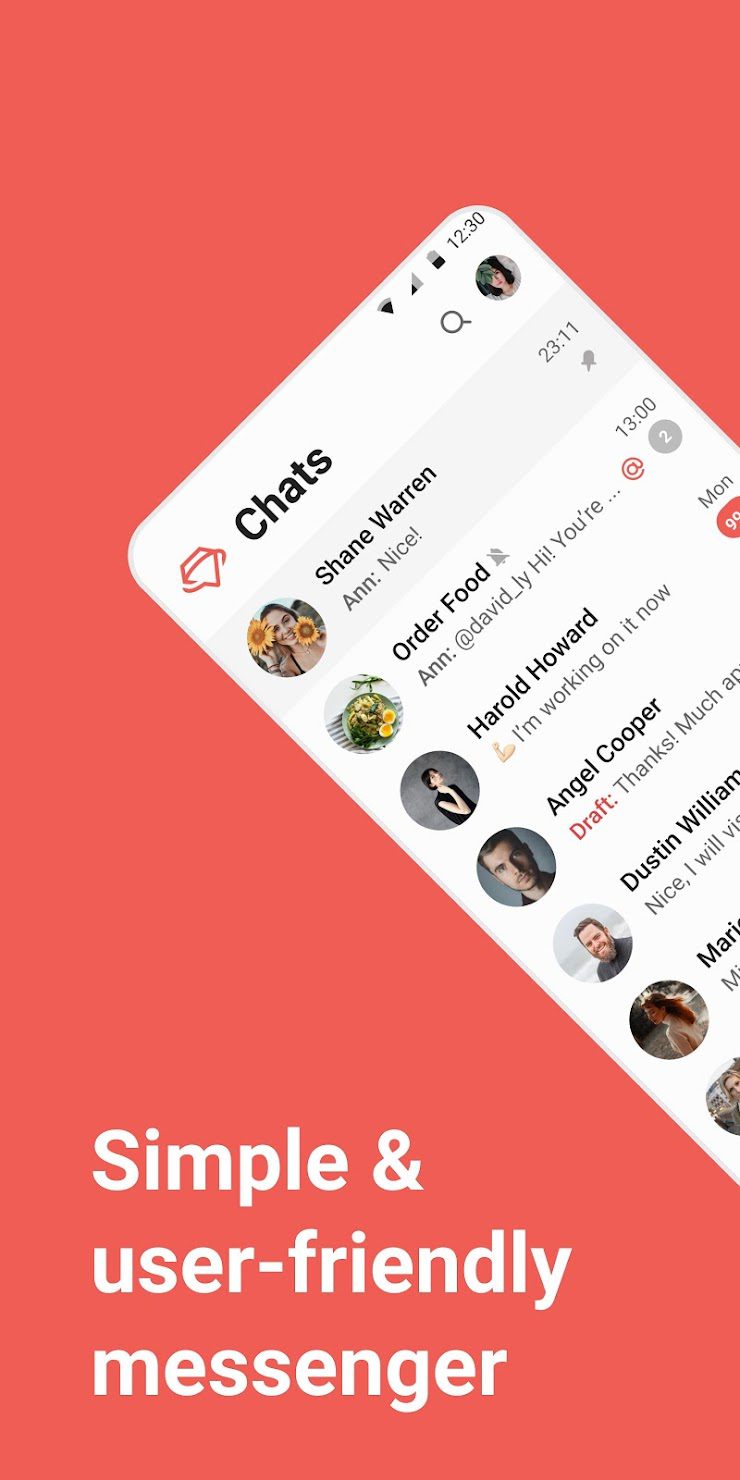 There are no limits here. Another difference from other services is the huge capacity of group calls: up to 1000 people can take part in them.
The Gem4me app pays a lot of attention to data security. The communication between users is realized via Peer-to-peer channels.
It means that the data does not end up on the application servers but arrives directly to the chat participants. For calls, this means not only security but also faster and better connection. The advanced functionality and strong data protection make Gem4me a suitable app for business.
The app has push notifications that can be enabled for the entire app as well as for each chat. In case you don't have push notifications enabled for the whole app, then in any of your chats, you can open a pop-up menu.
Click the three-dot button in the top right corner and you'll see a toggle for notifications. By turning it on, you will receive push notifications for that chat.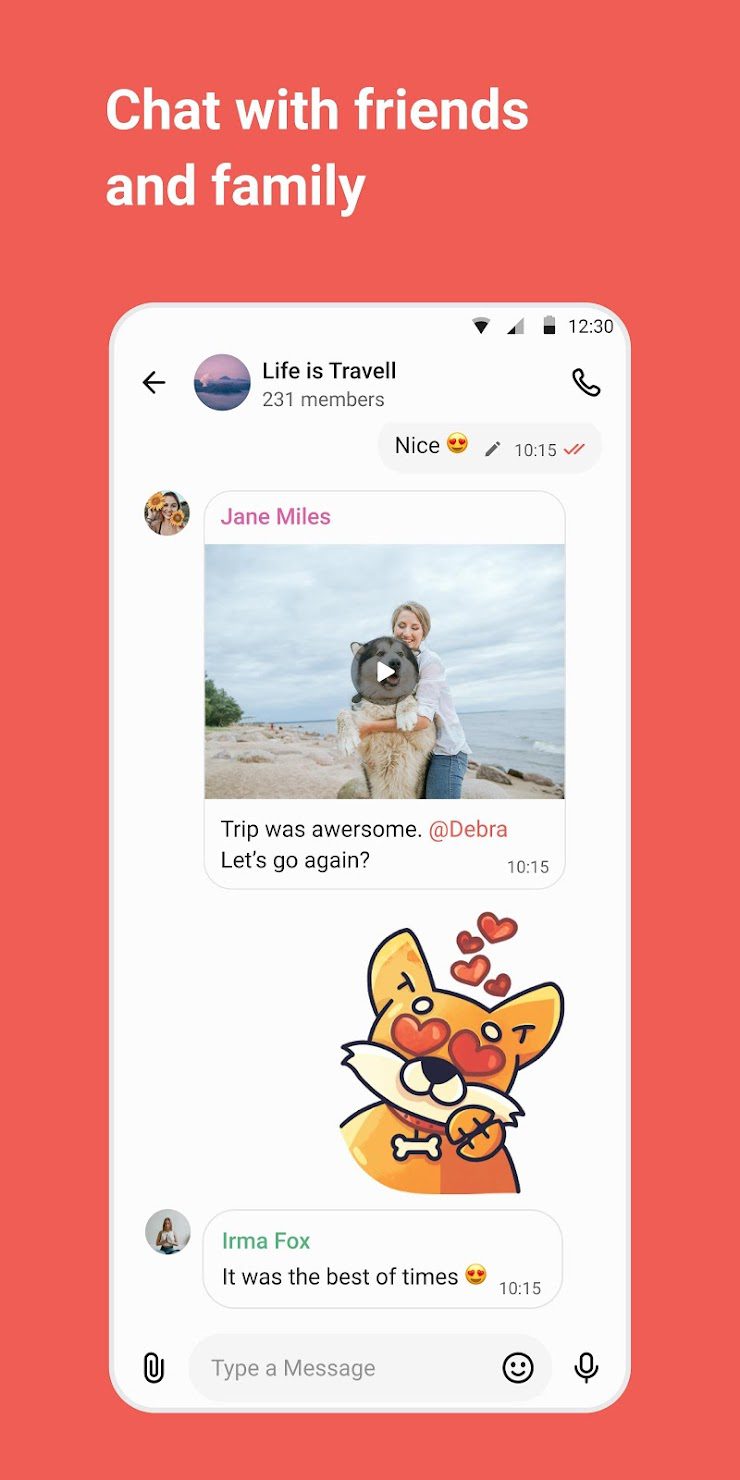 If you compare Gem4me to other similar apps – it has a lot to offer users. If you need to try a new messenger, this one might be right for you.


Telegram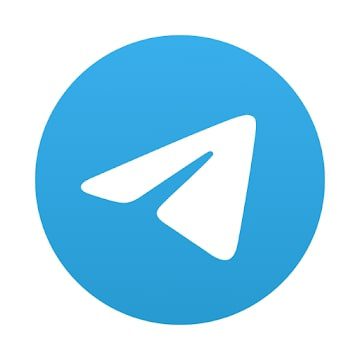 Telegram is a very popular messenger. You will be greeted by a welcome screen, where you are invited to get acquainted with the main advantages of this messenger.
Next, enter your number to register your account. After the SMS arrives, enter your first and last name, or any other nickname.
All settings are in a small account window, where, in addition to personal data, you can set up auto-loading media.
Here you can create stickers and send them to the bot for approval, then you can share your own creativity with your friends. It is also possible to create a black list, as well as change the list of those who can see the time of your last activity.
You can control open sessions on other devices, that is, you can remotely terminate the application on your computer if you forget to do so. This displays the status of the device, its real name, and even the installed operating system.
You can change the background color of the chat. Several beautiful screenshots are available, as well as the ability to upload an image from the gallery or camera.
Group voice calls are also available here. The feature is called Voice chat. A voice chat can be created based on a public group. It is noted that all participants in the voice chat can launch a video from the webcam and broadcast the event occurring on the screen.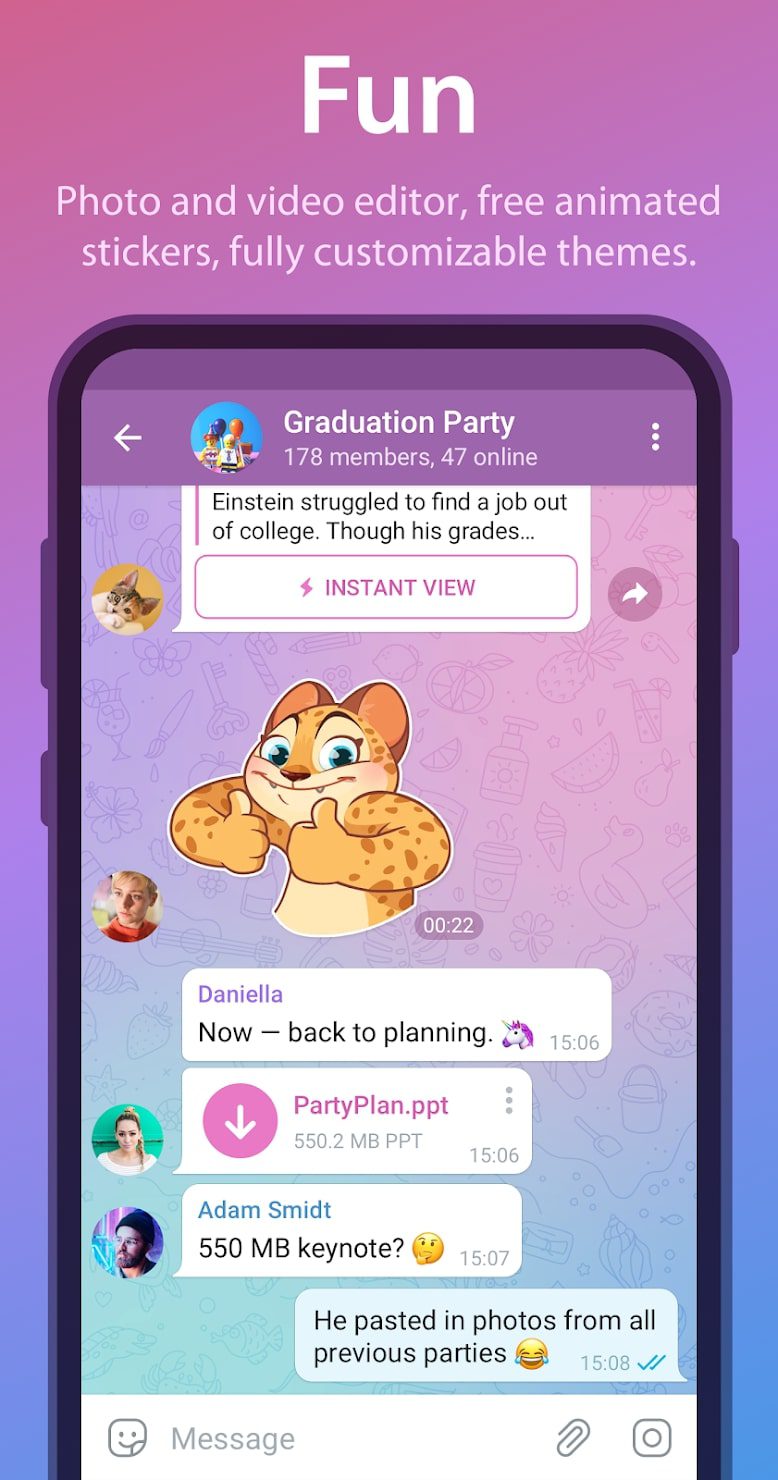 Telegram is a great messenger for group communication. A beautiful interface, minimal system resource consumption, and confidential communication. The ability to send absolutely any media and make your own stickers All this is available in this messenger.


Signal Private Messenger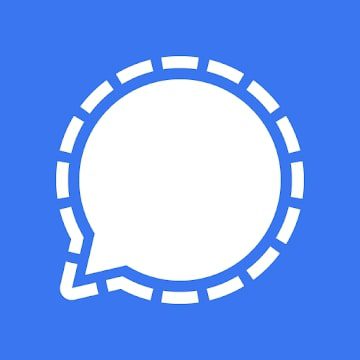 Signal Messenger is an application for encrypted communication that is rapidly gaining popularity.
It can be used as an ordinary modern messenger to exchange messages and files, as well as for audio and video calls. You can be sure of the safety and confidentiality of your correspondence.
Like all modern applications Signal has a minimalistic interface.
The main screen contains only active chats, searches, quick access to sending photos/videos. There's also a button here that you can use to start a new conversation or create a group chat.
In the upper left corner, there is a section with your account and settings.
The main function of the app is chats. Here you can correspond in dialogs or group chats, as well as make calls. What is very important – end-to-end encryption is used for all messages. All messages you send to your contacts are stored only on your and their devices.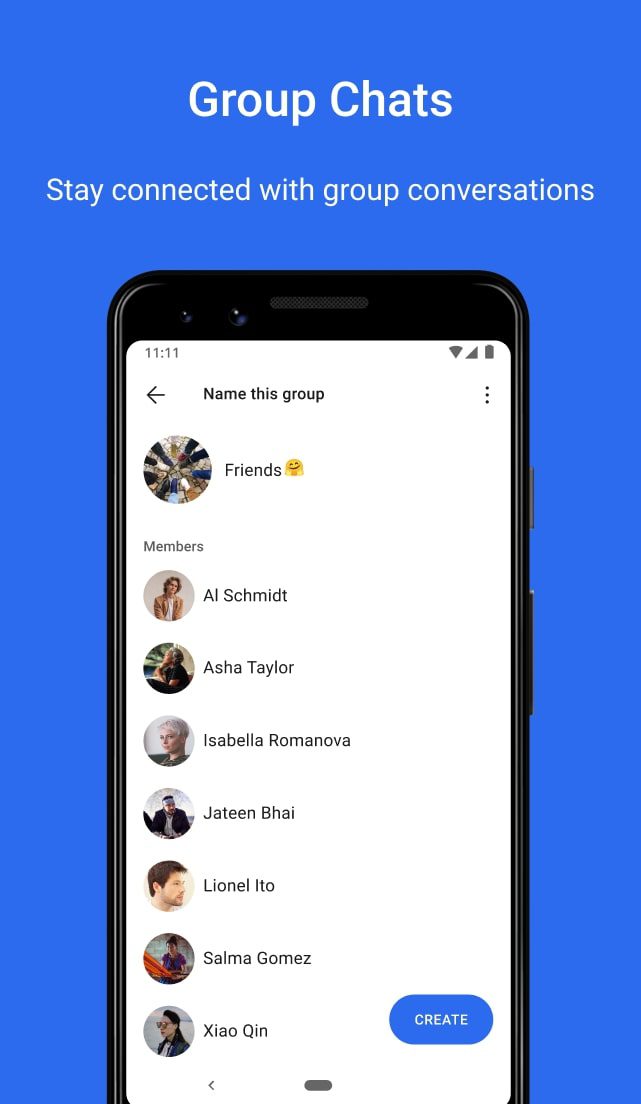 Within three hours, you can delete a sent chat message from everyone. You can also leave emoji reactions to individual messages. In Signal, you can make audio and video calls to your contacts. You can even make conference calls in chats, which is a big plus.


Slack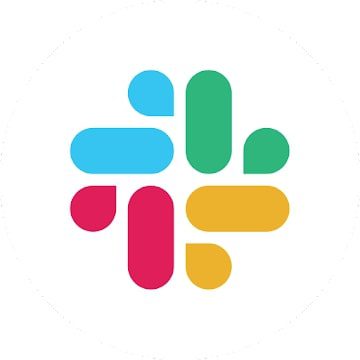 The main advantage of Slack over other messengers is the structuring of information.
It is not just a set of chats and channels, it is a full-fledged working space. Slack helps to solve work issues, structure and store important information.
The first thing you need to do is join your team in Slack. There are two options: you either get a personal link to join, or they join you. Then you'll just need to log into your account with an approved email address.
You can also go to "Find Your Workspace," enter your email address, and find out what teams you can join.
When you enter your workspace, the first thing you should do is fill out your profile. This will make it easier for you to get used to it.
In the menu, click on the workspace name → Profile & account → Edit Profile. Now fill in all the necessary fields: name, title, contact information, add a photo.
There are two types of channels: Public Channels – open to all; and Private Channels – accessible only by invitation. Each channel has its own topic. To create a new channel or join an existing public channel, click the plus sign next to Channels – then select a channel from the list.
When you want to discuss something important in a small group of up to 9 people, use group messages. Each participant is sure to receive notification of a new message.
To create a group message, click the plus sign next to the Direct Messages heading, then select the people you want. Up to 15 people can take part in a video conference here. During calls, you can broadcast your own screen.
By default, Slack turns on all notifications in private messages but turns off notifications in groups. If the group is important, turn on notifications for all messages. In groups, important messages and files are conveniently pinned.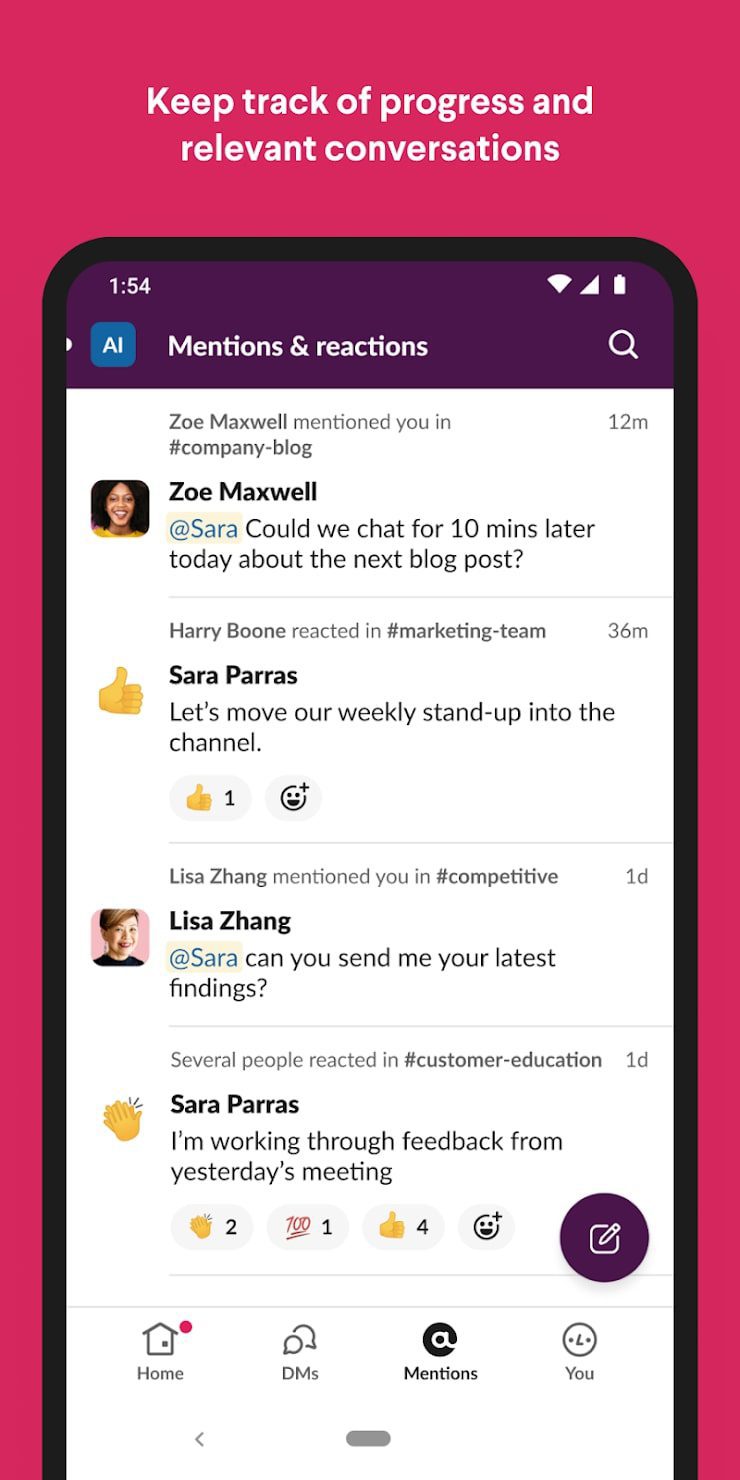 With so much functionality for communicating in groups, the Slack app really deserves attention.


Flock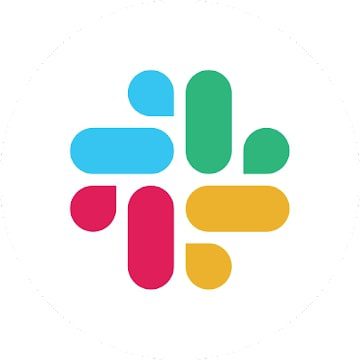 To start using the Flock app, you need to register in it. To do this, enter your e-mail address and click the "Login/Create Team" button.
An email with the registration confirmation code will be sent to the specified email address. It must be entered in the appropriate field.
Fill in the information about yourself so that other users can find you. To do this, enter your name, last name, as well as the operator's code and cell phone number.
After successful registration in the system, you will get to the main screen of the Flock application. Swipe from left to right to pull up the menu. It lists the commands you've created and also has a feature to add new commands. There is also account management here.
Dialogs are located on the main window. Here you can add photos, files, create a poll or a note.
At the top of the chart, you can see icons to turn off or turn on notifications, channel settings, and connected services. You can rename the chat, change its description, and simply add participants.
Flock is a messenger that allows users to communicate through group chats. The creators emphasize advanced chat administration features.
For example, you can make chats public or private. Right inside the chat, you can appoint an executor, set deadlines, assign functions, and so on.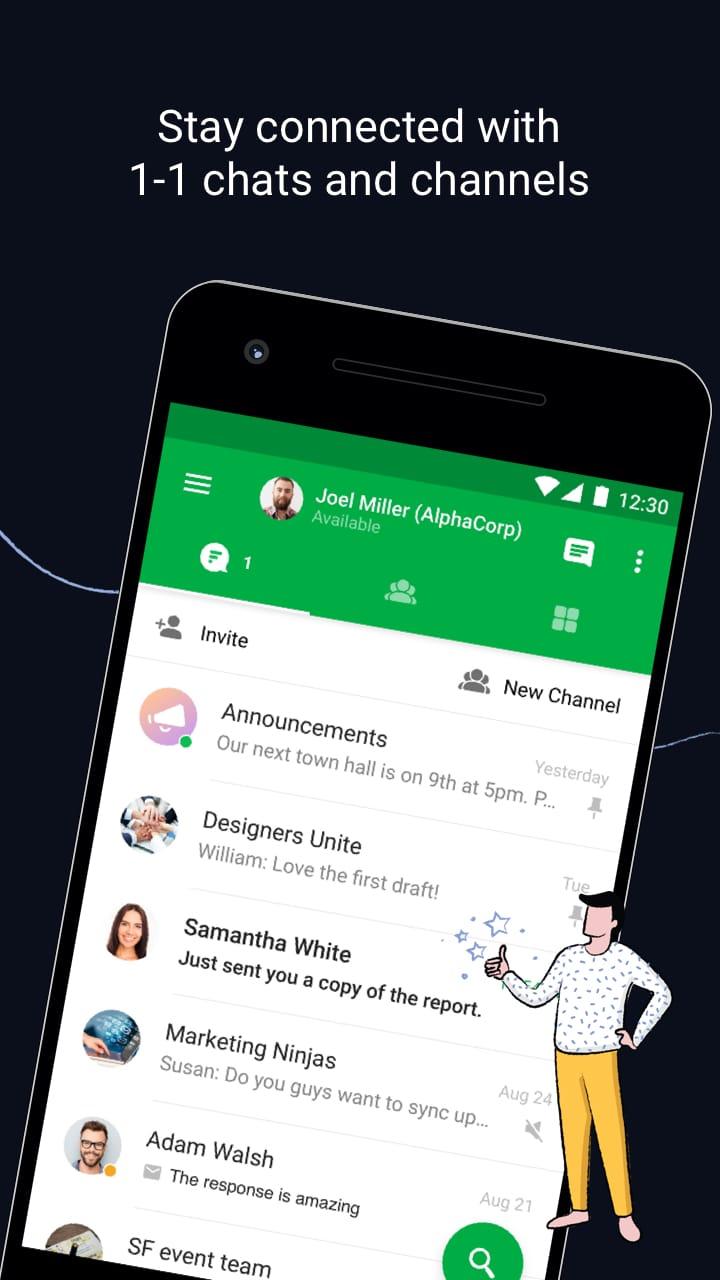 Of course, all correspondence is encrypted and inaccessible from the outside. The history of correspondence is stored directly on Flock's servers. Accordingly, you need the Internet to communicate.


You may also like: 11 Best GIF Keyboards for Android in 2021
Handcent Next SMS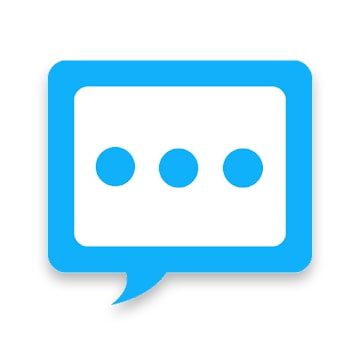 The Handcent Next SMS app has an impressive number of settings, which are divided into several large categories. This makes it much easier to find the necessary features.
After launching the application, you are first offered to get acquainted with the main changes. On the main screen you can see the quite usual appearance of messages, that is, a dialog is created for each contact.
At the top of the main menu, there are two buttons. The key in the left corner allows you to create a new message. The key in the right corner opens a menu for quick access to some of the functions of the application.
A long press on a chain of messages brings up a pop-up window. It allows you to do basic operations with them, as well as move the message to your personal inbox.
You can set up a profile to use the app on multiple devices, add favorite contacts, choose a design theme, and more. There is also a secret chat, but to use it and other interesting features, you will need to be logged in.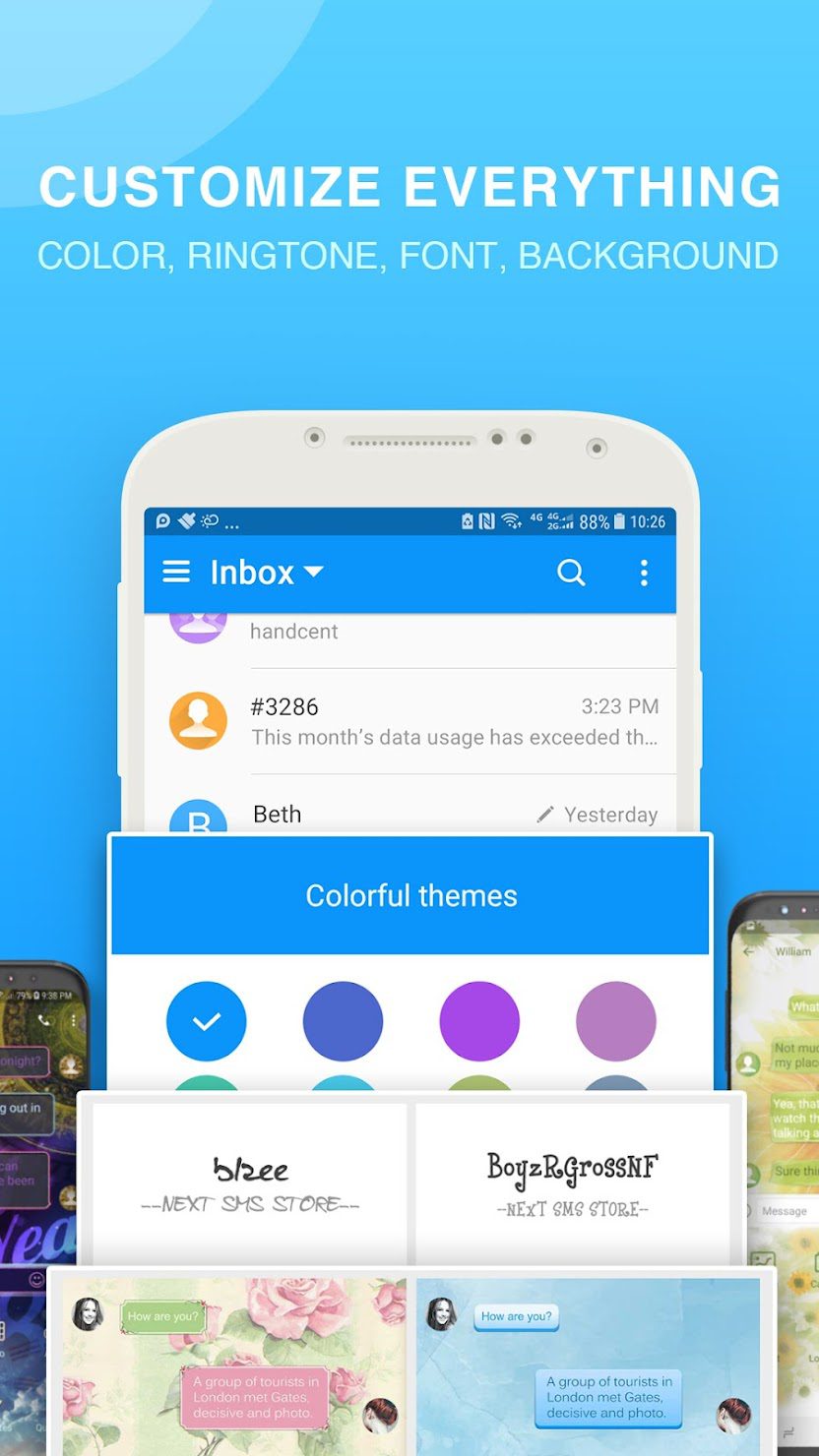 This is a great messenger for creating group chats. All of the above features allow you to go to the next level and gather all the right people in one place.