We all want to take the best pics possible, but sometimes something just isn't right. And though the picture itself can be really good, there are some minor inconveniences that can ruin it completely, like glare. Sometimes you're stuck with it and just don't know what to do.
You may also like: 9 Best Apps to Easily Turn Photos into Sketches on Android & iOS
Glare might look really cool on pics until it outshines our face. Luckily, nowadays photo editing apps can help you to solve any problem with your pictures, and removing glare is not the most complicated task in the world for that. In the article down below you will find the best apps to remove glare from photos.
1. Retouch Me: Body & Face Editor
The first tool that we would like to recommend to you is Retouch Me. This is a free app that is also available for both IOS and Android platforms. We have to admit that millions of users trusted Retouch Me. The app is pretty lightweight, so you can instantly get straight to the subject.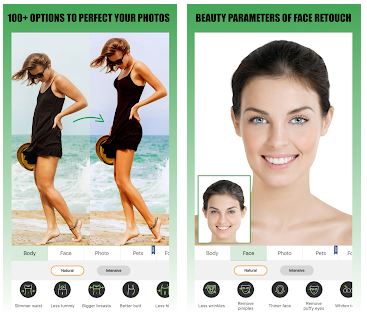 Retouch Me operates steadily and does not hang. Plus, it has a quite user-friendly interface. But how can we remove undesired glare? At first, you should tap on the Face section and select the anti-glare tool. It works automatically, so after a few seconds, everything will be ready.
Additionally, this app even enables you to delete glare from other objects. This is certainly a great advantage! In addition to the aforesaid, in this app, you can also whiten teeth, remove skin imperfections, put makeup, reduce weight or enlarge particular body parts, and so much more useful things!
Another interesting feature there – it supports a great number of foreign languages. No doubt, this is a great bonus! We have not found any significant flaws in this app, except the fact that some users complain that the tech support does not work well.
All in all, Retouch Me is a must-have tool if you want to adjust body or face defects – it fulfills all the tasks!


You may also like:
2. PhotoDirector Animate Photo Editor & Collage Maker
PhotoDirector is our next extremely popular app. It is full of various useful options. So, let's read more about them!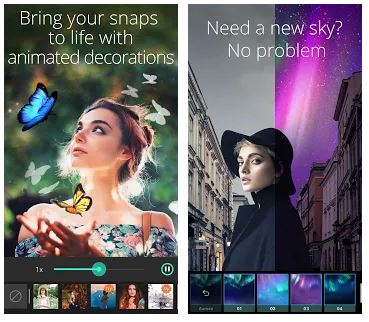 If you want to get rid of unnecessary glare, you should use the retouch option. The app allows you to adjust the size and choose a preferable saturation level. After that, click on all the glares one by one. By the way, as the previous app, PhotoDirector allows you to erase glare from glasses as well.
Moving on, the app comes with a modern design that makes its interface quite easy to manage. As for the additional features, this app allows you to apply various animations, create collages, use a great variety of special effects and editing tools.
We have to admit that some users complain that the app lags from time to time. For us, there is only one significant drawback these – irritating ads. But you will not find any ads if you purchase a paid version.

3. Photo Retouch – Blemish Remove
Do you want to try a quick and simple retouch tool? In this case, we have to provide you with Photo Retouch. Photo Retouch is not very popular, but it is very simple to navigate. It does not take much storage space, so you will quickly install it. Plus, the app works fast and does not crash.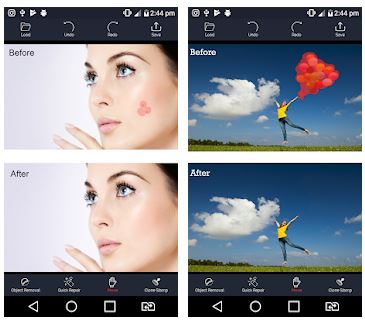 The major advantage of this app – it allows you to quickly and easily erase all imperfections on the face. So, now you can get rid of spots, pimples, and glares in several seconds!
By the way, Photo Retouch boasts a well-developed design that guarantees an intuitive interface. So, you will not have to face any difficulties while using this app. Moreover, the app allows you to delete unnecessary objects from the picture. Many users will find this option very useful!
In general, Photo Retouch attracts by its simplicity of usage. Therefore, we can surely say that this tool will suit everyone! Among the disadvantages we have to mention that like the previous app, this one comes with irritating ads.

4. AirBrush
AirBrush is another full-fledged app that will help you to remove issues on your body or face. The app is extremely popular on the market. It does not weigh much, so you will not waste much time on the installation process!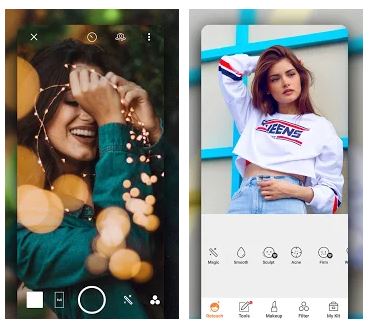 AirBrush contains a wide range of imperfections removal functions. The best part of this app-it allows you to delete glares both automatically and manually.
Moreover, you can delete flashes not only from the face but from other things as well. For this, you will need a retouch brush. Like in the previous app, you can adjust its size and click on them one by one. After that, the app allows you to use color corrections.
Besides the mentioned above points, we would like to highlight some interesting features. So, in this app, you can remove undesired spots, whiten teeth, reduce or add volume to particular parts, edit pictures, and a wide range of other options!
Overall, users like this app however some of them complain that sometimes it hangs and worsens the picture's quality.


5. PrettyUp – Video Face & Body Editor & Selfie Camera
Now we are going to review our next multifunctional editing tool – PrettyUp. This app is not very popular, but it is quite lightweight. So, the installation process will take only a couple of seconds!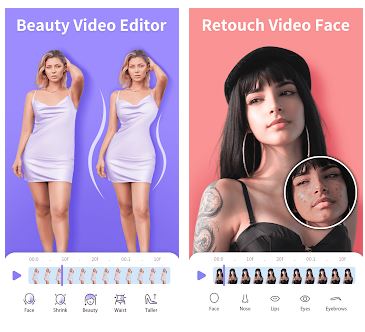 The major task of this app – it lets you retouch your face and body as on the pictures as on the videos. This means that you can remove wrinkles, pimples, and flashes. Plus, we have to mention that the app provides a completely natural effect!
There is nothing difficult in this app, as it has an easy interface. All you need to do – just select the face section and the app will automatically remove all undesired objects from your face.
By the way, PrettyUp allows you to add various special effects, change shape parameters, edit pictures and videos, and so much more options are waiting for you!


You may also like: 8 Best Apps to Animate Still Photos on Android & iOS
6. Fotogenic: Photo Editor
Do you want to get rid of all imperfections on your face? In this case, we have to advise you to try Fotogenic. This is a stable and reliable application that runs very well. It does not glitch or crash.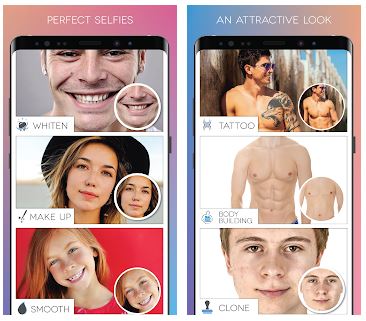 So, Fotogenic allows you to easily erase all unnecessary things from your face by using a smoothing tool. Then, you can choose a preferred level of intensity. Plus, the app fulfills this option automatically!
Besides, the app offers you a cloning tool and focusing tool that will also help you to remove glare from pictures. Or, you can even try shadow alignment for this.
Moving on, Fotogenic comes with a magnificent design that provides convenient navigation. However, some users faced lags while saving pictures. To conclude, Fotogenic is an excellent solution. Hurry up to try it, we believe you will not regret!


7. Snapseed
Snapseed is another alternative that offers a wide range of editing functions. More than 100 million users downloaded this app! This tool is free and lightweight. It operates without any lags or bugs. So, how can we get rid of the glare effect?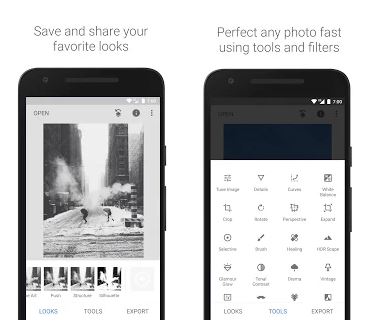 When you choose a picture, click on the Tools button at the bottom of the screen and select Healing. After that, you can remove glare from the picture by zooming option. When everything is ready, tap on the checkmark button.
By the way, you can also try Details and Tonal Contrast options. The first one will make the objects much acute. But Tonal Contrast will enhance the shadow effect, so you just need to select a necessary area with flashes.
And the last one, Snapseed offers you a great variety of special effects. So, you can try them as well and make your flashes look much more natural!


8. Facetune 2 – Selfie Editor & Filters
Facetune is another app that is full of stunning editing features. This app is developed by Lightricks. Many users worldwide liked this tool.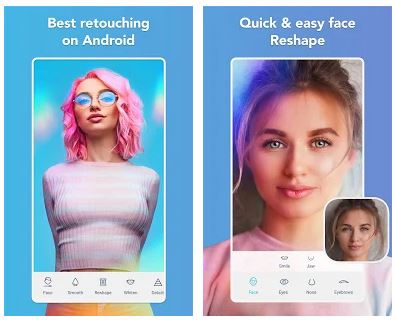 Facetune will help you to erase all the undesired glares from the picture. So, you can do it via a smoothing tool. Or, you can use Patch and Vanish tools to remove wrinkles, spots, pimples and make your skin much more well-groomed!
In addition to it, you can also easily get rid of unnecessary objects from the background, apply special filters, put on makeup, edit pictures, and so many other features!
Generally, the majority of users like this app. However, it comes with several drawbacks – irritating ads and in-app purchases. Additionally, some people find these purchases a little bit expensive.
To sum up, Facetune allows you to solve hundreds of problems. We have not found any significant cons in this app. Highly recommended!


You may also like: How to Transfer Photos from iPhone to PC Without iTunes in 2021
9. Facelab – Face Editor, Selfie Photo Retouch App
Facelab is the last app that is suitable for all types of photo editing. This is not a very popular app, but we think that it's worth to be mentioned in our article.
So, Facelab enables you to instantly generate a healthy and attractive face. It will automatically erase all imperfections and add a matte effect to your face.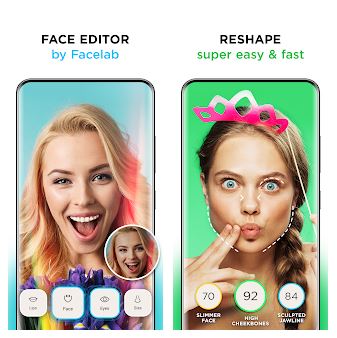 Moreover, in this app, you can make your face slimmer, brighten teeth, edit pictures, apply various special effects, and so much more other useful features!
Despite a great number of options, Facelab boasts a straightforward interface. So, you will quickly find out how everything works there!
By the way, we have to admit that the developer does everything to meet all users' needs and wishes. Therefore, the app's version is constantly updated. However many users complain that sometimes the app crashes and some options do not work at all.
So, do you want to make both a natural and appealing face on the pictures? If your answer is "yes", Facelab is definitely your option!