There is one particular aspect about several types of simulator games – by playing them, we may learn skills important for our life, like micromanagement, strategic vision, thinking outside the box, and other skills, which are important for future entrepreneurship and career. All of this is perfectly integrated into construction simulators.
In the process of building, people explore their architectural creativity, various ways how to maximize the efficiency of the construction process and the object itself, and because of this, cities' infrastructures evolve throughout time.
You may also like: 11 Best Base Building Games for Android & iOS
Here we present the 11 best construction games for PC. This list has not only games that have construction process as their central theme, but also those which have relevant construction-related features.
1. Construction Worker Simulator
We will start with the game so good it does not even need an original name! It is not available for purchase yet, and the release date is yet to be announced, but even a simple look at this one will leave you satisfied and will prove that even the seemingly mundane job of a construction worker can be interesting. Introducing to you the Construction Worker Simulator!
Experience tough routine of construction labor by playing as an actual worker. There are various types of buildings you will work on – from cottages to flats to giant skyscrapers.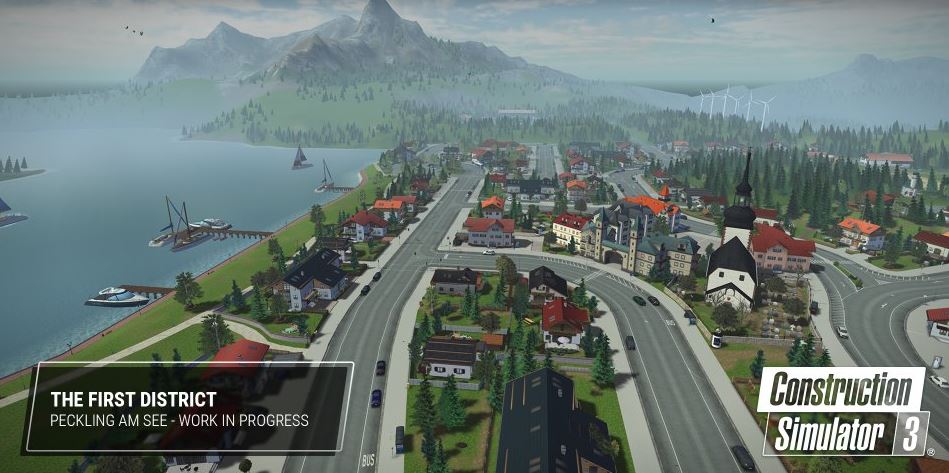 On the site, you will do a wide array of tasks – transport materials on trucks or wheelbarrows, lay bricks, use drills, jackhammers, drive excavators, bulldozers or loaders.
Weather won't always be in your favor: sometimes you will have to work during the rain or hot dry summer day. Try any kind of work on the site, do your job responsibly, and ultimately enjoy the look of a building that is made. That you made.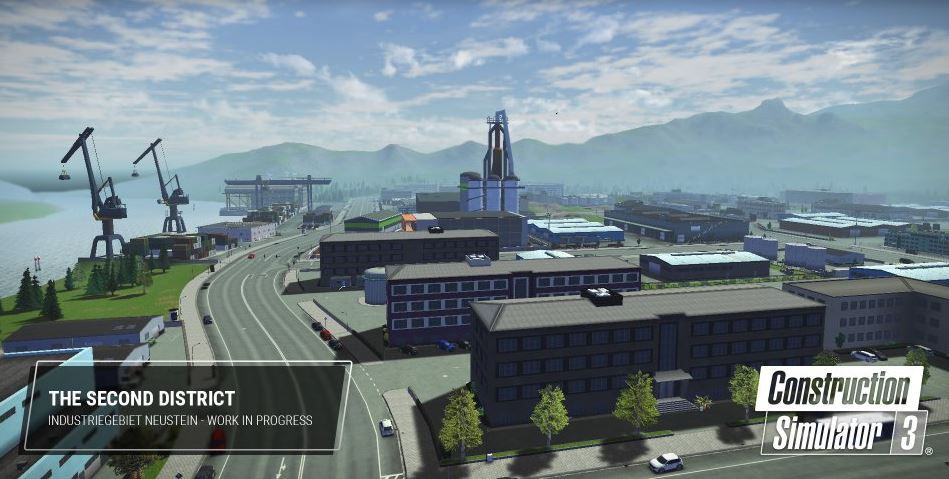 In order to make gameplay more comfortable, you have 1st person view when you walk on the site to get a more sufficient visual experience, and when you are inside a machinery or truck, it is 3rd person view, to have more control and a convenient view.
Key features:
wide range of machinery and tools
high-quality graphics
realistic gameplay gives you an extensive experience of the construction process
1st person and 3rd person views for convenient gameplay

You may also like: 11 Best Land Surveying Apps for Android & iOS
2. Construction Simulator 2015
This game is more machinery-centered, as it invites you to get behind the wheel of one of 16 ultrarealistic construction machines of such prominent brands as MAN, STILL, and LIEBHERR. You can load trucks using a forklift, and sit behind the wheel of flatbeds, cement mixers, bulldozers, etc.
Start your construction business and develop it while completing more than 200 missions. It is way more fun when you do it with your friends.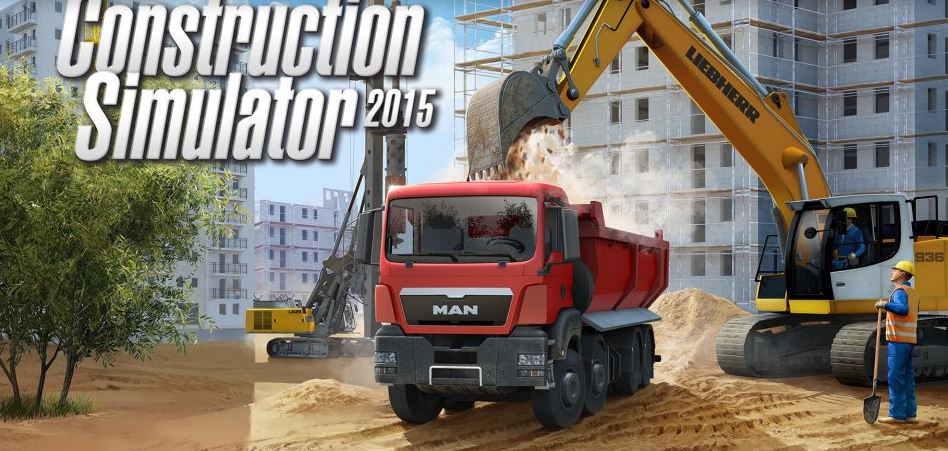 Multiplayer mode allows you to cooperate with your friends, distribute roles and tasks, build structures faster and more effectively, complete missions, or just have fun in an open game world.
A maximum of 4 players can co-operate. Save your multiplayer games, and enjoy a great purchase and reward system.
While on the site, use a moving crane to place roof frames, pour cement using a huge concrete pump, and dig the foundation for future building by excavator, which could be controlled through ultrarealistic SAE mode by using two joysticks, so you can experience how excavators are exploited on a site.
If you are given a task that looks very mundane, trust me, it will be what you expect it to be. Let's take, for example, the task of digging a small trench using a small excavator. It will take time, it is repetitive, but hey, that is how the construction process can be sometimes, right?
Some players find it one of the reasons the game is quite close to real construction work. The key thing is perseverance and patience.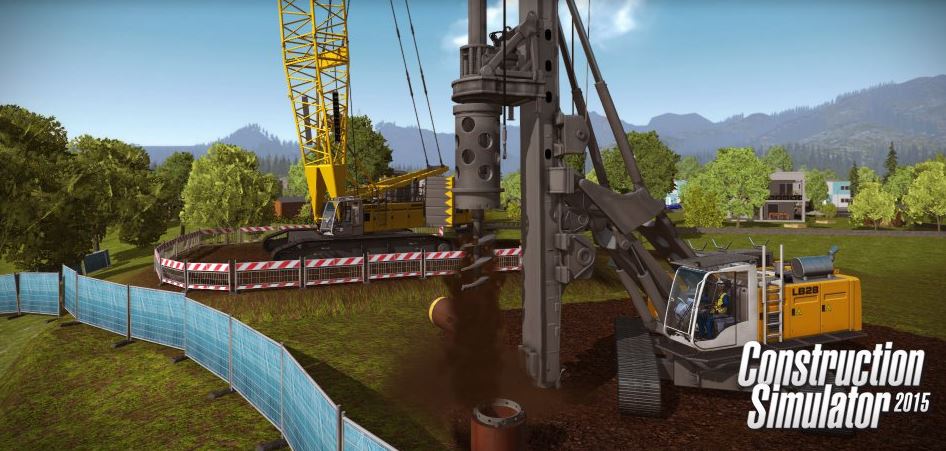 The game is playable using the keyboard and mouse just alright, even when it comes to complex machinery and controls. Even excavators, which have plenty of controls, are easily set up, so this should not be an issue for PC players.
The more missions you complete, the more your business grows, the more profitable orders you will receive. Also, if you do not want to complete orders, feel free to add your own custom construction sites and build everything you would like to. And share what you've made with other players on Steamworks or game-related websites.
Key features:
big open game world
multiplayer mode
in-depth tutorial
various customers and suppliers
realistic audio effects
realistic control of machinery
16 construction machines from famous brands Liebherr, Still & Man

3. The Sims 4
Certainly, we could not walk by one of the most popular simulators in the world. Although the construction itself is not the central point of the game, it is very crucial to a key idea of The Sims – create the world of your dream.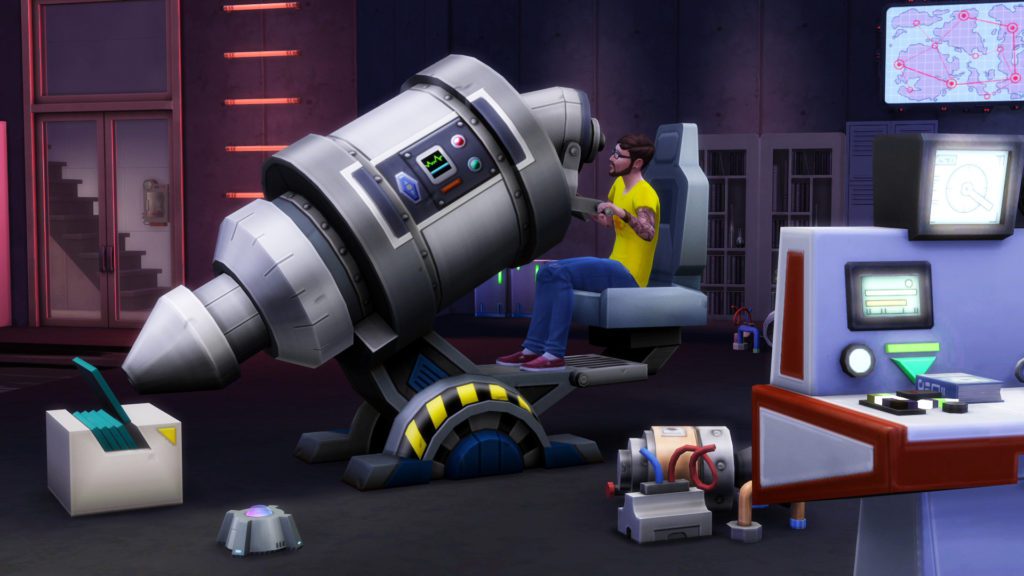 And, naturally, creation involves building your ideal apartment through simple clicks. The Sims steadily continue the tradition of giving you as many options as possible for every aspect of the building, especially with lots of addons available on Steam, Origin, and other platforms. One issue with this game is the prices of DLC's. Yep, Electronic Arts are quite notorious for it.
Key features:
wide range of options
a simplified way of construction
tons of various addons
content from other players on Steamworks

4. Minecraft
Another famous game, which is slightly off-topic but has a particular construction aspect. Since it's released, people have discovered a never-ending range of possibilities for architectural expression.
There are tons of examples of how players managed to build enormous and exciting structures, which prove that even simple blocky graphics are not an obstacle for imagination.
From fancy cottages to medieval castles, from stunning temples to amazing business skyscrapers, from famous building replicas to an entire city or kingdom replicas – such brilliant examples show how far creative excellence can go.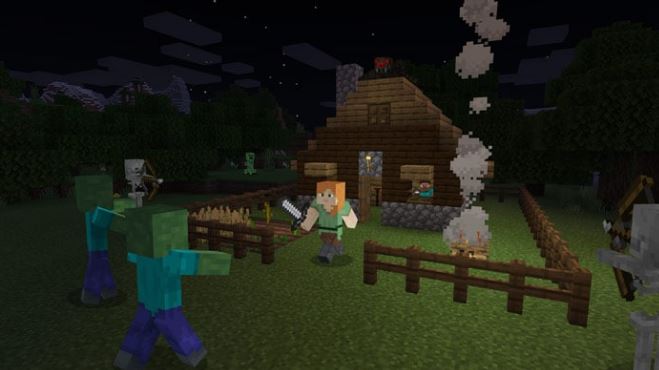 With the amazing support of additional mods which allow players to enjoy wonderful graphics updates and work with dozens of new materials, Minecraft remains to be a solid example of a superb construction game.
Key features:
creative mode
various materials + additional mods with a multitude of new materials
unlimited space

5. Project Highrise
This simple game allows you to build and manage your own skyscraper. But keep in mind, that it is not just about building walls and pillars and outside look, it is about making a complex and at the same time sufficient system inside the building.
Your job is to plan the most profitable system inside the building, attract leaseholders who will be content with offices and will regularly pay the rent, and look after the overall maintenance of the building.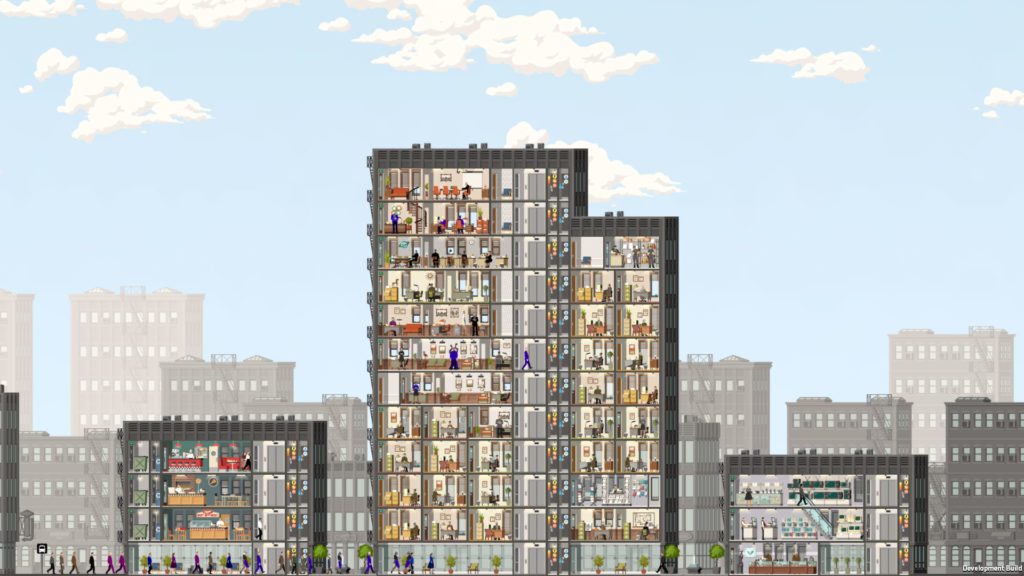 The construction aspect of Project Highrise is well thought out. You are responsible for the whole construction process the moment you lay the foundation.
Every detail is for you to create: setting up steel armoring, make overall design, put electricity and plumbing, and decide whether you would like to have offices, hotels, apartments, restaurants, or everything together.
Key features:
Sandbox mode with various difficulty levels and starting conditions
Campaign regime
Thought out skyscraper simulator

You may also like: 11 Free Farm Building Games for PC, Android, iOS
6. Bridge Constructor
Now let's get away from buildings for a while. There are things that come into the "games" category. There are things that come into the "art" category, and things that fall under the "mayhem". The following game falls under all three of them.
Bridge Constructor is a game that shows you how terrible it is when someone privatizes the area where a bridge is to be placed, and they make an unsafe abomination of the bridge so the owner can save his money! Alright, now let's look at it from a more positive point of view.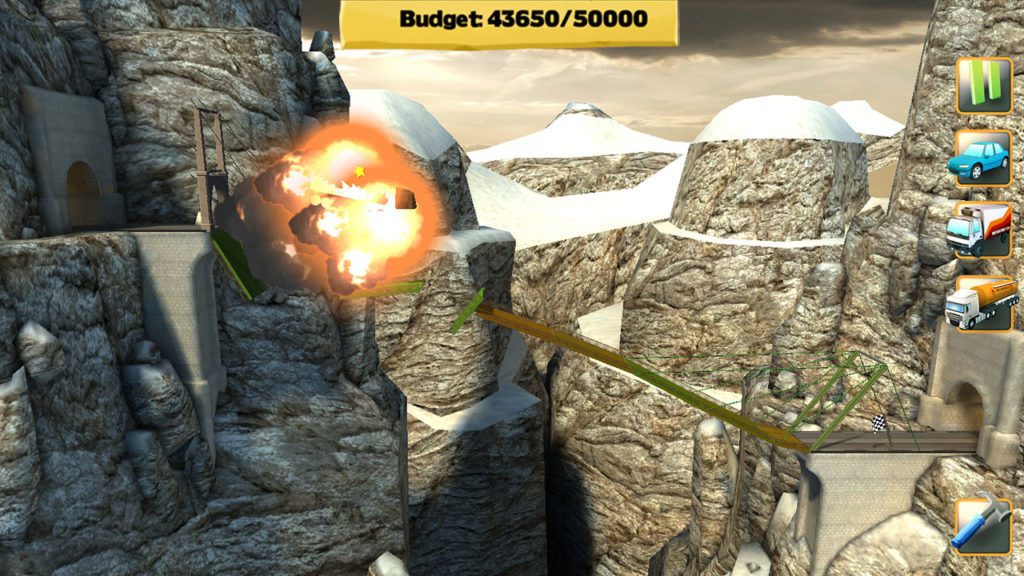 In this simple game, your task is to design and build a bridge so that cars or trucks could safely pass over them. Here you need to consider physics, because of one tiny miscalculation – your bridge collapses, a truck explodes, your construction becomes Michael Bay's typical scene!
Bridge Constructor has 64 levels, and 6 settings: Grotto, Canyon, Beach, Hills, Mountains, and City. The range of materials available for construction contains wood, steel, concrete, and cables. Use more suitable materials and try to fit in a limited budget to create the ideal bridge.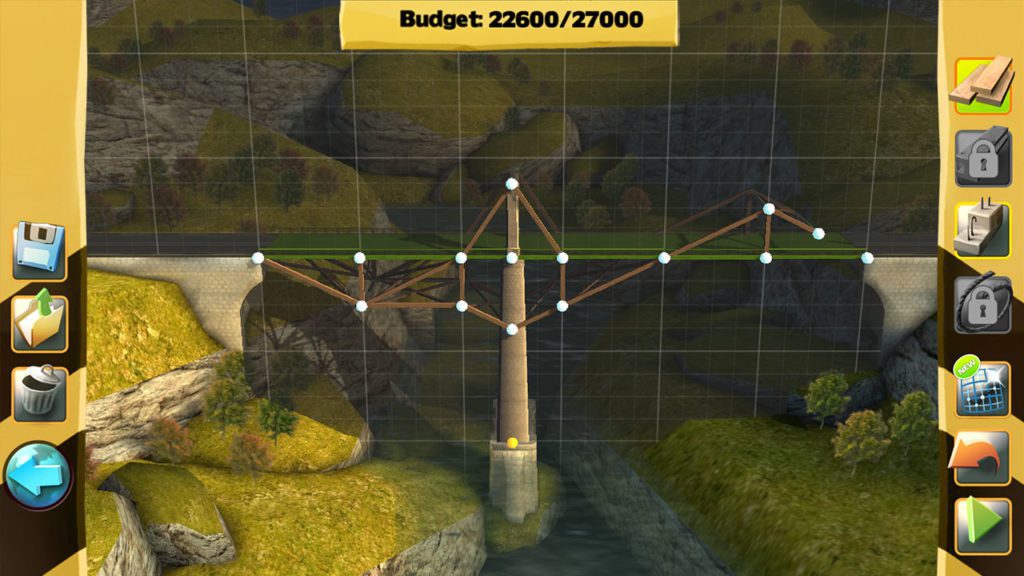 Varieties of construction are infinite. If you purchase this game on Steam, you are also allowed to try Slopemania – an included add-on that contains more fancy features and new levels.
Even though Bridge Constructor is a casual and simple game to delve into, difficulty in this game will not let you make poor decisions, therefore it can be extremely frustrating, especially for kids. For people who played various bridge-building games since they first appeared, this game will challenge you and bring you nostalgia.
Key features:
6 settings
64 levels
4 materials for building
3 types of machines
Add-on Slopemania for Steam users

7. Construction Simulator 2
Another great construction simulator by weltenbauer initially was launched as a mobile game and received very positive ratings, so in 2018 PC version of this game became available.
Here, as in previous games, you start your construction business in a city called Westside Plains. A huge array of orders for construction works await you, from road reconditioning to garden works to railway reconstruction, industrial structures, and apartment buildings.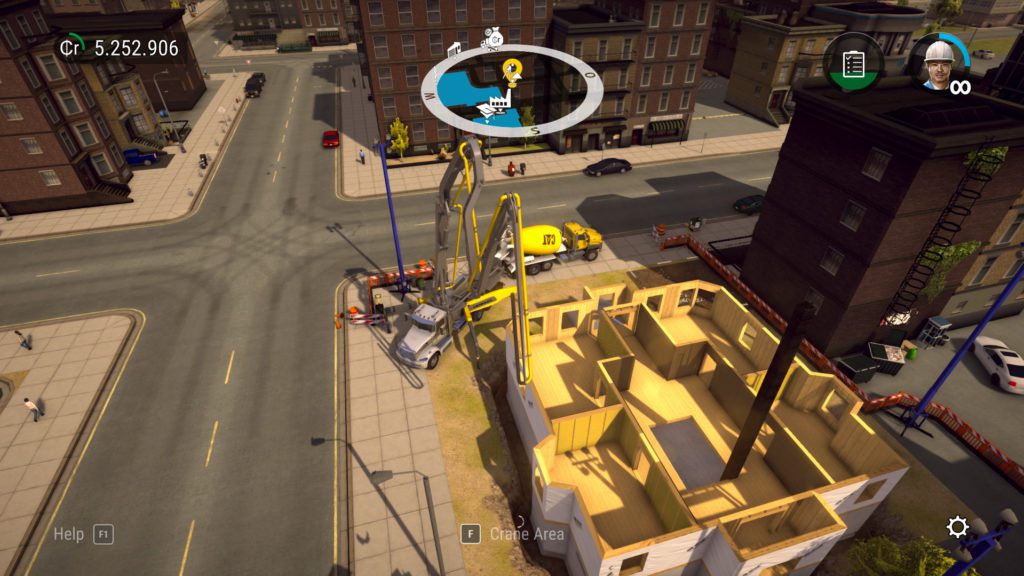 Excavate ground, mix concrete, control cranes, load materials into trucks, and even build roads. Even though the game is ported, physics on the machinery and the way they handle dirt and materials is developed really well.
Within your range of machinery are 40+ machines from such prominent brands as Caterpillar, Atlas, Mack Trucks, Liebherr, Still, Palfinger, etc.! Machines are perfectly controlled on the keyboard, and there is also an option for an Xbox controller.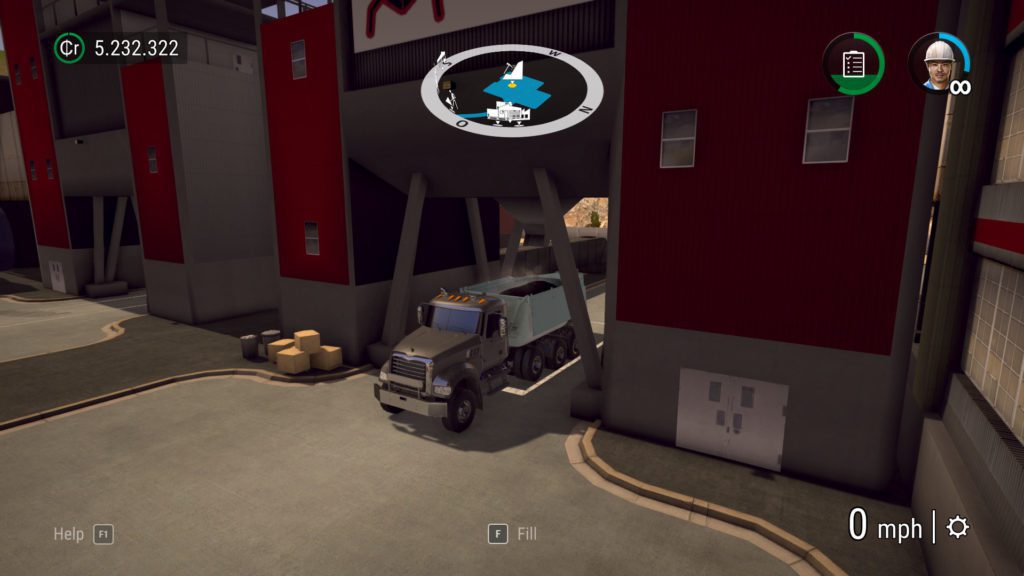 Learn the game, work with patience and see how the process of construction brings wonderful buildings on the ground. Expand your business into more areas of Westside Plains, get more profitable contracts, and enjoy the construction process in Construction Simulator 2.
Key features:
more areas of work
over 60 contracts from customers
more than 40 models of construction machinery
various types of tasks
build and repair roads
working day/night cycle

8. Prison Architect
Here is another game, where there are no excavators, bulldozers, and cranes. And although the central theme of Prison Architect is about maintaining what you have made, the construction process is exciting and for the strategic thinkers, because your task is to build a safe, functional well-organized prison.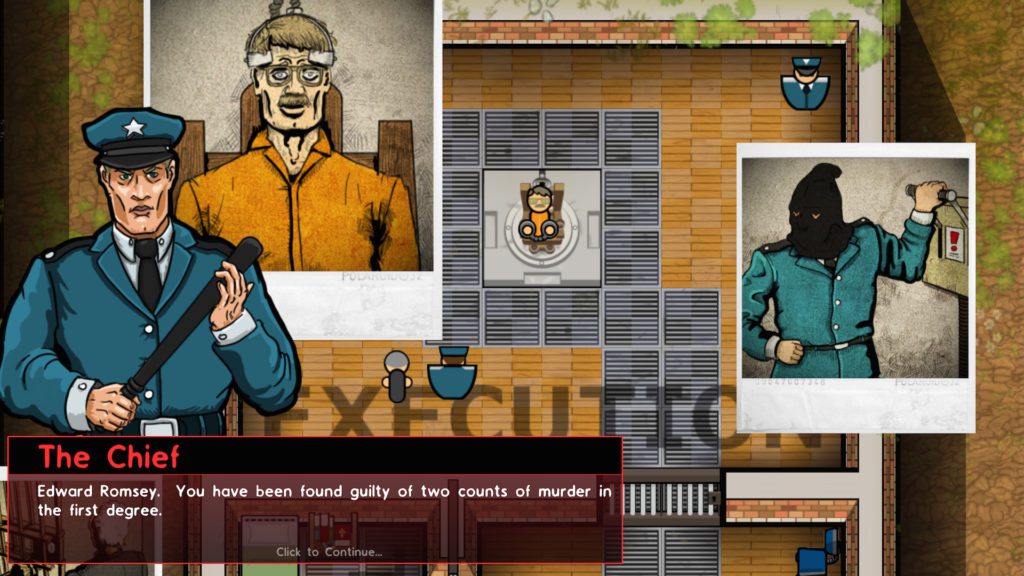 Decide whether you would like to build a place where everyone would be happy, or penitentiary hell from Shawshank or even worse. Design your ideal confinement system, so your prisoners serve their sentences with content (or with psychological damage).

9. Dig It! – A Digger Simulator
Let's go back to machinery. In 2014, a small but very experienced team of developers in Denmark called Cape released this exciting simulator. If you like the sound of big engines, if you enjoy the earth-moving process, if big machines make you more delighted than K-pop bands make their fan base, then Dig It! is for you.
Open your own company and start working on various tasks related to moving earth. Enjoy realistically created models of professional vehicles, like excavators, dump trucks, diggers, and bulldozers.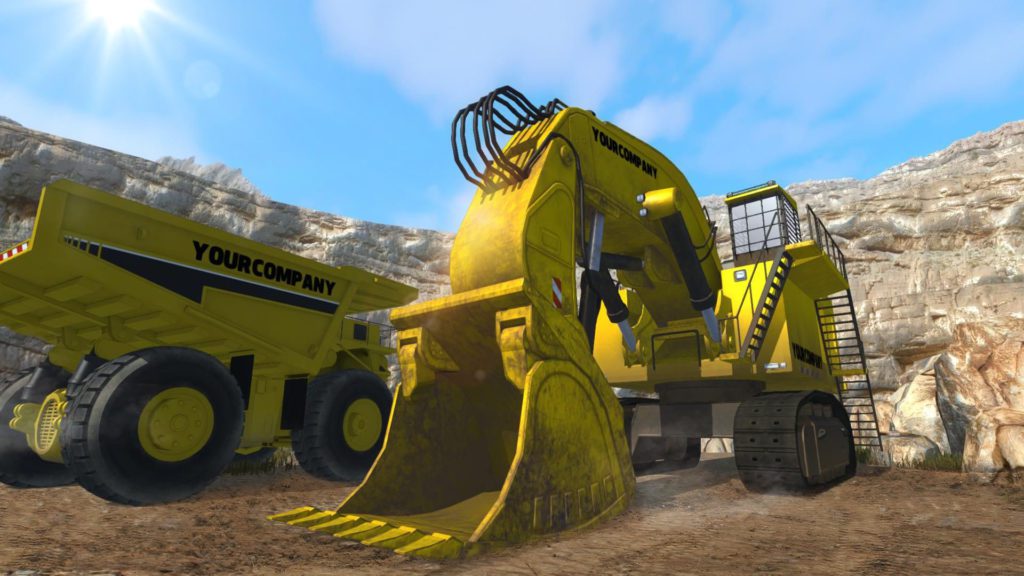 Perceive more orders and more profit so you can acquire new machinery and new spare parts, so you will complete tasks with more precision. Delve into the joyful world of ground-moving labor and become a successful digger businessman.
Key features:
customize G.E.T. spare parts that are suitable for you
perfect your skills and precision
multitude of attachments
an extensive array of realistic construction machinery
different types of scenarios where you will do your job, including suburbs, road work sites, industrial areas, etc.

10. VE GSIM Tower Crane Simulator
Tower Crane Simulator is specifically for those who appreciate good VR gameplay. This is a simple virtual reality tower crane simulator that lets you try out the operators' cabin and see the construction process from a high point of view.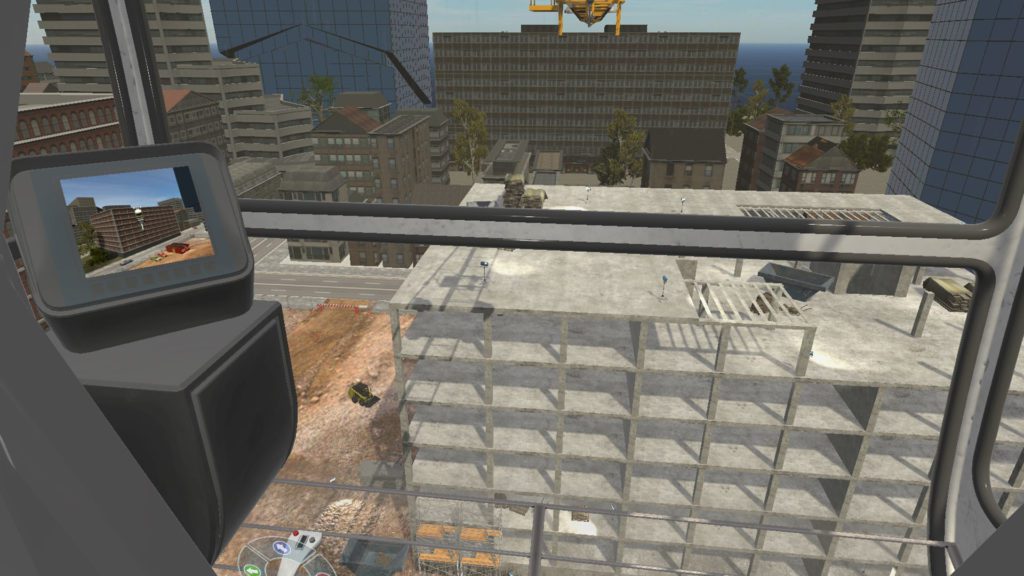 Pick up different types of materials and complete objectives one by one. Make your part as a crane operator significant in the construction process. This game requires either HTC Vive or Oculus Rift.
Key features:
Decent looking city environment around your construction site
Complete tasks by lifting various pieces of material
Realistic tower crane
Immersive VR experience

You may also like: 9 Best Ship Building Games for PC, Android, iOS
11. Cities: Skylines
We finish our list with maybe the most popular successor of the city-building genre published by Paradox Interactive, Cities: Skylines. Yes, you will not get the opportunity to drive a bulldozer and other big machines. Yes, you will not experience working as a crane operator.
But even though this game looks like it is merely configured around creating and developing society and pursue economic achievements, do not let it deceive you – this simulator has a stunning construction system that involves urban, suburban planning, and establishing infrastructure.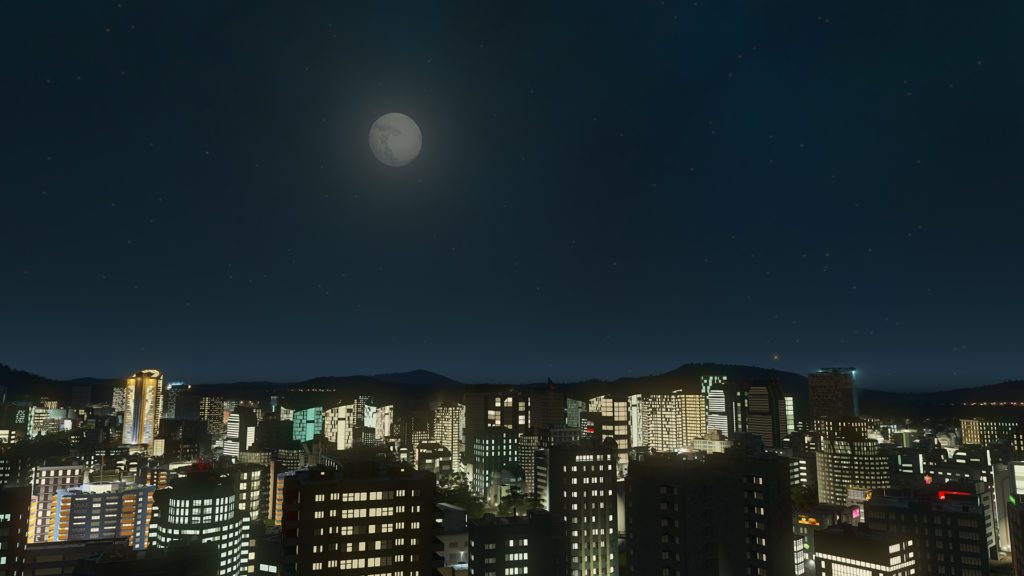 The game is easy to learn but difficult to master. To improve and maintain the city's quality of living, perceive well-thought planning of residential, business, market and industrial areas, amusement places, etc.
Traffic conditions, as well as road mapping, are also crucial for the city's well-being, and the game gives you a huge array of options and tools, so you can organize a road system to ensure street traffic is suitable for citizens. What about the sewage system?
This is not quite a pleasant area of construction to delve into but it is important nonetheless. Create any type of sewage structure and try to perceive ideal sanitary requirements. Or, you can make the most illogical and completely unhygienic structure.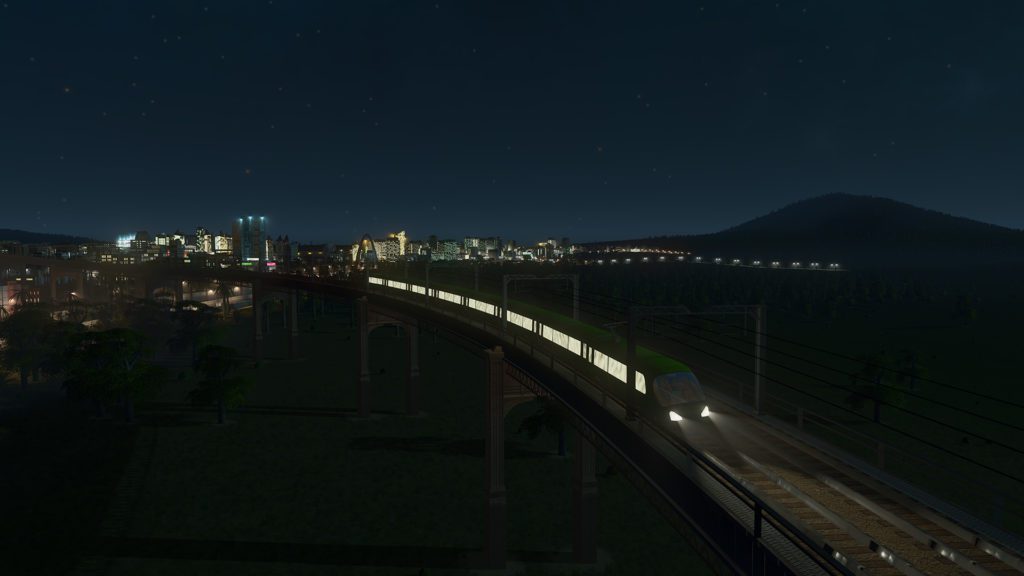 You probably have seen that viral video from YouTube, where one player made literally a volcano-size crater and placed sewer outlets on the edge all along the radius, making it the giant sewage dam. Afterward, the dam overflowed, and the rest is, well, you guessed it. The town was full of sh…sheer panic.
Again, multiple aspects of building, dozens of add-ons, both official and fan-made, enormous space for creativity is what makes this game so captivating.
Key features:
Exciting simulation with many tiers of construction
Road building
Unlock buildings
Large modding support
Landscape design
Stunning visuals
Outside infrastructures
Build efficient transport networks
Great local traffic simulation