When you first interact with the game, the icon of the application itself is immediately striking. It is bright and depicts the sun. Both children and adults like this. Registration is not required here, which is a big plus.
If you are into this simple game, you can also explore cool low MB games which work offline as well.
When you enter the application on the main screen, you can see a funny hedgehog taking off in his balloon. The caricature style of the text does not repel, but rather fits harmoniously into the design of the game. There are no additional sections, but there is a function to turn the sound on and off.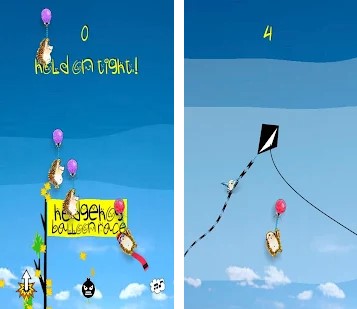 The whole design of the application is also cartoonish, which gives a special charm to the game. The hedgehog is painted in dim colors so that the eyes do not get tired when playing. The control features here are slightly different than in other games of the same genre.
The movement speed is smooth and without sudden movements. Most likely this was done for the convenience of those people who are just starting to play such games and cannot cope with fast control.
In the game itself, you need to fly a hedgehog up in a balloon and not get caught on branches and other hedgehogs. On the way, there are repulsive obstacles in the form of birds and bombs, which lift you far up.
When you pass a level, the background picture changes, and when you lose, a picture with a background in the form of a newspaper, accompanied by dance music, comes out.
And if you like old games maybe you also like such a classic game as Minecraft? By the way, there is a lot of similar games, you can find them here.
Summing up, we can say that the application is interesting and has good potential. The design will attract mostly children with its uncomplicated cartoonish style.