Show us a person who wouldn't be using YouTube nowadays. This is a real Klondike with entertainment, education, and other content. Here people watch how their favorite blogger goes on a trip around the world, look for video recipes of delicious dishes, check reviews of new computer games, and much more.
But now, not only visual but also auditory content has become particularly popular on YouTube. People make podcasts where they share their thoughts, record interviews with interesting guests, or just talk about how their day went.
Also, have you ever met a problem when you watching a video and somebody sending a message to you?
You are passionate about viewing, but you have to close the app to answer. That's really annoying. So, we decided to help you and made a top 9 Apps to Play Youtube on the Background on Android.
You may also like: 11 Best Apps to Extract Audio from Video (PC, Android, iOS)
At the very beginning, we need to point out that this option is only available for owners of smartphones with an android version of at least 8.0.
1. YouTube Premium
First of all, let's check an official solution to this problem. You can do it by signing up for a monthly subscription. The main disadvantage is that you need to pay money for it. Each month, about 4$ will be withdrawn from your credit card to receive an extended package of services.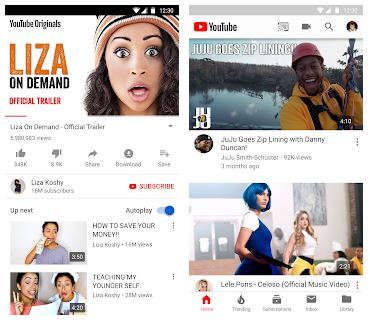 Almost every country is allowed to subscribe on Premium, but there are some exceptions. Few countries are blocking YouTube at all, so they need to use VPN.
YouTube premium offers not only the option we are interested in but also several other options.
Key features:
No ads.
You can use YouTube music. Find compositions, save them and listen offline.
You can save your favorite videos to watch them without an internet connection.
Access to the extended version of the app.
Other different options.
To sum it up, a YouTube premium subscription is the only official and "legal" way to watch videos in the background.

You may also like: 7 Best Apps to Play Youtube on the Background on iOS
2. Google Chrome Browser
If you have the latest version of Android, you can use the default browser to enjoy YouTube on the back. You can close it and the video will be continued as before, while you checking e-mail, or chatting on Telegram.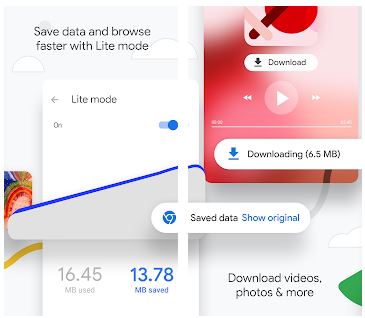 Short manual:
Open the Google Chrome Browser from your Android phone.
Open the YouTube by the link.
If a site was opened as a mobile version automatically, you should press the « 3 vertical dots» button on the right side.
Сheck the box next to «PC version».
Choose any video and open it on a full screen.
Now press the «home» button and enjoy it!
After these actions video will be shown in the background. You can put it on pause or skip it forward or rewind by double-tapping on the sideways of the video. You can also use other browsers like Safari or Mozilla Firefox if you have the latest versions of them. They also have this function.

3. Youtube Vanced
So if you don't like the pleasures of the official app for some reasons, you can try to use some side projects like YouTube Vanced. You can find it in the official Market Store. This app has the same interface as the usual Youtube, but with a lot of other options. It is not only for watching videos, but it could become your permanent audio player.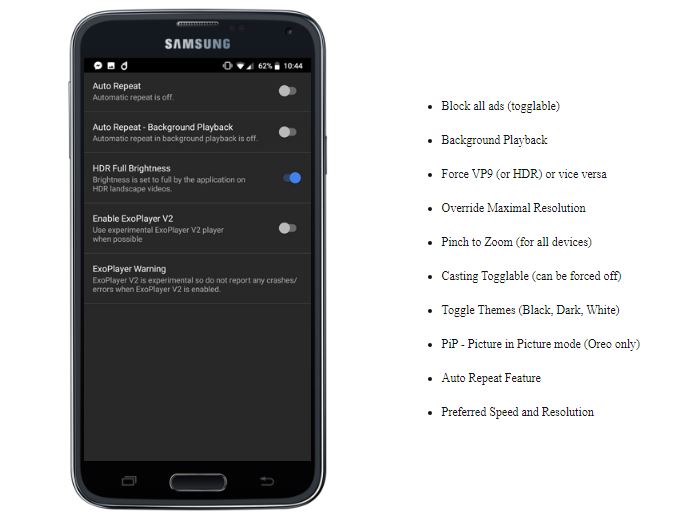 Key features:
The program can be located on the same device together with the official application, without deleting it. You can make your own playlists.
The ad was completely cut out (the yellow lines remained).
There is a possibility of background playback.
You can watch 2K videos on the 800 screen.
Select the default video quality individually for WiFi or mobile data.
Ability to remove the channel watermark in the video.
It is possible to use VP9 Codec to improve the quality and save traffic.
Video pinch zoom enabled (now works on all devices).
Reset the video replay setting.
Added the option to choose between the standard white theme and the optional dark/black theme.
There is a possibility of forced activation.
There is an option to automatically turn on subtitles when the sound was turned off.
A new option to enable the rewind buttons appeared.
Finally, it is a good app for listening to YouTube. The most important advantage is the ability to view videos on a locked screen.

4. Awesome Pop-Up Video
When you search for this type of application, you will most likely find it. It is one of the most popular, but not the most functional. There are fewer functions for working with YouTube than in others, but there is one cardinal difference – it works with other video players and video hosting sites.
If you are watching the video in the browser or some other social network, it will also be transferred to the pop-up window. Also, it has a feature to post comments from it and they will be shown on a real site.
You can save the videos on your self-phone and check them offline like in other applications. Users like for pretty design, simple interface, and understandable working panel. To use this app you should have the latest version of Android OC.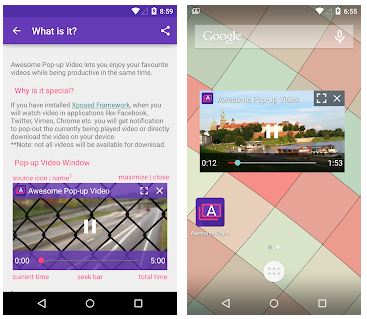 Key Features:
Sleek and stylish design.
Really simple and understandable in usage.
Suitable for all ages. Can be used even by children
Works well even without a network connection.
Do not interfere with other applications to work.
Convenient search engine
Allows you to enjoy watching videos in full-screen mode without distractions.
This app also works with other video players, making it versatile.

5. TubeMate
Some people like to watch for bloggers' lifestyles, but don't like YouTube video hosting. So, we can offer an alternative client for this website. With it, you can transform clip into song, long life-coachs' monologue into a podcast.
This app allows you to play videos in audio format. Like every modern modification for YouTube, it has an option for watching videos without connection to the world web. This program is not new a one, It was made about 4 years ago, but developers watching the trends and regularly update it for making it more functional.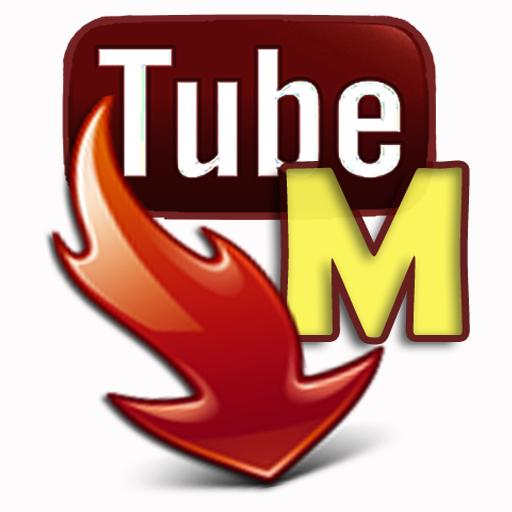 This allowed developers to significantly increase and expand the capabilities of the software. Also, it can be synchronized with cloud storage, social networks, etc. This optimization will allow you not only to save videos to local storage but also to upload them to servers or export them to social networks.
Another significant advantage of the program is that depending on the power of your phone, you can choose the appropriate quality and resolution of the downloaded video. The higher the selected quality – the more powerful your device should be and the higher the Internet speed.
How videos are downloaded?
By default, all videos are saved in smartphone downloads. With the app, you can find and sort all «the downloads» according to date, size, name, etc. If you want, you can change the format or edit the video file. In addition, the program allows you to simultaneously download multiple files, select settings for the speed limit. By setting download speed limits, you can continue to work with social networks or email.
Key features:
Ability to connect and update information from your account on the site.
Download any format of videos, music videos, audiobooks, or movies.
Fast speed and quality of apps' working process.

You may also like: 11 Best Apps to Hide Apps on Android & iOS
6. OGYouTube
This is a modified version of YouTube, which is based on the original app. There are almost no external differences because this is the same YouTube player, but with advanced functionality.
Google prohibits downloading videos from its service, this is the main feature of the program – the ability to download any video to the device's memory or a flash drive (here, at the user's request). The OG Downloads icon will be added to the menu, which allows you to get quick access to already downloaded videos.
When downloading, the user can choose in which format and quality to start downloading (3GP, FLV, MP4 and MP3). MP3 is convenient for those who download music from official clips. Also, you can download subtitles, if they are added to a video
The developer also made several changes to the viewing process itself: double-clicking the "Back" button will close the video, and not just collapse it. Another innovation is playback when the app is minimized, as well as when the screen is turned off. Another interesting feature is that you can view it in 1080p and higher quality.
Key features:
Ability to download in all available quality formats.
Download multiple videos at the same time.
There are 4 formats available for download: 3GP, FLV, MP4 and MP3.
Download videos to MP3 format directly.
Download subtitles.
Play videos of any quality.
Added an option: Double-clicking the "Back" button closes the video (single – collapses).
Playback when the screen is off.
Playback when the app is minimized.

7. FireTube
Good variant for those people, who appreciates the extensive functionality, but not a beautiful appearance. It has everything the same as in the above applications, only with small additions. You can use it as a music player, it will work when the screen is locked, etc.
It becomes popular because of its simplicity. You need only one tap to open the video and start playing it. Also, this app saves a lot of phone energy, so that's why we recommend checking this out. All in all, this app was made with one goal – to transform your video playlists into musical ones.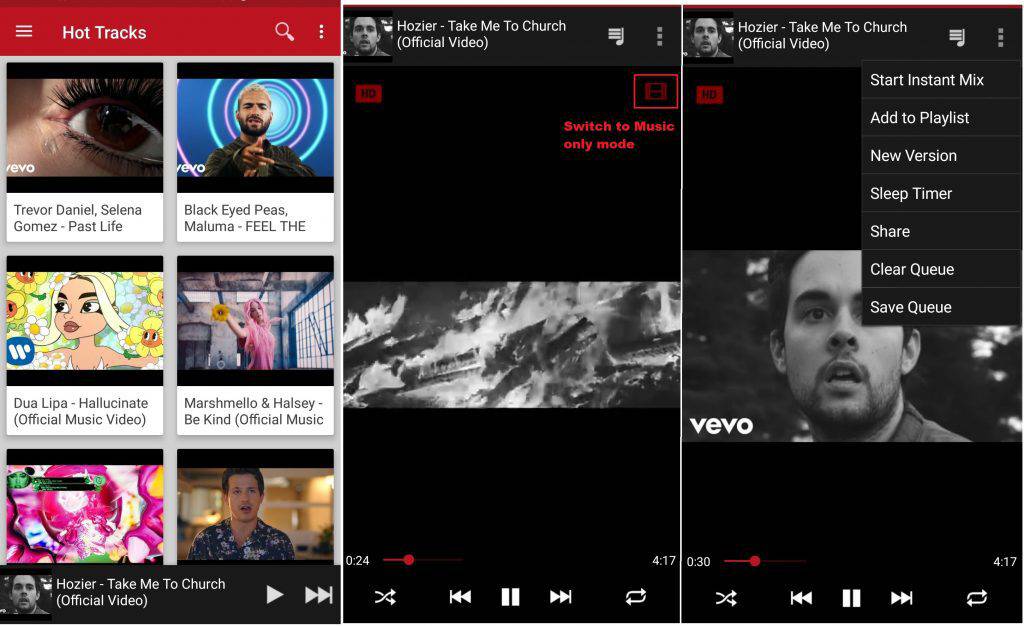 One of the advantages is that you can enter your YouTube account and watch and listen to all content from your subscriptions. This app has high ratings from users due to its smooth working process without any problems.
Key Features:
Access all content from the original YouTube.
A work without pauses
Search for popular tunes that are at the top of the music charts.
Sync playlists with your favorite songs.
Importing playlists.
All in all, this app is more for listening to music, podcasts, and interviews from YouTube. You also can watch videos in the background with it but you will get more profits from using it as a music player.

8. FlyTube
Another variant of the app, allows you to play videos in the background. FlyTube is more like DLC for official YouTube. It was made with one goal – to make your work with the smartphone more comfortable.
If you watching a video and somebody sends you a message, you can simply press one button and the video will be automatically turned into a pop-up window. You can continue watching and texting at the same time.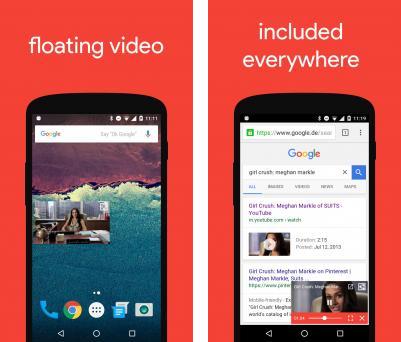 With a collapsed video, you can do everything the same as with a full-screen one. You can pause it and rewind it. It can also be used as an audio player. Set up a playlist or choose from a list of already created ones and listen to music without ads or any other annoying interference.
Key Features:
Videos can be played directly from the lock screen.
When using the app, the display does not turn off.
The interface is functional and follows the instructions of Material Design.
You can adjust the location and size of the window.
You can expand the video to full screen with a single tap.
You can use it on Android smartphones starting from the 4.0 version.

You may also like: Top 10 Gender Swap Software for PC
9. Dolphin Browser – Fast, Private & Adblock
And if you still want to go for a classic Android app and combine playing yourYouTube in the background while you're minding other business, you can get yourself a Dolphin browser. Before we actually start describing how you can play YouTube audio on the background, we would like to make a quick introduction to this browser and why it is so beneficial in usage.
First of all, Dolphin Browser takes the complete care of your data privacy. The encryption system keeps your search history hidden and the cookies aren't allowed anywhere. Your social media messages will remain hidden as well.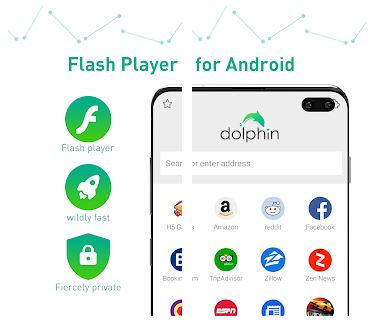 In order to play YouTube on the background in this app you will need to do the following:
Open the YouTube website in the browser
Go to the desktop version
Go to the settings
Enable media playing in the background
Key Features:
Privacy
Data security
Convenient in usage
Easy to put any media from websites playing in the background