People, who care about health, are on a diet for a variety of reasons. Some check total calories, some forget to eat fruits and vegetables, but if you read this review, the sugar level in food is important to you.
Many apps with different calculators are off the charts. But not all of them are convenient, and it can also be difficult to find necessary food or brands in them. The sugar level is important because its excessive consumption can lead to severe health consequences.
We have prepared for you the 9 best apps that help to quit sugar, among which you will definitely find something useful.
You may also like: 11 Best Sleep Talk Analysis Software for PC, Android, iOS
Sugarfree: Sober Tracker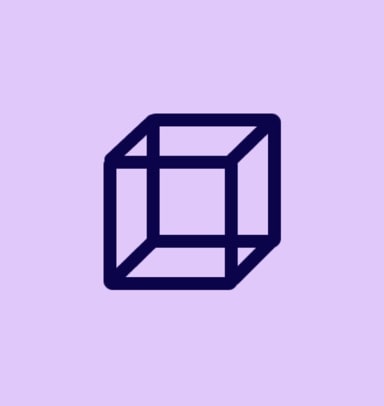 The problem of excessive sugar consumption affects many people of all ages.
For everyone, this product remains practically indispensable, but at the same time, it causes significant harm to the body.
Reducing sugar consumption or complete elimination is hard and needs to be carefully controlled. The Sugarfree app will help you do just that.
This app has many useful features. Here you will track the cyclicality of your restrictions. For example, you can see your progress for a week, a month, or more. The app will motivate you to make new achievements.
On a regular basis, you will receive tips on how to reduce the amount of sugar in your area. This app will inspire you to continue your journey. This way, you will be able to focus on reaching your goal.
You will also be able to track how your health is changing. You will note improvements or deteriorations in your condition. This will help you take stock of your actions and understand what you need to adjust.
Sugar is not only found in various sweets, but also in ordinary foods. Thus, you may not even notice your sugar levels rise to dangerous levels in your body. It is important to distinguish between added sugar and natural sugar, something the Sugarfree app can also help you with.
For those who want to reduce their intake to lose weight, there is also good news. In this app, you will be able to track changes in your body weight. To do this, enter the data in a special section.
The basic functionality of this app is free and available to all users. But, you can also subscribe to the app to enjoy all its features.


You may also like: 9 Best Interval Timer Apps for Android & iOS
7 Days Sugar Detox Diet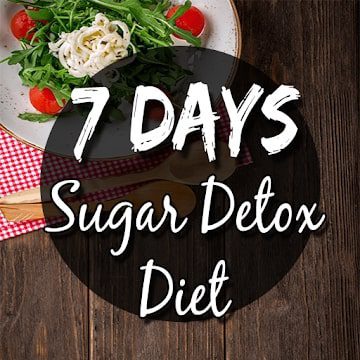 The 7 Days Sugar Detox Diet app will not only help you reduce your sugar intake, but also give you access to a lot of useful information.
You will learn which foods have more sugar, which foods you can substitute, and more. This information is presented as an infographic, making it easier and faster to remember.
The main purpose of this app is to gradually limit your sugar intake. You will be able to develop the habit of eating healthy foods and get rid of sugar addiction.
In this application, you will find a meal plan, which not every similar program can boast. That is, you will not just track the amount of sugar in food, but also get a ready-made menu, in which this aspect has already been taken into account by experts.
If you are used to a large amount of sugar in your diet, then at first you will definitely find it difficult. But don't give up! Replace chocolates with natural sugar, which is contained in all fruits. That way, you can stay on such a diet for even longer, without any breakdowns.
Another feature of this app is that you get a list of foods to avoid. Everything is clear and straightforward here, with no unnecessary information.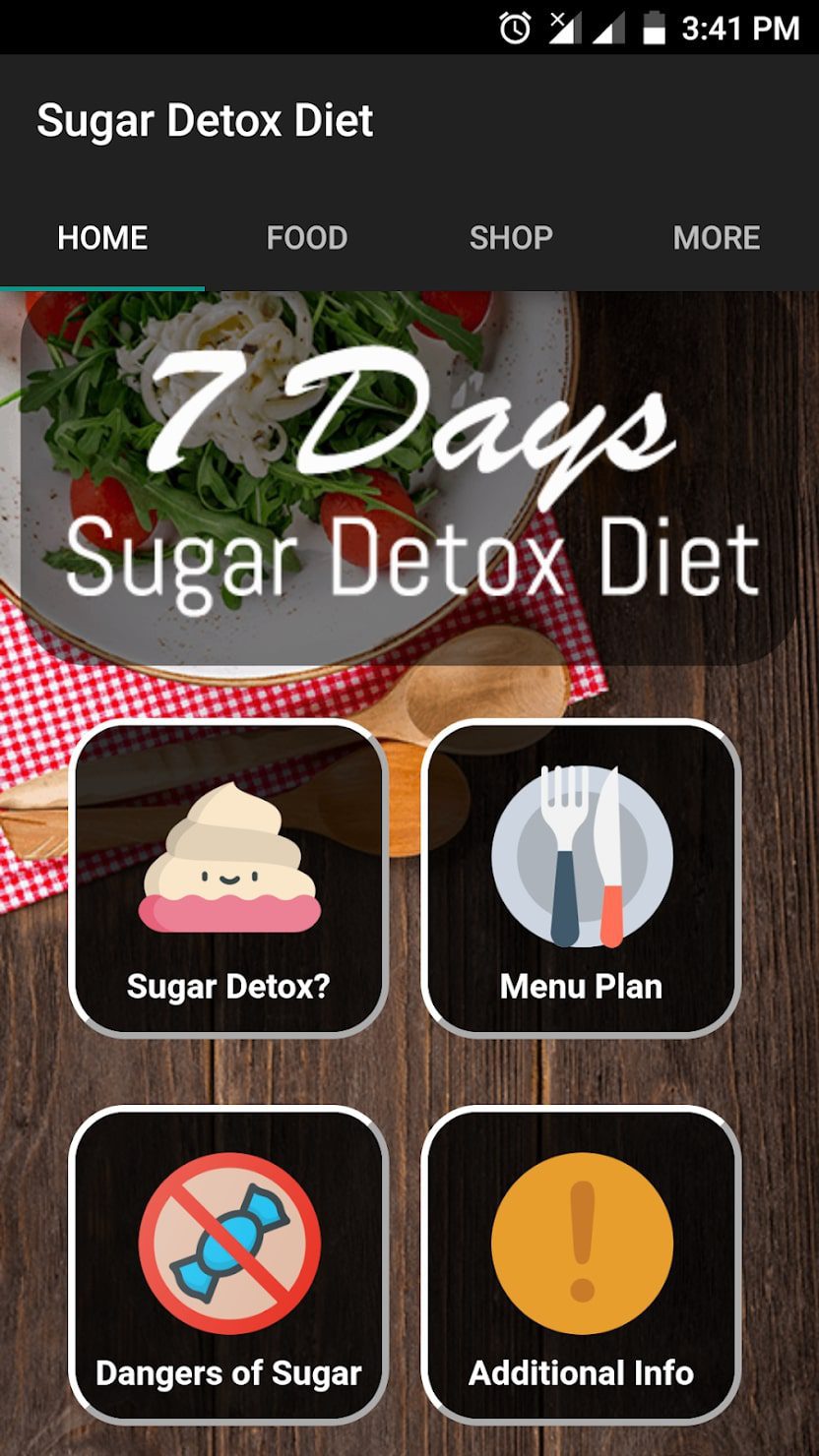 This app is easy to use. It is free, which also pleases many users. In combination. With half the weight it gives to your health, we consider it an indispensable part of your smartphone.

Quitzilla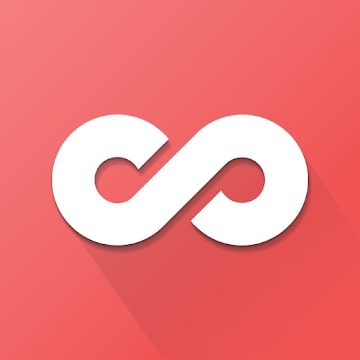 The next app in our review is Quitzilla. Let's note right away that it is not designed specifically to reduce the amount of sugar you consume. But, it is a great habit tracker to help you give up sweets.
Here, we'll tell you how to tweak this app to fit your goal of reducing the amount of sugar in your diet.
The first time you go into the app, you have to choose the addiction you want to get rid of. You'll even be offered a list of the most common bad habits.
If the list doesn't include what you want to get rid of, you can always choose "My Addiction" and customize the program to suit you. This is exactly what you need to do.
Next, you need to choose the type of addiction. There are three in total: money, time, and events. We are interested in the third type.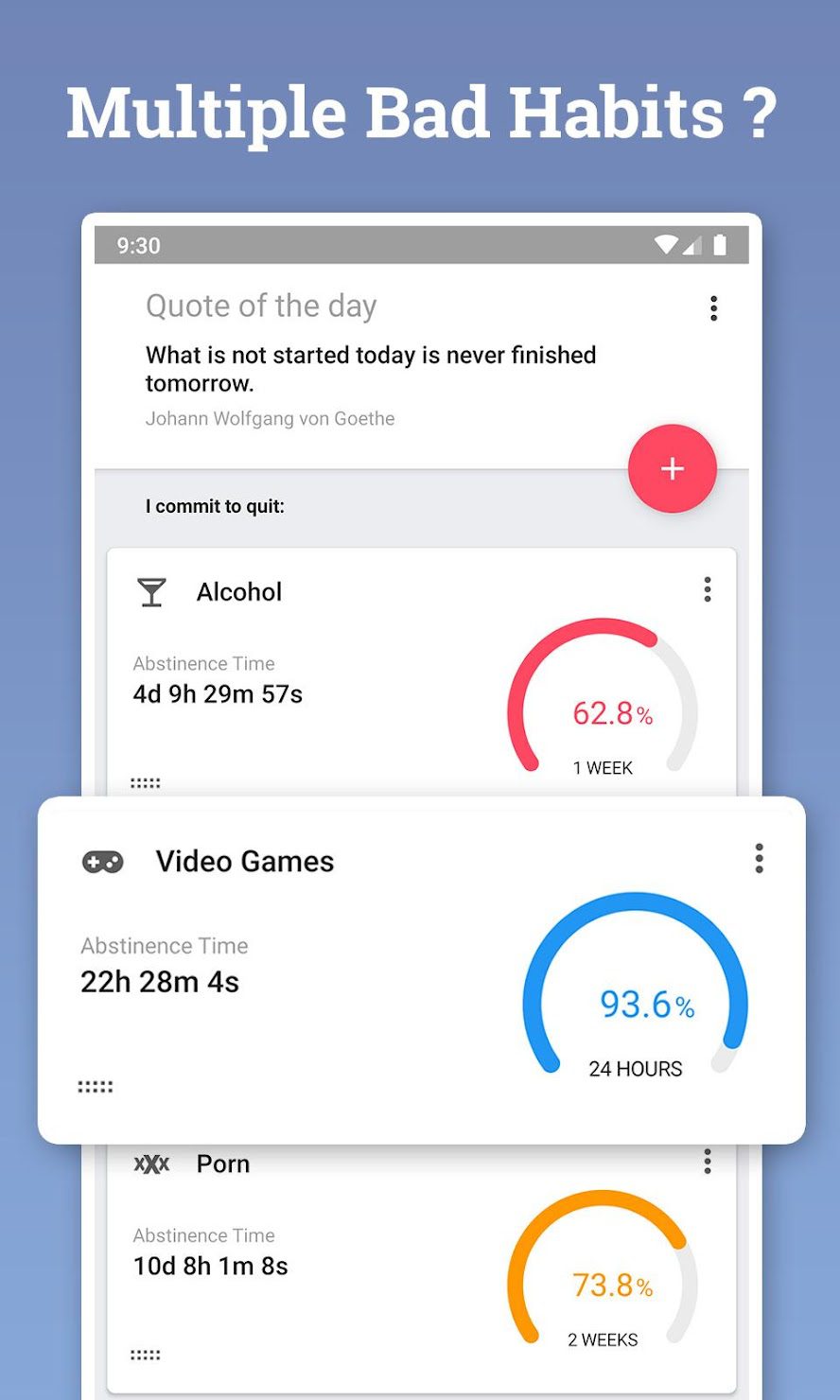 Once the addiction type is specified, all you need to do is enter the date of the last time you consumed sugar. The app will save this date and start tracking.
There are four main tabs in this program:
Overview. This section shows the "abstinence time" of the habit. In this same tab, you can also track how much money or time you've saved during your abstinence time from sugar consumption.
By the way, if you scroll down – there is another section called "Calendar". This is where the somewhat unfortunate "reset timer" button is located. Clicking on it means that you haven't held back and succumbed to the addiction again.
Motivation. This tab contains two parts: The first is the Age Clock. It shows your age and the number of seconds since your birthday. The second part of the tab is "Reasons to quit." This is the item you need to fill in yourself. It helps you realize why you need to get rid of sugar in your diet.
Statistics. This gives information about your willpower. For example, maximum and minimum periods of abstinence, number of timer resets, "the day you quit".
Trophies. It's simple here – you're given an "achievement" for reaching a certain date.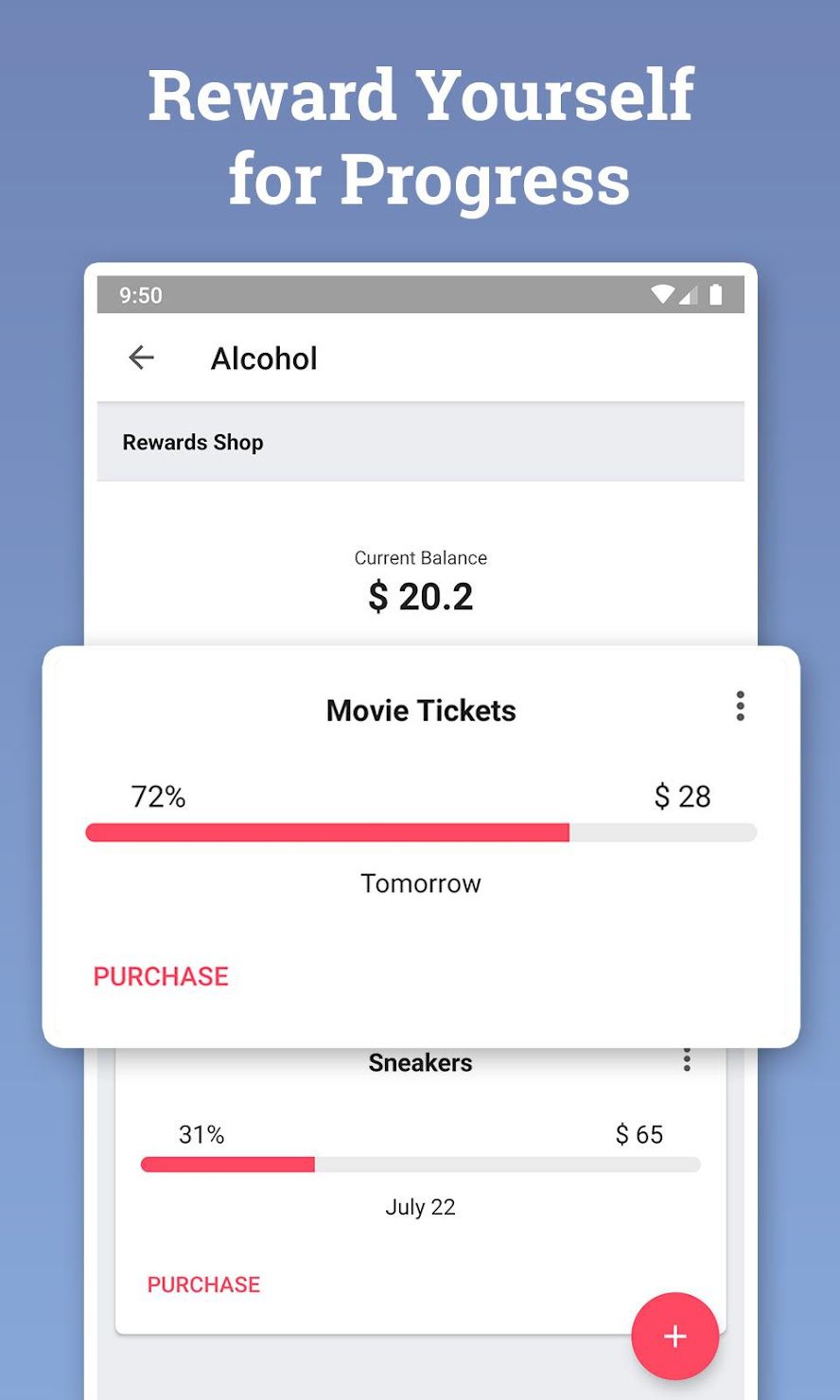 The Quitzilla app won't do all the work for you. You'll have to struggle to overcome the urge to snap and go back to drinking sugar. But either way, this app is a great helper for those who want to make their lives better.


Stop Sugar – Quit Now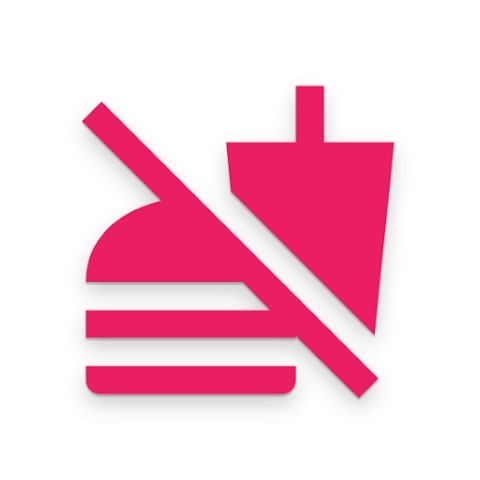 An app that helps you give up sugar without stress. Functional design in a minimalist style. No annoying ads. There is no personal data collection.
There is a scale on the main screen that shows how many percent are left to reach the goal. Information is available on the total amount of sugar eaten, money spent, and the benefits of giving up sweets.
The time scale displays the steps of giving up sugar. The app awards badges for each step you take toward your goal. They need to be collected over the course of a year. Money saved on sweets can be spent on things in the store tab.
The more goals, the higher the reward. Keep track of how long sugar doesn't hurt your health. The app has nothing to do with medicine and is an auxiliary.

You may also like: 11 Best Anatomy Apps for Android & iOS
SugarStop Challenge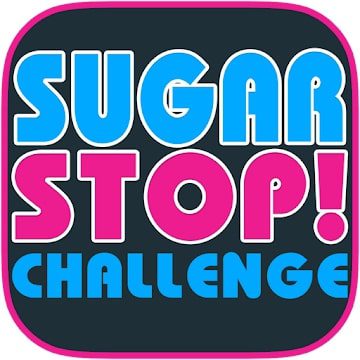 Choosing a certain period of time to achieve your goal is the most common way to fight bad habits. The time frame can be anything, but 21 days, a month, or two months are considered the most effective.
You can even start small and continue, increasing the time frame until the bad habit is completely gone from your life.
Sugar consumption is no exception to this rule. This is what the SugarStop Challenge app is based on, which we will tell you more about.
This app will help you determine which foods containing unhealthy sugar should be eliminated from your diet. If you promise yourself that within a certain period of time you will completely forget about this food.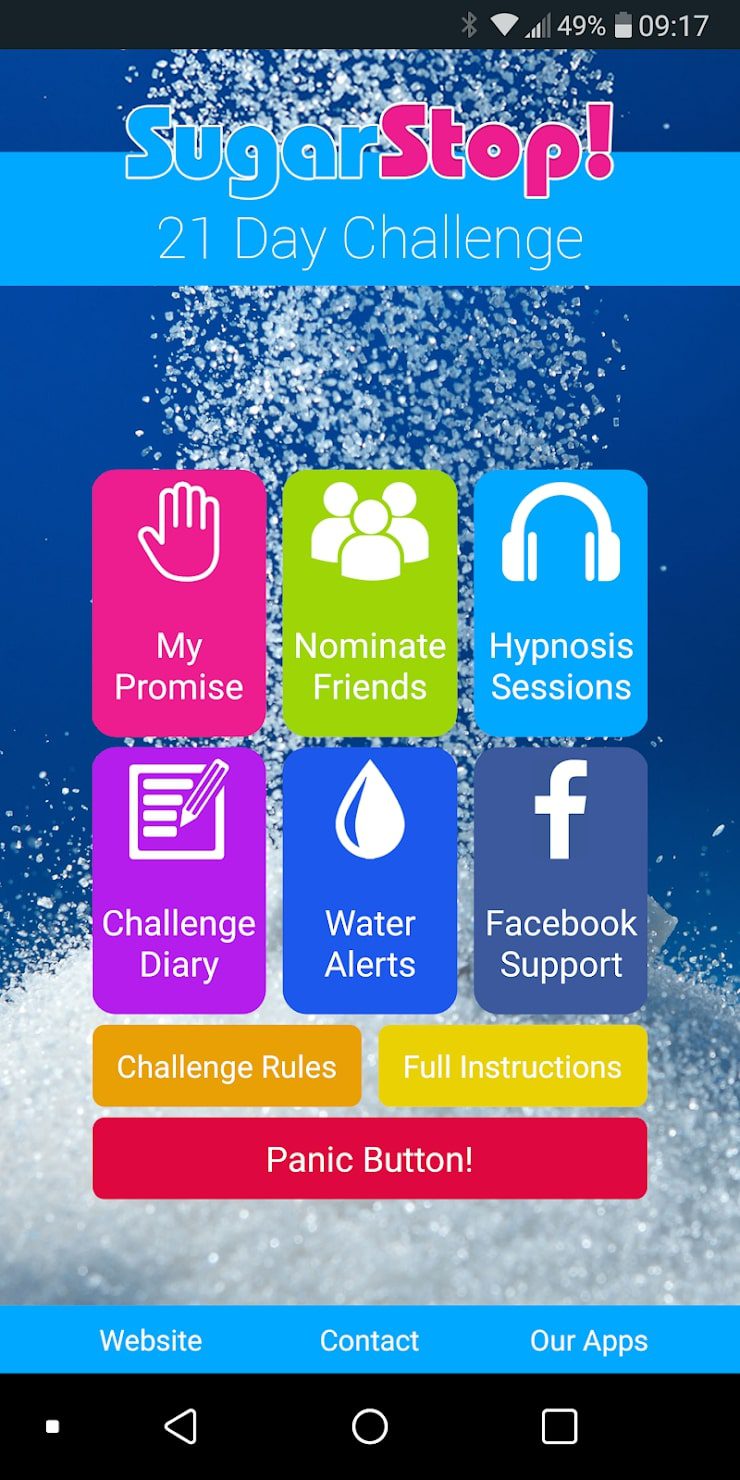 You can share your promise with friends, to further eliminate the possibility of failure. Here you can track your personal progress, while also seeing how many days and even hours are behind you.
If this method is very difficult for you and you think you're not going to succeed anyway, don't despair. This app also has unique hypnosis sessions. There are five of them in total.
They are aimed at convincing you to give up foods that contain unhealthy sugar. For example, chocolate, sweets, and sugary drinks. A special feature of this app is the presence of a "panic button". Press it if you have an irresistible desire to eat a harmful product.
So you can go through a ten-minute session of "suppressing" your desire. Also, here you will get a lot of different tips and ideas that will be useful to you in such cases.
In order not to go this hard way alone, you can invite your friends. You can do this right in the app thanks to the Facebook integration. In addition to your friends, you can also get support from people around the world who also use the app.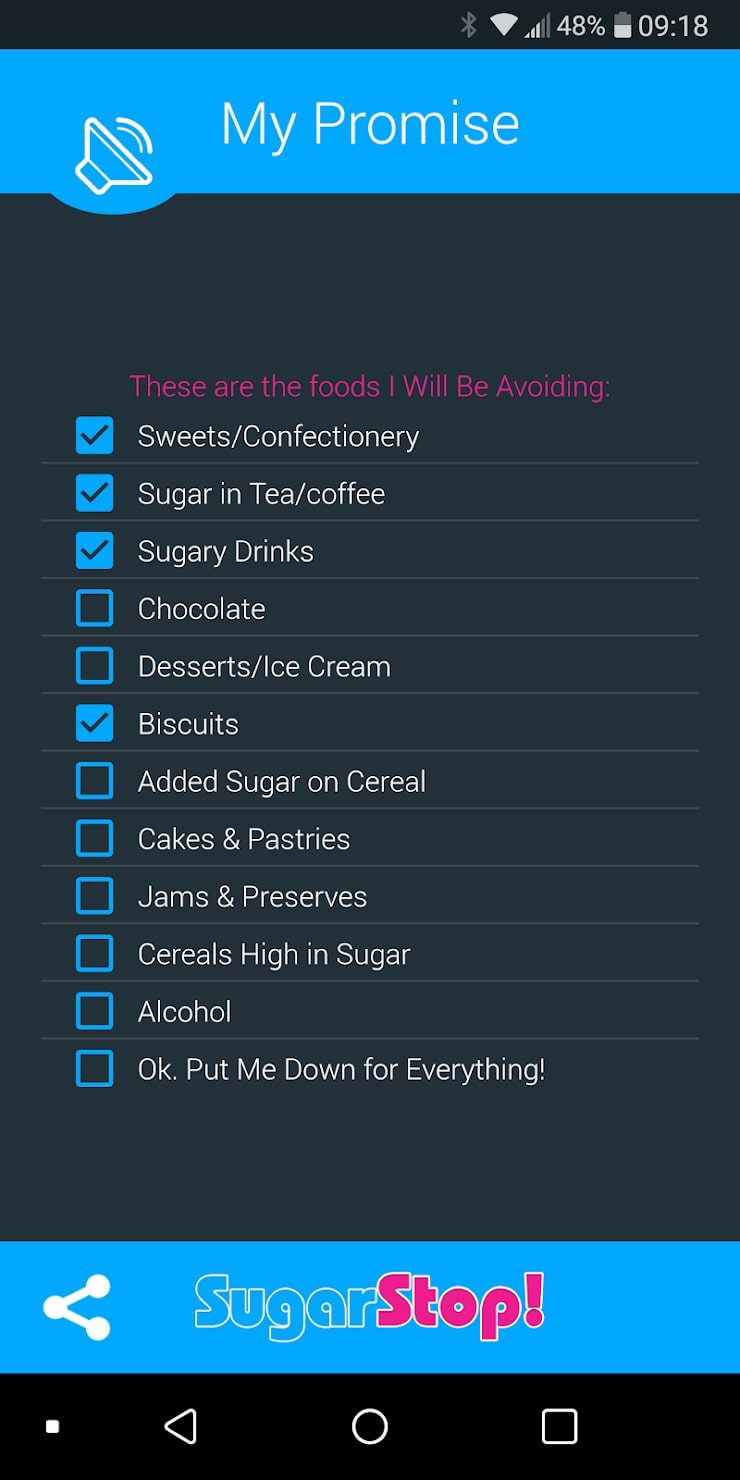 This app, as well as the ones in our review, will be a great helper for you if your goal is to eliminate sugar from your diet. Each app has its own exceptional features. All you have to do is choose the one that is right for you.


Quit Sugar by Life Ninja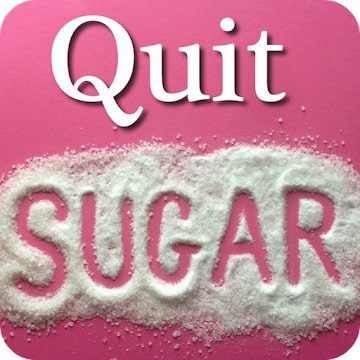 The Quit Sugar by Life Ninja app contains a huge number of different tools and tips to help you reduce the amount of sugar in your diet. It's so versatile that it's impossible not to get results with it.
To learn more about all the features, you definitely need to try to use them all yourself. But here we will also tell you why you can definitely achieve your goal thanks to it.
To begin with, the app will set you a certain period of time during which your sugar intake will be limited. This time frame is 8 weeks and is one of the most effective.
You need to select the goals you want to achieve. There are several categories presented here, among which you will be able to find a suitable one. You can also create your own category.
The application is very easy to use. The foods that contain unhealthy sugar are divided into groups. You will be able to find out which foods have natural sugar and which have added sugar.
This way, you won't need to completely eliminate sweets from your diet. Don't eat unhealthy foods, and you can keep healthy sugar in your diet. Use a list of alternative foods with which you can replace unhealthy foods in your diet.
Every day you will record your progress. It is very easy and quick to do this. All the history of changes and data you make will be stored in the app. It will also be visually displayed on a graph that will give you all the information you need in detail.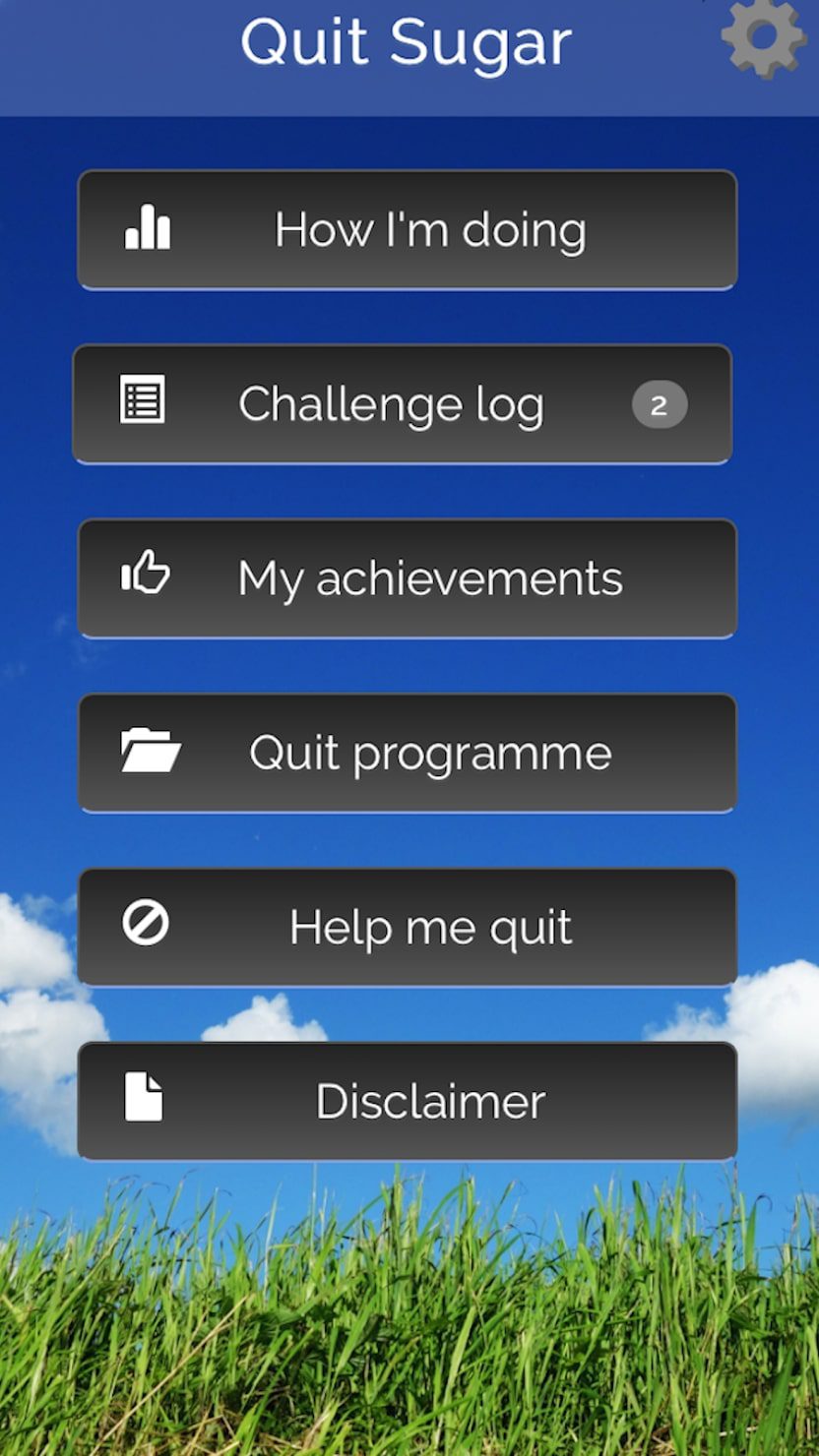 This app uses a special system of marking achievements, which resembles a traffic light:
green indicates the achievement of the goal,
yellow indicates some improvements,
red indicates that the user has not yet reached the goal.
Include all the data that speaks to your progress. Weight, well-being, and mood all tell you your progress and will allow you to make changes to your plan if they are needed. You'll also be able to track your progress on a special page. This will be a great motivator for you.
You will also track changes in your mood. Giving up sugar is not easy enough. This is important to keep in mind. Your condition will change every day, so maintaining a good mental state is integral.
The mood rating system is also based on the principle of a traffic light: green is good, yellow is average, red is bad. More often than not, people who give up sugar and thereby improve their health, notice that the color green in their chart more than others.
Also a special section "Why you should quit" will help you with keeping your condition normal. Here you will find tips and other useful materials on how to stick to a healthy diet, psychologically speaking.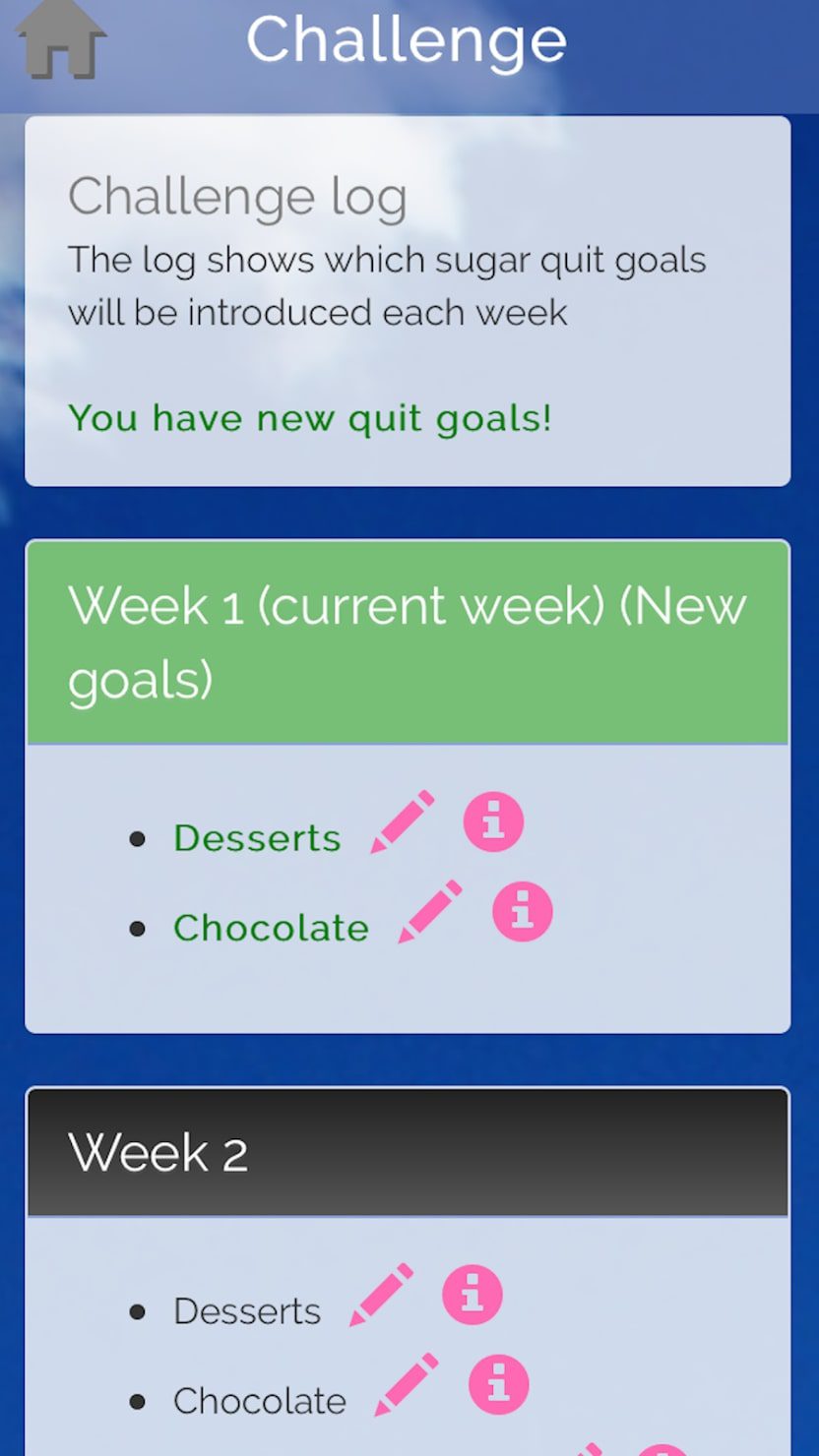 Quit Sugar is a really good app for normalizing your nutrition, as you can see for free.


No Sugar In Me
An app to help people who have decided to live a healthy lifestyle and give up sugar. It has nothing to do with detox. The app changes live by getting rid of sugar in any form: with additives, processed, refined. Users report weight loss, improved skin, deep sleep, and productivity. It's rational to give up sugar with the app because it's in every meal. With the app, it will be easier to keep track of those limits. It keeps track of how many steps are left until the final habit is developed. With it, you can make it through the adaptation that threatens repeated breakdowns. The reward system will leave no one behind. Using the app is intuitively easy. The concise design will focus your attention on the main goal.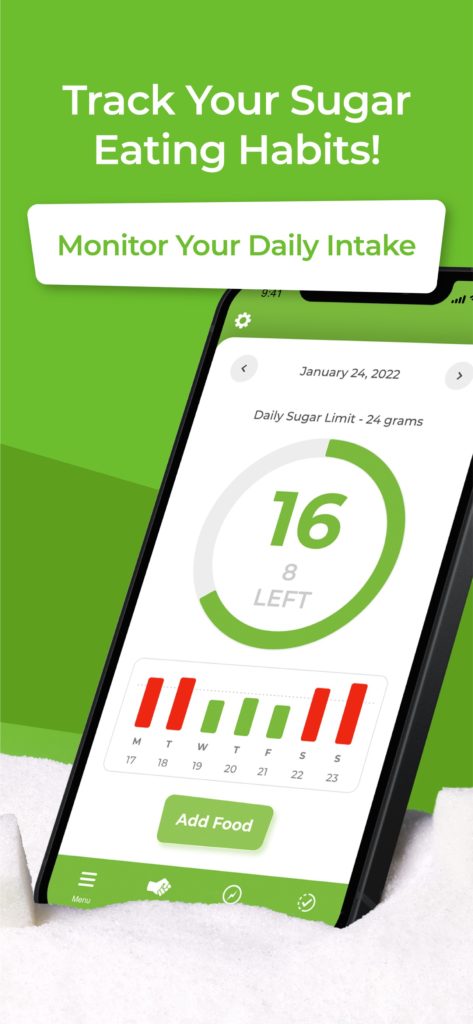 Stop Eating Sweets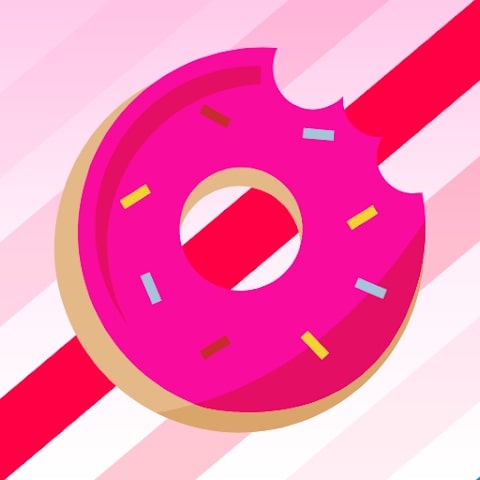 An app to help you give up your excess sugar intake and live a healthy lifestyle. Any extra reference to sugar is unnecessary. The app keeps a calculation by month, day, hour, and minute of how long the user was able to last. A reward is given for each day, which motivates new achievements. Every time you fail, the counter is updated and you have to start over. The app also automatically counts the money saved. You can have a nice time dreaming about how to spend it. This is how the app fixes positive associations in the mind. They will help when you don't have the strength to keep your diet. Gradually, the platform will develop a habit from which it will be impossible to give up.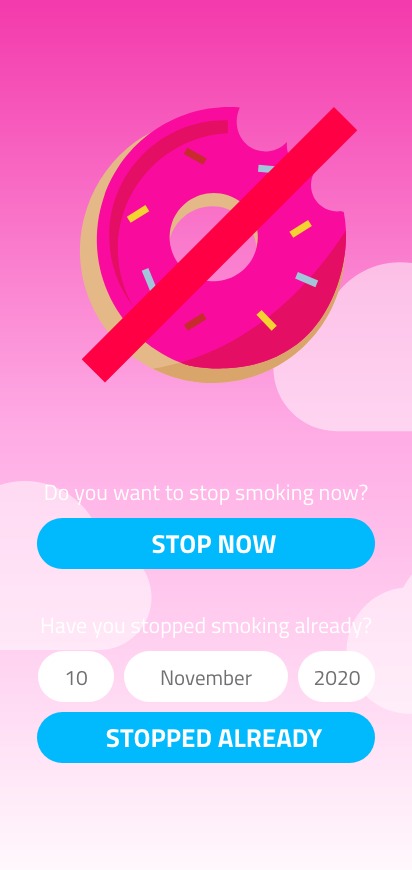 You may also like: 9 Best Apps to Remove Glare from Photos on Android & iOS
mySugr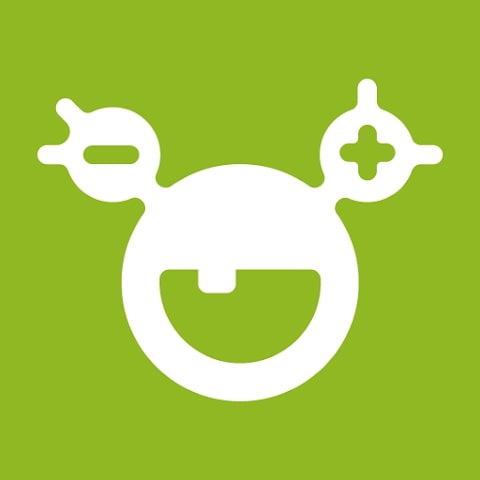 An indispensable app for people with diabetes. It keeps track of everything related to the disease, from medications to blood sugar levels. The control panel is easy to use. A bolus calculator is built in to calculate insulin doses. Blood sugar levels are presented as a graph. Glycated hemoglobin is estimated by norms. The app automatically generates reports every day, week, and month. They are convenient to show at the endocrinologist's appointment. The documents are saved as a text file or table. There is a backup of the data. The following indicators are recorded: carbohydrates, medication doses, blood insulin, and glucose levels. The app connects to physical activity trackers to check it. With the help of a special tool, you can calculate portions of food. For better results, it is better to take pictures of the food. The app has a built-in first-aid guide.