Farm games never go out of fashion. What kind of farm game do you want to play? A retro-style, with funny figures of people and animals? Maybe a farm game for kids? Or do you prefer to play a full strategy farm game where you need to do precise economical calculations in order to grow your farm from scratch?
Whatever you need, you will find it in the following list of the best farm game apps this year And you can also find farm building games for Pc, Android, iOS devices in this article. .
FarmVille 3 – Farm Animals
This is one of the most popular farm games ever and that's the part of the game series that started back in 2009. Here you can enjoy the puzzle of day-to-day village life and your task is to take care of your animals, plant and harvest crops, evolve your farm, etc.
One interesting element of this game is one of your tasks here is actually to make friends. Here you have to start your animal farm from the ground up by bringing and building a thriving and prosperous farm.
Only you can choose which animals you want to have there, for example, chicken and horses, pigs or maybe cows? It's only up to you.
Another cool ass picture of the game is that here you can visit all the farmers, carry conversations with them and just help them and they will help you in response. You need to build, design, develop and make a village life evolve. You can even organize your little farm town soon.
You will unblock hundreds of cute animals, including such exotic breeds as a penguin. Remember that each of those unique animal breeds gives you unique farm goods. You can sell these goods later for money. What is more, you can match or mate animals to raise them and then discover new breeds.
Farmville 3 includes a bunch of mini-games that will help you to unlock your favorite exotic animals. You can customize and design your family ranch home with lots of unique decorations, building styles, outfits, and so on.
And the game also includes a changing weather feature, so when you're experiencing a certain type of weather, try to take the best of it. Overall it's a cool farm game for all ages and if you're a fan of this genre you will definitely like it.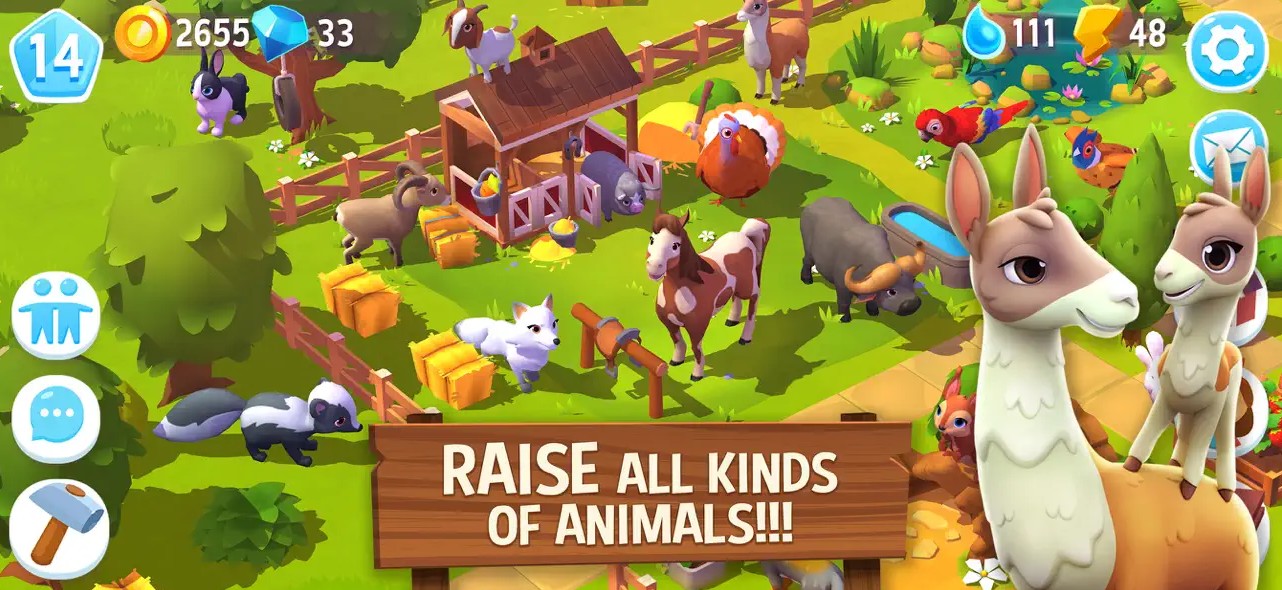 You may also like: 9 Best Multiplayer Farm Games for PC, Android, iOS
Horse Farm
Horse Farm is the best game for everyone who likes horses. As you already guessed your main task here will be to raise and breed the horses and also take care of them.
Here you have a farm where you only have horses. You need to build new buildings for them, and the game gives you broad possibilities for their customization where you can even, for example, select the color of the roof. You we'll also need to hire the staff, prepare the meals and sell the males.
And you will also have to provide your horses with water and crops. One cool element of this game is that here you will find various breeds of horses, for example, an Andalusian horse, an Arabic breed, and of course ponies.
The graphics are decent but they could be better in our opinion. Also, we didn't really like the animation because it's way too simple.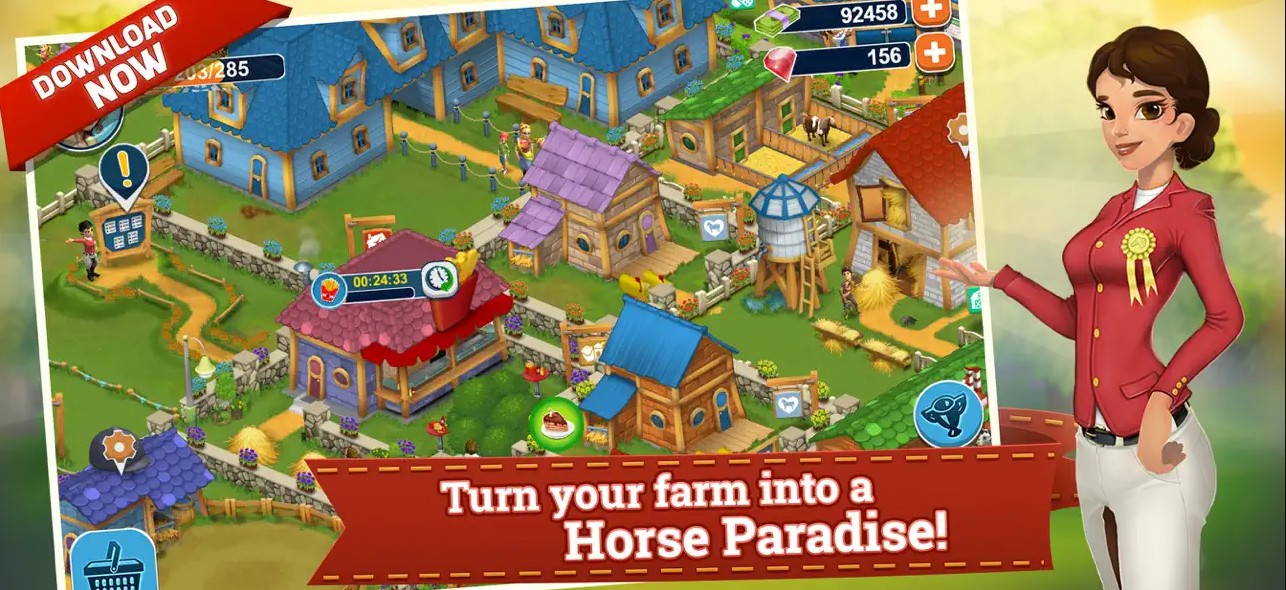 Family Farm Adventure
Family Farm Adventure is quite a new trendy game and you've probably seen the advertisement of it in other apps because it has a broad advertisement campaign. Hear your task will be to explore the mysterious tropical island with the main characters of the game and solve all the puzzles.
Then come after you build a farm you need to decorate it with flowers, But first, you need to restore the building and central elements that you cannot go without. After you're finished you can celebrate this event with everyone.
After you have built your farm on a tropical island you will need to take care of the plans, take care of the animals and prepare food and all the stuff. But don't forget also to complete interesting tasks and challenges and join the adventures of Felicia while she travels the mystery islands.
Here you will also meet some eccentric wild animals and you will have to become friends with them. Another interesting point of the game is that here you have to collect treasures and ancient artifacts and then you can exchange them for valuable items.
The graphics are quite average in our opinion, but those who like a combination of an adventure game and a farm game will definitely appreciate the Family Farm Adventure game.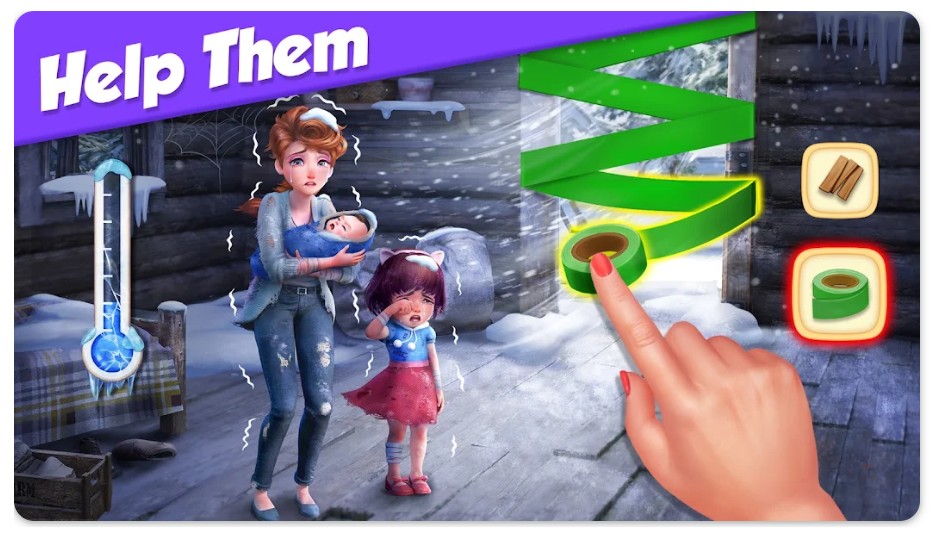 My Dear Farm
If you are into that two-dimensional cartoonish cute graphics and cute animations, then you should look no further than the app my dear farm. At first sight, it might seem like a game for toddlers, but it's just this style of the game and its graphics dad make you think like that, and intact this game is suitable for all ages.
We definitely like the fact that the developers here prefer to stick to their unique style even though everyone might appreciate that. Here your task is classic you have to develop and make Prosper your own Farm, grow corn, sell them, build buildings, rip harvest, and do other fun things that you usually do in farm games.
This game actually doesn't feel like a traditional farm game, but I'd rather feel like a cartoon where you take part in what you are watching while playing at the same time. There are a lot of mini-games. Unfortunately, like many other representatives of this genre, My Dear Farm contains a lot of ads.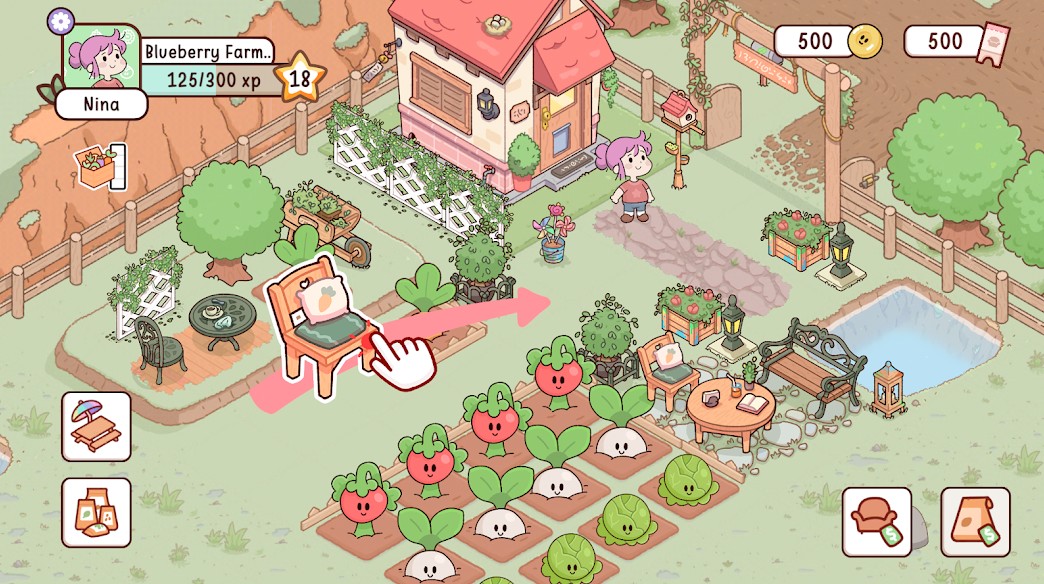 Farmington – Farm game
In the Farmington game, you will find all the possible elements of the best farm game that you might be looking for. Here you can explore and process new territories, and gain new lands. Your other task will be to construct the farm buildings, creating the whole infrastructure.
And of course, one of the classic tasks remains to breed the animals, such as cows, sheep, and pigs, chickens, and all the animals. Plan the crops, vegetables, and berries. And don't forget to plant your fruit gardens with the most beautiful trees.
You can also plan the flowers and create the most beautiful landscapes. One essential element of this game is to always update the production recipes so the equality of your production increases.
You will need to make the orders for all the people and you will also have to interact with your neighbors. You can trade the production of your farm for all the goods. And you're not going to play only at the farm, you will also have a supermarket in the center of the town where you have to sell your crops and vegetables.
You will also have your working office where you will be storing your family recipes. In total, there is also a number of interesting places and spots in this game that you can explore on your own. The game includes a whole bunch of different elements so some players can be overwhelmed.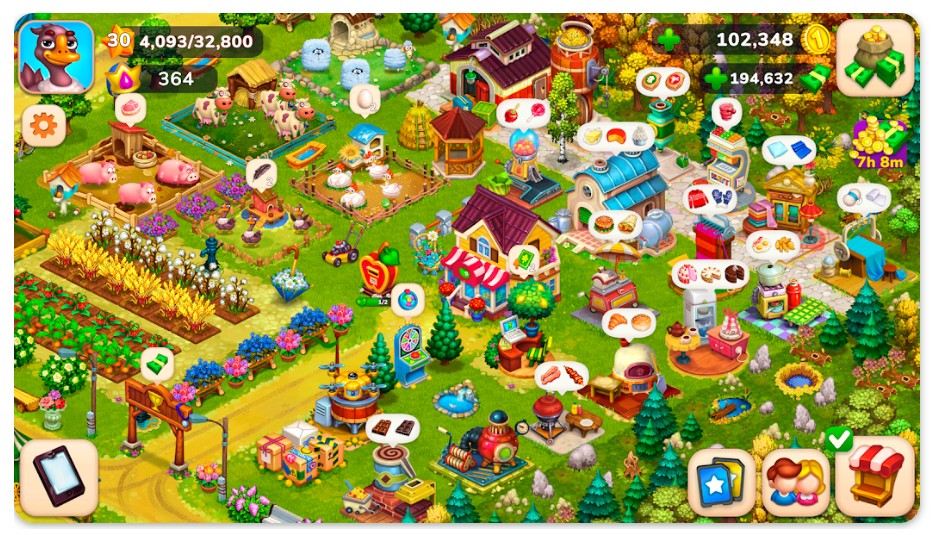 You may also like: 10 Best Online Farming Games for Kids (Android & iOS)
Hay Day
Hay Day remains one of the most popular farming games for mobile phones. Here your farm and possibilities are almost endless. Here you can of course build a farm, a fish farm, raise animals, and just explore the bully. Define an easy form and experience is guaranteed here.
You can grow crops like wheat or corn and they will never die even though it never rains in the game. You will need to harvest and replant your seats to multiply your crops because these are your goods to sell. And of course, you're going to breed animals like chickens, pigs, and cows so your farm is expanded and grows.
You can customize your family farm to it to be your own slice of paradise. And one distinctive feature of this game is that here it allows you to progress even further than just a regular form, and you can even open separate enterprises.
For example, you can build an additional bakery, wheat mill, or sugar sill. Considering the animals, here you can add not only traditional farm animals like cows and goats but also you can bring puppies, kittens, and bunnies which are so cute.
The locations are colorful and detailed and you're just enjoying the view as well as you're playing. By the way, hay day has its own unique authentic graphics that stands out from all the games in this genre.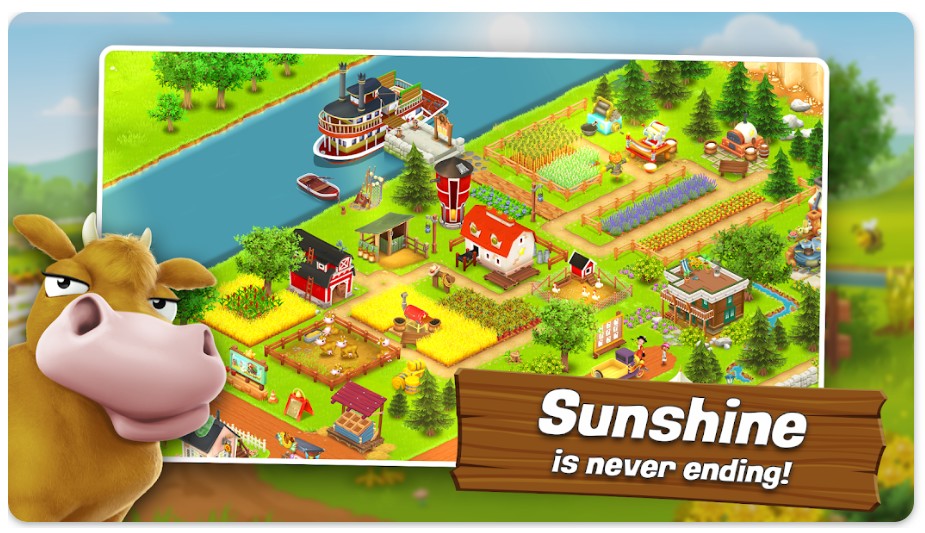 Township
If you like games that combine the elements of city building and farm building, then Township is definitely your choice. Here you can build houses, plants, and сity buildings, plan the Harvest and decorate the streets. What is more, here you can open a huge zoo with rare animals.
Another interesting feature of the game is that here you can actually find underground treasure and then trade them for other valuable goods. You can become friends with your neighbors so you can go through exciting adventures together and exchange goods.
You have to take part in the city's life, develop and decorated, conduct the trade, etc. One of your main tasks will be to grow the Harvest and then process everything that you got on your farm so you can make food out of it and then transport it to your city.
Overall, Township consists of the number of many games that you need to complete so your progress in the game. The graphics are good but we found the overall style of Township is a little bit plain in comparison to the previous games.
It might be only our subjective opinion, but the gameplay here seems to be too limiting. There's not a lot of space for creativity, you just follow the instruction and just follow the flow of the game.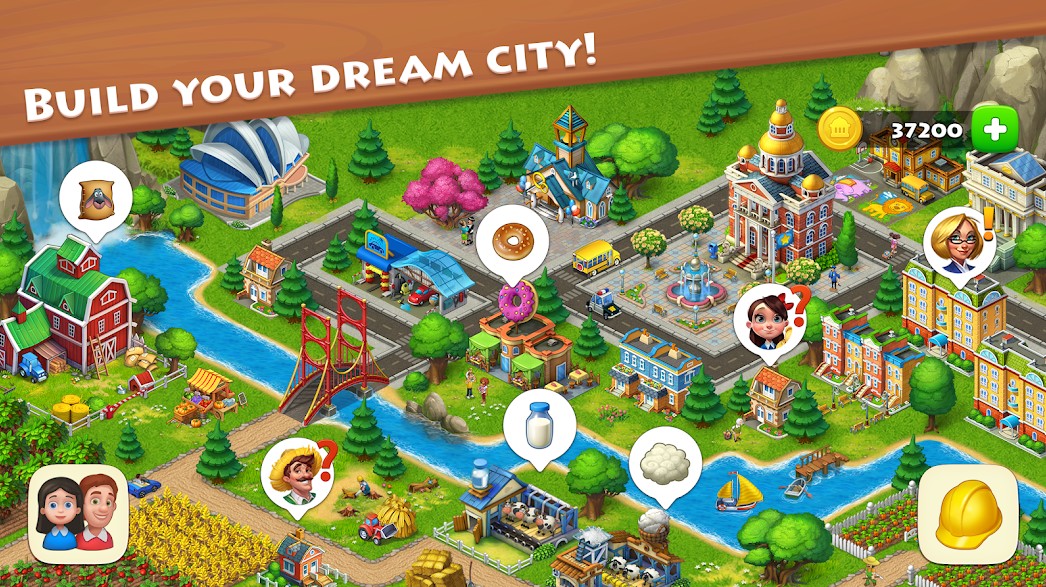 My Free Farm 2
My Free Farm game has been on the market for a while already and it's a mobile version of a popular Facebook game. The graphics here look a little obsolete but that is what makes My Free Farm 2 available for a bigger range of devices.
Here your task is to grow your farm as well as to go through different quests together with your friends since it's an online game.
We didn't find any significant disadvantages here except maybe the fact that the game likes to remind you each time about the possibilities of purchasing the items.
Frankly speaking, you can make progress in the game without them, even though it will give you much slower progress. It's a very good game by very good developers that have been around for a while already.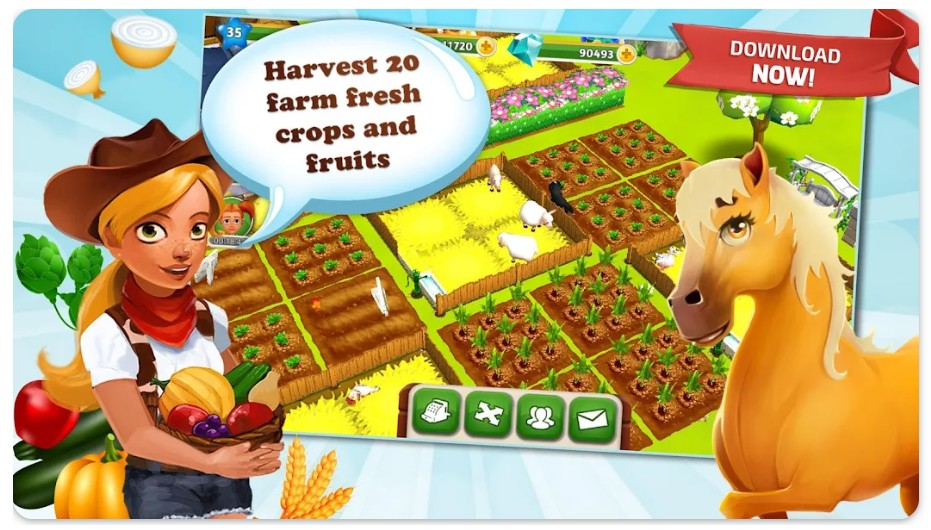 You may also like: 11 Best Pet Care Games for Android & iOS
Royal Farm
The main advantage of the Royal Farm game is that it's more than just your regular farm game it's a fairy tale World filled with your favorite characters that we all know from our childhood. And this palette of the fairy tale story never ends.
Here you will find famous fairy tale characters such as Cinderella, Snow White, Esmeralda, Red Hood, Rapunzel, and others. You will have to interact with the magical creatures and complete their orders and your other task, of course, will be to develop your farm and build the magic towns.
The app is full of mini-games for example you can take part in the dragon race together with your friends. You can also use the Friendship code so you can add new friends and you can help each other. The world of Royal Farm is wide and you won't get tired of exploring it.
New events take place every day here and the game is known for its atmosphere of romance, magic, and friendship. The graphics are cartoonish but it's well done and all the details are well drawn so we would say it's a decent game.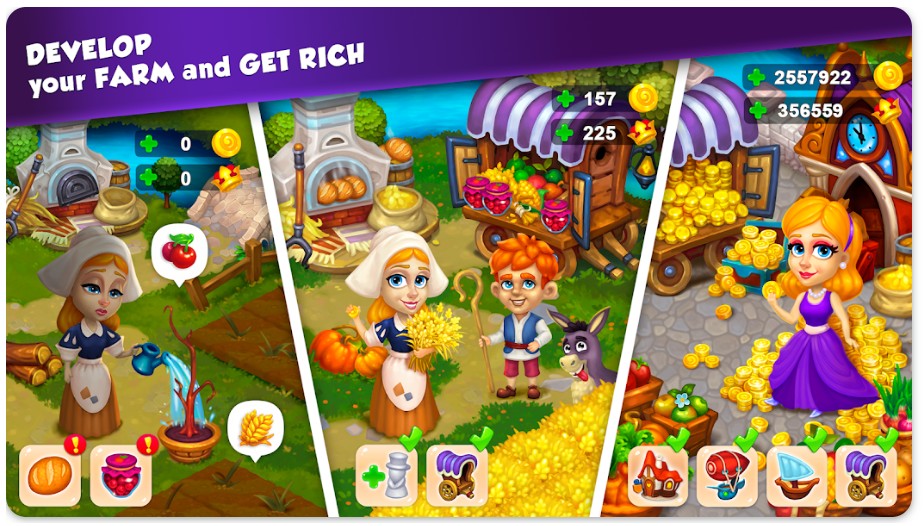 Sunrise Village: Farm Game
Sunrise Village combines the elements of farming and an adventure game. Your main task here is to help your grandfather to restore and rebuild the farm after some mystery fog has destroyed it. Considering the farming element the game is simple, you just gather the crops, plant seeds, repair the buildings, etc.
The game contains a lot of quests. You will meet the other villagers and you will take care of the animals. Even though we think this game is quite simple, it has received very good reviews from users on the digital markets and it's been tremendously popular since then.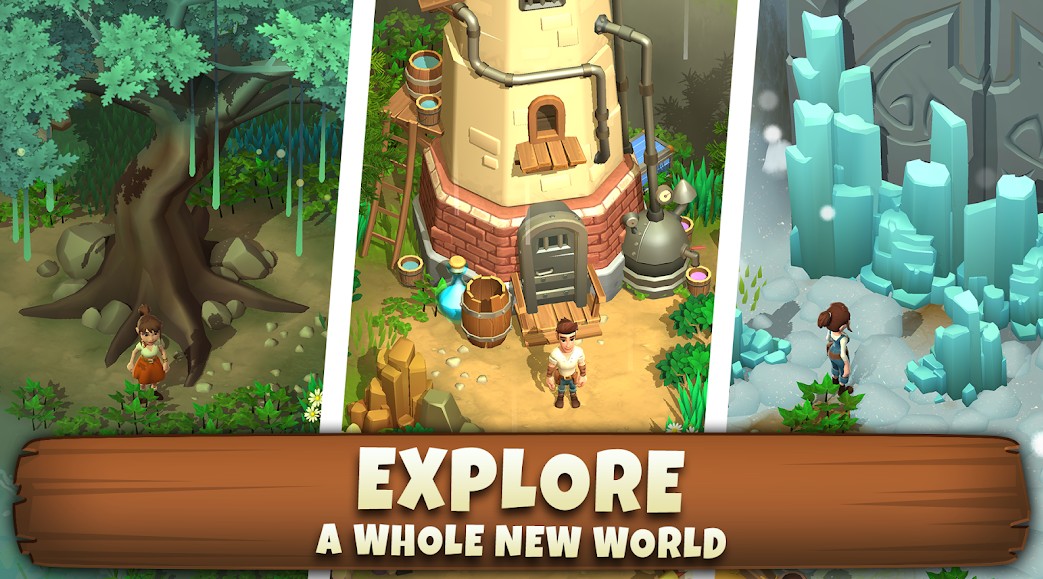 Family Island — Farming game
family Island is a cute game where you need to restore the island after a volcano explosion. Another advantage of the game is that the story takes place in the Stone Age, which means you won't be having all the modern tools for growing a farm, but you will have to be creative and apply the ancient tools and get the best of what you have.
Your task will be to evolve the farm, plant seeds, and then gather the harvest in order to get food to eat. As you are progressing in the game, you can improve the overall looks of your farm and create more complicated constructions.
For example, if at the beginning all you have is a simple hut then after a while you can upgrade it to a 2-floor house with a terrace. All in all, this is a cute farm game with an unusual story and beautifully looking animations.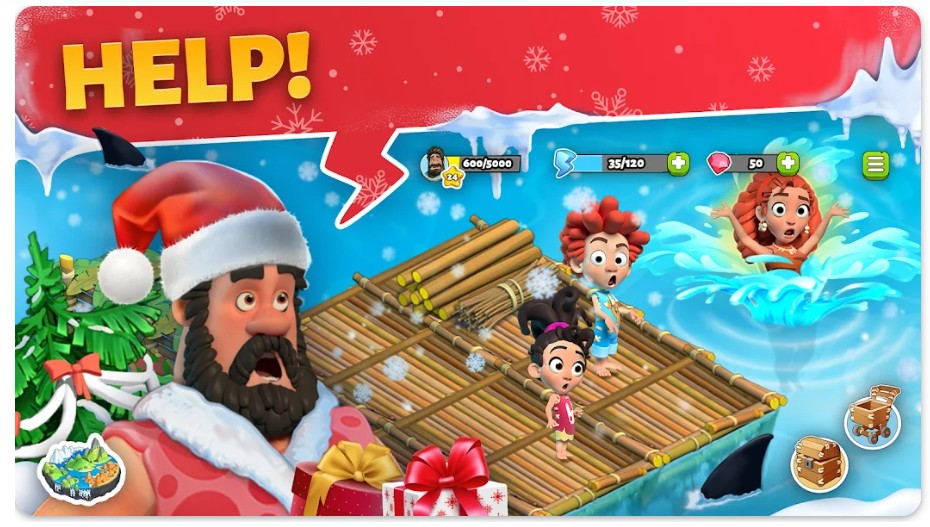 You may also like: 11 Best Games Like Neopets
Blocky Farm Racing & Simulator
Here we have another interesting farm game that is called Blocky Farm. It's a pretty authentic farm game that you can also play offline. It's technically a tap-and-collect game, but really fun and has some unexpected twists in it in terms of innovations.
The overall game is made in the retro style so if you're a fan of this genre, you will like it. All the details in the game look cool and the possibilities for the characters' customizations are fun.
One element that we found especially attractive here is the pets in the game. Cute dogs and cats are running around doing their fun stuff and you can always play with them.
One of the most difficult missions in the game is the one where you need to father harvest on a tractor or a combine and many users complain the difficulty is too hard for them.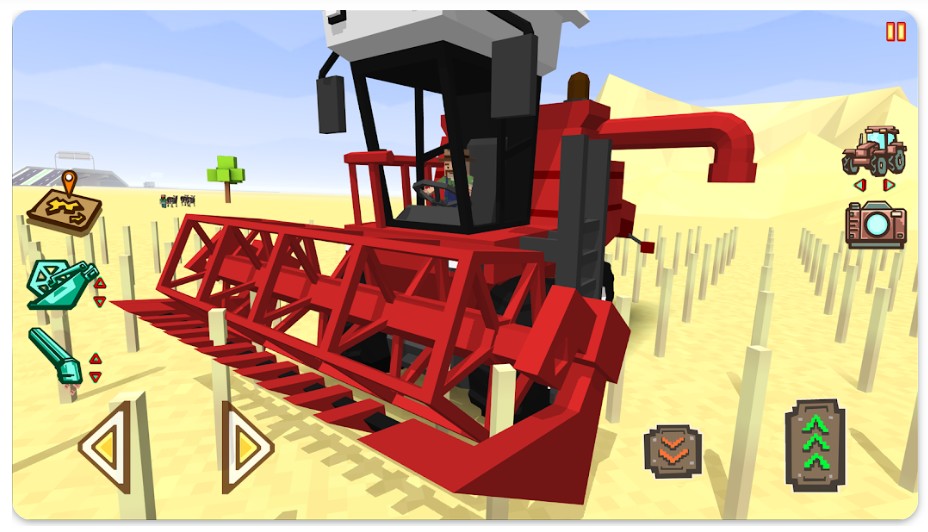 Dreamdale – Fairy Adventure
Here we do want to be honest with you guys but this isn't particularly the best game in today's list. But let's talk about the Dreamdale which is technically a farming sim but incorporating dungeon crawling game elements where you get to play as the knight on his mission to obviously rescue a princess.
Now gameplay wises It's a pretty easy-to-pick-up kind of game but with a significant amount of ads. So it's a pretty fun game with a nice balance between interaction and upgrading. It's a good sense of progression and it's pretty enjoyable to progress as of now, the game is pretty much bug-free.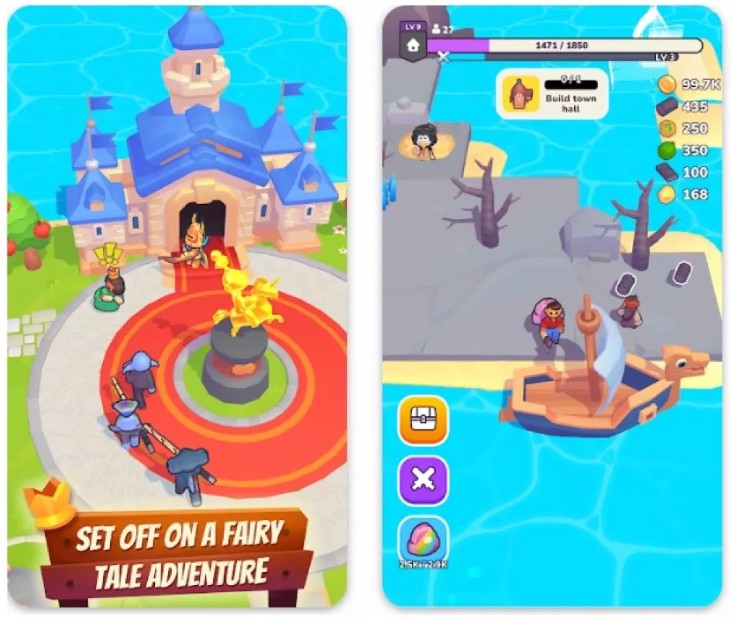 Kawaii Islands: Kawaiiverse
This is probably the newest game on our list, since it's been released only in 2022, and it has basically the same style as My Dear Farm. So if you're a fan of the kawaii games, check out this one. If we wouldn't take the styles and graphics into consideration, it's your regular farming game with all the necessary attributes.
Everything in the game looks overwhelmingly cute, and here you have to not only take care of your farm but also decorate the interiors of your house and even choose the outfits for the characters. Therefore, Kawaii Islands will probably find success among the female audience.
The presence of the magic beautiful creatures in the game, that you have to collect, adds charm to it. Also, there are various events in the game that are held regularly and your character can take part in those.
In total, Kawaii Islands is full of mini-games that won't let you get bored. Don't forget to complete the orders for your customers and hang out with friends.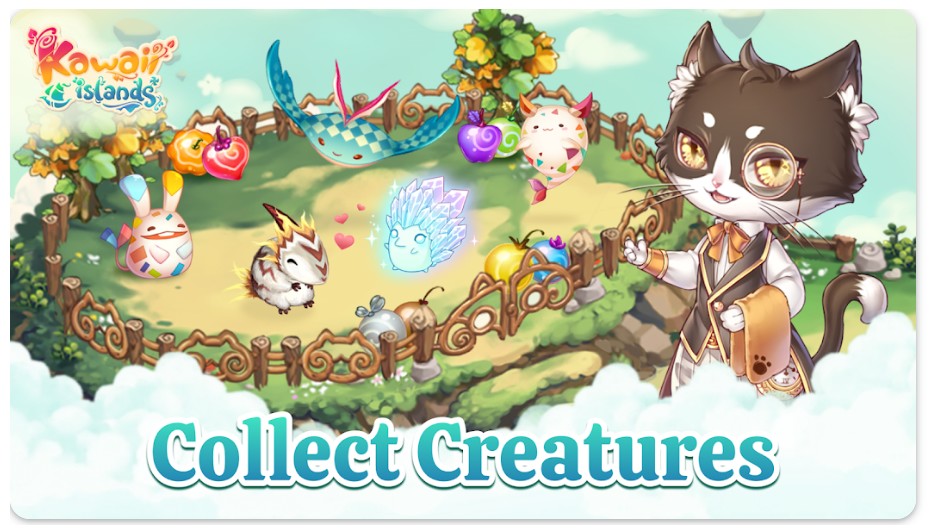 Atlantis Odyssey
Atlantis Odyssey is not exactly a farm game, but it rather combines the elements of an adventure and the farm game genre. Thus, in order to make this list more diverse, we decided to include this in the collection.
And, indeed, this game is no worse than others – you will have to collect resources to build your own farm on an island that you will be exploring. As a bonus, here you got not the regular farm animals, like cows or pigs, but parrots, lamas, and other exotic creatures.
The reason why we put this game closer to the end of the list is that we didn't really like the graphics and found the overall looks of the game quite mediocre. But the general idea is cool and quite refreshing in the segment of the traditional farm games.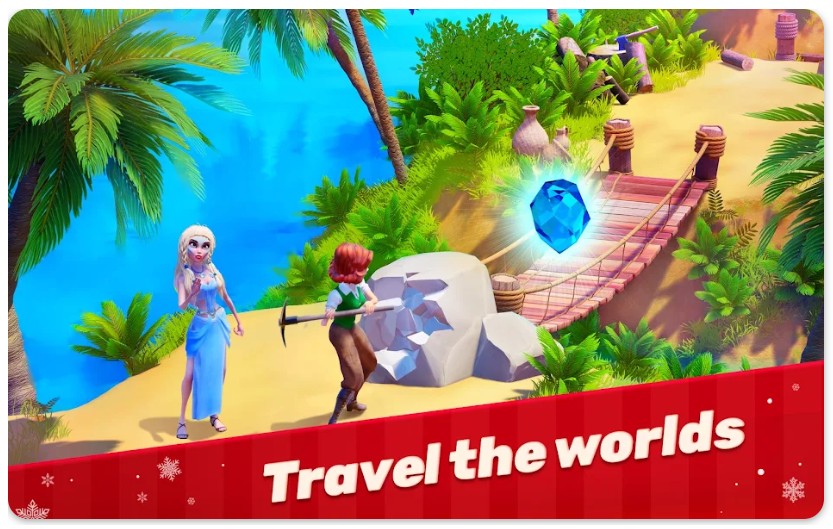 Taonga Island Adventure: Farm
If you liked the idea of building a farm on an exotic lost island, then there we have another suitable game for you. According to the plot, you receive a mystery letter from your uncle that was missed a long time ago and that leads you to an exciting new world that you could only dream about Taonga island.
The exciting Adventures are waiting for you here. You're going to meet new friends build your own farm, explore the wild jungles and reveal the ancient Mysteries. Of course, everything revolves around building a farm.
You will need to plant and then gather the Harvest under the Hot Tropical Sun and you can also gather the fruits from the trees. Take care of the animals, grow the cause, and chickens. Here you can choose if you want to just build a common hot with friends or you want to go to a family farm.
The design of the farm is up to you. The game has an online mode where you can meet friends team up with them or trade different Goods with each other. The game has decent visuals and you won't be disappointed with the range of entertainment that it will bring to you.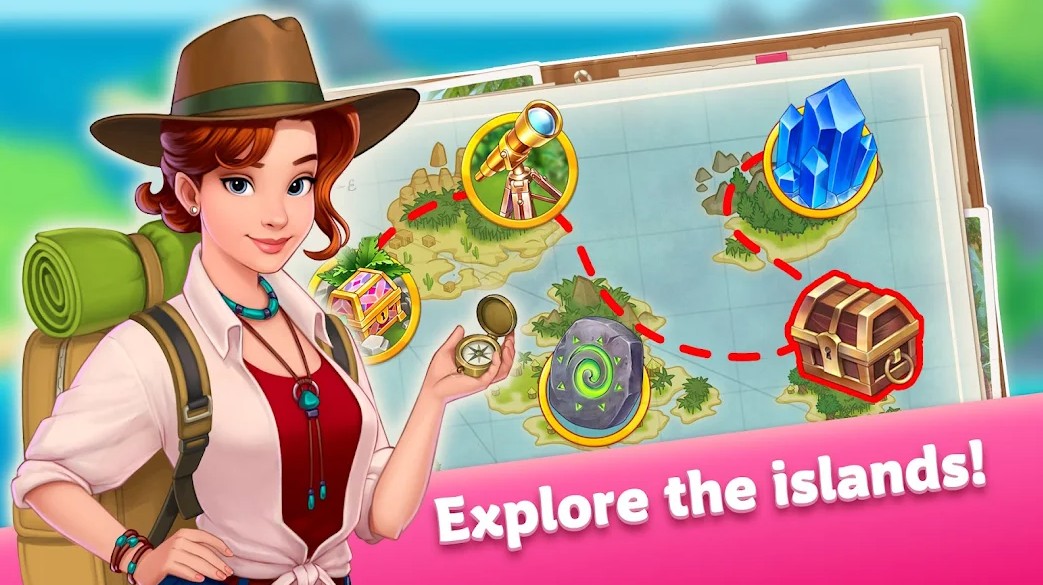 You may also like: 5 Best Farm Racing Games for PC, Android, iOS
Farmery
Farmery is one of the classic representatives of this genre and in case you just want to play a simple farm game on your device, this is an excellent choice. Here you have to build your farm from the ground, plant vegetables and corn, and then, of course, rip the harvest.
The main characters are fun animals like Bears or squirrels. They will make the game more fun. There is a lot of many games in Farmery and it also includes a lot of puzzle games and you won't get bored with those.
We can't say anything certain about the graphics since it's a common graphics for the farm games but we also cannot say anything negative about them.
All in all, Farmery is a nice game in this category where you just do all the stuff that you would usually do on the farm, you grow your plants, you sell the goods and you grow your production in general.