In this article we're going to discuss rather unusual games. They're like a compromise for those who like farm and racing games – the games where the race takes place at a farm! But if you think about it, what can be more fun?!
You may also like: 11 Free Farm Building Games for PC, Android, iOS
Obviously, there are not so many games in this category, but still, the ones we have found are really cool to play in. Some of them will be suitable for kids, some of them will be appreciated by the adult audience. However, they all include races on farm. Check out this interesting article down below!
1. Blocky Farm Racing & Simulator – free driving game
This is a very exciting game and everyone will love it. It's made in the Minecraft style, so here you get the 8-bit graphics and you need to race on tractors. The main action takes place – you guessed it – on the farm!
When you first launch the game you first need to choose the tractor on which you're going to compete. The choice isn't wide in the beginning and as you are progressing in the game, you get to unlock more and more cool tractors.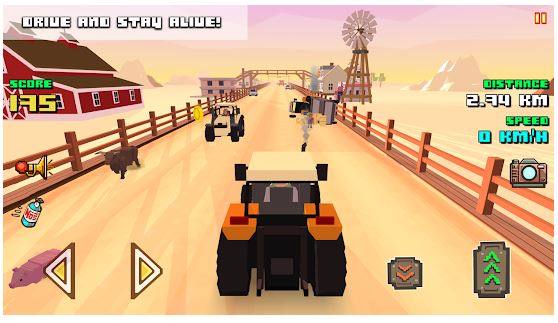 And in the game, you will actually have not only to race, but you will also need to cut the crops in a limited period of time, or maybe, release seeds. And even though the graphics isn't the last generation all the locations are nicely excecuted and there is no feeling of emptiness when you play.
Another interesting feature of this game is your enemies. On your way, you will face other vehicles, pigs, and bulls – you need to destroy as many of them as possible! At the same time, you should beware the car accidents and bump into obstacles or other tractors.
What is more, the tractors are customizable. You can change the color of your tractor, change the color of rims, take the roof down, and many more. The game always changes modes and sometimes you're going to race in the daytime, sometimes at twilight, and so on.
And to be completely honest, this game is not only the simulator where you need to race and destroy everything and everyone. You can also take your favorite pet with you together in the tractor. And if you're lucky to get a buddy on a farm you do everything two times faster.
You can easily play offline and you don't need an Internet connection. There is a lot of levels in the game, coolest locations, interesting features – who knew that it all could be found in a farm race game!
By the way, keep in mind that this is not the easiest game to play. Besides, many users complain the game control isn't the best. But in all other aspects, this is a truly authentic game that everyone should try.


You may also like: 9 Best Multiplayer Farm Games for PC, Android, iOS
2. Farm Race – Kids Racing Game
This is an extremely simple game, but that's why it says in its name that this is for kids. Here you get to control one tractor and you're always competing with another one. Actually, there are 3 game modes: tap race, follow me, and the free race.
The diversity of location is absent, but as we said before, the game is simple, so don't expect something extraordinary here. Still, it's a farm racing game. It's suitable for kids of all ages and you can use it for your child to develop reactive, responsive, and agility skills.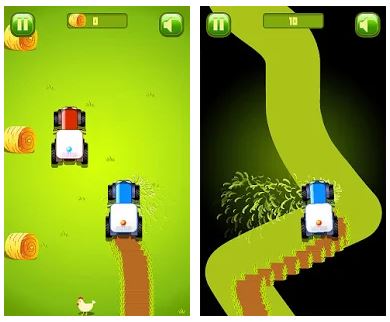 In the free race mode, you need to drive around the farm and collect as much hay as possible. And just like in the previous game, where you need to dodge chickens, pigs, other farmers, and fences. The follow me mode is supposed to help your child to develop the metrics, because there the tractor moves in zigzag style.
All the parents are content with this game, so if you're looking for a nice farm race game for your toddler, this one is a great option! The game is available for Android only.

3. Real Offroad Farm Tractor Driving: Driving Game
And if you want to play a farm racing game with better graphics and animations, you should go for this one. In the game, you get a tractor, and you driving around the farm, passing different missions.
In some of them you will need to transport the animals, in other transport the materials and in some of them – take part in races. Be careful, because many roads are dangerous and narrow, and it's easy to fall down to the river. In this case, the game's over.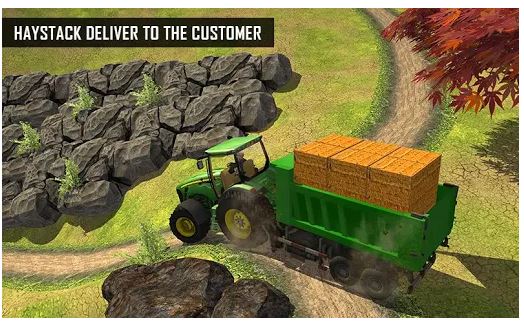 One of the advatages of this game in from of two previous ones is that here you actually get some diversity of locaitons. Because fo the nice graphics, you can really enjoy the sceneries while you're driving.
However, some users somplain that the game has really bad controls.

You may also like: 10 Best Online Farming Games for Kids (Android & iOS)
4. Farming Game 2021 – Free Tractor Driving Games
Another game about the farm that has the coolest graphics, but it's more about just driving around on a tractor – don't expect any exciting races here. Well, of course, you can drive fast, but that's it.
In this farming game, you need to pass through different missions. In general, it is really simple to the previous one, but this one looks more cute and up-to-date. The animation is just amazing, as well as the gameplay and controls.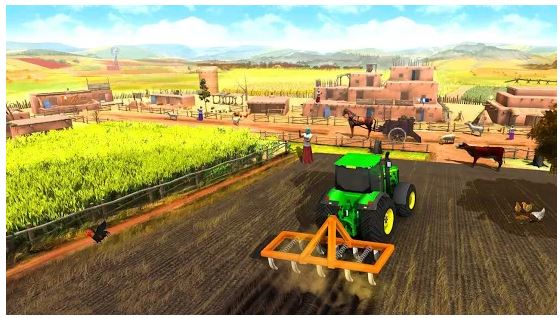 In most missions, you will need to release seeds, cut the soil and the grass, and so on. All the locations are beautifully executed so you can enjoy sceneries while you're working. This game has totally positive feedback from all the users.

You may also like: 10 Best Games Like Terraria for Android & iOS
5. Farming Simulator 19
Just like the previous game, this one not exactly a racing game, but here you also have to drive the tractor. And this is the only game in this segment that we could find that is available for PC. Excellent graphics, beautiful locations, interesting characters – Farming Simulator 19 will catch your attention for hours.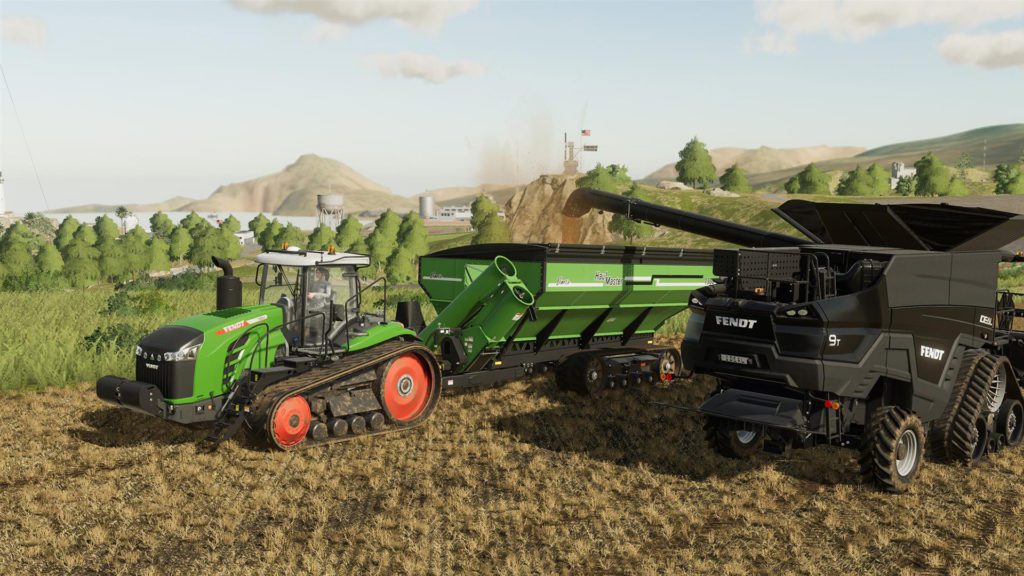 This is one of the most popular farming simulators where you have to pass through various missions and do different tasks. Of course, in some moments, the task will remind the race. But the main goal of the game stays the invention of new technologies, growing harvest, breeding animals, and so on.
By the way, here you can drive not only a tractor but also ride a horse. The diversity of tractors is really impressive here. Some of them are made for transferring the loads, some of them are made for cutting the crops… In other words – if you like farm simulators – you will love this game.