Do you need to quickly measure the height of an object but don't have a ruler with you? This is a no-brainer – nowadays your smartphone can replace even that. In the following article, you will find free height measurement apps that will help you to measure any height, anywhere.
In addition to the apps, that just allow you to measure the height, we can also suggest reading the article about the best apps to measure tree height.
EasyMeasure – Camera Ruler
We often mention the easy measure app in our list, because it's proved its functionality throughout the years and we know that it really works. Allows you to measure literally everything via the camera lens. One of its main features is to measure the height of buildings.
It also features a user-friendly interface along with retina display graphics and a three-dimensional engine. Additionally, it supports the augmented reality feature so the measurements can be made in real-time mode.
And of course, it can measure the distance between the object including the width and height. There is also a possibility to calibrate your iPhone or iPad for the most accurate results. And one of the best features of easy measure is that here you don't just open the app and then you have to guess how to use it.
No, this app includes an animated tutorial that will explain to you all the details of the measurement procedure so the rest of the usage of this app is a breeze for you.
And when you are making measurements in the dark you can switch on the flashlight to help you. But take into consideration that it will be impossible to measure the objects which are placed far in this state.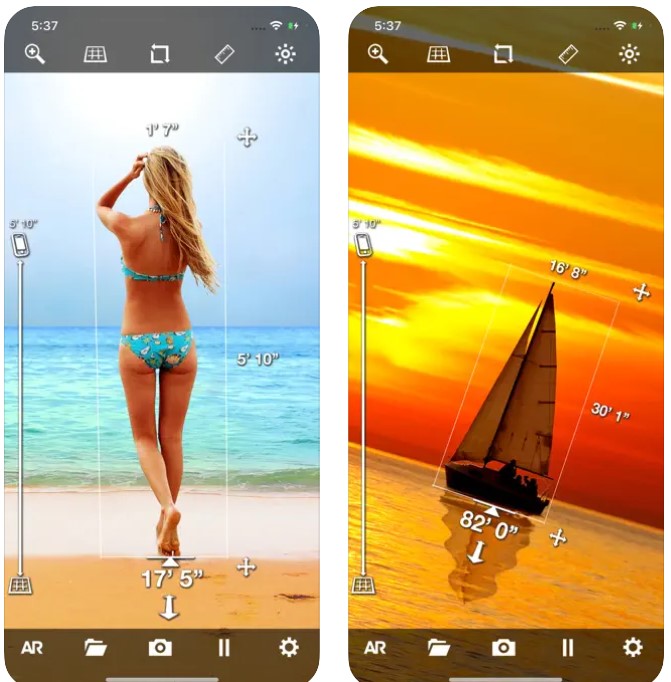 You may also like: 11 Best Measure Distance Software for PC, Android, iOS
Height Measure App
This is one of the few apps for Android devices that is meant specifically for measuring the height of objects. It has quite a lame and plain interface design, but don't pay too much attention to it.
Before you start measuring, you will need to put in the following information how many stops it's from you to the object that the height of which you want to measure, and then you will need to tap on the capture button. The app uses the camera of your device and will measure the necessary object.
According to our tests, the calculations are more or less precise, however, sometimes the app can get this severe mistakes. That's why we would recommend using some backup plan to actually make sure that its results are correct.
Another quite negative aspect of why so many users complain about this app and why it actually has such a low rating is that it has tons of ads that pop pop right in the middle of the measuring process and it can be really annoying.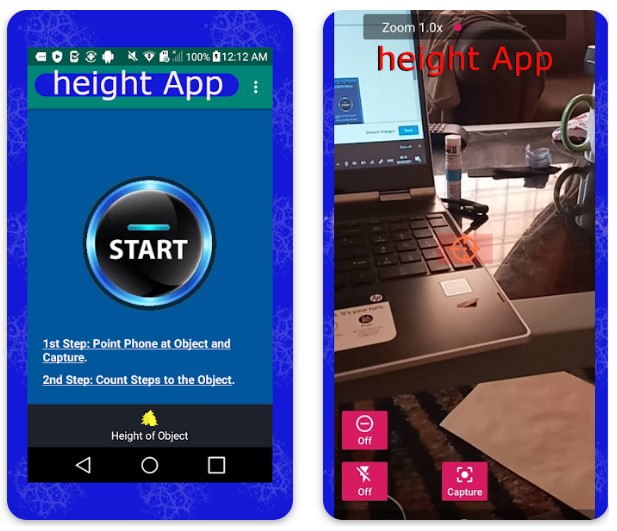 Smart Measure
Smart Measure is tremendously popular on Google Play and it has more than 10 million downloads. But it seems like the app is not always precise. Never mind, let's take a closer look. To start with, the advantage of it is that it offers measurements in variants of meters or feet.
It also can do the measurements of the virtual horizon. The up itself has quite a primitive standard Android interface design, which is actually quite obsolete. But we tested this up, trying to measure the height of different objects, and it seems like it works more or less precisely.
And it works significantly better when there's good lighting on the stage and of course, the weather is good. By the way, using this app you can also measure the height of your friends.
Of course, Smart Measure will not show you all the parameters up to a single millimeter, however, it can show you the approximate height of large objects.
There are two versions of the app the free one and the paid one. And while the second one doesn't have any ads included and allows you to zoom in on the objects along with measuring there with the area, the free version includes tons of ads.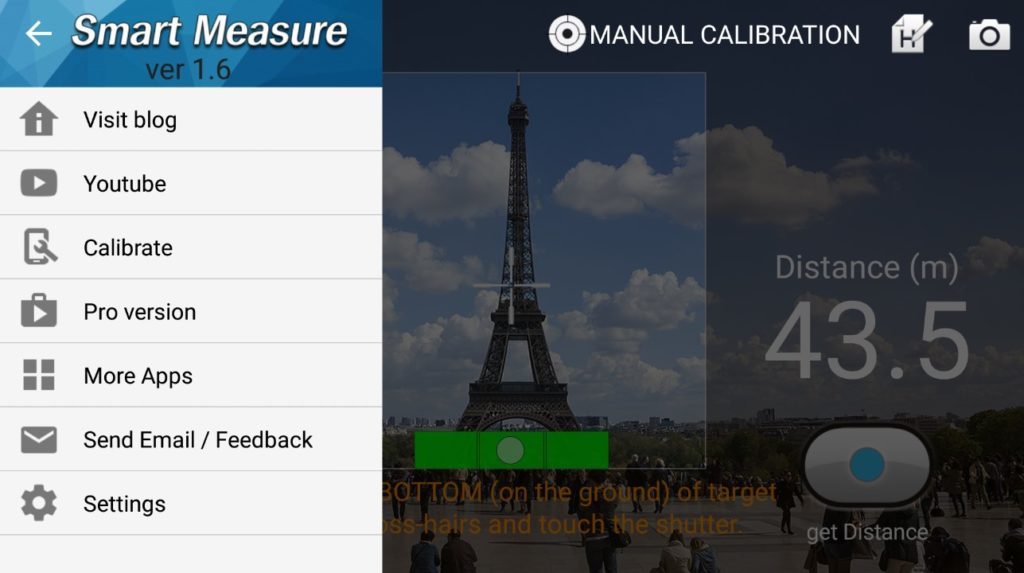 You may also like: 5 Best Bra Sizing Calculator Apps for Android & iOS
Height Meter – AR Measure App
Though it's not so many good height-measuring apps for iOS devices this one that seems to be more or less working. It is an augmented reality app that allows you to measure the height of objects in real-time just through the camera lens of your device.
However, it's more of a prank app, and don't hope that its measurements are going to be precise. It's highly unlikely you will be able to do precise measurements with it, the only useful thing is you can prank your friends or just have fun.
The app itself is quite obsolete and it has an outdated interface design that already has a lot of logs and it freezes from time to time.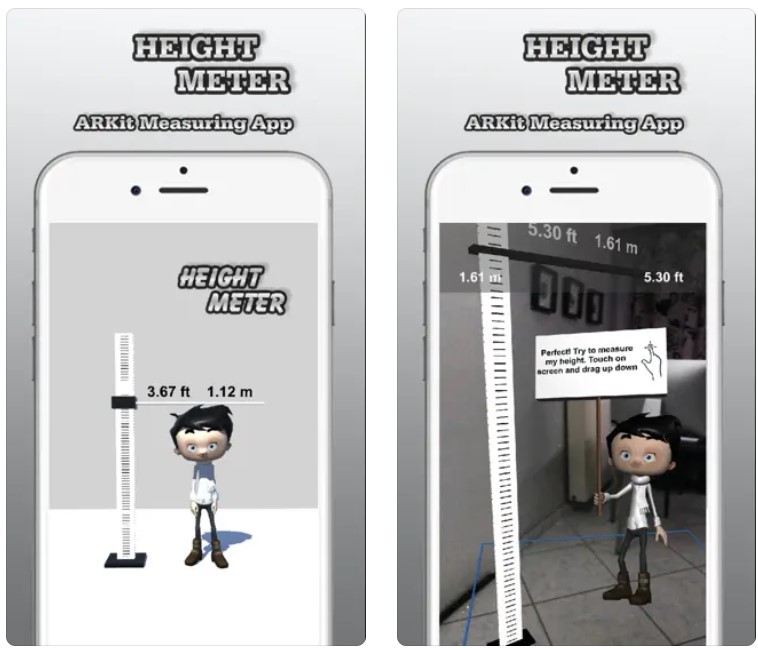 Height Measure on Windows PC
This is basically an app that was reinvented for PC so you can run it with Windows. And before you will download it, you will need to install the special emulator for that you will be able to get a specific website. It might take some time so keep that in mind.
Then download this file. Open the APK/XAPK file:
Double-click the APK/XAPK file to launch BlueStacks and install the application. If your APK/XAPK file doesn't automatically open the emulator, right-click on it and select "Open with..". Find the emulator.
After that, you should be able to use the Height Measure on your PC. The app also can measure longitude and latitude.
The way how you can use this app on Windows is you can upload the images with various objects to the app and it will do the measurements. These won't be extremely precise, but you have to make the best out of what you have.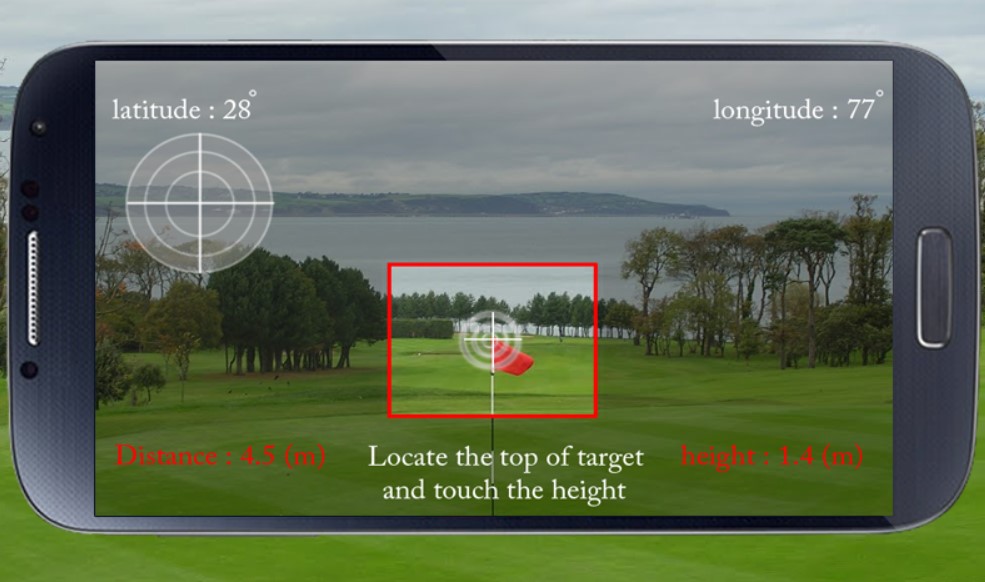 AR Ruler App: Tape Measure Cam
AR ruler app is one of the best measuring apps in its category and we definitely recommended it if you want to measure the length or the height of something.
As you've already understood it's using augmented reality technologies so you could measure anything while using the camera of your device. The measurements can be done in real-time mode.
Another benefit of an AR Ruler is that it provides several types of measurements and you can choose one that you need, for example, inches, feet, yards, centimeters, and so on.
The app can also be used as the distance meter and it will allow you to take measure the distance from the place where you stay to a fixed point on the detected 3D plane that you detect manually. You can also measure the angles with this app, but that's not important for us today.
The most important feature that we are going to overlook is its height scanner and which allows taping to measure height relative to the surface that is recognized by the app. According to our tests, AR Ruler is capable of doing that quite precisely, depending on the complexity of the objects.
Is that initial success also highly depends on the light angle and the daytime while you're pointing the camera at the object. Once again, don't expect that all the results will be precise up to an inch, but they are surprisingly precise for the measuring apps.
Another aspect of the AR ruler app is its interface design. Probably, it's the best user interface design of the app that we've seen so far in this category of apps, so applause to the developers for that.
Apart from measuring height, there are additional features such as a room planner and home design functions where you can plan your overall house.
There's also a handy feature of a screen ruler app that you can use anytime. And in case you want to measure an object in a photo, you can just upload that picture to the app and it will make the measurements.
Despite all of that mentioned above, unfortunately, we have to say that there are some drawbacks as well. First of all, sometimes the app has difficulties recognizing the surface and it also tends to freeze on some devices.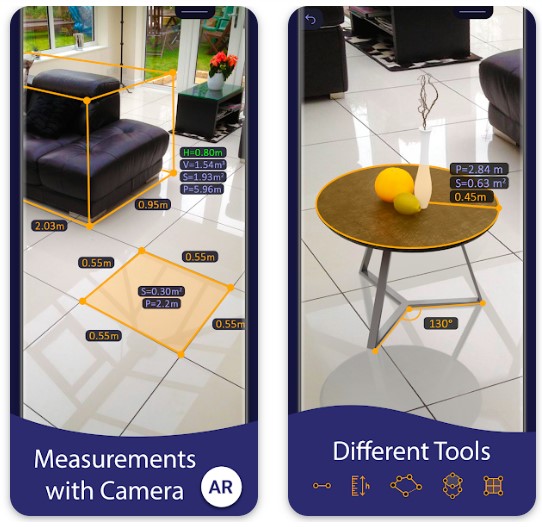 You may also like: 7 Best Goniometer Apps for Android & iOS
Quick Measure
Quick Measure is the measurement app by Samsung Technologies and it turned out to be quite a decent one in this category. It can measure the distance, do the area measurement and of course, it can measure the height of the objects.
They're also some additional features that allow making the 3D measurements and length measurements just so you know. The app is quite intuitive and can do all types of measurements on its own, without the necessity for you to manually switch between the modes.
All you have to do is just to open it, and then point the camera to the objects that you want to measure, the app then will suggest you choose the type of measurements that you want to do, you choose the height, and there you have it.
According to our tests, the measurements are not always precise, we would say it's 50/50. And another dubious aspect of Quick Measure is that it doesn't allow you to choose the type of measurements, it depends on which language is pre-installed on your phone.
Therefore, if you have the English language, you will probably see measurements in inches and feet. But even despite that fact, the interface design looks quite nice which is quite fair for this category. Of course, like any augmented reality app, it has some minor bugs but they are not crucial.