Tired of lugging around heavy coin books or constantly googling coin images just to identify a penny from a dime? Well, the solution is here!
Say hello to the best coin identification apps by photo! With just a snap of a pic, these can detect all the details of your coin and give the info about its value, rarity, and history.
Some apps also work as management software, helping to organize your collection. These apps make identification a breeze and offer a fun and interactive way to learn more about your treasures. Let's get into it!
CoinID
Let's start with a must-have tool for all collectors and numismatics enthusiasts. If you've ever come across a coin and found yourself curious about its value and rich history, then this app is a must-try for you. Get ready to explore its fascinating world and unlock the secrets behind each coin.
With this app, you can easily snap a pic of any coin and unlock a plethora of intricate details. Discover the year it was minted, delve into its country of origin, and unravel its fascinating story. Additionally, you can also share your discovery with fellow collectors.
Furthermore, the app offers a coin tracker for monitoring all the treasures in your portfolio. It's a gem for those who constantly expand their collections and want to keep an eye on how it's going.
To further grow your collection, the app offers an extensive variety of pre-curated selections, ranging from commemorative to modern pieces. It's a treasure trove of inspiration for your next prized addition.
The app provides insights into the fascinating realm of numismatics. Discover invaluable tips, stay updated with the latest news, delve into engaging articles, and more.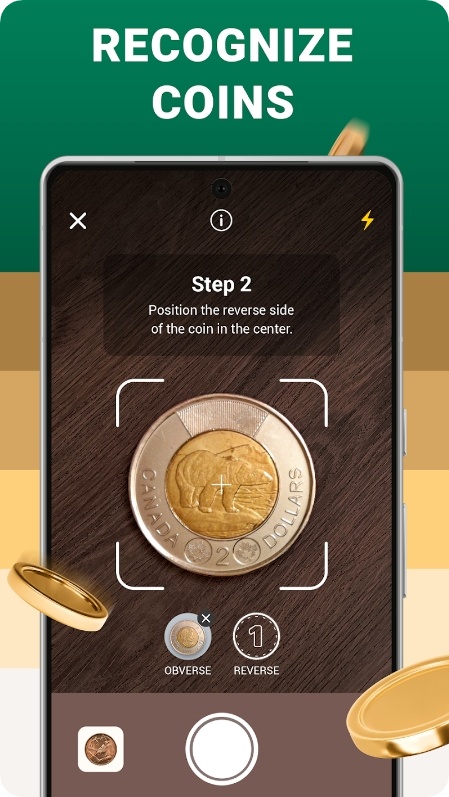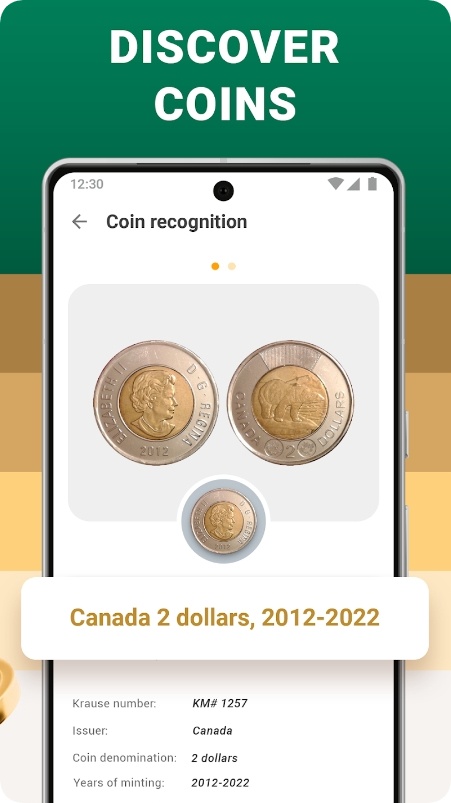 You may also like: 11 Best Apps Like OfferUp
CoinSnap
Fed up with fumbling through your coin collection, struggling to distinguish one from another? This app is here to rescue the day! It's like having a personal coin expert at your fingertips. Powered by cutting-edge AI image ID, all it takes is a simple snap to instantly identify any coin from across the globe.
You can even achieve the same by choosing a pre-existing pic. You won't have to spend hours through outdated reference books or tirelessly searching the depths of the internet anymore. Say goodbye to the hassle, and effortlessly unlock the world of coin ID.
The app lets you assess your coins by shaping pics, providing an estimation of their value. Not only does it yield precise identification results, but it also possesses the capability to discern rare coins and identify errors. This grants you a comprehensive understanding of the overall worth of your accumulation.
Even if you're new to the world of numismatics, this app will help you feel like a seasoned pro. The app lets you register and store your precious collectibles within it. It keeps you well-informed about the latest trends in coin series, guaranteeing that you never miss out on the newest frenzy.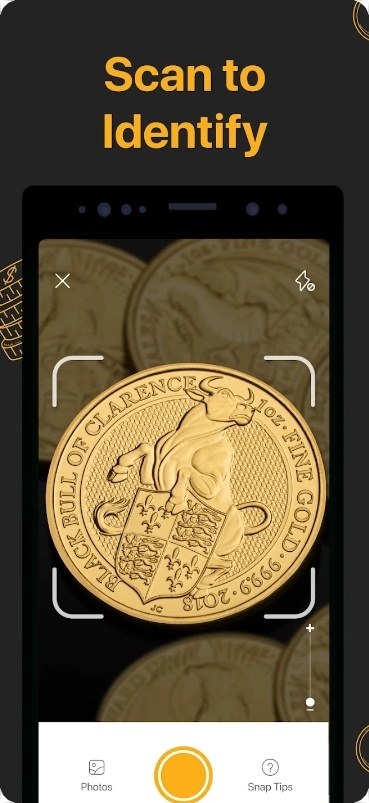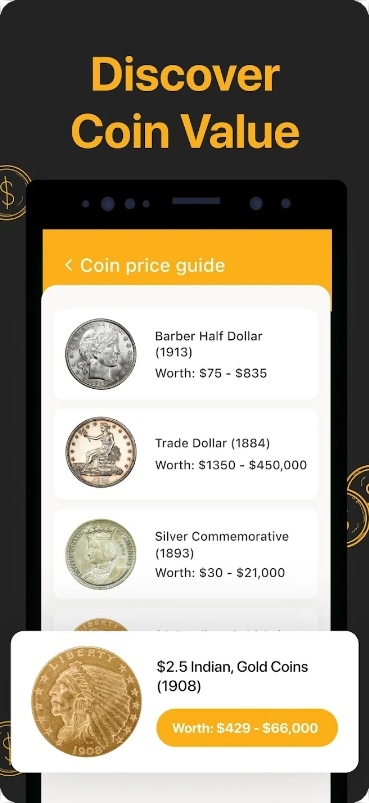 Coin Value
This app will boost your passion for coin collecting. It's based on AI tech that can recognize any coin or stamp in secs! All you need is to take a quick pic or upload it from my cm roll. Just make sure to crop it for max clarity, and voilà! The app matches your coin or stamp to the info in its vast database. It's that simple!
Apart from being so effortless to use, this app delivers an in-depth outline of the coin or stamp. The info such as the origin, issue year of the collectible, and other relevant details are provided, helping you learn the value of your treasure.
Plus, it lets you register and save your collectibles. You'll be able to monitor your stack and keep track of the overall value. It also helps to make informed decisions on selling and buying new coins.
What's more, the app makes it easy to sell your treasures and enjoy your aggregations. With all of your data, you'll be able to make find pieces that can be sold and those that may grow in price, too. It's a smart way to get the most from your investment.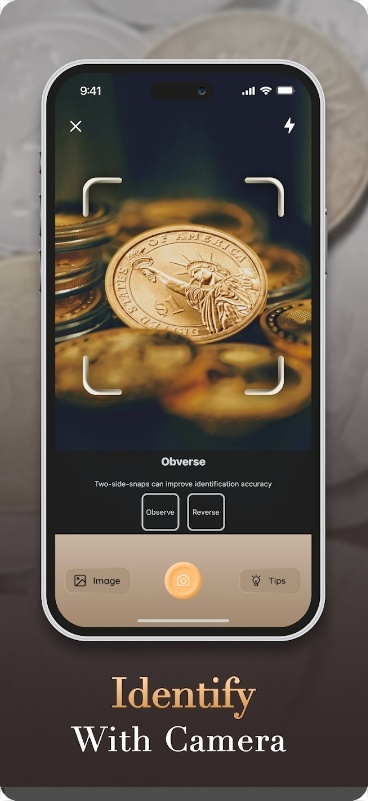 CoinDetect
That's the ultimate app for all your coin recognition needs. It uses AI and PC vision techs to accurately locate and identify multiple euro coin types with an average accuracy of 97-99%. The automatic localization saves you time, indicating the primary details of each coin. You get such info as description, issue year, designer, and approximate value.
This info is a great help for collectors who want to know the history and value of their treasures. This takes the guesswork out of researching each coin, saving you valuable time that you can use to continue building your stack. If you want to take things further, the app lets you manage your stack, too. You can catalog all your coins in one place and have all their details readily accessible.
But what sets it apart from other coin apps is its Premium tools. The paid pack makes your data synced with cloud service, which allows for backups' data movement. Plus, there are no ads to interrupt your coin appreciation and collection management time.
The app is a treat for both casual coin enthusiasts and seasoned pros. A friendly UI and detailed data make it a joy to use, and the pro tools are a great bonus.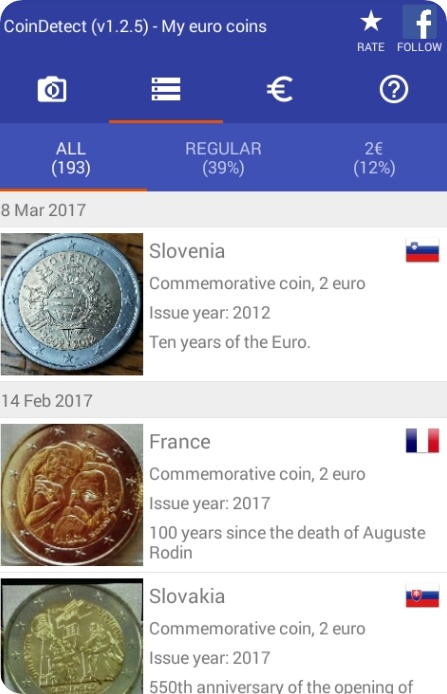 Maktun
If you have a passion for coins, this app is a must-try. The app is rich in features while being incredibly easy to navigate. With a whopping 300K coin types in its lib, identification becomes a breeze.
Simply snap a pic and effortlessly identify your precious coins. Believe it or not, it's like having a personal numismatist right in your pocket. Don't let the opportunity pass you by! And that's not all! The app offers comprehensive information on your currency, including the country, nominal value, years of mintage, and much more. It covers every aspect, from dimensions and weight to intriguing details.
With the ability to build and curate your collection, you'll never overlook those rare and unique coins again. Easily access your pool across all devices, even without an internet connection! Save pictures, create lists, and get an estimated currency value.
The app guarantees the security of your collection, eliminating concerns about losing valuable data. It lets you share your coins, giving you an excellent opportunity to connect with fellow collectors and gain valuable insights about your shared interests.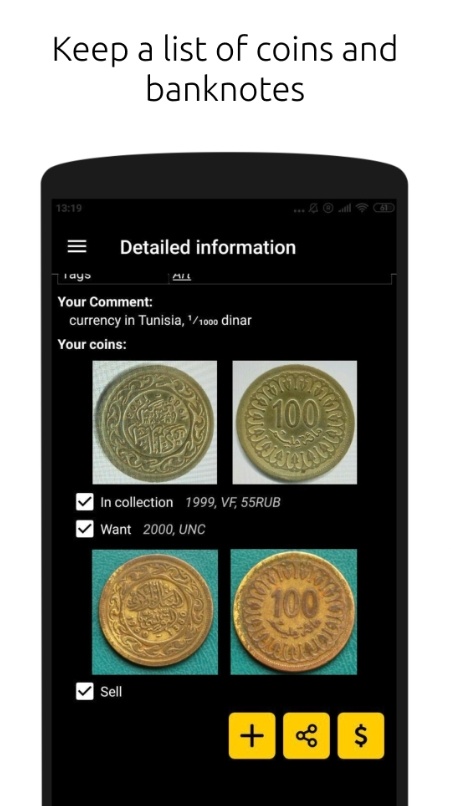 Check also: 11 Best PDF Editor Apps
Coinoscope
Tired of sifting through piles of coins trying to determine their worth? This app will take the guesswork away. It lets you recognize coins and does a great job of keeping things systematized. As you snap a pic of a coming, you can center it, and increase or decrease the size for maximum clarity.
If no similar coins are found, the app suggests ways to obtain a sharper image such as changing the lighting or angle of your cam. And if there are matches, you'll get to browse through options to pick the authentic one.
All matches come with pics and descriptions for you to review, and the info provided by the app is pretty detailed. You can also estimate the approximate value and save the tag for further use. The value estimation lets you specify the coin's country, nominal, and all that.
Plus, you can use the app to organize your treasures. You can view a chronological list of coins or only view tagged ones. You can rearrange the coins and add multiple folders for easy navigation, too.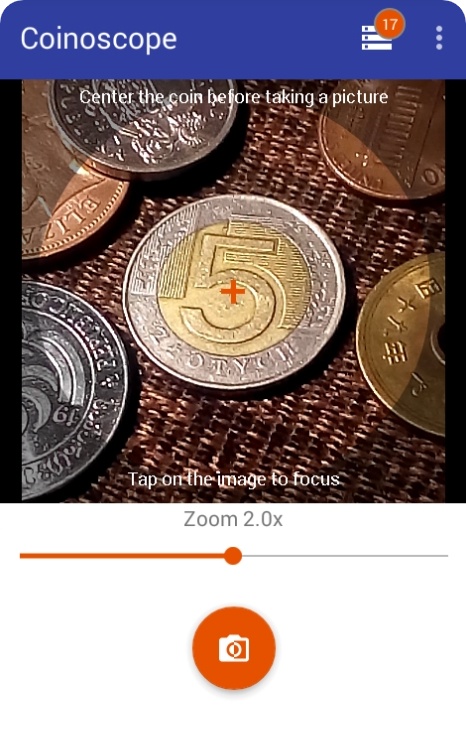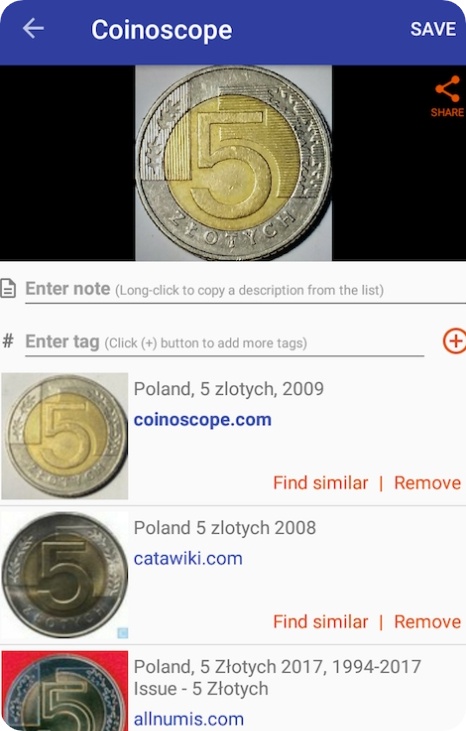 SnapCoin
This app will change the way you deal with coin collecting. With just a quick snap of your cam, this app can accurately determine any coin from around the world. It gives you all the numismatic info, pricing, and history info you need.
One of the standout aspects of this one is its ability to identify rare and error coins. This is an invaluable tool for any serious collector that wants to know exactly what they have in their possession.
It can even grade coins via pics, which is a game-changer for those who want an expert opinion without having to send it in for grading. The app can also help you estimate the value of your treasure. Knowing the value is important for any collector, the app makes it easy to stay informed about the worth of your collection as it grows.
You can also use this app to monitor trendy series within the numismatics world. This is a treat if you want to stay on top of the latest trends and get new coins as they become available.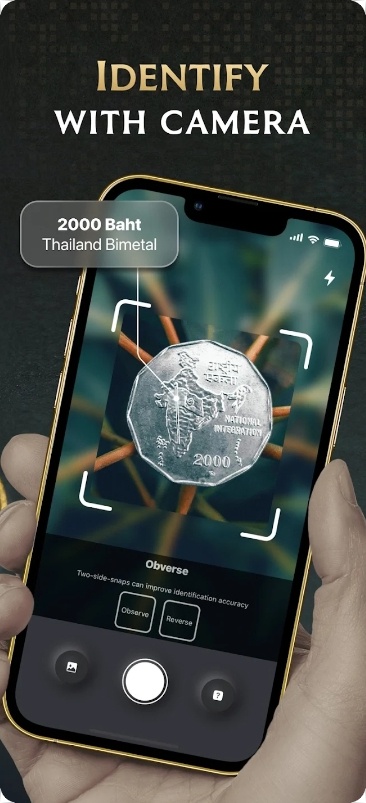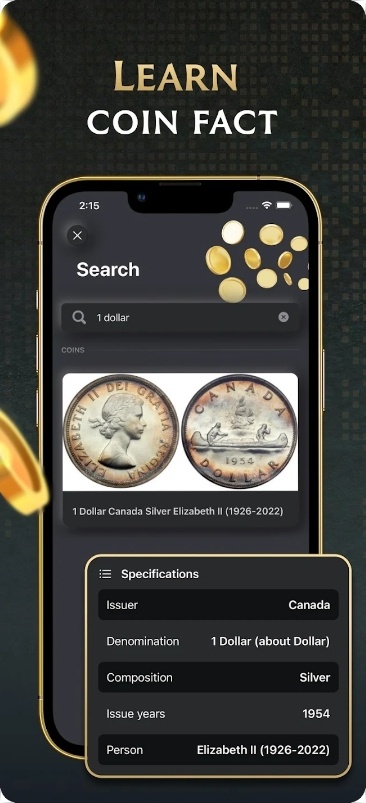 Coin Value
With this app, you can easily check the value of any coin that gets into your hands. From regular to rare ones, this app can recognize them all. It takes a quick snap of your coin, and the app will accurately identify its type from around the world, including error coins.
The app is even able to grade your coins via pics and provide pricing details, so you can understand their true value. This makes understanding the significance of a coin in your collection much easier. You'll know exactly what you have and what it's worth.
But wait, there's more! You can stay updated with the latest trendy series right in the app. This helps keep your collection fresh and valuable, as you'll know the top collectors are after.
One of the best things about this one is its HQ pics that make each coin look its best. It's a hassle-free way to keep your coins organized. It truly makes you feel like a pro collector!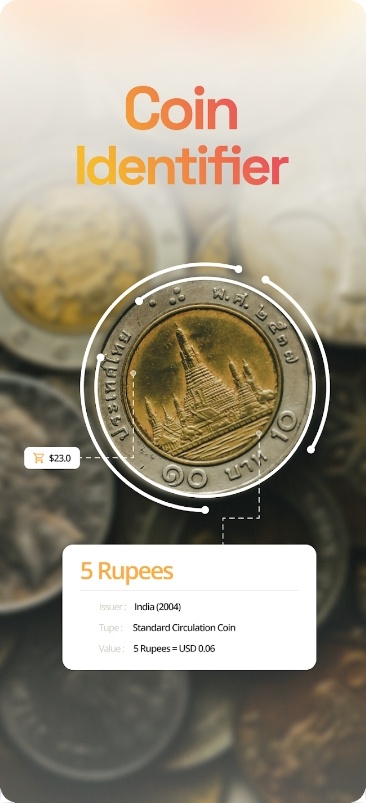 You may also check: 9 Best Recycling Apps to Simplify Recycling
Coin Identifier
And lastly, we have a handy app for everyone fascinated with the world of numismatics. With just one quick snap of a coin, its AI-driven tech accurately identifies its type within secs.
And it doesn't just stop there, as it also displays a wealth of info about the coin, including its history, country of origin, and pricing details. You'll also get to estimate the value of the coin, finding out how much your treasures are worth.
Whether you're just starting or you're a seasoned pro, this app is sure to become your new best friend. With the ability to take HQ pics, and record and store your stack, this app can ease your life a lot. It also lets you save your search history, so you can easily monitor every search and review the tag if needed.
The UI is easy to use, and you'll be amazed at how quickly you become an expert on coins from all over the world! And with regular updates on the latest trends across the globe, you'll never run out of new treasures to discover.