Are you the self-proclaimed prankster of your friend group? Then get ready to have some fun!
We've picked up the best fake alert maker apps for Android and iOS that are guaranteed to give you and your buddies a good laugh. With a variety of features and customization options, you can make alerts for everything from fake calls to social media notifications.
Some of these let you imitate conversations and make fake screenshots to joke over mates. You can even use these apps to get out of an awkward conversation or boring meeting! Let's get into it!
iFake
This app truly delivers on its promise of creating realistic chat screens and alerts in just seconds. It's a great tool for pranking your pals or getting out of some sketchy situation (as it can give you a quick excuse to go).
One of the best things about this one is the sheer variety of messengers you can create fakes for. It covers everything from iMessage to WhatsApp, and even Tinder, so you're all the way covered. All the interfaces are recreated in detail, no one will ever guess it's fake. And the realistic Android and iOS-style lock screens add an extra layer of believability to the prank.
Plus, it lets you make fake alerts styled like your actual lock screen. You can pick the time for the alerts to come and change the sound if needed. You can even imitate a full-on call with little to no effort.
But the fun doesn't stop there! You'll get to imitate long conversations in any app, and it even works for group chat fakes. You can also fake WhatsApp status notes and share them with pals: the possibilities are truly endless with this app.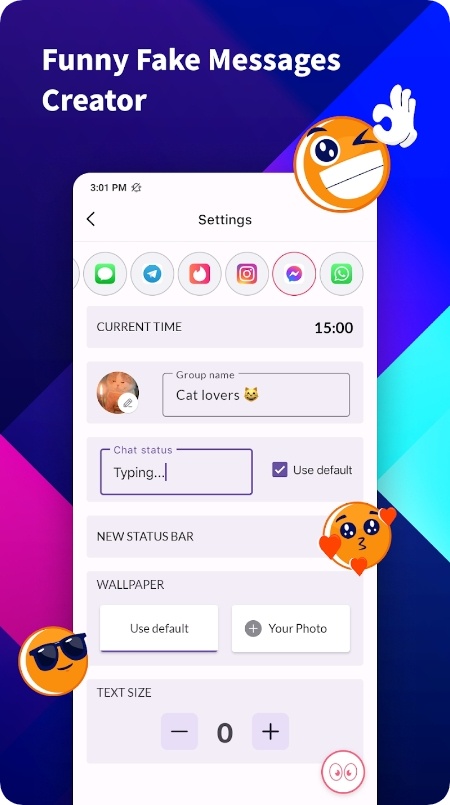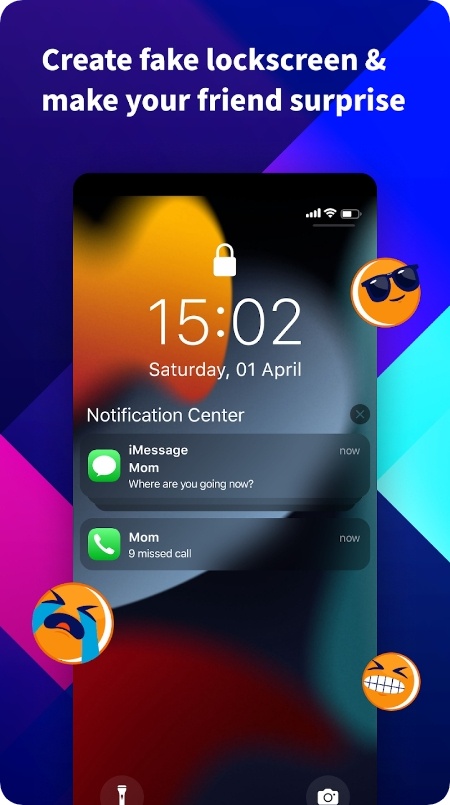 You may also like: 11 Free Fake Email Generators to Use Online
Fake Notifications
Have you ever found yourself stuck in a situation where you just needed an excuse to escape? Maybe you were on a dreadful date or stuck in a boring meeting and just couldn't bear to be there anymore. That's where this app comes to the rescue! Its main point is to help you make alerts on the spot, schedule multiple ones, and even keep a history of all of them.
This app is really simple to use, with just three easy steps to assemble your fake. All you have to do is input the app name, text, and select the icon. It's that easy! You can even create numerous alerts and schedule them for later.

But the best part is that it saves your history. You can re-send or edit old alerts, making it look like you've been busy all day. And if you really want to make it look authentic, you can even set user icons to make it seem like the text came from a specific person.

It can imitate all the popular messaging and social apps. The premium package is definitely worth considering if you're planning on using the app frequently, as it includes unlimited editing of old alerts and the ability to set user icons for even more convincing fake notifications.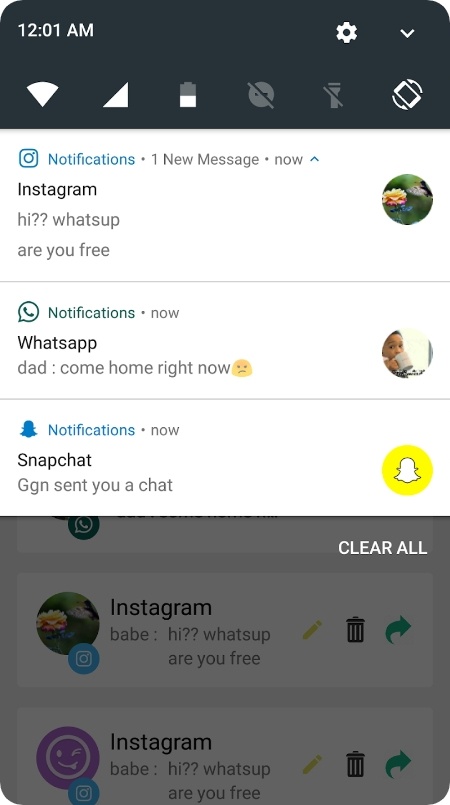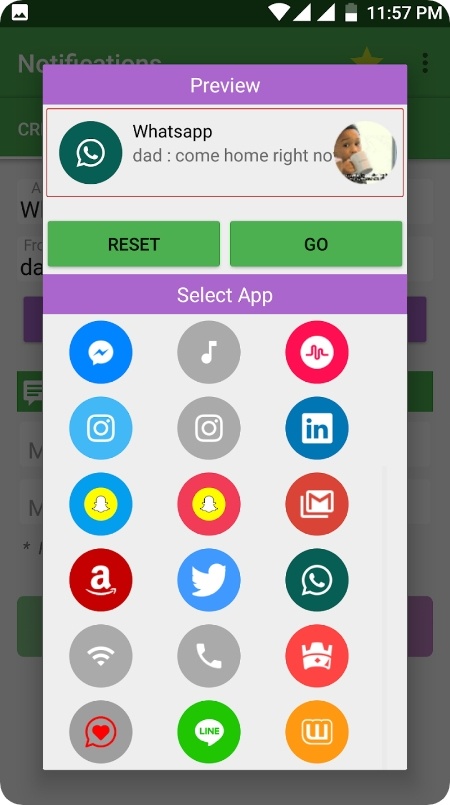 Fake All
This is an ideal tool for all your mischievous needs. The app is a real must-have for anyone who loves a good prank or wants to create their own story with a twist. You can also use it to excuse yourself from uncomfortable (or extremely boring) situations, but it was originally made for pranks and entertainment.
The app does a great job imitating the UI of all the most-used messengers and SM apps. The same goes for the look of your lock screen, so the alerts will look as lifelike as possible. As for the fake chats, you'll get to easily switch the roles in the conversation, customize the chats and save the screenshots for future laughs.

Plus, you'll get to make and schedule alerts from all the messengers supported by the app. You can alter all the smallest details about it and save some for further use as well. And if that's not enough, you can create fake calls with a timer, alter the ring and vibration sounds, and even create a lock screenshot that is 99.99% similar to the real thing.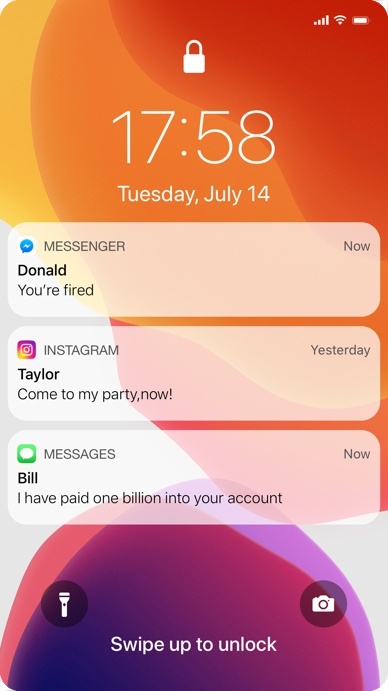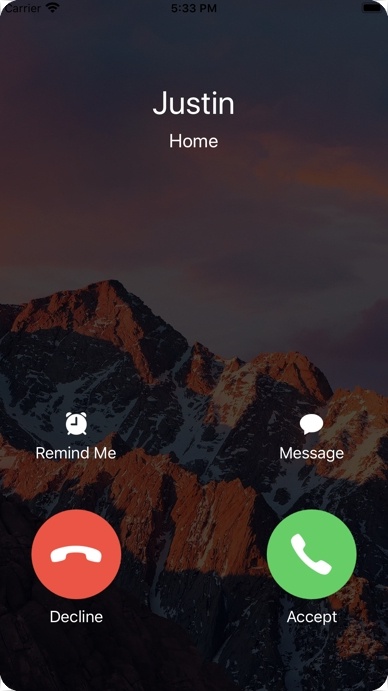 Funny Notification
If you're on the hunt for a fun and easy way to pull some harmless jokes on your loved ones, then you've gotta check out this app. It is seriously a gem when it comes to creating fake alerts that look just like the real deal. You can use familiar app icons or even your own custom pics to make your pranks extra convincing.

And with the ability to set the alert times, you can really add to the suspense and surprise factor. But that's not all! This app also covers a stylish dark mode, making it easy on the eyes at any time of day.
Above that, the app saves your entire history that lets you keep track of all the pranks you've pulled. It's a great way to revisit your favorite tricks and relive all the laughs.

One of the best things about this one is how easy it is to use. With just 4 simple steps, you can prank away to your heart's content. All you need is to pick an icon, fill in the content, set the time, and you're ready to go.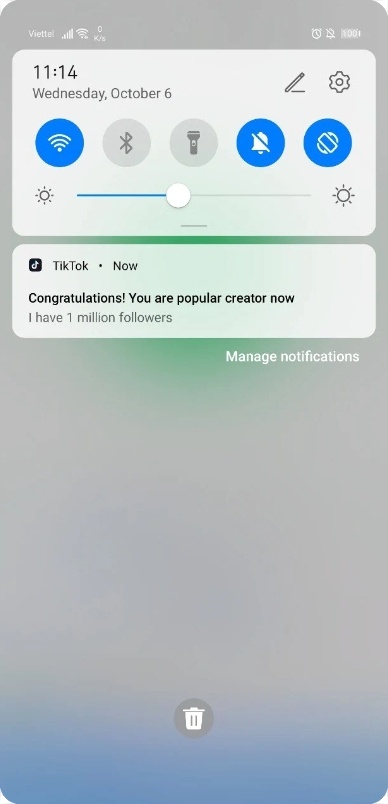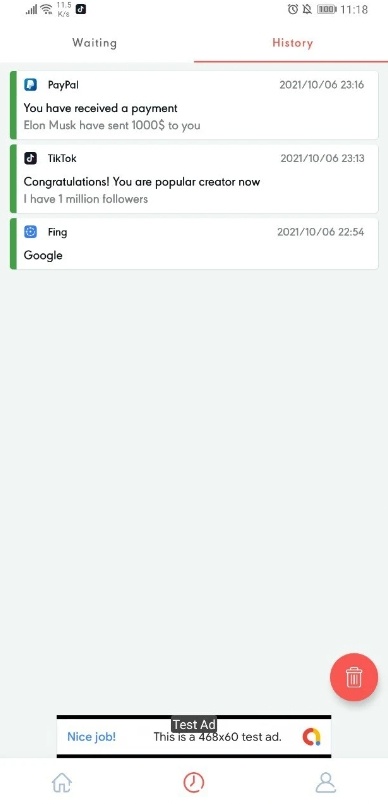 Check also: 13 Best Fake Money Transfer Generator Apps
Faker
This app is seriously the ultimate prankster's dream come true. You can easily make your friends confused or jealous with just a few clicks. You can use it for some harmless fun with pals or to get yourself out of unwanted situations. The possibilities are practically endless, you can get really creative with this app.
The app itself is super user-friendly. All you need is to make an alert, set up a fake screen with your desired wallpaper, save it to your gallery, and then share it with whoever you need. Watch their reactions as they try to figure out if it is real or not. It's seriously so much fun!
You can also schedule the alert to get it in real time. You'll get to pick the sound it comes with along with the app and text. Now, we have to admit that the only downside is that you have to pay for the full potential of the app. It lets you make unlimited alerts and even send multiple fakes at the same time.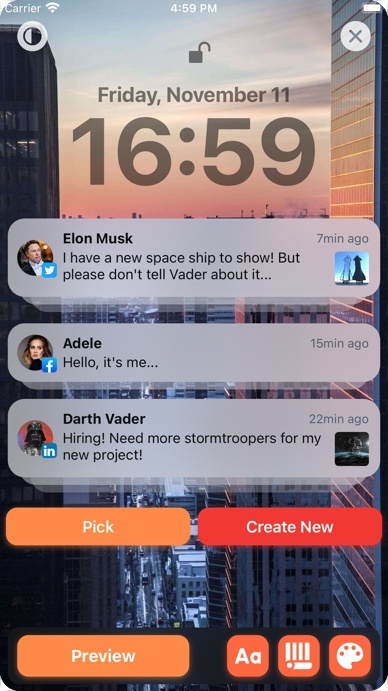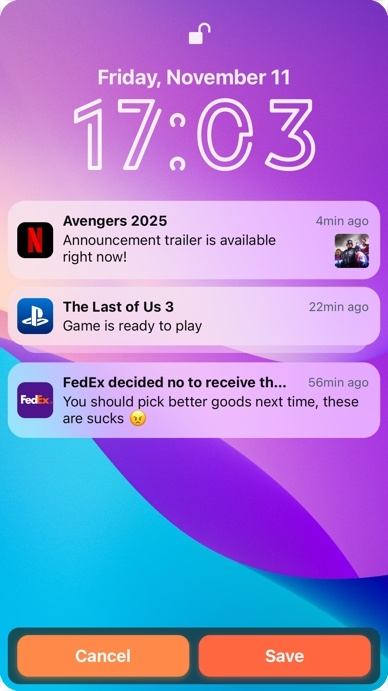 Notifications Simulator
Need a quirky way to get out of those awkward social situations? Well, this app is here to help. It's a true lifesaver for those moments when you need to make a quick escape or simply want to prank your pals with a fake call or text.
The high-quality alerts look and sound just like the real thing, and they're fully adjustable, so you can make them look just as you want. To make the alerts even more convincing, you can attach a pic to them as well. It adds a whole new level of realism, making it even harder for people to call your bluff.

If you're the planning type, you can schedule multiple alerts simultaneously, ensuring that you never have to come up with an excuse on the go again. You can even design templates for your fave options, making the process even faster and easier.

One of the best things about this one is the range of apps it can imitate. There are over 20 options and all the most popular ones are included. This variety ensures that you can get an ideal alert no matter what the situation.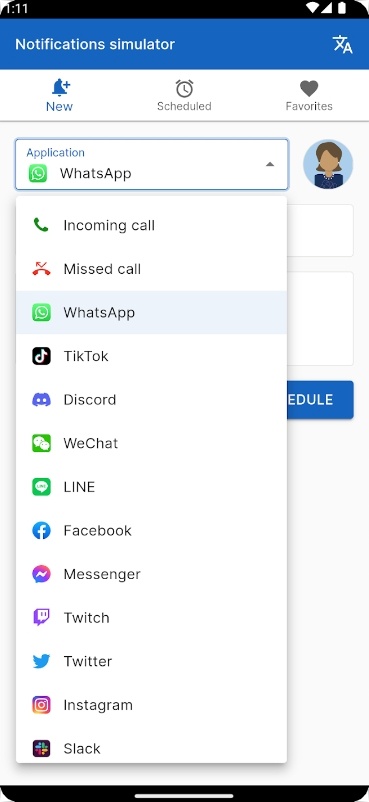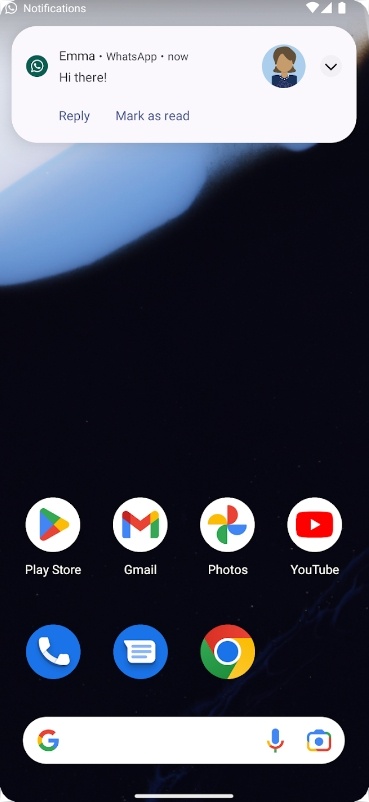 You may also check: 9 Best Call Confirm Apps
Fake Notifications
And lastly, there's an ideal app for all those uncomfortable situations when you just can't seem to find a way out of. It's also a nice pranking tool for when you want to make some jokes with pals and prank them with fake alerts.
One of the top aspects of this app is how easily flexible it is. You can make your very own alerts with just a few clicks. And with a rich gallery of icons to pick from, you can truly unleash your creativity.
But that's not all, you can even pick the color of your notification and LED to match your personal style. And with the option to delay the alerts, you can plan ahead and have them pop up at just the right time.

A simple UI is just the icing on the cake at this point. You'll quickly figure out how to use this app, and you can save some alerts as templates for further use. It's free to use, but you can pay to get rid of ads if needed.