Waste recycling is becoming an increasingly important part of our lives. Many people do not know how to properly sort garbage so it is more convenient to recycle. Developed countries create all comfortable conditions for waste sorting.
How can we make recycling easier? Download special assistant apps that will give you advice and also show you the nearest waste recycling points. You can save time by using the tips of the app.
Moreover, you will not need to think about where to take the sorted garbage. The app will show all available collection points. We have prepared for you a list of the 9 best recycling apps that will make your life easier. Try them all or download the ones you like the most.
You may also like: 15 Free Local Chatting Apps for Android & iOS
Recycle!
This app contains a huge library of information about recycling. You can set collection dates for sorted garbage as well as recycling dates. The app has a calendar in which you can mark important dates for trash.
Plus, the app notify you of upcoming events. Open the built-in map and find the garbage collection points, you will always be aware of the opening hours of each collection point. Another thing that makes the app cool is the sorting guide.
You can find out information on batteries, electrical devices, glass, paper, and food waste. The app provides detailed information about each type of waste so you will not have any additional questions.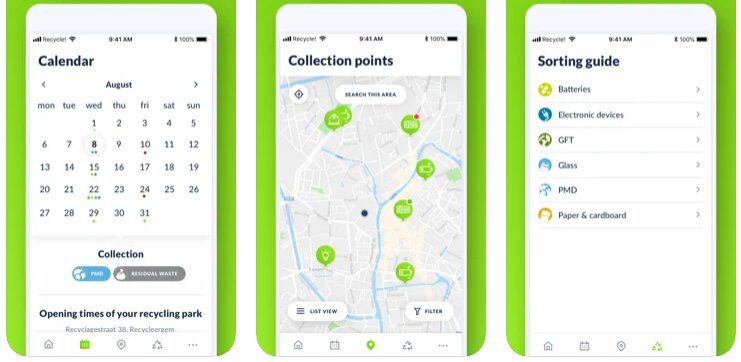 You may also like: 13 Best Last Seen Tracker Apps for All Socials (Android & iOS)
Recycle Coach
If you need a recycling assistant, then this app is what you can do. Open the schedule to enter the garbage collection and recycling days. Furthermore, the app will automatically add upcoming events and add them to your schedule.
You can save hours of your time by learning about recycling information. The app will teach you fundamental things and knowledge. Find out the harm caused to the environment by batteries and other waste.
We live in a fast-paced world where it's hard to remember everything. The app will notify you of upcoming garbage collection and recycling to the point with this app you won't forget anything for sure.
Plus, you will no longer need to search the Internet for information about recycling documents. The app contains all the necessary data. Even if you are at a loss in how to recycle an item, the app will show you what to do.
If you have any questions, you can contact your local waste management department. Moreover, if there is a problem, you can write to the app and get an immediate response from the local government.
And finally, the app is about 57MB and has an age limit of 4+.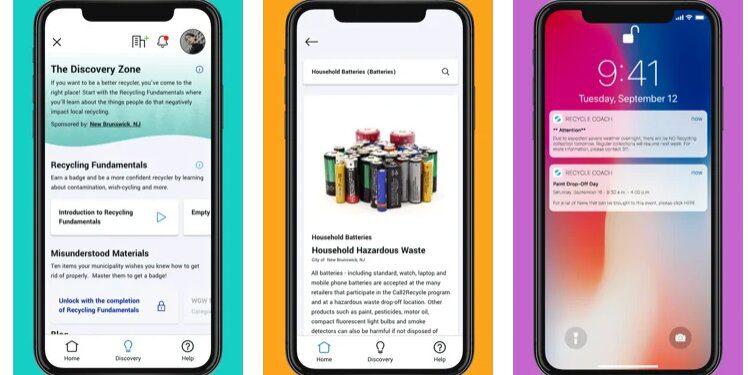 RecycleSmart – Recycling made easy!
Download this app and waste recycling will take just a few minutes. This app was developed by a waste recycling company. You can save your time not bringing the sorted garbage to collection points.
The company's employees will come to your house and pick up all the garbage. If you want to learn more about waste recycling, then open the encyclopedia with a detailed description of each type of waste.
For example, you need to clean plastic bottles from the liquid that was there. This and much more are waiting for you in the encyclopedia. Moreover, the app notifies you of what it can take from you. This company collects plastic, electronic waste, clothing, and batteries.
How can you use this app? Collect all the necessary waste for recycling in your home. Book for the collection of recycled trash. Employees of the company will come and take everything they need.
Another thing that makes the app useful is the news feed. Find out all the latest news from the world of waste recycling and ecology. Download this app and join tens of thousands of users around the world who have become recycling experts.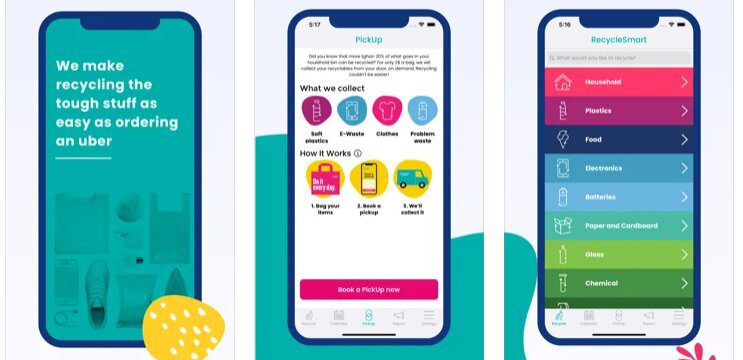 Pakam – Household Recycling App
The app will become a trash helper. You can set a schedule for garbage collection from your location. Pakam will offer you ways to take out the garbage. Moreover, you will receive a notification about the next garbage collection.
The app helps you to save a lot of time because you don't need to take out the trash to the factory. Plus, you will be able to see the history of garbage collection. Some collections will be in progress and some will already be completed.
If you are an eco-friendly person, you can report on cases of disorder near garbage bins. Take a photo of the unsanctioned dump and send it to the app. Developer will do their duty and clean up the trash.
This app will become an intermediary between you and the recycling plant. Receive special coins for every return of waste. These coins can be cashed or sent to your bank.
It needs to be said that you will have to wait a bit until your garbage is taken away. Usually, the garbage collection time takes 1 to 2 weeks.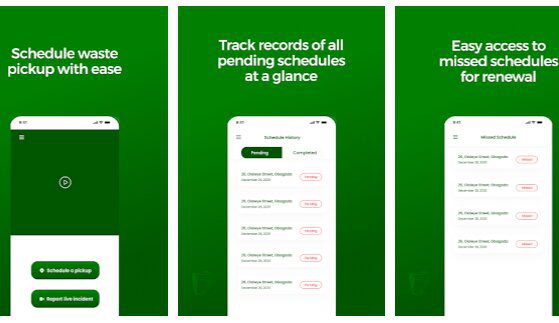 You may also like: 9 Best Weather Overlay Widget Apps for Android & iOS
Recycle Academy
How to make recycling easier? Join the Recycling Academy to learn the best way to recycle your trash. This app is free which allows you to know how to reduce waste. Be aware of the consequences of environmental pollution.
At the same time, your thinking will change and you will make the right choice in favor of eco-friendly materials. This is an educational project that reduces the amount of waste thrown out.
Moreover, you will learn how to sort garbage properly and prepare it for recycling. This app will save you a lot of time. You will be able to distinguish the special symbols of recycling on the goods you buy.
Plus, you will be able to denote codes and packaging information. The app will allow you to understand the composition of more than 40 types of materials and how to sort them correctly.
It takes only 3.4 MB. Download it and you can become an ecologically developed person who knows how to properly sort garbage.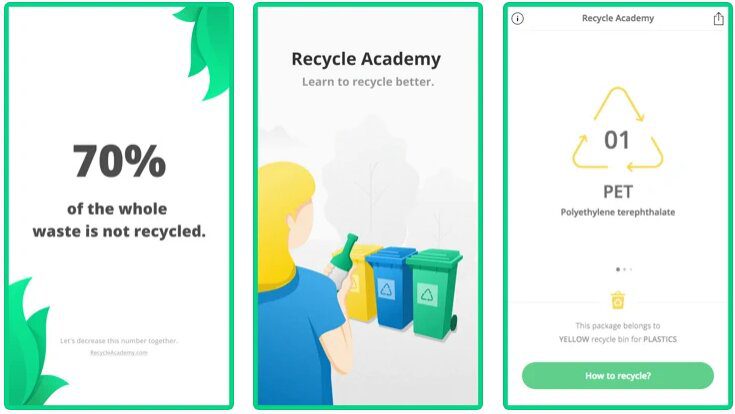 Waste recycling : (Make money)
Waste recycling is always a benefit to humanity. Download this app and you can get bonuses for recycled waste. The app will show you detailed information about the different types of trash and how to dispose of it.
Moreover, you can turn waste into money. The app is a huge marketplace for selling used goods. Get paid for used goods with points earned for the correct processing of garbage.
The app will allow you to select the city, state, and country. You will be able to save time and make recycling easier because you will be more aware of recycling rules.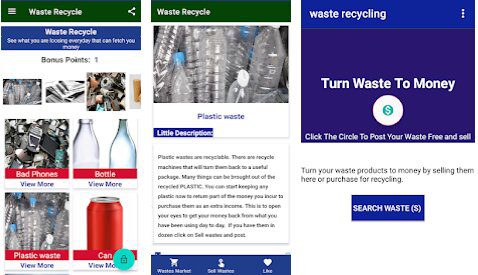 Garbage and Recycling Day
How can this app make recycling easier? It will notify you of the next recycling day. Select your city, state, and street. The app automatically predicts recycled waste collection dates.
This is a great schedule especially for those people who have a lot to do every day. If you have any questions about Where the product needs to be recycled, then you can enter the name of the product in the search bar.
The app will show you all available garbage collection points and the dates of accumulation. The design of the app is simple and intuitive. There is nothing superfluous in it. Moreover, the app has no ads.
The app can save you a lot of time on additional trips. It has an average rating of 4.8 out of 5 stars based on over 500 reviews. Users praise the notifier as well as the practicality of the app.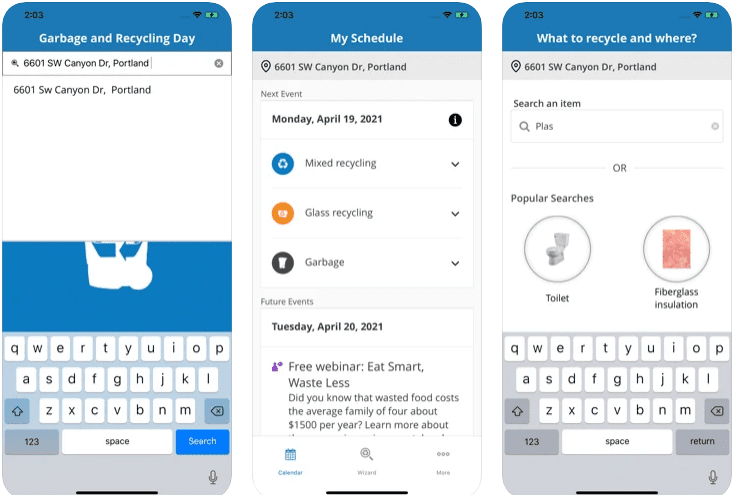 You may also like: Caves of Mars App Review
Grow Recycling
Every child should know ecology. Recycling is one of the main parts of environmental education. This app will help your child learn the basics of recycling. Funny characters and humorous machines will make the learning process bright and memorable.
At the beginning of the game, you can see several dustbins. Each dustbin is unique and has its personality. You need to feed the dustbins with garbage. However, not every dustbin will eat all the garbage in a row.
So in this way, your child will train in sorting garbage. Children will learn that glass should be disposed of separately from plastic or food waste. Moreover, the app will show and tell where the garbage goes after the trash cans.
Your child will see huge cute plastic, glass, and garbage recycling plants. This game is endless, but it won't get boring. Complete interesting tasks such as going on a picnic to recycle the remaining garbage.
The app has over 9 different dustbins. As for the waste processing plants, there are 6 of them. Each plant has its musical accompaniment.
This app is suitable for kids of any age. For example, if your child is only 2 years old, he or she will be able to learn different things because the app has over 100 types of garbage.
The app's design was handcrafted. This means that every detail was drawn by a person. The app is safe for kids because it doesn't have in-app purchases. Another thing that makes the app cool is the lack of ads. Download this app and join over 100,000 people.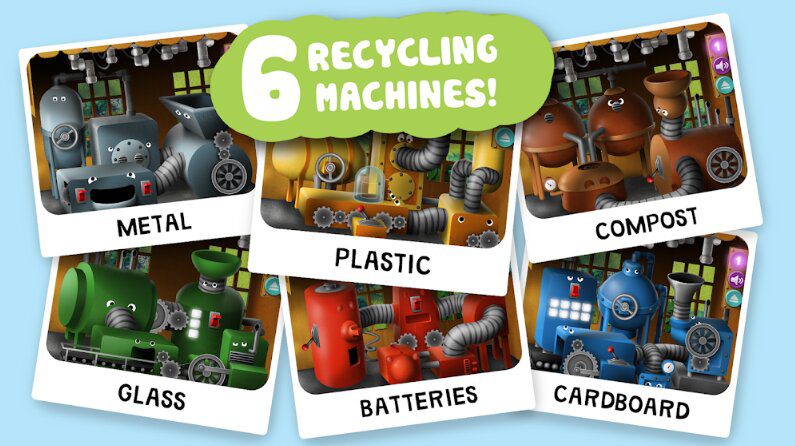 Recycle.Green – PayByWaste
How can you make recycling easier? You can send sorted waste to recycling facilities. This app will allow you to receive gifts for sorted garbage. Employees of this company will come to you free of charge and pick up the garbage.
On top of that, you will get extra points for sorting and waste. The more points you have the more features you can use the app. Spend points on company products.
You can buy products that are made from recycled materials such as clothing, accessories, bedding, and more. You can also pay online with real money or use points. Moreover, if you have packages from well-known brands, you can donate them to this app.
App employees will take used bags of popular brands to production. This will save you time and help the environment. And finally, you can donate waste to large recycling companies to do good deeds.
The only drawback of the app is that it is poorly organized. Sometimes there are bugs and lags, but the developers try to fix them and get the app working.
It only takes up 14 MB and doesn't run in the background.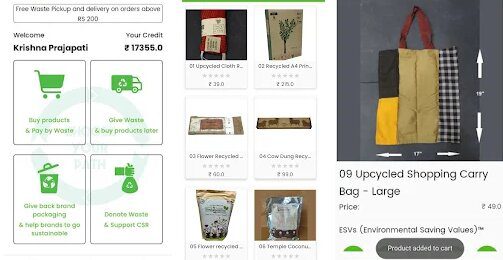 You may also like: 5 Best Long Exposure Calculator Apps for Android & iOS