Anime culture is so popular all over the world that it has fans in every corner of the world. Many people cosplay various anime characters. It's very expensive because you have to buy wigs, costumes, and put on a huge amount of makeup.
Sometimes cosplay costs more than 100 or even 1000 dollars to make. We came up with an alternative cosplay solution. You can use your photos to edit them and give yourself a cosplay look.
We have made for you a whole list of apps that are specially designed to create photo cosplay on any anime theme. Some of these apps edit only faces and some even the clothes.
You may also like: 9 Best Anime Live Wallpaper Apps for Android
ToonApp Cartoon Photo Editor
Would you like to become an anime personage? Upload your photo to this app and start processing. You can let the artificial intelligence work, and then you can see yourself in anime. If you want more personalized character, start manually processing your photos.
You can come up with different styles and looks. The app has a huge number of eyes, noses, lips, hair and other parts of the face. Many people create copies of themselves in the anime version. The most trendy filters and backgrounds are waiting for you.
Select a background for your picture and click on the replace button. The app has dozens of different backgrounds. Plus, you can upload your own unique photo. This app is suitable for all anime lovers.
The app has an average rating of 4.7 out of 5 stars based on over 30,000 reviews.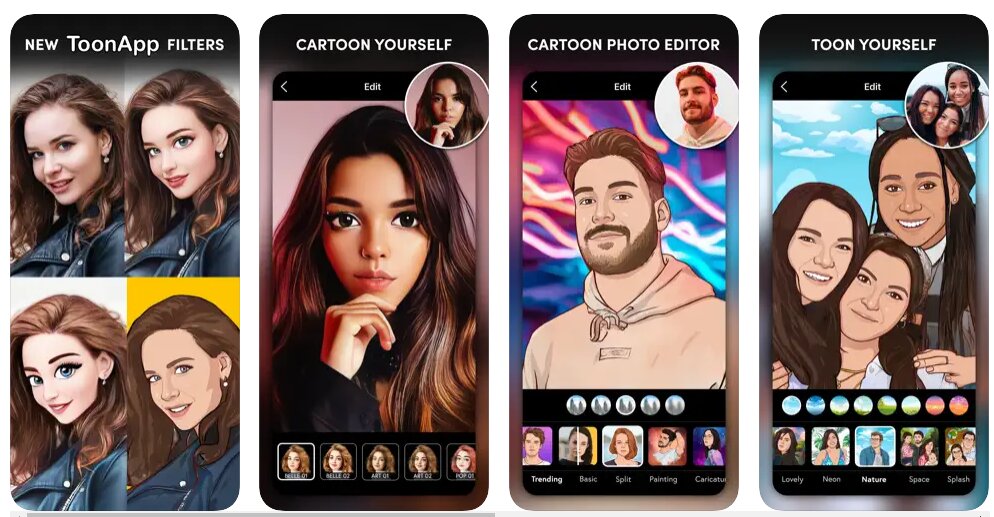 You may also like: 11 Best Harem Games for Android & iOS
Anime Face Changer
The difference is that the app only replaces people's faces in photos. Any anime or manga fan will definitely want to have this app.
Upload a photo into the app and add a face sticker of your favorite anime avatar. You can change the face stickers by resizing and rotating them. If you like your result, then you can save the photo to the gallery.
Many users think that the app is automatically replaced in photos. This is not true. The developers have warned us that we have to manually add face stickers to our photo. A slight disadvantage of the app is that it has a lot of advertisements.
Upload this app, and you can discover the faces of your loved characters from Naruto, Pokémon, and other cool anime.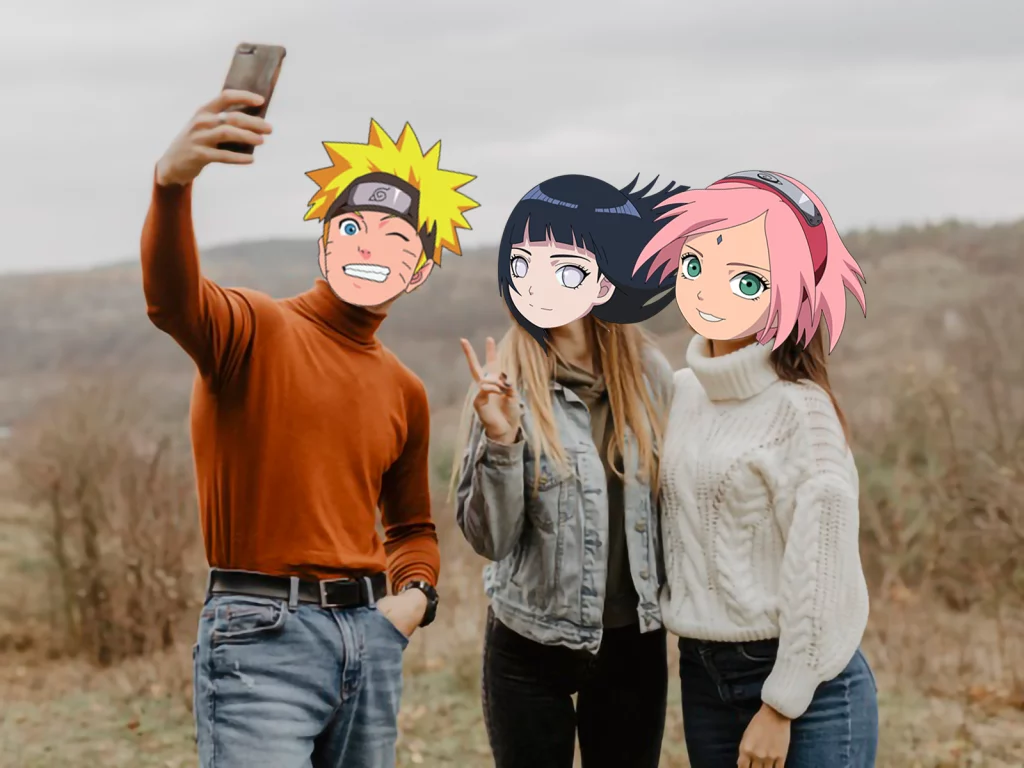 Photo+Anime
Add cute snowflakes or multicolored bubbles to your photo to make it anime. Moreover, you can add anime animation that will turn your photos into a GIF.
Open the app and select various effects. If you want to add the effect and animation on a certain area of ​​your photos, then use the selection brush. Draw with your finger the area that will be applied by the effect.
Photos are kept in your gallery in excellent quality. The app is only 25 MB in size. She works in English or Japanese.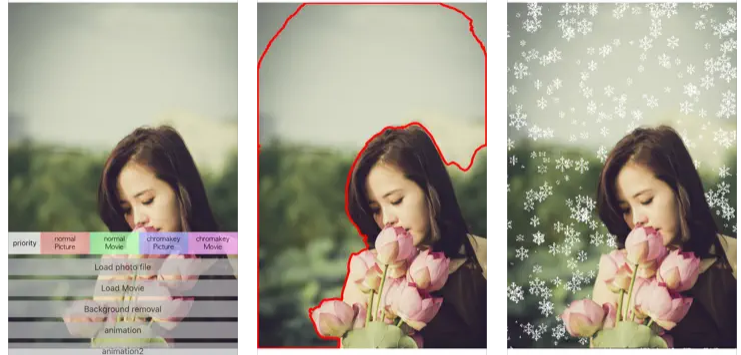 Cosplay Camera – Anime Photo
Cosplay is an alternative trend of fashion. Anime and manga artists have a huge imagination in various outfits and hairstyles. Sometimes it is very difficult to repeat these images from the anime.
Real anime fans are trying to create cosplay that comes across as a character. Forget about buying expensive clothes.
Upload your photo and add various stickers from eyebrows to hair. You can even add different lenses to your eyes. Artificial intelligence adapts the stickers perfectly to your photo, so you will be amazed by the wide variety of stickers.
Challenge yourself and cosplay your favorite anime character.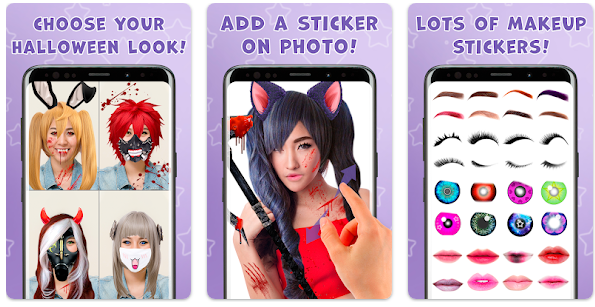 Avatar Creator, Emoji Maker Anime Maker
Would you like to become a designer? Try this great app converts you into anime characters or fabulous animals. You can originate an avatar based on your photos.
Select filter or add stickers. The app has a huge number of different filters, from ordinary to the most unusual. Apply mirror filters or color filters.
The main add of the app is an anime avatar editor and avatar maker. You can create an anime character from scratch choosing different eyes, noses, ears, mouth, beard, and body structure.
It creates both men and women anime. Navigation and control of the app is very simple. It does not require additional instructions and tutorials. All photo editing is intuitive.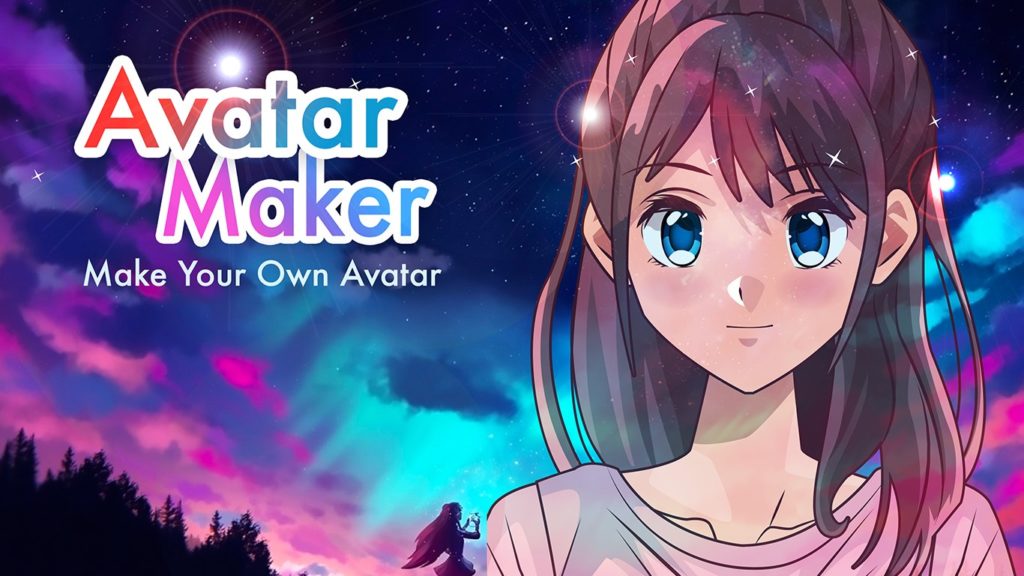 Anime Camera, Manga, Comics
Why are there tons of apps for creating anime characters? They help us to design the appearance of characters for comics. Many anime fans come up with their own comics. Sometimes we don't have enough fantasy and imagination to produce avatar with unique looks and clothes.
Upload a photo and select anime processing. The app will make the transformation of it. Plus, the app has a number of other filters which changes the appearance.
You can become a prince or princess. Also, you can turn into a realistic 3D character. Furthermore, you can become a cartoon character.
Since the processing is done by artificial intelligence, errors can occur, such as the appearance of a third eye or a shift in hair growth. If you have such errors, don't worry and try again.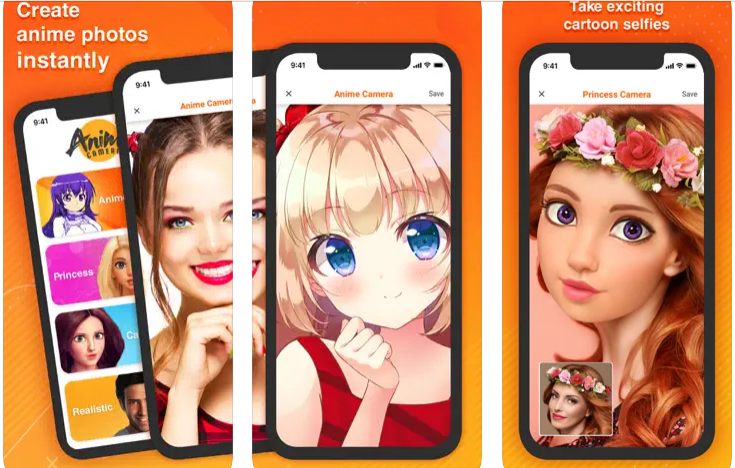 You may also like: 11 Best Games Like Honey Select
Anime Style Photo Effect
Are you a fan of Japanese culture? Anime app will turn you into the characters of your favorite comics. It creates unique photos based on your appearance. The app has 4 filters that will change your face.
The first filter is anime filter. It will transform you into a cute character from your favorite anime. You will have big rich eyes, cute nose, and beautiful hair. The second filter is a cartoon filter. You will turn into a funny cartoon character.
The third filter is pencil. Upload your photo, and it will become a picture in a sketchbook. Your friends will think that someone drew you. The last filter is fat. If you like to laugh, then turn yourself into a fat person.
The app requires an internet connection to work. It takes about 25 MB and works in several languages.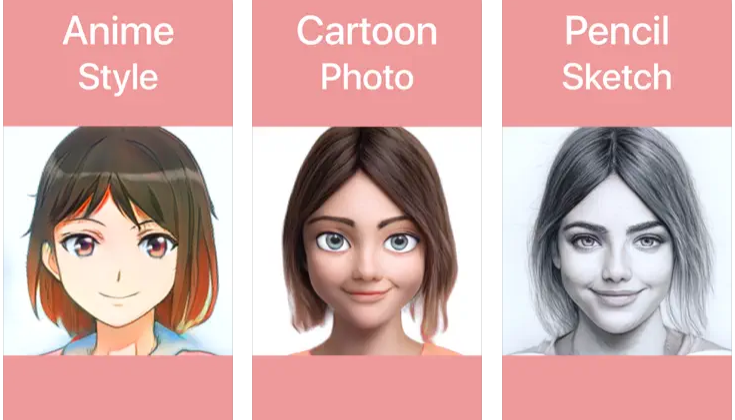 Manga Anime Camera Effect Photo Editor
It is probably the funniest app on our list. It has several hundred different anime stickers. The developers of the app collected individual parts from various anime. Here you can find parts of the face from Titan Attack.
Plus, 1,000 other stickers from the most popular anime are waiting for you. Add your photo to the app and start adding stickers. You can adjust the opacity of the sticker as well as its size. The disadvantage of the app is that some stickers are not sorted.
The other thing that makes the app cool is the ability to edit the photo itself. The app has photo editing tools. Try to create a unique character based on your appearance. After processing the photo, you can share it directly without leaving the app.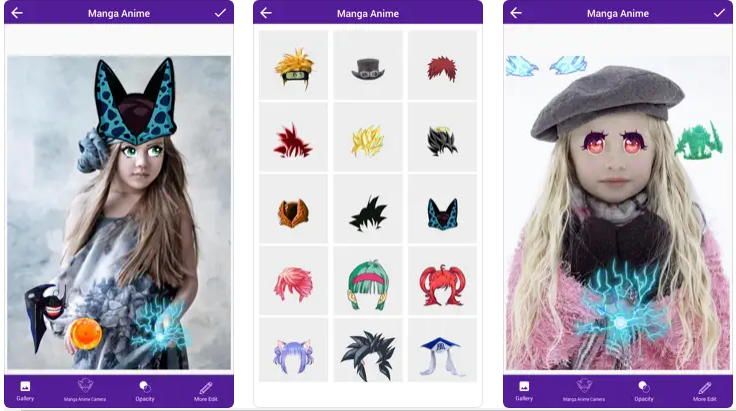 TwinFACE — Selfie into Anime
Not everyone is lucky enough to have a brother or sister. Imagine that you have an anime twin. How can you make it? Use this app that turns any photo into sketches from your favorite anime.
This is a great way to give a gift to your friends who are into anime. Print it and give for a birthday. You no longer need to draw in your albums of anime. Find out the anime version of yourself by clicking on one button.
Photo processing takes about a few seconds. If you do not know or are confused about how to use the app, then read the brief instructions of the main menu. The app has been downloaded over 1 million times.
It has a good rating and positive reviews. Some users write that after processing the photo, it deteriorates. Lines and pixels appear on the photo. If you have such a problem, you need to write to the app support service to get rid of it.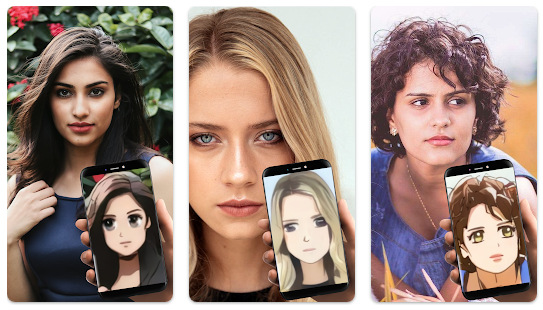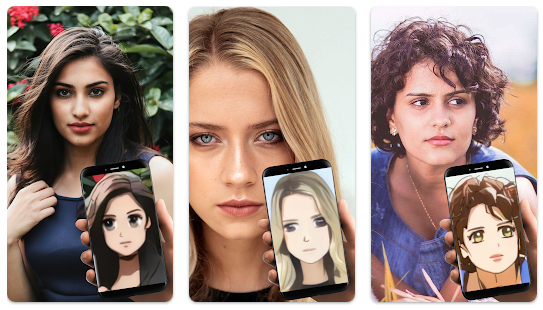 Anime Eye.s Makeup – Beauty Salon & Photo Edit.or
The most distinctive feature of anime culture is the eyes. Would you like to see yourself with anime eyes? Then this app will help you to do it. Take your photo and choose the eyes that suit you best.
The app has several hundred different eyes that convey different moods. You can enjoy the anime atmosphere. The only drawback of the app is a huge amount of ads. It pops up every 5 minutes. It's really annoying, especially when you want to enjoy anime culture.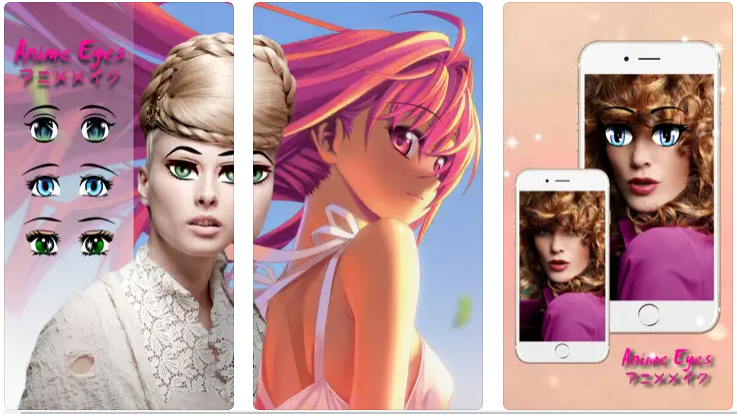 You may also like: 11 Best Games Like Final Fantasy for Android & iOS
Yimi – Pics magic editor!
This multifunctional app is an awesome photo editor as well as anime creator. The application has numerous photo editing tools. You can adjust the color correction and change the white balance.
Change the tone and resizes the photo. As for anime processing, the app has special filters that will turn you into an anime character. A distinctive feature of the app is that it processes not only the face, but the entire photo as a whole.
You will be able to see what your anime style environment would look like. This is a great way to come up with photo accompaniment for your book. The app takes about 50 MB.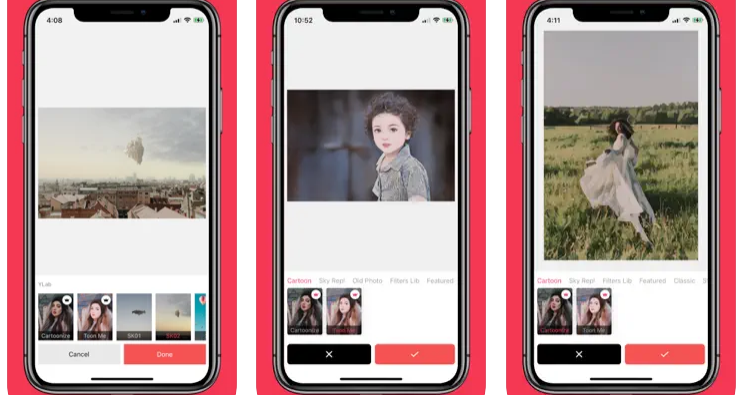 Avatars+ Anime Maker
Photoshop works wonders, doesn't it? You can make yourself an anime character or a magical creature. Add different stickers or use transformation filters. The app has various animal masks and funny tattoos.
Create an anime avatar for your social media photos. This app is great for cosplay lovers because you can complete your image of your favorite character's facial expression.
If you are also into other genres of cartoons, then the app can turn you into a princess or a cute flower. You are waited for 6 processing categories as well as dozens of cool filters.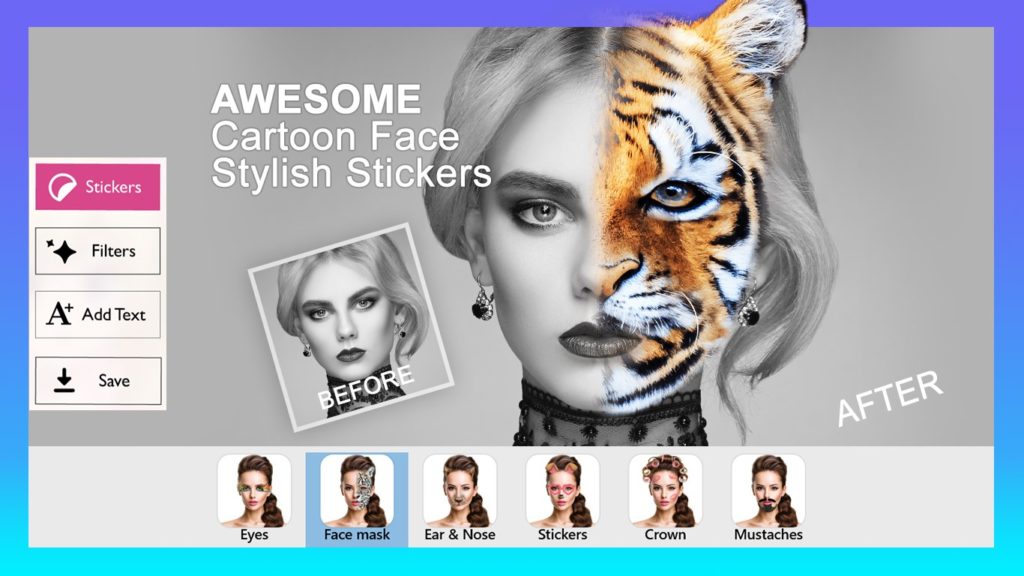 Sharingan Eyes Photo Editor: Sasuke Naruto Edition
Eyes can tell a lot about a person. In one anime, there is a legend of burning eyes. These are the legendary eyes that are capable of much. Do you want to know how would they look with these eyes?
Try this app, which allows you to overlay your eyes like an anime character. All photos are saved in HD quality. The application is free for now. The developers say that this is a temporary solution. Soon it will be paid.
You can use your camera or gallery to choose a photo for changing lenses. Your friends will love your new profile picture with such beautiful eyes. Some lenses look unnatural but if you really want anime look then unnaturalness will be what you exactly need.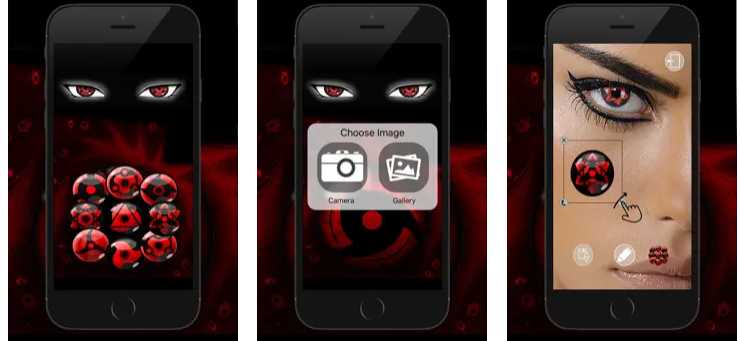 Anime cosplay costumes
Try to transform and start the life of anime characters. If you write out a comic or fan fiction, then create yourself an anime role. There are two ways to create an anime. The first way is the easiest. You can add your photo and attach stickers that the app has.
It has more than a dozen of hundred stickers of your favorite anime. Use masks, where the app will automatically overlay your face on the body of your adored character. The second way is more difficult.
You need to completely create your anime character. Select the body, facial features and clothes. It has a huge number of costumes and accessories. It suits both girls and boys. If you are a fan of Sailor Moon, then this app is perfectly for you.
Here you can find more than 150 ready-made costumes and unique design solutions. If you love makeup, then make up your anime character. This app is completely free and has no paid content. It has been installed over 100,000.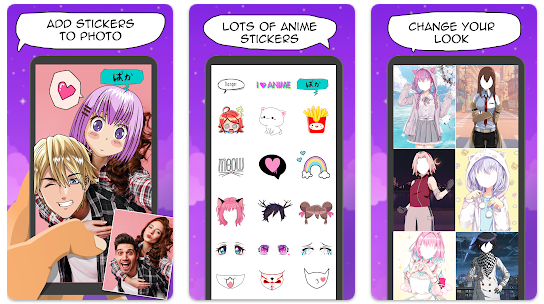 Miccostumes Cosplay Shopping
Any cosplay requires a lot of clothing. It's very difficult to find special anime clothes in regular stores. This app is a great online store for anime clothes for all ages. What's more, you can create anime photos in the app.
Originate the perfect anime look from the proposed assortment. Thanks to the technology of online fitting, you can create a look and see how the clothes fit together. Here you can find both ready-made anime looks and individual items of clothing.
Another thing that make the app amazing is the huge number of accessories. If you like the product, you can add it to your favorites list. If you want to search for a specific product, then enter its name in the search box.
Add filters to sort out the things you don't need, the app runs various promotions every day and gives you discounts. This is a great opportunity to put together a costume for your favorite cosplay party.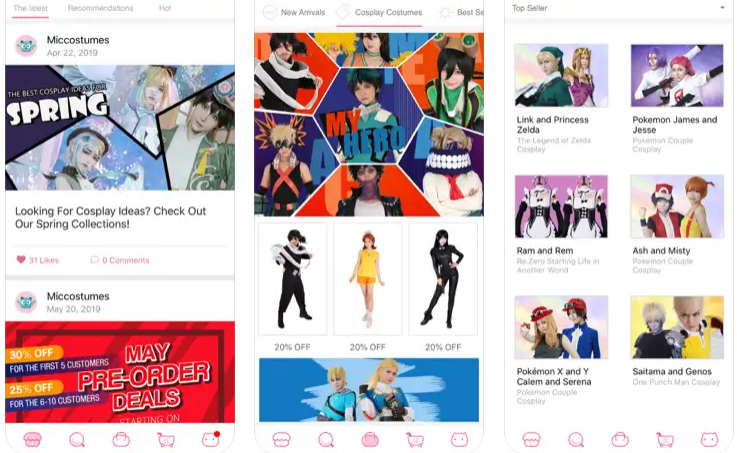 You may also like: 9 Best Anime Games Like Danganronpa for PC