Listening to your favorite songs is so cool and inspiring. Have you ever listened to the melody of your favorite track? Enchanting notes, beautiful musical instruments create an atmosphere and mood.
We like the melody of some songs so much that we want to get rid of the words and enjoy it completely. Don't rush to a music specialist to remove the voices from your favorite songs.
We have made a list of the best apps and websites that will allow you to do this from the comfort of your home. The list is quite large, but it has apps and sites for every taste.
You may also like: 11 Best Sheet Music Writing Apps for Android, iOS, PC
Vocal Extractor – Karaoke Maker
The app and website is handy to use. Try this app which will help you get rid of the words in any song. You can use this track as karaoke. If you want to host a party, then a karaoke contest is a must-have for this event.
All you need to do is upload the song to the app. It will automatically process the song and mute the voices. Moreover, you can save the a cappella version of this song separately. All files are saved in a single folder, so you don't have to search for them.
It should be noted that all music files are saved in excellent quality. The processing of music files takes a few seconds. You can completely decompose a music track into various components such as voices, backing vocals, basses, guitars, and other musical instruments.
The app uses a unique technology that helps not to qualitatively separate the melody from the voices. It also provides the ability to convert the audio file to various music formats.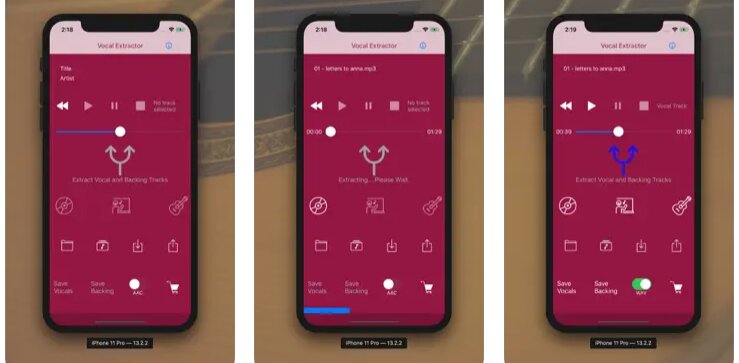 You may also like: 9 Best Apps Like Acapella (PicPlayPost) for Android, iOS, PC
Vocal Remover – AI Music
How can this app help you to remove voices from a music file? Upload music file into the app and choose split music and lyrics feature. Within a few seconds, the music file can be separated.
You can also process the tracks. Turn the sliders for various musical effects to make your track more beautiful. If you don't like the muting of the voice after processing, you can easily fix it using the sliders.
This app is great for beginner musicians. You can create the illusion of the tracks in a concert hall. What's more, the app has a huge collection of music files that you can edit. The app warns you to use only licensed tracks that you have purchased and to take into account copyrighted material.
The app also has age restrictions. You need to be over 18 years old to use this app. Like any app, this one has a premium version. If you buy the Premium version, you will get access to unlimited voice removal on music files.
What's more, you'll get special effects offers. Choose a subscription method. It can be daily, weekly, or monthly.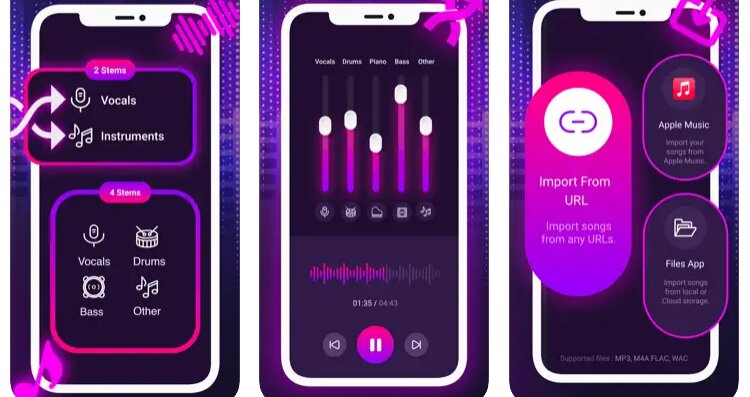 Vocal Remover and Isolation
Do you trust artificial intelligence? This website allows you to part the voice and music of any audio file within seconds. You don't need to waste memory on your smartphone or computer to install an app or program.
Everything works online in the browser. You need to select a song. The artificial intelligence parses this song into the parts. Create an acapella or karaoke version. The processing time of a music file takes only about 10 seconds.
Moreover, change the key and edit the file. Use this site as a music editor that has additional music file processing tools such as trimming, joining, and cutting. If you have any questions, you can contact technical support.
The website saves the processed music file in excellent quality. You won't hear any noise and malfunctions.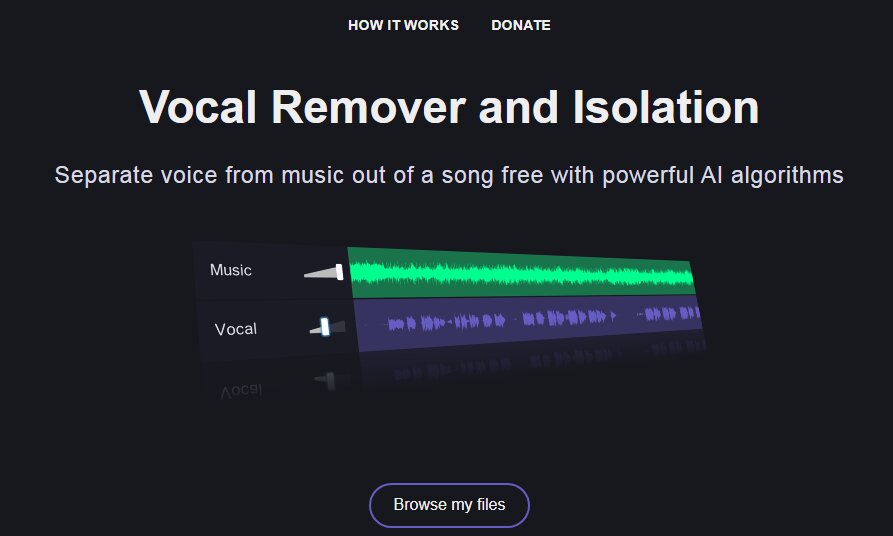 Vocal Remover for Karaoke
If you don't like complicated apps, then try this musical voice remover. It has simple design and intuitive interface. The white theme will not irritate your eyes. Add music file and let the app separate music from voice.
All files are saved in perfect audio quality. What's more, you can add music effects to improve the sound quality. The app is very fast. Moreover, it takes into account information about the music file and displays the picture of the album, the year, the singer, and other data.
It has been installed over 1 million times and takes up only a few MB. The app has one big drawback. After saving an audio file, it loses its volume. It can also degrade the bass sound.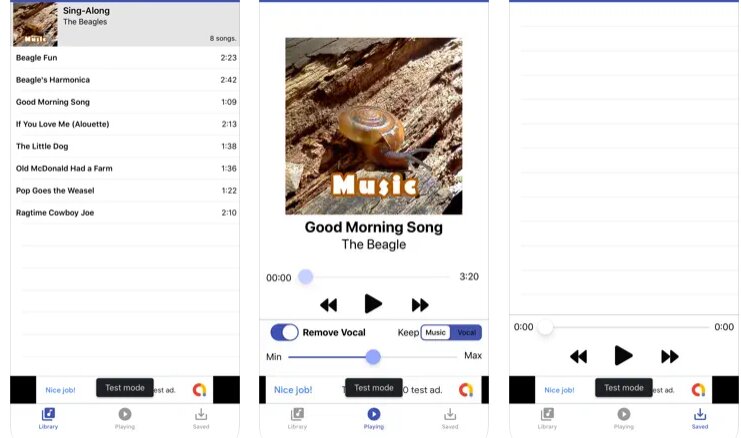 Vocal remover, music separator
The work of a DJ requires the use of a huge number of audio files. Sometimes you need to extract the voice from an audio track in order to create a remix. How can you do it quickly? Try extracting from musical file different musical parts.
The application will help you pull out not only voice but also musical instruments separately. So you can mix and create a unique track. Use artificial intelligence that processes the music file.
The main advantage of this app is the creation of karaoke version. Other apps drown out the voice, and we can hear the noise. This one perfectly processes the music track, extracting from there without adding any noise.
It is necessary to use only MP3 files because the app does not recognize other types of formats. The free version of the app only allows you to process a limited amount of time for a music file. If you want to process a music file in its entirety, you need to purchase the full version.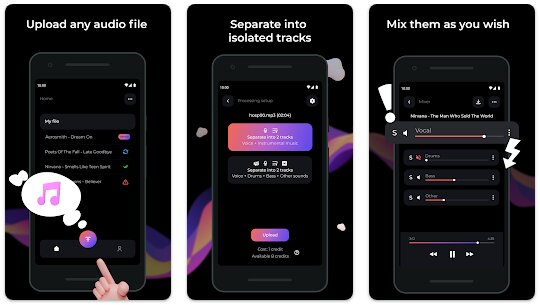 You may also like: 8 Best Lip Sync Software for PC, Android, iOS
Vocal Remover
This paid app will be able to help you edit the audio file. Make hundreds of karaoke tracks. Sometimes it is very difficult for a singer to find a karaoke version of his or her favorite song on the Internet.
This app will become your assistant which will create a karaoke version for you anywhere and anytime. It is very simple to use it. The app connects to the iTunes library to select a music file. Then the app's artificial intelligence processes the file and extract the voice.
Many users complain about a small flaw in the app. After processing a music file, noise may appear at the beginning and end of the music tracks. The main advantage of the app is its size. It takes about 1 MB.
As for the design, it is simplified and primitive. The app does not have anything superfluous in its interface. Therefore, it will be clear even to a non-professional music editor.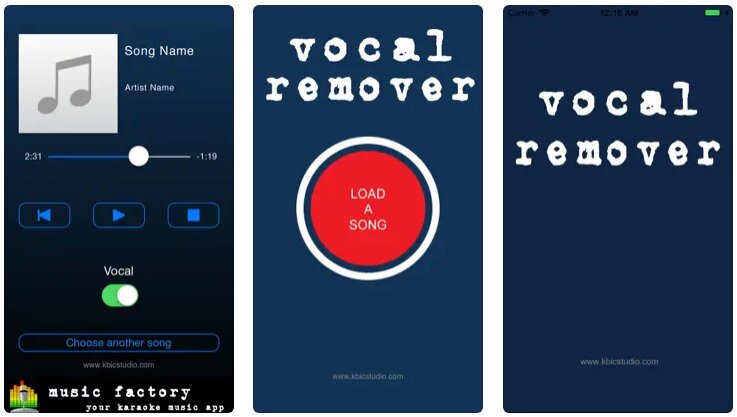 Notta
The pleasant interface of this website allows you to quickly and easily get rid of vocals from your music files. Click on the button in the middle of the screen to download the file. This site supports numerous formats as well as videos.
It is worth paying attention that the site has a limitation on the duration of the uploaded file. It should not be longer than 20 minutes. Removing vocals from your music file is a three-step process.
The first step is to add a video or audio file from your computer. The second step is the removal of vocals with the help of artificial intelligence. The third step is downloading this ready file without vocals.
This site converts all downloadable formats to MP3. There are a number of reasons why you should choose this site. Support for numerous formats, music artificial intelligence algorithms, brilliant audio file quality and support for numerous platforms is the main plus of this site.
As for security, the site developers have done their best. The site automatically deletes all uploaded information 24 hours after it has been processed. This information cannot be recovered, so it will not fall into third parties.


Vocal Remover AI
It is very important for the hosts of various events to select the right musical accompaniment. If this is a wedding, then the music should be solemn, festive, and cheerful. If this is a funeral, then the music should be mournful, sad, and mournful.
Many songs of popular artists have an excellent melody. This application lets you get rid of the voice in the songs and get the audio file without the vocals. It has several limitations in its operation. To remove these restrictions, you need to purchase the premium version.
The app has an average of 4.6 stars out of 5 based on over 1,000 reviews. Try it, and you will be able to extract vocals from any audio or video file.


Online Vocal Remover
Imagine such a situation. You record an audio or video file of your child's performance when he or she plays the piano. When you watch a video or listen to an audio file, you notice some noise and voices in the background.
Download this app and artificial intelligence will help you get rid of unnecessary voices and conversations. You will receive a music file in perfect quality.
The app is completely free. If you think that the music file sounds somehow ugly, then you can use the equalizer to adjust the sliders for different frequencies. Boosts that bass or cuts treble as well. This way you can make your audio file perfect.
The app has been installed by more than 500,000 boring developers periodically update the app with increasing functionality and adding new features.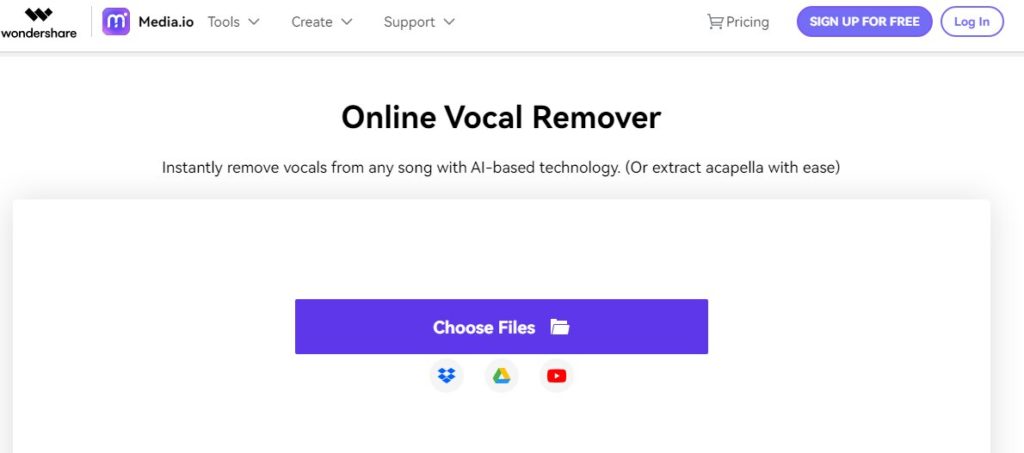 AI Vocal Remover & Karaoke
You want to learn a new dance, but the words of the song make you confused, try this app that will help you remove the vocals from the music. You need to register with the app to start using it. It will provide you with three free tries to remove vocals from your file.
Then you will need to purchase the full version of the app. It is suitable for any people who connect their lives with music. Use this app to create ringtones for your phone. Select the audio file and choose the part you are interested in to extract.
You should be warned that the app has a lot of ads. In order to process your music file, you need to watch ads. This puts many users off. But despite this, the app ends up giving you a file in perfect quality.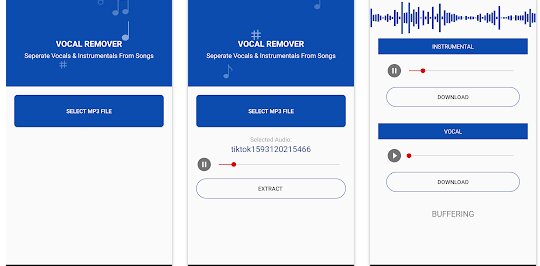 You may also like: 11 Best Microphone Apps for Android & iOS
Phonic Mind
Do you want to feel like a professional music editor? Upload your music file to this site, and you will be able to see different tracks with instruments and vocals. Delete audio tracks you don't need. It is very easy to remove voice and music thanks to this site.
What's more, you can edit individual video tracks with different tools. Reduce or increase the volume, and adjust equalizer sliders. The developers of this site claim that they are the first in the world who used artificial intelligence to process audio files.
The site has detailed instructions on how to use this online editor. If you are a musician or DJ, then you can fully enjoy all the features and tools of this site. Open the block tab to read various news in the world of music.
Moreover, you can purchase two versions of a paid subscription to this site. Basic subscription offers you unlimited audio processing as well as downloading the source file in MP3 format only. As for the pro version, its possibilities are endless.
You can download files in any format, and the processing speed of one song reaches only one minute. Basic subscription gives you 10 minutes song processing speed. A free version has a very long time of processing. This site has earned respect in the music industry market.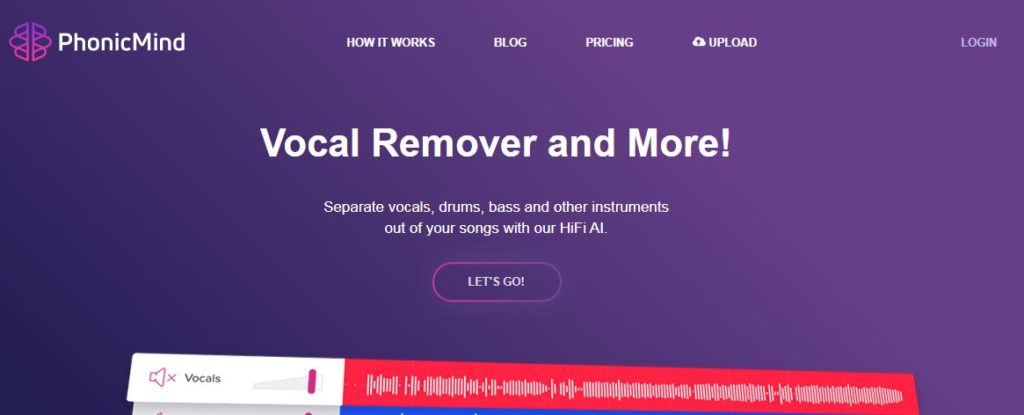 Moises: The Musician's App
This smart app will be a great help to any musician. It is in eighth place in the Apple Store music ranking. The app will help you decompose an audio track into its components. This means that you can easily extract the vocals.
The app has a stylish dark design that will suit many modern people. Turn on the smart metronome function to instantly find out the speed of your audio file. Use the audio editor app to change the speed and create a flower remix.
Show your creativity and produce something new and unique. The app will help you make playlists for your live performances. What's more, you can develop music tracks right at home.
The app supports most video and audio formats. So, download your files in MP3 format and other formats. Of course, you can purchase the Premium version of the app, which allows you to process music files unlimitedly.
The free version allows you to process only 5 audios with the help of artificial intelligence, no more than 5 minutes in duration. Download this app and enjoy the musical sound processing features.


Vocal Remover
This site is number four on the lists of the best among its competitors. You can instantly get rid of vocals on your music files. The ebsite is very easy to use. Upload your audio file and wait for the process.
As a result, you will receive 3 audio files – original, instrumental, and vocal. You can upload the finished file in any format. The app has three Pro versions. You can buy a small, regular, and premium version.
Each of these versions has its own monthly limits. The site will tell you how to use it in an instruction section. You can also find out information about the creator of the site.
If you want to receive the news of the site, enter your name and email address. You will not miss any updates or news. Plus, the site works in several languages ​​such as English, French, and Spanish.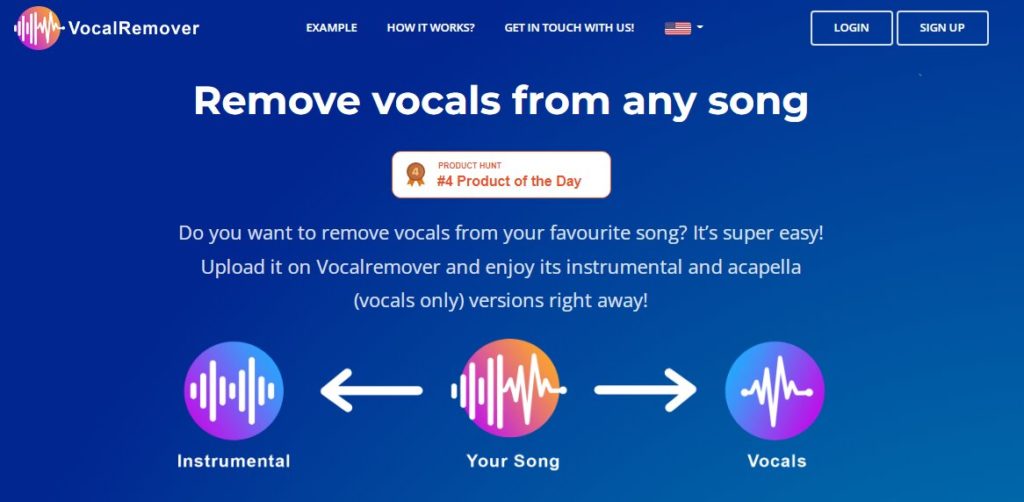 SonicMelody: AI Vocal/Instrument Karaoke Remover
The name of the app speaks for itself. It processes music files within seconds, you can mute any type of sound and any musical instrument. The app is great for those who want to get rid of voices in the background.
What's more, you can create 8D audio with the equalizer. Immerse yourself completely in the music of your work. If you are a beginner singer, and you can't sing well, then the app has auto-tune. Add it to your new single, and you'll get a great hit that will beat all the charts.
Another thing that makes this app great is the audio file editor. This is especially important for TikTok lovers and TikTokers. Create beautiful and charming background music for your funny videos. Get recommended and become popular.
The app has been downloaded over 1 million times. Some users complain that the app can only process 2 audio files. Then the app crashes. If you have such a problem, then you need to urgently write technical support. You can instantly solve this problem.

Remove vocal from song, voix
As for the last app on our list, it is the brainchild of an aspiring developer. The application does a great job with its functions and quickly extracts voices from any audio files. The developers of the app uses the artificial intelligence.
You can instantly save the processed files to your device's memory or share them with your friends. The app is updated periodically. Sometimes there are small errors that remove not only the voice from your audio file, but also the beats.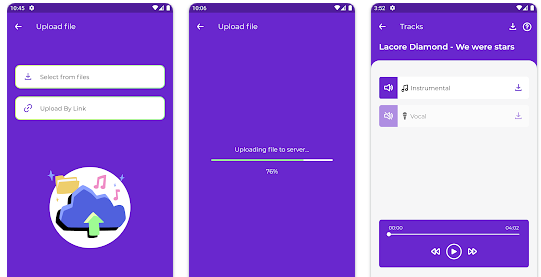 You may also like: 11 Best Apps Like Garageband for Android & iOS