Lots of people talk while sleeping, which can affect its quality. Also among the unforeseen sounds can be snoring or noise for some unknown reason. Understanding what you are talking about during sleep, or finding the source of noise on your own is very difficult.
Yet, thanks to the features that our phones provide, now anyone can do it. Here we have reviewed for you the best sleep talk recorder apps that also have other useful features.
Reading helps people to relax before sleeping, so you may try these best interactive story games.
Sleep Cycle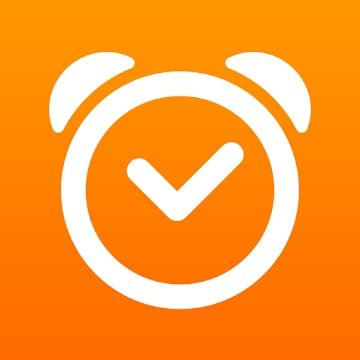 Sleep Cycle monitors sleep cycles and wakes you up in the fastest phase. Depending on the phase, you move differently in your dream.
The patented technology uses sounds or vibrations to catch your movements in different phases.
This app works simply. Before you go to bed, connect your phone to the charger, set a wake-up time, and put the phone next to you with the screen facing down.
Then the app will "listen" to your breathing through the phone's microphone, detecting your sleep phases. It will assess its quality and choose the best time to start waking you up.
A half-hour window is set for waking up, by the way. So you can wake up a little earlier than the scheduled time. The description states that the presence of other people or animals in the room or bed will not affect the result of the app. It will only monitor the gadget owner's sleep.
The funniest option is snoring. In the morning you will know if you snore, and if so, how many minutes during the night.
What's more, you'll be able to listen to how melodic it gets: the app can make a 30-second recording. You'll see how much time you spend in bed and sleeping on average. How stable your time schedules are when you go to bed and wake up.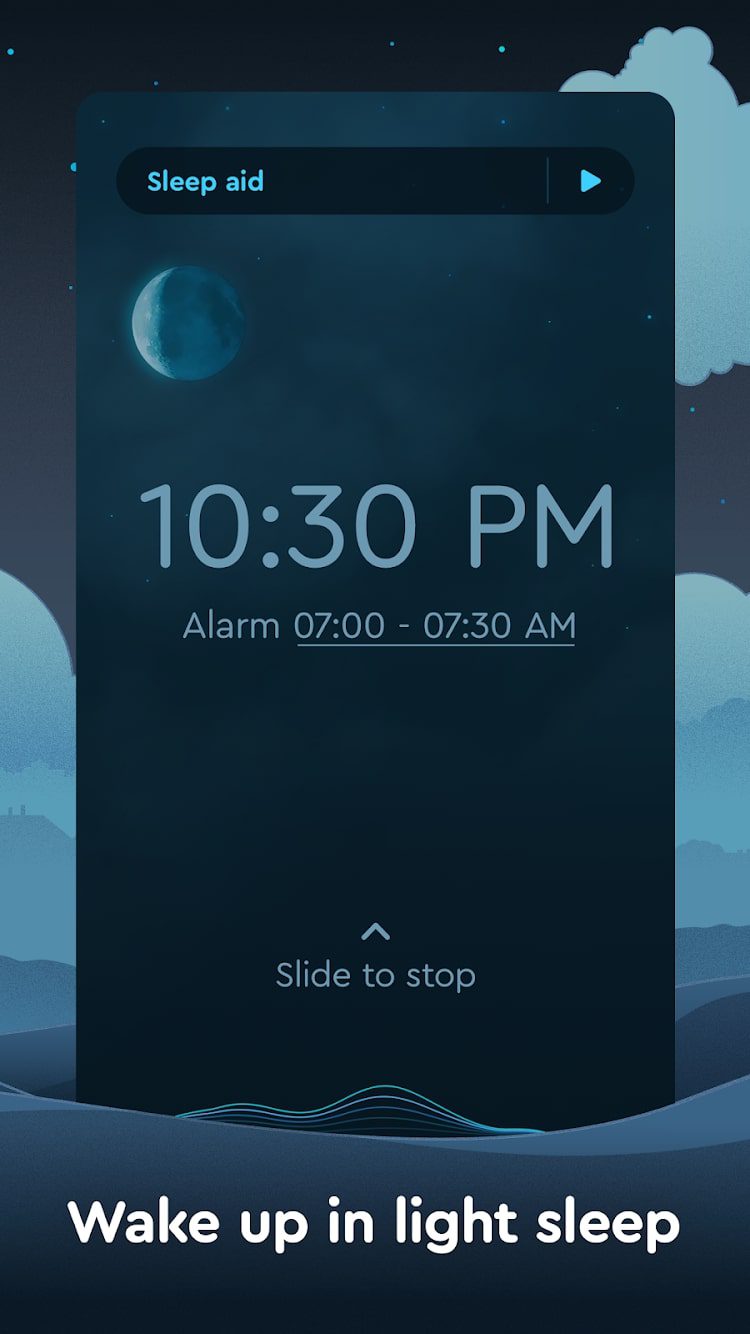 Immediately upon awakening, you will be prompted to measure your heart rate. The app does this with your cell phone camera. The flashlight comes on, you need to squeeze the lens with your finger, and a few seconds later the result is ready.


You may also like: 11 Best Viooz Alternatives in 2021
Sleep as Android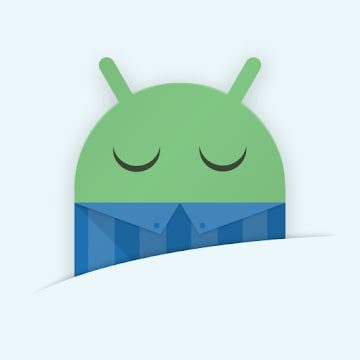 Sleep as Android is one of the best sleep monitoring apps. This app has a smart alarm clock with sleep cycle tracking.
It wakes you up gently at the most optimal moment for a pleasant morning. It requires you to set your wake-up time, turn on the sleep tracking, and place your phone next to you on your bed.
The app will take into account the user's movements in bed and display the appropriate sleep phases in a report.
This service works with Pebble, Android Wear, and Galaxy Gear smartwatches and can read your dream parameters from these gadgets.
The app keeps statistics, can turn on certain tunes to fall asleep, and records night conversations. The "record" feature allows you to record sound while you sleep to track snoring or sleep conversations. "Lullabies" will help you fall asleep to different tunes.
Also, for a gentle wake-up, the sound of the alarm clock increases gradually, and the melody is played during the rapid sleep phase.
At the same time, the developers recommend that you connect your phone to a charger. Different modes can lead to a complete discharge of the battery.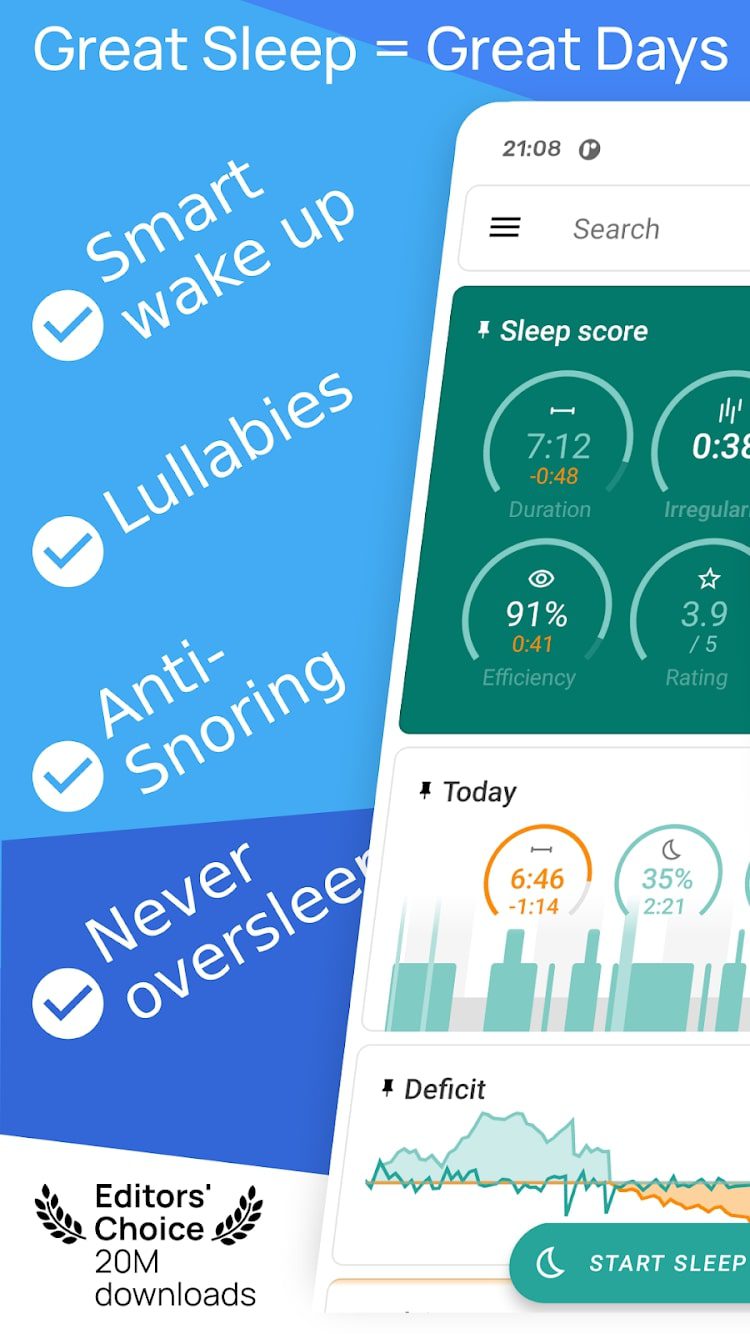 The app is free and has no ads. At the same time, cycle tracking features and integration with wrist accessories are available for a 2-week trial period.

SnoreLab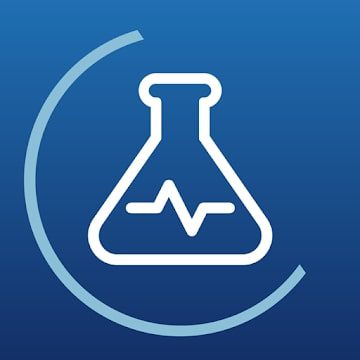 Snoring is a very dangerous thing. In addition to disturbing others, snoring can lead to temporary respiratory failure during sleep. It can lead to very serious consequences for the body.
SnoreLab is the most popular and innovative app of its kind that measures and monitors snoring. It helps you find effective ways to reduce it.
Every night, the app records and counts your snoring, analyzing the frequency, intensity, and timing of your snoring. Based on this data, this program makes recommendations to reduce snoring.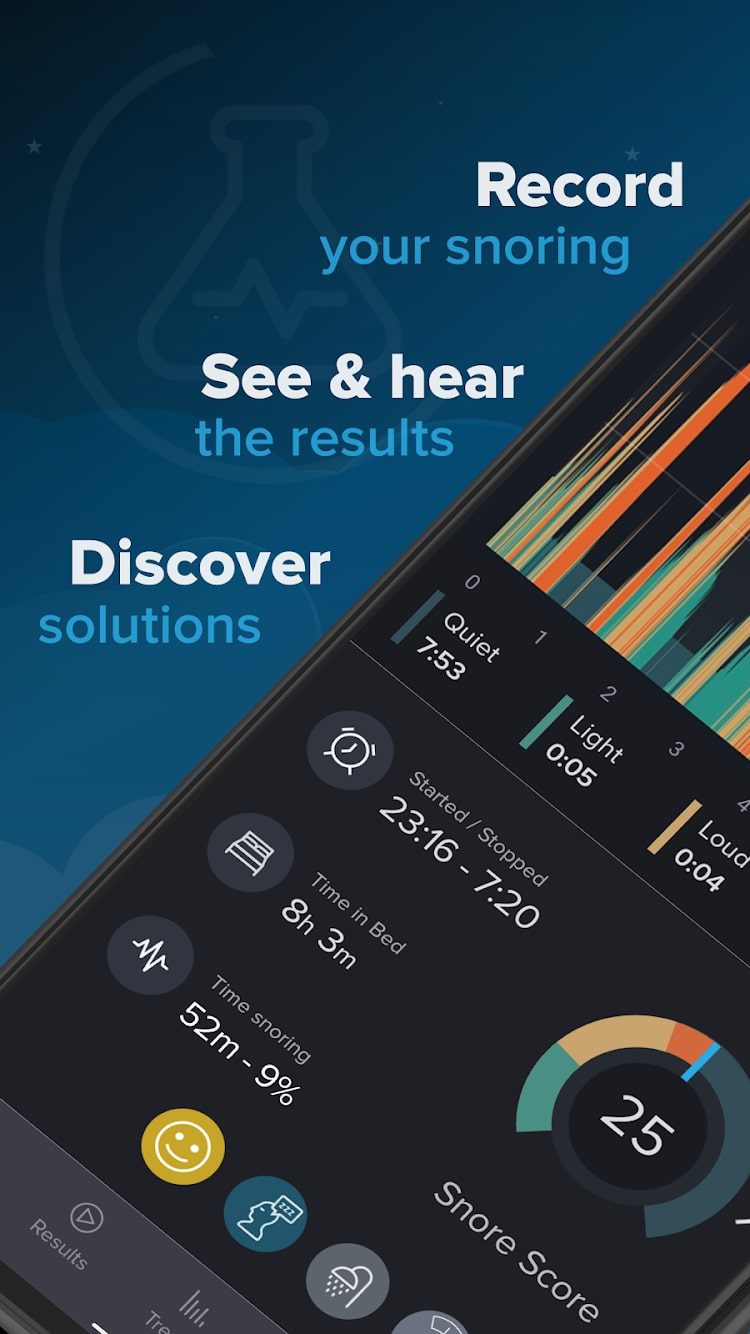 The app will hold a host of customizable parameters that allow you to set your preferred sleep and wake-up settings. Besides, you will see a graph showing the phases, find out how much time you spent sleeping, and how well you slept.


Sleep Talk Recorder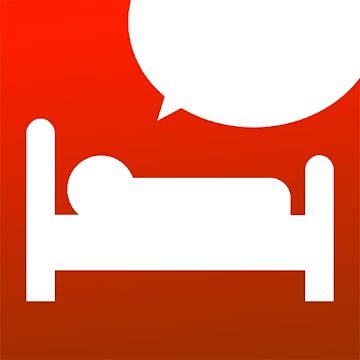 The only task of the Sleep Talk Recorder app is to track what happens at night. The sound that occurs in the room during sleep is recorded.
The sound can be produced by both humans and animals. To be more precise, the app does not record absolutely all the sounds that are heard in the room during the night.
During the initial set of parameters, background noise is calibrated. Only what will significantly exceed this level will be recorded. The rest is subject to filtering.
Sleep Talk Recorder has a convenient recording and listening system. To record sound, the phone does not have to be placed next to the person sleeping. It is quite possible to place it on the table, the sound will still be recorded.
Besides recording and listening, it is possible to share your nightly recordings with other people. The quality of sleep can be an influence.
The app takes into account the weather and offers you a choice before bedtime from the conditions offered. For example, you can note that the day was stressful or that you had a late dinner.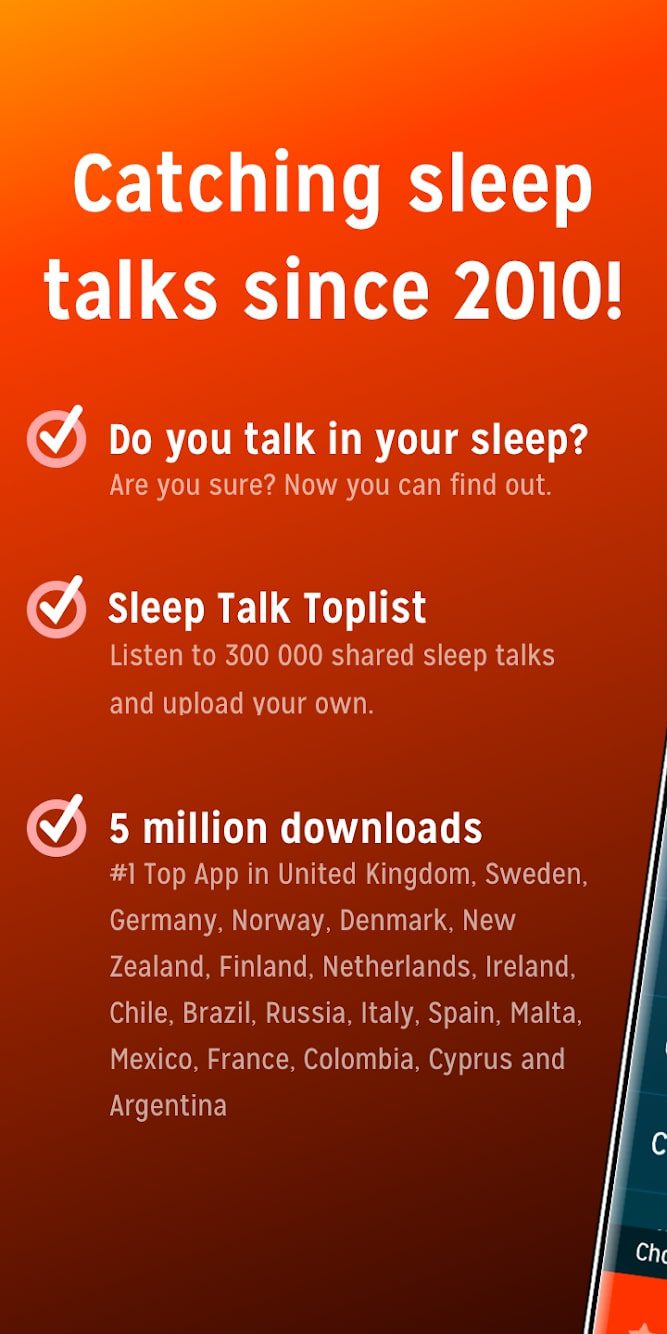 You can add your parameters. After a week, the app will be able to generate graphs for you to show which circumstances make your dream worse and which make it better.


Dream Voices – Sleep Recorder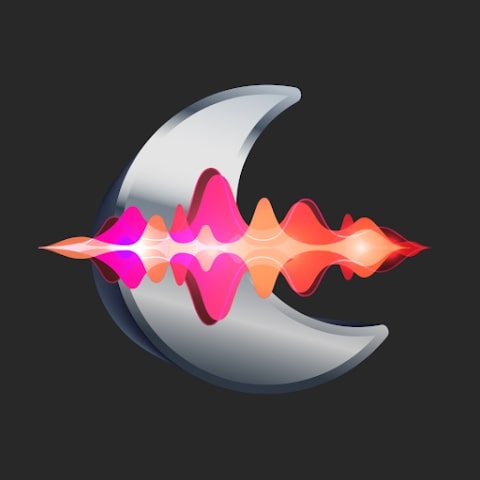 The Dream Voices mobile app contains the most necessary and useful options for healthy sleep.
Does your partner talk in his or her sleep? Use the sleep recorder to be able to listen to sleep conversations. Silence, snoring, and extraneous sounds are missed.
Excellent playback quality helps you use the app in any, even noisy place. Recognizing your voice will help you get only the information you need. Use the timer to turn the recorder on after you fall asleep.
Keep a dream journal where you can record interesting dreams right after waking up. Review them in the evening to be able to extend a pleasant sleep.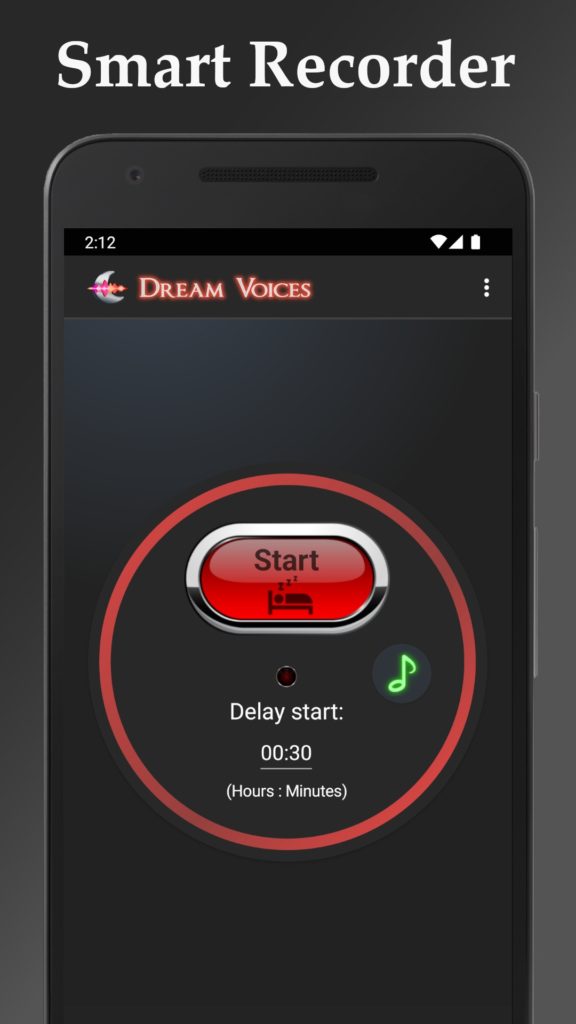 Use the sounds of nature and calm music to make going to bed as pleasant as possible. Relax to calm down and relieve the stress of the day. This way you can fall asleep much faster. Share your dreams and observations with other users.

Pillow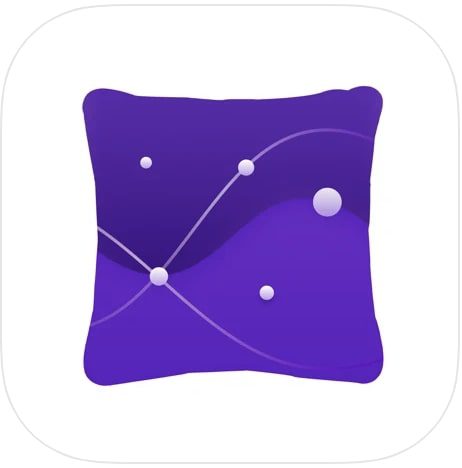 The Pillow app monitors the user's sleep and, with the appropriate settings, can wake you up during the REM phase. It also makes an audio recording.
This service allows you to plan your night to get the most benefit for your body. After all, when the alarm clock wakes a person on time, it allows you to increase your performance and maintain your health.
You can set different modes in the app: sleep with sound recording, standard mode, several short modes, and others. As soon as the user sets the alarm clock and selects one of the modes, the app turns off the backlight on the phone.
Thus, if the user wakes up in the middle of the night to see the time, the screen will not be too bright. This app allows not only to track the phases but also to check the quality of sleep.
Before falling asleep and after waking up, the user can make little notes about his condition. About what the user did before going to bed or what he dreamt.
Keeping such notes helps to understand how the events of the day and physical condition affect dreams. Also, on the contrary, how the quality of sleep affects how you feel in the morning.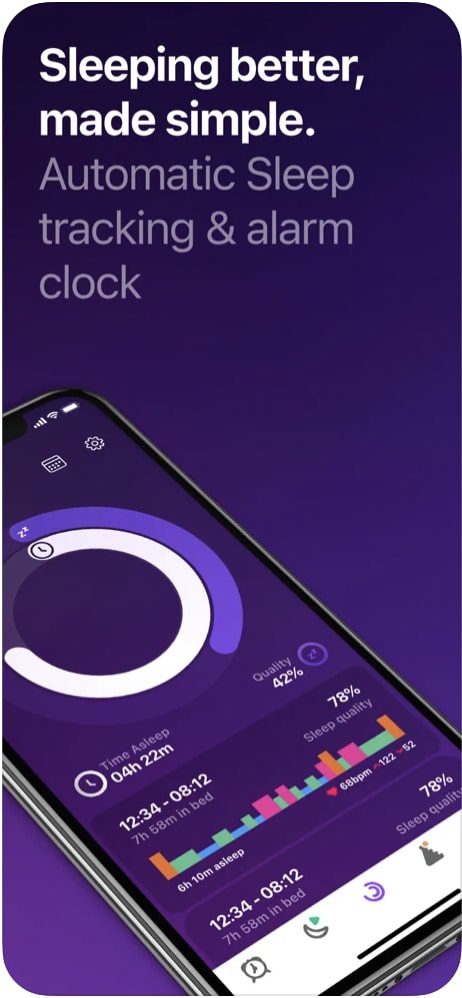 All basic features of the Pillow app are free. To activate the advanced features, you need to buy a special unlock.

Sleep Monitor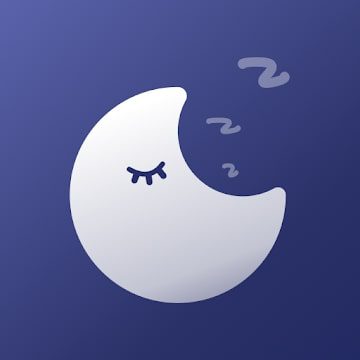 The Sleep Monitor app will tell you how you slept last night. Track and record your dream cycles.
It has a smart alarm clock that wakes you up at the most appropriate phase. It will also remind you when to go to bed. Before you go to bed, you can play relaxing music that helps you fall asleep easier and faster.
Besides, there are also many useful features. With this program, you will develop healthy habits and get quality sleep. Every day, week, or month you will have access to your statistics.
Throughout the night, the app will record the sounds you make. This can be speech or snoring. This service also allows you to track your habits that may affect your sleep quality. Enter data about your mood or well-being, which is also very important.
Along with that, every morning, you can add notes about how your night went, what you dreamed, and how you woke up.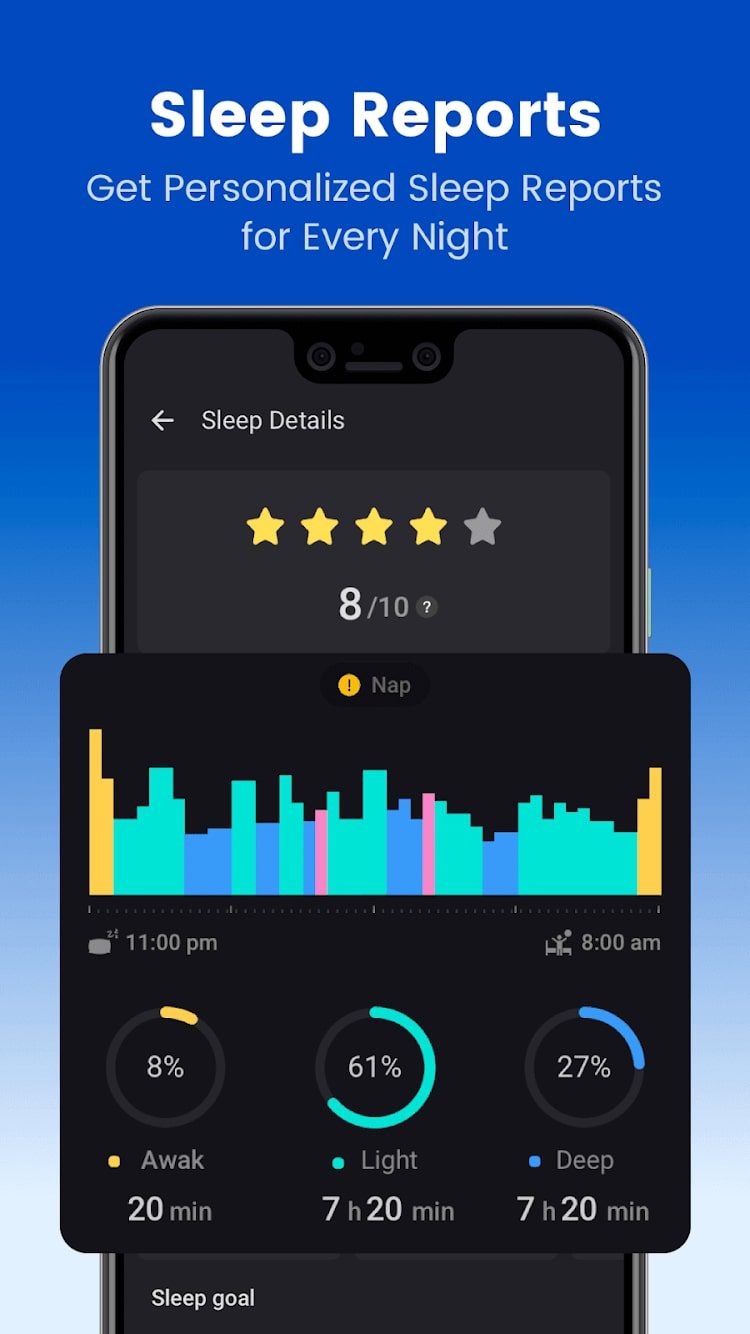 This free app will help people who suffer from insomnia by helping to normalize their sleep. You can buy a paid subscription if you want access to extra features.


You may also like: 9 Best Apps That Helps to Quit Sugar (Android & iOS)
Sleep Recorder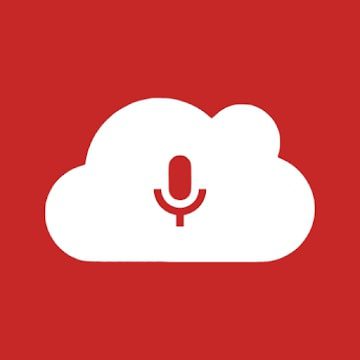 The Sleep Recorder app will track the noise going on around you while you sleep. Thus, you will be aware of what may disturb your dram, whether you are snoring at night or talking.
You can adjust the desired sound level yourself. So, soft noises won't be detected by the app, which helps filter out unnecessary sounds.
The same can be applied to the duration of sounds, ignoring short and infrequent sounds.
Let's take a closer look at each function. You don't have to do all this manually, but rather let the app adjust these settings automatically. To listen you need to press one button in the morning and you will hear all the noise that occurred during the night.
Categorize all the recordings by adding some to your favorites. Moreover, you will see a list of all sounds, each of which can be listened to separately. Choose to start a dream recording in advance, so you don't have to be distracted by your phone before you go to bed.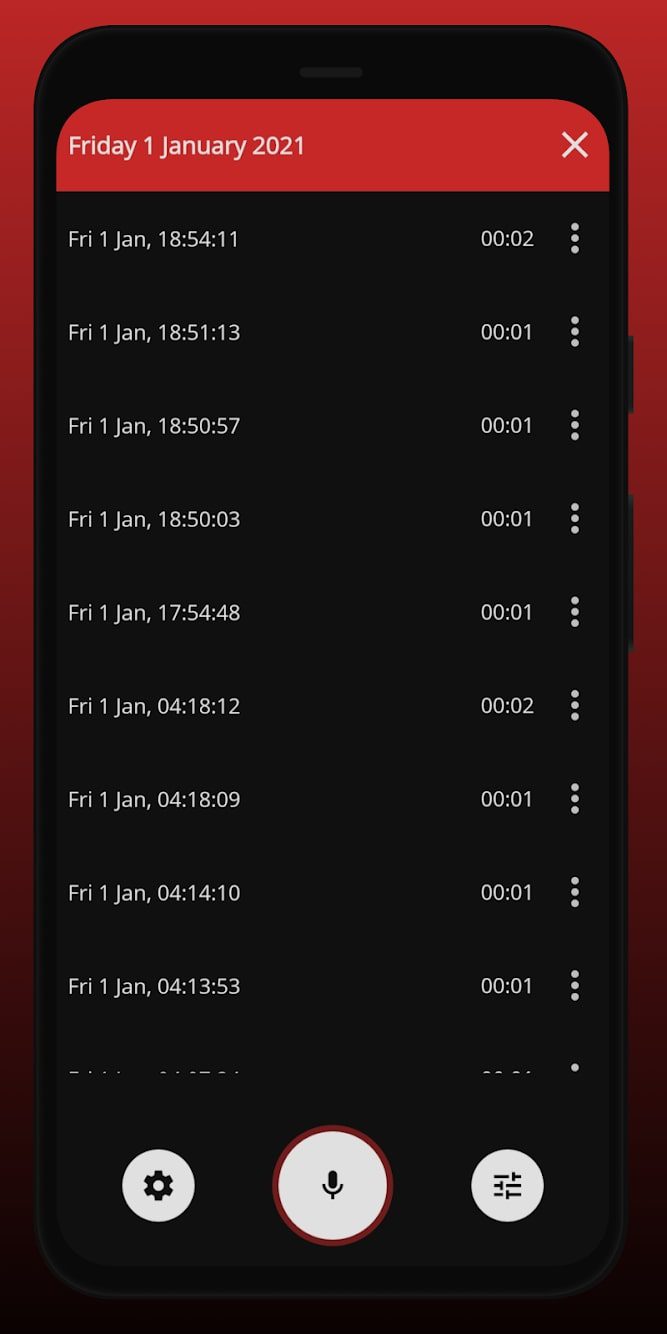 You can share all the recordings with your friends right from the app. The number of recordings is not limited.

Runtastic Sleep Better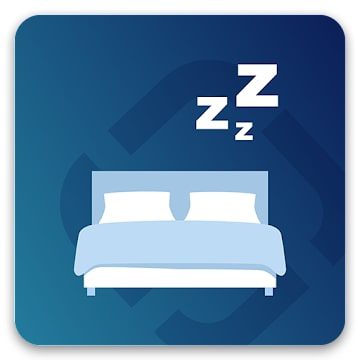 Runtastic Sleep Better is a smart alarm clock that lets you track your dream phases. It allows you to fall asleep quickly and wake up easily at the right phase to the sounds of nature and light alarm music.
The app also offers moon phase tracking and helps you keep a dream diary. It gives you a graph of your sleep quality based on your daytime activity.
One of the things that makes this app awesome is the fact that it can keep track of individual habits and characteristics. For example, coffee and alcohol consumption, regular physical activity, and stress levels.
This data will help to find out the influence of variable factors on the quality and duration of a dream.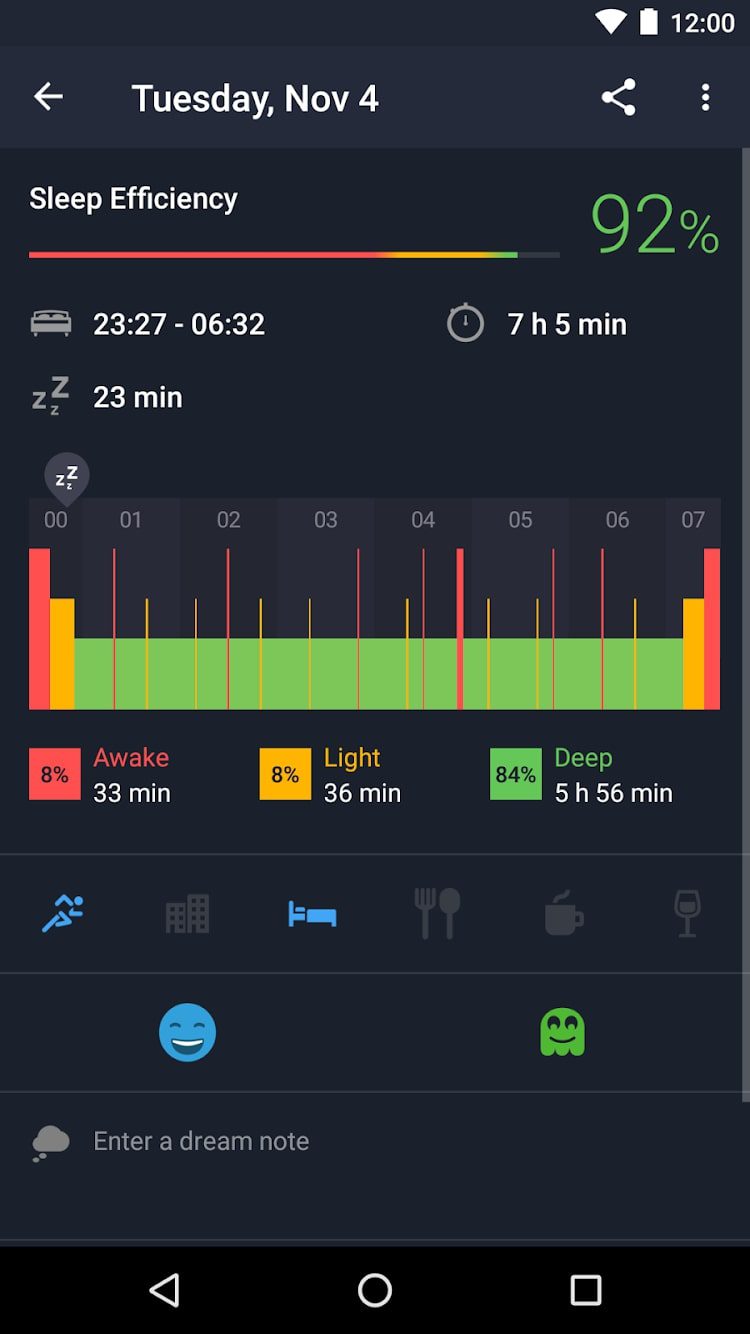 Restrictions may apply to the free version of Sleep Better. To access all the benefits and features of Sleep Better, users may be encouraged to make an in-app purchase.

Sleep Tracker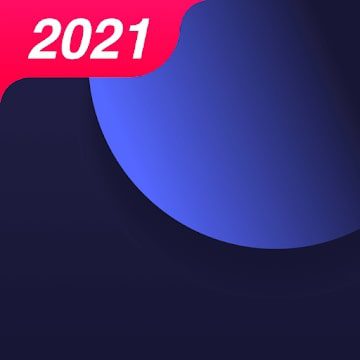 The next app in this review is Sleep Tracker. It will help you fall asleep more easily without being distracted by unpleasant thoughts.
You will see your dream cycles and hear what happened to you during the night.
Thanks to the functionality of your phone, this app will give you a detailed report on the night before. Thus, you will be able to identify any existing problems and thereby improve the quality of your sleep.
It has relaxing music that you can play before you go to bed. You will wake up smoothly and without stress because this tool correctly selects the right phase. Every morning you will get detailed charts with information about your sleep.
All you have to do is turn on the app and put it on your bed. That way it will be able to analyze all your dream cycles. You will learn how different factors affect this process. For example, stress, drinking coffee, eating late, or working out.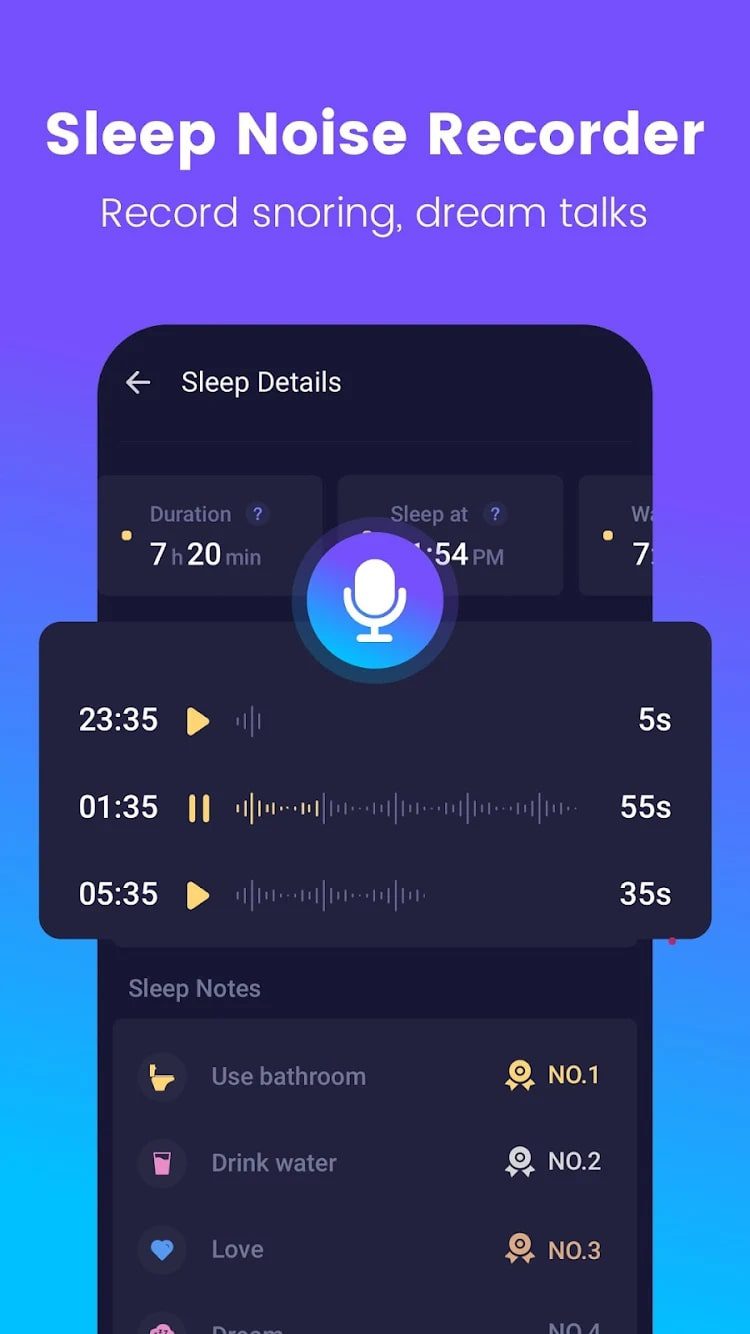 To sum up, this app does a great job with the most important function for us – sleep talk recording. The auxiliary functions will allow you to see all aspects.

SnoreClock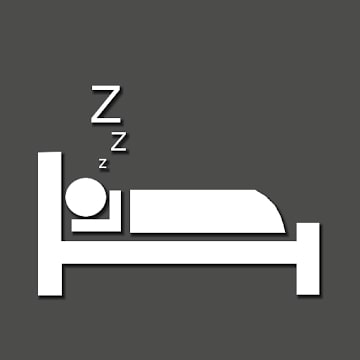 The main purpose of the SnoreClock app is to analyze snoring during sleep. However, the functionality of this service also allows you to record all the sounds that occurred during the night.
You need to put the phone next to you on the bed and fall asleep. All the rest of the work this app will do by itself. In the morning you will see the ready schedule.
The areas that contain the loudest snoring will be marked in red. This app will work throughout the night. But, it needs to be said, that each recording has a limit of 11 hours.
To see all the details of the recording, turn on landscape mode. Drag the sliders and listen to the sounds that have been recorded. This program can run in the background.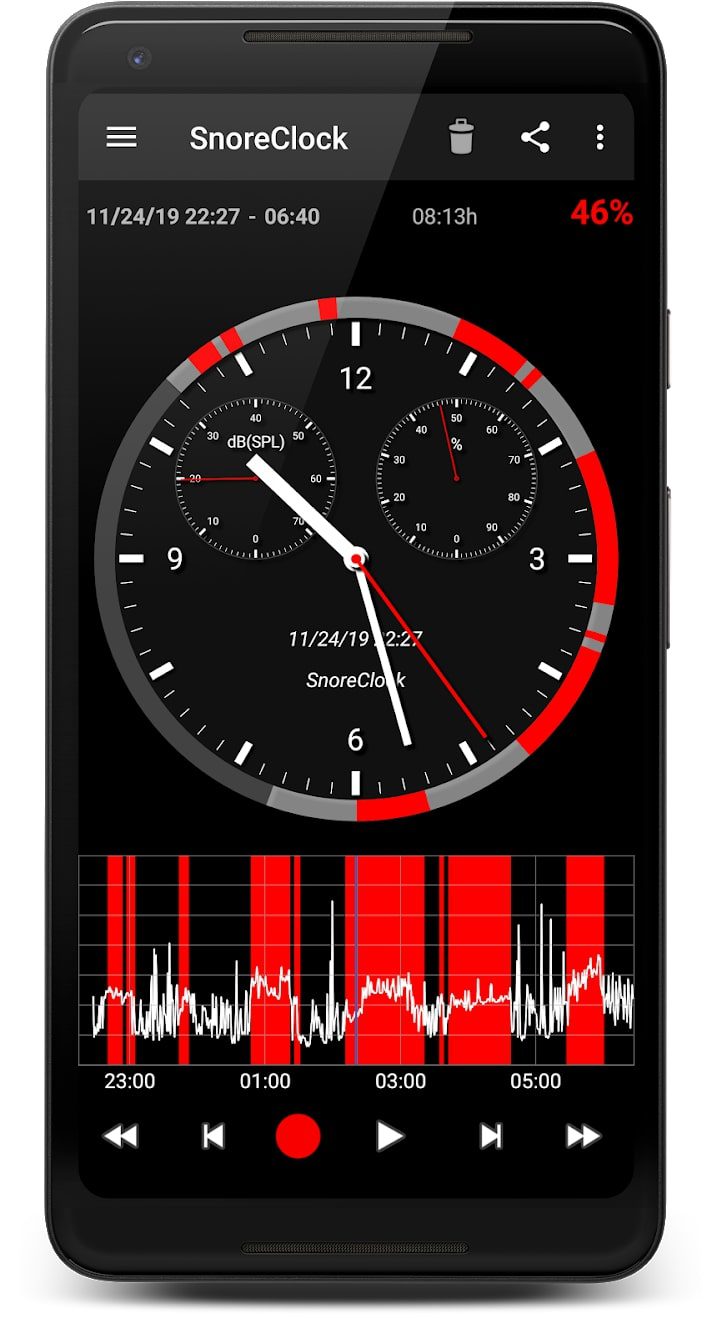 This is a free app that contains no ads and requires no in-app purchases. The basic functionality is enough to track sounds during sleep.


Sleep Time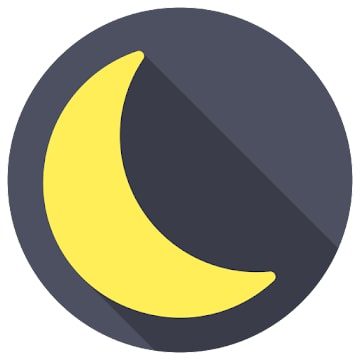 The Sleep Time app is interesting because it helps you calculate the time to fall asleep or wake up so that your sleep is your average sleep cycle.
To do this, you need to set the desired wake-up time in the app, and the smart program will suggest bedtime intervals.
Conversely, you can set a bedtime and the app will calculate the optimal wake-up time. This is all to ensure that you wake up in the right phase, awake and rested.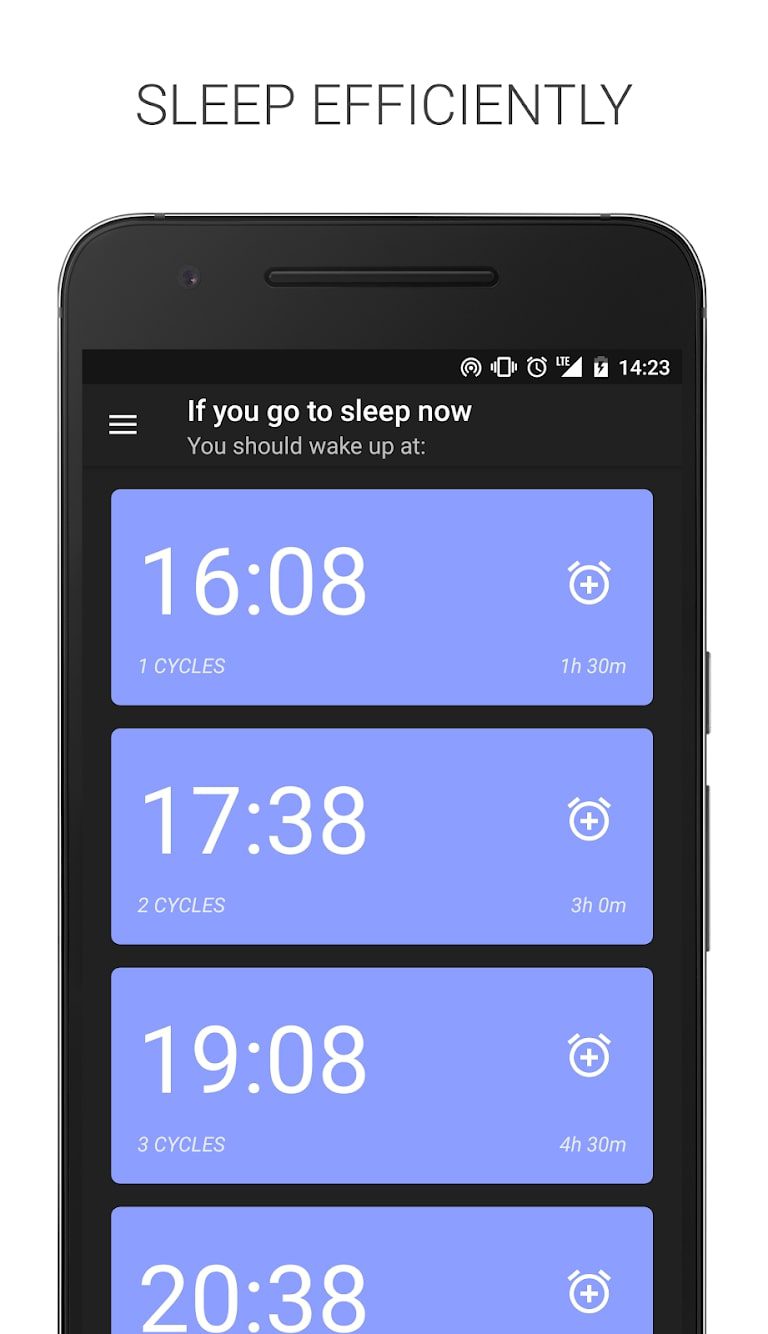 In conclusion, it is a functional alarm clock that allows you to track your sleep state due to the sensors built into your phone. Also, the app will help to detect the presence of snoring or talking during sleep, as well as falling asleep to a pleasant melody and waking up smoothly.

You may also like: 9 Best Interval Timer Apps for Android & iOS
Mintal Tracker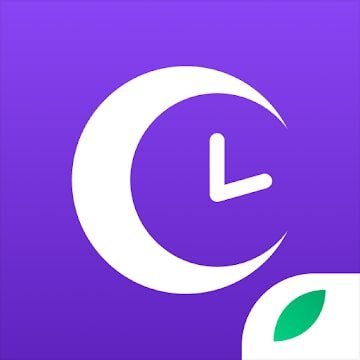 The Mintal Tracker also takes place in our review cause it has a great function of recording sounds during sleep.
It is also a sleep tracker, which pleases all users. This way, you can learn more about the process and thus improve it.
Moreover, if you suffer from insomnia or if it is difficult to fall asleep, this program will also be a great help in the fight against this problem. For waking up, this app will choose the most suitable sleep phase.
In the morning, you will be able to see a detailed report of the previous night. Thanks to this you do not need to buy extra devices. All the necessary functionality is collected in this app.
Recordings of snoring and conversation during sleep are saved in high quality so that you can properly assess these data.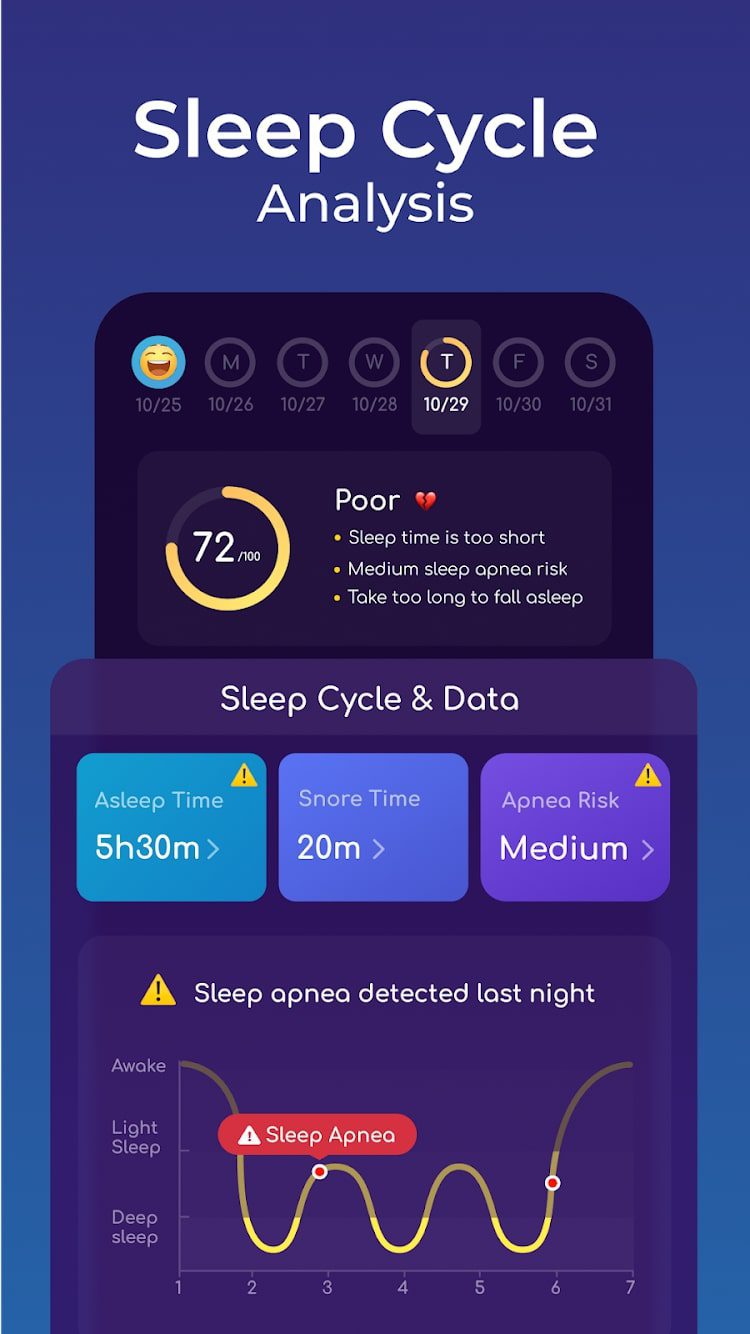 In conclusion, this app is free and ad-free. However, you can also buy a subscription to get access to extra features.