Pinochle is one of the most popular games in the world. Do you like playing it with your friends? Now you can play it on your smartphone any time to have fun and relax since we have gathered Pinochle like card games in the article down below!
And before you start, we also recommend you explore our article about the best monster catching games which also bring a lot of fun!
Pinochle
So why don't we start our list with a Pinochle game app? Obviously, this is the best decision. This is probably one of the oldest pinochle apps on the market and one of the best ones. Here you will be able to play the very classic pinochle game alone or with any player from around the globe.
In the single mode, you will be playing against artificial intelligence. The app can provide you with statistics about the game and make a slight analysis of it.
What is really cool is that before starting the game you need to create your account and choose your avatar, therefore, each player has their own identity. It makes the game a little more personalized.
Considering the configurations of the app, here you can choose the color palette of the design and that's a cool feature. You can also choose the design of the cards. Moreover, this app is extremely simple and it means it will run on almost every device.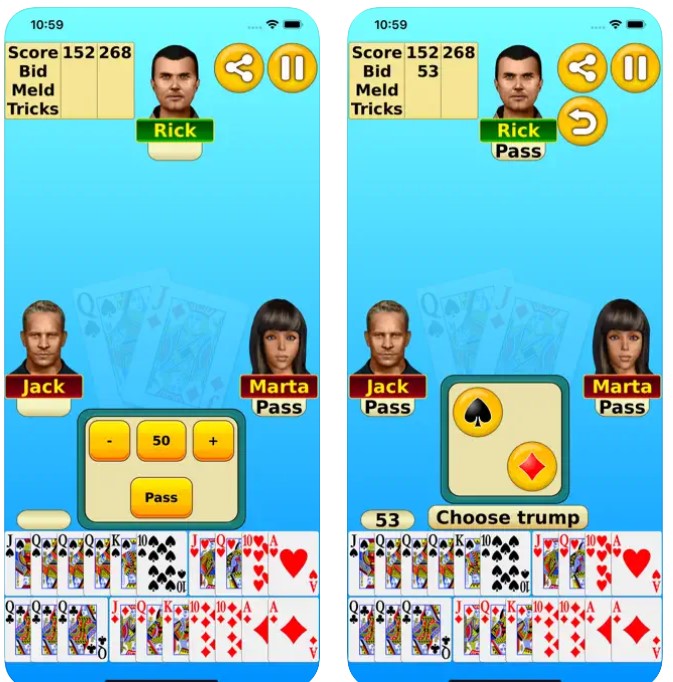 You may also like: 11 Best Games Like Victoria 3 for Android & iOS
Pinochle – Expert AI
Here you will be playing against artificial intelligence. We have to warn you from the beginning it's not the easiest game ever. But it will teach you a lot about the pinochle game and how it works.
And, it will train your skills. Besides the classical Pinnacle game here the app includes features that will make the game more comfortable. There is a standard undo function, replay hand function, skip, and so on. Playing in offline mode is also available.
In addition, the app is able to provide you the detailed statistics about all of your games. And if you feel like you're in trouble you can use bits and play hints.
In the player review section, you can see the overview of any of your games so you can make an analysis. In total, this app contains six levels of difficulties and the hardest one is only for probes. The game has great user reviews and it's a really good choice for all the Pinnacle fans.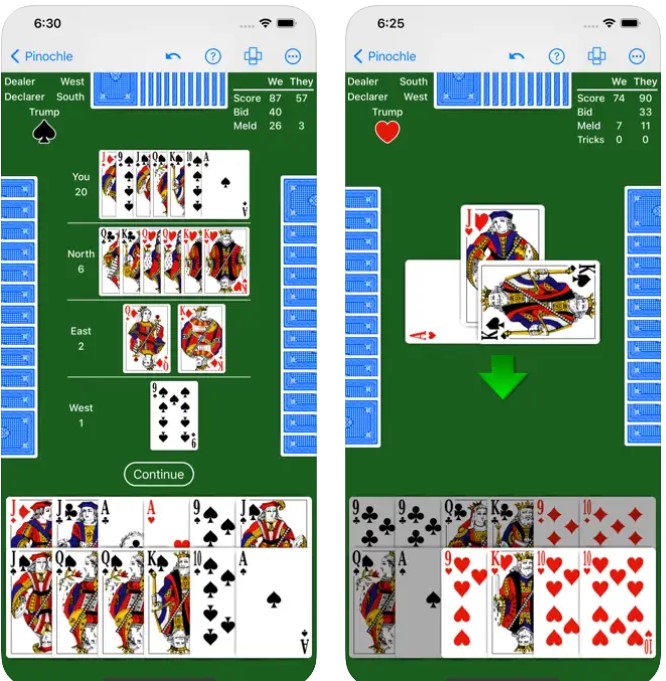 Hearts +
This Hearts+ game has something similar to pinochle and therefore you can try it as well. This is also a classic game and the sap has the best of its atmosphere. In this particular case, it is a multiplayer game where you can just interact with people from all around the world.
As with any decent app in this category, Hearts+ provides statistics about the game. And in case you don't want to play in the multiplayer mode you can just choose to play against their artificial intelligence.
Another aspect here that we would like to highlight is that the game has decent graphics or better say, better-looking graphics stand in previous cases. It's obvious that the developers try to create the atmosphere of a real-time card game.
The app Hearts+ contains several variants of the game. So play games, game points, and compete with people around the world.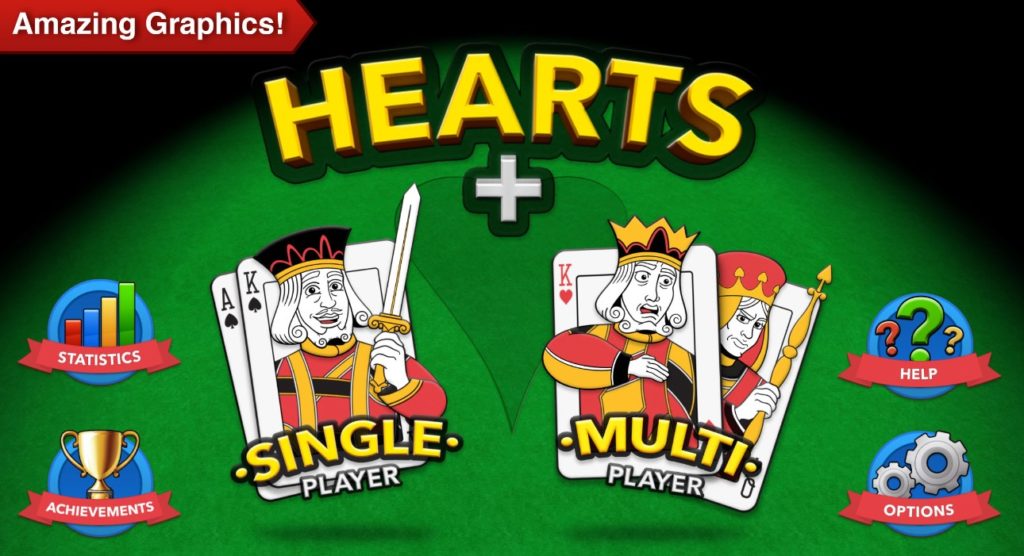 Pinochle‪+‬
It is another variation of the Pinnacle game for iOS devices. Probably, one of its best features of it is that it has no ads though it's not a free app so that's logical.
Unlike the previous games, this is not a multiplayer game, however here you can play in two-player mode. In a single mode, you are competing with artificial intelligence that works quite decently here but you have to choose the level of difficulty in advance.
What is really cool is that the game has a free trial period before you are committed to buying. The only thing is that the app sometimes is not comfortable to play because the images of cards are too tiny on the screen so it might be difficult to poke to the right card on the first try.
What is more, this app is constantly updated and it makes us some technical issues for some users.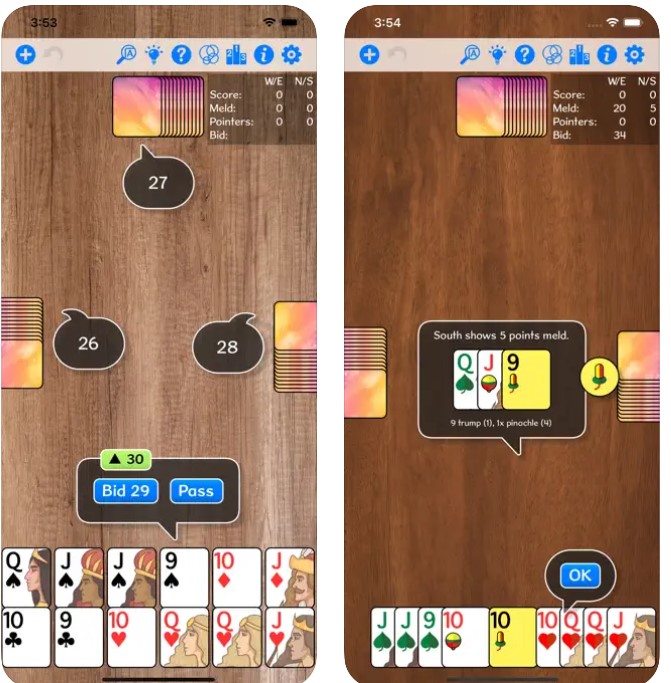 UNO!™
You might be quite surprised by us placing this app on this list but more or less Uno also has the spirit of pinochle. Besides, UNO is one of the most popular card games in the world so it's never extra.
This is an excellent game for the whole family and this app is an official representative of the Uno trademark. Sure you can play the classic UNO game or select the special game rules just for yourself.
This is a multiplayer game so here you can participate in the tournaments and events, win prizes and become the leader on leaderboards.
Another cool feature of Uno is that it allows you, your friends, and your family to play in the two versus two modes on the same device. Cool graphics and animations, limitless possibilities in the game, and lots of fun – this is all about the UNO game.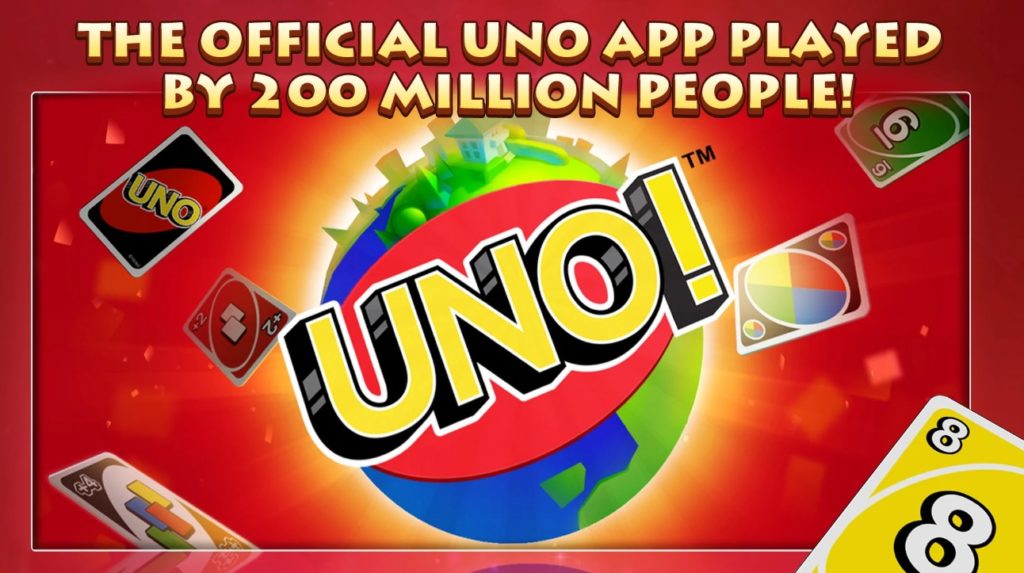 You may also like: 9 Best Mobile Games Like Beat Saber
Pinochle Classic
Another decent Pinochle game for Android and iOS devices. If you prefer to stick to the classics, then you're welcome to play it anytime. The game itself claims that it's a great tool to train your Pinnacle skills and become a really professional player.
One advantage of this app is that it's highly customizable so you can configure the game in the way that you are playing according to your own rules. You can also define the amount of the minimal stake. Here you have to play against artificial intelligence.
The graphics are simple but it doesn't mean that it's slow quality. In general, there's nothing way too unusual about this game, but it's not a bad up either. So, as we mentioned in the beginning, all the fans of the classic Pinochle card game will appreciate this choice.


Pinochle
This app is representative of the online gaming platform and now you can play Pinochle not only on the website but in the Android app as well. Pinochle is actually an exciting game with a lot of tricks.
In comparison to such games as Whist, Spades, and so on, pinnacle requires the ability to think and good memory skills. It doesn't matter if you're a hardcore player or just a regular player in this app you will always find a suitable rival for any level.
So as you already understood from the description, this is an online game. Another that is your this app is that it allows you to chat with other players. You can start an online game at any time that you want.
And the best part probably is that the app requires no registration and no accounts you can just start playing. Different card sets are presented here such as American, French, Pinochle, and so on. And the game is always honest and if something goes wrong the bird service is always there.
After the game, the results are always checked one more time by artificial intelligence. Considering the gameplay and the graphics then Pinochle is quite a classic online game here it is designed in the style of online games.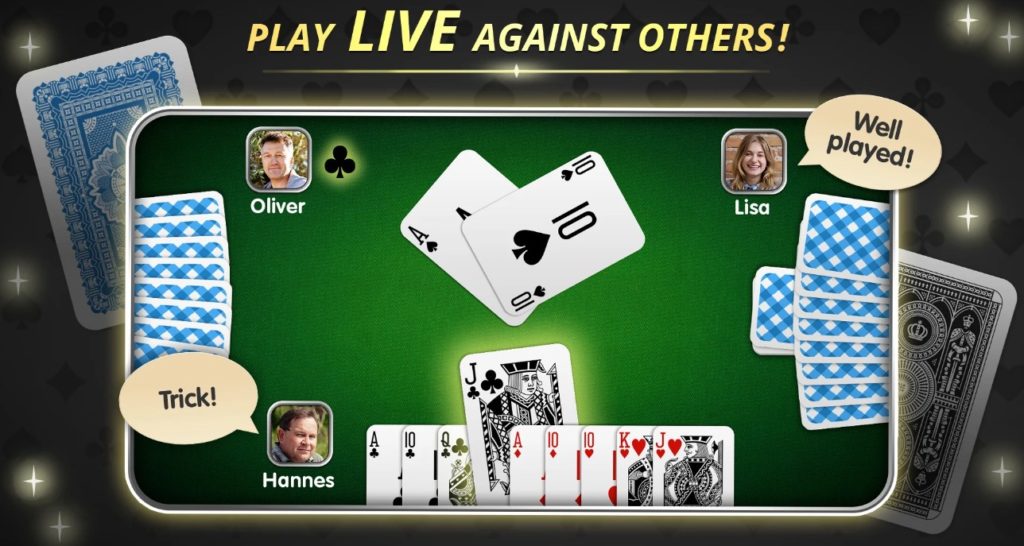 Pinochle Card Game
This is a more simple Pinochle game app. Here you can create your avatar and play some variations of the Pinochle game. Just like the previous one, this is an online game, so you can compete with other players. Try to get as many scores as you can.
After each game, the app will automatically count all the scores and will make the analysis. One of the prominent features here is that the interface design here is a little bit different than in the previous apps – it includes more bright colors and more cute details.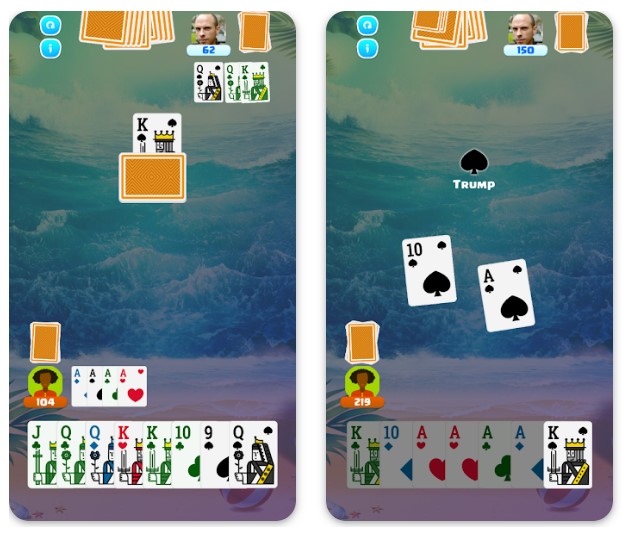 Aces® Hearts
Since Hearts is one of the most popular card games in the world playing it will be always a good option. It's more or less similar to Pinochle so if you're bored with that, you can choose to play these games.
Hear your test will be to shoot the moon against 10 fun and friendly players. Remember that those players are artificial intelligence and it's not an online game. In total, this app includes five levels of difficulty that will make this a card game that you'll enjoy playing over and over again.
The interface design is extremely simple and this game is just extremely simple in general so you might get bored really quickly.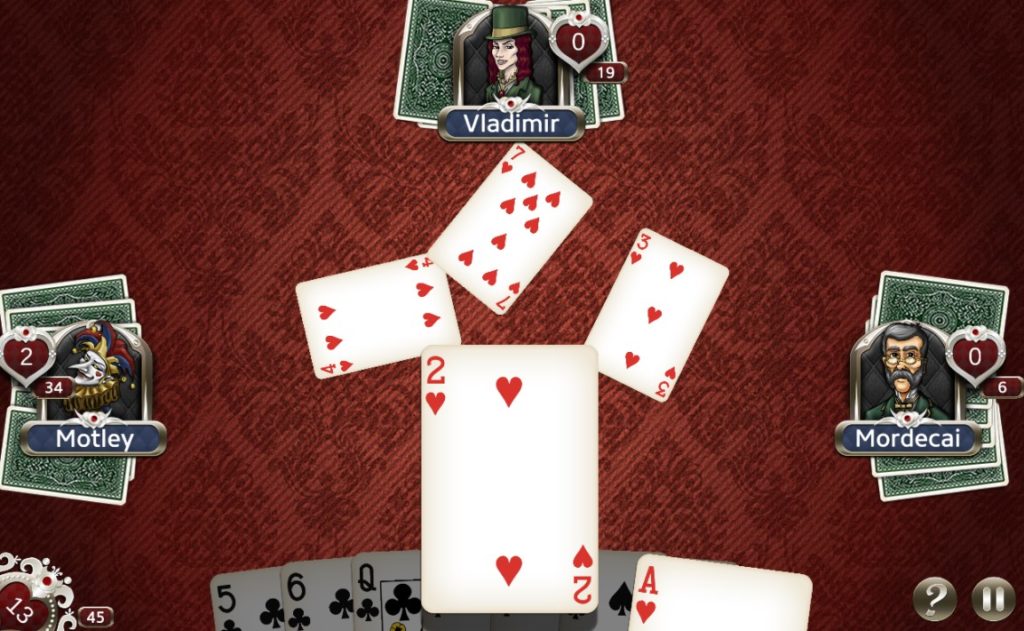 Cribbage Classic
Another possible alternative to Pinnacle can be the cribbage game. Yes, it's not really similar, but it's also a card game where you need to apply your intellectual skills. Here you have a very classic version of cleavage and you can also modify rules here according to your preferences.
The app also keeps the statistics of the game and after the game is over it will make an analysis. The design and the overall gameplay are quite decent, it feels like it's a standard card game for a smartphone. Here you can only play alone against artificial intelligence.


You may also like: 11 Best Games Like PUBG Mobile (Android & iOS)
CardGames.io
This app includes a collection of card games, including pinnacle, cribbage, hearts, Spades, and so on. So in case you get tired of playing Pinnacle all the time, you can find the most similar games to it in the same app.
Therefore, cardgames.io will be a perfect option for all the card games hands. This is an online game and you will have to create your account when you're playing you're either playing in a single mode or you're competing with another player online.
The interface design is quite lean and plain, but the diversity that they have brings and the fact that it's an online game seem to overwhelm that drawback.