Doing chores often becomes a challenge when some family members don't want to do their ones. Sometimes there is confusion about who has to do what. Because of this, misunderstandings and even quarrels can arise in the family. They negatively affect the mood of all participants.
Avoiding these problems will help the right approach to solving this issue, namely the use of special services. With their help, you will be able to distribute responsibilities and track their implementation.
In this review, we have collected these best household chores apps in 2023, which do an excellent job thanks to their extensive functionality.
We also recommend you these best wishlist apps & websites, with which you will get an awesome gift for your family and friends.
Tody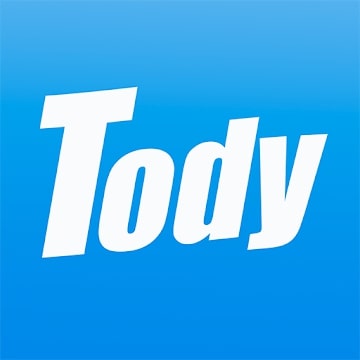 With Tody, you can easily organize the cleaning of your apartments. The program will allow you to identify areas in the house to clean or outside of it.
Set up the work you have to do in it and mark the current status. By setting the frequency of cleaning, you will be able to track how soon you will have to perform the tasks.
The principle of how Tody works is pretty straightforward. Your task is to determine the areas to clean. This can be the kitchen, bathroom, living room, and other rooms. Options outside the house, such as the garage, are also possible.
You can specify different cleaning tasks in each section. Things like mopping floors, sweeping, dusting, or other tasks. After selecting a task, you choose the degree of current dirt level and frequency of cleaning.
Tasks are displayed as a loading bar that gradually fills up, thus indicating that it's time to clean. The fill rate depends on the interval you specified when you created it.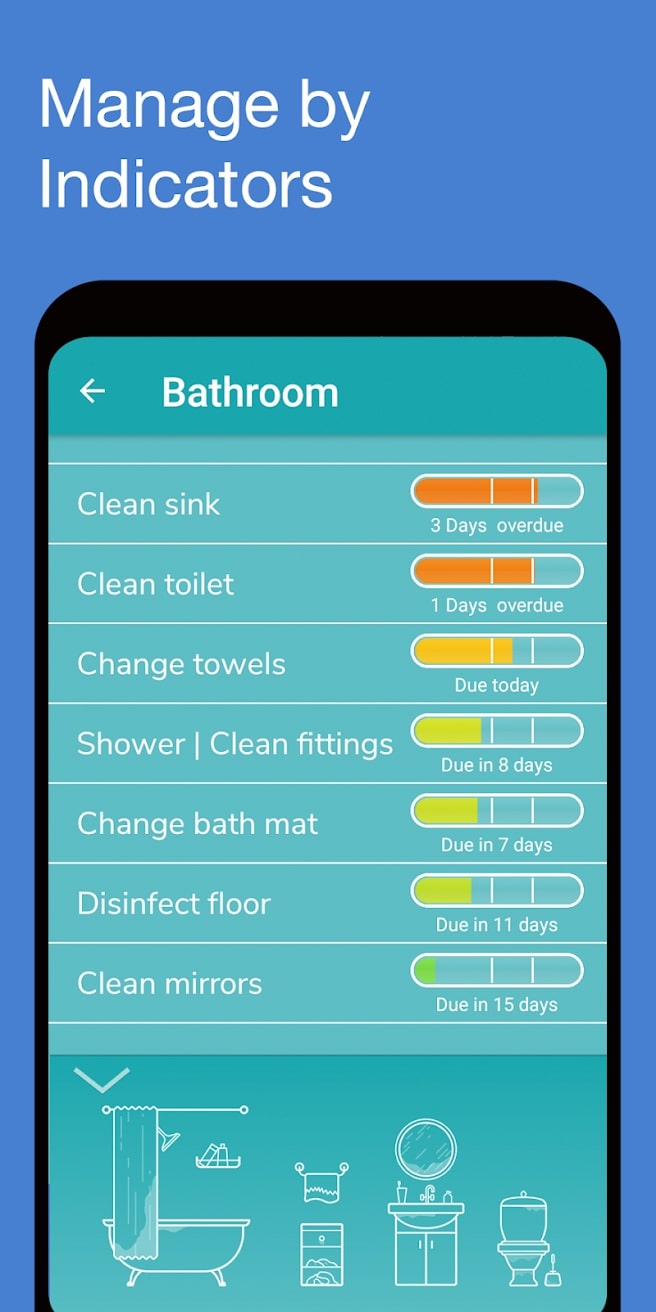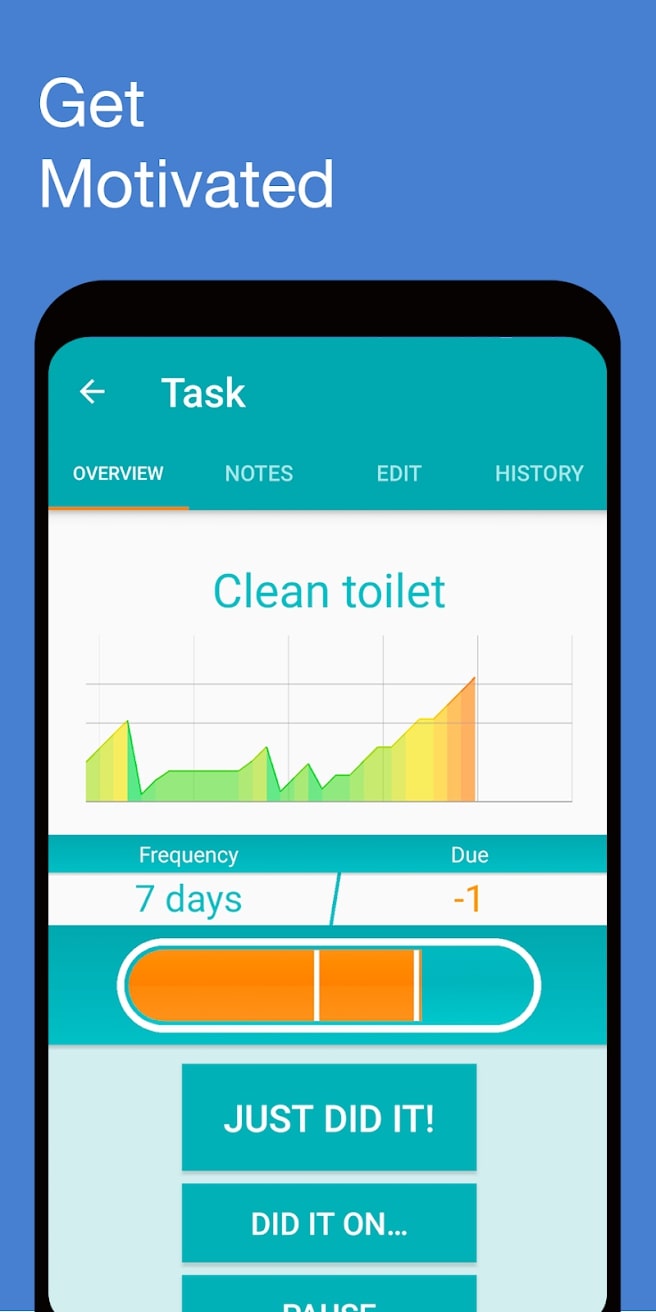 In addition to the standard cleaning organization features, the program also has extra settings, that you can now try by yourself.


You may also like: 7 Best Overdraft Apps in the USA for Android & iOS
Nipto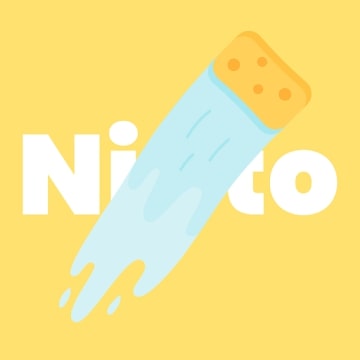 The Nipto app allows you to organize your household chores in a playful way, making the whole process more enjoyable. Thus, you will be able to distribute all responsibilities among all family members.
As you complete all tasks, participants will receive game points. At the end of each week, there will be the results and the leaders who have scored the most points.
The winner will receive a virtual award. The real equivalent of the gift can be determined by yourself and given to the leader. The results will then update to begin a new ranking.
You create a separate profile for each participant, adding all the necessary information there. You can also set a goal for all participants or for each person separately. Set reminders so that no one forgets about their goals.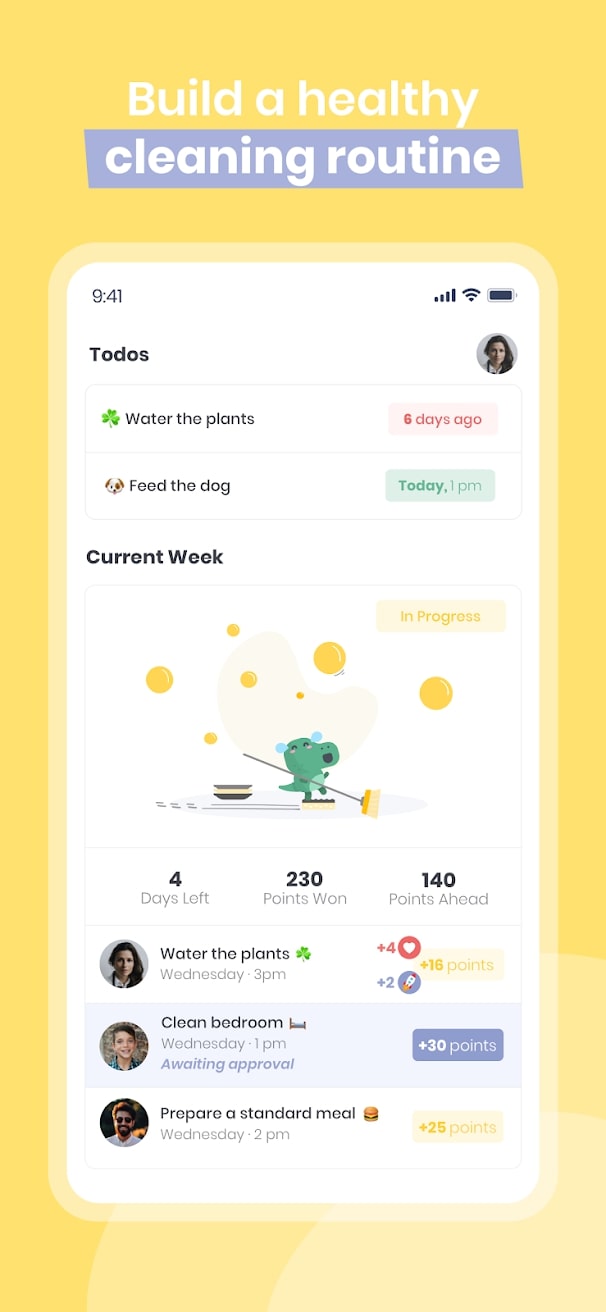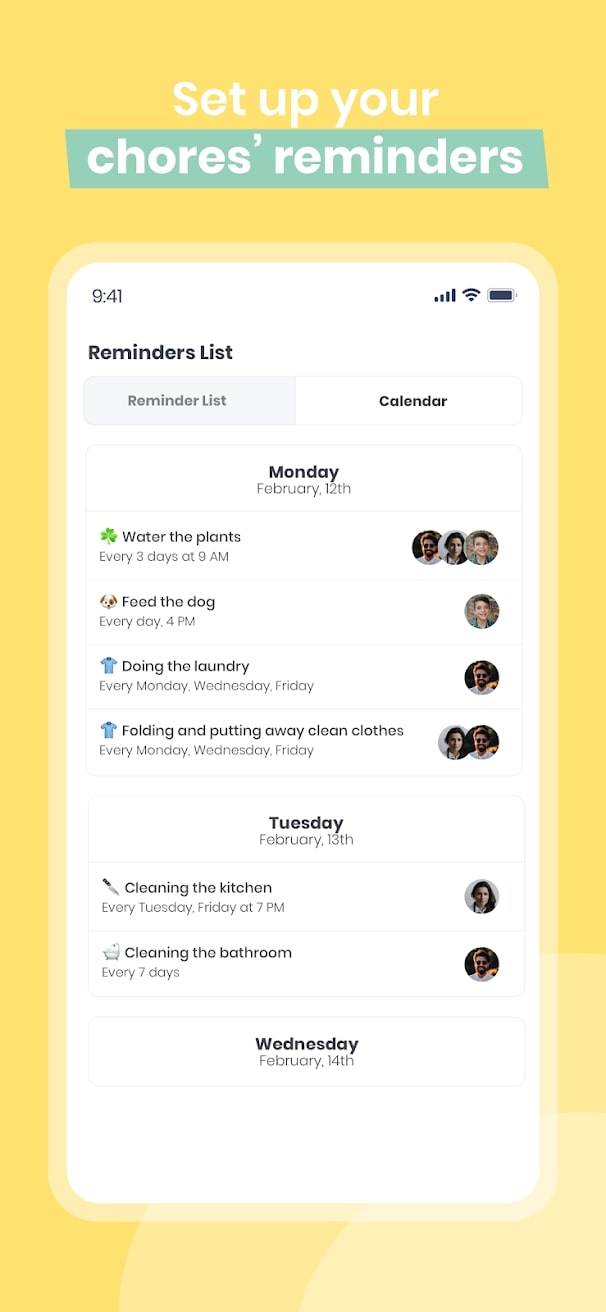 This app lets you set up competitions and strengthen teamwork at the same time. That way, cleaning together becomes more friendly and fun. Now you don't need to argue about who does more work – you'll see everything with your own eyes on a clear graph.


Sweepy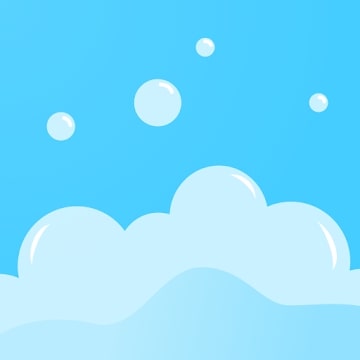 The Sweepy app helps its users to keep the house clean by intelligently distributing all responsibilities. Thanks to it you can easily distribute all the duties between the residents of the house.
This approach will help you to avoid conflicts and to improve relationships in the family. Here you can check the level of cleanliness in each room thanks to a lot of tabs.
You can set a priority for each task. All members of your community will track the progress of the work. Create a daily schedule for each family member.
All of them will have their own profile and see the tasks they are assigned to. All participants' devices are available for synchronization to facilitate information sharing.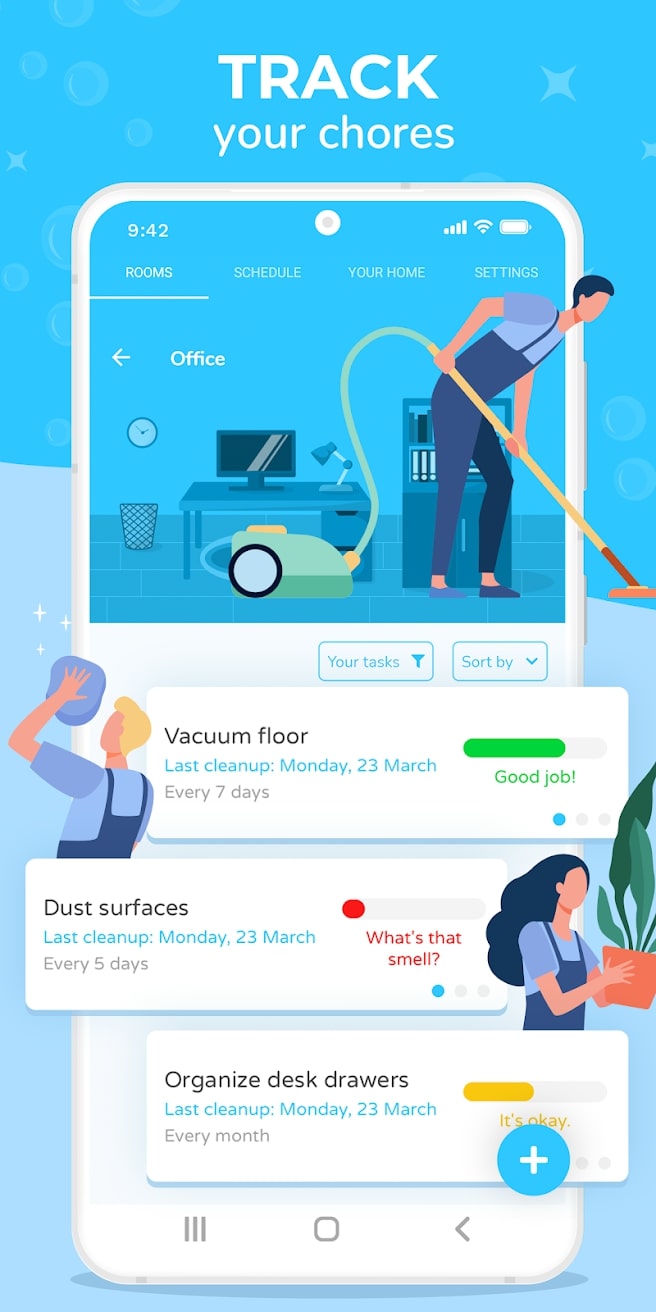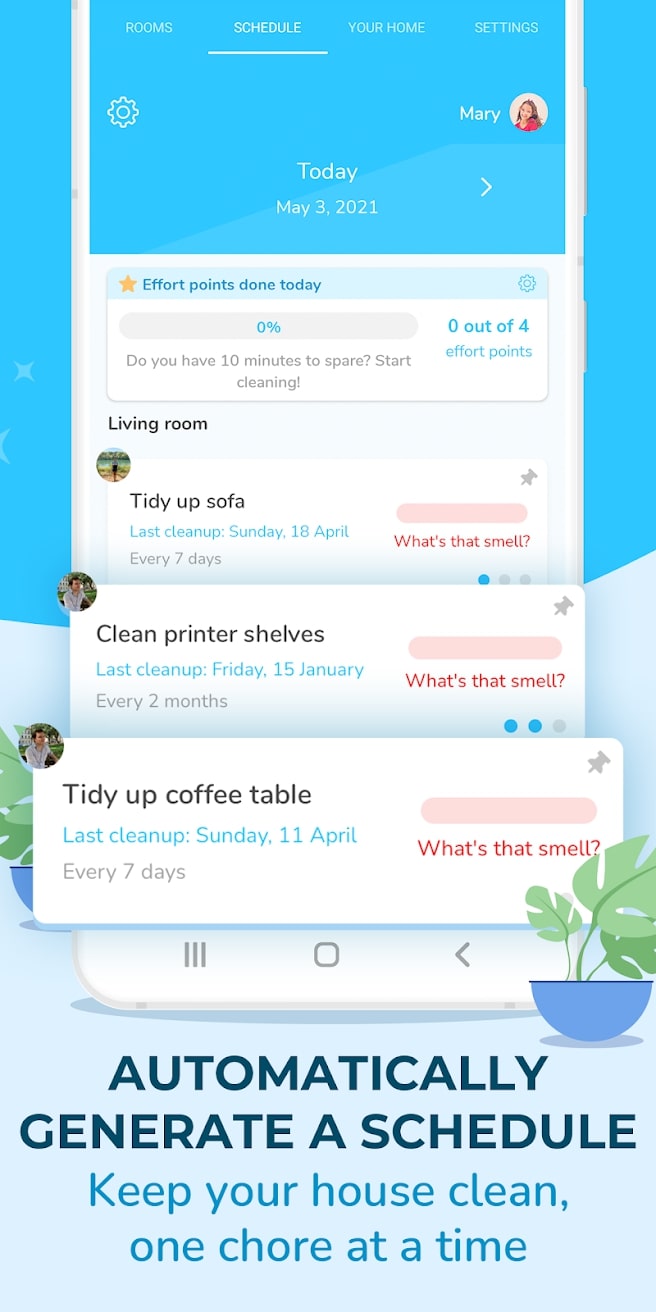 Each participant will see his or her progress, which will add motivation. At the end of a certain period, the service will compile a leaderboard. Different rewards can be thought of for the best so that all activities do not seem to have been accomplished in vain.


Flatify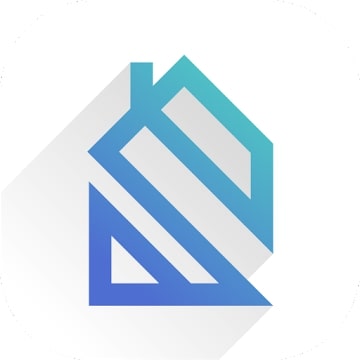 Flatify takes the worry out of controlling your own household chores. Here you will create a proper house cleaning schedule that organizes all the processes in the way you need them.
This app already has a huge number of users around the world. They leave positive feedback and note the improvement in the issue of organizing household chores.
This service allows you to create to-do lists for each participant. It is possible to manage several rooms at the same time. Due to the variety of functions, you can also use extra features. So, you will be able to create bills, calendar reminders, shopping lists, and much more.
In the invoice creation section, it is convenient to divide the cost of the purchase among all the participants. Shopping lists include sections with photos for receipts and the ability to send them via social networks and messengers.
A profile can be created for each user, allowing them to keep track of their tasks and the extent to which they are completed. For each task, the participant will receive a reward in the form of a virtual star.
By setting a specific goal, you'll create motivation for each member of the community. It is also available to create reminders so that all residents of the house do not forget about the goals set for them.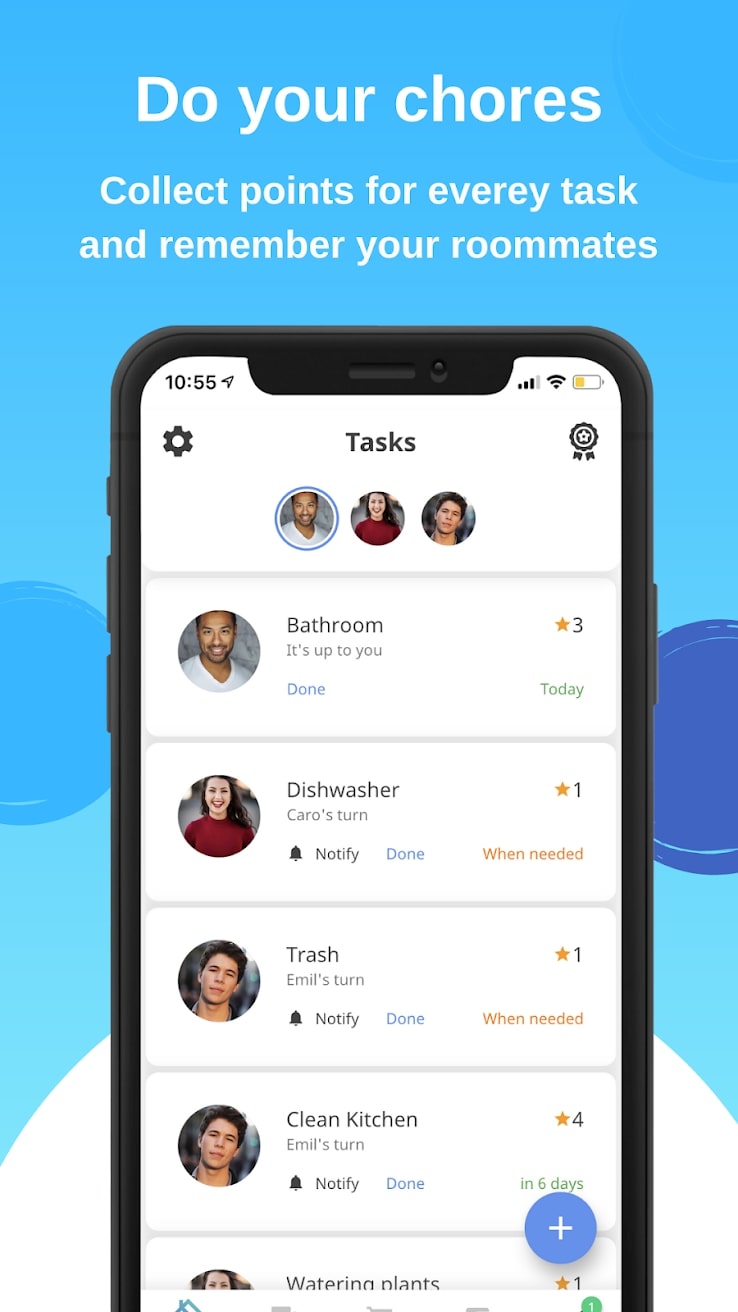 A unique feature of this app is that there is a group chat available to all members. There you will discuss all current events and tasks. In addition to all of the above, this free app also has advanced features that you can familiarize yourself with.


Clean My House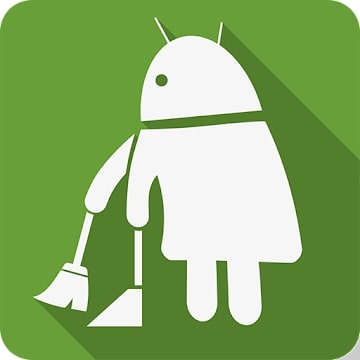 Clean My House is a great solution for sharing household chores among all residents. It is one of the most popular services in its category.
Here, it is available to schedule and set up actual tasks for each member. All household chores can be categorized. Set reminders for each participant.
Tasks can be set once or set to repeat so you don't have to add them again. A system of achievements and rewards is provided here.
This way, household chores are done easily, without coercion, and in a playful way by the participants. It also helps to form useful habits.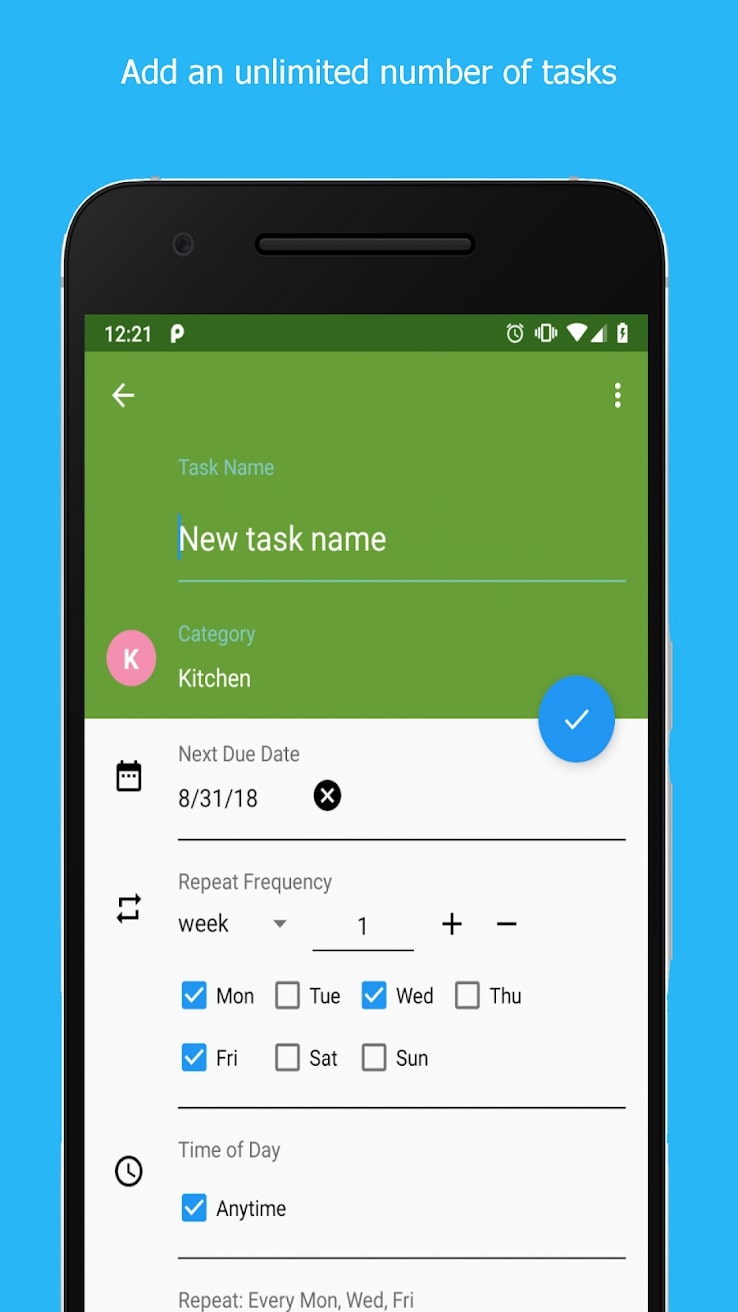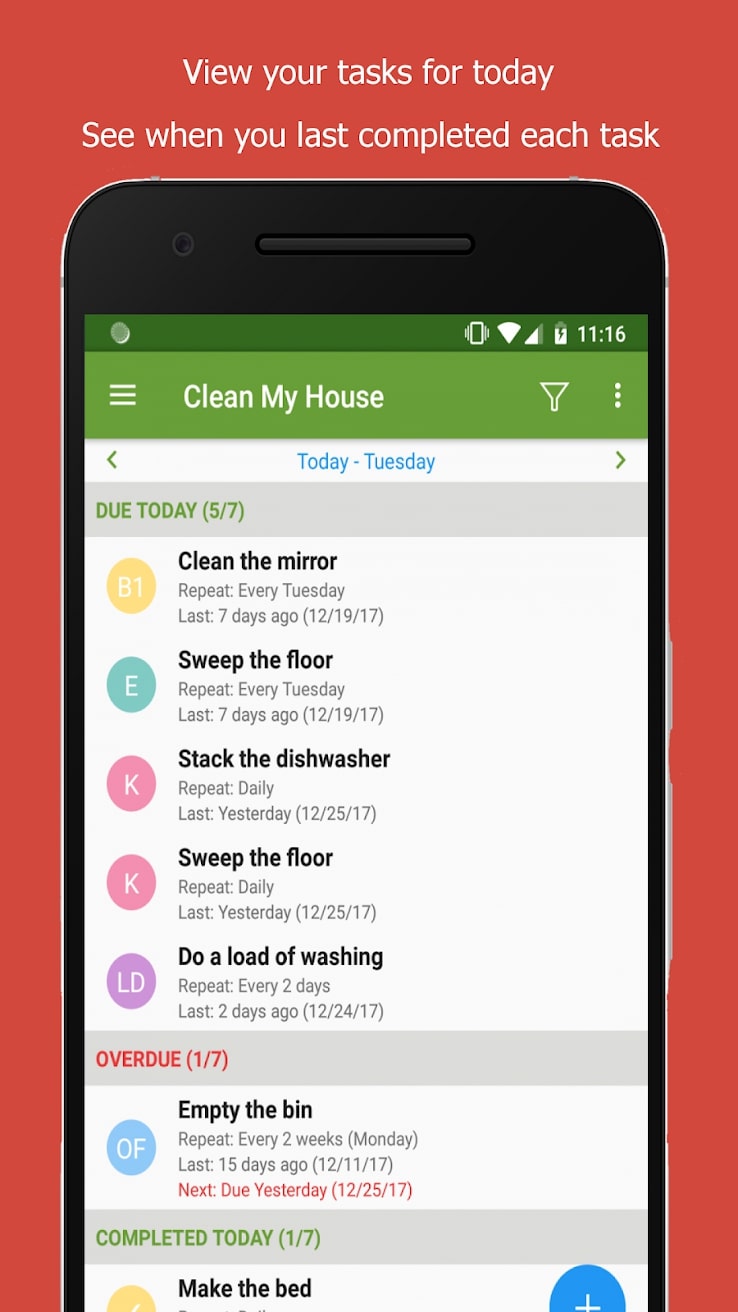 The to-do list is synchronized with the calendar. It is possible to create a schedule and enter regular tasks on the same days. There is an extensive library of standard home tasks. You can create your own ones.

You may also like: 11 Best Chores Organization Apps for Families (Android & iOS)
S'moresUp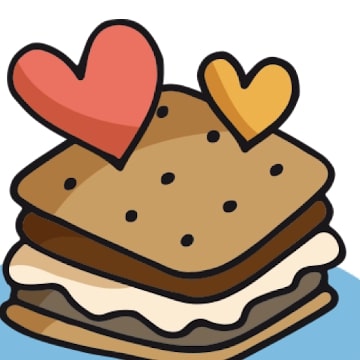 S'moresUp is a handy app that not only looks nice but also contains many features for distributing household chores.
You can create tasks and divide them, track progress, and choose rewards for each family member.
The performer keeps track of the number of rewards earned on his or her own. It is displayed in the account.
It is possible to choose goals from a suggested list or save for your own ideas. The utility sends reminders for uncompleted tasks. Create regular to-dos and reminders for your kids.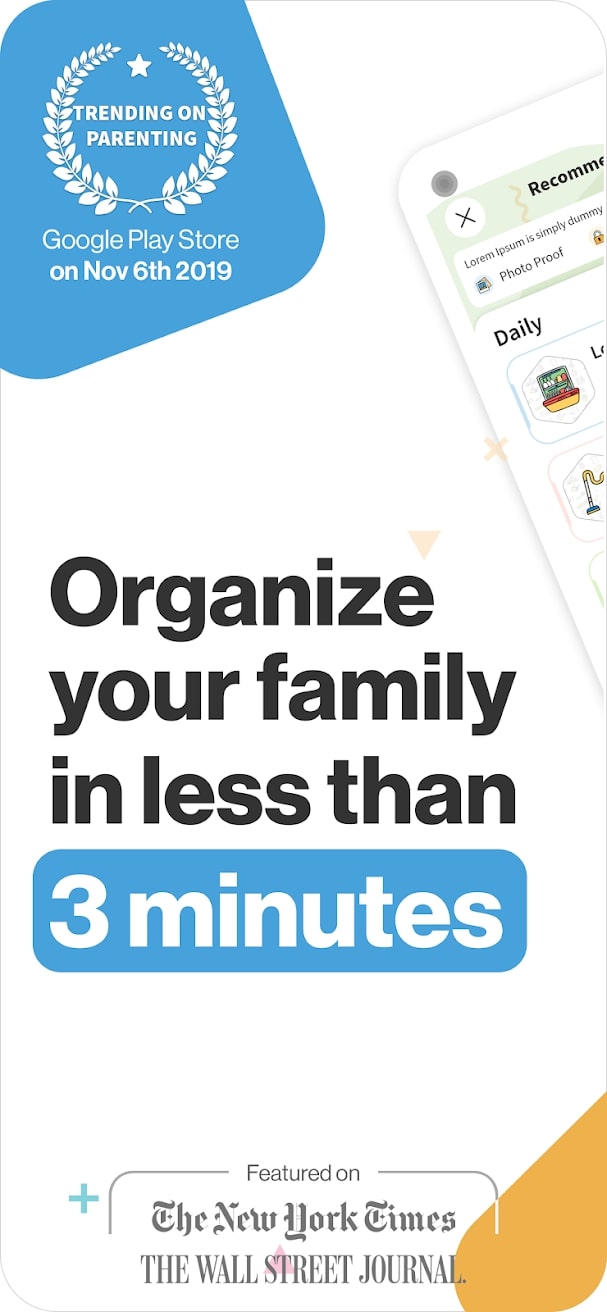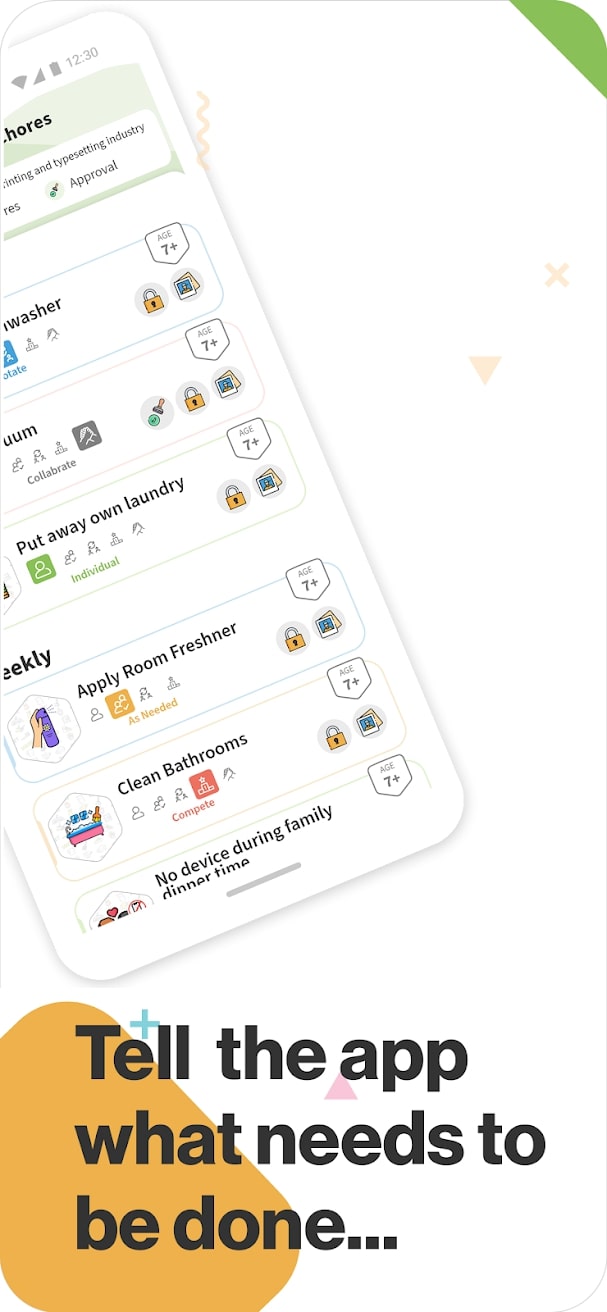 Keep track of progress by week, day, and other parameters. Choose rewards, give bonuses, and create goals. Use the calendar for family activities, meetings, and other events. When you add all the family members, the easiest part is left. S'moresUp is a great app with lots of extra features.


Todoist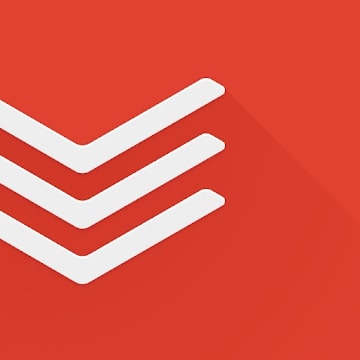 Todoist is a simple and functional task planner with a concise design. You can create projects, add to-do lists, mark completed tasks, and set deadlines.
For example, do you always forget to water your flowers at home? Todoist has a handy reminder feature. You could create a "Water the Flowers" task and have the app remind you to do it every Monday.
This way, you can relieve your head of unnecessary tasks and occupy it with more important thoughts. For an added incentive, you can track your productivity in Todoist. The more goals and tasks you do in a given time, the higher level you will occupy in the app.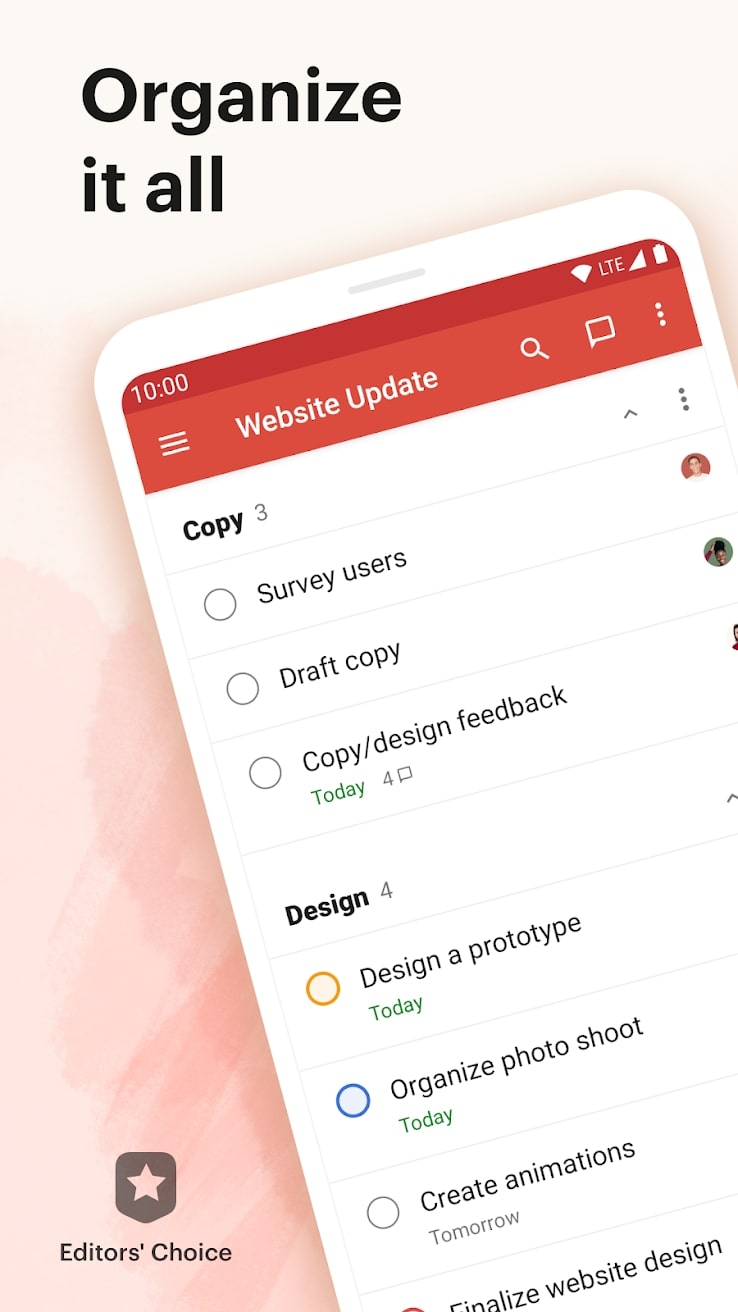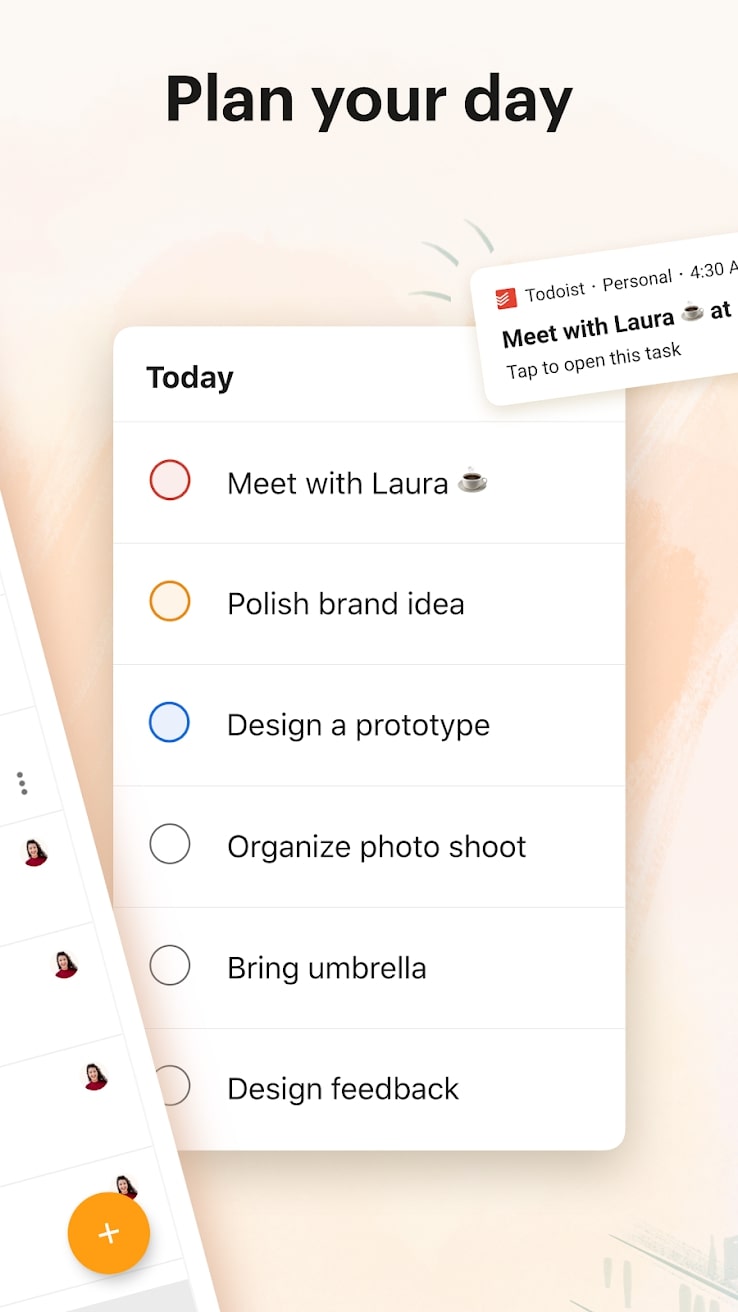 The organizer also syncs between mobile devices and the web version, so you'll always have it handy.


TickTick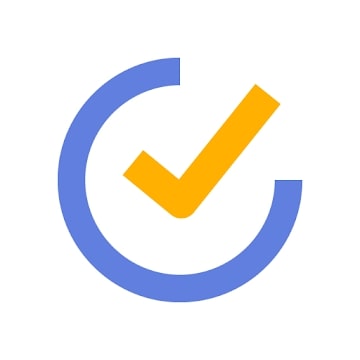 TickTick is a nice task scheduler that is very similar to the organizer described above. You can create tasks, focus on them, and set reminders in them, too. It also syncs between all your devices.
It's possible to keep track of your productivity, even in relation to household chores.
For example, curiously, if you fill out the organizer regularly, you can track what days of the week and what hours you work the most.
You don't have to be logged in to use the app. Authorization provides synchronization with other devices and allows you to manage notes with friends, relatives, or colleagues.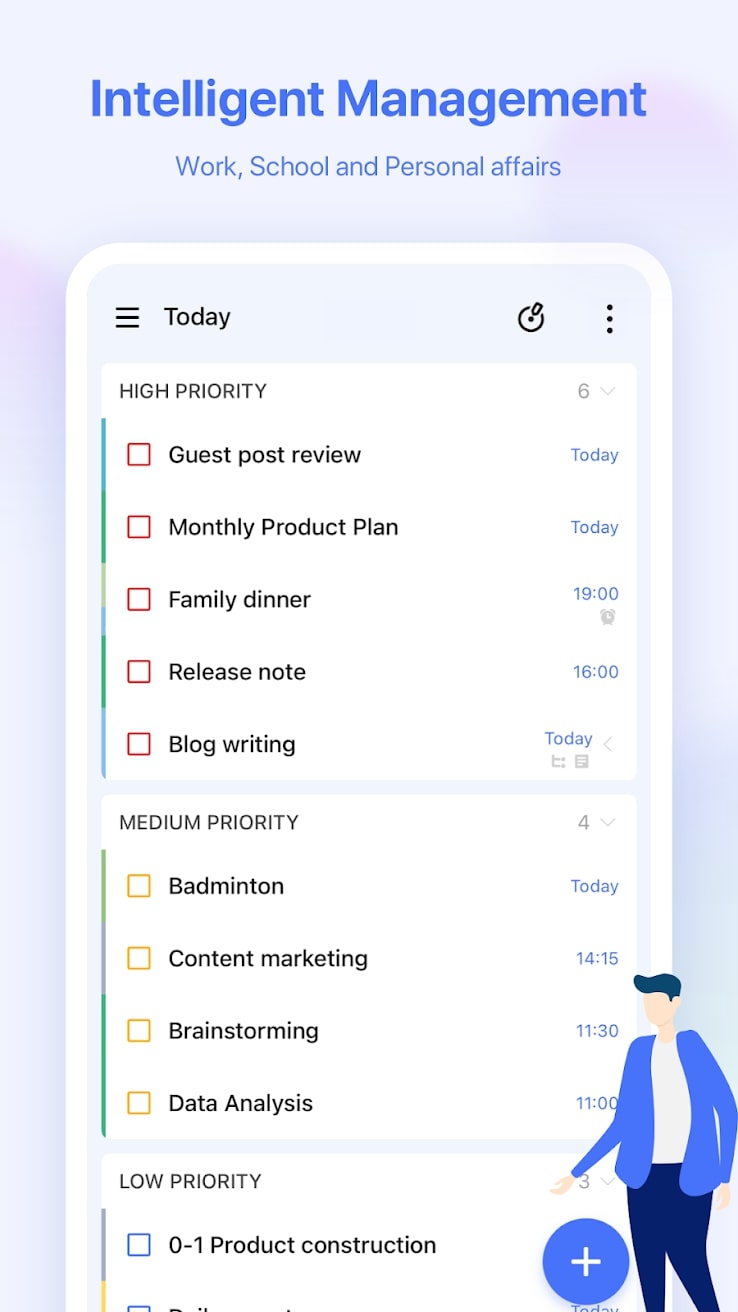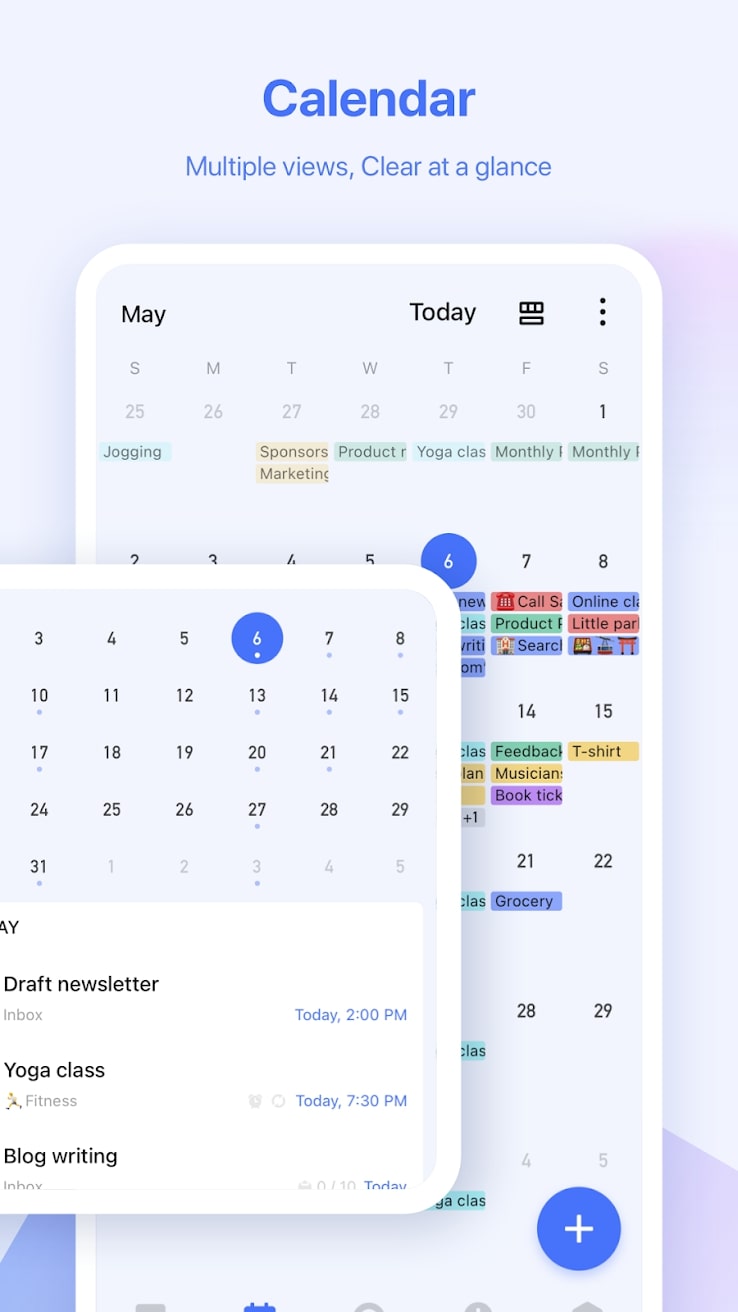 To create a to-do list, you need to click on the plus sign, fill in the text box, and save. It is possible to set a reminder for a specific date, select the level of importance, category, add labels, duplicate and set priority.


You may also like: 11 Best Baby Heartbeat Recorder Apps for Android & iOS
OurHome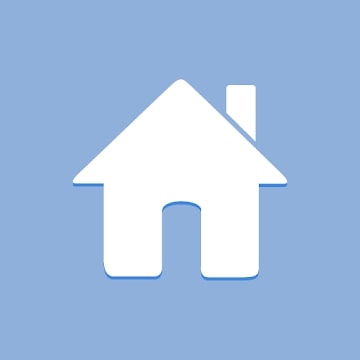 The last app on our list is OurHome. In it, you can create tasks, reward children, and motivate them. There are also some useful extra features.
The app has separate profiles for children and parents. Adults have the ability to create and distribute tasks. Each of them is valued at a certain amount in domestic currency.
Bonuses are awarded for completed and verified tasks. Children can set goals and accumulate virtual currency to achieve them. Create recurring tasks with reminders for the whole family. Keep track of each family member's progress.
Set up a point system for rewards. Use a calendar for family events and a shopping list for family outings to the store.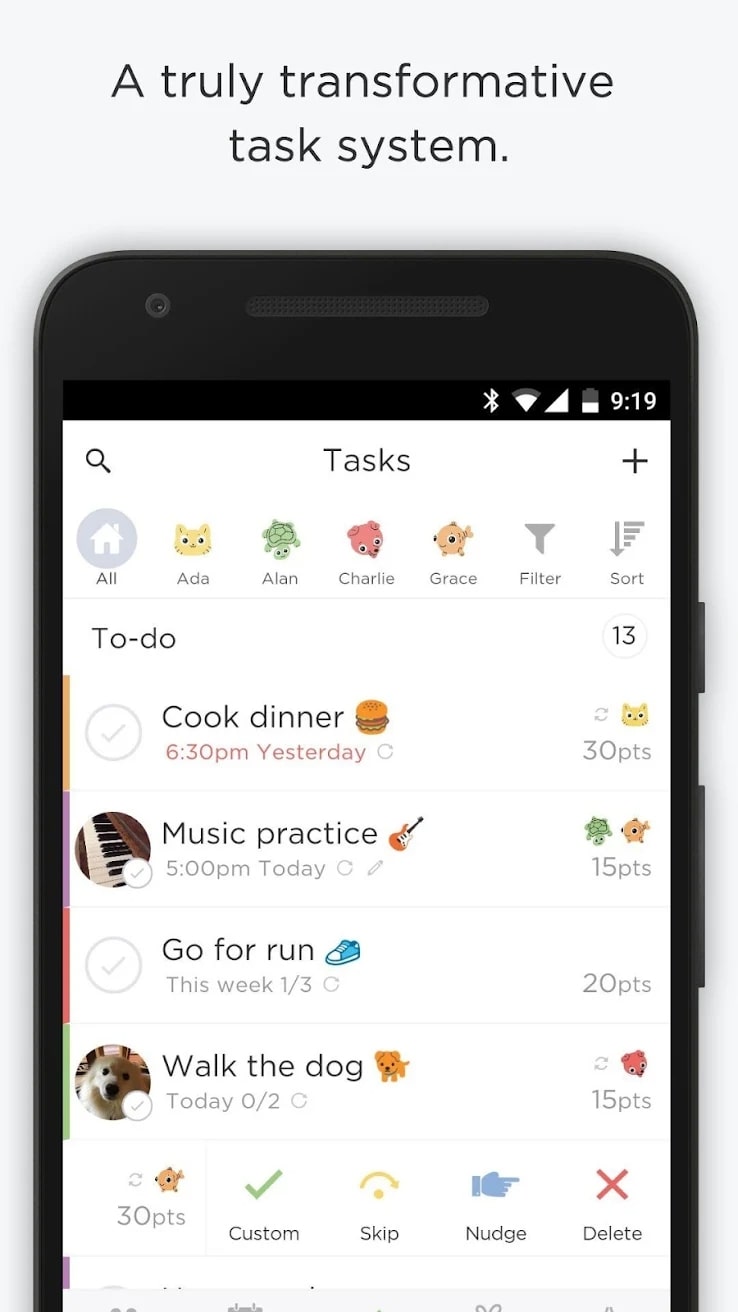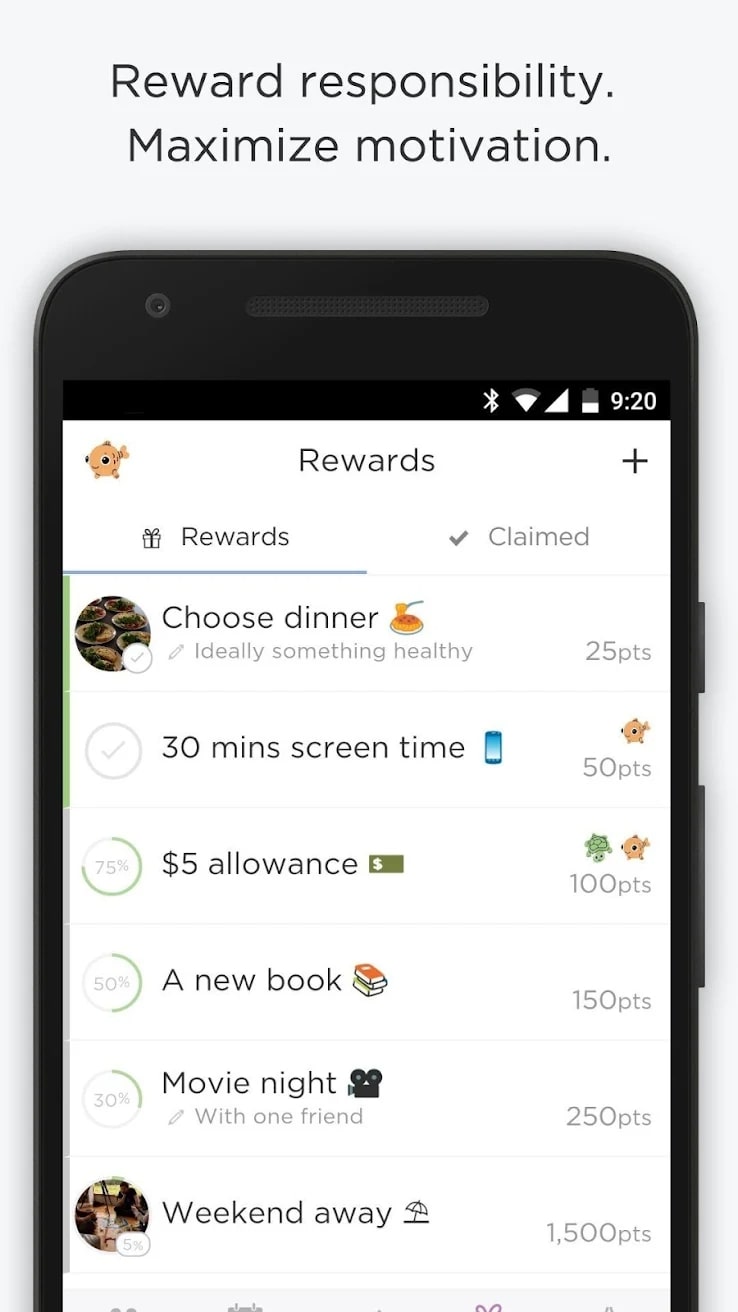 You're sure to love all the features of the OurHome app. Syncing across many devices is available, so it's easy to connect the whole family.