The privacy of users' personal data can be threatened if the apps' access on the Android phone is not controlled. Recently, this topic has been hotly debated by many social networks users, media posts exposing data leaks, and more.
Mobile programs, once installed, are constantly asking for access to use certain tools that can violate your privacy. Recklessly and in a hurry, users click "Accept" without even thinking about how it might affect their personal data.
Apps can use your calls, media, location, and more. To manage the permissions and keep your privacy, use these best permission controller apps for Android.
We also recommend you these best apps to hide apps to protect your privacy.
Permission Manager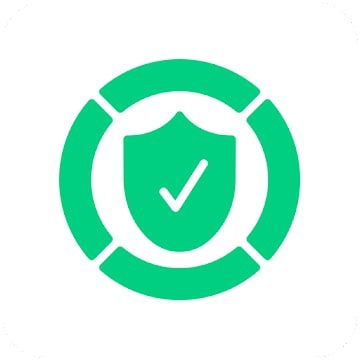 Permission Master is a special module for the Xposed Framework for Android. It is to manage the access of any program installed on your gadget.
After installing the module and rebooting your device, you will find a new icon in the list of apps. Launch the program and you will see a window divided into two tabs.
The first tab contains the names of all the available permissions. Tap on any of the names in the list to show you all the programs that have this feature.
One more tap and the program name becomes red and crossed out. This means that the corresponding access has been disabled. The same algorithm is used on the second tab, but here the permissions are grouped by the program.
You can see the list of available actions for each program and, with one tap, disable the unnecessary ones.
Note that if you hold your finger on the name of any permission, a popup will appear explaining its properties. This is very useful for those who doubt the necessity and safety of a particular action. To protect yourself from problems, don't forget to go into Settings.
Then disable the display of system programs. This app will come in handy for all advanced Android users. You will have full control over the installed programs.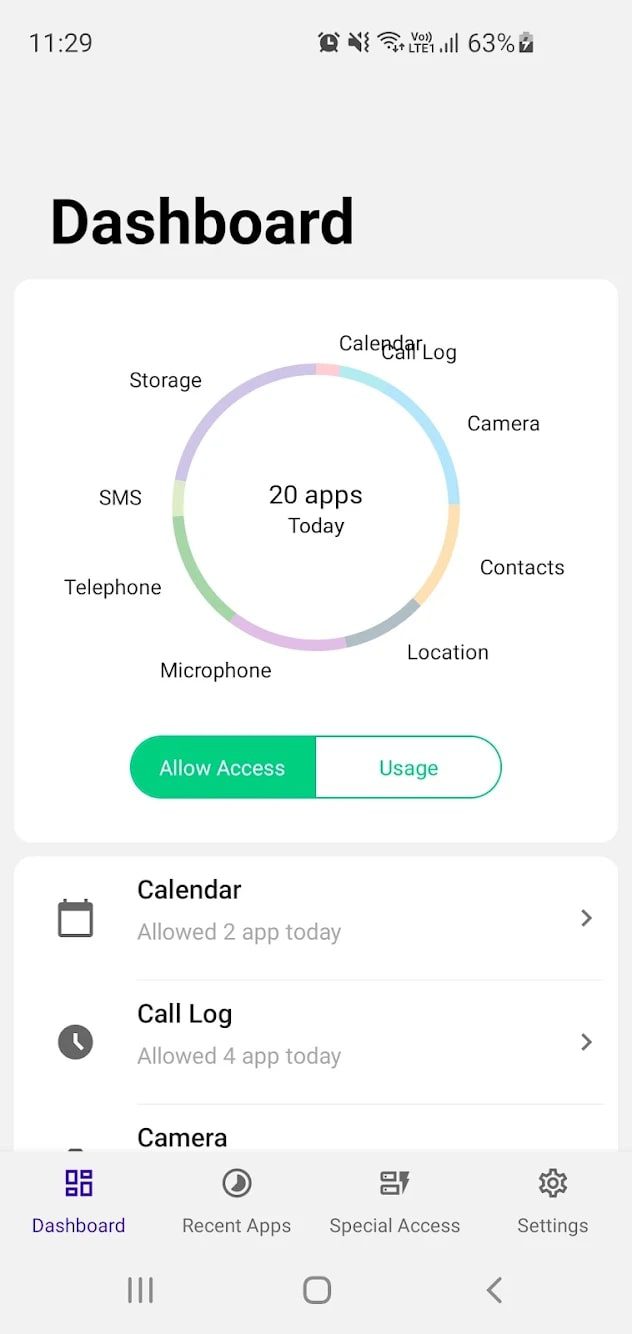 Now you will get the possibility to disable the tracking functions. Deny network access to those programs that don't need it at all. Forbid the waking of your smartphone and much, much more that is inaccessible to ordinary Android users.

You may also like: Top 9 Apps to Play Youtube on the Background on Android
App Ops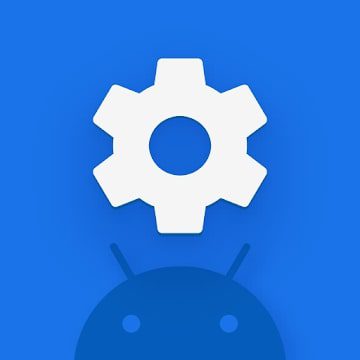 App Ops is a framework within the Android platform that gives you the ability to manage access for individual programs.
The basic idea is that you can consider each point individually, rather than taking the whole list. It is up to the user to manage the access.
In this case, Android, considering the decision of the user, will not allow the app in places where it is not allowed access.
Mostly, the list of permissions is much longer than necessary. It happens that access is granted, but it is never used. And the owner of the Android device has no way to see what actions the installed programs perform.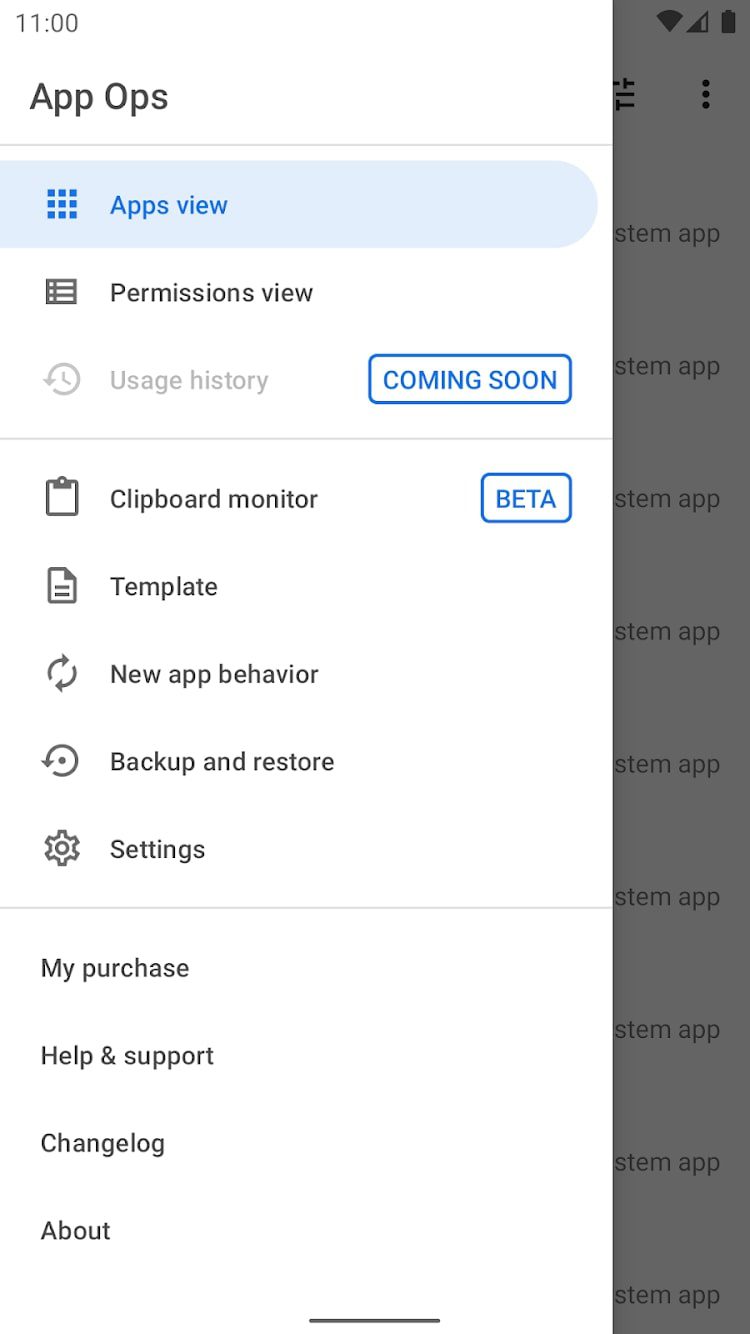 Moreover, some permissions jeopardize the security of the device. Most mobile advertising platforms use the phone owner's location and Internet access. But not all of them handle the data they receive correctly. The App Ops app can help fix this.

MyPermissions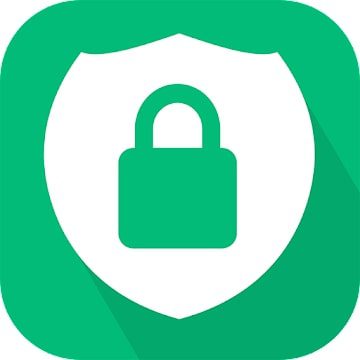 MyPermissions is a simple and free tool. It scans the social sites you use and makes a list of apps permissions.
From this list, you can save or revoke access to programs for your social media accounts. With this tool, you can find out how many apps can access your data.
Once you know this, you can keep or deny these apps from getting your data. This service filters all these programs based on the access you've granted. Thus, this tool serves as a watchdog for your social media accounts.
This app prevents users from sharing their personal media, location, microphone, and others. It provides a list of "other" apps that can use this access. By looking at the list, you can easily control the access for these programs to access this information.
In fact, you can clear all these points with one click. This app offers constant protection of your personal info by providing alerts.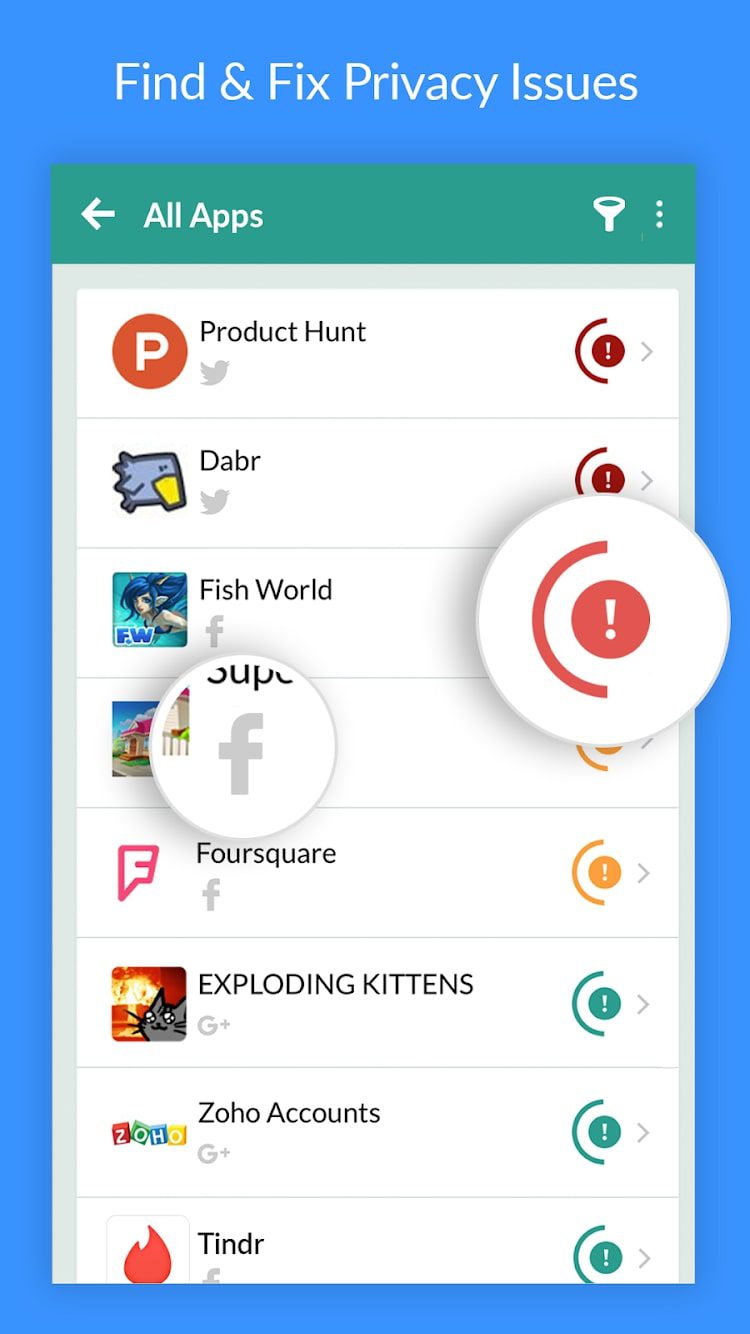 At the same time, the tool does not save any personal information. This service uses the currently logged-in user for social media accounts such as Facebook. Thus, MyPermissions can access and scan the app list without using user credentials.

You may also like: 7 Free Oscilloscope Software for Windows, Android, iOS
App Permission Manager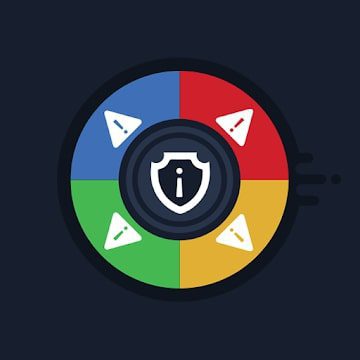 App Permission Manager is a handy assistant for keeping track of programs that are installed on your phone.
With a single tap, you can instantly revoke access that was before available to the installed programs. A unique feature of this app is the ability to identify the programs that pose the greatest risk.
When you tap on the icon of a program that is on your device, you can see detailed info about it. These are the available access and the level of risk.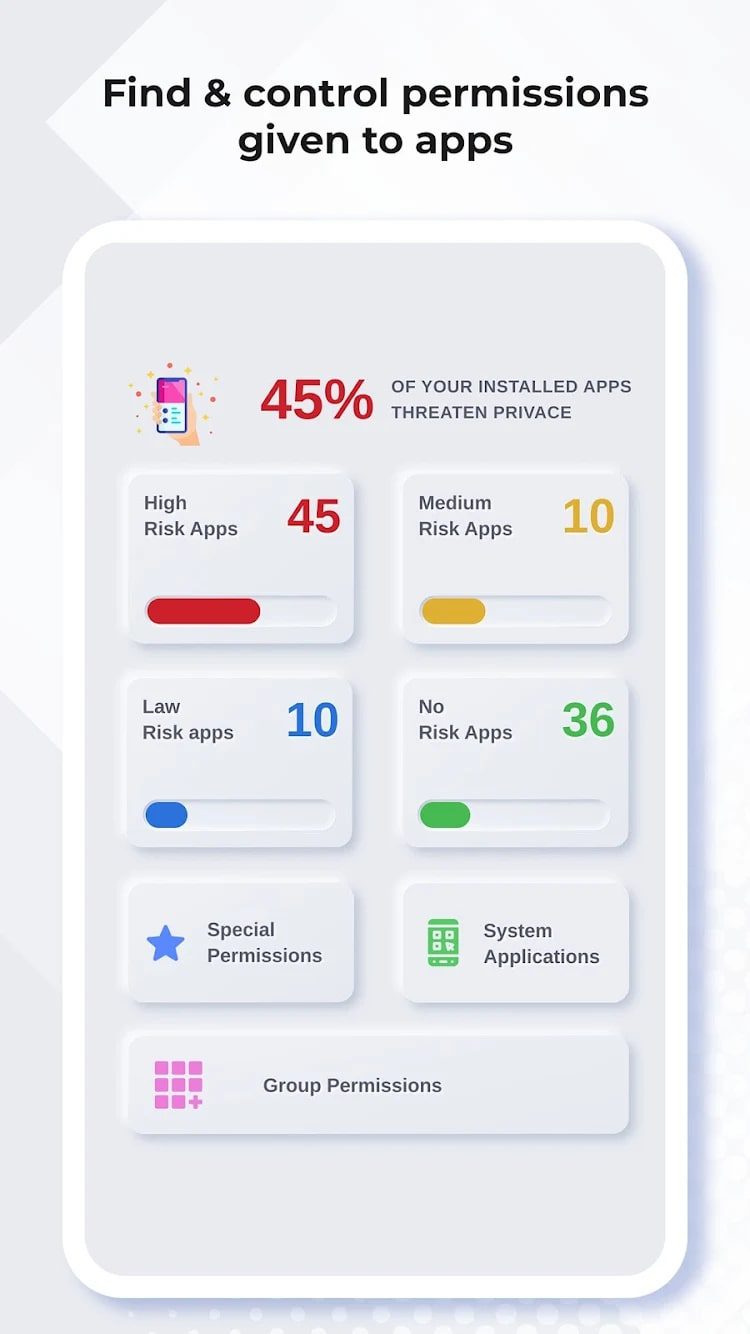 You'll also be able to turn off the background activity of some of the programs that waste the most battery power on your phone.

You may also like: 9 Best Anime Live Wallpaper Apps for Android
Bouncer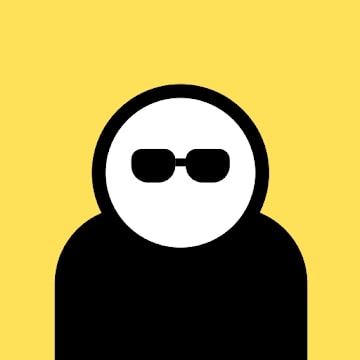 The Bouncer app will allow you to give permissions to apps temporarily, they will be disabled when you exit the program, or after a specified period of time.
Bouncer is ideal for those who are worried about the security of their smartphone. It will also appeal to those who are tired of battery-eating software.
They, once granted access, constantly background overload the processor. To make it work, all you have to do is turn it on in your Android access settings.
Since Bouncer doesn't need special access, it won't waste your phone's battery power in the background. It also won't store and forward data to third parties.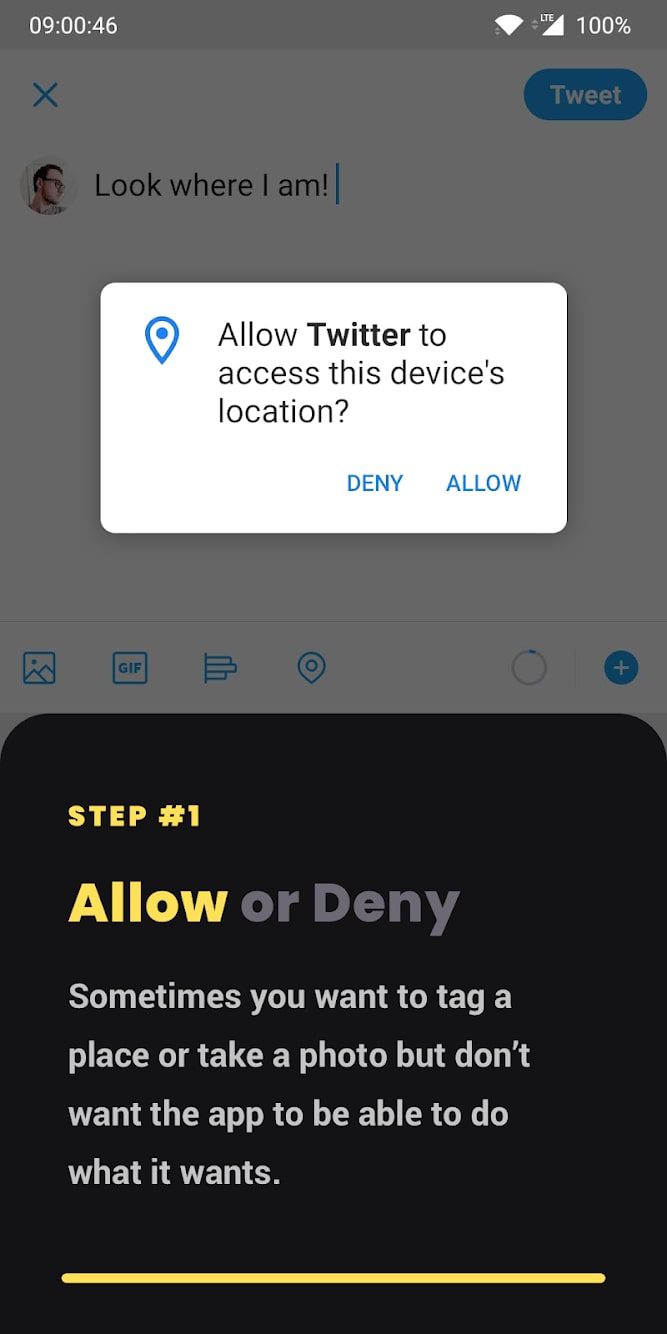 Once you've connected Bouncer through settings, you'll see an extra window pop up when you request permission. The notification stays active until you start interacting with it, so don't worry – you won't have to decide instantly.