Many of us want to keep some aspects of our life a secret from strangers, family, or friends. How often did your parents want to check your phone: gallery and messengers? Have you ever shown your friends something that they shouldn't have seen? It will be over soon.
The utilities in this article will fix these problems.
So how do such programs work? Everything is really merely!  You download the program and move whatever you need to hide from other people. In this case, you can use the application whenever you need it. However, some apps demand special rights for work.
You may also like: Top 9 Apps to Play Youtube on the Background on Android
If you are reading this article, then you are looking for a worthwhile application. So let's not waste time. Look at these utilities.
1. App Hider – Hide Apps Hide Photos Multiple Accounts
The first position of this article is the App Hider of the same name. It has the highest rating of all the programs presented. People talk about it reasonably: «This is an excellent Google Play app in this category». It has many analogs, but it works more efficiently and reliably.
This program has an icon, at the sight of which the thought of an ordinary calculator appears. On the other hand, this thought may not arise at all, because such a calculating application has become so daily that sometimes it just gets mixed up among others.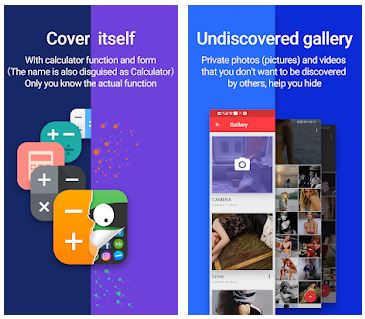 When opened, we look at the usual calculator scoreboard. To switch to the private version, you should enter a password in the data entry line. App hider is optimized for social networks and messengers, and the developers have made it possible to move to a small library of photos and videos.
Another useful function of this program is that you can be online in one application from two accounts. For example, in the hidden version, answer the questions of business partners, and in the usual mode, like the posts of friends.
No one will even guess that your secrets are hiding behind this calculator.
Note: The earliest version is android 8 Oreo. The application is supported on 32-bit systems; in the case of a 64-bit system, an additional library is required to open WhatsApp and telegram. This app hider can only be found on the Android platform – Google Play. FREE.

You may also like: 7 Best Apps to Play Youtube on the Background on iOS
2. Secret Calculator
An analog of the previous application for iOS. Generally, users give this app a higher rating compared to other units in this category. It is the perfect solution for people, who don't want their secrets to be revealed.
The program is the same: transfer secrets to the vault set a password (you can also set biometric data as protection) and disguise it as a regular calculator.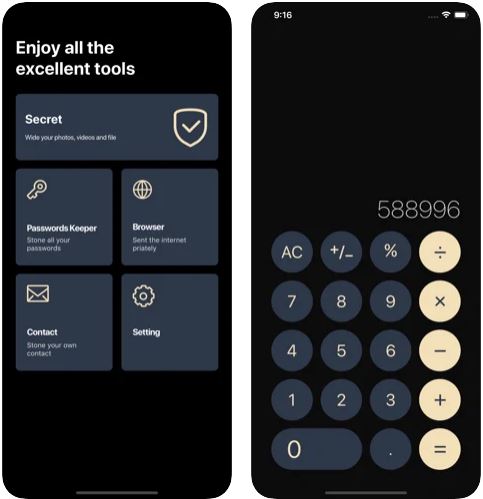 Its disadvantage is that it does not have the function of hiding applications: it only hides media files, notes, and contacts. The app does not have a clone function. This app store loses to the developer from google play.
The utility has a cool interface. This is especially true for folders with photos. You can choose the cover for each part yourself, and the translucent effect adds mystery and aesthetics. However, the main color of the design is turquoise, which distracts attention from the content.
The application interface is the same as the regular iPhone interface. The program is supported on iPhone version 6 and higher. The bugs were fixed in the last update. The cost is about 1,5 dollars.

3. Secure folder
Now let's look at the built-in application, that calls Secure Folder. From the first installation of the software, a protected folder appears in androids. It is often called Folder Knox. Check if you have it. If you have it, you are a really lucky person, because this app opens a lot of opportunities.
This program is only available on Samsung 7 and above.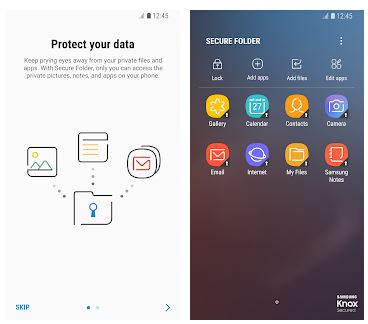 Before using this folder, you need to activate this folder on the control panel, where air mode, mobile data, and location. Next, you are asked to register and create a password. Protection can also be in the form of a fingerprint, PIN, picture.
After completing the main stages, you can move all your photos and videos, protect your correspondence and hide all the secrets that are on the phone. You can even use your browser in incognito mode. Everything you find in the secure folder will remain there. Moreover, this app is free.
The app does not always open apps like Snapchat correctly. It moves correctly, but if you delete the application from the desktop, then it will also disappear from the folder.

4. Hide It Pro
The next position is another app hider that calls Hide It Pro. It looks like the first product is articles, but in this case, applications and multimedia are hidden not behind a calculator, but an audio manager.
It performs its functions well, but there are not so many of them. It just hides the apps, but you can't open them and use them. In other words, it disables apps. Also, the clone function is missing.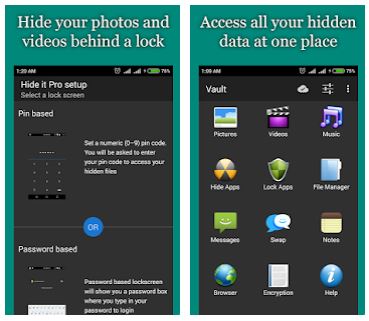 The algorithm of work is the same as that of other analogs, but there is complexity. If you want to use this, you need to have root access. You should be a superuser. This fact complicates to work with this utility.
There are a few more disadvantages. Firstly, most of the content is paid for. And secondly, a lot of useless ads, that may give out that this is not just audio. Despite this, Hide it Pro is free for download and some actions.
The developers have built an encryption tool that is used in military affairs. Weaker levels of protection – password, PIN, fingerprint. The program is supported on Android version 4 and above.
Note: The audio manager is completely working.

5. Action Launcher
The next position is a full-fledged launcher that helps to simplify the working area of ​​mobile devices. A desktop application with the ability to hide third-party programs.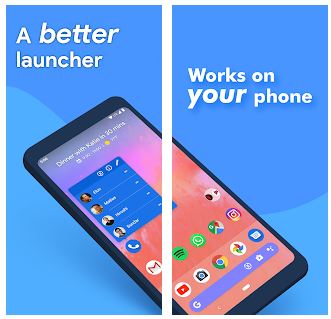 However, this mission has a special feature: you can hide apps only on the desktop itself, they will still show up in the apps menu. It is unlikely that anyone will view the list of your apps in the settings. Move the app from the menu to the desktop and move it to the hider. You are safe!
Great tools for customizing the interface, working with Google services, live wallpapers. There is also one unique feature – you can control the position of icons and programs(EMUI, all types of Samsung and HTC Sense interfaces are supported).
There is paid content in the app, but all the main features are free. Some features require a paid upgrade. The application supports compatibility with the standard Android launcher, Apex, Nova, HTC Sense, Samsung, and others.
Note: App is available on Android 5 version and above.

6. Smart Launcher 5
Smart Launcher is known for the automatic sorting of programs installed on a smartphone or tablet, so its fifth version can hide applications, available through the "Security and Privacy" section.
It hides well – without a visit to the corresponding section of the settings (or using another launcher, of course), you cannot get access to the hidden software.
In general, Smart Launcher remained true to itself: all the same independent sorting of applications (which, however, became somewhat less accurate), tools for fine-tuning the appearance, and small size. Of the disadvantages, we note the rare, but unpleasant bugs and the presence of advertising in the free version.
The application independently sorts the parts into folders and makes your life easier. The developers have built a smart search function, and you can use these hidden applications right in Smart launcher 5. Protection method – PIN. The program is available for android version 5 and higher. In addition, the developed icons for android 8 Oreo are supported on all permitted systems.

You may also like:
7. Nova Launcher
Another launcher for Androids with a catchy and easy name Nova. You can easily customize it to suit your needs.
An increasingly popular desktop application that allows you to simplify and speed up your work with the device. Like Action Launcher, it supports importing sorting of installed software from the built-in launcher. Hiding programs is available from the corresponding menu item in the settings.
This launcher helps users expand the capabilities of their mobile device and organize their work area. Of all its useful tasks, we only need to customize the application menu. In this section, you can hide everything you need.
The main difference of this particular solution is the ability to hide applications in the search, Evie Launcher's proprietary option. The option works well, however, as in the case of other similar applications, you can get access to the blocked software by changing the launcher. Other shortcomings include problems with localization in different languages, as well as unstable work on highly customized firmware.
It is quite a good system. You can easily figure out the settings, as Nova works in many languages ​​of various groups.
Note: It is a complete Microsoft type launcher with a built-in app hider. If you have enough memory, you can try this.

You may also like: 11 Best Apps to Extract Audio from Video (PC, Android, iOS)
8. X App Hider
Introducing the newest concealer. One user of Google Play called this app a "good try". The application is working, but it has a lot of flaws. New, but not developed Chinese hider. Many languages ​​are supported, except for Slavic and Arabic.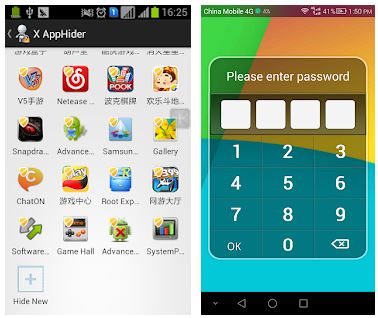 The program will easily hide the files you need. What you have hidden will not appear in the menu, on the desktop, or even in the settings. You can hide single photos and entire applications.
Developers give access to the offered functionality free of charge. There are no pop-up ads. The developers have added a lot of functional and visual customization as a bonus. The app is still active, but its improvement has been discontinued.
The utility is quite merely and was updated only 2 times, so bugs are possible. The application itself is small, so it will suit everyone. The program has good compatibility with a small number of devices, but those who are lucky are quite happy.
The installation requires a minimum version of android 2.1. The application size is extremely small. So, a small amount of memory is not a problem.

9. Photo Hider
The application was originally developed for the iPad, but KITE GAMES STUDIO has improved it and now it is available on all IOS devices as IPhone, IPod and even Mac.
One of the few apps in the app store to hide the gallery. In addition to the hider mode, it is possible to use the cloud storage of the offer itself. Stores up to 5,000 items in the Cloud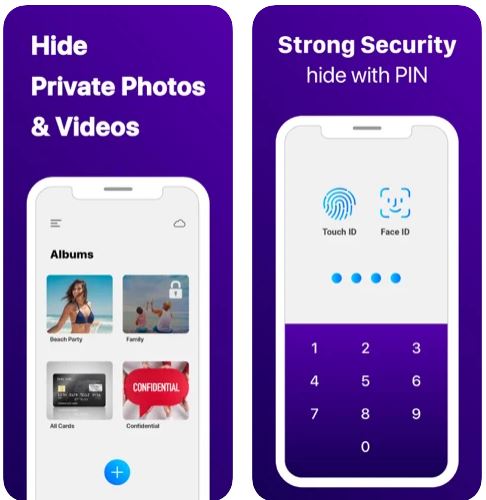 Even the free version has super strong data protection. You can put a password, PIN, TOUCH-ID, and FACE-ID to enter the application. Also PINs for each hidden album. The utility has a Family Sharing mode. If desired, it can be used simultaneously by up to 6 people.
Synchronization between multiple devices is possible. However, the free version contains ads. To get rid of ads, you need to subscribe for between $5 and $24. The Photo Hider only endorses English, so if you prefer French, German, or something else ― it is not for you.
Minimal style is trending right now, and this app fits very well with fashion. This only adds to its list of advantages.
The required version of iPhone, iPad, and iPod 9.0 or later. It is also possible to install on Mac version 11 and later or Mac with an apple M1 chip. Despite all the positive features, the opinions of users about this product are different, so only you can decide how well it does its work.

10. Clock Secret Vault
Another position of our article is Clock Secret Fault – a program with a masking mode. This program is also disguised, but not as a calculator or audio manager, and as an ordinary clock with arrows.
In the zone of use of this application is local and Cloud storage, so you can choose where you want to store your hidden files.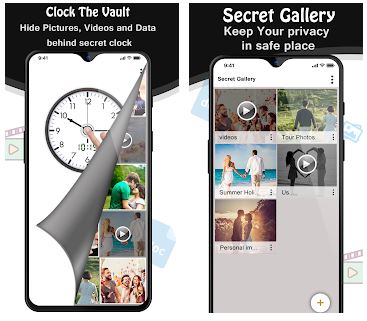 However, you need to remember that if you want to delete Hider, you need to recover data that you would not like to lose, otherwise all the files that you have hidden from your device will disappear. Pay attention!
Protection is presented here in the form of a password, which is built by a certain position of the time arrows. Create your combination to protect your files. If someone tries to hack the application, it will take a picture of this intruder itself.
This Utility has a lot of advantages. In addition, there are a few of them:
Keep safe your Images, Videos or files
Easy to Hide any files
Safe and Secure Gallery vault
Security Que to easily change the passcode
Simple to use
Clear User Interface ― Interface is tuned special for people, who do not understand technologies. Therefore, if you are 14-80 years ago and speak in English, then you can handle it!
The program has a simple modern design, although some people find it outdated. Nevertheless, this is everyone's personal opinion. The choice is yours.
Note: Installation is possible only for Android 4.2 and later.

You may also like: 9 Best Character Creator Apps for iOS & Android
11. Hide App – Hide Application Icon, No Root Required
Hide app is an application with a very simple design, interface, and functionality. To protect your files, the developers have created the ability to put a pin-code blocking point.
Unfortunately, the application only hides the program icons on the desktop. When viewing the list of applications and menus – hidden items will be visible to everyone. You will need root-accesses for some functions, but functions like these are few. However, this fact is not indicated in the description in Google Play.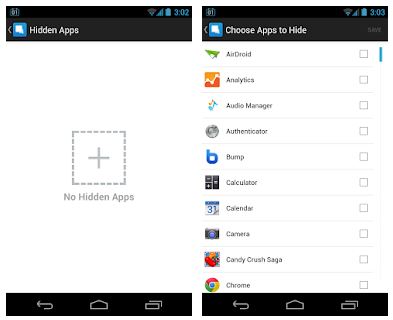 When you enter the application, a list of all applications installed on your phone is displayed. Point in a certain zone, you can mark the application that you would like to hide.
To avoid accidents, the creators have added a backup and restore function. Modern models of gadgets optimize functions to free up storage space. These include Cache Clean, Phone Boost, and app notification clean, all of which work for free.
Root rights are not required to function. This will make your life much easier. There is a nice design with modern elements and effects. And also the application is easy to use and even a child (or old man, who use phone only for calls) will adapt to it.
Note: Installation is possible only for IOS 5 and later.