Fans of surfing and yachting are risky people. That's why the developers warn that the data in the application may be inaccurate, and their use is entirely at the user's own risk, immediately upon opening the application.
This is followed by a standard confirmation of the app's terms of use, acceptance of the privacy policy, and access to the device's geolocation.  
Plus, you can always stay aware of the weather by having an overlay weather widget – it's especially useful if you are on a marine trip.
The home page is a map that shows the continent you are on and the associated bodies of water. As the map gets bigger, there will be more placemarks.
On the screen, there is always a cursor that shows the distance from you to a place on the map, and when you hover it over the placemark, it turns green, and the following information appears high tide, low tide, moonset, sunrise, moonrise, sunset. You can track parameters by date, an accurate forecast is provided up to 10 days, an approximate one – up to a year.
The simplicity of the design is one of the main advantages of the eTide HDF. There is a compass in the upper-left corner, which aligns the map, the lower-left corner is occupied by the zoom buttons, a button to find the user's location, the settings button, and the "Share" button. Optionally, you can hide all these buttons when you need to focus on the details on the map.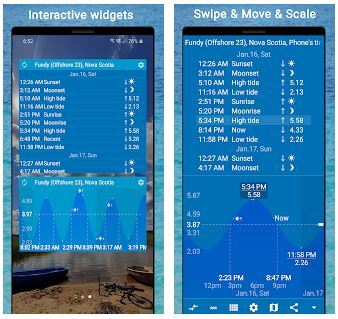 There are not many settings, but all the important parameters are considered: you can change the text size, units of measurement, map type, and determine which states of the moon and sun should be shown.
Designers should be honored – the application is very stylish: starting from the icon with the image of the sea wave and ending with the details of the interface. It is fully adapted to the smartphone – it is very pleasant and convenient to use thanks to the instant response of interactive elements and smooth transitions.
Observe not only water streams but land as well. Discover land surveying apps and see which kind of soil and landscape can be found nearby.
For all questions, you can contact support by email or read the information and comments on the forum on the developer's website. The app is constantly improving, bugs are being fixed, which shows the prospects of this app to become one of the best in its segment!