In this article, we would like to talk about free apps for creating your own characters. These programs will help you choose and create a character to your taste.
Unfortunately, some programs are not designed properly. People have to face many problems, for example, various errors prevent them from making a character normally, tons of ads constantly appear, or there are not enough features.
You may also like: 9 Best Character Creator Apps for iOS & Android
However, we have taken into account all of the above. So, this won't happen if you only use the following apps. Let's take a look at them.
1. Autodesk Maya
We would like to open our top with quite a popular application at the moment, Autodesk Maya. This app is perfect for creating characters as well as for 3D modeling. This application can be recommended not only for beginners but also for professionals in this field. This app is notable for its multi-directional nature.
This app is famous for its useful features, such as Plug-in Manager, Outliner, Hypershade, Center Pivot, etc. You can also work with geometry in the application, where the section contains information about such components as Normals, Poly Count, Binormals, Tangents, and so on.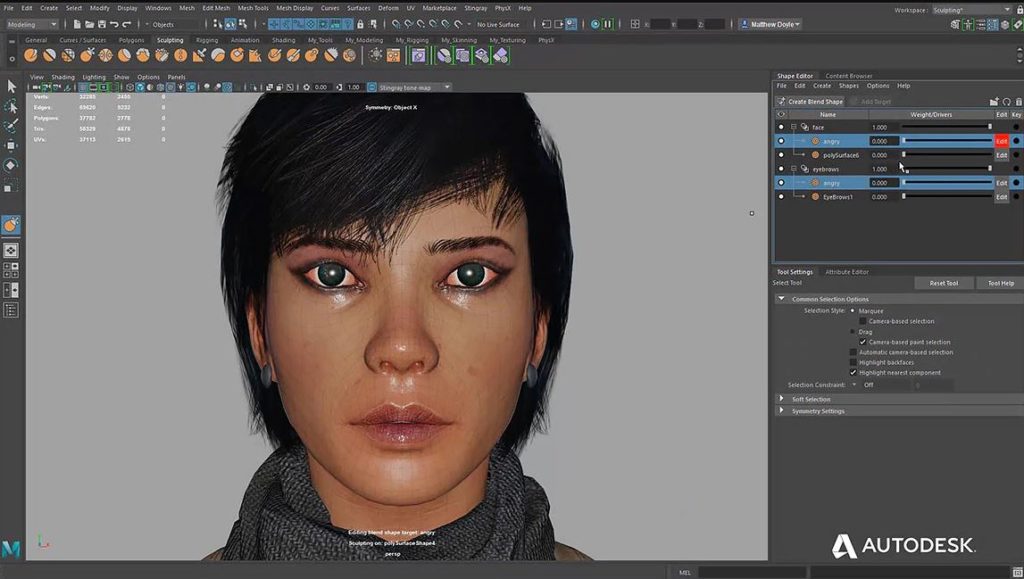 In addition to these features, you can work with textures to improve the appearance of the character and give it a more natural shape.
In the app, you can still work on character animation using Graph Editor, Time Editor, and the QuickRig tool. You can create, update, and delete unnecessary frames. You can set certain movements of the character and work on his movements.
After logging in to the application, a very heavy and incomprehensible interface opens up in front of us at first glance. Yes, the first steps will be a little difficult, but after watching a couple of free lessons, you can start creating your own character.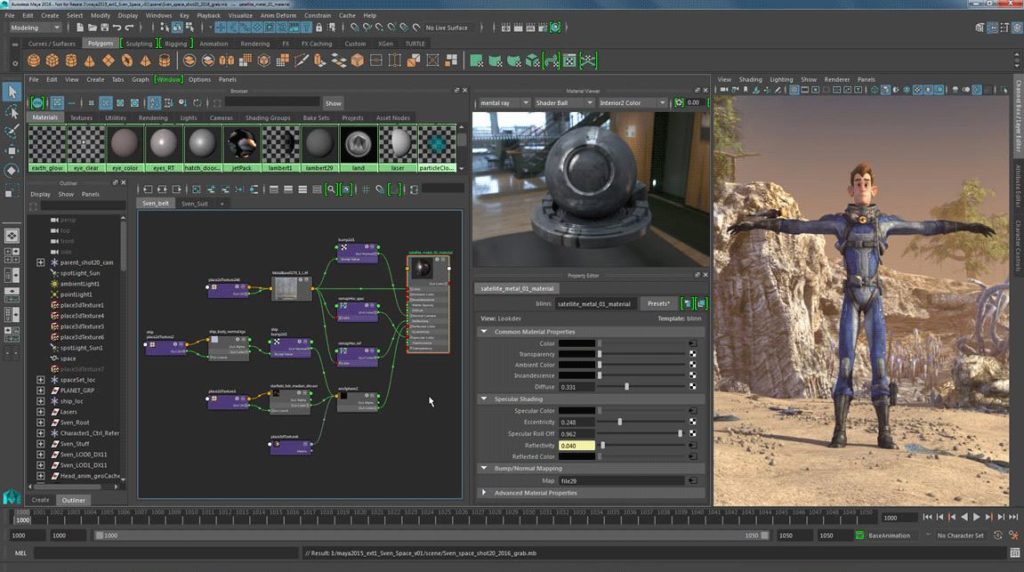 After reading the reviews, we realized that all people are delighted with this application and recommend it to every user, as we said above, some have problems in the first stages due to the complex interface, but in the future, this application will become your best friend.
After learning about the app, we didn't find any cons, only pronounced pros such as:
Flexibility and the ability to create new tools
Support for a huge number of file formats.
Usage of Maya by most animation studios.
Tools honored over decades
Reference structure

You may also like: 11 Best Fake Muscle Apps for Android & iOS
2. ZBRUSH
The next application to your attention is ZBRUSH. This app is perfect for beginners. Unlike the previous one, this app is specialized in character creation in general.
We have studied the application in detail and can safely say that it is quite unique, it has quite useful features. ZRemesher is a fairly useful feature it makes the grid more convenient, allowing you to reduce and edit the number of polygons.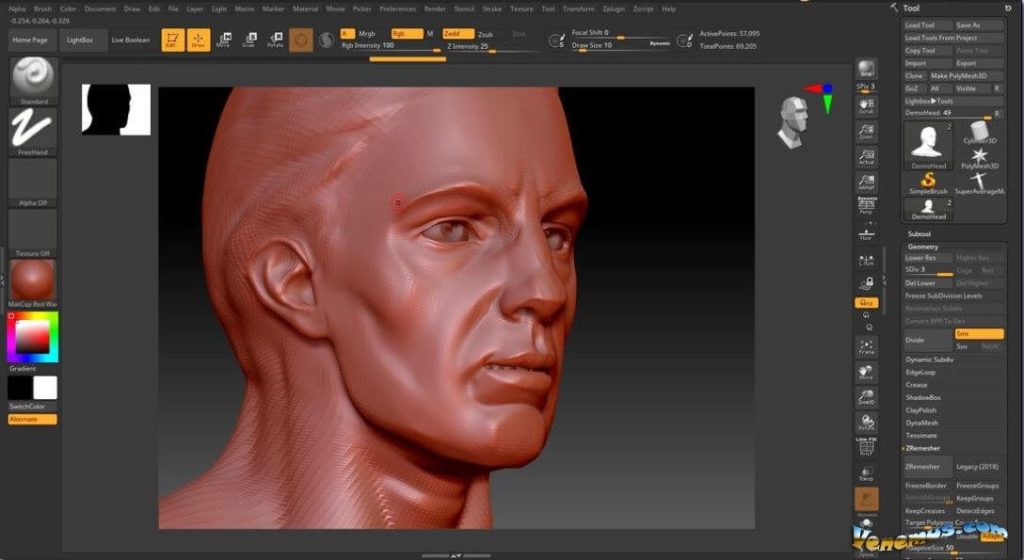 Extract-this function can be the beginning of your character, after which you can recreate your personal character. Divide – this function divides the model into four parts and allows it to be rounded.
Zmodeler is a brush that allows you to edit a character or shape as in a normal simulation. In addition to all these features, there are others that are just as interesting that you will learn about yourself.
The application has a pretty nice interface, it is very similar to the interface of Autodesk Maya, but the main difference is the black shade, not gray. You can also highlight a rather nice design, which in the first stages of working in the application does not repel it.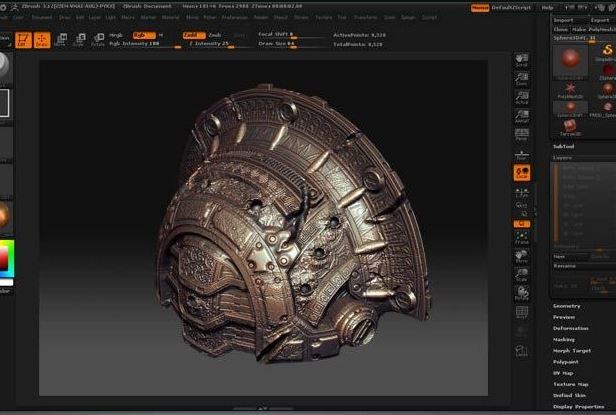 After reading the comments, we can say that the application is worth considering and everyone is happy with its work, the only thing that can be distinguished is that polivane users like the interface, and the other does not, but the application always works and it has great potential and soon there will be no rants about the interface.
Pros:
Great potential
Pretty easy to use
Convenient functions
Cons:
Camera
Lack of video tutorials
Paid

3. Blender
The main difference between this application and those that we described above is that it is absolutely free. The app has a rather unusual name, namely as a kitchen utensil.
This application is suitable for both beginners and advanced people in this type of activity. This program was often chosen for large-scale projects, which is not surprising.
This program is ideal for learning the general concept of 3d modeling. Applications are used for creating and editing three-dimensional graphics, animation, visualization, creating computer games, and even sculpting.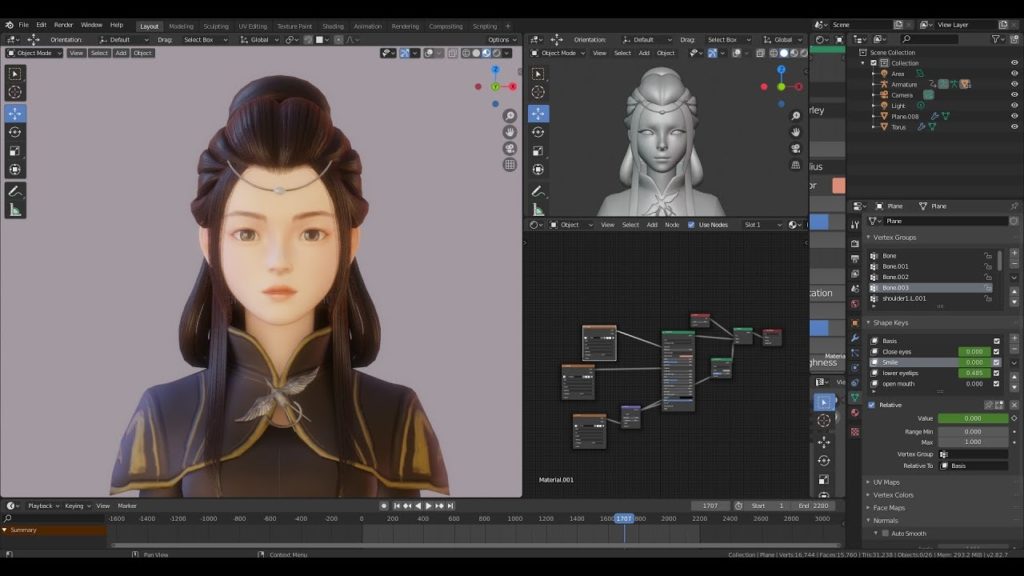 You can also the basic texture pack and get started. This program uses the Python language as programming, and all this is available for users of Windows, GNU/Linux, and Mac OSX.
Among the features of the application, you can select 3d modeling-accessible design of objects based on primitives, polygons, etc. Animation-adding movement to the character. Visualization, texturing, and shader sets, a basic video editor, and much more.
The program has a pretty nice interface, even the youngest user can understand it. The colors are selected neutrally, so that your eyes do not feel uncomfortable after a long time working in the application. All the functions of the program are arranged in the most convenient way, so that in the first stages you do not get lost in the application.
We also would like to highlight a rather interesting drawing function. This is quite interesting for an application of such a plan that in the program for 3D modeling, you can apply sketches with various brushes directly in the application. This feature was added to create a 2d animation in the program itself.
All reviews are positive, as we said above, all this simplicity of the application attracts new users and allows them to quickly get used to this program and start creating their own personal character and, if desired, add animation to it or just animate it.
Pros:
Product 'all-in-one'
Quick launch
Cons:
Frequent updates
Not all tools are powerful enough

4. Cinema 4D Studio
After searching for the simplest program at the moment, we came across Cinema 4D Studio. This program is considered the simplest at the moment among all programs. The better it is than other programs of this type, and the more that it is super simple, the most accurate example of 3d max, which is much harder to use.
This program is preferred by schoolchildren and students for convenient work in the field of 3d modeling. This application can be recommended at the first stage so that if you want to change the application, it will be easier for you to get used to the new one.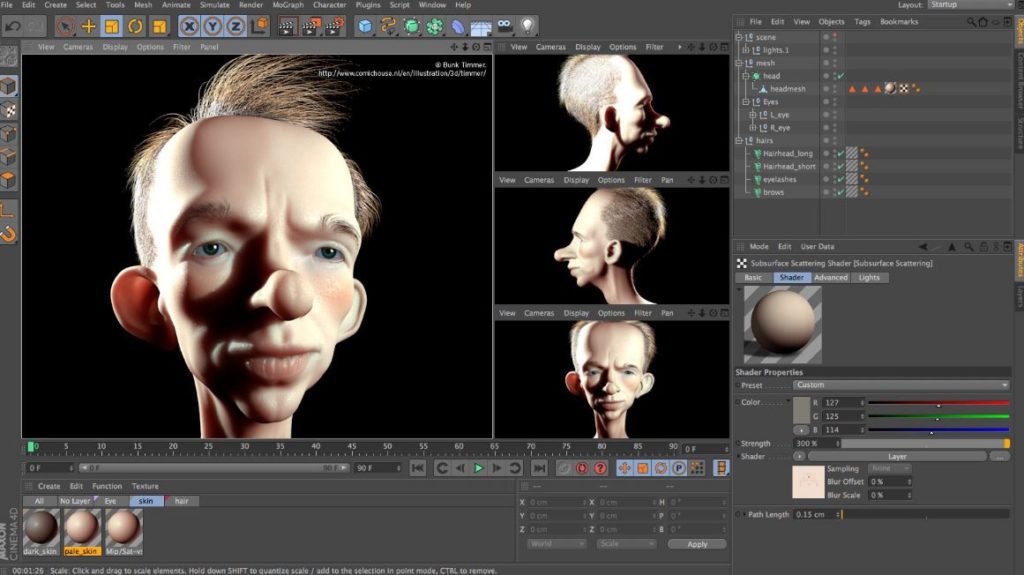 This application will allow you to design a program purely for yourself so that you can fully understand the 3d model. The app is well designed, which gives a minimal number of bugs. This program provides you with fast switching between vertices, edges, surfaces, and objects.
You can install other visualizers, the program allows you to. The app has deep lighting that allows you to better adjust the image. Also, there is a combination of modeling types, which will make it easier to swim through the program.
A large selection of shaders and files for every taste. Also, there is MoDynamics it will allow you to create photorealistic animations of physical effects.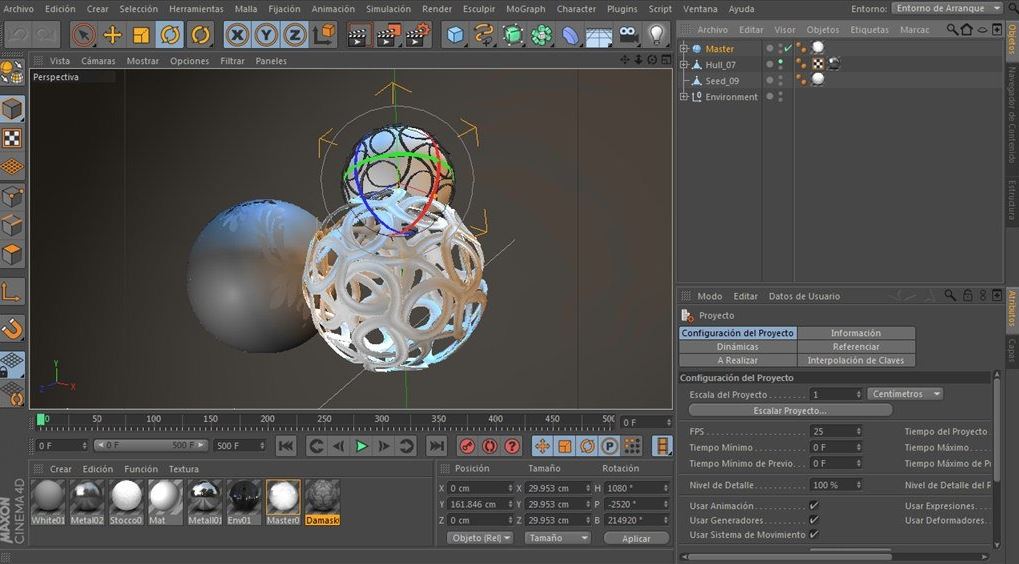 It has a pretty nice interface, it is very similar to the interface of the Blender program, but this is a plus because as we described earlier, such a simple interface will allow you to work longer so that your eyes do not get tired and do not feel uncomfortable. The selection of dark colors is a great solution.
After reading the reviews, we agreed that almost everyone likes this app, everyone is happy with fast rendering, optimization, multi-format, and most importantly, optimal prices, because the application is paid. The only thing that most users do not like is the small number of training lessons.
Pros:
Quick render
Multi-format
Optimal prices
Concise and intuitive interface
Optimization
Cons:

You may also like: 9 Best Pirates Games for Kids (Android & iOS)
5. Autodesk 3Ds Max
Here is another product from Autodesk-3D Max. This application is one of the best programs for 3d visualization at the moment.
This program is one of the very first ones in this field. It has been active since 1990. After its release, the app had a variety of titles, but eventually, in 2005, it settled on the name it uses to this day.
The main function of this program is 3d visualization. but the program provides a lot of features so that you can complement the character you created and bring it to a realistic look. It gives you a huge variety of modifiers and a variety of tools to work on your character.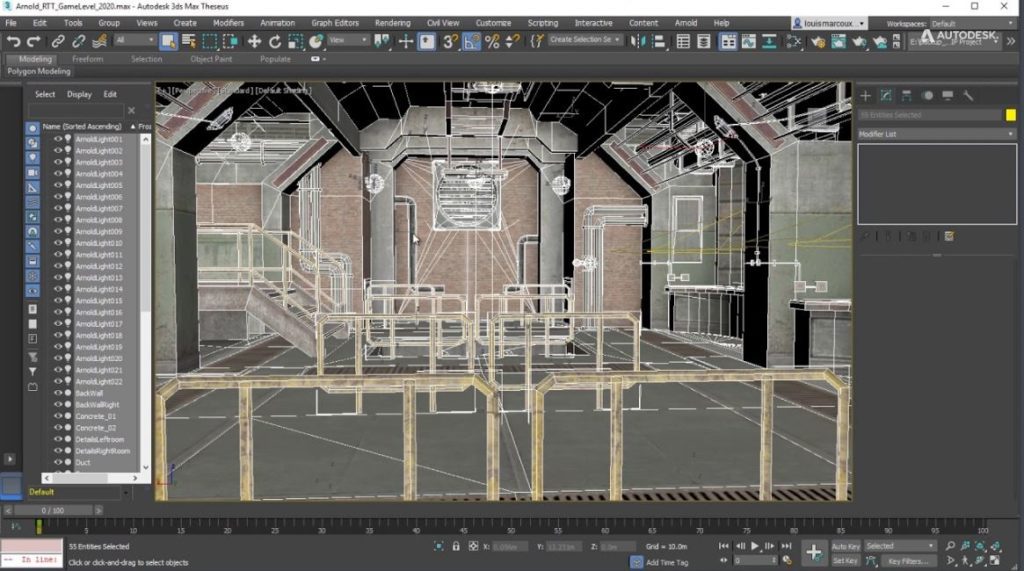 The app has the following features: Polygon modeling, which allows you to work with more complex models. there are simulations based on primitives or in other words simple shapes such as square, triangle, etc.
There is a spline framework that allows you to build a framework of three-dimensional curves. just like in other programs, it has animation and works with both 3D and 2D packages. And we would like to add a little more about plugins since the app after subscribing provides a huge number of plugins, and some video tutorials also provide.
The interface is quite heavy and in the first stages it will be quite difficult, but after a couple of free courses you can already practice yourself. Fortunately, the app provides a large number of free classes.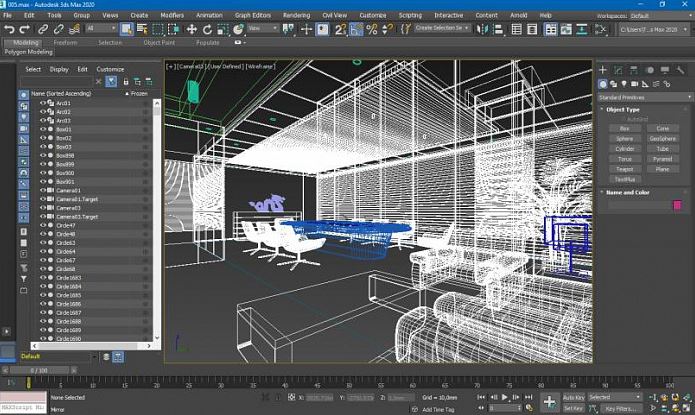 In addition, the application has useful features that it is so famous for, for example: the Hair and Fur module-allows you to model your hair, wool, etc. Texturing and UV-mapping. Boolean operations and much more that you will learn personally.
After reading the comments, we realized that 3D-Max is the best among other prototypes, but as mentioned above, many people do not like the rather heavy interface, which at first can be repulsive, but if you overdo yourself and start working in this program, you will fall in love with it.
Pros:
Easy to learn
Excellent functionality
Lots of training materials
Cons:
A simple system for switching between versions.
Great prices

6. Windows Paint 3D
Of course, everyone knows about this software and of course, it is available to every Windows user, but still not telling about it would be wrong. A fairly simple character editor and just a sandbox for the imagination.
When you log in to the app, you will see the built-in graphic tools in the right corner, where you can select different brushes and draw with them. There is a 2D button with which you can add a shape in 2D format.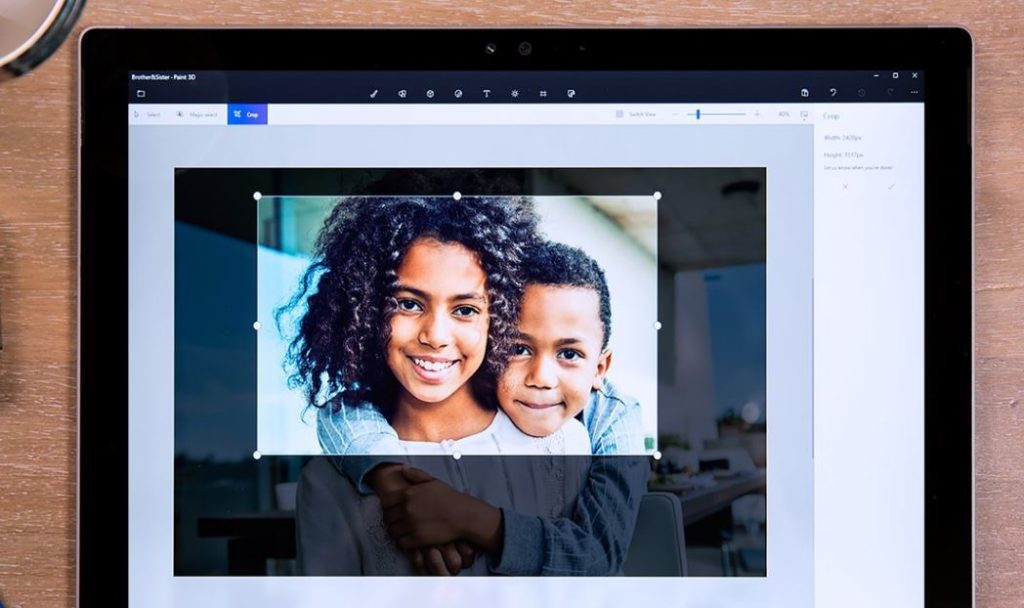 And of course, there is a 3D button you will need if you want to add different models such as people, animals, etc. Next to the ' 3D ' button, there is a 'Stickers' button these stickers are easy to place on a three-dimensional object.
The application has a very simple interface, so that everyone can understand the basics of creating a character, this application should be used to understand how character creation looks like in general, because the application is absolutely free and immediately built into the Windows operating system.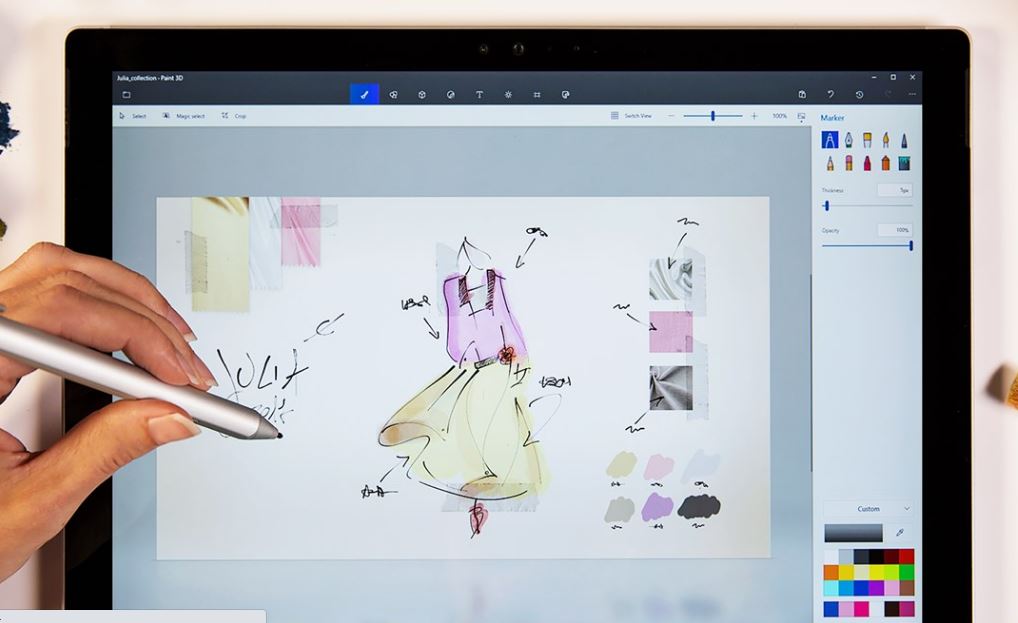 The comments on the application are favorable, everyone is content with the work of the app, some users said that there are sit-ins and the application starts to freeze, but it is updated to make it easier for you to get used to it.
The main feature is the app, unlike others, all this simplicity, which allows you to delve into the world of creating characters.
Pros:
Full free of charge
Simplicity of the program
Large set of tools
Cons:
Single-sufficient number of functions
Not a professional software (suitable only for beginners)

7. Side Effects Houdini
This is a good program for creating a character and 3d modeling. This is a pretty good application developed by Side Effects Software.
This is a fairly advanced project that allows you to create advanced effects, has a quite powerful rendering. This program is very often used to create film effects, all kinds of advertising, and of course to develop characters for games.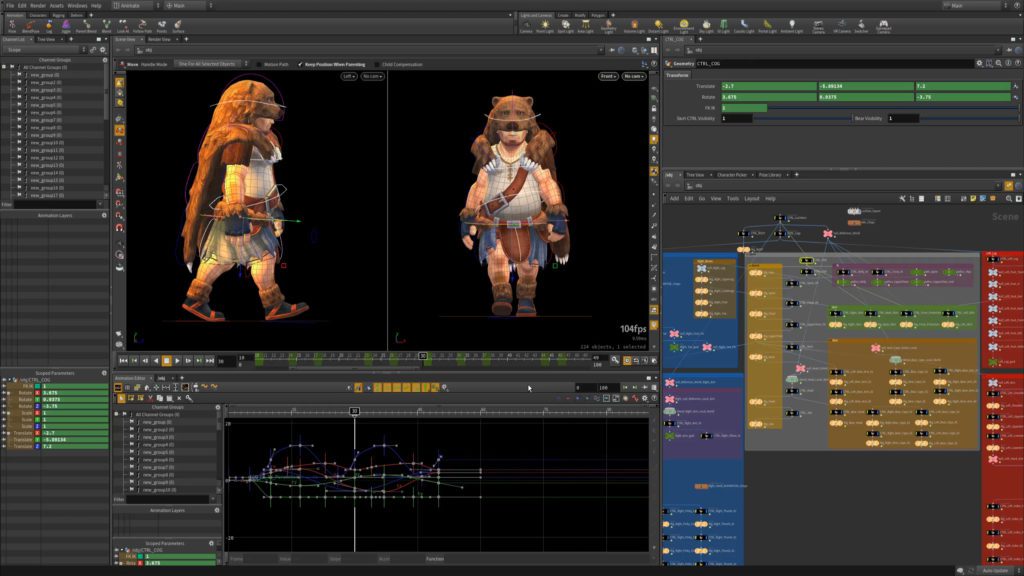 The software is on a par with the 3d max program already mentioned above. No wonder it won an Oscar in 2002 for technical achievements. It is ideal for both professionals and beginners who are just beginning to learn this type of activity.
The program has everything you need for comfortable work: modeling – all standard models of two-dimensional and three-dimensional geometry, animation – processing of movements and raw channels, particles, lighting, dynamics, combined shooting, and much more is included in the application.
The interface in the app is quite simple and this is its huge plus, which will allow you to get started immediately.
What can be highlighted under the plus sign is that the minimum requirements for the program will even allow people to work with Windows 7, the minimum RAM is only 4 GB, and the disk space is only 1 GB. This application will allow you to work even on an old computer.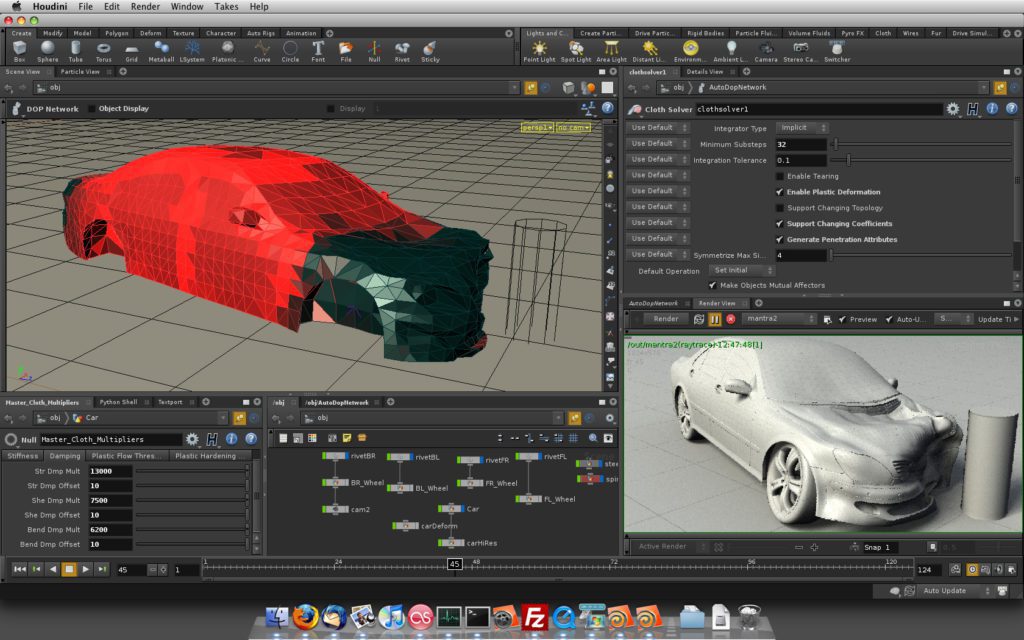 After reading the comments on the program, everything came together to the fact that each user is happy with this app.
Among the features, you can select a crash test, which will allow you to see what will happen to your character in certain situations, such as an explosion or a strong wind.
Pros:
Labor optimization
Functionality
Intuitive interface
Easy to use
There is a free subscription
Cons:
Not enough video tutorials
It's hard to retrain

8. MakeHuman
We want to tell you about another interesting program for creating MakeHuman characters. This program is designed to create a person, it is a fairly well-developed sandbox for developing characters. This program is ideal to understand how the development of a 3d model of a person looks like in general. Access to the program is absolutely free.
The cool thing is that here you can then open a ready-made character on a platform like 3D Max, Blender, etc.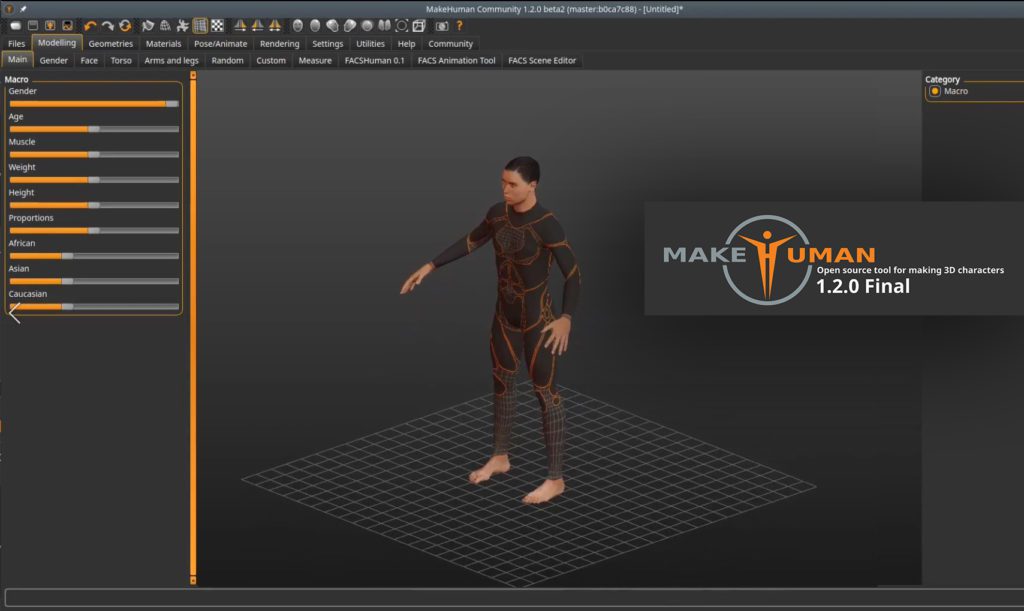 MakeHuman is written in a fairly simple Python programming language. In addition to the built-in functions and tools, you can download separately various texture packs by type of clothing items, styles of beards, hairstyles, nails, body shapes, and much more.
What is more, the software is perfect for both beginners and professionals in their field. You can totally call it one of the best for creating 3d characters.
The interface in the application is quite simple, so even the most inexperienced user will understand it. As in other applications, the gray theme is quite favorable and even after a long work won't be hazardous for your eyes.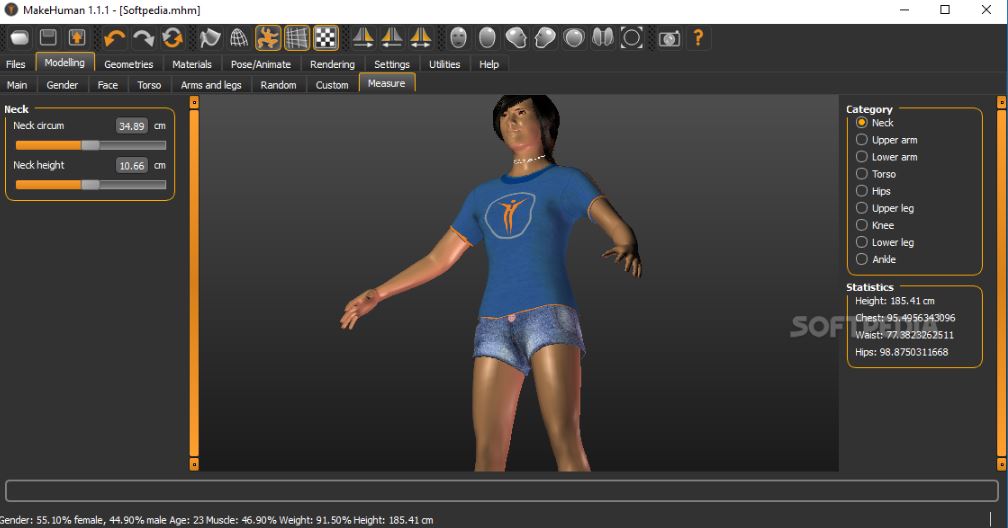 All functions and tools are already displayed on the title page of the application, so you do not have to search for anything and you can immediately get to work without any effort.
After reading the comments, we realized that all the comments are positive, this application evokes friendly reviews from everyone, because it helps to create your own personal character or even your own copy, without having any difficulties.
No wonder in 2004 MakeHuman won the award from Suzanne Award as the Best Python Script.
Pros:
Easy to use
Lots of lessons
Free of charge
Cons:
Poor face lighting
There is no way to bring the body to the desired condition

You may also like: 11 Best Construction Worker Games for PC
9. Daz3D
We want to introduce you to a new step in 3d graphics-Daz3D. This program has already trained 235,000 artists since 2005, who later figured out how to create a character to the ideal, so try it and you start working in this application and increase your skill in creating characters.
Daz 3D is suitable for both professionals and beginners in this field. In this application, it is quite easy to get used to and get the appropriate experience. This is just the perfect guide for dummies in 3D graphics and 3D animation.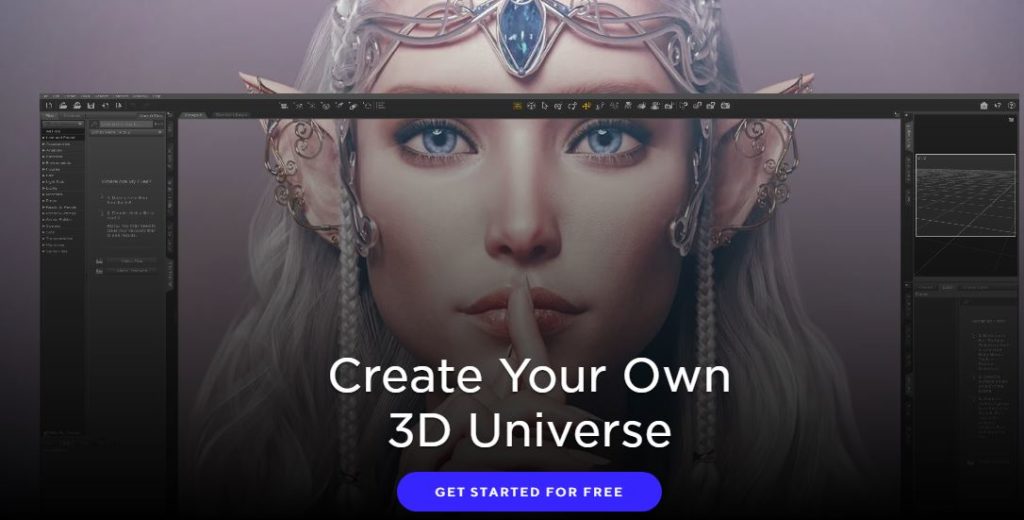 The application has a new Nvidia Iray engine that is fully integrated and ready to use. In other words, you have a really easy way to create images that were previously available only to professionals.
If you have run out of ideas or you just don't know what is best to choose a character concept, then it doesn't matter – in the program, there is a huge number of ready-made characters and models for Daz studio.
This app immerses you in a limitless world of fantasy and development, Daz has created the largest market for 3D models at the moment. Daz studio includes everything and it is absolutely free.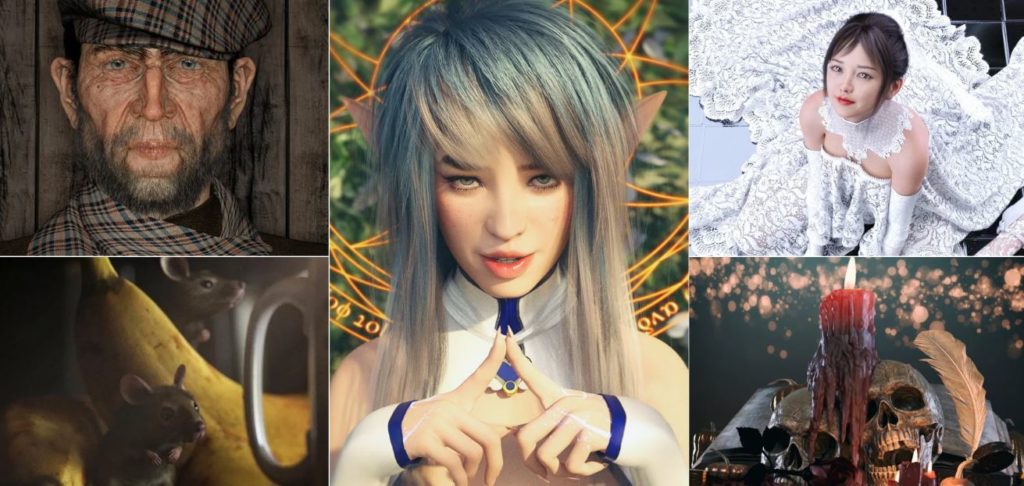 The app has the simplest and best interface at the moment. You can move windows, resize them, and even disable them to save space.
After reading the comments, we came to the conclusion that all of the above is justified and each user considers this app the best of its kind and each user advises it to use.
Pros:
Best and easiest interface
Easy to use
A huge number of ready-made models

10. Poser
Poser is certainly not better than the same 3D max or Daz studio, but it is also a pretty good 3D editor, it allows you to create simple animations, animate people, and elaborate basic models. In general, this is a very good program for linear animation and character creation.
Poser is designed as a pose constructor, originally this program was supposed to be a game, but the developer decided to extend its possibilities.
The software also has a demo version, but it is quite stripped down and does not save work, so it is better to idownload the full version. In the demo version, the images are poorly developed, so it is better to take the demo only to familiarize yourself with the program.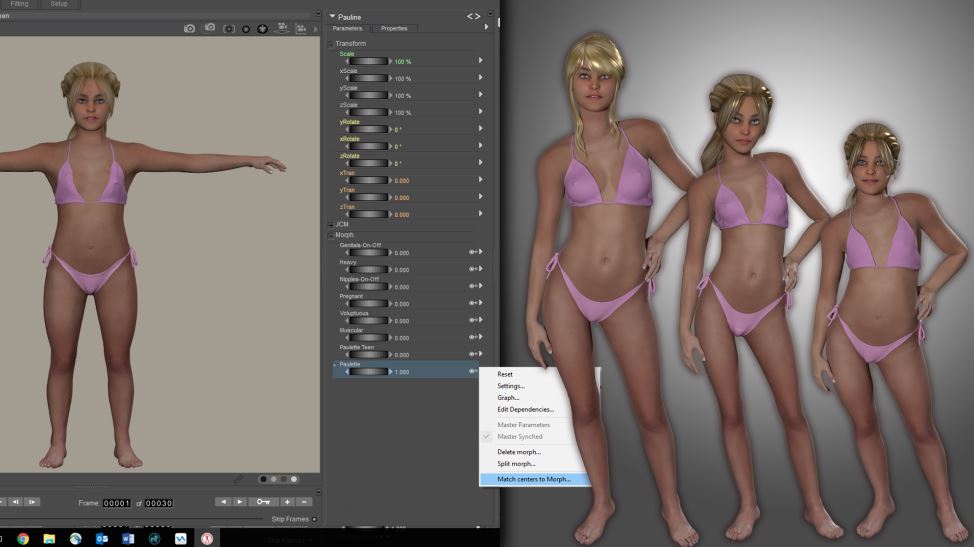 The interface is quite simple and very convenient, so you will not be hard to understand the application and the combination of gray colors allows you to work in the application without any discomfort.
The feedback shows that the users are genuinely happy with the app, but as it is expected, most people read more advanced programs, but this program is also worth attention and it is better to use it in the first stages of character development.
Pros:
Optimization
Performance
Ease of use
Cons: