MOBA is a genre of games based on real-time strategy (RTS). Two teams of players fight on a map for control points, each of which gives some advantage. The main aim of MOBA strategies is to destroy the enemy's base.
Such strategies differ from the classical RTS because each participant in the battle has a special hero. It develops and improves his skills within one session. In this case, the player controls only the hero, and his units are mostly controlled by a robot.
You may also like: 11 Best Offline FPS Games for Android
If you are a fan of this genre, then you should definitely try such a game on your phone. Thus, we have reviewed the best MOBA games in 2023, each of them is unique.
Vainglory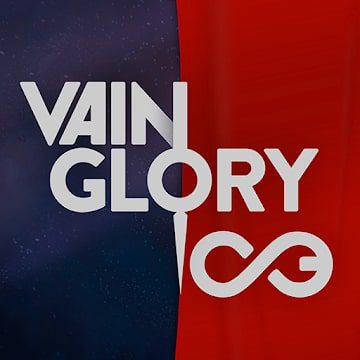 The first true MOBA on mobile platforms is rightfully considered to be Vainglory. Here, high-quality graphics are combined with classic gameplay with tactical depth and free movement on the map.
This is an unusual game where players have much more freedom. For example, here you can manage waves of monsters and make "combos" of the character's abilities.
Besides, Vainglory has high-precision controls. The game is well optimized and at the same time has nice colorful graphics.
The game features high-precision touch controls, good performance, smooth graphics, and competitive gameplay. It is most interesting to play it in multiple teams. Modes include 5-minute battles and full 5V5 battles.
The latest version of Vainglory gives the player access to 48 heroes with a unique style of play in a combo system. Acquiring the skills to control the heroes and complete their combat tasks in the process is easy.
In Vainglory, you can:
beat your opponents;
make heroes powerful;
use the "adrenaline" system to increase your attack speed;
accurately alternate punches and steps.
Developed a system of forcing and the use of cards allow you to get powerful bonuses, pumped up to the maximum.
Vainglory gives a lot of positive emotions during the game because it was originally designed for fans of the MOVA genre. Here each character has 3 abilities, which, with the help of well-designed navigation, help quickly pass the location.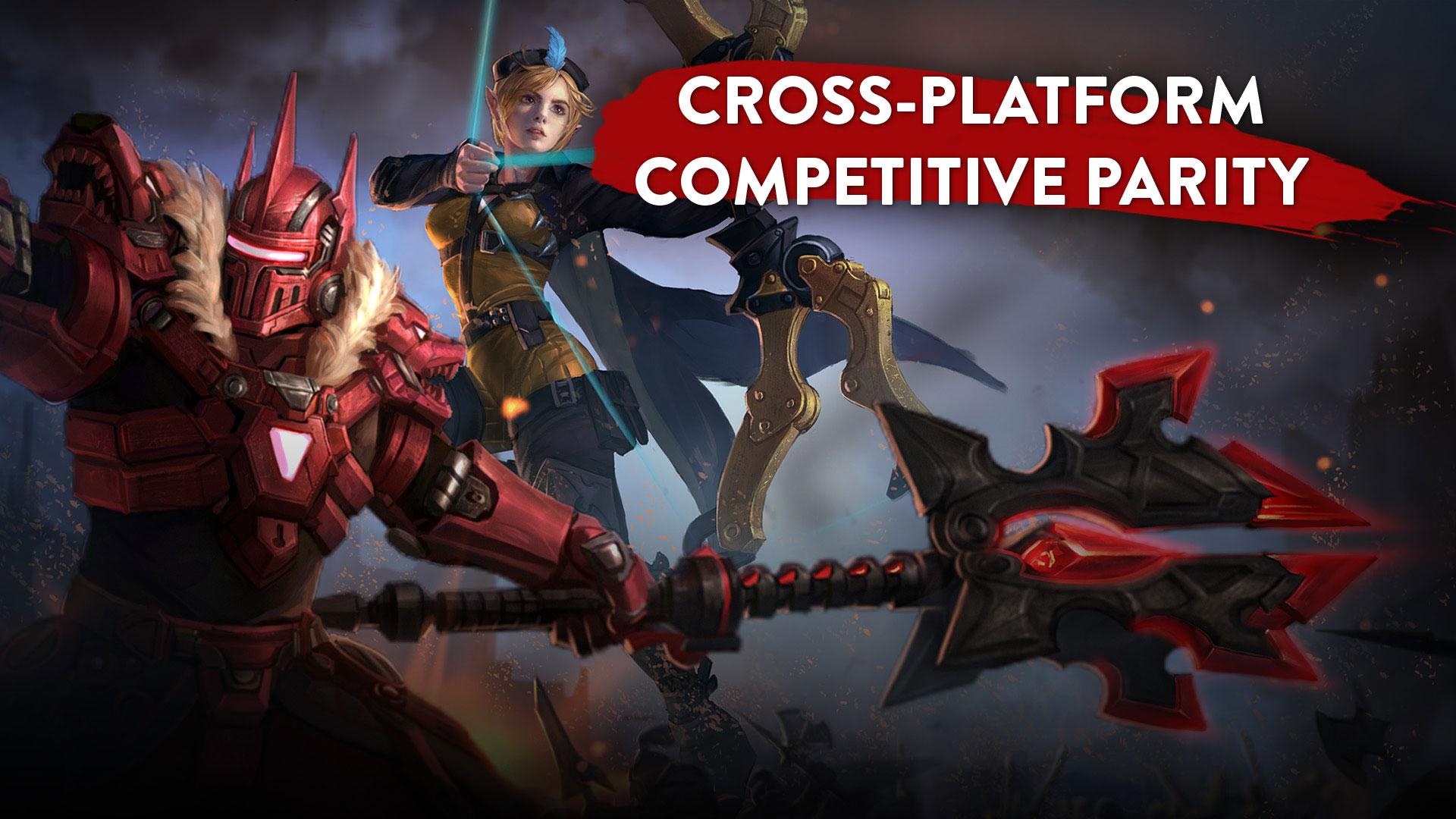 In general, Vainglory is a unique fantasy world whose characters are distinctive in their originality. The content is constantly updated – new stories and heroes appear. Thus, we strongly recommend you try this variant.


You may also like: 11 Best Android Games Like Clash of Clans
Brawl Stars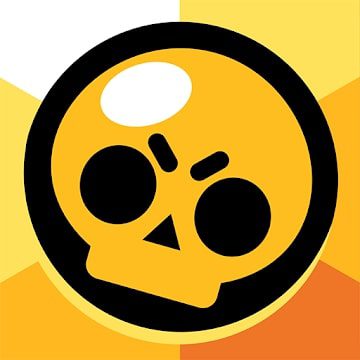 Brawl Stars is short session battles of 3-on-3 teams in small arenas with an overhead view.
Here the player is invited to take control of one of the colorful characters, each with their own unique abilities.
Battles on the map involve players from all over the world. You can play alone or invite your friends to the company, which brings extra excitement and team spirit.
In the battle available to a variety of different techniques and weapons. Of course, there are ample opportunities to pump and customize your character. This allows you to get a special, different from the others hero.
Many gaming rewards contribute to this in every way and encourage the most daring experiments. The main goal is to defeat the enemy team in a 3×3 fighter. Deal damage by shooting or hitting with weapons, in the course of fulfilling the necessary conditions for victory.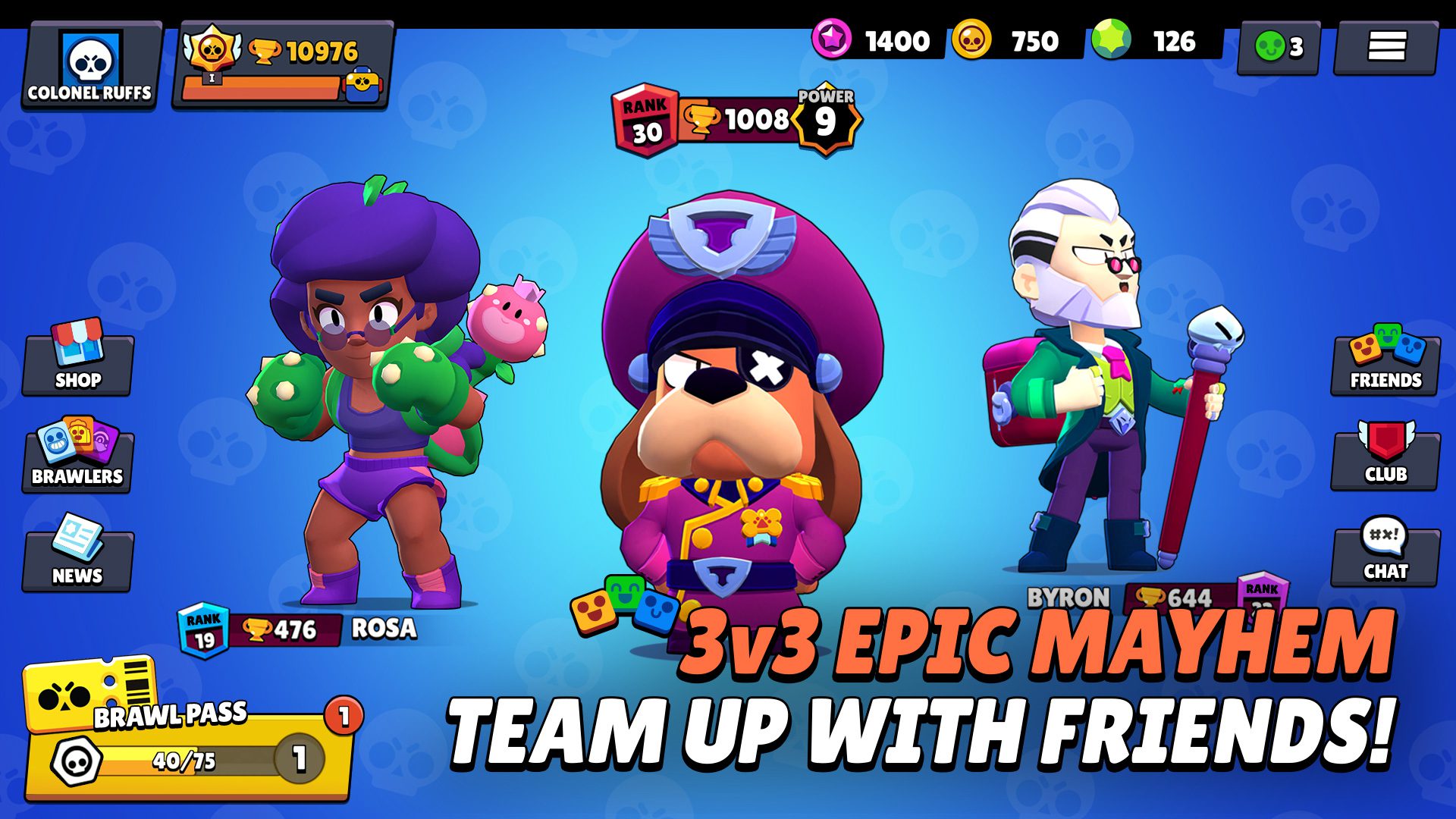 Controls in the game are quite standard and convenient. Two sticks located in the lower corners are responsible for controlling movement and overview.
It is convenient to play both on a tablet and on a small smartphone screen, for which the game is perfectly optimized. In general, nothing prevents you from enjoying the gameplay. Three-minute battles do not strain and allow you to relax even during a short break.
The variety of game modes of Brawl Stars will not let even an experienced gamer get bored. Take part in survival clashes like the Battle Royale. Collect amplifiers or grab and hold crystals until you win.
Collect stars and earn rewards for your capture, rob your opponent by fighting your way through, or sneaking up on a treasure safe. But don't forget to guard your riches.
Play soccer against the enemy and score two goals without breaking the rules of the game. Compete in other special events that take place in the game every day.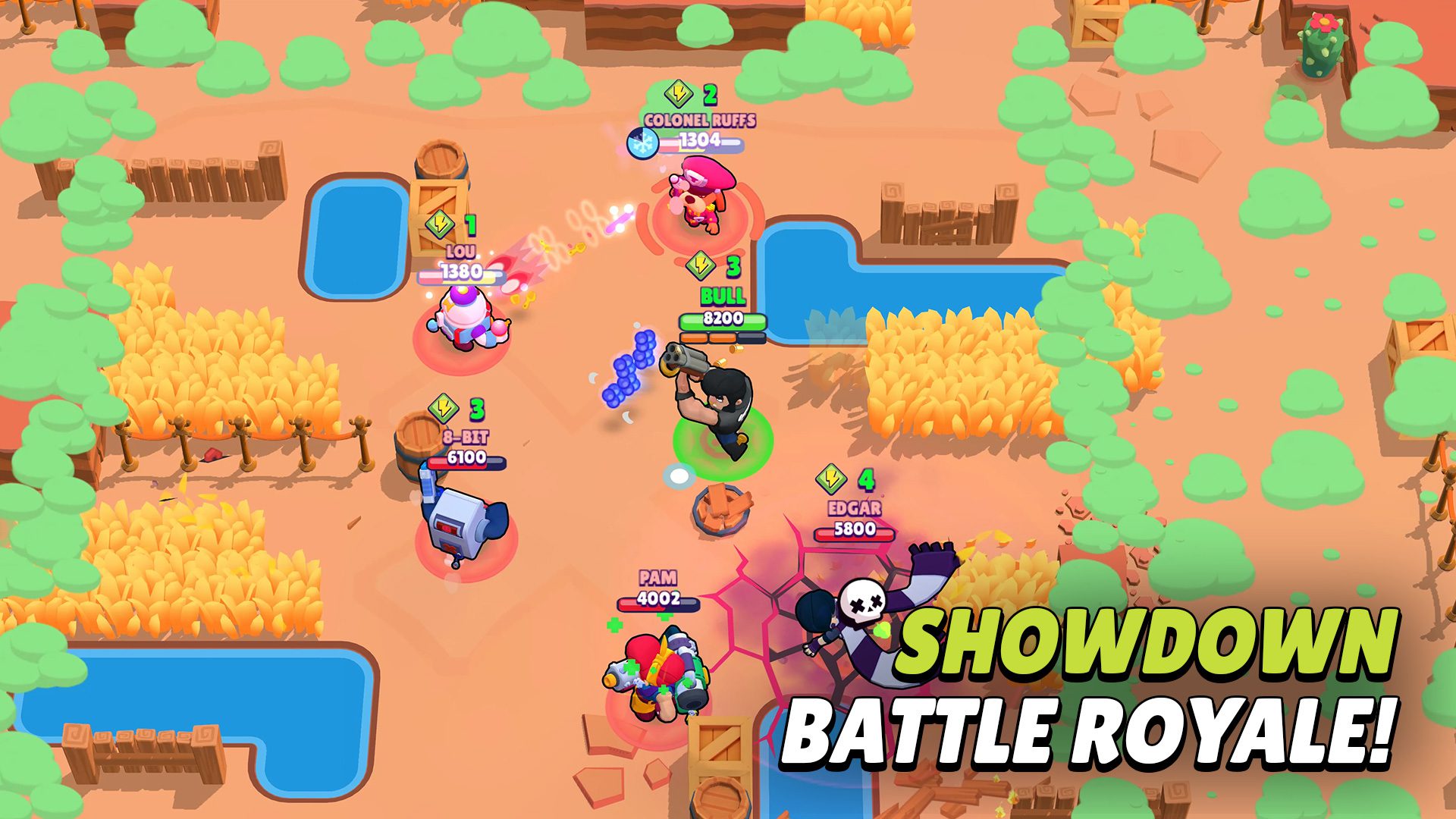 Thanks to the many game modes and locations, the game does not get boring. At the same time, you can play without donation, although there is an opportunity to buy unique game assets in the internal store. Download, play, and win!


Battle Bay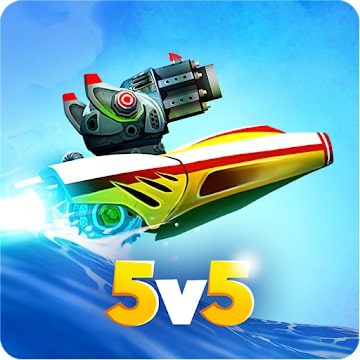 The game concept of Battle Bay will appeal to everyone who respects multiplayer battles on real-time maps. Fans of "tanks" can use Battle Bay as a kind of replacement for their favorite game.
In Battle Bay at your disposal is a heavily armored boat. On the battlefield, you are already waiting for four more people on similar high-speed machines. Opponents are also five people.
Controls here are simple enough. Under the left thumb is a virtual joystick, which allows you to steer a high-speed military boat.
Finger up – the boat accelerates, down – brakes, and left-right turns according to the commands. The right thumb rests on the machine gun and rocket launcher.
Waves are a key gameplay element. Waves toss-up enemy boats, disrupting your aim and preventing you from sinking the enemy vessel with your shots. Waves can act as your ally, protecting you from enemy fire.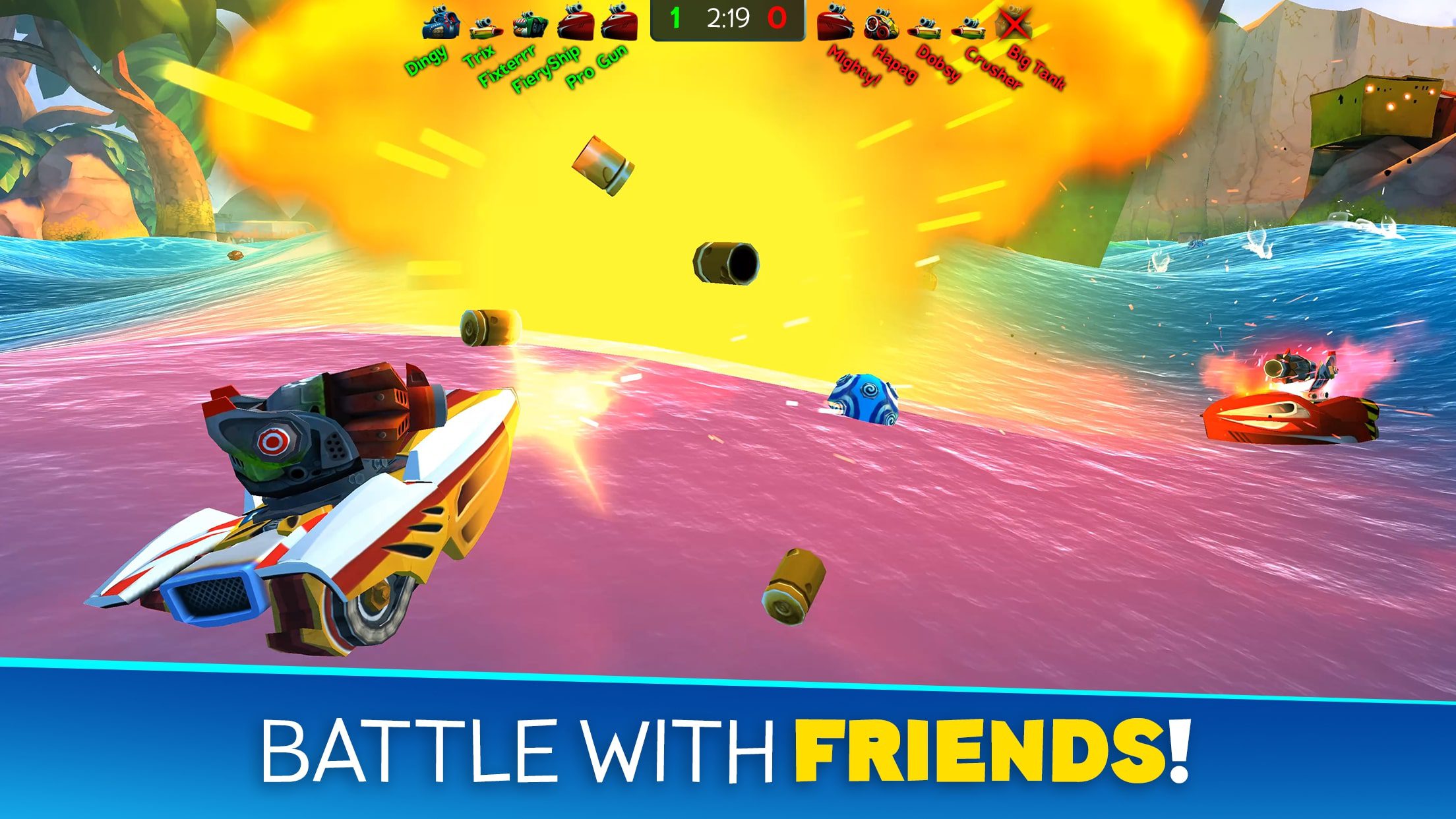 It is impossible to predict the appearance of the waves, which makes each round even more unique and unpredictable.
Victory here is achieved by either complete destruction of the enemy team or capture locations. They are marked with green dots on the mini-map. On the battlefield, they are large green circles to be occupied.
The reward depends on your personal achievements on the battlefield and whether your team won or lost. Once you reach level 5, your score will count towards Battle Bay's global ranking.
What makes Battle Bay different from other MOBA games is the leveling system. Instead of experience points awarded for battles, you will upgrade skills by training crew members. There are 10 people available at the start, each with a unique "tree" of talents.
The system of upgrades in Battle Bay, at first sight, is a bit confusing. Anyway, the game will tell you when the next upgrade will be available.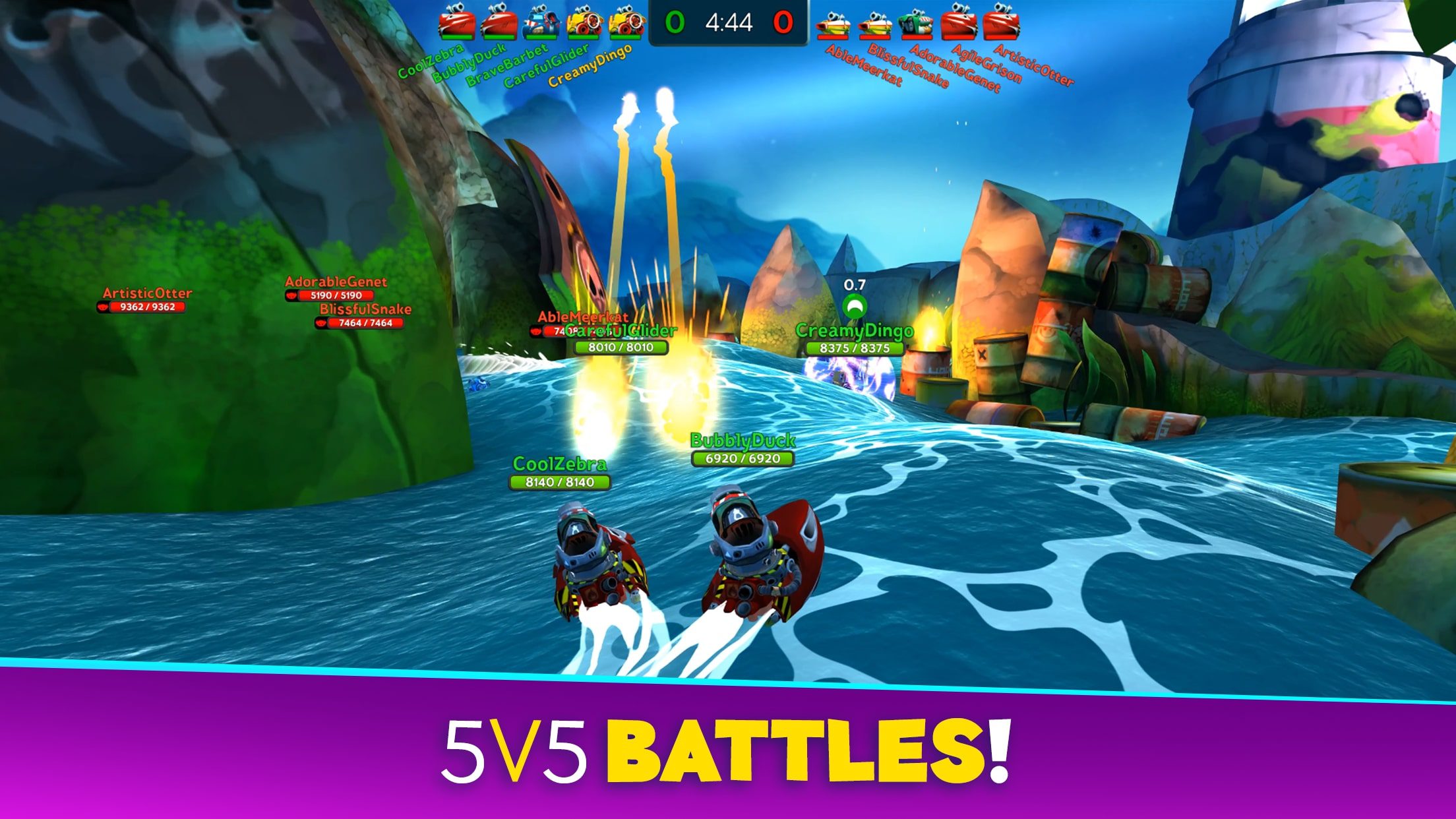 Battle Bay game is a good analog of "tanks" with its successful findings, pleasant graphics, and non-trivial setting.


Mobile Legends: Bang Bang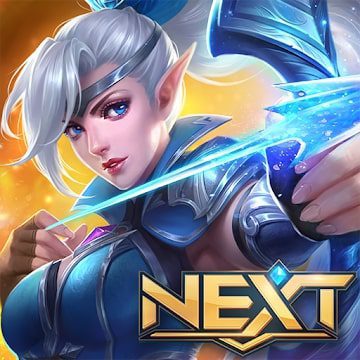 Mobile Legends is one of the best representatives of mobile MOBA games.
The game starts with standard training, where battles are 5×5. After completing the training, you start fighting other players.
The main criterion for MOBA quality is the characters and the balance between them. This game also takes that into account.
There is a standard set of classes – tanks, fighters, assassins, shooters, and mages. Most of the characters are not cheap, and you have to collect on them for quite a long time. But you'll have time to think about who you want more.
How do you play if you don't have any heroes? Very simple. By completing daily tasks, you'll get a chest from which you'll fall temporary characters on which you can play for 1 to 3 days.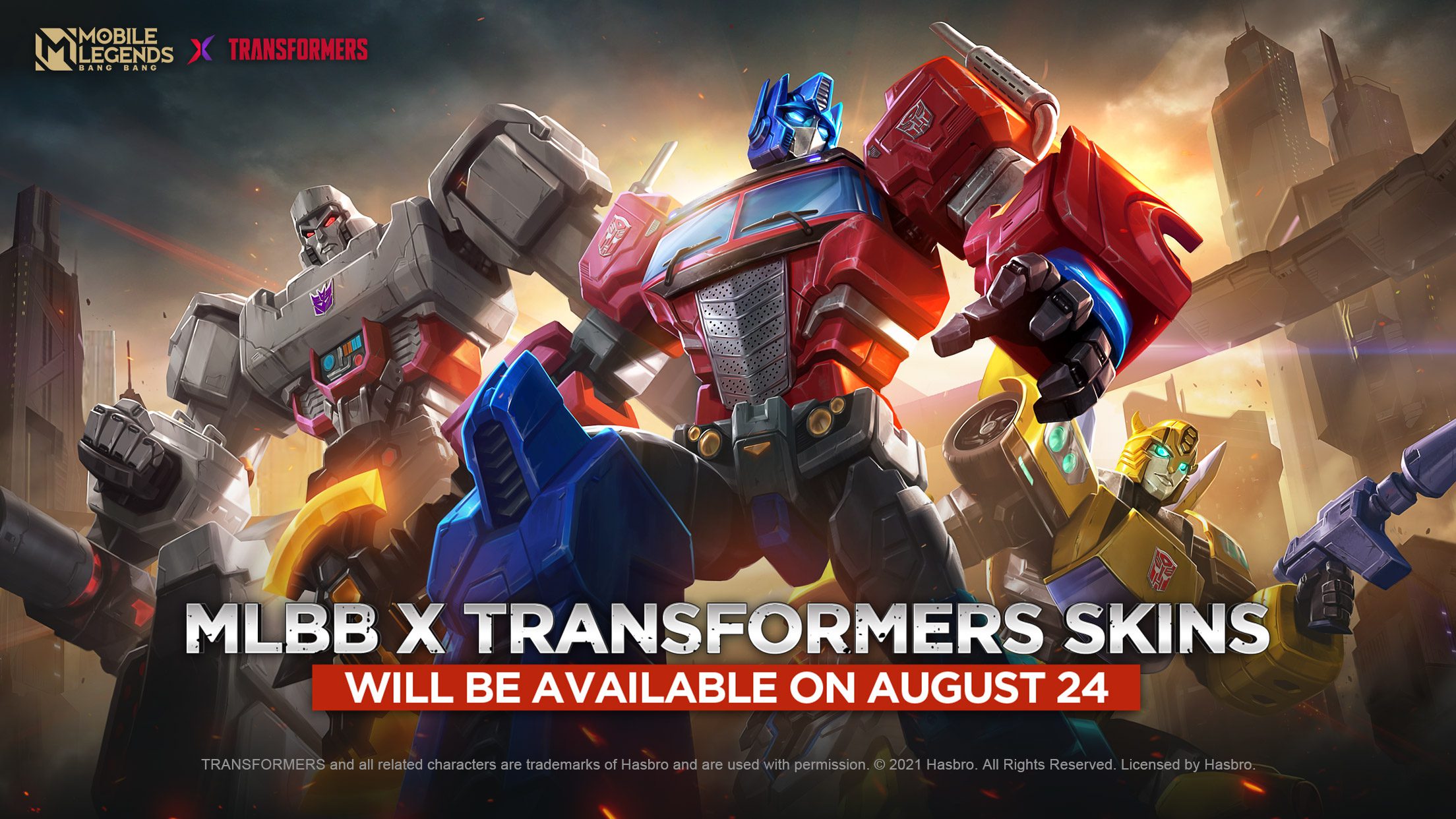 Each champion has 3 active skills (some have more) – 2 normal and 1 ultimate. The second reload is longer than the others but also brings many times more benefits.
Very much attention in Mobile Legends should be paid to emblems because they have a direct impact on gameplay. There are two basic sets of emblems – Physical and Magical. Each of them increases the starting characteristics of your champions.
There are also more focused emblems: for Fighters, Riflemen, Tanks, Foresters, Assassins, and Mages. For daily quests, you will receive parts of the emblems and stardust, for which you will improve them.
Main game modes:
Normal combat allows you to pump up your account, earn game currency and game experience.
Ranked games – you play matches and if you win you get stars. Thus, you move up in the rating. The higher your rating, the higher the reward at the end of the game season.
There are also Battle Mode, Battle Royale, and battles with bots.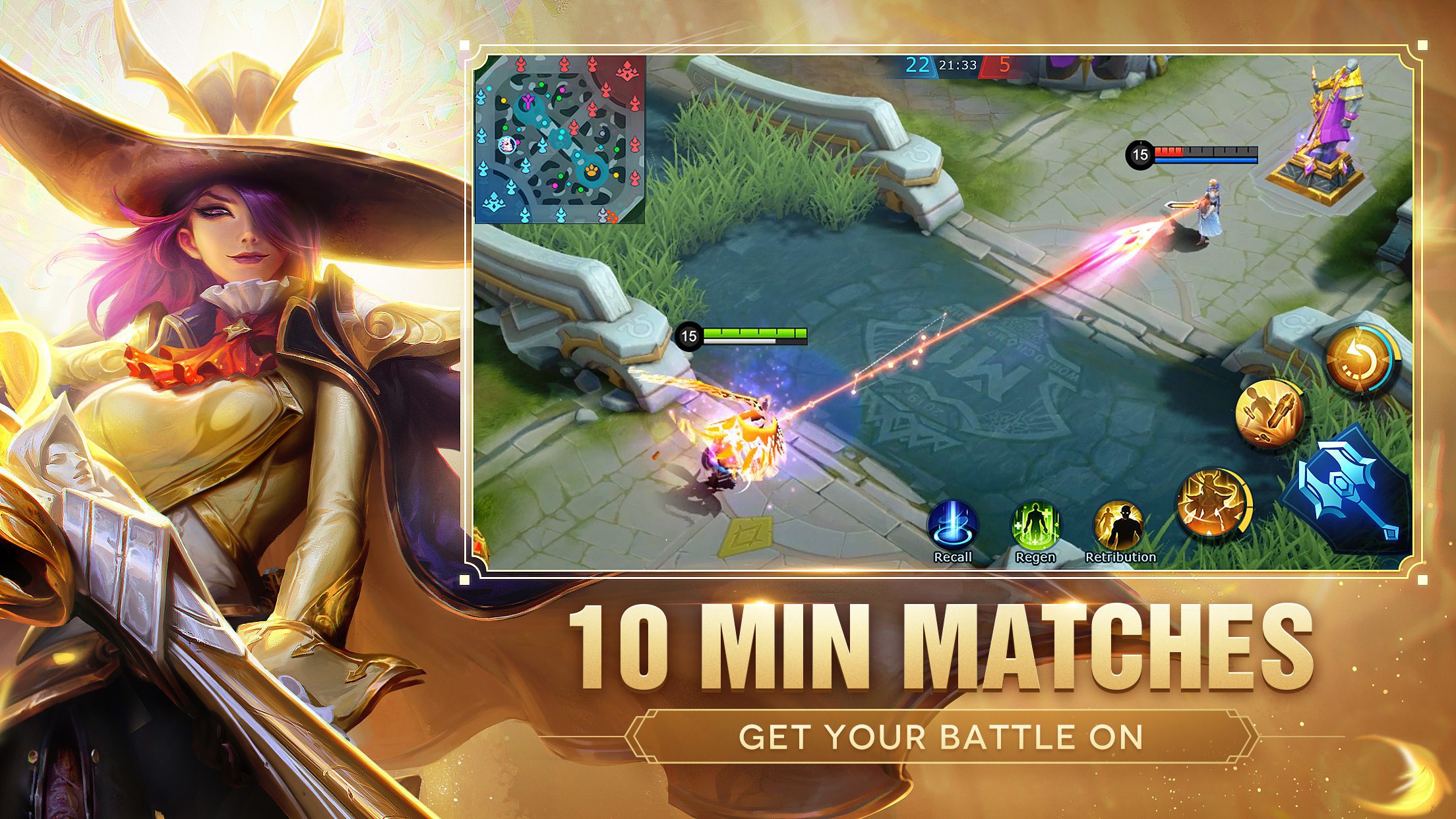 Mobile Legends is a very colorful and mechanically balanced game. To summarize, it is safe to say that this option is definitely worth your attention.


Arena of Valor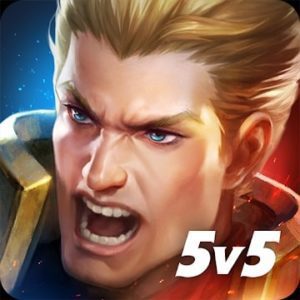 Arena of Valor is a classic MOBA game, so for those who are already familiar with the genre, it will be easy to understand all the functionality.
Let's start with the basics. The game map is divided into three lines. It has objects and a river in the middle. It divides the map into two symmetrical parts.
The river is notable for the fact that the most important objects are located near it, which gives advantages to the team.
The part of the map outside the lines (the roads where waves of creeps travel) is called the "jungle". These are inhabited by neutral monsters. They serve as extra sources of experience and money.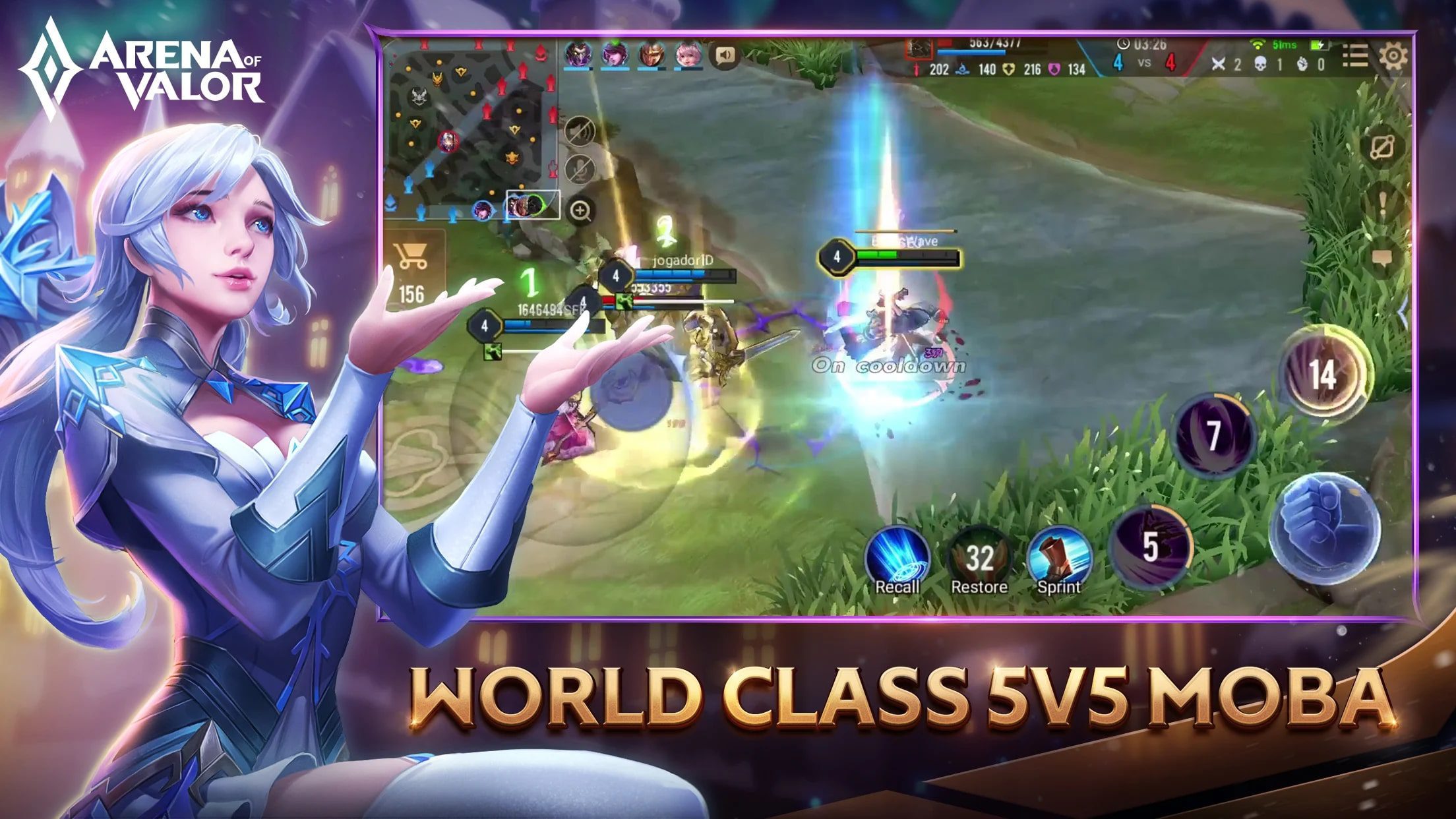 There are also bushes in which the character becomes invisible. This brings tactical elements to the gameplay. Players can easily ambush and kill a careless opponent.
Classes in the game are conditional. Some heroes are able to perform several roles at once. Here are the classes that are represented in the game:
Tanks – these are heroes with a solid amount of health and increased protection. Their skills are focused on controlling the enemy and defending allies. Tanks are the first to rush into battle and try to buy time for their comrades to maneuver.
Assassins are agile fighters with low endurance. They deal significant damage with their skills and are able to move quickly around the map. This makes them ideal heroes for ambushes or surprise attacks on enemy shooters.
Warriors – these heroes balance between tanks and assassins. They can't deal as much damage, but they don't get killed by a few lucky hits either. With a level advantage, they are capable of destroying the enemy team.
Mages – These characters rely only on magic. Their skills are used at long range and do a lot of damage.
Riflemen – they rely more on auto-attack and item bonuses. They rely on the support of tanks, as they are not characterized by high health.
Sappers – these characters have controlling skills and buffs.
Each of the heroes has a unique set of skills and a role in the team, which determines the tactics.
It should be noted that the choice of heroes in the normal match is much bigger than in the ranked matches. In ranked matches, you only have a choice of starting and purchased characters.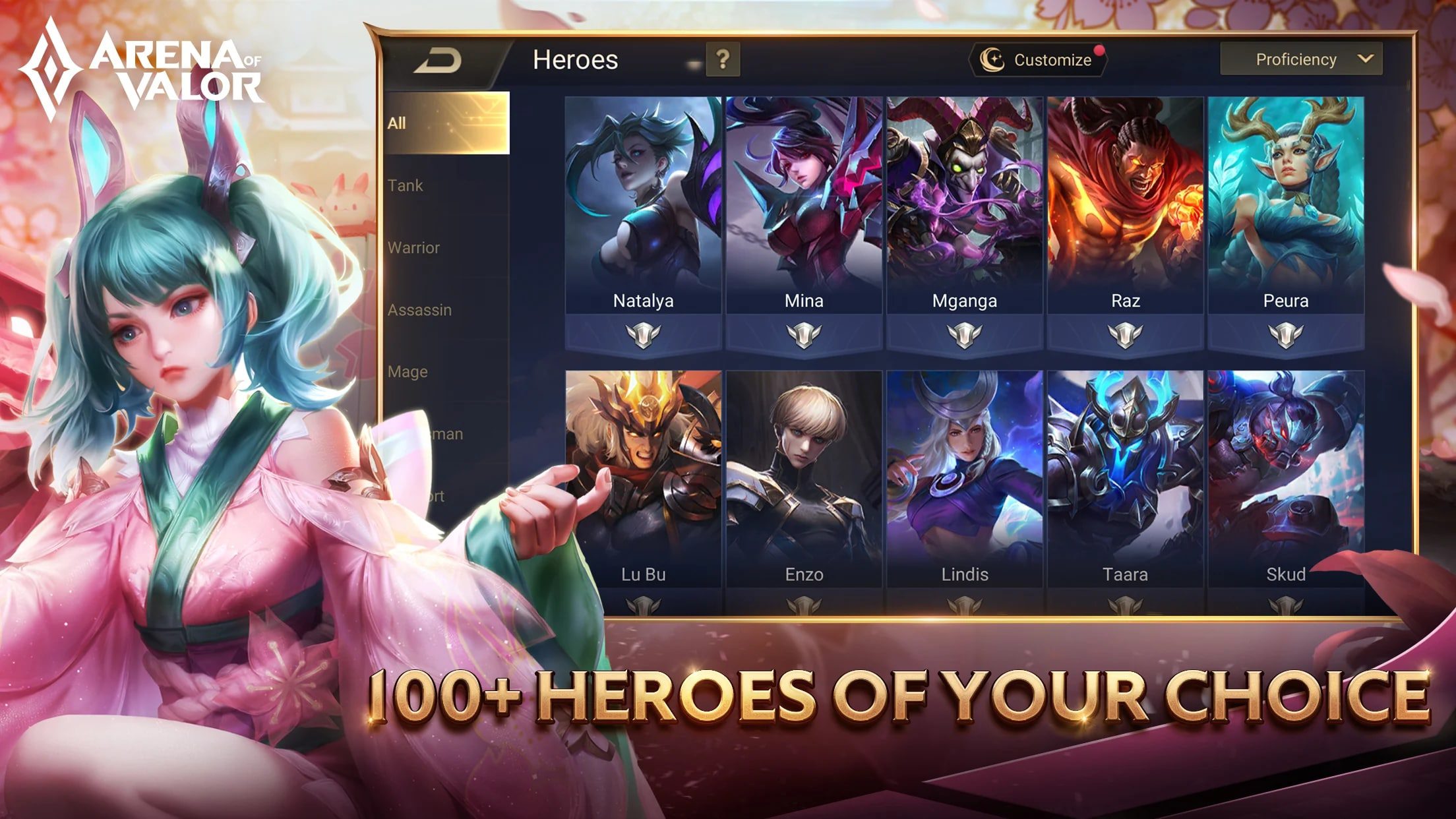 To move in the game space the player has to move the joystick in the right direction. It is located at the bottom left of the screen. The buttons for using skills and auto-attack are on the right. The rest you can learn by installing the game Arena of Valor on your smartphone.


You may also like: 11 Best Games Like Final Fantasy for Android & iOS
Order & Chaos 2: 3D MMO RPG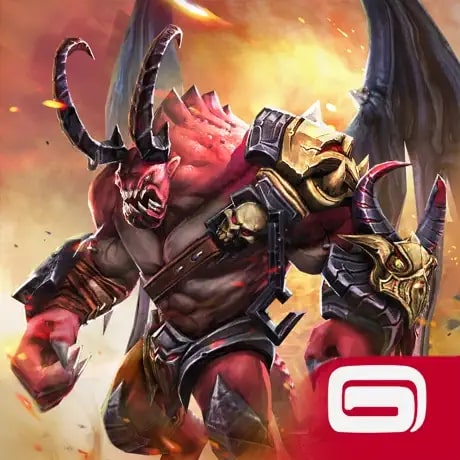 A game for those ready to bring a new word to the struggle between Chaos and Order. Once upon a time in the past, there was a huge mistake.
Thousands of traveling heroes seek to correct it and save the world. A landscape of quality graphics opens up before them. More than a thousand heroes must go through wars and political battles.
You can remain human or become an elf, an orc, a Mendelian or join the Kratans. Each player has unique abilities: mage, warrior, monk, pathfinder, and berserker. To stay alive, you must constantly improve weapons and equipment.
The plot will constantly keep the intrigue going. Hundreds of monsters await battle. The player who conquers a dungeon immediately becomes rich. But you can't do it without a team. There will also be battles and duels with other users. With them, you can also bargain.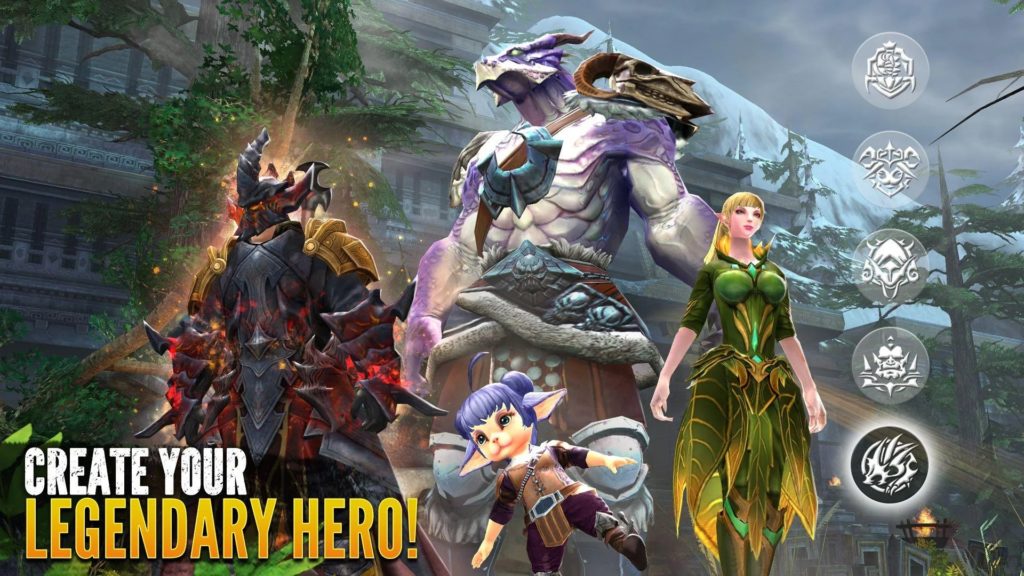 The game is designed for phone users. Chat is convenient for communication while using the app.


Planet of Heroes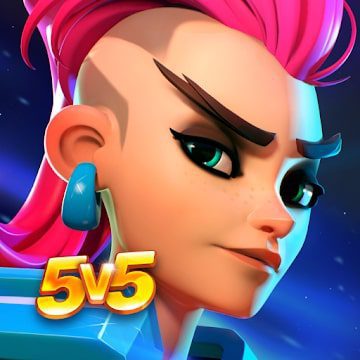 Planet of Heroes is a mobile game that is based on Dota 2 and League of Legends mechanics. Two teams of three players try to destroy each other's bases.
The basic model of Planet of Heroes is nothing new to any experienced MOBA player. On the line are turret turrets, next to them are the first-aid kits, and a player of any team can heal.
The forest is also there, with a boss and small enemies to level up on killing. Also here there are a lot of bushes, in which you can wait for the heroes of the enemy team. In certain places in the forest from time to time appear glyphs.
These are enhancements that work for a limited time. Experienced players who know where and when such a glyph can appear greatly benefit compared to newcomers.
Today in Planet of Heroes there are 11 characters of four types: tank fighter, assassin, archer, and support. Each character has their own skills. As you level up, each character becomes stronger through the development of "passive skills".
One of the most interesting features of Planet of Heroes is the control system. Unlike other mobile MOBAs, here you don't just slide your finger across the screen.
You control the hero by deflecting the virtual joystick on the left side of the screen. You apply abilities using the buttons on the right side of the screen.
The main difference between Planet of Heroes and other MOBA games is the PvE mode, which is a single mission. At the beginning of each mission, you choose three characters that you can switch between during the game.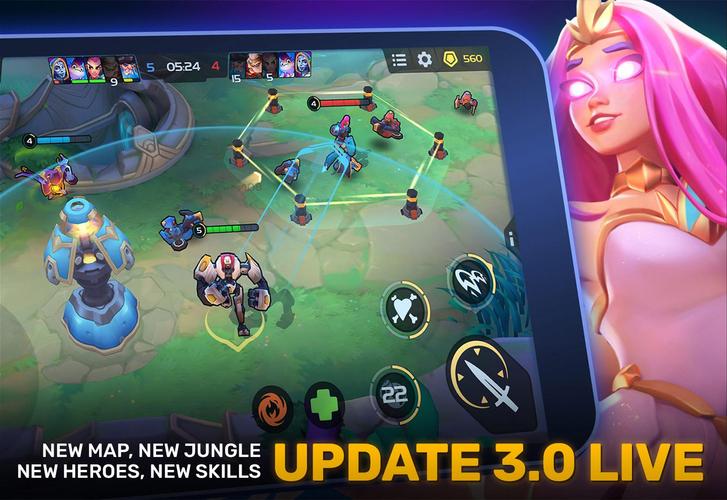 Planet of Heroes is one of the best representatives of the mobile battle arena genre. This game is very fast, with good controls, beautiful, in which there is something to do and something to strive for.

MARVEL Super War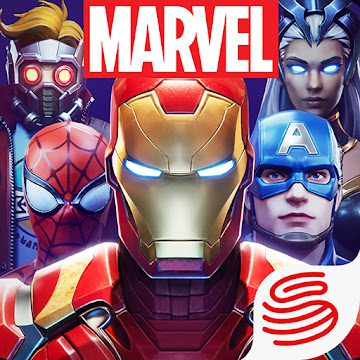 MARVEL Super War is a new mobile MOBA game in the well-known universe. Here you can enjoy 5 on 5 battles in real-time. A huge number of heroes from the MARVEL universe are waiting for you.
For example, here you can control Hulk, Thunder, Thor, Black Widow, and other characters from the film universe. Each hero has his own, unique abilities, as well as one ultimatum.
Learn how to play against each character. Choose your character wisely, focusing on the real world. Assemble a collection of passive effects before the game begins. As a clear representative of MOBA games, MARVEL Super War has 3 lines as well as 5 players on 2 sides.
This game's battle arenas can easily pit Iron Man against Captain Marvel or X-Men against the Avengers. Each character represents an iconic hero from the famous comic books. It has unique characteristics and abilities.
To win, you have to destroy your opponent's base without destroying your own. In the course of the battle, the hero can be improved by earning experience or found items.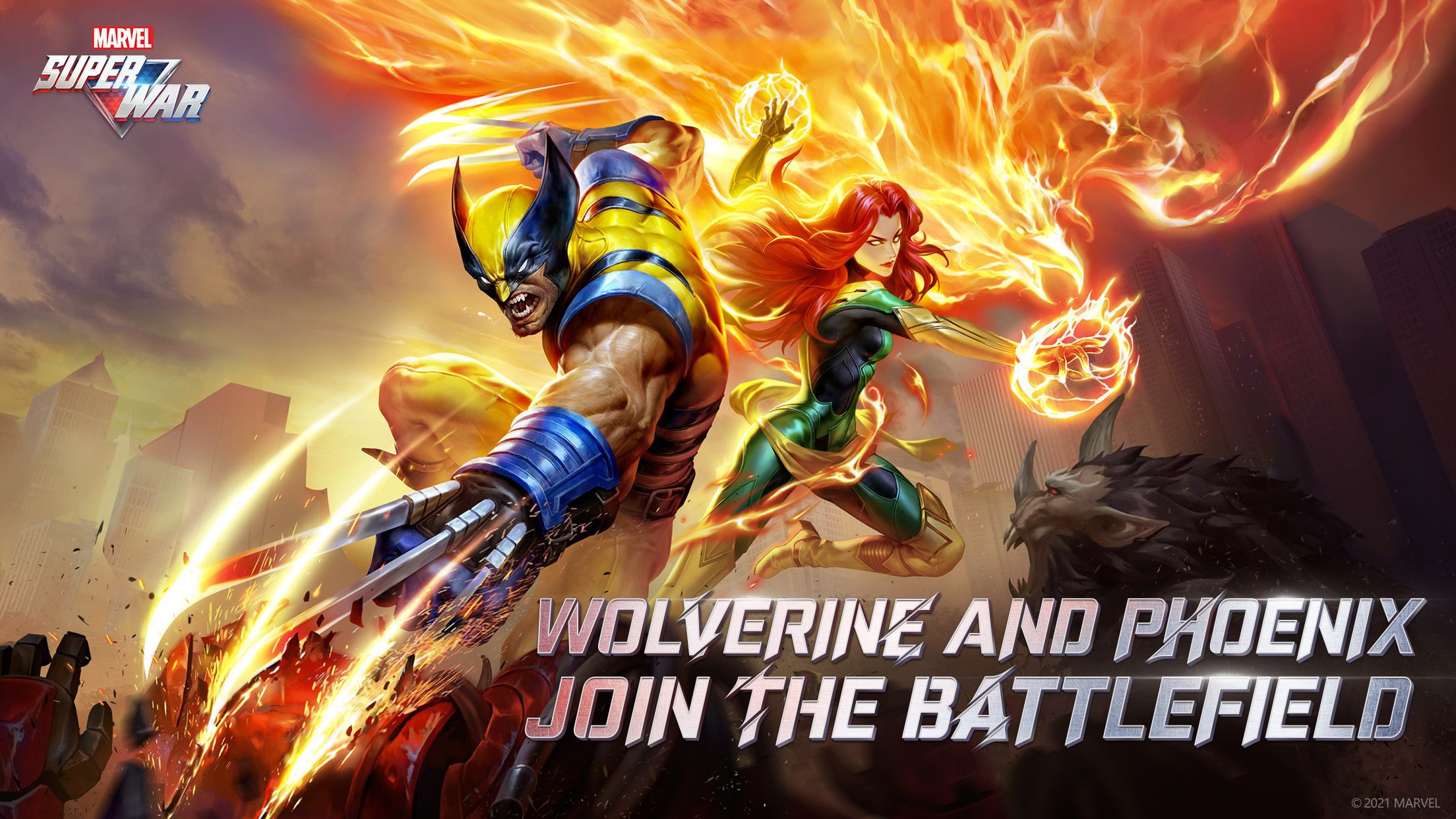 The game has great graphics, as well as detailed models of the heroes. Destroy your enemy's base and win. The full version of the game includes both heroes and villains.


Onmyoji Arena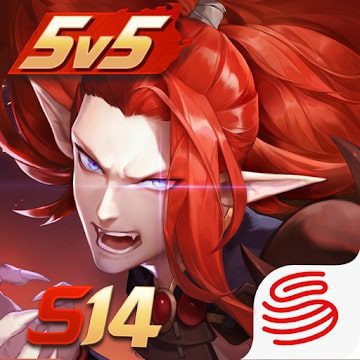 Onmyoji Arena is a new MOBA based on the famous NetEase universe of the same name.
In front of you is a classic representative of Asian MOBA with all the rules you know.
The most interesting thing is the Ommedo or Ommeji system because with it you can combine different skills of one hero. So, the dynamic of the battles is getting more individual, and each character has a new feel.
You will play as shikigami, whose arsenal has 4 basic skills and 2 slots for spells.
It is worth mentioning, that at the beginning there is a tutorial, that you need to pass. In the end you will not only get knowledge about the game and its mechanics, but also a new character. To find out more about equipment effects and other details, you can visit the Onmyodo section.
The combat strategy is not particularly different from other projects in the genre. In addition to lines, we want to mention that there is a jungle between lines with fortifications. In these, you will be able to get valuable resources, experience, and money.
Besides classic modes, recently in the game appeared an interesting battle royal. There involved simultaneously 3 teams fighting each other. There are 3 people on each team.
Also, Onmyoji offers its own version of the AutoChess genre, where you have to collect and improve your heroes, placing them on chess squares.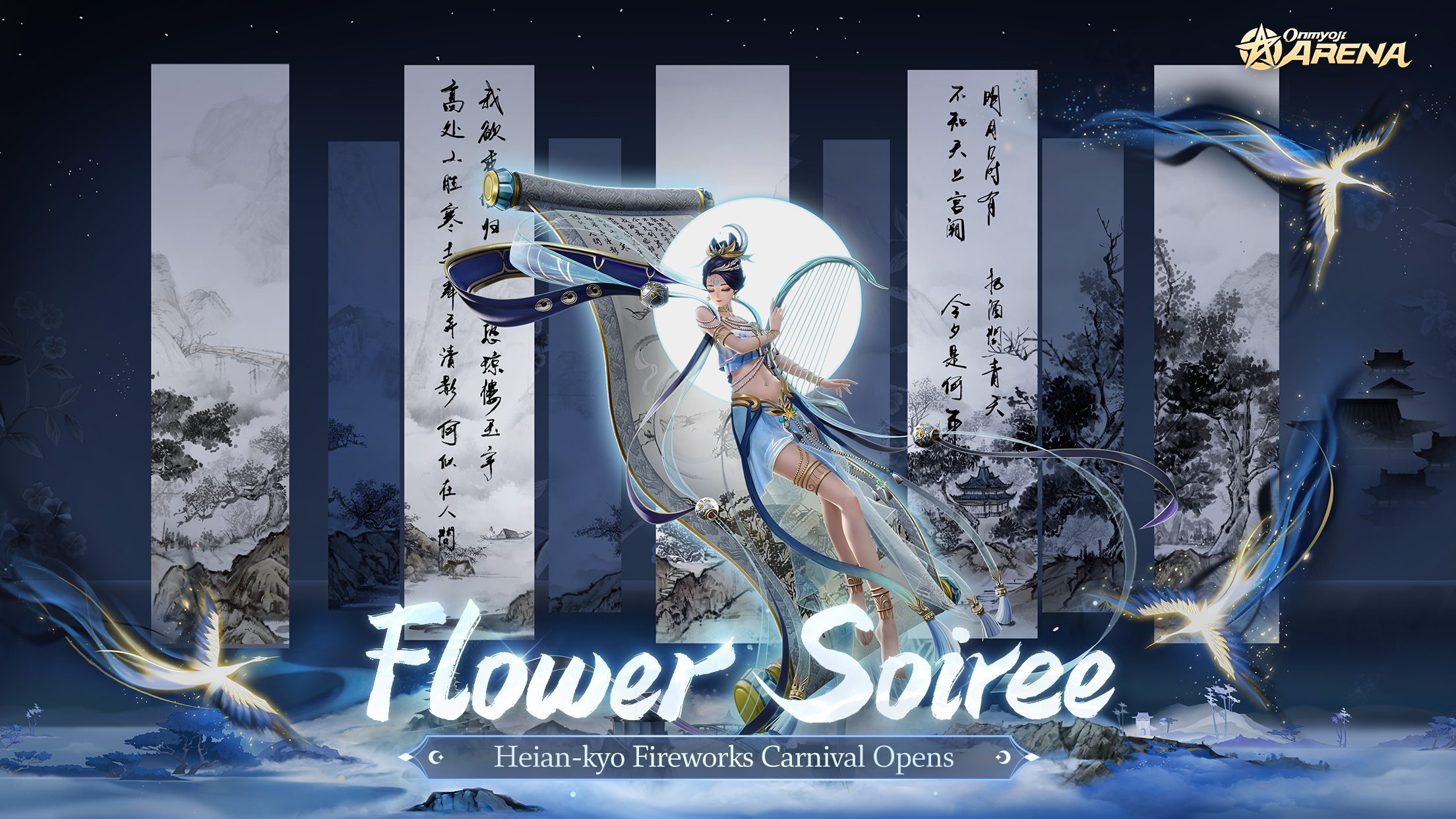 The graphics look good on mobile devices. It will especially appeal to those who are fans of the anime, as well as the universe on which the Arena was developed.


Clash Royale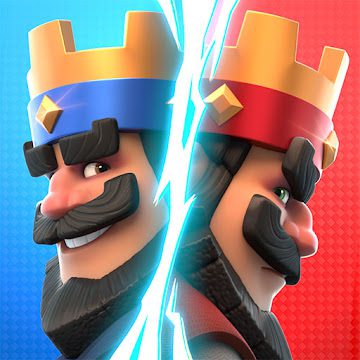 The game Clash Royale from Supercell, having appeared, instantly became a hit, winning tens of thousands of fans.
The popularity of the application is due to the original gameplay. It has elements of real-time strategy and collectible card games.
The player has to fight in arenas of different levels of complexity. The development of the base, troops, obtaining spells is achieved through the collection of cards.
The period of existence of the application allowed players to develop their own tactics to achieve victory.
Before the battle, make sure: the base is equipped with the necessary elements of the ground, air, magic types of attack, and enough level of protection. "Royal cards" and ordinary daily troops differ in their abilities. Save strong heroes for decisive moments, covering with secondary characters.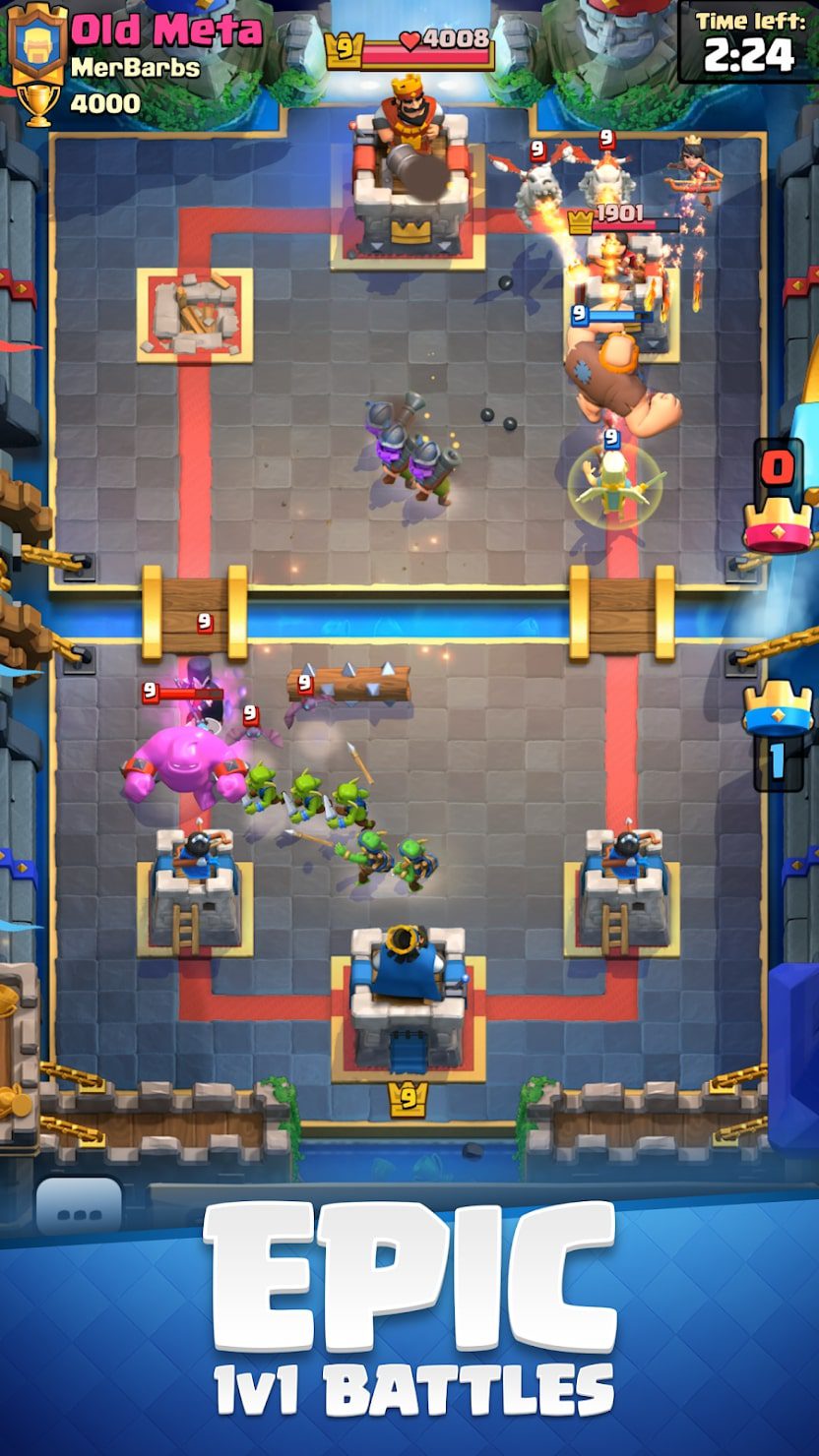 Create your own style of play and experiment by assembling a battle deck. Try different combinations of eight cards to find combinations that surprise your opponents.
Getting strong cards is the main goal of the game. Combat victories bring chests containing useful resources. Unlocking a chest gives the player gold, experience, and rare card types.
Avoid unnecessarily frequent army upgrades, saving your own gold. Reconstruct troops when really needed. Open bonus chests. The interval for obtaining such a chest is 4 hours.
The main action takes place in the arena. The player uses 4 out of 8 cards of the chosen deck at a time. The goal of each battle is to inflict damage to the enemy base, including the king's castle, 2 defensive towers. Destroying the enemy castle gives an automatic victory until the end of the round.
The difference from other similar games is the short battle, lasting up to 4 minutes. The main battle takes 3 minutes. An extra minute is given if there are an equal number of surviving towers.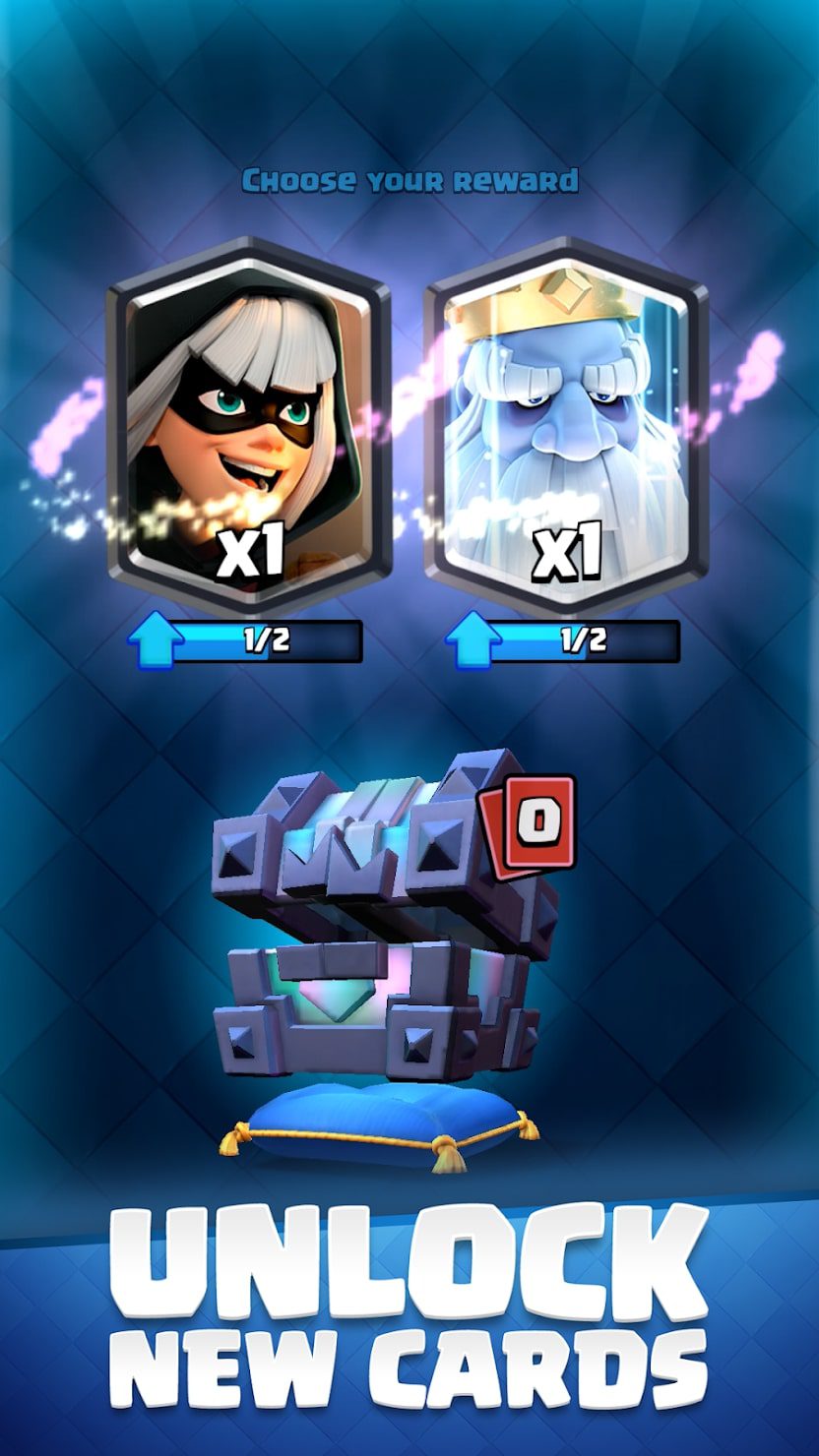 The game partially repeats the experience of the successful fellow Clash of Clans. What sets Clash Royale apart is the ability for players to fight, thanks to the powerful synchronized multiplayer.


You may also like: 11 Best Games like Humankind for Android & iOS
Lords Mobile: Tower Defense
Lords Mobile is an MMORPG that mixes strategy elements. Cartoonish graphics are waiting for you, which have an incredible charm.
Everything in Lords Mobile is built on several modes, the main of which is the PvP battle between players.
At the start, each user is given a piece of land that they must ennoble, construct buildings, expand territories, and defend. Once you gather your troops, you can try to attack your level fortresses.
The war is primarily about resources, which will allow you to hire more warriors and build more buildings.
Besides battles between players, you'll have to clear the roundabouts of monsters that attack players. Lords Mobile also rewards resources for this.
You'll have heroes as troops, each with their own class, as well as inventory and a skill tree. To strengthen your warriors, you need to collect resources, then create equipment, as well as pump up new abilities and skills.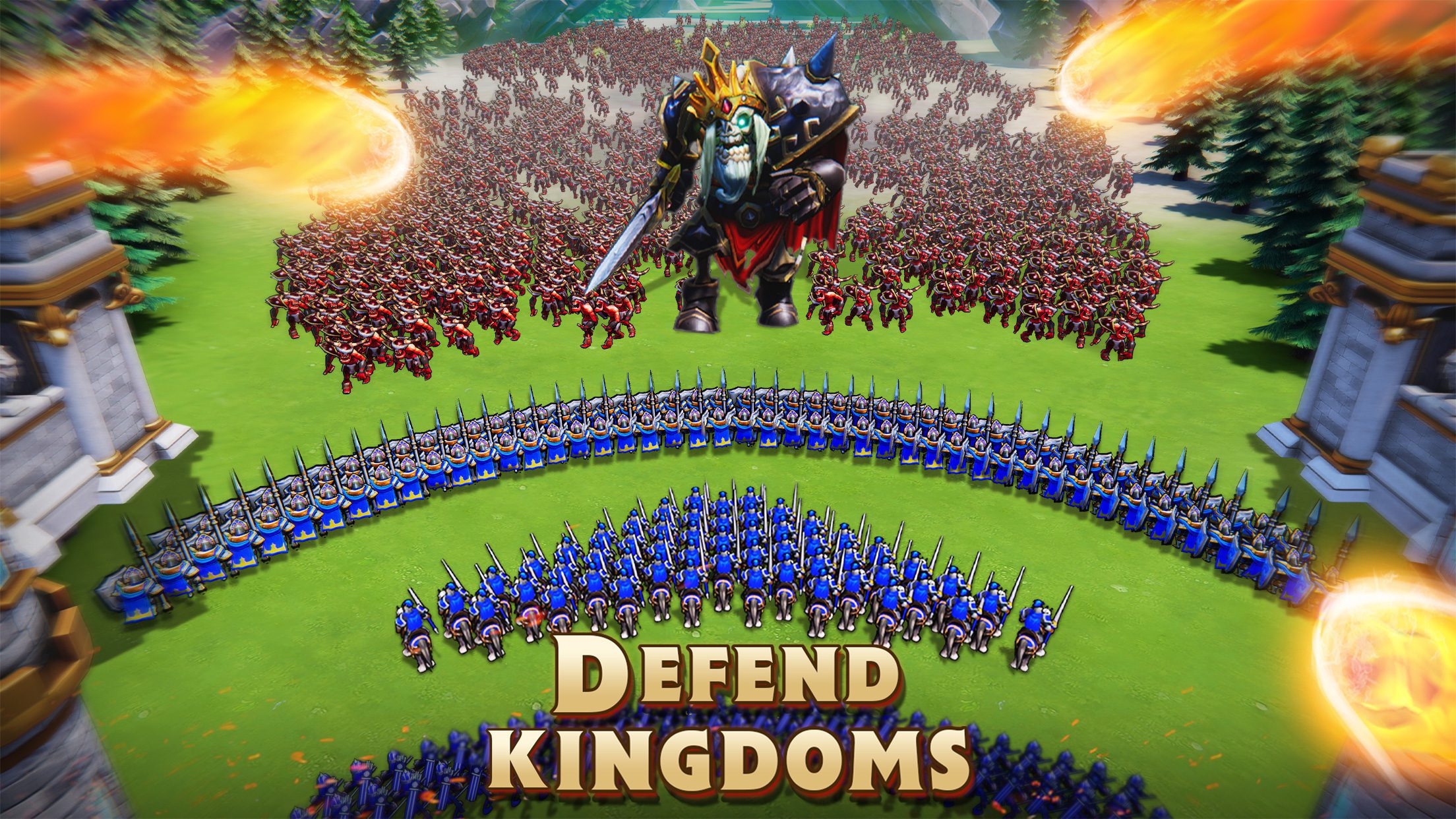 By the way, the battles in Lords Mobile are automatic, but before the combat, you can find out your enemy's combat power by comparing it with yours. If your stats are higher, then feel free to attack.
PvE battles at the first stages can't be avoided, because they are important for development. Later you will have to find a guild. Joining it, you will have new types of quests with increased rewards for resources, as well as support from other players.
Together you can go on a conquest of other people's castles. Besides, you can help your guildmates.
Among other content, three modes are worth noting.
Hero's Trial – mode against the bots, in which you choose five heroes and pass several locations. For successful completion, you get a large number of resources to improve your heroes, as well as experience.
Colosseum is an analog of the arena, so the battles are between players. You choose 5 heroes on each side, after which the battle begins, during which everyone receives rewards.
Labyrinth is a PvE mode in which you fight against monsters. If you pass successfully, you can get gems.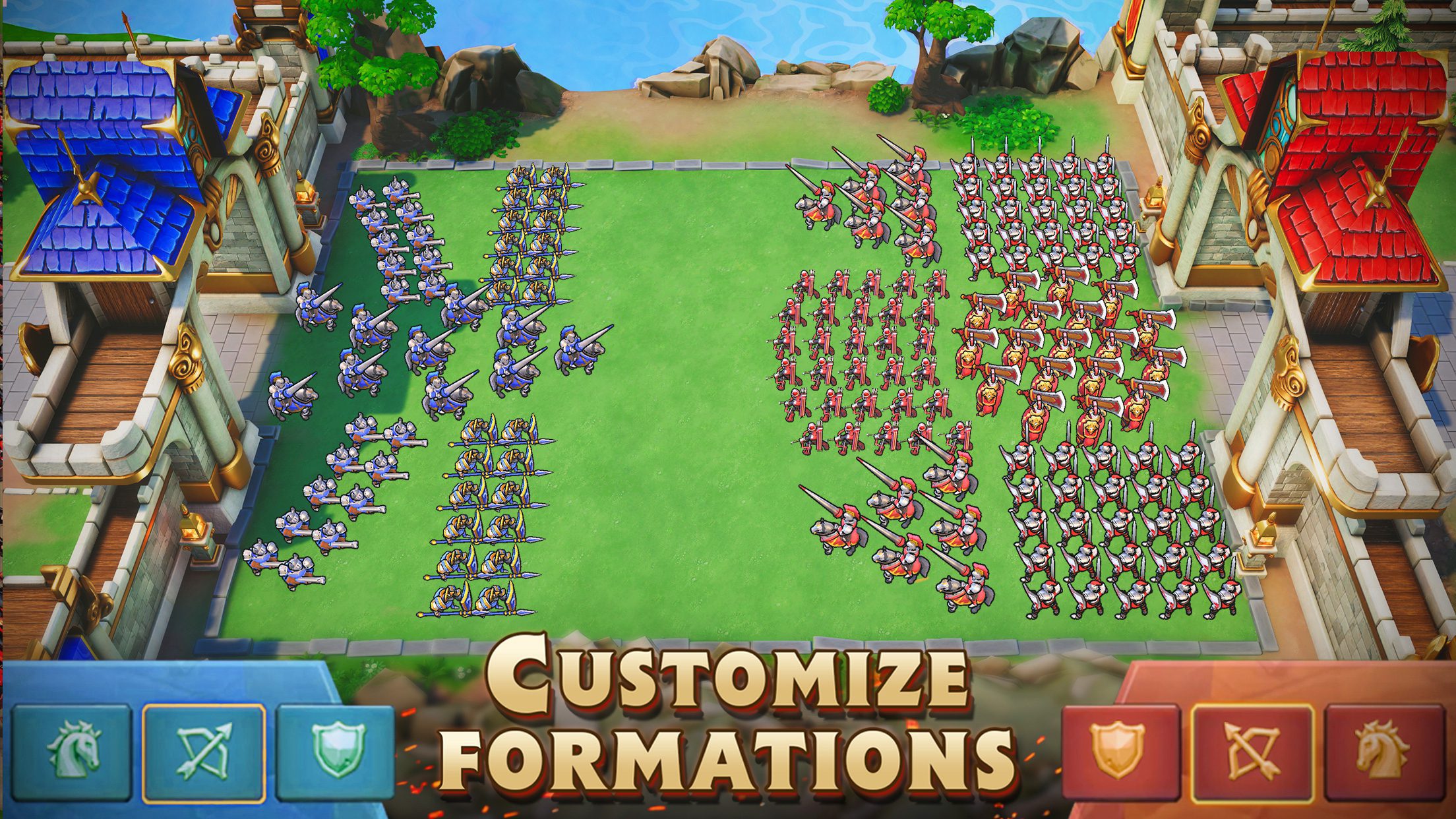 Lords Mobile is first and foremost a game about cooperation. Outside of the guild, you won't be able to achieve true greatness. Definitely, we can say that they have really worked on this project because each of the elements combines well with each other.