Old photographs are an essential part of our life. We can look at the past with different eyes. Many of us keep the most valuable old photos of our relatives and friends.
Unfortunately, time goes by and the photos are getting worse and worse. Cracks appear and some colors disappear. What should we do? Do not rush to go to photoshops and pay a fortune to have your old photos restored.
All you need to do is download the apps that will automatically restore any photo. Moreover, most of these apps are capable of restoring colors in black and white photos.
This process will fill the photos with new meaning and bring them to life. We have selected the best old photo restoration apps for you. Try them and you can give your vintage photos a new life.
You may also like: 7 Best Apps to Add Timestamp to Photo (Android & iOS)
Remini – AI Photo Enhancer
This photo editor can do wonders. Let's take a closer look at its tools. Firstly, you can restore any of your old photos. An intelligent photodamage analysis system can recover the lost parts.
All you need to do is upload a photo. For best results, use the scan. Moreover, all the functions that we list in this app also work for videos. The next tool is the colorization of the photo. Have you ever noticed that black and white photos have some kind of mystery?
Try to restore colors in black and white photos. You will be surprised how people start to look like real ones. Colorization will allow your photos to become vibrant and full of life.
Another thing that makes the app cool is quality improvement. If your smartphone camera has a poor resolution, then you can upload any photo to the app and it will increase its quality.
Plus, you will be surprised at the result because artificial intelligence flawlessly recognizes facial features and other objects to improve the quality. In addition, it is important to note that the app has basic photo editing and painting.
Unfortunately, some functions of the app are limited to the free version. You will have access to several improvements as well as the colorizations of the photo.
If you want to get the full set of tools, then check out the paid version that will allow you to enjoy the full functionality. A monthly subscription costs about $5.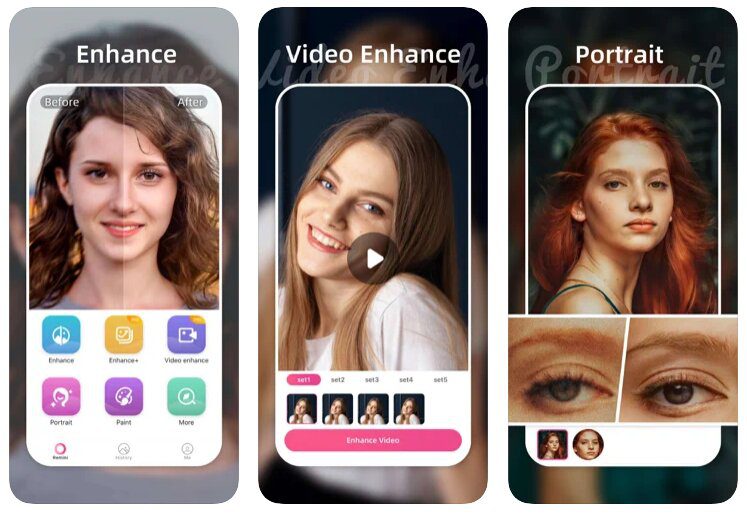 You may also like: VIMORY: Slideshow Video Maker & Photo Editor App Review
Old Photo Restore & Repair Old Photos Recolor
Even though old photos of our relatives and friends are stored in the albums, they deteriorate over time. Every house has an old album, which is not always stored correctly. Sometimes, we leave these albums in the attic where the humidity is high.
Valuable photos worsen, crack and fade. Do not forget that this is the memory of your family that you should cherish. Download this app and it will help you fix any photos. Even the most damaged photos will be restored.
Upload the photo to the app and it will start processing. It takes a few seconds. Moreover, it not only removes blur, abrasions, and cracks, it also restores colors.
You will be amazed at the quality of the result. It is an indispensable assistant for recovering any photos. The app takes about 120 MB and is translated into several languages.
The developers periodically update the app and add new photo recovery tools. Download it and save your family's memory.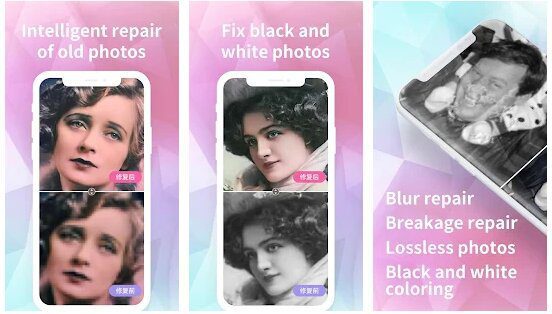 Old Photos Restoration
Photo restoration is a very reverent and individual process. This app will allow you to recover photos manually or automatically. It has several tools. Firstly, this is a conventional photography restoration.
The app uses artificial intelligence to recover photos perfectly. It recognizes facial features, clothing, objects, and shades. Secondly, this is a dynamic photo. You can bring your memories back to life. Fill the photo with life and revive them.
You will receive small videos where people in the photos will move, smile, wink at you. You can roughly understand how the people who lived before your birth moved.
The third tool is manual recovery. This is a professional tool that will allow you to take full control of photo recovery. Moreover, the app will help you find experienced professionals who have restored tens of thousands of photos.
You can use the app as entertainment. Try the aging or rejuvenating effect. Upload your photo and the app will make you an 80-year-old man or a three-year-old child. And the last effect that is needed by all restoring apps is the restoration of colors.
The app accurately restores black and white photos using artificial intelligence that determines the required color. If you want to get more functionality of the app, then subscribe to a paid membership. Choose your subscription terms and enjoy the full set of photo recovery tools.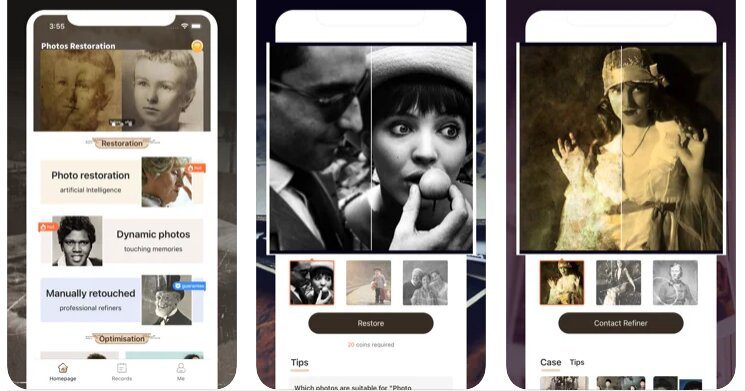 Face Restore Color Old Photos!
This app will allow you to restore photos with any degree of destruction. Moreover, you can restore colors. Smart artificial intelligence technology perfectly analyzes the photo adjusts to the recovery process.
Another thing that makes this app cool is the built-in photo editor. You can change the size of the photo and also improve its quality. The app works automatically. It means that you do not need to waste time manually recovering photos.
All photos are saved to the gallery. The app is completely free, it has no paid analogs. You have to look at some ads to use this app. Many users complain that processing photos take a long time. There is no need to be upset because the result will please you.

You may also like: 9 Best Apps to Easily Turn Photos into Sketches on Android & iOS
Damaged Photo Restore 2 Repair
The app includes 4 professional assistants to help you recover your old photos. Upload a photo to the app and it will start to work wonders. Do not forget that the better the scanned photo, the easier it will be to recover.
If the quality of the photo is low, then the result will be poor. This app removes scratches, cracks as well as dust. You can automatically adjust the detail of the restoration.
Thanks to modern algorithms, the app finds all inaccuracies and defects in the photo and eliminates them flawlessly. If there is unnecessary text in the photos, you can delete it.
The app recognizes objects or objects behind the text and restores them imperceptibly. Moreover, you will not have to worry about restoring faces. The app recognizes facial features and restores them with an accuracy of 80%.
If you do not know how to work with this app, then take a look or read the tutorial that will describe in detail all the features. It has an average rating of 4.2 from 5 stars based on over 100 reviews.
It is worth telling that if you want to get a flawless result, then you need to manually remove all defects in the photos.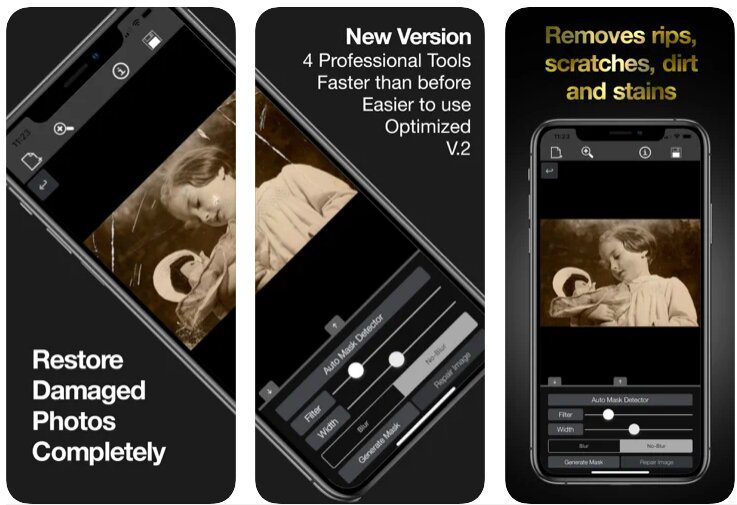 AI Colorize & Restore Old Photo: Fix Damaged Image
You just need one click to restore your old photos in this app. You can breathe new life into photos. The app gets the job done and saves photos of high quality.
Have you ever wondered what black and white photos looked like in color? Try to color the photos and look at them from a different angle. If you have an old photo album, then you can firstly restore the photo and secondly colorize them.
Another thing that makes the app useful is the ability to look at the past with different eyes. Find on the Internet the oldest photos that were taken by mankind and restore their colors. You will be surprised at how people used to live and what they were like.
If there are scuffs or noises in the photos, this app will quickly deal with them. It also removes scratches and blur. We do not advise you to buy the paid version because the free one has almost the same functionality.
Moreover, the paid version also has ads. It needs to be said, this app is good for beginners to recover photos. It has been installed over 50,000 times and takes up just less than 10 MB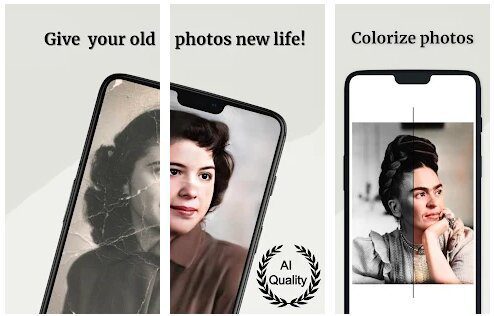 RSPhotoEditor: restore & colorize old photos
Download this app and you can completely immerse yourself in the process of photo restoration. Upload a photo to the app and scan it. Before the restoration process, you will see all the defects.
They will be highlighted in blue. This is very convenient because you can adjust the result further. AI highlights the wrong parts. Remove unnecessary blue highlights and start restoring the photo.
You can improve the quality of the photo. The only drawback of the app is its poor colorization. Colors come out desaturated and sometimes erroneous.
Developers are trying to add new colorization algorithms to improve performance. The app has a paid subscription which will increase the instrumental.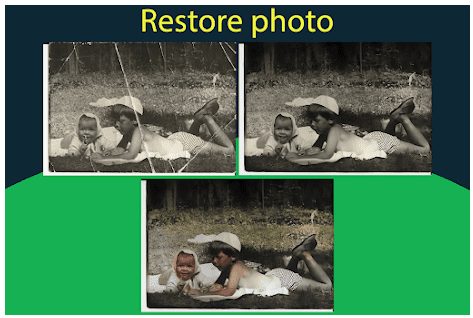 You may also like: 8 Best Apps to Animate Still Photos on Android & iOS
Colorize – Restore & colorize old photos
Let's take a closer look at what this application can do. On the one hand, this is an excellent photo restorer. The app uses AI to detect faces, objects, and plants. It removes any defects. You can make the photo perfect.
On the other hand, it can restore colors to black and white photos. All photos were black and white and for many years we could not fully see the color scheme. Try using color grading and colorization to bring your photo to life.
Moreover, quality enhancement is an important tool of this app. You can sharpen and enlarge photos up to 4K. Plus, the app is a basic photo editor. Work with color correction and resize photos. Share your photo on social networks directly from the app.
It needs to be said that your data will be reliably protected. Even though you will upload dozens of your old personal photos, it does not collect or download them.
The app needs multiple permissions to work such as the gallery, camera, and memory. The navigation of the app is intuitive so you won't have any problems with it.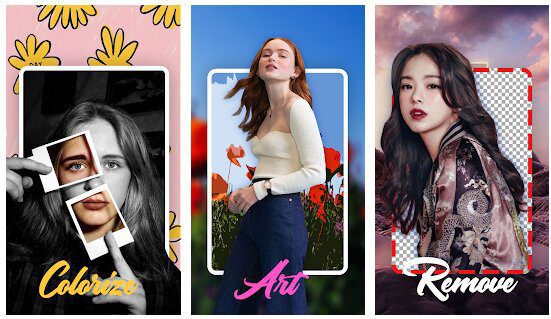 Photo repair editor
This app was developed by a professional photo restorer. He has been working with photos for over 10 years and therefore decided to optimize the photo recovery process. It's free, but it takes some time to complete the task.
Select photos from your gallery and send them to restore. You will be guaranteed the removal of all defects and the colorization of the photos. Moreover, the coloring is made manually.
It is much better when the process of recovering photos is handled by a real person, they the artificial intelligence. The main advantage of this app is that it only takes up 2MB.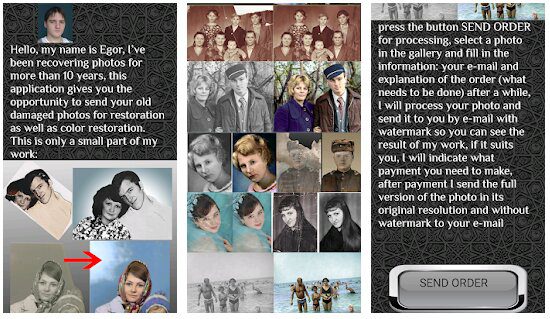 You may also like: How to Transfer Photos from iPhone to PC Without iTunes in 2021