Every day we take several million photos all over the world. How can we remember the dates? Put a timestamp on them. There you can mark the date, time, and even the location of the photo you took.
Unfortunately, the built-in cameras of smartphones cannot automatically put timestamps. There are many apps developed that will allow you to do this. We've put together a list of 7 the best timestamp apps for you. Try every app to find the most suitable.
You may also like: Filmage Editor App Review
Add Text and Timestamp on Gallery Photos
The first app on our list does a great job of attaching timestamps to a photo. There are four kinds of stamps in this app. The first type is date and time. Use this function for any purpose – personal or commercial.
Select a photo or carousel of photos and the app automatically sets the required date and time. All your memories will be saved. Moreover, you can add personal tags that will allow you to indicate more information about the event.
The next type of stamp is your signature. This will make the photo even more important. Plus, no one can steal a photo because it will have your signature in the form of a watermark.
The third type of stamp is watermarks. It's frustrating when other people use your photos. You spend a lot of effort to create the perfect composition and someone just takes and uses your photos for their aims.
You can prevent this by adding watermarks. The last type of stamp is a geographical tag. This app will allow you to set the location directly on the photo. You will never forget where this photo was taken.
By the way, try to take the same photo in a few years and see what has changed in this area. The app costs about $5. At the same time, it has a huge functionality. Select all types of stamps and change fonts in the settings.
In addition, this app can be used as a basic photo editor.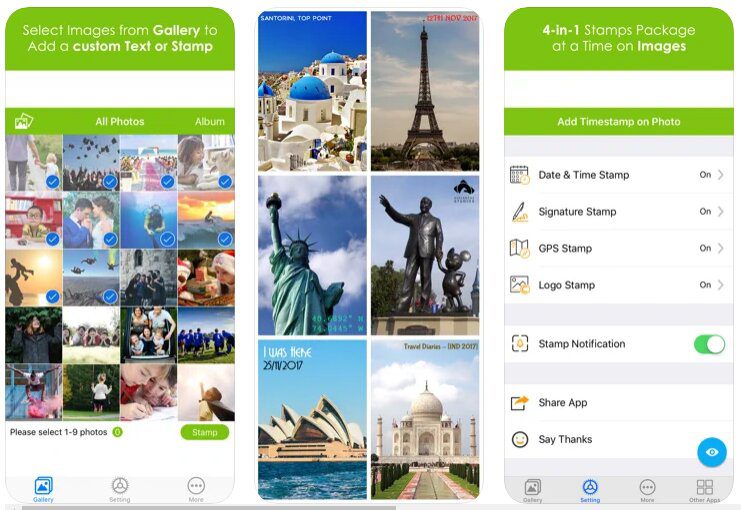 You may also like: VIMORY: Slideshow Video Maker & Photo Editor App Review
Timestamp Photo and Video Free
It is impossible to store everything in memory. Download this app and add more information to your photos. This app will allow you not only to add temporary stamps to photos but also the video.
One of the advantages of this application is that the time is very accurate. It adds even seconds. Your photos will not be boring because the app supports more than 40 different types of stamps. You can completely customize the text.
Select a font, color, and size of the text. Sometimes, it is worth choosing the correct location for the timestamp to make the photo more attractive. This app will allow you to change the location of stamps.
It needs to be said, that the quality of the photo does not worsen after processing. The app is free. At the same time, it has nothing superfluous.
It is very rare to find a bug that can slow down the video after adding a timestamp. The developers are trying to fix this problem, so it appears less and less often.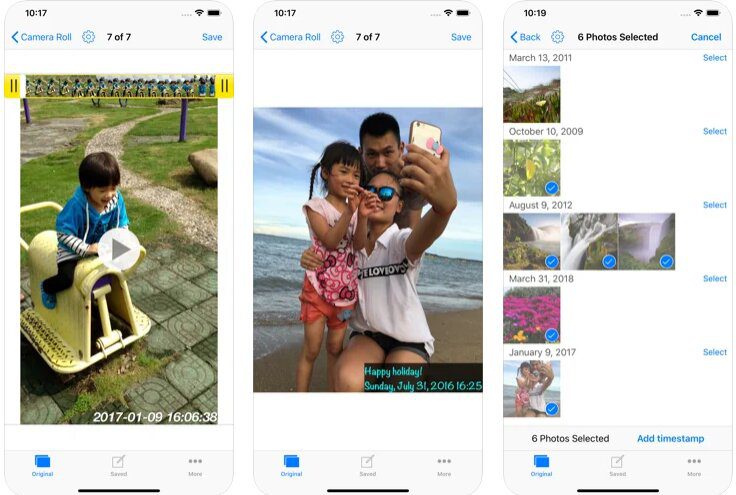 Timestamp Camera Basic
A lot of apps help you to add timestamps but you need to do it by yourself. Try this app. It is an excellent camera that allows you to take photos and videos while automatically adding time. It is very accurate. You will be able to see milliseconds.
Each of your photos or videos will become vivid and memorable because the app has more than 80 different types of timestamps. You can change and personalize them.
Add a GPS location. Plus, the easiest way to share a location is to simply add an address. The app records video in HD format and 60fps. You can record video without sound.
If your phone is already old and consumes too much battery, then you can activate the battery-saving mode. The app will automatically change the brightness of the screen and turn off additional functions.
In addition, the app is rated 4.8 out of 5 stars based on over 25,000 reviews. It only takes about 30 MB. And finally, the app supports over 20 different languages ​​so you won't have any difficulties in using it.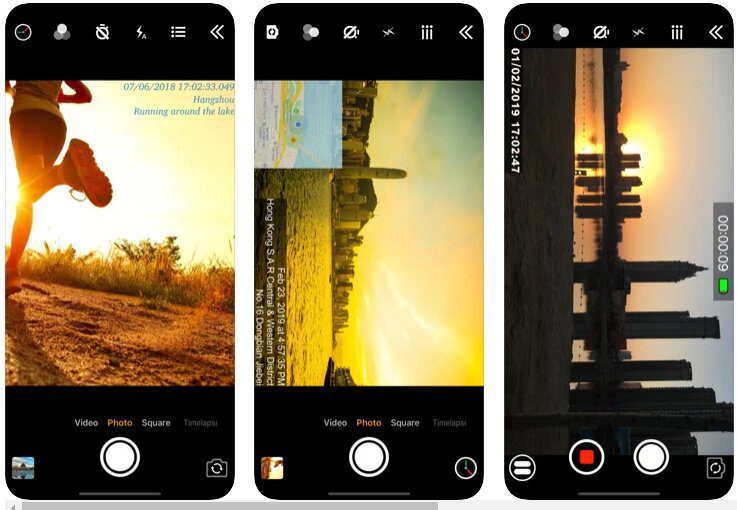 Timestamp Camera – Stamp Time and Date on Photos
This app is a perfect tool that helps your blog. It is especially useful for Instagram. Add time and dates to photos to show followers more information about your life. How to add timestamps to photos?
It takes a few seconds. You can take a photo using the camera of the app or upload them from the gallery. All stamps are fully customizable. Turn on your imagination and create the best design. Moreover, the photos have got high resolution.
Who is this app for? First of all, for young parents who need to remember every moment of their baby. It is also useful for nutritionists who schedule calories and meal dates.
In addition, this app is useful for athletes with their constant workouts. The app has been installed over 500 million times.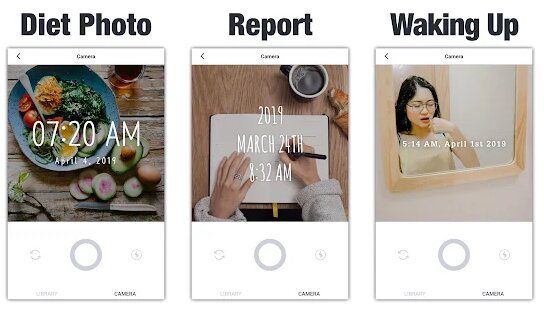 Timestamp It – Photo Stamper
Forget about adding timestamps to every photo. Open this app and select several photos at once to add stamps. You can completely change the design of the stamp. Try modern, digital, or retro designs.
Share photos directly from the app with your friends on different social networks. If you are missing the function of the free app, then you can check out the pro version. You will have more opportunities to edit and add a stamp.
Sometimes the app can crash. The developers are trying to fix this problem by increasing the performance of the app. Design and navigation are intuitive You will not be confused. Moreover, the app has an excellent rating and a large number of downloads.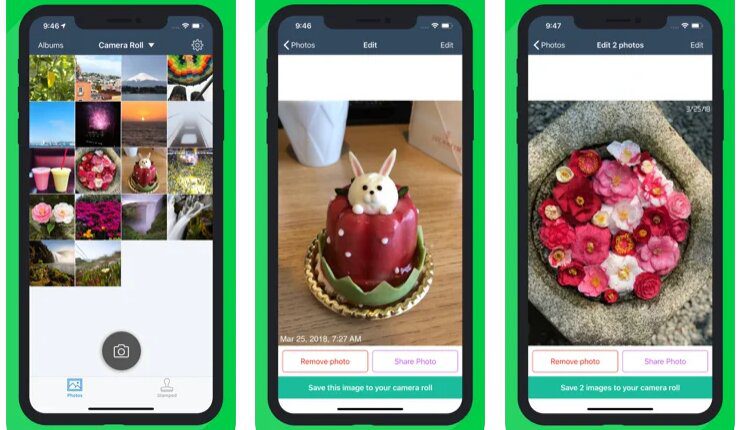 You may also like: Yasisoft Image Editor Software Review
Auto Stamper™: Date and Timestamp Camera App
Stamper will allow you to add 5 types of stamps to the photo. Moreover, you can add all five stamps at once. Open the settings and select the types which you want to use. Combine different stamps to add some interesting information to your photos.
Your blog will become stylish and more modern. The app does not change the quality of the photo after processing. You are waiting for more than 50 different formats of stamps. Adjust the placement, size, and direction of the timestamp.
If you want to protect your photo from illegal owners, then add copyright marks. Other users will know where these photos were taken from. If you have errors or questions, then contact technical support.
You will receive a quick answer to any of your questions. Sometimes, photo processing takes up to 3 minutes. It all depends on the model of your device.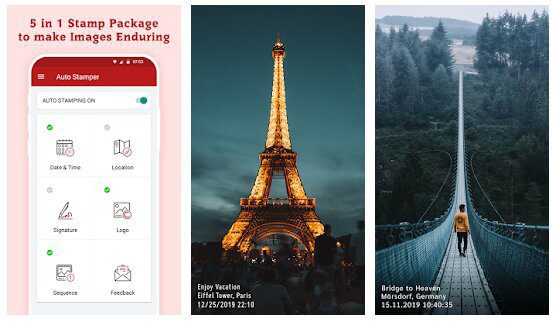 Photo Time Stamp – Easily timestamp your photos
What makes this app different from others on our list. First, tIt has unusual timestamp settings. Open the gallery and select the photos you want. The setup menu will appear in front of you.
Use the sliders to change the size of the timestamp. You can also choose the font style as well as the location of the stamp. Personalize your Logo with different colors and effects. The app works quickly and does not consume a lot of battery.
It recognizes photos of a portrait or landscape position. Some users face the problem that the photos disappear from the gallery after processing. All you need to do is scroll down your gallery and there you will most likely find the processed photo.
One of the main advantages of the app is its size. It takes up no more than 10 MB and does an excellent job with its only function.

You may also like: 11 Best PDF Editor Apps for Android & iOS