Sometimes we really need money. Our credit card is almost depleted. What should we do? Try an overdraft system that allows you to debit more money from your balance. It's almost like a loan, but there are some differences.
There are several types of overdrafts. We have compiled a list of the best overdraft apps for you. You will have new opportunities such as buying raw materials or equipment, paying for utilities, as well as issuing salaries, and paying taxes.
Read the terms of the loan before using the overdraft. Do not forget that with an overdraft you cannot withdraw money and transfer it to another account. In our top, we tried to describe in detail all the conditions as well as the pitfalls of each app.
You may also like: 9 Best Apps Like VectorVest for Android & iOS
Current – Modern Banking
The first app on our list will allow you to get an interest-free overdraft up to $100 if you have a premium account. Moreover, you can earn cashback. Carefully follow the list of companies that can provide you with additional cashback.
Let's take a closer look at what this app can do. Firstly, it's worth noting that you can pay for purchases for free with a refund of up to 2 days. Use an overdraft system to make your life easier.
What are the terms? The app does not require a minimum balance. Moreover, it has no tax pitfalls. You will be able to receive cash back for purchases in clothing stores, food, and gas stations. It will notify you of the necessary payments under the terms of the overdraft.
Plus, the app automatically writes off the money. It is worth noting that the app supports Apple Pay. This means that you will be more mobile. Don't waste time looking for a credit card.
The app has built-in protection with Face and Touch ID. The tech support works around the clock, regardless of holidays. Another thing that makes the app user is a teen account.
If you are a parent, then you can fully control your child's finances and become an excellent money mentor. Help your child save money and spend it rationally. Set up automatic issuance of money every week.
Moreover, you can set household chores for a price. Unfortunately, hackers sometimes break into the app and cause significant harm to users' finances. Developers try to increase protection and prevent hacks.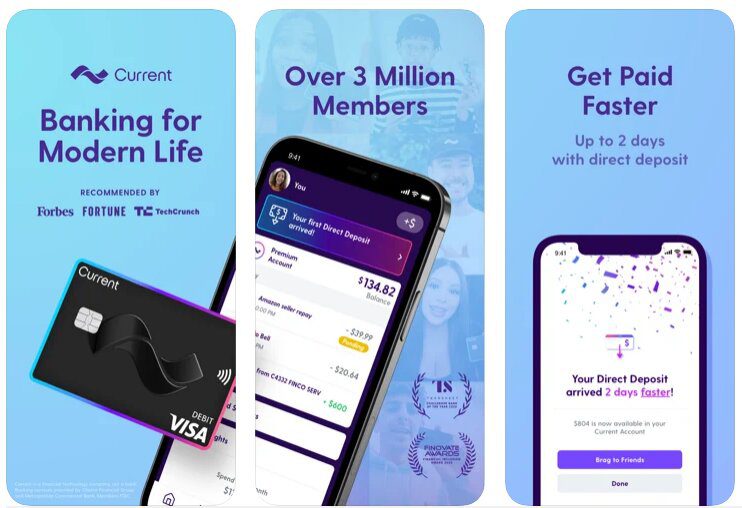 You may also like: 11 Best Trading Price Alert Apps for Android & iOS
Payactiv
This free app will allow you not only to use an overdraft but also to save and earn money. You can get the desired amount within 2 days. This application has a fairly low commission. It is a huge community that allows you to manage your money.
You can send funds to your family member and friends. All you need to know is the recipient's phone number. Set a goal and start saving money. The app will notify you about savings and show statistics about the increase in money.
If your card balance is low, you will receive a notification or an alarm. Install automatic payments. The app will pay for all receipts and checks. If you have any questions you can write a financial assistant to get tips and advice on any issue.
Moreover, the app will show you all the conditions of the loan and commission. We will not pay attention to the protection in detail. The protection system of the app meets international standards.
Another thing that makes this app cool is environmental awareness. Plastic cards are made from recycled waste. You can personalize the design of your card. Get your first deposit with a small amount.
Then you need to return the money to open more options. With the help of an overdraft, you can pay for any purchase no matter what your balance is.
It needs to be said that technical support works with errors. Therefore, be patient. You will surely get the answer.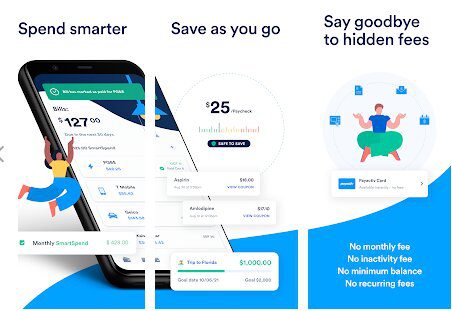 Ahead Money
Download this application and you will be able to fully control your money status. The main function of the offer is an overdraft on any amount according to your credit history.
If you are a conscientious person and always pay loans on time, then you can receive an overdraft of up to $100 without fees. This app is not a private bank. Developers cooperate with world banks and provide services on favorable terms.
If your balance is zero, then you can still pay for the purchase and take a small overdraft. Refund your money within a few days so as not to pay a fee. Install a notification for paying taxes and bills. The app can automatically pay for your checks.
Everything is open so there are no pitfalls. Moreover, the app cooperates with ATMs throughout the United States of America. What are the conditions in this application?
Firstly, you can receive a deposit amount of up to $1,000, taking into account its return within 35 days.
Secondly, you can use your card even with a negative balance. Unfortunately, not all purchases are allowed with an overdraft. Open the list as an app partner and make sure you can buy overdraft products. The latest updates have added new animations and redesigned graphics.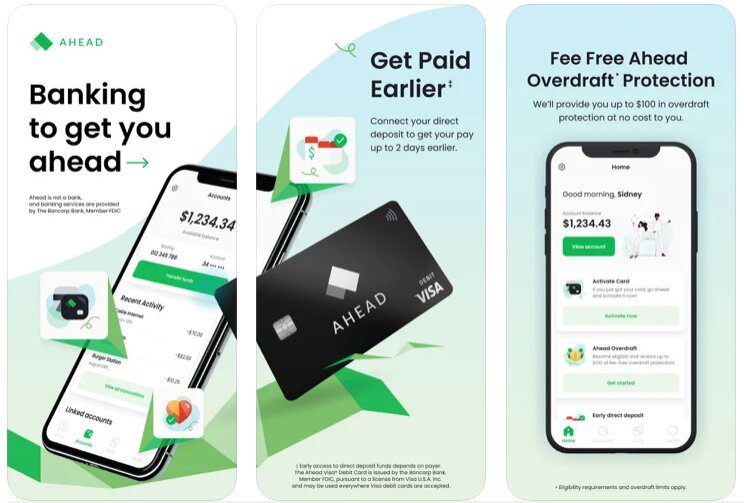 You may also like: 11 Best Apps Like Lenme for Android & iOS
Monzo Bank
This app is used by more than 4 million people around the world. It will make it several times easier to control your money. Open the app and enjoy the intuitive design and nice colors of the theme.
Сreate a free account. Then, upload your bank card details. The app will notify you of all required payments. If you do not have enough money on the card, then use the overdraft function.
Even with a zero balance, you will be able to pay for your purchases. Another thing that makes this app awesome is the premium account. It will allow you to receive personal statistics and cashback.
You will be able to receive a deposit of up to 85,000 pounds for a short period. The app has an average rating of 4.8 stars. It takes over 370 MB.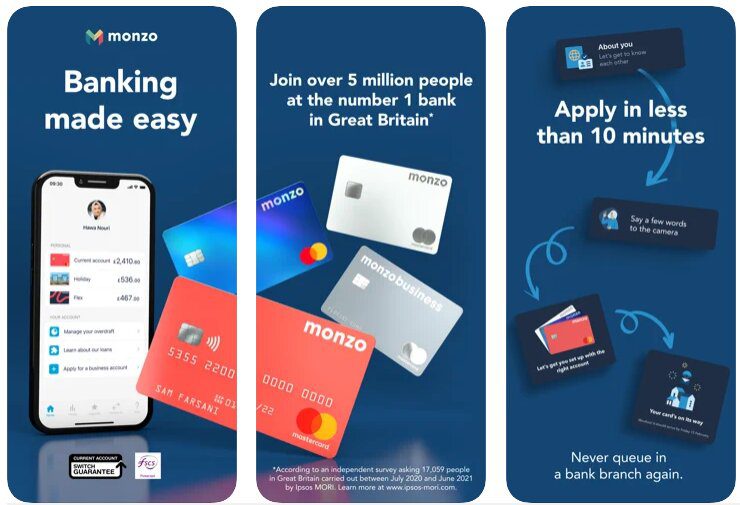 Dave – Banking for humans
Financial health is very important in today's reality. Download this app and you will receive several dozen financial instruments that will allow you to adequately estimate your wealth.
You can use an overdraft to pay for your purchases with a zero balance. The more you use an overdraft, the more the amount is available to you. It's like completing levels in a game. The more levels you have passed, the more opportunities you have.
Add your credit or debit card details to the app and you can send money to your friends and acquaintances. The app has no hidden fees. You can read all the conditions in the terms section.
If you are an experienced user of a credit card, then the interest rate will be lower for you. This app will become a mediator between you and your bank. You can communicate directly with the bank or ask for help from this app.
Some ATMs charge additional fees when you deposit or withdraw money. Thanks to this app, you will forget about this commission because it has more than 30 thousand terminals throughout the country.
Moreover, you can plan your expenses and income. Set goals for the month as well as spending limits for a day, a week, or a month. Another advantage of the app is that you can earn extra money. Leave your summary for a job search and the app will offer you various options.
Some transfers take a long time. This app will allow you to make a transfer within 1 day. In most cases, the transfer time is only a couple of minutes.
It is worth noting that if you do not pay overdrafts on time, you will receive a penalty. This is additional money that you will need to return to the app.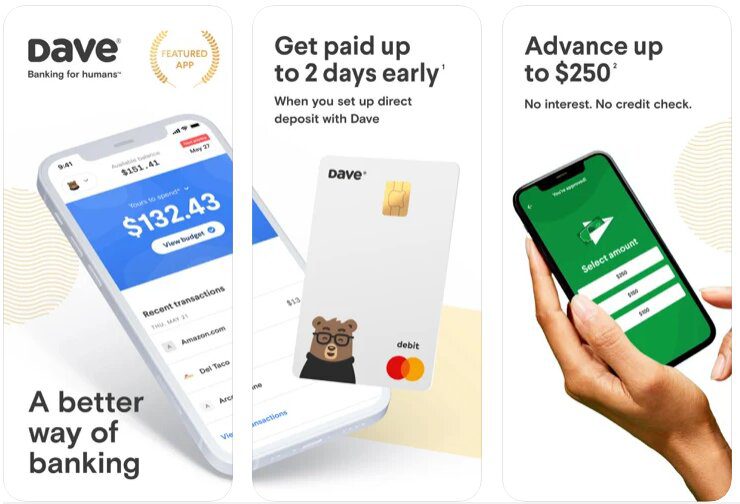 Payday Advance – Fast Loan App
You don't have enough money to make a purchase? The overdraft will allow you to buy anything, even with a low card balance. It needs to be said that the app will give you money at any time.
You can get a small loan when you need it. Let's take a closer look at the terms of loans. For example, if you took out a loan for $3000 for a term of 6 months, then the fee will be about 4%.
APR also affects fees. This is a special indicator that calculates the percentage of the fee. The app cannot influence this indicator in any way because it is an intermediary between you and the bank.
We would like to note that the minimum overdraft period is about 60 days and the maximum overdraft period is 2 years. Your first overdraft will be small because the app needs to understand that you are a conscientious payer.
Many users are satisfied with the terms and use the app for a long time. Sometimes situations arise when we urgently need some amount that we do not have. The app will become your assistant in the financial situation.
The design of the app is minimalistic. The navigation is intuitive and does not allow confusion. All you need to do is enter your data. The app will require your passport to make sure that you are not a fraud.
And finally, the app only takes 35 MB. It does not run in the background and waste additional power.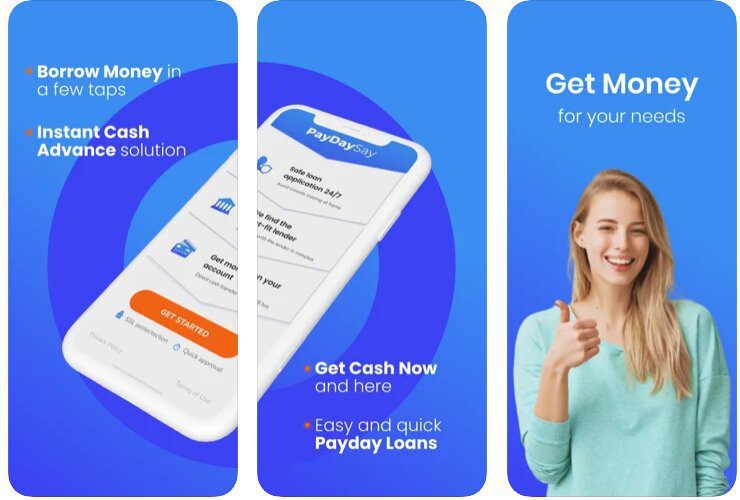 Cash Advance Loan App – Instant Payday Loans
The last app on our list will allow you to get an overdraft easily and quickly. This is especially actual during the holidays. We need to buy gifts for our family and friends, but we do not always have enough money for this.
This app will allow you to receive money in a loan or overdraft within 24 hours. Carefully read the terms and pitfalls so as not to overpay the commission. The app's technical support works around the clock, so no matter what's time is it, you can get additional money.
It is reliably protected from fraudsters with a triple protection system. All your data and personal information will be safely hidden on servers. When you receive an overdraft, you automatically sign a document with all the conditions. In your personal account, you can see all the documents.
The app cooperates with a large number of banks, therefore, they find the most advantageous offer with the most favorable conditions. Your credit history must be good to get more money.
It is worth noting that the app does not give loans directly. It communicates with the bank representatives and obtains loans for you on the best terms. The app itself does not charge any commission.
The commission depends only on the bank. Overdraft conditions are the same as in other apps on our list. Some users complain that the app cannot accept their overdraft or loan applications. This is because they have a low credit history with poor ratings.
The app has been installed over 100,000 times. Sometimes an error occurs that all your personal information from your account disappears. Do not worry, the app does not cooperate with third parties so your data is protected.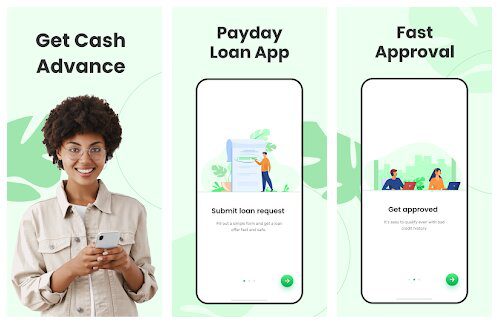 You may also like: 9 Best Apps like Possible Finance for Android & iOS