The virtual keyboard has already become something so typical for our devices we actually never think of it as something we could change and customize.
You may also like: 11 Best GIF Keyboards for Android in 2021
But did you actually know you can change that keyboard that your device initially has to a more convenient and productive one? You should definitely check out our article and find out about the best of them for all the devices.
1. Microsoft SwiftKey
We want to open the list with an application called Microsoft SwiftKey. At the moment, it is considered the most popular application among its competitors. The program lives up to its name 'swift key', working in this application is a pleasure itself. Try it and you won't regret it.
When entering the applications, we need to go through a small registration to create an account and understand a little about the components. In this application, there are a lot of chips, for example: You can swipe the keyboard to quickly enter words, automatically corrects your mistakes, adds new emojis, and more.
The interface of this application is quite simple, because of this, the application is quite easy to learn. In the palette of the application, the most pleasant colors are taken from which it is pleasant to use this application.
Despite the convenience and ease of access of the application, there are both disadvantages and advantages.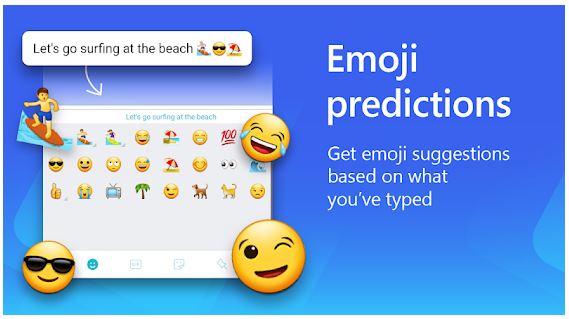 Pros:
Quite a convenient location of the keys
Smart Dictionary
A well-implemented set
Availability of the Flow input mode
Special key for selecting emojis
Cons:
Unstable operation of the application
Inconvenience of the Flow key
It is not very convenient to switch the language
Complete lack of dictation
After reading the reviews, we can say that all users are satisfied with the application the only drawback that I can highlight is user complaints about account hacking.


You may also like: 11 Best GIF Keyboards for Android in 2021
2. Keyboard Engine
This keyboard is available on the Steam gaming platform called 'Keyboard Engine'. This is a fairly popular application on this platform. This engine allows you to configure special keys that will facilitate your game or just work at the computer. Here you can easily create your own keyboard design. Even in the app, you can share your personal design with your friends.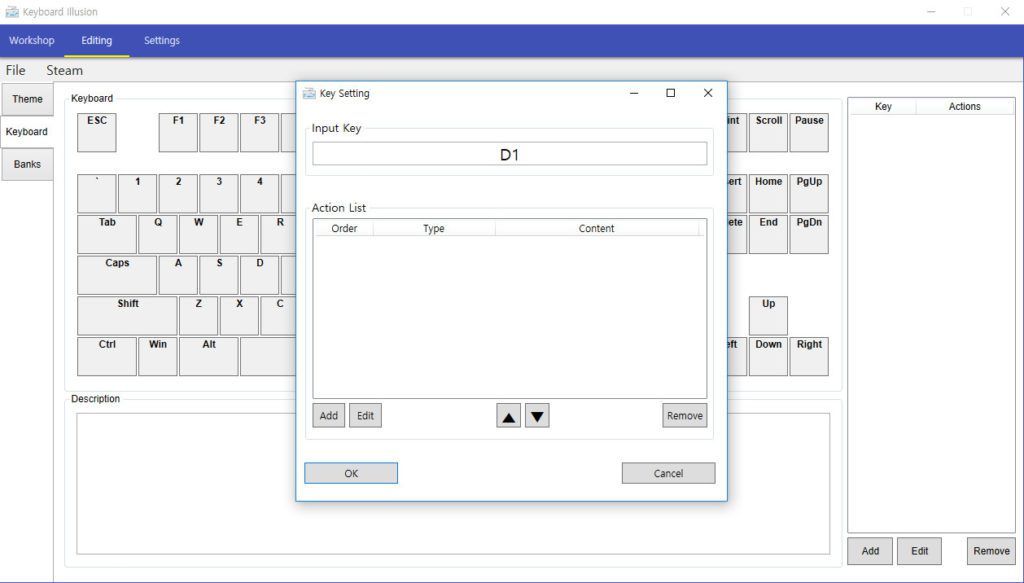 When we log in to the apps, we see a simple keyboard design. When you press a key, it will automatically appear on the screen in the app. On this improvised keyboard, you can set special keys, for example, F5-to open Google, F4-to open the calculator, etc. In general, the application will greatly facilitate the use of the computer.
The interface is quite simple, but it is this simplicity that allows you to quickly get used to the application and assign keys as quickly as possible.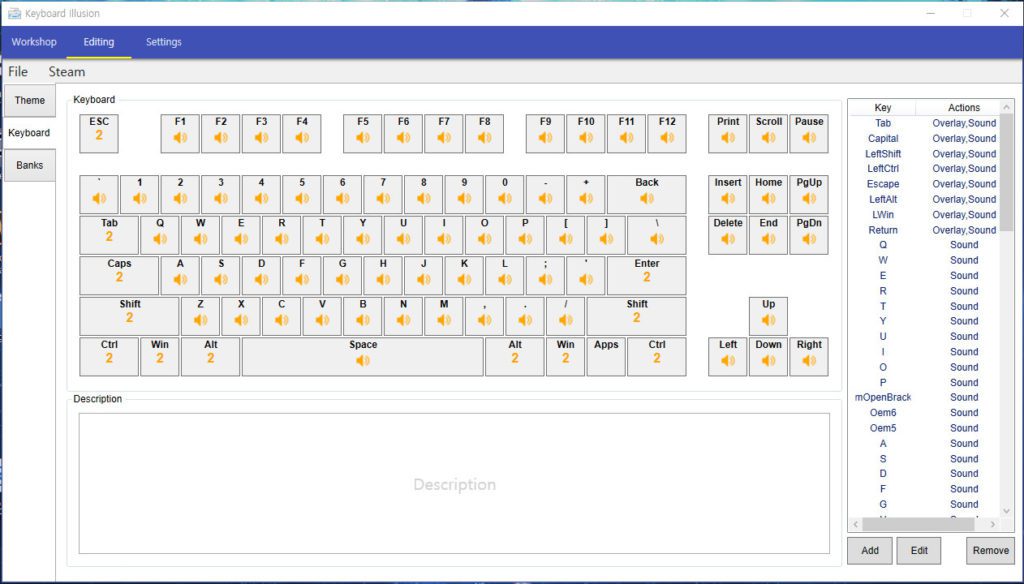 After reading the comments, I concluded that every user likes the application and this application can be safely advised to make it easier for a person to get used to using a computer.
We did not find any disadvantages in this application, but I can highlight the advantages:
Easy to use
Pretty nice design
There is an option to share your own keyboard design
You can set special keys that are not available on the computer
3. Grammarly
The next app on our list you can find the Play Market platform and it's called 'Grammarly'. Here you can edit and correct your grammar, punctuation, etc. In writing a sentence, you will be assisted by a personal assistant.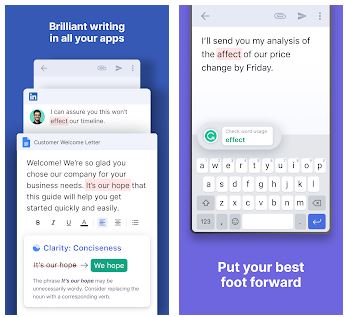 When you log in to the app, we see a rather banal design, very similar to a regular translator. But despite this simplicity, the application has a lot of cool things, for example it will help you write without mistakes, expand your vocabulary, etc. The application also has a tool for synonyms. With it, you can improve your message writing skills.
Coming out of the above said, the interface is quite simple, but the application allows you to change it for yourself, add different emoticons and different ready-made designs of other users.
The ratings and comments of this app are just on top, all positive, every user is thrilled with this app, and its most important plus is that it is absolutely free!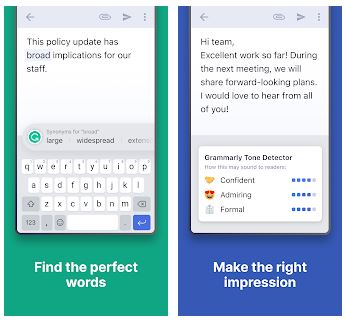 There is only one thing that can put off at first glance, it is that the application will record all your data, by type of user's IMH, credit card numbers, etc. But do not worry it will be recorded in other assistant applications and your personal data will be safe.
Pros:
Everything is absolutely clear
Very easy to use
Convenient personal settings
But despite the pros and positive user comments in the app, there are a couple of cons, such as:
Can't be completely trusted
The free subscription is quite limited


4. Gboard
Now we want to introduce you to an application from Google called 'Gboard'. This keyboard is for phone users. The keyboard is an addition to the main keyboard and gives it new features and functions.
And even if you're an iPhone user, you can still discover that Gboard is a really cool app suitable for any device.
As we mentioned before, the app has no design as it is just an add-on for the phone, but the lack of design is replaced by adding a bunch of new features such as new languages, additional settings (sounds, sizes, keys), theme, text correction, incorrect input, voice input, dictionary, search).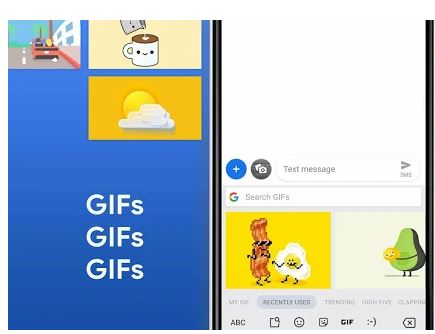 The app also has some special features. Delete text in one move, it will save a lot of your time. Sending GIFs to make it easier to show some of your emotions. And most importantly, communication in a foreign language in real-time, if you have a foreign Internet friend, then this feature is what you need.
After reading some more comments, we realized that the application is perfect and has no disadvantages, only solid pluses. Definitely recommended!


5. Typewise Custom Keyboard – Big Keys, Emoji & Fonts
This app also will be suitable for smartphones only. The application has a rather long name, which at first glance may confuse users, but despite this, the application is quite popular.
The app has a bunch of interesting features. There are 40 languages and accents, which you will also need later. There are key points and much more that will improve your forwarding on the phone.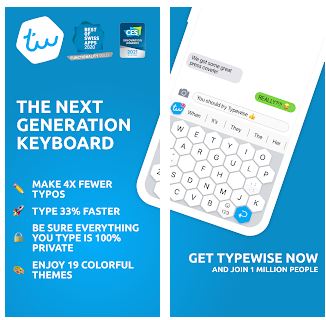 The interface is quite interesting, it is very similar to a beehive. Such an interesting design attracted a lot of users. This format is quite specific, and it will be difficult for someone to master it, and for someone, it will be easy.
Leaving the comment, we can say that half of the users find it difficult to master such an unusual keyboard format, and there is an inconvenience from some keys due to their unusual arrangement.
The application has no disadvantages and works well, but the only thing that can be distinguished is the design, since half of them think that it is very convenient, and the other that it is very inconvenient to use.

6. AnySoft Keyboard
This is a fairly simple Android app. It is notable for its simplicity, but despite this, it is quite popular.
When you enter the app, we see a fairly simple and easy-to-use app, here you can choose interest designs, this app is suitable for the older generation. The application is designed for a strict appearance so that the keyboard is comfortable and not bright.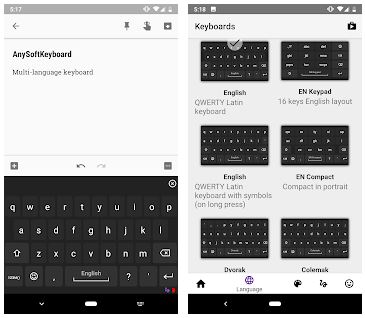 In addition to the strict design, the app features voice input, gesture support, a built-in custom word dictionary editor, multi-touch support, keyboard extension, and more. There is also a small drawback of the application incorrect T9, sometimes it corrects words, not as it should, for example, typing 'fish' gives 'suggest.
The app has pretty good comments, but as most users write, the app needs some additions. The app is still a bit raw, but the developers will improve it every day.
Cons:
There are no useful links
Difficulty in use
Some users have complained about the big COVID propaganda

You may also like: 11 Best Dynamic Wallpaper Apps for Windows 10
7. GO Keyboard
This is a fairly popular application on the Play Market platform. A convenient and easy application to use. The name speaks for itself, let's go see what it is.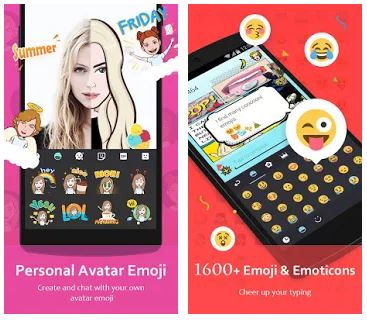 When you log in to the app, we go through a small setup so that the app can work, clear the personal dictionary, and restore the backup. The app has a very convenient layout of elements.
The main difference from other applications is that the language change button is placed at the top, which is very convenient to use. Another very cool feature of this application is the quick transition to the settings, which is very convenient.
The application has a rather interesting design, at first glance it does not differ from other applications, but it has one distinctive feature, it has a carousel function, when you press the language change button, you can choose many options by type-settings, numbers, symbols, etc.
The reviews are positive, there are a couple of negative reviews, but they arise due to unexpected errors in the application itself.
Pros:
General availability
Carrousel function
Easy to use
Cons:
Mistakes
Sometimes the app crashes


8. Chrooma
Not very remarkable, but also quite an interesting application on the Play Market platform. The application has a rather bright design, which immediately catches your eye, but this should not alienate you from this application, right now I will explain why.
In this app, you can create a personalized keyboard separately for each app using Chrooma. For example, for Twitter, you will have a blue theme, and for Facebook, you will have a blue theme. There is also a special key for removing unnecessary suggestions. Also, in case you're wondering, Chrooma also has a premium account for $ 6.99.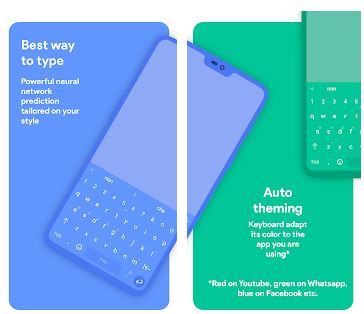 The application has a rather bright design, but you can immediately change the theme and the appearance of the application in a matter of minutes because it has a lot of different themes, and of course, you can make a personal keyboard design.
The comments are only positive, all users are crazy about the app, the only thing that most people don't like is some paid stickers.
Pros:
Unique sounds
awesome themes
different button sizes and shapes
new fonts
Cons:
Paid emoticons
Does not translate well in some languages

9. OpenBoard
This is quite good application for PC users and also for Android users, this program is supported on ooih platforms. The name justifies itself, because the application is really open to everyone.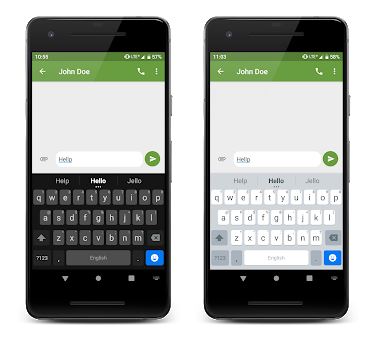 The application has a fairly simple interface, when you log in, you perform a little training to subsequently set your theme (light/dark) for yourself, and then start installing the rest of the functions.
Main feature of this app is that you don't have to worry about your input being recorded or the app being abandoned. 'OpenBoard' is regularly updated and the most important thing is that after these updates there are no crashes or crashes, everything will continue to work as before, or better.
The most important feature of the app is tracking updates so that you can always see what bugs have been fixed, since the app is open source.
We will not talk about the application interface for a long time, since it does not stand out in any way, and of course the applications that I talked about before have brighter and more unusual designs, here the program can not boast of this, but all this is compensated by the excellent work of the application itself.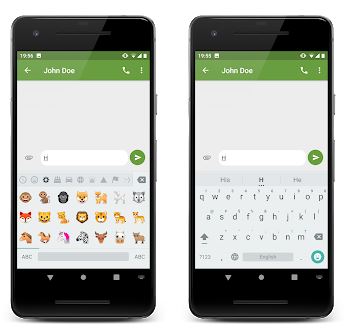 Reviews are all positive, scrolling through the comments feed did not find negative, the only thing that did not suit users a little, poor-quality replacement of some words.
Pros:
Themes
Emojis
Spell correction
User-friendly engine
Constant updates
There is a buffer of copied texts
Cons:
The only disadvantage of this application is the lack of adaptive keyboard color change (light/dark)

10. Ginger – Best emoji keyboard
This app has a rather unusual name 'ginger' such a remarkable name does not affect the application in any way.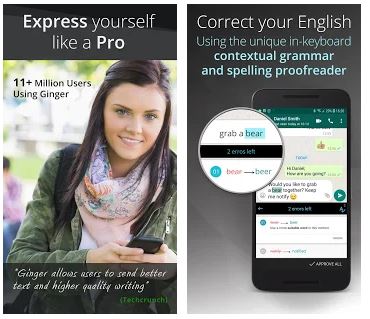 The application has a lot of different features such as spell check and grammar, word prediction, emoji keyboard, etc.
But there is a special feature of the application called 'ginger page' – after clicking on the Ginger page, you will open powerful editing tools that will help you quickly look at your text for spelling, grammar, and punctuation errors.
Plus, there is also a personalized dictionary, translation, dictionary of synonyms, etc. And the most important feature in my opinion is that Ginger does not collect or store your personal information, including passwords, credit card details, and even your username. All information is processed in a third-party service and is not available to the application.
The app has a pretty nice interface and the app itself is made so as not to cause you problems in use. Ginger provides you with a variety of themes to choose from or you can make your own personalized theme, the app gives you the option.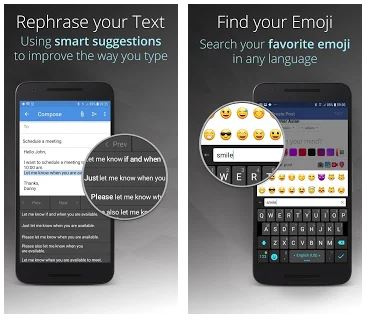 After reading the comments, we realized that half of the users of this application have problems, it's just that the application is still damp, but active support always listens to its users and fixes the problems that have arisen so that you can safely use this application.
Features:
Automatic offers
Voice narration and much more
Spell check on everything you write
Customizing the keyboard appearance
Next word prediction, completion, and automatic correction
Smart Bar
Keyboard in-app games
Cons:
Unfinished
There are extra functions
Sometimes there are problems with the subscription

You may also like: 9 Best Character Creator Apps for iOS & Android
11. TouchPal
The last but not least app on our list is going to be for Android exclusively. The app has a pretty cute logo, it is a smiley face with a mole or a tear. Yes, and the name of the application is quite favorable, we think it will be a good assistant for you, it is not for nothing that it was called touch pal.
From other applications, this application is distinguished by its main rule – minimum print and maximum speed. The app has a very interesting artificial intelligence feature that protects you from embarrassing typos, even when you use the swipe keyboard.
The program also has T+ and T9 that will allow you to type faster and without errors, this is a good choice for those who do not use swipe or a set of gestures.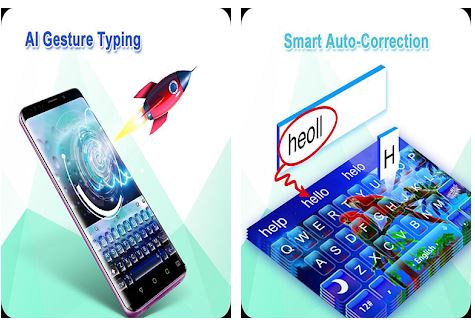 There is also a smooth input, voice input. You can wink, frown or yawn just choose what you like and send it. There is also a contact reader, SMS, and a quick dial of contacts. There is a multilingual set of more than 150 languages and much more.
The application has a rather unusual and bright interface, before that, bright colors initially repelled the application, but here, on the contrary, it attracts to itself.
TouchPal has a lot of ready-made themes, starting with the usual color sets, ending with themes with animals, space, nature, etc. Also in the app, you can make your own personal design from gallery photos, or ready-made templates provided by the app.
After reading the comments, we realized that people like applications like 'Gboard' or 'GO Keyboard', but this does not mean that the application is bad, it is for an amateur.
Pros:
Accurate word prediction with TouchPal T9
Android keyboard Wear And Pad
Multiple languages for typing
Helps prevent typos completely
Cons:
Sometimes errors occur
And most users complained about the ads, although I personally did not notice it.