Do you want to learn how to successfully manage your projects? If your answer is "yes", then we have to recommend to you 10 Day Project Management. So, let's find out why this app is so special! 10 Day Project Management is not very popular in the market, but this tool is truly worth trying.
You should also check the scrum project management apps.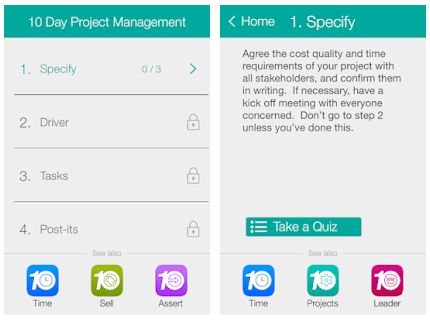 First of all, we have to admit that this tool is extremely lightweight, so you will not have to waste so much time on the installation process. No doubt, this is a great bonus!
So, 10 Day Project Management offers you a 10-days course that will help you to find out the basics of project management. When you open the app, you will find 10 lessons. Each lesson has both a theory part and a quiz. After learning the theory part, you should get to the quiz.
In the quiz section, you should choose True or False. In general, the materials are not very difficult, but we have noticed that they are very well-structured and simple to understand. However, we have to warn you that you will not start a new lesson unless you complete the previous one.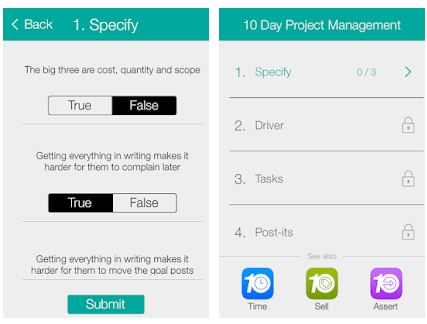 What is more, 10 Day Project Management features a straightforward interface. So, we can surely say that you will not face any difficulties while using this app. But we have to note that some users can find the app's interface a little bit outdated.
Among the drawbacks of this app, it contains ads. Additionally, the app comes with a paid version, but you can purchase it at a quite reasonable price.
In order to make your team planning more productive, you can install the apps to create and fill forms on your Android device.
Summarizing all the points mentioned above, 10 Day Project Management is a must-have app for all beginners. In this tool, you will find not only useful theory materials but practical ones as well. Highly recommended!